Archive for December 24th, 2009
Here's what Philadelphia Eagles quarterback Michael Vick said about winning the the Ed Block Courage Award, which honors NFL players who exemplify commitment to the principles of sportsmanship and courage —  as quoted by the Associated Press:
"It means a great deal to me. I was voted unanimously by my teammates. They know what I've been through. I've been through a lot. It's been great to come back and have an opportunity to play and be with a great group of guys. I'm just ecstatic about that and I enjoy every day.
"I've overcome a lot, more than probably one single individual can handle or bear," Vick said. "You ask certain people to walk through my shoes, they probably couldn't do. Probably 95 percent of the people in this world because nobody had to endure what I've been through, situations I've been put in, situations I put myself in and decisions I have made, whether they have been good or bad.
"There's always consequences behind certain things and repercussions behind them, too. And then you have to wake up every day and face the world, whether they perceive you in the right perspective, it's a totally different outlook on you. You have to be strong, believe in yourself, be optimistic. That's what I've been able to do. That's what I display."
People for the Ethical Treatment of Animals (PETA) said the Eagles "fumbled when they gave Michael Vick the Ed Block Courage Award, which was named after a man who advocated in behalf of abused children … Michael Vick should not be the person anyone points to as a model of sportsmanship, even though he has now exchanged dogs for touchdowns after serving time for extreme cruelty to animals. We wish him well in educating others, but this is not appropriate and does not mark a joyous moment in NFL history."
Posted by John Woestendiek December 24th, 2009 under Muttsblog.
Tags: abused, award, children, conviction, courage award, dog, dog fighting, dogfighting, eagles, ed block, michael vick, nfl, peta, philadelphia, reaction, response, sportmanship, vick

Comments: 2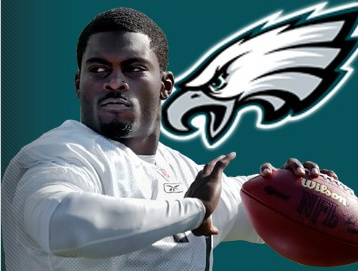 Philadelphia Eagles quarterback Michael Vick will receive an award in March for his "commitment to the principles of sportsmanship and courage."
If you just coughed up your breakfast cereal, join the club.
Vick was hired by the Eagles after his release from federal prison, where he served a sentence for dogfighting. If anyone deserves a courage award, it's his former dogs.
Vick will be receiving the Ed Block Courage Award — named for a former Baltimore Colts trainer who was an advocate for abused children. It's given to a player on all 32 NFL teams.
The Ed Block Courage Award Foundation, based in Baltimore, will hold a press conference at Sports Legends Museum announcing the 2009 winners, and an awards ceremony is scheduled for March. Here's the foundation's press release. Here's the NFL press release on Vick's selection.
Neither specifies exactly what courage Vick has demonstrated, so its unclear if he's being honored for his anti-dogfighting appearances for the Humane Society of the United States; surviving prison, surviving the wrath of animal rights activists, rehabilitating himself or at least his image, overcoming his bankruptcy, his return to football, or what.
For 32 years the award has been given to NFL players, who are selected by their teammates.
The Ed Block Courage Award Foundation is an NFL-supported charity dedicated to recognizing courage in the League while improving the lives of abused and neglected children in NFL cities throughout the country.
Posted by John Woestendiek December 24th, 2009 under Muttsblog.
Tags: award, child abuse, courage, dog fighting, dogfighting, dogs, ed block, ed block courage award, foundation, honored, michael vick, neglect, nfl, philadelphia eagles, quarterback, receive, sportsmanship, teams, vick

Comments: 21
 
Perhaps you've heard people say this: Two dogs are just as easy as one. Or, three dogs are just as easy as two.
It's not so.
Bearing in mind that it depends in large extent on the individual dogs, and having a routine carved out for them, the amount of time and energy spent on caring for multiple dogs doesn't just double with two dogs, or triple with three dogs. When it comes to multiple dogs, basic math goes out the window.
Among my observations so far — based on my hosting three guest canines for Christmas, two of which have arrived so far to join me and my own dog Ace:
— Three dogs, who you would think would drink three times the amount of water as one, actually drink eight times the amount.
— Three dogs who normally wouldn't follow you from room to room, all follow you from room to room when they are together.
— Three dogs, as all three have to do whatever one does — be it drinking water, peeing, barking or jumping on the human —  actually engage in 18 times the amount of activity that they would on their own.
My newest arrival is a young Boston terrier named Darcy, who possesses an energy level equivalent to a whole  litter of Energizer bunnies. She's constantly on the go. She likes to get up on the couch or a chair, so she's at eye level with Ace, and then slap her paws into his face. Ace responds by taking Darcy's paw, leg, or entire head into his mouth, at which point Darcy freezes until Ace lets go. Then they do it all over again. Cheyenne, the visiting blind dog, stayed out of those frays.
Darcy's humans brought plenty of toys, which everyone is sharing nicely. Cheyenne went nuts over Darcy's tug toy, whipping it around and flinging it, trying to find where it went, then doing it all over again.
Darcy meanwhile took a strong liking to Cheyenne's bed — pulling it out of the crate,  attempting to impregnate it (though she's a female), nursing on its bulges, and finally trying to pull the stuffing out of it, at which point I had to separate her from her lover/mother/prey.
Somebody pooped in the house (I'm not pointing any fingers), a feat which, fortunately, the others — so far — haven't felt the need to duplicate.
All three took turns resting on the couch, engaging in play and gnawing on one well-chewed marrow bone.
As evening fell I learned that walking three dogs is 8.7 times harder than walking one, 23.5 times harder when you thrown in the ice, and it left me 10.6 times more tired than I should have been.
Back from the park, after dinner and a few more spurts of play, the gang finally started settling down, and we all sacked out on the couch — except for Ace, who knew he wouldn't fit. He settled for putting his head only on the couch for a few minutes, then sprawled out at the foot of it.
You know that feeling you get when the day is done, and your work is finished, and you look over at your peacefully sleeping, or even just resting dog — that soul-comforting, all-is-right-with-the-world flush of warm contentment, better even than a crackling fire, hot chocolate, or a steaming bowl of macaroni and cheese?
Turns out multiple dogs make that feeling rise exponentially, too.
On my three dog night, with the blind one curled up between my legs, her head resting on my feet; the big one on floor by the couch, reaching for me now and then with his paw; and the little Boston terrier resting, finally, on my belly, I realized I was feeling 9.9 times more peaceful and harmonious than usual.
(To read all of the "Company for Christmas" series, click here.)
Posted by John Woestendiek December 24th, 2009 under Muttsblog.
Tags: ace, animals, bed, behavior, blind, blind dog, boarders, boston terrier, cheyenne, christmas, comfort, company for christmas, contentment, darcy, dog, dogs, energy, group dynamics, guests, math, mulitiple dogs, pets, play, relationships, three dog night, three dogs, toys, visitors, work, yellow lab

Comments: 8
Posted by John Woestendiek December 24th, 2009 under Muttsblog, videos.
Tags: christmas, decorate, decorations, dog, dogs, gifts, holidays, ohmidog!, tree, video, videos

Comments: none
Still bearing scars on his chest and front legs, Hector, a pit bull that was part of Michael Vick's dogfighting operation, mingled with third-graders Tuesday at the Barack and Michelle Obama Learning Elementary School in St. Paul.
Hector, one of 52 dogs rescued from the NFL quarterback's dogfighting operation, is now a registered therapy dog. His school visit was part of an educational program sponsored by A Rotta Love Plus, a pit bull and Rottweiler rescue group.
The 4-year-old dog was placed with a family in Rochester, Minn.
"He's the sweetest dog in the world," said Kellie Dillner, of the rescue organization. "It's hard to imagine him having to act any other way."
The 55-pound dog received several hugs and lots of attention from the students, The Minneapolis Star-Tribune reported.
Vick, a former Atlanta Falcons star quarterback, served 18 months in prison for his role in dogfighting, in which several dogs were killed and dozens more injured. He was reinstated to the NFL and joined the Philadelphia Eagles in September.
(Photo: Hector with owner Clara Yori of Rochester. By Kyndell Harkness, Minneapolis Star Tribune)
Posted by John Woestendiek December 24th, 2009 under Muttsblog.
Tags: a rotta love plus, dog fighting, dogfighting, educational, hector, michael vick, minneapolis, minnesota, nfl, pit bull, program, quarterback, rescue, rochester, rottweiler, therapy, vick dog, vick dogs

Comments: 4
Susan Sarandon showed off her dogs — and her dog scrapbooks — on David Letterman's show Tuesday night.
Dave thumbed through some of Sarandon's scrapbooks, which contain photos of her dogs taken with famous people, among them Pierce Brosnan, the Jonas Brothers and Barack Obama and family.
Posted by John Woestendiek December 24th, 2009 under Muttsblog, videos.
Tags: actress, animals, celebrities, david letterman, dogs, entertainment, famous, jonas brothers, maltese, mix, movies, obama, penny, pets, photos, pictures, pomeranian, poodle, sarandon's dogs, susan sarandon, television, tv

Comments: none
State law in New Jersey mandates that local governments count their canine residents, but John Fries, in suburban Haddon Township, is one of only a handful of local government employees doing it.
Under a law that dates to the 1950s, when rabies was a threat to household pets, New Jersey towns are required to conduct the census every two years. But as the rabies threat declined, so has the number of municipalities following the little-known regulation, according to the Philadelphia Inquirer.
In 1980, 91 percent of towns submitted canvases to the state; in 2008, only 32 percent did so, according to health department records.
Some towns say they have better things to do.
"Chesilhurst has so many other problems, the last thing we're concerned about is a dog census," Michael Blunt, the mayor of the community near the Pine Barrens said. "The minute you start giving people tickets, you bring hell on yourself."
Under state rules, if a resident is found to have an unlicensed dog, the town can send out a bill for the license with the threat of a fine for nonpayment.
Fries, clipboard in hand, began his task in October, and expects to finish surveying Haddon Township homes by the end of January.
Requiring owners to license their dogs is the policy in most U.S. cities and towns. But the taking of a door-to-door "dog census" seems unique to New Jersey, the Inquirer reports. In the minority of towns that participate, the census has led to an increase in dog-licensing revenues.
(Philadelphia Inquirer photo by April Saul)
Posted by John Woestendiek December 24th, 2009 under Muttsblog.
Tags: animal control, canine, census, count, counting, dog, dog census, dogs, haddon township, john fries, law, license, municipalities, new jersey, pets, rabies, registration

Comments: none