Tag: abandoned
Neighbors in South Philadelphia found a bruised, battered and hungry dog, took him in, and have raised enough money for him to have surgery tomorrow.
Apparently, the 6-month-old shepherd mix, who they've named Sailor — given he was a bit of a shipwreck when they found him at 15th and Federal Streets in South Philadelphia — had been abandoned, and hit by a car. Three of his legs were injured and he was barely able to walk, CBS in Philadelphia reported.
When his rescuers brought him home, Sailor was so emaciated some weren't sure he would make it, but he has gained 10 pounds since then, and he's scheduled for surgery this week, at a cost of about $5,000.
"A lot of vets told me to put him down right away," said Clair Sauer. "The surgeons were ready to operate on him yesterday, but I had to tell them 'I don't have the money.'" Sailor's foster family set up a Sailor website to help raise the money. In little more than 24 hours, they reached their goal.
According to the website, the surgery will be performed at CARES in Langhorne, Pa., by Dr. Brentz. Sailor will have his rear femur cut and "put back into place with lots of metal…"
"Recovery will be long and will take patience, but we will be there for him! He will need lots more x-rays to monitor how his bones are healing. And, when he is ready, physical therapy. These will incur more costs, but we will stay optimistic!"
Once Sailor recovers from his surgery, he will be put up for adoption.
Posted by John Woestendiek January 17th, 2011 under Muttsblog, videos.
Tags: abandoned, animals, broken legs, car, cares, chip in, dog, dogs, funds, help, hit, injured, internet, langhorne, mix, neglected, outpouring, pets, philadelphia, raised, rescue, rescued, sailor, shepherd, south philadelphia, stray, surgery, video

Comments: 1
Name: Unknown
Breed: Chihuahua mix
Age: Unknown
Encountered: Atop a scattered pile of discarded clothing in Slab City, outside of Niland, California.
Backstory: During my visit to Slab City, I stopped to take a photograph of a pile of clothing spread across, what else, a concrete slab. It serves as a drop off point, where denizens of and visitors to the makeshift community can discard unwanted clothing that others might be able to use.
I saw something move in the pile; then saw that it was a dog.
He lay there trembling, and wouldn't come when I called. Nor did he get up when I tossed a dog treat, even though it landed just inches away.
There were two bowls, one that held water, one that had held food, but both were empty.
I looked around for some humans, but no one was in sight. I approached a couple of trailers to see if they might be the owners of the dog, but nobody was home. When a woman with a Chihuahua of her own walked by, she said she, being new there, didn't know anything about the dog and left.
I tossed some more treats, refilled his water bowl, and anguished over what to do. Report him to animal control as a stray? But what if he wasn't? What if he'd just wandered over there from his owner's trailer or RV to take a nap in the sun? What if animal control picked him up and did what they often do before any owners had time to claim him?
He had a slight bump on his lower jaw, and he seemed well fed, but the bowls led me to think he'd been abandoned, and he just kept trembling.
Mind your own business, the voice on my left shoulder said. Take him with you, said the voice on my right.
Unable to just drive away, I called him again. He didn't budge. But when I went to pick him up he did, jumping off the slab and heading toward a trailer. He seemed to have a destination in mind, and, though he stopped a couple of times to look back at me, he kept walking away.
And, after watching him disappear around a corner, so did I, wondering if I had been on the verge of being a do-gooder doing wrong, or if I hadn't done good enough.
If you know anything about him, let me know.
Posted by John Woestendiek November 28th, 2010 under Muttsblog.
Tags: abandoned, ace, america, animals, california, chihuahua, dog's country, dogs, dogscountry, encounter, pets, rescue, road trip, roadside, roadside encounters, shelter, shivering, slab city, stray, traveling with dogs, travels with ace, trembling

Comments: 2
Once upon a time in Butte, in a huge and barren expanse of waste that's part of the nation's largest Superfund site, there lived a dog.
Nobody knows how he got there, why he stayed, or how he managed to remain alive in the toxic confines of what's known as the Berkeley Pit. But live he did, for 17 years — during times of active mining, during its suspension, during its limited restart, during the ongoing clean-up effort and right up until the pit transitioned into one of the country's oddest tourist attractions.
He just showed up, back in 1986. Once miners figured out that the ghostly white image in the distance was a dog, they named him "The Auditor," because of his tendency to appear when he was least expected.
With matted ropes of white hair covering his legs, The Auditor — a Puli — sometimes appeared to be hovering when he moved, and he seemed to want nothing to do with humans. The miners would leave him food, and build him a house, and even started sticking baby aspirin in his food when they noticed he was limping, but The Auditor was mostly unapproachable up until the end.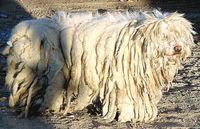 He died peacefully in his dog house in 2003, but The Auditor – like mining – would leave a legacy. His name would live on — in statues, in science, and as a symbol for, well, lots of things.
Appropriately enough, for a mining site in the midst of a massive EPA clean-up that will continue for generations, The Auditor had a coat like a mop.
His yellowing dreadlocks covered his eyes, too, limiting his vision – similar to the blind eye Montana once turned to the environmental havoc mining would wreak on and beneath its landscape.
But perhaps more than anything else, the mysterious white dog became a metaphor for Butte, and its ability to survive hard times — of the hardy stuff of which Montanans are made.
Butte's still kicking — though not the way it once kicked. It's about a third of the size it was in its heyday.  Once called the "Richest Hill on Earth" for its massive copper deposits, Butte in the early 1900s, boasted a population of 100,000.
When the mines shut down by 1982, Butte was left economically crippled and environmentally contaminated. Piles of mine waste and years of smoke from smelters contaminated the land and water around Butte with arsenic, mercury, lead and other metals.  
In the 1980s, the Berkeley Pit and Butte's historic Uptown District were declared a Superfund site — one that extends 130 miles downstream due to tailings that settled along the Clark Fork River.
The Auditor lingers too. After the local newspaper brought him to the public's attention in 2003, a campaign began to honor him with a series of statues, three of which now sit in various locations around town, honoring him not for any heroics, but solely for staying alive in a place where not much does.
Berkeley Pit lies just a few blocks from the center of Butte. It stretches a mile-and-a-half across and is almost 2,000 feet deep. Barren soil surrounds a lake laden with heavy metals. In 1995, a flock of migrating geese landed in the water. The next morning 342 were found dead.
How The Auditor managed to survive all that time is as mysterious as the dog himself. Maybe his rope-like locks, instead of soaking in the toxins, kept them from reaching his skin. Maybe the toxins weren't as toxic as thought. Maybe, as dogs do, he adapted to them. The only company still in operation at the site — after mourning his loss — had The Auditor cremated.
Normally, that would slam the door shut on the mystery — but Holly Peterson already had her foot in it.
Peterson, an environmental engineer at Montana Tech in Butte, saw the article about The Auditor — 16 years old by then — in 2003. It tugged at her heartstrings as well as her scientific curiosity.
"How can that not touch you?" she said over the weekend, sitting in her office, which is decorated with photos of The Auditor. "I kept wondering, how can that thing survive? With all the contamination in Butte, I started thinking, how can we study that in a different way?"
With her students, she began getting samples of hair from dogs in Butte and the surrounding areas, and when she ran into an official from the mining company, Montana Resources, at a presentation, she asked about getting a sample from The Auditor.
The Auditor was first seen roaming the mine in 1986, the year Montana Resources started its operations. The company, due to plunging copper prices, shut down operations there in 2000, leaving only a skelton crew, but reopened in 2003.
After getting permission from the company, Peterson went to the site, where a mining company employee, wearing gloves, approached The Auditor, on his last legs by then, and snipped off a few locks of hair.
"You could tell he just wanted us to leave him alone," Peterson said.
Tests on the sample in July of 2003 revealed "elevated levels of almost every element imaginable," Peterson said, including 128 times the amount of arsenic in a typical dog's hair.
Peterson's research project would expand from there, shedding new light on the extent of environmental degradation in Butte and introducing a new, if not conclusive, way to measure it and the continuing efforts to clean it up. Her work marked the first time pet hair has been used to monitor toxins in a residential Superfund site.
Since then, the project has moved on to testing the hair of animals in Austrialia and Nairobi, and sampling the hair of animals bagged by hunters back home in Montana. Through taking samples at hunter check stations, they found far higher levels of metals in animals shot in the area around Anaconda, once home to a huge smelting operation.
The Auditor, as it turned out, inspired Peterson on several levels. She was the one behind the effort to install statues of him — created by a Texas sculptor — at several locations around town, including the one she showed me at the Butte Plaza Mall.
It's made of bronze, with a copper patina that has worn off in spots from people petting it. Most of funding for the sculpture came from a California couple, who read of The Auditor in a Puli Club of America newsletter.
Peterson's hope was that The Auditor — after his death on Nov. 19, 2003 —  would become a mascot for Butte, or a mascot for environmental causes, that his legacy would serve as inspiration to others, and as a reminder to not abandon pets, or abuse the planet.
What she wasn't planning on was her own little Auditor.
Living with her 86-year-old mother, she didn't see a dog fitting into her life.
But after publicity about The Auditor, and connecting with the Puli Club, she started getting emails when a Puli would show up at a shelter in need of rescue.
That's how, three years ago, she ended up with Birke-Beiner.
"I couldn't pass him up when I saw the picture of him," Peterson said.
Birke-Beiner, who earlier in the day had gone to a Halloween Party — as a basket of yarn — came along on our trip to the mall, much of which he spent draped over Peterson's shoulder, looking something like a Lady Gaga fashion accessory.
Peterson says some people call him Little Auditor, but Birke is his own dog — playful, people-friendly and, one gets the impression, destined to live a happy and non-toxic life, far away from a giant hole in the ground known as the Berkeley Pit.
Posted by John Woestendiek November 2nd, 2010 under Muttsblog.
Tags: abandoned, animals, arsenic, auditor, berkeley pit, butte, contamination, dog, dog's country, dogs, dogscountry, environment, epa, hair, history, holly peterson, levels, memorial, metals, miners, mining, mining waste, montana, montana resources, montana tech, pets, puli, puli club of america, research, science, site, statue, stray, superfund, testing, tests, the auditor, toxic, travels with ace

Comments: 10
Baltimore Animal Rescue & Care Shelter (BARCS) is one of five shelters that will take part in a pilot program aimed at reducing euthanasia of pit bulls, encouraging responsible ownership and improving the perception of the breed.
A $240,000 grant from PetSmart Charities will fund the programs, coordinated by Best Friends Animal Society.
The grant was announced last week in Las Vegas at Best Friends' annual  No More Homeless Pets Conference.
The "Shelter Partners for Pit Bulls Project" will create partnerships between Best Friends and shelters in Rancho Cucamonga, Calif., Baltimore, Md., Washington, D.C., Carlsbad, Calif. and Tampa, Fla.
All will be based on the partnership between Best Friends and Salt Lake County Animal Services that began in July 2009. It resulted in a 10 percent drop in euthanasia of pit bull-type dogs in its first year, and led to twice as many being adopted as the previous year.
The Salt Lake program, which will serve as a model for the new pilot projects, offers community education and free or low-cost training and spaying and neutering — all aimed at keeping pets in the family and reduce the numbers being abandoned.
The program uses volunteers, called the "Pit Crew," to showcases dogs for adoption through outreach events, photos and descriptions online and also fosters dogs whose time is up in the shelter. There also is emphasis on creating frequent media opportunities to portray pit bull-type dogs in a positive light–to counter the image of the breed often presented in the news.
Funds provided by PetSmart Charities and additional funds from Best Friends will be used to pay for a shelter coordinator in each city, support marketing and public relations in those markets, and pay for a Best Friends program manager to oversee implementation and reporting in the five shelters.
"As with any dog that is spayed or neutered, properly trained, socialized and treated with love and kindness, pit bull-type dogs can be well adjusted, happily balanced, and affectionate members of the family," says Jamie Healy, Shelter Partners for Pit Bulls manager. "It's the person on the other end of the leash who decides how their dog interacts with others and who sometimes put these dogs at the wrong side of the law."
Best Friends Animal Society works to help pit bulls through its national campaign, Pit Bulls: Saving America's Dog, which helps dogs who are battling everything from a sensationalized reputation to legislation designed to bring about their extinction.
Posted by John Woestendiek October 20th, 2010 under Muttsblog.
Tags: abandoned, baltimore, baltimore animal rescue & care shelter, barcs, best friends, carlsbad, conference, euthanasia, grant, las vegas, neuter, no more homeless pets, ownership, partnerships, perception, petsmart, pit bulls, pit crew, pitbull, program, rancho cucamonga, reputation, salt lake county, shelter partners for pit bulls project, spay, surrender, tampa, train, washington

Comments: 1
Jelly Belly, as he has been named, looks like he arrived just in time at Baltimore Animal Rescue & Care Shelter (BARCS).
Severely emaciated, the three-year-old dog was abandoned at BARCS after being, from all indications, nearly starved to death.
BARCS has issued a call to rescue organizations, seeking one that might take him in and care for him until he gains some weight.
Staff at BARCS describe Jelly Belly as a "sweet soul."
"He is so forgiving of humans … what happened to him just isn't fair."
Rescue organizations interested in taking in Jelly Belly should contact BARCS adoption counselor Kathleen Knauff (kathleen.knauff@baltimorecity.gov)
Posted by John Woestendiek August 27th, 2010 under Muttsblog.
Tags: abandoned, abuse, animals, baltimore animal rescue & care shelter, barcs, dog, dogs, emaciated, jelly belly, neglect, ohmidog!, pets, rescue, shelter, starvation, starved, starving, urgent

Comments: none
A pit bull found hogtied and abandoned in a muddy field in California last month has a new home, thanks to the efforts of actress Katherine Heigl and her family's rescue foundation.
The dog was discovered last month in Bakersfield. The dog's owner James Worley, 52, has been arrested and faces a possible charge of felony animal cruelty.
The pitbull, who has been named England after the animal control officer who saved him, Kristen England, was placed into a new home on Wednesday.
Meanwhile, a petition asking the District Attorney's office to prosecute the dog's owner to the fullest extent the law allows has received almost 1,000 signatures.
The petition was started April 26 by Karen Marousek, of the Friends of the Kern County Animal Shelters Foundation, according to the Bakersfield Californian.
As of Wednesday morning, more than 1,000 signatures had been gathered. The petitions will be presented to the prosecutor and judge handling the case.
Worley, 52, was arrested on suspicion of felony animal cruelty on April 26.  An arraignment is scheduled for Friday in Lamont.
The Jason Debus Heigl Foundation was founded by Katherine Heigl and her mother Nancy Heigl in memory of Jason Debus Heigl, Katherine's brother. It  rescues dogs and works to increase awareness of inhumane treatment to animals.
The Heigls, officials from the group Last Chance For Animals and Kern County Animal Control Director Guy Shaw held a press conference in Los Angeles Tuesday.
(Photo: England, as he was found; courtesy of Kern County Animal Control)
Posted by John Woestendiek May 5th, 2010 under Muttsblog.
Tags: abandoned, animal control, animal cruelty, animals, bakersfield, california, dogs, england, field, foundation, friends of the kern county animal shelters foundation, heigl, hogtied, home, james worley, jason debus heigl foundation, karen marousek, katherine heigl, kern county, kristen england, last chance for animals, news, ohmidog!, petition, pets, pit bull, pitbull, rescue

Comments: 7
My former cat Miley — the one I took in from the streets of South Baltimore for the winter — is still on the highway, having logged more than 5,000 since joining her new truck driver owner, Kitty.
Miley has now passed through Pennsylvania, Maryland, West Virginia, Kentucky, Texas, Alabama, Mississippi, Georgia — and that's just to name a few.
Kitty says Miley is doing wonderfully, and has taken well to living in the truck cab, along with Kitty's other cat, Chuzzle, and two pit bulls.
They were in Louisville when she touched base with me, headed for Waco.
In another week or so, she predicted they'll be back home in Oklahoma, where she expects Miley will keep her disabled husband John company as he works on CB radios in the garage. It's not unusual for Kitty to be gone three weeks or more on the job.
Kitty said she kept Miley in her carrier for the first leg of their journey together — from Frederick, Maryland, where I dropped her off, to Bedford, Pennsylvania, where Kitty was taking a load of Oklahoma hot dogs to a Wal-Mart.
She went inside to do the paperwork and returned to the truck cab to find Miley had managed to pop it open and take up a more comfortable spot on a pillow on Kitty's bunk — "as peaceful as she could be," Kitty said. She hasn't been back in the carrier since.
She's doesn't mind the noise and rumble of the big rig and is getting along fine with the dogs, but still hisses when Chuzzle, a male Persian cat, gets too close, especially when it's time to eat.
"I can't thank you enough," Kitty told me, when, as I see it, she deserves the thanks for giving Miley a permanent home. "She is just so awesome"
Posted by John Woestendiek April 23rd, 2010 under Muttsblog.
Tags: abandoned, adopt, animals, cat, cats, chuzzle, foster, highways, home, kitty, miles, miley, ohmidog!, oklahoma, persian, pets, rescue, south baltimore, states, stray, streets, temporary, travel, traveling, truck driver, trucks, winter

Comments: none
That X-Man was rescued from a trash can as a puppy didn't make him all that unusual. It happens way too often.
That X-Man was rescued from a trash can by a girl who — as an infant — was herself rescued from the garbage makes his story, and her's, a bit more out of the ordinary.
X-Man died last month after a long and happy life he owed, in large part, to Amy Louise Annelle, who in 1983, at only 4 or 5 hours old, was stuffed in a cereal box and dumped in a large trash bin on Nova Road in Daytona Beach.
When Amy was rescued from a garbage truck's trash compactor by trash collectors, Pat Patten-Carlen followed the news accounts. She was looking for a baby girl to adopt after her daughter died. When "Amy Nova" — the name hospital nurses had given the baby found in the garbage — turned four months old, Patten-Carlen adopted her.
Thirteen years later, Amy came home from school and told Patten-Carlen she'd discovered a puppy in a trash can.
"She said, "It's in a garbage can like me,' " Patten-Carlen told the Daytona Beach News Journal.  
After Amy found X-Man, she took him to a shelter. But when no one would adopt him, she and Patten-Carlen came to the rescue again. They got their close friend Carson Allison to bring him home. X-Man lived with Allison until the dog's death last month.
"We had a special connection," Amy said. "Up until two weeks ago when he was put down because he was too sick and in pain, I kept close to X-Man."
A small memorial service for X-Man was held Saturday in DeLand.
Amy, whose birth mother was never found, is now a CVS store manager, married and the mother of a 4-year-old girl, Autumn. She's expecting another baby, a boy, in four or five weeks.
Posted by John Woestendiek April 7th, 2010 under Muttsblog.
Tags: abandoned, abandonment, adopt, adopted, amy louise annelle, amy nova, animals, baby, daytona beach, discarded, dog, dogs, dumped, florida, garbage, girl, infant, news, ohmidog!, pets, puppy, rescue, trash, X-man

Comments: none
A $1,000 reward is being offered for information leading to the identity of the owner of the severely matted Pekingese who was found abandoned on a  roadside in Waltham, Mass.
City police and animal control are still searching for the owner of the male dog, estimated to be between 9 and 12 years old.
The dog had been nicknamed Mattie by veterinarian Susan Rosenblatt, who treated him at Kindness Animal Hospital. He died a few days after he was brought in.
The dog was extremely emaciated, suffering from pneumonia and his muscles had atrophied from years of neglect, the Daily News Tribune reported
Anyone with information about the dog is asked to contact Kindness Animal Hospital at 781-893-2800 or email kindnessah@gmail.com.
Posted by John Woestendiek March 24th, 2010 under Muttsblog.
Tags: abandoned, abused, animal cruelty, dog, fur, hair, kindness animals hospital, mass, massachussetts, matted, mattie, neglected, news, ohmidog!, pekinese, pekingese, reward, severely, trapped, waltham

Comments: none
Coming up on his first birthday, Scooby-Roo has come a long way since he was found five months ago — with no front legs, living with his sister in a wrecked car in a gang-ridden neighborhood in South Central Los Angeles.
His first break came when a good samaritan picked him and his sister up. His second came when they were taken in by Fuzzy Rescue. Since then, his story has led to offers of help from Demi Moore, Alyssa Milano, Michael Jackson's children and many others.
Today, still under the care of Fuzzy Rescue, he has a therapist and a personal trainer and can look forward to a masseuse and acupuncturist, the Associated Press reports.
Not long after Roo arrived at Fuzzy Rescue in Santa Monica — caked in blood from scooting around on the asphalt — the non-profit organization's director, Sheila Choi send out mass emails looking for donations and other support.
After that, celebrities began tweeting about Roo, from Demi Moore to Shannon Elizabeth. Alyssa Milano saw a YouTube video of the dog and called Choi, promising to help any way she could. Michael Jackson's children, Prince and Paris, saw a TV report about Roo and began raising money to help out.
With the celebrity help, Choi collected $2,000 for a set of custom wheels for Roo, who is believed to have been born without legs.
On Valentine's Day, appropriately enough, this sweetheart of a dog turns one.
Here's an updated report on Scooby-Roo from Fuzzy Rescue:
Posted by John Woestendiek February 12th, 2010 under Muttsblog, videos.
Tags: abandoned, alyssa milano, animals, birthday, celebrities, challenged, demi moore, dog, dogs, emails, first, front legs, fuzzy rescue, gangs, handicapped, legs, los angeles, michael jackson, missing, paris, pets, prince, rescue, roo, santa monica, scooby-roo, shannon elizabeth, sheila choi, south central, therapist, trainer, tweets, twitter, two-legged, valentines day

Comments: none