Tag: airlines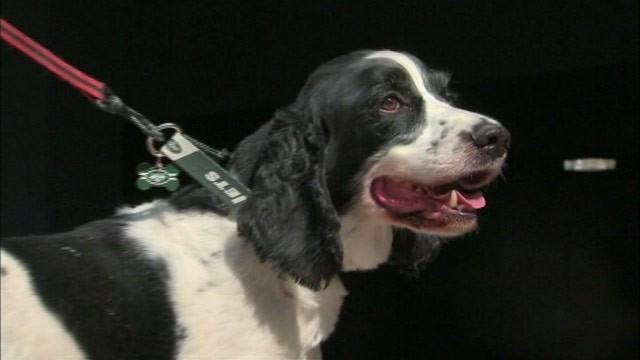 Aside from both having seven letters, Ireland and Arizona wouldn't seem to be that easily confused — one is green, one is not; one is on the other side of the Atlantic and one is on this side.
But, four days before St. Patrick's Day, a dog destined for Phoenix was accidentally put on a flight to Ireland.
United Airlines realized the mistake even before the dog, named Hendrix, landed at the airport in Shannon.
Once he did, he was bathed, fed, and put on a flight back to Newark.
Edith Lombardo-Albach of Staten Island, N.Y., told ABCNews.com that Hendrix, a six-year-old English springer spaniel was scheduled to arrive in Phoenix Thursday evening on a United flight from Newark.
But seven minutes before the flight was supposed to land, she received a phone call telling her that Hendrix would not be arriving in Arizona.
"Originally, I thought the dog had died and I started screaming," she said.
An airline representative told Lombardo-Albach that her dog was put on the wrong flight, and was destined for Ireland. United told her that once Hendrix arrived in Shannon, they would send him back.
"The dog had already gone seven hours to Ireland, and now the dog has a two-hour layover and then a seven-hour flight to Newark," she said. "I was insane."
The dog was flown back to New Jersey on Friday morning, and Lombardo-Albach was waiting. She stayed with him at the airport until he boarded his flight for Phoenix, where the family is moving.
Lombardo-Albach said Hendrix was hesitant to get back in his crate for the next leg of the flight — and who could blame him?
A United Airlines spokeswoman said the airline regretted the mistake: "We are reviewing the circumstances surrounding the situation and will take steps to prevent this from happening again.  Hendrix's experience is not typical of the service we provide to the more than 100,000 pets who travel with us every year."
United Airlines offered Lombardo-Albach a refund for the dog's flight.
Posted by jwoestendiek March 19th, 2013 under Muttsblog.
Tags: airlines, animals, arizona, dog, dogs, english springer spaniel, hendrix, ireland, mistake, newark, pets, phoenix, shannon, travel, united, united airlines

Comments: 2
Another dog owner has come forward to tell the world his dog died on a United Airlines flight.
"…What I found out is, when you check your pet, you run the exact same risk of them not showing up as you do with your luggage. That's kind of sobering," said Michael Jarboe, whose dog, a Neapolitan mastiff named Bam Bam, died during a late August flight.
Jarboe decided to share his story days after model Maggie Rizer blamed United for the death of her two-year-old golden retriever Bea on a flight last month.
"We have been in contact with Mr. Jarboe and are saddened by the loss of his dog, Bam Bam. The safety of the animals we transport is always considered first and foremost when making decisions regarding their routing and carriage," United said in a statement to NBC News.
Jarboe and his partner flew from Miami to San Francisco with Bam Bam on Aug. 28, with a layover in Houston. The two-and-a-half-year-old dog had flown four times before without any problems, Jarboe said.
Jarboe, who lives in Miami Beach, Fla., said he chose United because of its "PetSafe" program, which promises compartments in the cargo hold are pressurized and climate-controlled.
He said the layover in Houston was about three hours. Temperatures that day rose to 95 degrees.
When they arrived in San Francisco, they were told the dog had died. United paid for a necropsy, which determined the cause of death was acute cardiovascular collapse.
Before his death, Bam Bam had flown four times before — twice on United — without any problems.
United said Bam Bam was transported to a holding area during the layover, but according to Jarboe, employees did not use the climate-controlled vehicle dogs are usually transported in.
The airline has refunded the dog's fare ($650, each way), and is working with Jarboe on additional compensation.
Between January 2012 and July 2012, 17 pets died and another 17 were injured on commercial airlines, according to the U.S. Department of Transportation. In 2011, 35 pets died while flying, but only two of those were on United, which had the lowest number of animal deaths that year.
(Photos: Michael Jarboe)
Posted by jwoestendiek October 1st, 2012 under Muttsblog.
Tags: air travel, airlines, animals, bam bam, cargo, death, dog, dogs, heat, hold, houston, layover, mastiff, michael jarboe, neapolitan mastiff, necropsy, pets, travel, united, united airlines

Comments: 3
Supermodel Maggie Rizer is blaming United Airlines for the death of her golden retriever, Bea.
The two-year-old dog died while in the cargo hold of a United fight from New York City to San Francisco.
According to a necropsy by her veterinarian, heat stroke was the cause.
Rizer said both Bea and her other dog, Albert, had been cleared by a veterinarian just four days before she flew home about two weeks ago to California after vacationing on the East Coast.
When Rizer and her husband, businessman Alex Mehran, landed in San Francisco, United workers told them Bea had died. One of them, she says, told her, "This happens a lot."
"I was completely hysterical, I'm surprised I didn't get arrested," Rizer told the New York Daily News.
Rizer also claims that workers lied to her, saying Bea had been taken for a necropsy when she was actually still in the cargo area.
Bea's body was given to the family later that day, and an autopsy by a family vet showed she had died of heat stroke, said Rizer, a covergirl who modeled for Louis Vuitton, Versace, and Calvin Klein.
A United spokesperson said the airline has transported more than 550,000 pets, with less than .1% of those resulting in deaths.
"That said, I just want to make it clear this isn't something we're not sympathetic to, certainly when it does happen it's devastating," spokesperson Mary Ryan said.
United is reviewing the incident, and has returned the $1,800 Rizer paid to transport her dog.
(Photo: Maggie Rizer and Bea, via Twitter)
Posted by jwoestendiek September 24th, 2012 under Muttsblog.
Tags: airlines, animals, bea, cargo, dead, death, dies, dogs, flights, golden retriever, heat, heat stroke, hold, maggie rizer, model, pets, supermodel, united airlines

Comments: none
The founder of Paws and Stripes — a nonprofit organization that provides disabled veterans with service dogs — says both he and his service dog, Sarge, were mistreated by United Airlines.
After waiting 48 hours in Dulles Airport due to cancellations and delays, Jim Stanek said he approached a ticket counter to get  help understanding his revised itinerary.
He says he explained was having difficulty reading it.
"He said, 'Just read it' and I said, 'Sir I can't read it,' and he said, 'What are you retarded?'" Stanek recalled.
Wounded in battle, Stanek suffers from a brain injury that makes it difficult for him to concentrate under stress.
In addition to the insult, Stanek says, Sarge was kicked twice by United employees, leaving her "shaking like a leaf. It's like she has PTSD."
Stanek said the second, and harder kick came on a shuttle bus that was taking him from one terminal to another. An employee in a United uniform kicked the dog, he said.
"He said he was afraid of dogs," Stanek said.  "(He) kicked her so hard on the rib cage, that she literally jumped up into my lap."
Stanek is encouraging others to register their concerns about how he and his dog were treated.
"I'm not asking for a red carpet, just treat me the way I'm supposed to be treated," he said in a video he put together, recounting the incident.
Paws and Stripes works to provide service dogs for veterans with PTSD and Traumatic Brain Injury. The dogs are obtained only from shelters, and are trained by professionals to become service dogs.
Here's Stanek's account of what happened:
Posted by jwoestendiek July 25th, 2012 under Muttsblog, videos.
Tags: airlines, animals, dog, dogs, founder, insulted, jim stanek, kicked, military, mistreated, paws and stripes, pets, post traumatic stress disorder, ptsd, service dogs, shelter, united airlines, veterans

Comments: 4
Does merging make a company meaner, stupider, or just more of a bully?
United, which recently joined forces with Continental Airlines, has opted to adopt the defunct airline's backwards pet policy. The new policy is stated on this page of United's website.
What it all means is that the "friendly skies" of United will no longer transport any of these breeds:
Pit Bull Terriers
American Staffordshire Terriers
Presa Canario
Perro de Presa Canario
Dogo Argentino
Cane Corso
Fila Brasileiro
Tosa (or Tosa Ken)
Ca de Bou
United will not accept members of those breeds, or mixes containing those breeds, once they have reached either 6 months of age or 20 pounds.
Additionally, United reserves the right to refuse any animal that displays aggression or viciousness.
The restrictions have nothing to do with the airline's separate policy on short-snouted breeds for whom air travel, specifically in a cargo hold, can cause breathing problems. This is separate category for "dangerous" breeds.
"These kinds of breed discriminatory policies fuel the misconceptions about dogs like pit bulls that lead to breed bans and the deaths of thousands of innocent dogs," reads a petition at Change.org, urging United to reconsider the policy.
The petition was started by Jessie Huart after she learned of the ban while trying to book a ticket to travel with her 10-year-old pit bull, Slaw.
"These types of policies are opposed by every major dog-related organization. The American Veterinary Medical Association and the National Animal Control Association argue that physical appearance isn't an effective way to predict or address aggression," the petition site says:
"United Airlines adopted the discriminatory policy … when it merged with Continental Airlines, making it the world's largest air carrier and the only US-based airline that labels some dog breeds as "dangerous."

"But while United is still adjusting to its merger with Continental, the company is listening closely to customer feedback. If thousands of dog-loving United customers sign Jessie's petition, the airline will have to listen …"
(Photo: Slaw, a pit bull who won't be flying United; courtesy of Change.org)
Posted by jwoestendiek March 14th, 2012 under Muttsblog.
Tags: airlines, american staffordshire terriers, animals, ban, banned, ca de bou, cane corso, change, continental, dangerous, dog, dogo argentino, dogs, fila brasileiro, jesse huart, merger, new, perro de presa canario, petition, pets, pit bull, pitbulls, policy, presa canario, reconsider, slaw, tosa, tosa ken, travel, united

Comments: none
Pet Airways — viewed as salvation for those who hoped to avoid their dogs traveling, luggage-like, in cargo holds — has hit some turbulence.
Created in 2009 by a California real estate developer, the airline in recent months has canceled flights, leaving dogs and cats stranded and their owners inconvenienced and angry, the New York Times reported Saturday.
Pet Airways appears to be suffering a fate similar to its counterparts that cater to human travelers, the Times article said:
"Dog and cat owners are angry about canceled flights. Travel sites are abuzz with complaints, including customers who claim they have not received refunds for paid-for flights. And the company is burning through cash at a rapid rate."
Alysa Binder, the co-founder of Pet Airways, acknowledged in an e-mail to theTimes that the airline has had some problems procuring planes from contractors and needed to cancel "some flights during the holidays and into the new year."
"We are a very new company that is pioneering, just as FedEx pioneered the overnight packaging business," Binder told the Times. "We have ups and downs, but we are keeping our eyes on the long-term goal of providing a safe and comfortable transportation option for the pets."
The company, which says it has flown more than 7,000 cats and dogs, is still taking reservations, according to its website.
Pet Airways offers service to nine cities. Flights run from about $100 to more than $1,000 each way, and roughly 40 pets can sit in crates in the main cabin (the airline carries pets only), monitored during the trip by a  pet attendant.
The airline was a welcome alternative to the major airlines, some of which ban pets in the cabin entirely. Most typically store animals in the plane's cargo hold, where temperatures can vary wildly and have contributed to deaths. According to the Department of Transportation, 122 dogs died in cargo holds on U.S. airlines between May 2005 and July 2010.
Records indicate Pet Airways had no flights between Dec. 16 and Jan. 16, and it is unclear if it has had any flights since then, according to the Times.
"We are working toward being in the air as soon as we can be assured that the planes are ready for our use," Binder said.  
In a recent regulatory report, the company said it did "not currently have sufficient cash on hand to meet our financing needs … Our auditors have raised substantial doubt about our ability to continue as a going concern."
Posted by jwoestendiek February 13th, 2012 under Muttsblog.
Tags: air, airlines, alysa binder, angry, animals, canceled, cargo holds, cats, complaints, customers, dog friendly, dogs, financial, flights, new york times, news, pet airways, pets, problems, reservations, stranded, travel, traveling with dogs, traveling with pets

Comments: 1
Thomas Cook Airlines has apologized to the owner of Buster, an English bulldog who died in the cargo hold on a flight to London's Gatwick Airport.
The dog was owned by a member of the armed forces returning from duty in Cyprus.
The airline was fined £6,500 and ordered to pay £12,000 costs, the BBC reported.
At a three-day trial in Haywards Heath, magistrates were told that snub-nosed breeds such as English bulldogs were more susceptible to breathing problems in times of stress.
The airline was found guilty day of causing unnecessary suffering, using a transport container that was not of the correct size and two counts of incorrect labeling of the transport container.
A spokesman for the airline said it had carried more than 3,000 animals on its flights in the last three years without incident.
"We'd like to reiterate our sincere apologies to Buster's owner for the distress caused," the spokesman said.
Posted by jwoestendiek November 2nd, 2011 under Muttsblog.
Tags: air travel, airlines, apology, armed forces, breeds, bulldog, cargo hold, cyprus, death, died, english bulldog, fined, flight, gatwick airport, snub-nosed, thomas cook airlines

Comments: none
The pet friendliest airline? It's not one you can travel on.
But according to Petfinder.com, Pet Airways is where your dog can expect the best service.
Petfinder released its annual review of pet-friendly airlines this week, outlining the best options for traveling in-cabin with animal companions. (Petfinder advises against shipping your pet in cargo holds.)
Here's which airlines came out on top in the various categories.
Most Pet-Friendly Overall: Pet Airways. Dedicated to providing a superior travel experience for animal passengers, the first-ever pet-only airline tops the list for this category due to their outstanding policies and first-class treatment of pets.
Best Amenities for Pets (and Pet Parents): JetBlue. For the second year in a row, JetBlue's superior JetPaws program landed the airline in top place for the pet-friendly amenities category. The airline provides travelers with a pet carrier baggage tag, a travel "petiquette" guide, 300 TrueBlue points each way, and a comprehensive e-booklet with pet-friendly hotels, restaurants, parks and animal hospitals in some of JetBlue's major cities.
Best for Transporting Pet Variety: Frontier Airlines. Frontier allows the most diverse variety of pets in cabin, including domesticated dogs, cats, rabbits, guinea pigs, hamsters and small household birds.
Best for Budget-Conscious Consumers: WestJet. Included in Petfinder.com's review for the first time, WestJet tops this category allowing small dogs, cats, rabbits and birds to travel for $50 each way in-cabin. Coming in a close second, AirTran Airways allows domesticated dogs, cats and birds to fly in cabin for $69 each way.
Best for Flying Multiple Pets in Cabin: Frontier Airlines. Frontier allows up to 10 pet containers on each flight, though only one per human.
Best for Big Furry Friends: Pet Airways. Pet Airways can accommodate some of the biggest pups in town, with the maximum height allowance being 34 inches.
"As the proud parent of a huge pet family, I know how important it is to find a way for your pets to travel safely and comfortably with you, whether across the country or across the state," said Betsy Banks Saul, the co-founder of Petfinder.com.
"All too often we hear stories of pets dying or getting injured while traveling in a plane's cargo. We feel strongly at Petfinder.com that you should only travel with your pet in the cabin with you when flying, which is why we continue to review and promote the pet policies of airlines each year."
Posted by jwoestendiek July 26th, 2011 under Muttsblog.
Tags: air, air travel, airlines, animals, dog friendly, dogs, flying, pet airways, pet friendliest, pet friendly, pet friendly airlines, petfinder, pets, review, survey, transportation, travel, traveling with dogs, trransporting

Comments: 1
Short-snouted dogs can no longer fly Cathay Pacific.
The airline Monday banned the brachycephalic breeds from air travel because of the risks of breathing problems and overheating.
The ban covers pugs, bulldogs and boxers, and several breeds of cats, including Himalayan, Persian and exotic short-hair cats, CNN's Business 360 blog reports.
Cathay Pacific's ban follows similar moves by Singapore Airlines and several American carriers.
The U.S. Department of Transportation released figures last year showing about half of all in flight deaths in the previous five years were short-snouted breeds, with English bulldogs accounting for nearly a quarter of those deaths.
"The ban is to bring Cathay Pacific into line with industry practice because it has been found that there is quite a bit of danger," said Thomas Lau, Cathay Pacific's assistant manager of public affairs.
Hong Kong's Society for the Protection of Animals (SPCA) believes that the ban is an over-reaction.
"… There are cases when air travel is unavoidable, especially when owners need to emigrate," said Rebecca Ngan, communications manager of SPCA Hong Kong. "If owners cannot send them in the cabin they may have to abandon them or put them to sleep."
Posted by jwoestendiek July 21st, 2011 under Muttsblog.
Tags: air, air travel, airlines, american airlines, bans, brachycephalic, breathing, breeds, cathay pacific, cats, dogs, english bulldogs, flat-faced, himalayan, hong kong, overheating, persian, pets, restrictions, short, singapore airlines, snouts, spca, travel, traveling with dogs, traveling with pets

Comments: 1
Your bulldog is no longer welcome on Delta Air Lines, and it's for their own good.
As we reported last summer, short-snouted dogs run a far higher risk of death when it comes to air travel, with bulldogs heading the list of cargo hold fatalities, according to federal government statistics.
Bulldogs, pugs and other snub-nosed breeds for whom its harder to take in oxygen accounted for about half of the purebred dog deaths on airplanes in the past five years, the data showed.
Since then two air lines have stop accepting bulldogs as passengers, most recently Delta, which based on its review of animal incidents last year, has opted to no longer carry American, English and French bulldogs.
Of the 16 pets that died on Delta flights in 2010, six were bulldogs.
Animal advocates are praising the decision, the Atlanta Journal-Constitution reports.
"We're pleased that Delta is being attentive and responsive to the particular animal welfare concerns with bulldogs," said Michael Markarian, chief operating officer of the Humane Society of the United States. Shipping pets in cargo holds "really should only be a last resort, when absolutely necessary," he said.
Other major carriers have restrictions on bulldogs and some other breeds, or decline to carry any pets in their cargo holds. AirTran Airways and Southwest Airlines only accept pets that fit in under-seat carriers. American Airlines stopped carrying snub-nosed dogs and cats last November.
Delta had already restricted a wide range of snub-nosed breeds from flying in hot weather, including pit bulls, pugs and Persian cats.
U.S. Department of Transportation data shows that 122 dogs died on airlines from May 2005 to May 2010. Of those, 25 were English bulldogs and six were French bulldogs.
Posted by jwoestendiek April 8th, 2011 under Muttsblog.
Tags: air, air lines, air travel, airlines, american bulldogs, animals, bans, breeds, bulldogs, cargo, cargo hold, deaths, delta, dogs, english bulldogs, flying, french bulldogs, health, pets, pugs, restrictions, safety, short, snout, snub-nosed, travel

Comments: 3