Tag: animals
Picasso, the rescued dog with a twisted snout, was honored by the Oregon Humane Society for showing the world how perfect one with an imperfection can be.
At a ceremony In Portland last week, the 2-year-old pit bull-Chihuahua-Pomeranian mix received a Diamond Collar Hero Award.
The awards honor animals and people who have acted to save a human or animal life in peril, performed services within the community with undying loyalty, or overcome incredible odds in order to survive.
Picasso and his brother were picked up as strays in southern California. They were on the list to be euthanized when Liesl Wilhardt, the founder and executive director of Luvable Dog Rescue, pulled them out and brought them to Eugene last year.
She later decided to keep both as her own, unwilling to let them be separated because of Picasso's devotion to his brother.
Picasso and Pablo quickly became part of her extended dog family, and Picasso became an Internet sensation as well — both for his story of survival and his unique appearance.
"Picasso has overcome challenges that most dogs don't ever have to, from surviving an assaulter to living on the streets. And he's done it all with courage and grace," Wilhardt says. "Picasso's personality and temperament is just loving and accepting to all living things, despite what he's suffered in the past."
Pablo died in October from a brain aneurysm, according to the Eugene Register-Guard. Picasso, unlike his brother, was born with his facial deformity.
Picasso is now in training to become a therapy dog, but he has already touched many lives
"He really does touch people, especially those who look a little different like him," Wilhardt said. "Whether they were born different or had an illness or accident that led them to looking different, he's helped and inspired so many people."
Those offering him praise and thanks include soldiers with disfiguring wounds and children coming to terms with looking different.
Picasso also has been nominated for a 2018 American Humane Hero Dog Award, an annual nationwide competition that searches out and recognizes "America's Hero Dogs."
People can see the nominees and vote for an American Humane Hero Dog Award at herodogawards.org/vote.
Posted by John Woestendiek March 7th, 2018 under Muttsblog, videos.
Tags: animals, chihuahua, deformed, diamond collar hero award, disabilities, disfigured, dog, dogs, hero dogs, inspiration, inspirational, liesl wilhardt, looking different, luvable dog rescue, oregon humane society, pets, picasso, pit bull, pomeranian, rescue, rescued, snout, stray, twisted

Comments: 1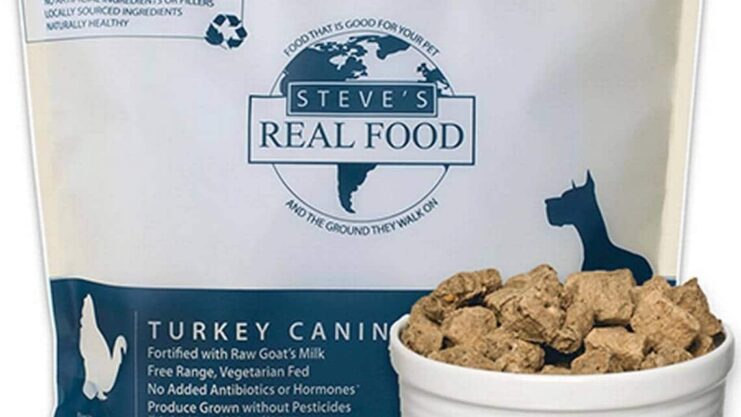 If it seems like there's a new pet food or treat being recalled every week recently, that's because it has gotten that bad.
Worse even.
We count ten since Feb. 8 — most of those of food and treats suspected of possibly being contaminated with salmonella.
The recalled products include dry food, canned food and raw food, treats and bully sticks.
Probably most notable of those recalled are the Gravy Train, Kibbles 'N Bits, Skippy and Ol' Roy brands of canned dog food made by the J.M. Smucker company. Pentobarbital, the sedative used to put dogs down, has been found in cans dating back to 2016.
Smucker released a statement on its website, confirming "extremely low levels of pentobarbital" have been found in "in select shipments."
On Sunday, it told the Miami Herald that the source of the drug was "animal fat was sourced from cow, chicken, and pig."
While those are common sources of pet food, animals euthanized with the drug are not supposed to end up in the food chain — for either dogs or humans.
Last week also saw the recall of an eighth pet food product suspected of containing salmonella or listeria in 24 days, Steve's Real Food's Raw Frozen Dog Food Turkey Canine Recipe, recalled one lot that was distributed to 21 states.
The Nebraska Department of Agriculture found salmonella when testing a retail sold sample.
The 5-pound bags in lot No. E 178 with a best by date of Sept. 17, 2018 went to retail stores in Florida, New York, New Jersey, Connecticut, California, Texas, Pennsylvania, Virginia, Colorado, Iowa, Kansas, Maryland, Michigan, Minnesota, Missouri, North Dakota, Nebraska, Oregon, Utah and Washington, according to the Miami Herald.
Dogs with salmonella can suffer from vomiting, diarrhea and fever.
Humans also can get salmonella, both from dogs and from handling contaminated food or touching unwashed surfaces that the food touched.
Those who have purchased the products should dispose of them and contact the company for a refund.
Other recalls and product withdrawals in the past month include:
▪ Raws for Paws ground turkey
▪ Smokehouse Beefy Munchies treats
▪ Arrow Reliance/Darwin's Natural ZooLogics Duck with Vegetable Meals for Dogs and ZooLogics Chicken with Vegetable Meals for Dogs
▪ Redbarn, 7-inch Bully Sticks
▪ TruPet, Treat Me Crunchy Beef Delight treats
▪ Northwest Naturals, Chicken and Salmon
▪ Carnivore Meat Company, Vital Essentials Freeze-Dried Beef Nibblets Entrée for Dogs
▪ Kitten Grind raw pet food
Posted by John Woestendiek March 6th, 2018 under Muttsblog.
Tags: animals, arrow reliance, bully sticks, canned, darwin, darwin's naturals, diet, dog food, dog food recall, dogs, drug, dry, euthanasia, food, frozen, gravy train, health, kibbles 'n bits, listeria, northwest naturals, ol roy, pentobarbital, pet food, pets, raw, raws for paws, recall, recalls, redbarn bully sticks, safety, salmonella, skippy, smokehouse beefy munchies, smucker, steve's real foods, treats, trupet, warning, zoologics

Comments: 1
It's not unheard of for a war hero to return home without much of a welcome.
But to return home and face more than a year languishing in a kennel?
Such was the case with 13 of the more than 200 bomb-sniffing dogs discharged from the military after service in Afghanistan when the Army ended its Tactical Explosive Detector Dog program.
Despite its promise to find the dogs good homes — and Department of Defense policies requiring as much — the Army spent less than two months to find homes for the canines and, in the end, failed miserably.
That's the conclusion of an investigation by the Defense Department's Inspector General's Office, released last week.
In return for their combat service, the U.S. Army mistreated the dogs who served between February 2011 and February 2014 detecting improvised explosive devices during Operation Enduring Freedom.
The report says the Army failed to properly vet those adopting the dogs, failed to neuter the dogs, as required, and did not accurately track them after their discharges.
In one instance, the Army signed off on allowing a family with children to adopt a dog that possibly had undergone biting training. The Army also allowed a dog with "canine PTSD" to live with another family with children, Reuters reported.
"In its haste to transfer dogs to law-enforcement agencies and to adopt other dogs out to civilians, the Army failed to vet some potential recipients," the report said.
The Army did not always follow the recommendations of veterinarians at Fort Bragg, who screened the dogs for medical and adoption suitability, according to the report.
It allowed 13 dogs to be adopted by a private company that then abandoned them at a Virginia kennel for more than a year — until two nonprofit canine rescue organizations helped to reunite them with their military handlers.
The investigation was started in 2016 after soldiers who had handled the dogs complained about not being able to adopt them, or even determine their fate after discharge.
The Defense Department reported to Congress last year that the Army had found placements for 229 dogs in the program.
The Army says it is working to comply with the inspector general's recommendations to better track and vet adoptions for any future military working dog programs.
(Photo: Reuters)
Posted by John Woestendiek March 5th, 2018 under Muttsblog.
Tags: adopted, adoption, afghanistan, animals, army, bomb sniffing dogs, canines, department of defense, discharged, dogs, dogs of war, fort bragg, handlers, heroes, homes, inspector general's office, military, operation enduring freedom, pentagon, pets, screening, tactical explosive detector dog, war dogs

Comments: 1
We doubt this is going over well with those companies who want to charge you upwards of $100 to tell you what breeds are in your dog, but a research-based organization is offering to do the same thing for free.
You might have to wait, though, and there will be some paperwork.
Darwin's Dogs is a research project affiliated with the University of Massachusetts Medical School that uses your dog's DNA, and other information you supply, to study the connection between DNA and behavior.
Thousands of dogs are now enrolled in the project, the initial goal of which was to look at obsessive-compulsive behavior in dogs. It has since branched into exploring food allergies among pets, CBS in Pittsburgh reports.
The first step in signing a dog up, though, remains providing a dog owner with a free DNA test, and a report on the findings.
That's followed up with online questionnaires in which dog owners provide information on their dog's traits and behaviors.
"We can study behavior in dogs really easily by just working with the dog owners, by just asking them with a goal of trying to look at how differences in a dog's DNA matches up with differences in their behavior," says Darwin's Dogs researcher Elinor Karlsson.
They hope that causes to diseases and disorders can be found in dogs' genetics — and that those could lead to breakthroughs in treating the same conditions in people.
"We don't understand what causes these diseases and the only way to really find new treatments and new effective ways of treating them is to know what the cause is," Karlsson said.
"Even though there are a lot of differences between dogs and humans, you look at the really important things that are relevant to health, there's not that many differences. Dogs get the same cancers, the same psychiatric diseases that we do," she added.
The DNA information the organization provides on your dog is roughly similar to that offered by products such as Wisdom Panel, DNA My Dog and Embark.
Darwin's Dogs tests a saliva sample that you mail to them. Commercially available DNA tests use either saliva or, through veterinarians, blood.
Darwin's Dogs is free — for now.
According to the Darwin's Dogs website, demand has been so high for the test they might have to limit participants, or start charging in the future.
"We have been brainstorming ways of allowing our participants to contribute financially. We are committed to keeping the Darwin's Dogs project free to anyone who is willing to participate, but with the cost of the genotyping this means we currently have to pick-and-chose which dogs to genotype based on the grant funding support we can receive. We are considering options to allow participants to contribute to offset those costs.
More information about the project can also be found in this Scientific American description.
Posted by John Woestendiek March 2nd, 2018 under Muttsblog, videos.
Tags: animals, behavior, blood, breed, darwin's dogs, dna, dna my dog, dna tests, dog breeds, dogs, embark, free, genetics, genome, identification, pets, research, saliva, science, testing, tests, university of massachusetts, wisdom panel

Comments: none
Having literally written the book on the first customers of dog cloning, and having tried to keep you posted since then on developments in that morbid and exploitative business, I must report here on one of its newest customers.
Barbra Streisand.
In a far-ranging interview with Variety, the singer and show business legend revealed that her dogs Miss Violet and Miss Scarlett are both clones of her original Coton du Tulear, Samantha.
Samantha, who commonly accompanied Streisand to concerts and public appearances, and who had her own Instagram fans, died last fall at the age of 14.
In the Variety article, Streisand offered few specifics on how she made the decision to clone, or on the process itself, but either Samantha's corpse, or cell samples from it, were sent to South Korea where they were cloned in a private lab operated by a once-disgraced scientist — the same one who was involved in the world's first canine cloning.
Her two new pups were cloned at Sooam Biotech, using cells extracted from Samantha's mouth and stomach.
In the process, the donor cells are merged with egg cells extracted from other dogs, zapped with an electrical current to spur splitting, then implanted in more dogs who serve as surrogates, carrying the embryos to pregnancy.
Often surplus clones result — those that don't have the exact same markings. Through cloning's development, death and deformities resulted as well. Animal welfare groups frown on the practice, because of the intrusive procedures the other dogs go through, and because it is generally quite easy to simply adopt a dog that looks like the one you just lost.
Streisand, from what I've read about her, seems to fit the common mold of dog cloning's earliest customers — wealthy eccentrics unwilling to accept nature taking something away from them, who feel they have every right to get it back, no matter how much pain and suffering other dogs might go through for that to be achieved.
They weren't all wealthy — including the very first customer — but they all were controlling sorts who often didn't even recognize the utter selfishness of what they were doing.
They were also, early on, misled by the dog cloning companies that formed after the successful cloning of Snuppy in South Korea in 2005. Not only would the clone be an exact physical replica, but it would have the same endearing traits and personality of the original, they were told by the emerging dog cloning companies.
That part was bunk, and the companies later toned down their claims. As the process became more efficient, they dropped their prices too, from $150,000, to under $100,000, with some companies now offering a price as low as $25,000.
In the Variety article, Streisand's two clones were mentioned as an aside, much like her husband, actor James Brolin, often is.
Along with her husband of 20 years, James Brolin, there's no one she enjoys sharing her residence with more than her three Coton de Tulear dogs. Perhaps her biggest reveal: Miss Violet and Miss Scarlett were cloned from cells taken from the mouth and stomach of her beloved 14-year-old dog Samantha, who died in 2017. Miss Fanny is a distant cousin.

"They have different personalities," Streisand says. "I'm waiting for them to get older so I can see if they have her brown eyes and her seriousness."
Streisand, the article said, even suggested a cutline for the magazine to use with the photo they took of her and her dogs — Send in the Clones.
Streisand said that when the clones first arrived, she dressed one in red and one in lavender, so she could tell them apart. That's what led to their names — Miss Scarlett and Miss Violet.
I don't suspect Streisand looks at her new clones and sees in them the reincarnated soul of her original dog, as some early customers did.
I do suspect that original dog created memories she wanted to hold on to, at any cost.
Like the song she once sang, "The Way We Were," asked:
Can it be that it was all so simple then?
Or has time re-written every line?
If we had the chance to do it all again
Tell me, would we? Could we?
The answer is — if you have more money than you know what to do with, if you have little regard for animals other than your own, if you have a selfish streak and an ability to delude yourself — yes!
(Photo: Streisand holding Miss Violet and Miss Scarlett, along with Miss Fanny (from left), who is distantly related and given to Streisand while was waiting for the clones; by Russell James / Variety)
Posted by John Woestendiek March 1st, 2018 under Muttsblog.
Tags: animal welfare, animals, barbra streisand, book, business, celebrity, cloned, clones, cloning, cloning dogs, coton du tulear, customers, dog, dog cloning, dog cloning book, dog inc., dogs, eccentric, exploitation, grief, loss, memories, miss scarlet, miss violet, mourning, pets, samantha, selfish, sooam, streisand, the way we were, variety, wealthy

Comments: 2
OK, so it wasn't love at first sight.
Before dogs became fully domesticated, there were long stretches of time that humans lived in tension with canines — both wolves and dogs — fearing them, eating them, and skinning them for their pelts.
New research published recently in the Journal of Archaeological Science: Reports concludes the remains of dogs found in Western Europe shows that domestication was neither a quick nor tidy affair.
And one that obviously didn't happen everywhere at once.
As a result, both wolves and dogs were hunted — dogs maybe even more because they were easier prey.
The research is outlined in a recent Smithsonian article.
The researchers analyzed stable isotopes in the remains. Stable isotopes are forms of atoms that leave behind signatures in biological samples, revealing details about diet, environment and other conditions.
Through them, scientist say, they can learn more about the changing nature of the relationship between humans and dogs between the Middle and Late Stone Age. Most researchers agree that the domestication of dogs dates back 15,000 years or more, and that it first occurred somewhere in Eurasia.
"At that time (the relationship) obviously fluctuated," says Stefan Ziegler, a co-author of the study. "Sometimes people ate their dogs and sometimes they just used them as guard dogs and maybe even pets."
The recent study could also provide a new tool for archaeologists trying to get a better grasp on whether newly discovered remains are those of wolves or dogs.
Archaeologists have traditionally based their belief on whether remains are those of a dog or a wolf by relying on bone size, but the stable isotopes may provide a better clue, the study says.
"The data show that dogs and wolves must generally have had a different diet, which is reflected in the altered isotope ratios. Dogs could occasionally access human food sources and their diet must have been either more omnivorous or monotonous than that of wolves, depending on the feeding regime," the authors say in the study.
(Photo: Lateral view of a lumbar vertebra of a Late Mesolithic dog from Germany with several cut marks by a flint knife, by Jörg Ewersen, via Smithsonian)
Posted by John Woestendiek February 28th, 2018 under Muttsblog.
Tags: animals, archaeology, bones, canines, dating, dog, dogs, domestication, enemies, eurasia, friends, humans, humans and dogs, hunting, isotopes, man, origins, pets, remains, research, science, stable isotopes, study, wolf, wolves

Comments: none
Back in the late 1950's/early 1960's, the race to space featured two main players — the U.S. and the Soviet Union.
Both, in preparation for manned space flight, were experimenting with animals first — in the Soviet Union's case, most notably dogs, the most famous of which was Laika, who died during the 1957 Sputnik 2 mission, but not until after becoming the first Earth creature to enter outer space.
Now it has been revealed that China was sending dogs into space, too, though its attempts were shrouded in secrecy.
In 1966 at a secret military base in southeast China, a small dog called Little Leopard was chosen from more than 100 other "volunteers" to be launched into orbit. Orbit wasn't achieved, but at least Little Leopard survived.
The previously unknown details of China's secret program to launch dogs into space more than half a century ago were revealed last week in an article published by the Chinese Academy of Sciences.
The academy said that, to usher in the Year of the Dog, it wanted to "commemorate their legendary journey into the sky," according to the South China Morning Post
Little Leopard was chosen from more than 100 puppies bred for the task, all the offspring of performers in an animal circus.
"They were chosen for their looks – the scientists insisted they had to be 'cute' — and put through a series of tests that included being shut in a room and subjected to noise at more than 100 decibels to see whether they could tolerate the sound of a rocket blast," the article says.
Little Leopard and a three-year-old dog named Shan Shan — both mixed-breeds — were selected as the toughest and most intelligent of the group.
But one thing was overlooked by the scientists, and it became apparent soon after Little Leopard was hoisted to the rocket in a basket. He was afraid of heights.
The scientists struggled to get him in the hatch of the 20-story high rocket for take-off.
Once inside, he was attached to equipment to monitor his breathing, circulation, heart rate and body temperature at various stages of the flight. A sensor was inserted in the main artery of his neck to get precise readings of the blood supply to his brain.
Strapped tight inside the capsule, the article says, he "endured unspeakable pain and deafening noise in the 20 minutes that followed. The force of acceleration was up to 12 times the pull of gravity, causing pressure, or G-force, that prevented the dog's heart from pumping enough blood to his head."
While that monitoring equipment worked just fine, the rocket didn't — not entirely. It failed to reach orbit.
As it neared earth, the capsule was ejected and parachute-landed on a mountain not far from the launch site, where Little Leopard was fetched by a helicopter. A crowd gathered at the launch site to welcome his return, according to the academy.
Shan Shan's journey into space, two weeks later, was even more problematic. It never reached orbit, either, and the equipment that was monitoring her vital signs malfunctioned.
Little Leopard and Shan Shan were the first and only large animals used by China to gather biological data for the human space flight program.
After the experiment, the Chinese space authorities decided to stop sending animals into space.
Both dogs were returned to Beijing where government officials presented them with honorary awards. It's not known what happened to the dogs after that, and the Chinese space program bit the dust during the chaos and violence of the Cultural Revolution (1966-76).
(Photos: Chinese Academy of Sciences)
Posted by John Woestendiek February 27th, 2018 under Muttsblog.
Tags: academy of sciences, animals, china, chinese, dog, dogs, dogs in space, humans, laika, little leopard, pets, science, shan shan, soviet union, space, space flight, space missions, space program, sputnik, u.s.

Comments: none