Tag: arizona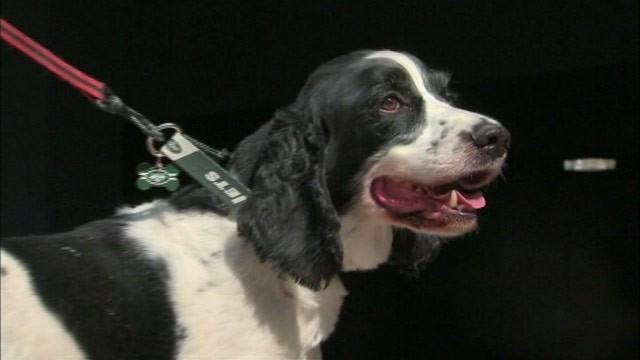 Aside from both having seven letters, Ireland and Arizona wouldn't seem to be that easily confused — one is green, one is not; one is on the other side of the Atlantic and one is on this side.
But, four days before St. Patrick's Day, a dog destined for Phoenix was accidentally put on a flight to Ireland.
United Airlines realized the mistake even before the dog, named Hendrix, landed at the airport in Shannon.
Once he did, he was bathed, fed, and put on a flight back to Newark.
Edith Lombardo-Albach of Staten Island, N.Y., told ABCNews.com that Hendrix, a six-year-old English springer spaniel was scheduled to arrive in Phoenix Thursday evening on a United flight from Newark.
But seven minutes before the flight was supposed to land, she received a phone call telling her that Hendrix would not be arriving in Arizona.
"Originally, I thought the dog had died and I started screaming," she said.
An airline representative told Lombardo-Albach that her dog was put on the wrong flight, and was destined for Ireland. United told her that once Hendrix arrived in Shannon, they would send him back.
"The dog had already gone seven hours to Ireland, and now the dog has a two-hour layover and then a seven-hour flight to Newark," she said. "I was insane."
The dog was flown back to New Jersey on Friday morning, and Lombardo-Albach was waiting. She stayed with him at the airport until he boarded his flight for Phoenix, where the family is moving.
Lombardo-Albach said Hendrix was hesitant to get back in his crate for the next leg of the flight — and who could blame him?
A United Airlines spokeswoman said the airline regretted the mistake: "We are reviewing the circumstances surrounding the situation and will take steps to prevent this from happening again.  Hendrix's experience is not typical of the service we provide to the more than 100,000 pets who travel with us every year."
United Airlines offered Lombardo-Albach a refund for the dog's flight.
Posted by jwoestendiek March 19th, 2013 under Muttsblog.
Tags: airlines, animals, arizona, dog, dogs, english springer spaniel, hendrix, ireland, mistake, newark, pets, phoenix, shannon, travel, united, united airlines

Comments: 2
A one-eyed Pekingese who ran off from his home nearly two years ago was reunited with his family in Arizona this week — after running out of another home and into the side of a police car.
Buddy had been missing since May 2011 when, during a monsoon, a gate flew open and he darted off the property of his owner, Jessica Rowe of Mesa.
Rowe searched, but was unable to find the small black and white dog.
On Friday — 22 months later — Buddy ran out the door of a home in Phoenix and into the street, AZFamily reported.
"That's when I heard this really horrible sound as if a large stone or some object hit the driver side of my patrol vehicle, looked out the rear view and saw the dog down on the road," Phoenix police officer Don Martin said.
Martin and another officer wrapped up the dog and took him to a vet, where a microchip was discovered, showing the dog was owned by Rowe.
Police called her and she reunited with Buddy Monday.
Martin said a citizen found Buddy about a week ago and had been caring for him up until his run in with the police cruiser. It's unclear where Buddy had been before that.
"… We all like being police officers, because of moments like this," Martin said as he watched dog and owner reconnect. " … This is what you live for."
Officer Martin also paid the dog's vet bill.
(Photo: AZFamily.com)
Posted by jwoestendiek March 5th, 2013 under Muttsblog.
Tags: animals, arizona, buddy, car, dog, dogs, don martin, found, hit, jessica rowe, lost, mesa, microchip, officer, one-eyed, pekingese, pets, phoenix, police, returned, reunion, vet

Comments: 1
I can't begin to tell you how much I miss my dog.
As mentioned yesterday, I'm in Arizona, and have been for a week, joining my brother and sister to help get my father settled in a place where he can get the care he needs.
Even though among loved ones, I'm pining for my significant other. Circumstances required Ace — a seasoned traveler — stay home for this trip, and this eight-day separation is the second longest in our seven years together.
It's an empty feeling, not having him there when I wake up, or when I call his name (which I've only done about twice).
Fortunately for me, I have Roscoe, a yellow lab, to help fill  the void. Meanwhile Roscoe's owner, James has Ace.
Here's how all this came to be — how we ended up in the company of each others dogs.
James, my brother's partner, lived in Arizona but recently started working in Winston-Salem, N.C., where I currently reside. My brother, and their dog Roscoe, a yellow lab, haven't made the move yet and are still in the Phoenix area.
Last week, when my presence in Arizona was required, James agreed to care for Ace while I was away. I, planning on staying with my brother, agreed to lavish Roscoe with attention, and — against James's advice — give him at least one walk.
James ended up with the more labor intensive duty, between the feedings and the walks Ace demands. I don't have to feed Roscoe (my brother does that), and one walk convinced me, and my shoulder, that Roscoe was more of an in-the-house,  backyard kind of dog.
For Roscoe, it was just a matter of supplying treats and snuggling, and it was only a few days before it hit me that I had it backwards — James and I are not taking care of each other's dogs, each other's dogs are taking care of us.
James, who has been missing his dog something fierce since moving to North Carolina, seems to be enjoying Ace's company. He posted the photo of him above on Facebook the other day, along with the words: "Thanks to Ace to keep me warm at night. I am dog-sitting Ace and he is such a wonderful boy!"
As Ace attends to James needs, Roscoe attends to mine.
The first few nights, he joined me on my floor mat, dividing his time between sleeping with me and my brother.
But when I got hit by a three-day bug, Roscoe turned it up a notch. He stayed by my side all night. He followed me to the bathroom — a frequent destination for a while there — waiting patiently outside the door for me to exit. He was at my side whenever I got up, generally carrying either his bone or a pillow in his mouth, tail wagging away.
He's a totally different dog than Ace — a little more goofy, a little less needy, but equipped, it seems, with all the same sensors of human need.
Unlike Ace, who doesn't like to get nudged in his sleep, Roscoe tolerates anything. A few times I woke up with both my legs atop him. He woke me up a few times sniffing my face, and a few more times by biting his toenails. Roscoe probably spends a couple of hours a day grooming his claws, and it can be a noisy affair.
But it was a small price to pay for all the attention he bestowed on me.
I was reminded, while scratching Roscoe's big floppy ears, of the old Stephen Stills song, which had nothing to do with dogs at all:  And if you can't be with the one you love, honey, love the one you're with.
The lyrics always struck me as a tad slutty, but then that was probably just my dirty-minded interpetration. Maybe I never really understood it.
Dogs, on the other hand, totally get it.
(Photos: Ace photo by James Wong; Roscoe photo by John Woestendiek)
Posted by jwoestendiek January 29th, 2013 under Muttsblog.
Tags: ace, animals, arizona, away, dogs, home, lab, labrador retriever, pets, roscoe, senses, separation, travels with ace, trip, void, yellow lab

Comments: 4
The first time I met Steve Wilson, in 1978, he asked me where I wanted to be in five years, and I looked at him like he was crazy.
Five years? How could anyone possibly plan that far ahead? Five years was, like, forever, and I wasn't sure where I wanted to be next week, or for that matter tomorrow.
I was applying for a job in Lexington, Kentucky, at a newspaper where he was managing editor. I was 24, and among the many things I didn't know at the time was how quickly five years can zip by.
The same holds true of 11 years.
At age 11, Ranger, the golden retriever Wilson took home as an eight-week-old pup, passed away just before Christmas.
Wilson wrote about Ranger — "my best friend and maybe the happiest soul I've ever known" — in a recent article in the Kentucky Enquirer, where he's the editor:
"Golden retrievers are famously sweet, friendly and mellow. Ranger was true to his breed and then some. He radiated joy. He was gentle, innocent and steady as a rock. He wanted nothing more than to be a faithful companion and to give and receive love. His devotion never wavered.

"A person can learn a lot from a dog, and he gave lessons in appreciating everyday moments. When we took walks and hikes, he seemed to enjoy every step and gave me looks that said, "Hey, is this a great day or what?" When I came home from work, he rushed to the door to greet me with a smiling face that made whatever I was dealing with that day a little easier to handle … He was unacquainted with discontent"
Wilson, who helped open a dog shelter in Flagstaff, Arizona, has had many dogs, dating back to the era we worked together at the Lexington Leader. We even had the same dog. His family called her Jessie; I called her Carrie (in honor of my crush on Sissy Spacek). We disagree on who had her first. I remember him giving her to me; he remembers me giving her to him. In any event, Jessie, a tad neurotic, ended up with another reporter, who had a farm in the country.
Wilson and I would go on to work for a handful of other newspapers, and he'd end up in Phoenix, where he left journalism and went to work for Arizona Attorney General Terry Goddard. When he brought Ranger to visit the offices, Wilson recalled, the place seemed to brighten up.
In August of 2012, he returned to the newspaper profession, hauling Ranger and his coonhound mix, Clara, with him to a new job in Kentucky.
Ranger quickly made new friends, at Kenton County's Paw Park and when Wilson brought him into the offices of the Kentucky Enquirer, where he quickly hit it off with the news staff.
In the past few weeks, Ranger lost weight and grew weak — to the point where he could barely stand. At the vet, it was agreed it was time to let him go. Wilson stroked Ranger's coat as a lethal injection was administered.
The following week, Wilson returned to the office from lunch to find a card on his desk signed by his new colleagues, along with a copy of 'The Power of Dog,' a Rud­yard Kipling poem:
There is sorrow enough in the natural way
From men and women to fill our day;
And when we are certain of sorrow in store,
Why do we always arrange for more?
Brothers and sisters, I bid you beware
Of giving your heart to a dog to tear.
Posted by jwoestendiek January 2nd, 2013 under Muttsblog.
Tags: animals, arizona, death, dogs, editor, golden retriever, grief, kenton county, kentucky enquirer, loss, mourning, northern kentucky, paw park, pets, ranger, rudyard kipling, steve wilson, the power of dog

Comments: 2
The Tucson Police Officers Association is seeking to honor a police dog killed in the line of duty by having a dog park named after him.
Ivan, a 3-year-old Belgian malinois, was shot and killed two weeks ago while trying to protect officers from an armed carjacking suspect.
The dog park at Purple Heart Park on East Rita Road, which officially opened over the summer, is where Ivan would go with his handler to unwind after his shift.
"(He) would allow him to run the energy off for the night before taking him home,"  TPOA secretary, Officer Paul Sheldon, told the Arizona Daily Star.
Sheldon, at the request of  Ivan's handler, Officer Chris Fenoglio, is spearheading an effort to have the park named after Ivan. Last week, he took petitions to the park, seeking signatures in support of the idea.
The petition will be presented to Tucson's Parks and Recreation department for approval at its next board meeting, after which it would head to the city council for a vote.
Sheldon said he hopes the approval process can be completed by February.
Ivan was shot on Dec. 13 by a carjacking suspect who pulled out a gun when officers encountered him. Released by Fenoglio the dog ran to the suspect and managed to bite his left arm before he was shot.
Sheldon said Fenoglio has received dozens of letters of support from the community.
If the dog park is named after the hero police dog, it won't be the first time.
In 2006, a Tucson Police Department dog named Miko died after jumping off an overpass in pursuit of a carjacking suspect.
The dog park at Reid Park was named in his honor —  Miko's Corner Playground.
(Photo of Ivan courtesy of Tucson Police Department)
Posted by jwoestendiek December 31st, 2012 under Muttsblog.
Tags: animals, arizona, belgian malinois, bit, carjacking, department, dog park, dogs, honor, ivan, K-9, k9, killed, line of duty, memorial, miko, name, parks, petition, pets, police, police dogs, purple heart park, shot, suspect, tucson

Comments: none
A Doberman named B.A. has been reunited with his owner — seven years after he ran off during a thunderstorm.
Dan Kesler, now an assistant swim coach at Arizona State University, lost his dog while living in Durham, N.C.
He'd moved repeatedly since then, but had kept the same cell phone number, allowing humane society officials in North Carolina to get in touch with him when B.A. — who was microchipped — ended up in a shelter.
The dog was found wandering the streets of Durham, North Carolina last month, according to Fox 10 in Phoenix.
Kesler said he'd almost given up hope of ever seeing his dog again.
"The first night I spent outside waiting for him to come back, because I honestly thought he would come back that night. Within a week I thought he would show up, but but then as weeks turned into months and months turned into years … did I think he'd be back? I can't say yes. But I never gave up hope."
Kesler was contacted by the North Carolina shelter about four weeks ago, and B.A. was flown to Arizona at the beginning of the month.
Posted by jwoestendiek November 29th, 2012 under Muttsblog, videos.
Tags: animals, arizona, arizona state university, ba, dan kesler, doberman, dog, dogs, durham, found, lost, microchip, north carolina, pets, pinscher, reunion, reunite, swimming coach, thunderstorm

Comments: 1
Gabriel, a weimaraner, passed away more than two years ago, but the therapy dog organization named after him, Gabriel's Angels, is going strong.
In the 12 years since it was formed, consisting only of Gabriel, the organization has grown to 160 human-animal teams, and the dogs have visited more than  than 13,000 abused, neglected and at-risk children, according to a story worth reading in this week's Arizona Republic.
Gabriel's Angels got its start about a year after Pam Gaber got the weimaraner pup.
She was volunteering at Crisis Nursery in central Phoenix, and every Friday she'd share photos and tales about her dog with the children.
For a holiday party, she brought Gabriel along with her for the first time, and dressed him as a reindeer. She noticed more smiles, more laughs and a greater sense of calm among the children. Recognizing the benefits a dog could offer them, she searched for a therapy dog group specializing in working with at-risk children. Finding none, she created her own.
A neighbor heard about it, and Gabriel's Angels soon had its second therapy dog — a golden retriever named Sugarbear. A few months after that, they were joined by Auska, a bouvier des Flandres. By 2002, Gabriel's Angels had 25 teams in the field; a year later, that number had doubled.
Today it has a waiting list of agencies requesting weekly visits — more than can be accomplished on its budget.
Gabriel's legacy lives on, both through the organization, and the book Gaber wrote in 2011, "Gabriel's Angels: The Story of The Dog Who Inspired a Revolution."
Gabriel's Angels works to teach children confidence, tolerance and respect. As the Arizona Republic story recounts, much of that could be seen during a visit one of Gabriel's successors, Tucker, paid to Crisis Nursery, whose education manager Cindy English, pointed out:
"Even children who have withdrawn behind walls of their own making — perhaps necessary to survive — will start to emerge in the safety of a friendly, lovable animal … These kids have been hurt or lied to by adults. But around an animal, they show love and caring. For some it might be the very first meaningful connection they make."
Posted by jwoestendiek November 29th, 2012 under Muttsblog, videos.
Tags: animals, arizona, at risk children, children, crisis nursery, dog, dogs, gabriel, gabriel's angels, pam gaber, pets, phoenix, therapy, therapy dogs, weimaraner

Comments: 1
We usually don't memorialize a dog twice — but Andre was extra special.
We wrote about Andre when he was found inside a knotted plastic trash bag on the side of the road, his eyes mutilated. We wrote about him again when it was learned he died last week.
But the best person to write about him is the person who took him in, gave him a loving home for eight months and has been updating fans on his Facebook page ever since.
Above is the video she put together.
Here are her words:
"This is the story of a courageous miniature pincher who suffered both horrific abuse and unbounding love. Andre the Rescue Dog was found on January 3, 2012, by our hero, Cedric Conwright, who witnessed a black garbage bag being thrown out of a moving car into an empty lot as if discarded trash. When the bag moved, Cedric opened it to find little Andre, eyes gouged and hanging from their sockets, starved to 7 1/2 pounds, shot with BBs. Thanks to God's divine intervention in guiding Cedric to that lot, on that day, at that moment Andre's (or as Cedric named him "LG" for Little Guy) story did not end there but began to unfold on a journey that has touched human hearts all over the world. Rescuers later named this sweet dog Andre and I came to call him Andrea Bocelli after witnessing the first sound he made almost two months after he was rescued. His sweet little bark that lifted his front feet off the ground sounded like music to my maternal ears. And so he became Andrea Bocelli Powers!
"Andre came with a ready-made FaceBook page when I adopted him. It was originally created to help raise funds for his early medical needs and later for two surgeries, one of which was a double-adrenalectomy. It didn't take long for me to understand that although Andre could no longer see the world, the world was seeing Andre for the first time,
"Mr. Bocelli's birthday because his rescue day, January 3, and his greatest gift was a new life free from abuse. His last day, October 6, 2012, came far too soon when he died at home of diabetic complications. I shall always yearn to hold my Bocelli again; Bocelli, Bocelli, Bocelli.
"I am confident that If Andrea could, I know he would, say thank you, thank you, thank you to everyone one who helped both him and me in any way. No matter how big or small the gesture, I have been forever touched by your generosity of prayer, words of support, money, newspaper and TV articles, hugs, tears, etc., etc.
"Deeply grieving the loss of my companion, I am.
Sandy Powers
Andrea's Seeing-Eye-Human
October 11, 2012″
Posted by jwoestendiek October 12th, 2012 under Muttsblog, videos.
Tags: abused, andre, andre the rescue dog, andrea bocelli, animals, arizona, blind, death, dog, dogs, eyeless, eyes, found, gouged, inspiration, memorial, miniature pinscher, moving, mutilated, pets, phoenix, rescue, sandy powers, tolleson, trash bag, tribute, video

Comments: 3
A brave little dog died last week — nine months after he was left for dead on the side of the road in a plastic trash bag.
His name was Andre, and he was a miniature Pinscher, found in a knotted black trash bag on the side of a street in Tolleson, Arizona.
A man taking a walk noticed the trash bag was moving, and went to open it up.
Doing so would expose a particularly heinous case of what some humans do to animals, but it would also come to show how very many more humans step forward to help them.
Andre would go on to brighten the lives and bring out the best of all those he came in contact with, though, for him, the darkness continued — even once he was out of the bag. In addition to the other abuse he'd been subjected to, his eyes had apparently been gouged out.
Despite that — despite the cruelty with which one or more humans treated him — he'd continue to show love for the rest of the species, and keep capturing hearts for nearly 10 more months.
It all started with Jan. 3, when Cedric Conwright saw a car pull to the side of the road, and watched as a bag was tossed out the window before it drove away. Conwright approached the knotted trash bag and saw that it was moving. He nudged it with his foot and heard a whimper.
When he opened it, he found a small dog in bad shape. He picked him up and took him home. Two days later he took the dog to Maricopa County Animal Care and Control in hopes of getting it medical help.
Euthanasia was discussed, but instead vets opted to perform surgery, removing what was left of his eyes. From there he was taken in by Susy Hopkins, a member of the Feathers Foundation, a Paradise Valley non-profit group associated with the Circle L Animal Sanctuary. The foundation raises money for injured and neglected animals.
Her first stop was another animal hospital, where the first thing vets recommended was euthanasia. Hopkins said no, and asked the vet's office to do what they could.
In addition to infections where his eyes used to be, Andre was anemic and had diabetes, and under his skin were what appeared to be BB's from a pellet gun.
Over the next few days, Andre started appearing more lively, and his rescuers went to work trying to raise money for the medical care he had gotten and would need. Within days, $13,000 had poured in. A fundraiser at a downtown Scottsdale pizza restaurant brought in another $3,500.
There was something about Andre that brought out the best in people, Hopkins noted.
"People just wanted to see Andre, to hold him, to hug him," she said. "And no matter how many people wanted to pet him, Andre never resisted. He was so calm, so gentle. It made me wonder even more why someone would treat him so badly."
On Feb. 11, a permanent home was found for Andre. Sandy Powers had seen his story on TV. "It was love at first sight," Powers said. "I had never adopted a rescue dog before, but I knew I wanted to care for this one."
Andre walked carefully at his new home, several states away, and, though he couldn't see, did his best to stay at the side of his new mom.
"When I talk or sing a little, he stays right with me on my heels," said Powers.
He continued to get treatment for his diabetes. Amid other complications, there were some weeks Powers seemed to be making daily visits to the vet.
In recent weeks, his condition took a turn for the worse, and Powers did her best to keep Andre's many fans informed on his Facebook page.
This week, she announced he had died Saturday. Andre has been cremated and his ashes brought home.
The dog who many were surprised didn't die eight months ago now has — but not before getting a chance to give and get some love, add a few more chapters to his brave legacy and remind us yet again what being human is all about.
Posted by jwoestendiek October 10th, 2012 under Muttsblog.
Tags: abuse, andre, andre the rescue dog, andrea bocelli, animal cruelty, animals, arizona, blind, cedric conwright, cruelty to animals, dead, death, diabetes, dies, dog, eyes, facebook, gouged, memorial, min pin, miniature pinscher, moving, out, page, pets, phoenix, rescue dog, rescued, sandy powers, tolleson, trash bag

Comments: 8
Authorities in Arizona are taking a closer look at how Tucson Greyhound Park has managed to go 60 years without getting a city license for any of the dogs on the premises.
The Arizona Daily Star reports that there's no record of any exemption being granted by South Tucson, the municipality in which the track operates, or by Pima County.
An ordinance in South Tucson requires dog owners pay a $45 licensing fee.
Under the ordinance, any unaltered dog kept within the city for 30 consecutive days each year is required to have a license.
Yet Tucson Greyhound Park, a home of sorts to more than 700 dogs, hasn't gotten a license for any of them in six decades. At $45 per license, given all those dogs and all those years, that's a pretty significant savings.
Kim Janes, manager of Pima County Animal Care, said he doesn't know why the park considered itself exempt. He said his office began investigating the matter about a year ago.
His office found no state statutes that spared greyhound tracks from paying the fee.
The South Tucson's City Attorney's Office contacted his office last week, informing him that dogs at the park should be licensed, and Janes planned to send officers to the park this week.
"We are going to be talking to the track and say they need to have some information for us," he said. "When we come out, we will need to see rabies vaccinations and proof of when the dog got here. If (they) don't have proof, we are going to assume it has been here more than 30 days."
Tucson Greyhound Park CEO and General Manager Tom Taylor said the greyhounds don't need a license because the state requires every greyhound to receive a rabies vaccination before entering the state or being qualified to race. Since rabies vaccinations are the primary reason for licensing, he said, there's no need for the park to register the dogs locally.
"Since 1944, we have never had to have them licensed," he said.
Taylor said he suspects negative media coverage about the track, and animal welfare organizations seeking to ban greyhound racing, are behind the crackdown.
Posted by jwoestendiek September 18th, 2012 under Muttsblog.
Tags: animal care, animals, arizona, avoided, crackdown, dogs, fee, fees, greyhound, greyhounds, licenses, municipal, ordinance, park, pets, pima county, racing, registration, south tucson, tucson, tucson greyhound park

Comments: 1