Tag: award
A Labrador retriever who ate a beehive – bees included – has been named winner of this year's "Hambone Award" an insurance company's annual tribute to the pet with the most unusual insurance claim.
Veterinary Pet Insurance Co. (VPI), the nation's oldest and largest provider of pet health insurance, chose 12 nominees for the honor – all selected from claims filed by clients. More than 3,000 people voted online to pick the winner.
Ellie lives in Santee, California, and the beehive was just the latest in a long line of items she has consumed in her young life – from wooden toy train tracks to laptop computer keys.
On top of the hive, and its thousands of inhabitants, Ellie also consumed pesticide – for the hive had recently been sprayed. On the plus side, that meant the bees she consumed were already dead. On the down side, the pesticide made her upset stomach even worse. She made a full recovery.
Ellie's owners, Robert and Sandra Coe, will receive a bronze trophy in the shape of a ham as well as a gift basket full of doggie toys and treats, VPI announced this week.
The VPI Hambone Award is named in honor of a VPI-insured dog that got stuck in a refrigerator and ate an entire Thanksgiving ham before someone opened the door and found the dog inside, with a mild case of hypothermia.
This year's second place honors went to Aubie, a border collie from Birmingham, Alabama, who wanted to meet (or eat) the mailman so badly he leapt through a closed living room window. The leap shattered the glass and left Aubie with a cut front leg that required 40 stitches.
"Aubie's never been enamored with the mailman," said owner, Sharman Martin.
Third place went to a West Highland white terrier named Darci, who attacked her owner's running chainsaw. The chainsaw cut two small holes into Darci's muzzle and she underwent five hours of surgery.
Additional nominees for the 2010 VPI Hambone Award included a boxer that chased and caught a moving delivery van by biting into one of its tires, a standard poodle with a taste for dirty diapers, and a Jack Russell terrier that suffered injuries from wrestling with a lizard.
All pets considered for the award made full recoveries and received insurance reimbursements for their medical care.
(Photo: Courtesy of VPI)
Posted by John Woestendiek August 24th, 2010 under Muttsblog.
Tags: accidents, animals, ate, aubie, award, beaten, beehive, bees, border collie, california, claims, darci, dogs, eaten, ellie, finalist, ham, hambone, hambone award, health, hive, insurance, labrador, labrador retriever, nominees, pet, pets, retriever, robert coe, safety, sandra coe, santee, trophy, unusual, veterinary, veterinary pet insurance, vpi, west highland terrier

Comments: 1
A West Highland terrier who attacked a buzzing chainsaw has recovered from her injuries and is now in the running for the Hambone Award, presented annually by Veterinary Pet Insurance.
Darci, a 2-year-old terrier, had a history of lunging at the vacuum cleaner and lawnmower, according to her owner, Barbara Abell, of Belleville, Ill. "She never actually touched them, but she would lunge at them," Abell says.
Last month, though, Abell's husband was using a chainsaw to cut up a fallen branch in the family's backyard when Darci lunged and bit the running saw. Abell rushed Darci to an emergency clinic, where she received four stitches and was sent home.
"By the next day, she was back to her feisty self," said Abell, who advised pet owners not to assume their pets will keep their distance from dangerous equipment — even if they always have.
Darci's onwers filed a claim with VPI, their insurer. Of more than 8,000 claims received in June by VPI, Darci's was judged the most unusual of the bunch. As a result, Darci's in the running for the  2010 VPI Hambone Award.
Each month, VPI employees nominate the most interesting claim submitted. In August, the public will vote on line for the winner of the Hambone Award, named after a dog  that got stuck in a refrigerator and ate an entire Thanksgiving ham while waiting for someone to find him.
The dog was eventually found, with a licked-clean hambone and a mild case of hypothermia. Like all dogs nominated, he recovered fully.
Posted by John Woestendiek July 14th, 2010 under Muttsblog.
Tags: animals, attack, attacked, award, bit, chainsaw, claims, darci, hambone, insurance, lawnmower, ohmidog!, pet, pets, stitches, treatment, unusual, vacuum cleaner, veterinary, veterinary pet insurance, vpi, west highland terrier

Comments: 4
A 9-year-old wire fox terrier named Ronnie was named Los Angeles "Hero Dog of the Year" this week for chasing off a coyote — a feat I'm guessing he accomplished while OFF HIS LEASH and BARKING.
Ronnie — who lives in Orange County with owners Janis and Eric Christensen and their two other dogs — placed himself between a coyote and Janis, who was holding another of the family's dogs, when the coyote jumped a fence into the Christensens' backyard last August.
The coyote bit Ronnie; Ronnie bit back, then chased the coyote until it disappeared from view, Eric Christensen told the Orange County Register.
According to the Christensens, such behavior was uncharacteristic: Ronnie's a shy and laid back dog.
"Ronnie's personality was such that you wouldn't think he would spring into action like he did. This shows that treating your pet with love and respect can be returned by an amazing heroic act," said Madeline Bernstein, president of the spcaLA, which bestowed the honor.
(Photo: Jebb Harris / The Orange County Register)
Posted by John Woestendiek May 6th, 2010 under Muttsblog.
Tags: animals, award, barking, california, coyote, dog, dogs, eric christensen, hero, hero dog of the year, janis christensen, leash, los angeles, news, ohmidog!, orange county, pets, ronnie, spcala, wire fox terrier

Comments: none
News that Michael Vick is expected to attend the 32nd annual Ed Block Courage Awards dinner in Baltimore Tuesday has led to a change in the ceremony's format and an increase in security.
Vick, who was convicted in 2007 of running a dogfighting ring, is one of 32 winners to be honored with the award, which singles out one member of each NFL team for his courage, sportsmanship and inspiration to his community.
Vick's unanimous selection by his Philadelphia Eagles teammates triggered angry e-mails to the Ed Block Courage Award Foundation, a petition drive and a planned protest by dog lovers and animal welfare activists at the award's ceremony, to be held at Martin's West, 6817 Dogwood Road, from 4 to 10 p.m.
More than 100 people have already signed up to protest at the event — a number that could grow as a result of the news that the quarterback will be attending.
In addition to scrapping the long-standing tradition of having the athletes mingle with fans and sign autographs,  organizers say they are boosting security, according to the Baltimore Sun.
"We've put in place enough [guards] to make sure that our players are safe and that everything runs smoothly."said Ed Block Courage Award Foundation spokesman Paul Mittermeier.
The Block Award is named for a former team trainer of the Baltimore Colts, who worked for years to help abused children.
 Criticism for bestowing the award on Vick has come from groups ranging from animal rights activists to the American Kennel Club. "It is unconscionable that a man who tortured and abused helpless animals be honored by an organization dedicated to ending abuse," the AKC said.
Vick will be accompanied to the event by Michael Markarian, chief operating officer of the Humane Society of the United States,  a group for which the quarterback has made public appearances in recent months, attempting to steer youth away from dogfighting.
Posted by John Woestendiek March 5th, 2010 under Muttsblog.
Tags: abuse, award, baltimore, ceremony, convicted, conviction, courage, courage award, demonstration, dogfighter, dogfighting, ed block, foundation, honor, increased, inspiration, martin's west, michael vick, news, petition, philadelphia eagles, protest, quarterback, security, sportsmanship, vick, vick protest

Comments: 4
The chairperson of the Mayor's Anti-Animal Abuse Task Force says bestowing an Ed Block Courage Award on Michael Vick is "premature at best and disgraceful at its worst."
In a letter to Sam Lamantia, Jr., CEO of the Baltimore-based Ed Block Courage Award Foundation, Caroline A. Griffin, head of a task force charged with reducing animal abuse in Baltimore, expresses "grave disappointment" with the decision to honor Vick with the reward. Vick was unanimously nominated by his Philadelphia Eagles teammates.
Vick's award, scheduled to be presented in March, is also being protested in the form of  a petition drive.
Here is Griffin's letter, as it appears on Mayor Sheila Dixon's website, in its entirety:
Dear Mr. Lamantia,
On behalf of the Mayor's Anti-Animal Abuse Task Force, we wish to express our grave disappointment and concerns over the decision of the Philadelphia Eagles to nominate Michael Vick as the recipient of the Ed Block Courage Award.
We believe that this nomination is premature at best and disgraceful at its worst. It is ironic that Mr. Vick's teammates have selected him to receive an award in honor of a man who extolled that mankind should "work toward alleviating suffering and especially to alleviate the suffering of those who cannot help themselves." Yet in response to this nomination, Mr. Vick seemingly laments only the hardships that he has endured as a convicted felon rather than those he imposed on the many victims of his crimes.
Mr. Vick apparently acknowledged, by virtue of his guilty plea, that he engaged in a cowardly and sadistic criminal enterprise for more than six (6) years, which terminated not because he saw the errors of his ways, but because he got caught. To date, we believe that he has done nothing more than fulfill the terms of his federal sentence. Aside from demeaning the memory of Mr. Block, there is a risk that bestowing this award to Michael Vick may unwittingly glamorize the brutal crime of dogfighting rather than deter it.
While we question the wisdom of this decision, we commend the Philadelphia Eagles for initiating a Treat Animals With Kindness (TAWK) program, which educates children and adults concerning animal abuse and dogfighting. Mr. Vick has several teammates who have voluntarily advocated against violence and abuse and who would appear to be more suitable candidates for such an honor. We believe that Mr. Vick is neither courageous nor a role model and that he remains an inappropriate recipient of such a prestigious award.
Very truly yours,
Caroline A. Griffin
Chair, Mayor's Anti-Animal
Abuse Task Force
Posted by John Woestendiek January 27th, 2010 under Muttsblog.
Tags: anti-animal abuse, award, caroline a. griffin, ceo, courage, dog fighting, dogfighting, ed block, foundation, j.r., letter, mayor's, michael vick, philadelphia eagles, sam lamantia, task force

Comments: 6
Ken Wahl has added the 1990 Golden Globe award he received for his starring role in the television series "Wiseguy" to the reward being offered for information leading to the arrest of whoever glued a cat to a southern Minnesota highway.
"Men who pick on cats are sick cowards that have control issues, since cats are half wild and independent," Wahl told Radar Online. "We're not just finding a kitten killer, we are preventing this person becoming a serial killer."
Timothy, a 10-month-old kitten, was found glued to a Minnesota highway last month in freezing temperatures. The kitten had also been struck by a vehicle. Despite attempts to save the cat, he died ten days later.
Wahl's donation comes on top of more than $12,000 already donated to the reward being offered by Second Chance, an animal rescue organization in Sioux Falls, South Dakota.
"Rescue Ink" is also stepping in to try to find the cat killer, according to Wahl, who is retired from acting and living in Arizona.
Posted by John Woestendiek January 20th, 2010 under Muttsblog.
Tags: 1990, animal cruelty, animals, award, cat, cats, donate, donates, donation, glued, golden globe, highway, ken wahl, kitten, minnesota, pets, rescue ink, second chance, sioux falls, timothy, torture, wiseguy

Comments: 1
An online petition drive has been launched, asking the Ed Block Courage Award Foundation to rescind the award that Michael Vick's Philadelphia Eagles teammates unanimously voted for him to receive.
The petition, being sent to Sam Lamantia, CEO of the foundation, reads:
Recently the Philadelphia Eagles have elected Michael Vick as their recipient for this year's Courage Award. Given Mr. Vick's crimes and felony conviction, we do not believe he is worthy of this honor. For several years, in addition to promoting dogfighting, Vick himself tortured, abused, and murdered innocent dogs for his own profit and apparent enjoyment. This is not courage. This is inhumanity, immorality, and sheer brutality and does not warrant giving Vick this or any other reward.
Many of us have protested Vick's reinstatement to the NFL. There has been strong media and PR influence in trying to diminish his past actions and erase the public's memory of his sadistic behavior. We encourage you to stand up for the rights of animals everywhere and the memory of the dogs who endured Vick's cruelty…
The Ed Block Courage Award Foundation, based in Baltimore, is dedicated to promoting awareness and assisting in the prevention of child abuse. Vick's promotion and financing of dogfighting activities and his conviction in 2007 of felony dogfighting charges run counter to that mission, petition backers say.
PETA, meanwhile, has also come out against Vick receiving the honor — one Vick says he deserves because of what he has "been through."
"In no way does Michael Vick represent courage and inspiration," the petition's organizer said. "Rather, he exemplifies cruelty and inhumanity, and is not deserving of reward or recognition. We the undersigned strongly encourage the Ed Block Foundation to demonstrate the true substance of bravery, morals, and ethics. Deny Michael Vick the honor of the Courage Award."
Posted by John Woestendiek December 29th, 2009 under Muttsblog.
Tags: award, baltimore, campaign, cancel, child abuse, courage, dog, dog fighting, dogfighting, dogs, drive, ed block courage award, ed block foundation, honor, michael vick, nfl, petition, philadelphia eagles, rescind, revoke, stop, teams, vick, withdraw

Comments: 13
Here's what Philadelphia Eagles quarterback Michael Vick said about winning the the Ed Block Courage Award, which honors NFL players who exemplify commitment to the principles of sportsmanship and courage –  as quoted by the Associated Press:
"It means a great deal to me. I was voted unanimously by my teammates. They know what I've been through. I've been through a lot. It's been great to come back and have an opportunity to play and be with a great group of guys. I'm just ecstatic about that and I enjoy every day.
"I've overcome a lot, more than probably one single individual can handle or bear," Vick said. "You ask certain people to walk through my shoes, they probably couldn't do. Probably 95 percent of the people in this world because nobody had to endure what I've been through, situations I've been put in, situations I put myself in and decisions I have made, whether they have been good or bad.
"There's always consequences behind certain things and repercussions behind them, too. And then you have to wake up every day and face the world, whether they perceive you in the right perspective, it's a totally different outlook on you. You have to be strong, believe in yourself, be optimistic. That's what I've been able to do. That's what I display."
People for the Ethical Treatment of Animals (PETA) said the Eagles "fumbled when they gave Michael Vick the Ed Block Courage Award, which was named after a man who advocated in behalf of abused children … Michael Vick should not be the person anyone points to as a model of sportsmanship, even though he has now exchanged dogs for touchdowns after serving time for extreme cruelty to animals. We wish him well in educating others, but this is not appropriate and does not mark a joyous moment in NFL history."
Posted by John Woestendiek December 24th, 2009 under Muttsblog.
Tags: abused, award, children, conviction, courage award, dog, dog fighting, dogfighting, eagles, ed block, michael vick, nfl, peta, philadelphia, reaction, response, sportmanship, vick

Comments: 2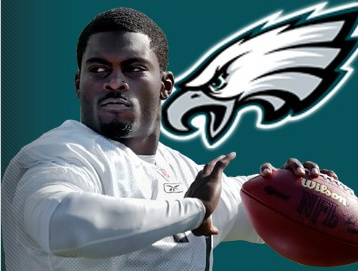 Philadelphia Eagles quarterback Michael Vick will receive an award in March for his "commitment to the principles of sportsmanship and courage."
If you just coughed up your breakfast cereal, join the club.
Vick was hired by the Eagles after his release from federal prison, where he served a sentence for dogfighting. If anyone deserves a courage award, it's his former dogs.
Vick will be receiving the Ed Block Courage Award — named for a former Baltimore Colts trainer who was an advocate for abused children. It's given to a player on all 32 NFL teams.
The Ed Block Courage Award Foundation, based in Baltimore, will hold a press conference at Sports Legends Museum announcing the 2009 winners, and an awards ceremony is scheduled for March. Here's the foundation's press release. Here's the NFL press release on Vick's selection.
Neither specifies exactly what courage Vick has demonstrated, so its unclear if he's being honored for his anti-dogfighting appearances for the Humane Society of the United States; surviving prison, surviving the wrath of animal rights activists, rehabilitating himself or at least his image, overcoming his bankruptcy, his return to football, or what.
For 32 years the award has been given to NFL players, who are selected by their teammates.
The Ed Block Courage Award Foundation is an NFL-supported charity dedicated to recognizing courage in the League while improving the lives of abused and neglected children in NFL cities throughout the country.
Posted by John Woestendiek December 24th, 2009 under Muttsblog.
Tags: award, child abuse, courage, dog fighting, dogfighting, dogs, ed block, ed block courage award, foundation, honored, michael vick, neglect, nfl, philadelphia eagles, quarterback, receive, sportsmanship, teams, vick

Comments: 21
 
We're proud to unofficially unveil the sign that will welcome visitors to "Newt's Nook — A Home for Pitbulls."
Now under construction in Celina, Texas, the shelter was made possible by a $5,000-plus donation from a Dallas strip club owner — the amount being a refund of what she paid to attend a dinner to receive an "Entrepreneur of the Year" award from Newt Gingrich's organization, American Solutions for Winning the Future.
American Solutions, as we told you yesterday, mistakenly bestowed the honor on Dawn Rizos, the owner of The Lodge, a popular Dallas strip club.
When former Speaker of the House Gingrich, a week before the awards ceremony, uninvited Rizos, he agreed to refund the $5,000 that she, as instructed, had submitted in exchange for the privilege of eating dinner with him. He refunded her airfare as well.
"At first our feelings were hurt," Rizos said. "But then we figured at least we could make something positive out of his bad manners."
About the same time Rizos got her refund, she heard that Animal Guardians of America had an urgent need for a heated and  air-conditioned shelter for rescue dogs, primarily pit bulls, at its sanctuary in Celina.
"We do a lot of charitable work and we love animal rescue groups," Ms. Rizos said. "The cost was about the same as the amount Newt sent back to us, so we decided to do something good with it."
The formal dedication for Newt's Nook is scheduled for early November.
"We're sorry that Dawn was treated so unfairly," said Annette Lambert, director of the Animal Guardians chapter in North Texas. "But this will be great for a lot of wonderful dogs. I hope Newt will stop by sometime to see what we've built in his name."
Rizos says Gingrich is invited to the opening, as well as to The Lodge, which describes itself as "the country's best-known and most-honored gentlemen's club," and one that has "set national standards for elegance and integrity, and helps hundreds of people support their families and improve their lives."
"He's always welcome at The Lodge," Ms. Rizos said. "We don't hold a grudge. And we still have a lot to talk about."
(Photo:  The sign, created by The Lodge bartender Bryan Callaway, that will welcome pit bulls to their new shelter; courtesy of Mike Precker)
Posted by John Woestendiek October 29th, 2009 under Muttsblog.
Tags: american solutions for winning the future, animal guardians of america, award, celina, ceremony, dallas, dawn rizos, dinner, entrepreneur, error, gentlemen's club, house, invited, lodge, mistake, newt, newt gingrich, newt's nook, pit bulls, pitbulls, refund, shelter, speaker, strip club, texas, the lodge, uninvited

Comments: 8