Tag: contamination
A brand of chicken dog treat most commonly sold at dollar stores is being recalled by the manufacturer due to possible Salmonella contamination.
According to the FDA, Salix Animal Health has expanded its earlier recall of Good 'n' Fun Beefhide Chicken Sticks.
The initial recall pertained only to the lot in which Salmonella was discovered during sampling by the Georgia Department of Agriculture.
Now, the company, out of what it calls an abundance of caution, is recalling other lots made around the same time.
The recalled Good 'n' Fun – Beefhide Chicken Sticks were distributed nationwide to Dollar General, Dollar Tree and Family Dollar retail stores. The recalled product is packaged in a 2.8 ounce bag stamped on the back side with an item code number of 82247 and with an expiration date ranging from 02/2018 to 07/2018.
Salmonella can affect animals eating the product and there is risk to humans from handling contaminated products.
Symptoms can include nausea, vomiting, diarrhea, abdominal cramping and fever.
No other Salix product is affected by the recall. Customers who have purchased the recalled product are urged to dispose of it or return it for full refund.
For more information, contact Salix Animal Health's consumer affairs team at 1-800-338-4896.
Posted by John Woestendiek October 27th, 2015 under Muttsblog.
Tags: animals, beefhide chicken sticks, chicken, chicken sticks, chicken treats, contamination, dog, dog treats, dogs, dollar general, dollar store, dollar tree, family dollar, fda, good 'n' fun, good n'fun, health, pets, recall, safety, salix, salix animal health, salmonella, snack, treats, voluntary, warning

Comments: none
The Natural Dog Company is recalling 12-ounce bags of 12-inch Tremenda Sticks pet chews due to possible Salmonella contamination.
The product was sold in retail stores in North Carolina, Ohio, California, Colorado, Florida, Illinois, Missouri, Montana, Utah and Washington, according to the FDA.
The potential for contamination was noted after a Colorado Department of Agriculture inspection of the product revealed the presence of Salmonella, the FDA said in a press release.
Production of the bully sticks has been suspended while FDA and the company continue their investigation into the source of the problem.
While no illnesses have been reported so far, the company says the product can make dogs sick, as well as humans who touch it. Infected animals can be carriers and infect other animals or people.
Symptoms of salmonella in pets include lethargy, diarrhea, fever and vomiting.
The Tremenda Sticks pet chews in question come in a 12-ounce bag with UPC number 851265004957 but with no lot number or expiration date. The company says products with new packaging, which includes both a lot number and expiration date but the same UPC, are not affected by this recall.
The Natural Dog Company, based in Windsor, Ohio, says unused treats may be returned for a full refund.
Consumers with questions may contact the company at 1-888-424-4602.
Posted by John Woestendiek July 23rd, 2015 under Muttsblog.
Tags: bully sticks, chews, contamination, dog, dog food, dogs, fda, health, natural dog company, pet, recall, safety, salmonella, treats, tremenda, tremenda sticks

Comments: none
Once upon a time in Butte, in a huge and barren expanse of waste that's part of the nation's largest Superfund site, there lived a dog.
Nobody knows how he got there, why he stayed, or how he managed to remain alive in the toxic confines of what's known as the Berkeley Pit. But live he did, for 17 years — during times of active mining, during its suspension, during its limited restart, during the ongoing clean-up effort and right up until the pit transitioned into one of the country's oddest tourist attractions.
He just showed up, back in 1986. Once miners figured out that the ghostly white image in the distance was a dog, they named him "The Auditor," because of his tendency to appear when he was least expected.
With matted ropes of white hair covering his legs, The Auditor — a Puli — sometimes appeared to be hovering when he moved, and he seemed to want nothing to do with humans. The miners would leave him food, and build him a house, and even started sticking baby aspirin in his food when they noticed he was limping, but The Auditor was mostly unapproachable up until the end.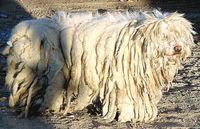 He died peacefully in his dog house in 2003, but The Auditor — like mining — would leave a legacy. His name would live on — in statues, in science, and as a symbol for, well, lots of things.
Appropriately enough, for a mining site in the midst of a massive EPA clean-up that will continue for generations, The Auditor had a coat like a mop.
His yellowing dreadlocks covered his eyes, too, limiting his vision — similar to the blind eye Montana once turned to the environmental havoc mining would wreak on and beneath its landscape.
But perhaps more than anything else, the mysterious white dog became a metaphor for Butte, and its ability to survive hard times — of the hardy stuff of which Montanans are made.
Butte's still kicking — though not the way it once kicked. It's about a third of the size it was in its heyday.  Once called the "Richest Hill on Earth" for its massive copper deposits, Butte in the early 1900s, boasted a population of 100,000.
When the mines shut down by 1982, Butte was left economically crippled and environmentally contaminated. Piles of mine waste and years of smoke from smelters contaminated the land and water around Butte with arsenic, mercury, lead and other metals.  
In the 1980s, the Berkeley Pit and Butte's historic Uptown District were declared a Superfund site — one that extends 130 miles downstream due to tailings that settled along the Clark Fork River.
The Auditor lingers too. After the local newspaper brought him to the public's attention in 2003, a campaign began to honor him with a series of statues, three of which now sit in various locations around town, honoring him not for any heroics, but solely for staying alive in a place where not much does.
Berkeley Pit lies just a few blocks from the center of Butte. It stretches a mile-and-a-half across and is almost 2,000 feet deep. Barren soil surrounds a lake laden with heavy metals. In 1995, a flock of migrating geese landed in the water. The next morning 342 were found dead.
How The Auditor managed to survive all that time is as mysterious as the dog himself. Maybe his rope-like locks, instead of soaking in the toxins, kept them from reaching his skin. Maybe the toxins weren't as toxic as thought. Maybe, as dogs do, he adapted to them. The only company still in operation at the site — after mourning his loss — had The Auditor cremated.
Normally, that would slam the door shut on the mystery — but Holly Peterson already had her foot in it.
Peterson, an environmental engineer at Montana Tech in Butte, saw the article about The Auditor — 16 years old by then — in 2003. It tugged at her heartstrings as well as her scientific curiosity.
"How can that not touch you?" she said over the weekend, sitting in her office, which is decorated with photos of The Auditor. "I kept wondering, how can that thing survive? With all the contamination in Butte, I started thinking, how can we study that in a different way?"
With her students, she began getting samples of hair from dogs in Butte and the surrounding areas, and when she ran into an official from the mining company, Montana Resources, at a presentation, she asked about getting a sample from The Auditor.
The Auditor was first seen roaming the mine in 1986, the year Montana Resources started its operations. The company, due to plunging copper prices, shut down operations there in 2000, leaving only a skelton crew, but reopened in 2003.
After getting permission from the company, Peterson went to the site, where a mining company employee, wearing gloves, approached The Auditor, on his last legs by then, and snipped off a few locks of hair.
"You could tell he just wanted us to leave him alone," Peterson said.
Tests on the sample in July of 2003 revealed "elevated levels of almost every element imaginable," Peterson said, including 128 times the amount of arsenic in a typical dog's hair.
Peterson's research project would expand from there, shedding new light on the extent of environmental degradation in Butte and introducing a new, if not conclusive, way to measure it and the continuing efforts to clean it up. Her work marked the first time pet hair has been used to monitor toxins in a residential Superfund site.
Since then, the project has moved on to testing the hair of animals in Australia and Nairobi, and sampling the hair of animals bagged by hunters back home in Montana. Through taking samples at hunter check stations, they found far higher levels of metals in animals shot in the area around Anaconda, once home to a huge smelting operation.
The Auditor, as it turned out, inspired Peterson on several levels. She was the one behind the effort to install statues of him — created by a Texas sculptor — at several locations around town, including the one she showed me at the Butte Plaza Mall.
It's made of bronze, with a copper patina that has worn off in spots from people petting it. Most of funding for the sculpture came from a California couple, who read of The Auditor in a Puli Club of America newsletter.
Peterson's hope was that The Auditor — after his death on Nov. 19, 2003 —  would become a mascot for Butte, or a mascot for environmental causes, that his legacy would serve as inspiration to others, and as a reminder to not abandon pets, or abuse the planet.
What she wasn't planning on was her own little Auditor.
Living with her 86-year-old mother, she didn't see a dog fitting into her life.
But after publicity about The Auditor, and connecting with the Puli Club, she started getting emails when a Puli would show up at a shelter in need of rescue.
That's how, three years ago, she ended up with Birke-Beiner.
"I couldn't pass him up when I saw the picture of him," Peterson said.
Birke-Beiner, who earlier in the day had gone to a Halloween Party — as a basket of yarn — came along on our trip to the mall, much of which he spent draped over Peterson's shoulder, looking something like a Lady Gaga fashion accessory.
Peterson says some people call him Little Auditor, but Birke is his own dog — playful, people-friendly and, one gets the impression, destined to live a happy and non-toxic life, far away from a giant hole in the ground known as the Berkeley Pit.
Posted by John Woestendiek November 2nd, 2010 under Muttsblog.
Tags: abandoned, animals, arsenic, auditor, berkeley pit, butte, contamination, dog, dog's country, dogs, dogscountry, environment, epa, hair, history, holly peterson, levels, memorial, metals, miners, mining, mining waste, montana, montana resources, montana tech, pets, puli, puli club of america, research, science, site, statue, stray, superfund, testing, tests, the auditor, toxic, travels with ace

Comments: 12
United Pet Group of Cincinnati is recalling all unexpired lots of its Pro-Pet Adult Daily vitamin supplement tablets for dogs because of possible salmonella contamination.
The Ohio company says it took the action "out of an abundance of caution" after one lot of the product tested positive for salmonella, according to Consumeraffairs.com.
The recalled vitamins — sold in retail stores nationwide — come in 100-count white plastic bottles with a light blue label and have a UPC of 26851-01800. All bottles with expiration dates on or before "06/13" are included in the recall.
Consumers with pets that consumed the recalled vitamins and have symptoms should contact their veterinarians.
United Pet Group said consumers should immediately stop giving their dogs the recalled vitamins. For more information about the recall, pet owners can contact the company at 1-800-645-5154, extension 3.
Posted by John Woestendiek June 24th, 2010 under Muttsblog.
Tags: animals, cincinnati, contamination, dogs, health, news, ohio, ohmidog!, pets, pro-pet, recall, recalls, safety, salmonella, supplement, united pet group, vitamin, vitamins

Comments: 16
Nature's Variety has expanded its voluntary recall of all Chicken Formula and Organic Chicken Formula products with a "Best If Used By" date on or before 2/5/11.
Nature's Variety has received new test results from an outside facility that indicate that its Chicken Formula Raw Frozen Diet, issued under the "Best If Used By" dates of 10/29/10 and 11/9/10, may be contaminated with Salmonella.
The company — out of an "abundance of caution," it says — is also expanding the recall to include all Chicken Formula and Organic Chicken Formula Raw Frozen Diets for dogs and cats with any "Best If Used By" date on or before 2/5/11.
The products included in the expanded recall are:
UPC#7 69949 60130 2 – Chicken Formula 3 lb medallions
UPC#7 69949 60120 3 – Chicken Formula 6 lb patties
UPC#7 69949 60121 0 – Chicken Formula 2 lb single chubs
UPC#7 69949 50121 3 – Chicken Formula 12 lb retail display case of chubs
UPC#7 69949 60137 1 – Organic Chicken Formula 3 lb medallions
UPC#7 69949 60127 2 – Organic Chicken Formula 6 lb patties
The "Best If Used By" date is located on the back of the package above the safe handling instructions.
If you have purchased one of the affected products, you may return the unopened product to your local retail store to receive a complete refund, or exchange it for another variety. If your package has been opened, dispose of the raw food in a safe manner by securing it in a covered trash receptacle. Then, bring your receipt (or the empty package in a sealed bag) to your local retailer for a complete refund or replacement.
Posted by John Woestendiek March 9th, 2010 under Muttsblog.
Tags: cat food, chicken, chicken formula, chubs, contamination, diet, dog, dog food, exchange, food, frozen, medallions, nature's variety, news, organic chicken formula raw, patties, pet food, raw, raw diet, recall, refund, replacement, salmonella

Comments: none
The U.S. Food and Drug Administration is warning consumers not to use Pig Ears and Beef Hooves pet treats manufactured by Pet Carousel because the products may be contaminated with Salmonella.
The products were distributed nationwide in both bulk and retail packaging for sale in pet food and retail chain stores. Pet Carousel is based in Sanger, Calif.
Although no illnesses associated with the products have been reported, the FDA is advising consumers in possession of them not to handle or feed them to their pets.
The affected pig ear products were packaged under the brand names Doggie Delight and Pet Carousel. The affected beef hooves were packaged under the brand names Choo Hooves, Dentley's, Doggie Delight, and Pet Carousel. All sizes and all lots of these products made by Pet Carousel are included in the alert.
Salmonella was detected in the treats during routine testing in September, leading to an FDA inspection of Pet Carousel's manufacturing facilities. During the inspection, the agency collected additional pet treat samples. Further analysis found Salmonella present in beef hooves, pig ears and in the manufacturing environment.
Salmonella can affect both humans and animals. People handling dry pet food and/or pet treats can become infected with Salmonella, especially if they have not thoroughly washed their hands after having contact with the treats or any surfaces exposed to these products.
Pets with Salmonella infections may become lethargic and have diarrhea or bloody diarrhea, fever and vomiting. Some pets may only experience a decreased appetite, fever and abdominal pain. Infected, but otherwise healthy pets can be carriers and infect other animals or humans. If your pet has consumed any of the affected products or is experiencing any of these symptoms, the FDA advises contacting your veterinarian immediately.
Posted by John Woestendiek November 7th, 2009 under Muttsblog.
Tags: alert, beef hooves, california, choo hooves, consumer, contaminated, contamination, dentley's, dog, doggie delight, dogs, fda, food and drug administration, inspection, pet carousel, pets, pig ears, salmonella, sanger, tainted, treats

Comments: none
For all those who fret obsessively about dogs leaving environmentally damaging messes behind — not that it's not a valid concern — here's a story of a dog who's helping clean up the messes we leave behind.
Sable, a discarded German shepherd mix adopted from an animal shelter, has been trained to sniff out illegal sewer connections, which dump billions of gallons of bacteria-filled water into rivers, lakes and streams each year, leading to closed beaches, contaminating fisheries and costing millions to clean up.
Scott Reynolds adopted Sable with the idea of training him to sniff out illegal sewer connections. Now, after a year of work in Michigan's Kawkawlin River, Sable has earned enough praise to be top dog at Environmental Canine Services, the Detroit Free Press reports.
"In the mornings, he runs to the back room and looks to the hook where his harness is, as if to say, 'Do we get to do this today?' " Reynolds said. "He loves to work."
Sable is scheduled to do his thing next in Santa Barbara, California, then head to Maine next spring to help track pollution that has closed shellfish beds along the coast.
Sable sniffs water in drains and pipes — often buried in deep woods or under fallen trees — to detect illegal sewer connections. He barks when he smells raw sewage.
Sable also  has his own website, sablethesniffer.com.
Sable has an 87% accuracy rate measured against lab results, Reynolds says.
Normally, municipalities send human employees to detect illegal sewer connections — a bit of a guessing game, and a process that requires lab tests that can take weeks.
The dog was turned over by owners who mistreated him, said Autumn Russell of Mackenzie's Animal Sanctuary, near Grand Rapids. "No one had any idea of his potential," she said.
Reynolds, who has trained other rescued dogs for search and rescue and narcotics detection, spent more than a year training Sable to sniff out waste, ammonia and detergents that signal illegal connections.
(Photo: By Robert Domm, courtesy of Environmental Canine Services)
Posted by John Woestendiek September 24th, 2009 under Muttsblog.
Tags: bacteria, connections, contamination, detection, dog, environment, environmental, environmental canine services, hookups, illegal, michigan, sable, scott reynolds, sewage, sewer, sniff, sniffer, sniffing

Comments: 1