Tag: conviction
For any family that has feared their dog might not adjust to a new human baby in the house, here's a story that shows dog and babies can, and usually do, mix quite well — and that dogs might not be the biggest worry.
It was a 22-year-old babysitter who was abusing Finn, the seven-month-old son of a South Carolina couple.
It was the family dog, Killian, who helped catch her.
Benjamin and Hope Jordan moved to Charleston last year, and, after a background check, hired a babysitter to help care for their son.
After a few months, they began noticing that Killian behaved strangely when the babysitter arrived.
"We started to notice that our dog was very protective of our son when she would come in the door," Jordan told Live 5 News. "He was very aggressive towards her and a few times we actually had to physically restrain our dog from going towards her."
Based on that, the parents decided to leave an iPhone under the couch and record what was going on while they were at work.
When they listened to the audio recording that night, they heard cussing, slaps and crying.
"It started with cussing," Jordan said. "Then you hear slap noises and his crying changes from a distress cry to a pain cry. I just wanted to reach through the audio tape, go back in time and just grab him up … To know that five months I had handed my child to a monster, not knowing what was going on in my house for that day…"
Charleston City Police arrested Alexis Khan a few weeks later. She pleaded guilty to assault and battery earlier this month in Charleston County Circuit Court and was sentenced to one to three years in prison.
Posted by John Woestendiek September 18th, 2013 under Muttsblog.
Tags: abuse, animals, arrest, baby, babysitter, behavior, child, child abuse, conviction, dog, dogs, finn, killian, pets, protection, protective, south carolina

Comments: none
Perturbed by the praise Michael Vick has been receiving for his performance on the field, guitarist Nils Lofgren has written an open letter to sports reporters, arguing Vick doesn't deserve all the cheerleading, an MVP award, or even a place in the NFL.
"I am so disheartened and disappointed by your collective, lopsided praise of Michael Vick due to his recent spectacular on-field performance," Logfren, guitarist for Bruce Springsteen's E Street Band, begins.
"I support his right to earn a living. But, while I can't fault him for taking great advantage of the opportunities afforded him by playing in the NFL, I feel he does not deserve that lofty a place in our society and culture. However repentant he may be, he committed acts whose vileness will resonate down the years. When you do what Vick did, a second chance should never include the rare gift of an NFL career and the potential bounty it offers.
"Shame on the NFL for not banning him permanently."
Apparently the letter was prompted by a comment made by Jemele Hill on ESPN's "The Sports Reporters," that if Josh Hamilton could win one of baseball's MVP awards after recovering from alcohol and drug abuse, why couldn't Vick win the award in the NFL?
"Well, for one thing, Hamilton has neither tortured dozens of dogs nor murdered defenseless animals," Lofgren wrote. " … In Vick's case, I believe his second chance should certainly allow him to be free and to love and raise his family. I think he should make speeches about the error of his ways and help animal groups. I understand that he is doing some of these things and I applaud that. He's also admitted to being haunted by his dogfighting days. That growth is welcome and necessary, but comes too late for me and those dogs.
Vick, formerly quarterback for the Atlanta Falcons, was convicted on dogfighting charges and served nearly two years in prison. After his release he was signed last year by the Philadelphia Eagles.
"How can we justify this saga to our children?" Lofgren asked in the letter. " …Well kids, although doing those things is wrong, two years after you admit to doing them the NFL will let you have a job that may lead to an MVP award and many millions of dollars in a new contract.
Lofgren added, "…(T)he cynic in me thinks maybe if Vick were a third-string lineman, the NFL would have set an example and banned him for life. Maybe many of the other significant charges Vick was facing wouldn't have gone away if he didn't have the prestige of being an NFL quarterback who can afford high-priced lawyers to wrangle pleas and deals.
"For the NFL to be that forgiving of evil, vicious behavior is a terribly inappropriate act of forgiveness and has brought a sick, sad, dirty feeling to many of us fans who have loved the game for so long.
"And to you reporters, whom I enjoy and respect, the sentiments in this letter are suspiciously absent in your hundreds of hours of Vick coverage … Just because the NFL lost its spine and common sense on this matter doesn't mean you reporters have to get in line and go along."
Posted by John Woestendiek December 5th, 2010 under Muttsblog.
Tags: abuse, bruce springsteen, conviction, coverage, deaths, dogfighting, e street band, football, guitarist, letter, media, michael vick, musician, news, nfl, nils lofgren, open letter, performance, philadelphia eagles, praise, prison, quarterback, reporters, sports, torture, vick

Comments: 32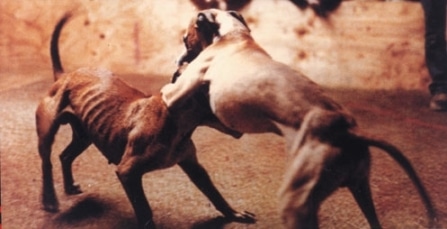 The Supreme Court has ruled that videos showing dogfights and other acts of animal cruelty are protected by free speech.
The court, in an 8-1 decision, struck down a federal law designed to stop the sale and marketing of such videos. The justices concluded the 10-year-old statute was overly broad.
The case before the court stemmed from an appeal by Robert Stevens, of Pittsville, Virginia, who sold videos through his business, Dogs of Velvet and Steel. The tapes show pit bulldogs attacking other animals and one another in staged confrontations.
The high court threw out Stevens' conviction for selling depictions of animal cruelty.
Stevens argued his 37-month sentence sentence was longer than the 14 months given professional football player Michael Vick, who ran an illegal dogfighting ring.
His case was the first prosecution in the United States to proceed to trial under the 1999 law.
Posted by John Woestendiek April 20th, 2010 under Muttsblog.
Tags: animal cruelty, chief justice, child pornography, conviction, crush videos, decision, depictions, dissent, dissenting, dog fighting, dogfighting, dogfights, dogs of velvet and steel, first amendment, free speech, hsus, humane society of the united states, john roberts, law, opinion, overturned, protected, robert stevens, ruling, samuel alito, speech, statute, struck down, supreme court, video

Comments: 5
The Humane Society of the United States is offering a reward of up to $2,500 for information leading to the identification, arrest and conviction of the persons responsible for injuring Christy, a one-year-old pit bull who was pelted with rocks and bricks in Baltimore.
A witness says children threw rocks and other materials at the dog who was tied up in the 3700 block of Greenspring Avenue near Dr. Martin Luther King, Jr. Elementary School.
The pit bull was taken to the Baltimore Animal Rescue and Care Shelter where she is being treated for injuries that include wounds to her paws, head, snout and hemorrhages in both eyes.
The children responsible for the crime are believed to be about 12 or 13 years old.
Posted by John Woestendiek April 8th, 2010 under Muttsblog.
Tags: $2500, animals, arrest, baltimore, baltimore animal rescue and care shelter, barcs, bricks, children, christy, conviction, dog, dogs, hsus, humane society of the united states, identification, information, injured, injuries, news, ohmidog!, pelted, pets, pit bull, pitbull, reward, rocks, stoned, suspects

Comments: none
News that Michael Vick is expected to attend the 32nd annual Ed Block Courage Awards dinner in Baltimore Tuesday has led to a change in the ceremony's format and an increase in security.
Vick, who was convicted in 2007 of running a dogfighting ring, is one of 32 winners to be honored with the award, which singles out one member of each NFL team for his courage, sportsmanship and inspiration to his community.
Vick's unanimous selection by his Philadelphia Eagles teammates triggered angry e-mails to the Ed Block Courage Award Foundation, a petition drive and a planned protest by dog lovers and animal welfare activists at the award's ceremony, to be held at Martin's West, 6817 Dogwood Road, from 4 to 10 p.m.
More than 100 people have already signed up to protest at the event — a number that could grow as a result of the news that the quarterback will be attending.
In addition to scrapping the long-standing tradition of having the athletes mingle with fans and sign autographs,  organizers say they are boosting security, according to the Baltimore Sun.
"We've put in place enough [guards] to make sure that our players are safe and that everything runs smoothly."said Ed Block Courage Award Foundation spokesman Paul Mittermeier.
The Block Award is named for a former team trainer of the Baltimore Colts, who worked for years to help abused children.
 Criticism for bestowing the award on Vick has come from groups ranging from animal rights activists to the American Kennel Club. "It is unconscionable that a man who tortured and abused helpless animals be honored by an organization dedicated to ending abuse," the AKC said.
Vick will be accompanied to the event by Michael Markarian, chief operating officer of the Humane Society of the United States,  a group for which the quarterback has made public appearances in recent months, attempting to steer youth away from dogfighting.
Posted by John Woestendiek March 5th, 2010 under Muttsblog.
Tags: abuse, award, baltimore, ceremony, convicted, conviction, courage, courage award, demonstration, dogfighter, dogfighting, ed block, foundation, honor, increased, inspiration, martin's west, michael vick, news, petition, philadelphia eagles, protest, quarterback, security, sportsmanship, vick, vick protest

Comments: 4
Here's what Philadelphia Eagles quarterback Michael Vick said about winning the the Ed Block Courage Award, which honors NFL players who exemplify commitment to the principles of sportsmanship and courage —  as quoted by the Associated Press:
"It means a great deal to me. I was voted unanimously by my teammates. They know what I've been through. I've been through a lot. It's been great to come back and have an opportunity to play and be with a great group of guys. I'm just ecstatic about that and I enjoy every day.
"I've overcome a lot, more than probably one single individual can handle or bear," Vick said. "You ask certain people to walk through my shoes, they probably couldn't do. Probably 95 percent of the people in this world because nobody had to endure what I've been through, situations I've been put in, situations I put myself in and decisions I have made, whether they have been good or bad.
"There's always consequences behind certain things and repercussions behind them, too. And then you have to wake up every day and face the world, whether they perceive you in the right perspective, it's a totally different outlook on you. You have to be strong, believe in yourself, be optimistic. That's what I've been able to do. That's what I display."
People for the Ethical Treatment of Animals (PETA) said the Eagles "fumbled when they gave Michael Vick the Ed Block Courage Award, which was named after a man who advocated in behalf of abused children … Michael Vick should not be the person anyone points to as a model of sportsmanship, even though he has now exchanged dogs for touchdowns after serving time for extreme cruelty to animals. We wish him well in educating others, but this is not appropriate and does not mark a joyous moment in NFL history."
Posted by John Woestendiek December 24th, 2009 under Muttsblog.
Tags: abused, award, children, conviction, courage award, dog, dog fighting, dogfighting, eagles, ed block, michael vick, nfl, peta, philadelphia, reaction, response, sportmanship, vick

Comments: 2
A jury in Richmond has found Richard E. Robinson guilty and recommended a 10-year prison sentence — the longest prison term in Virginia's history for a dogfighting conviction.
The jury deliberated two hours yesterday to reach its verdict, only 40 more minutes before coming back with a recommendation of 10 years in prison and a $2,500 fine, the Richmond Times-Dispatch reported.
Robinson, 32, was found guilty of three felonies and one misdemeanor related to a dogfighting operation at his South Richmond home.
Richmond prosecutors and animal-control authorities said they are unaware of any dogfighting sentences in Virginia longer than four years. The 10-year sentence, if upheld by Circuit Court Judge Beverly W. Snukals, would be twice as long as any handed down in the state, and more than five times longer than Michael Vick's federal sentence. Formal sentencing is scheduled for March 5.
The conviction and sentence recommendation came after prosecutor Alex Taylor introduced evidence from the property where Robinson lived with his mother, including heavy chains that had been tied around the necks of dogs to help them build strength.
One of the chains weighed 52 pounds — more than the dog to whom it was attached. The prosecutors brought the chain to court in a red plastic bucket, and while arguing for a lengthy sentence, Taylor carried the pail over to the jury box and dropped it with a thud.
"This," he said, "is no way to treat man's best friend."
Posted by John Woestendiek December 17th, 2009 under Muttsblog.
Tags: 10 years, animal fighting, animals, beverly w. snukals, chains, circuit court, convicted, conviction, dog fighting, dogfighting, dogs, judge, jury, law, michael vick, penalties, penalty, pets, prison, prosecution, recommendation, record, richard e. robinson, richmond, sentence, virginia

Comments: 3