Tag: decision
The North Carolina couple that was told their dog would have to be quarantined for six months because he had been sprayed by a skunk has gotten the decision reversed.
Eleven-year-old Simon is back home in Kernersville.
Forsyth County animal control officials gave no reason for reversing the decision, according to Fox News.
Michael and April McQueen's dog was quarantined last week after being sprayed by a skunk — even though his owners insisted he had not been bitten by, or come in contact, with the animal, other than getting sprayed.
After the incident, April McQueen took Simon to a veterinarian who told her the dog was three weeks late on renewing his rabies booster vaccination.
The vet contacted animal control officials, who informed her Simon had to spent six months in quarantine or be euthanized.
That decision struck many as harsh, including the McQueens — given their dog wasn't actually bitten.
North Carolina law requires pets exposed to animals prone to carry rabies like skunks, foxes, coyotes, bats and raccoons be either euthanized or quarantined at the owners expense if their rabies vaccination isn't up to date.
Rabies isn't transmitted through a skunk's spray, and Titer tests — as several ohmidog! readers pointed out — can be used to assess a dog's antibody levels.
Simon's owners appealed the decision and Simon was released on Thursday with no reason given.
Posted by John Woestendiek June 14th, 2014 under Muttsblog.
Tags: animal control, animals, april mcqueen, decision, dog, dogs, forsyth county, kernersville, michael mcqueen, north carolina, pets, quarantine, rabies, reversal, reversed, simon, skunk, skunked, titer, veterinarian, veterinary, wildlife

Comments: none
Piercing kittens is cruel, a panel of Pennsylvania judges has affirmed.
Three judges of the Superior Court upheld a conviction for animal cruelty of a dog groomer who had offered "gothic" kittens for sale on eBay.
An investigation into the pierced kittens began in 2008 when a citizen saw the animals being offered for $100 each on eBay, inquired about them and reported it to the Society for the Prevention of Cruelty to Animals of Luzerne County, according to the Times Leader in Wilkes Barre.
A citizen tipped off PETA, as well, which conducted an investigation of its own and passed on information to the SPCA.
Accompanied by state police, SPCA officials visited Pawside Parlor, located at the home of Holly Crawford in Sweet Valley, Pa. They removed three kittens and a cat. While at the home, police also found a dog with pierced ears.
A jury found Crawford guilty of animal cruelty, and last year she was sentenced to six months of home detention and electronic monitoring, followed by probation.
In her appeal, Crawford argued that Pennsylvania's cruelty statutes were too vague, and pointed out that many accepted veterinary procedures like declawing cats and cutting a dog's vocal cords could fall under the same category she was being prosecuted under.
The law forbids "acts that maim, mutilate, torture or disfigure the animal."
This week, the Superior Court panel upheld the lower court's findings, the New York Times reported.
In a 19-page opinion, Judge Kate Ford Elliott wrote that "metal protruded from the kittens' small bodies, pierced through their ears and necks, and at least one of these kittens also had an elastic band tied around its tail, an attempt at docking …"
Crawford, who was described in the opinion as being "enthusiastic about piercing," had admitted to piercing the kittens without anesthetic.
"Appellant's claims center on her premise that a person of normal intelligence would not know whether piercing a kitten's ears or banding its tail is maiming, mutilating, torturing or disfiguring an animal." Judge Elliott wrote.  "We disagree."
Posted by John Woestendiek June 17th, 2011 under Muttsblog.
Tags: animal cruelty, cats, decision, disfiguring, ebay, goth cats, gothic, gothic kittens, holly crawford, kittens, luzerne county, maiming, mutilating, opinion, pennsylvania, peta, piercing, sale, spca, superior court, upheld, wilkes-barre

Comments: 5
The short documentary above — and, be warned, it will make you cry — chronicles the last minutes of a dog named Oden.
One of more than 6,500 submissions from thousands of artists and filmmakers, "Last Minutes with Oden" won top honors in a video contest sponsored by Vimeo, the online video sharing website.
The video focuses on Jason Wood and his dog Oden, who got cancer and had a leg amputated last year. But the cancer spread, leading Wood to make the anguishing decision to put down the dog who taught him how to love.
The video by Eliot Rausch documents the last day of Oden's life. Vimeo's panel of judges named it the best documentary, and the best video, and Vimeo presented the owners with a grant of $25,000. The awards were presented last month in New York City.
Jeremy Boxer, Co-Director of the Vimeo Festival + Awards called the video "one of those rare, intimate shorts that leads with its heart and soul."
Posted by John Woestendiek November 18th, 2010 under Muttsblog, videos.
Tags: amputation, animals, awards, cancer, death, decision, documentary, dog, dogs, eliot rausch, euthanasia, festival, filmmaking, honor, jason wood, judges, last minutes with oden, oden, pets, phos, pictures, put down, sad, short, video, vimeo

Comments: 2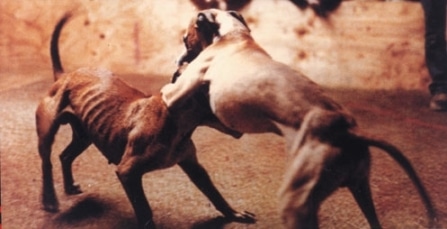 The Supreme Court has ruled that videos showing dogfights and other acts of animal cruelty are protected by free speech.
The court, in an 8-1 decision, struck down a federal law designed to stop the sale and marketing of such videos. The justices concluded the 10-year-old statute was overly broad.
The case before the court stemmed from an appeal by Robert Stevens, of Pittsville, Virginia, who sold videos through his business, Dogs of Velvet and Steel. The tapes show pit bulldogs attacking other animals and one another in staged confrontations.
The high court threw out Stevens' conviction for selling depictions of animal cruelty.
Stevens argued his 37-month sentence sentence was longer than the 14 months given professional football player Michael Vick, who ran an illegal dogfighting ring.
His case was the first prosecution in the United States to proceed to trial under the 1999 law.
Posted by John Woestendiek April 20th, 2010 under Muttsblog.
Tags: animal cruelty, chief justice, child pornography, conviction, crush videos, decision, depictions, dissent, dissenting, dog fighting, dogfighting, dogfights, dogs of velvet and steel, first amendment, free speech, hsus, humane society of the united states, john roberts, law, opinion, overturned, protected, robert stevens, ruling, samuel alito, speech, statute, struck down, supreme court, video

Comments: 5
After three years of litigation and $40,000 in legal fees, who gets Dexter — a six-year-old pug at the center of a New Jersey custody case — has been decided.
Dexter, the Philadelphia Inquirer reports, will be shared.
Under a New Jersey Superior Court judge's ruling yesterday, the dog will be rotated, every five weeks, between the homes of Eric Dare, who was originally awarded custody of the dog, and his ex, Doreen Houseman, who sued to get Dexter back.
Dexter has been with Dare since the initial court ruling, filed after the couple ended their relationship in May 2006. They spent 13 years as a couple, but never married.
An appeals panel earlier this year reversed the original ruling by Judge John Tomasello, saying the judge had failed to consider Dexter's "subjective value."
The panel said the dog was similar to a family heirloom, or work of art, that cannot simply be awarded to one person in exchange for a face-value payment. Houseman was paid $1,500, the price of the pedigree dog, but she wanted the pet, which she frequently dressed in costumes and lavished with gifts.
Both live in Gloucester County, N.J.
Houseman, 35, who now lives with her parents, said she was "very happy" with the ruling and can't wait to give Dexter "a lot of hugs and kisses" when she sees him Friday. Dare, 37, said he was shocked and may appeal the ruling.
Posted by John Woestendiek September 22nd, 2009 under Muttsblog.
Tags: custody, decision, dexter, doreen houseman, eric dare, gloucester county, judge, lawsuit, legal, new jersey, news, pug, ruling, shared, subjective, value

Comments: none
 
"Virginia may be for lovers, but Loudoun County isn't the place for dog lovers."
That's the conclusion of an animal welfare legislative analyst in light of a Loudoun County judge's ruling that the county can ban pit bull adoptions — despite a Virginia law to that ensures the right to own a pit bull.
"This is a dark day for shelter dogs in our nation," said Ledy VanKavage, of Best Friends Animal Society.  "Throughout the land, cities and states are rejecting breed discriminatory laws and this decision embraces profiling."
The judge's May 21 ruling ended the nearly two-year battle over the county's no-adopt policy on pit bulls.
In a 13-page opinion, Loudoun County Circuit Court Judge Burke F. McCahill sided with the county, ruling that banning the adoption of pit bulls does not break state or local laws, the Loudoun Times reports. The ruling came after a two-day trial May 5 and 6.
The ruling stems from a lawsuit filed by Loudoun resident Ronald Litz in 2007 after he tried to adopt a pit bull from the county animal shelter. He was told the shelter did not allow pit bull adoptions.
Of the judge's May 21 decision, Litz said, "If the judge doesn't want to enforce Virginia law, there's nothing I can do about it." Litz had argued that the county was denying him the right of ownership of a pit bull, which is against Virginia law.
McCahill disagreed, saying that while state law may give county residents the right to own pit bulls, there is no right to adopt one.
Effectively, the sentence is a death penalty for any pit bulls who end up in Loudoun's animal shelter and go unclaimed by owners.
Posted by John Woestendiek May 26th, 2009 under Muttsblog.
Tags: adopt, adoption, animal rescue of tidewater, ban, best friends, bias, breed, breed-specific, bsl, burke f. mccahill, circuit court, decision, discrimination, ed fritz, euthanasia, euthanized, judge, law, lawsuit, ledy vankavage, loudoun county, lynne rhode, news, no-adopt, ohmidog!, opinion, ownership, pit bull, pit bulls, rights, ronald litz, ruling, state, virginia

Comments: 5
Seldom, if ever, has so much weight been put on a single family's choice of dog.
And seldom if ever has getting a dog —  normally a personal and joyful affair — become such a public exercise in risk management and political correctness.
At first it was a simple campaign promise to his daughters, Sasha and Malia, that they'd get a dog after the election — only slightly complicated by the need for that dog, in deference to Malia's allergies, to be hypo-allergenic, if there even really is such a thing.
Now there's talk that the Obama's eagerly anticipated choice of dog breed, or hybrid — Newsweek magazine's April 13 issue says to expect some developments within the week — could lead not just to a surge in purchases of whatever breed they choose, but could cause a boom to the puppy mill industry as well.
The logic, as outlined by Newsweek, goes this way: If the Obamas get a Labradoodle — even a rescued Labradoodle — it will spark an increase in demand for the hybrid, and since most hybrids are bred by puppy millers, they'll start churning them out to meet the demand, or in anticipation of it.
If the Obamas get a Portugese water dog — the other choice they've mentioned — the same thing would happen because not a lot of that breed can be found in shelters or rescue.
In other words, Obama can't win. The fear is any breed, or hybrid, the First Family picks could have a  "101 Dalmatians" effect: a sudden burst in popularity that breeders will try to capitalize on it by mass-producing similar dogs.
Even with Obama's popularity, I think the fear is being slightly overstated — and I can't think of any precedent for a president's choice of dog leading to mass purchasing of the breed. I don't think the presidency of younger Bush led to a surge in Scotties, anymore than the popularity of beagles was boosted by Lyndon B. Johnson. (History buffs, please correct me if I am wrong.)
Then again, with the Obamas, there are cute kids involved, and photo ops and, I'm sure, a media onslaught of tremendous proportions once the dog arrives, if how much coverage the issue (or non-issue if you prefer) has already gotten is any indication.
All this is another good argument for what was my personal preference, and really the only politically correct choice —  a shelter mutt. That way, the only copycat surge would be in the number of people going to their shelters to adopt dogs that already exist and need homes.
Of course, that was before I decided it was none of my business — that, ideally, a family's choice of dog should be left up to that family, not pundits, political pressure, or internet polls. Has any other president been held to this level of scrutiny — or any scrutiny at all — regarding his choice of dog? (Note to future presidential candidates: Get a dog before you start your campaign.)
Dogs may be man's best friend, but I'm not sure, at this particular moment, if they're Obama's.
(Photo: Posters by Shepard Fairey)
Posted by John Woestendiek April 8th, 2009 under Muttsblog.
Tags: animals, barack, breeders, breeds, choice, decision, dog, dogs, first dog, first family, hybrid, hypo-allergenic, labradoodle, malia, mutt, obama, pets, portugese water dog, president, presidents, pressure, puppy mills, sasha, white house

Comments: 1