Tag: diet
Pet food containing potatoes, peas, lentils and other legumes might be causing heart disease in dogs, the U.S. Food and Drug Administration said in a warning to pet owners.
Citing "highly unusual" reports about canine dilated cardiomyopathy, the FDA said last week it is investigating a link between the food and cases in which dogs have been diagnosed with the disease, which can cause an enlarged, weakened heart and eventual heart failure.
Large breeds have always been prone to the disease, but the new cases include a Shih Tzu, a bulldog, and a miniature schnauzer.
Canine DCM is a disease of a dog's heart muscle and results in having an enlarged heart. As the dog's heart and chambers become dilated, the heart becomes unable to pump normally, leading valves to leak and a buildup of fluids in the chest and abdomen.
It often results in heart failure, but can be improved if caught early.
Breeds more prone to the disease include larger breeds like Great Danes, Boxers, Newfoundlands, Irish Wolfhounds, Saint Bernards and Doberman Pinschers.
Among those reported cases, the dog's diets frequently included potatoes, multiple legumes like peas, lentils, other seeds of legumes, as main ingredients, the FDA said.
Foods labeled "grain-free" typically have higher levels of legumes or potatoes, but it is not yet known how the ingredients are linked to the heart disease.
Medical records for four atypical DCM cases revealed three Golden Retrievers and one Labrador Retriever, showed low whole blood levels of the amino acid taurine. Taurine deficiency is well-documented as a possible leading factor in the disease.
Other cases include a mini Schnauzer, Shih Tzu, and two Labrador Retrievers. The FDA is working with the Veterinary Response Network, a collaboration of government and veterinary diagnostic laboratories investigate the potential association between these ingredients and DCM.
The FDA said it is in contact with pet food manufacturers that make the foods.
The FDA is encouraging pet owners and veterinary professionals to report any cases of DCM in dogs that are suspected of having a link to diet. To report a case, click here.
Posted by John Woestendiek July 17th, 2018 under Muttsblog.
Tags: animals, breeds, canine dcm, death, diet, dilated cardiomyopathy, dog food, dogs, fda, food and drug administration, health, heart disease, heart failure, illness, investigating, legumes, peas, pet food, pets, potatoes

Comments: 3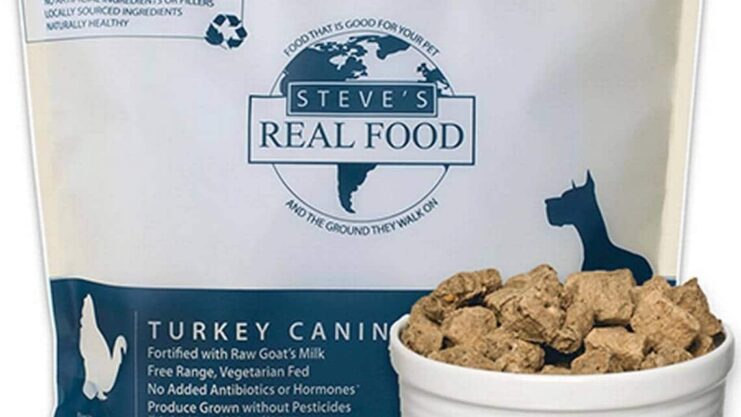 If it seems like there's a new pet food or treat being recalled every week recently, that's because it has gotten that bad.
Worse even.
We count ten since Feb. 8 — most of those of food and treats suspected of possibly being contaminated with salmonella.
The recalled products include dry food, canned food and raw food, treats and bully sticks.
Probably most notable of those recalled are the Gravy Train, Kibbles 'N Bits, Skippy and Ol' Roy brands of canned dog food made by the J.M. Smucker company. Pentobarbital, the sedative used to put dogs down, has been found in cans dating back to 2016.
Smucker released a statement on its website, confirming "extremely low levels of pentobarbital" have been found in "in select shipments."
On Sunday, it told the Miami Herald that the source of the drug was "animal fat was sourced from cow, chicken, and pig."
While those are common sources of pet food, animals euthanized with the drug are not supposed to end up in the food chain — for either dogs or humans.
Last week also saw the recall of an eighth pet food product suspected of containing salmonella or listeria in 24 days, Steve's Real Food's Raw Frozen Dog Food Turkey Canine Recipe, recalled one lot that was distributed to 21 states.
The Nebraska Department of Agriculture found salmonella when testing a retail sold sample.
The 5-pound bags in lot No. E 178 with a best by date of Sept. 17, 2018 went to retail stores in Florida, New York, New Jersey, Connecticut, California, Texas, Pennsylvania, Virginia, Colorado, Iowa, Kansas, Maryland, Michigan, Minnesota, Missouri, North Dakota, Nebraska, Oregon, Utah and Washington, according to the Miami Herald.
Dogs with salmonella can suffer from vomiting, diarrhea and fever.
Humans also can get salmonella, both from dogs and from handling contaminated food or touching unwashed surfaces that the food touched.
Those who have purchased the products should dispose of them and contact the company for a refund.
Other recalls and product withdrawals in the past month include:
▪ Raws for Paws ground turkey
▪ Smokehouse Beefy Munchies treats
▪ Arrow Reliance/Darwin's Natural ZooLogics Duck with Vegetable Meals for Dogs and ZooLogics Chicken with Vegetable Meals for Dogs
▪ Redbarn, 7-inch Bully Sticks
▪ TruPet, Treat Me Crunchy Beef Delight treats
▪ Northwest Naturals, Chicken and Salmon
▪ Carnivore Meat Company, Vital Essentials Freeze-Dried Beef Nibblets Entrée for Dogs
▪ Kitten Grind raw pet food
Posted by John Woestendiek March 6th, 2018 under Muttsblog.
Tags: animals, arrow reliance, bully sticks, canned, darwin, darwin's naturals, diet, dog food, dog food recall, dogs, drug, dry, euthanasia, food, frozen, gravy train, health, kibbles 'n bits, listeria, northwest naturals, ol roy, pentobarbital, pet food, pets, raw, raws for paws, recall, recalls, redbarn bully sticks, safety, salmonella, skippy, smokehouse beefy munchies, smucker, steve's real foods, treats, trupet, warning, zoologics

Comments: 1
If you had to pick the one non-violent behavior that most dismays dog owners, it would likely be when their dog consumes dog poop — be it the dog's own or some other dog's.
Most of us can tolerate their incessant licking of their privates. We can laugh off them humping the leg of a house guest. But most humans find their dog gobbling up feces a revolting and inconceivable act, and some — believe it or not — have even cited it as a reason for returning a dog to a shelter.
While traditionally it has been speculated that some dogs (a minority) engage in the practice to make up for some deficiency in their diet, a new paper suggests it may be in their genes, Scientific American reports.
Veterinary researchers at University of California at Davis who surveyed nearly 3,000 dog owners found 16 percent of dogs consume canine feces "frequently," meaning, in this case, they've seen them do it more than six times. In a second survey of just owners of poop-eating dogs, 62% of them were described as eating it daily and 38% weekly.
Benjamin Hart, a veterinarian who directs the Center for Animal Behavior at Davis, reviewed the survey results and the scientific literature on poop-eating, most of which he says is speculative and doesn't provide any sort of definitive answer for the cause of what's called coprophagy.
The survey showed no link between feces-eating and other compulsive behaviors. Coprophagy wasn't associated with age, gender, spaying or neutering, age of separation from the mother, ease of house training, or any other behavior problem.
What coprophagic dogs had in common was this: More than 80 percent were reported to favor feces no more than two days old.
To Hart, that suggests that the cause may go back more than 15,000 years and be rooted, like so much else, in wolves. The new study by Hart and others was published in the journal Veterinary Medicine and Science.
Typically, wolves defecate away from their dens, but at times of urgency, they may let loose nearby. When that happens, other wolves commonly gobble it up while it's fresh, possibly, some scholars believe, to prevent the spread of parasitic infections.
Feces contain intestinal parasite eggs, which, after a couple of days, hatch into infectious larvae.
Wolves, he said, figured out that by eating any fresh poop left near the den they could be spared being infected by parasites.
"If they eat it right away, it's safe to eat. They won't get infected by parasites," he said.
He theorizes that today's poop-eating dogs still carry around that wolfy instinct, even though the feces of modern-day pets, consuming modern-day dog food, tend to be parasite-free.
Hart noted there is no shortage of explanations for dogs eating poop.
"For every person you ask about this, you get a different opinion. Because they're guessing, whether they're veterinarians or experts in behavior," he said.
Some believe that stress, or enzyme deficiencies lead to the behavior. Others suspect dogs picked it up as they adapted to scavenging for food sources in human environments. Many dogs will try to eat anything, and poop, from their own or other species, falls into that category.
The study noted that dogs whose owners considered them "greedy eaters," were far more like to engage in the behavior.
Dog owners responding to the survey sometimes saw their dogs eating poop, and sometimes just surmised as much, based on "tell-tale breath odor," or because poop in the house was disappearing before they got around to cleaning it up.
While there are products on the marketplace that claim to correct the problem, most of those do little more than make a dog's own poop foul tasting, according to the Washington Post blog Animalia.
A dog owner can try and correct the behavior, clean up immediately after their dogs, and monitor them closely while they are outside, but the bottom line is — disgusting as it may strike us — dining on feces isn't that surprising given where dogs come from and what they've been through.
As Clive Wynne, director of the Canine Science Collaboratory at Arizona State University, noted:
"The niche that dogs occupy is essentially one of making a living on people's leavings — and that isn't just our leftovers from dinner, but what we put down the toilet, too," he said. "So it's only from our human perspective that coprophagy seems strange."
Posted by John Woestendiek January 22nd, 2018 under Muttsblog.
Tags: animals, behavior, behaviors, canine, center for animal behavior, coprophagy, deficiencies, diet, dog, dog owners, dogs, domestication, eating, eating feces, eating poop, enzymes, feces eating, instinct, paper, parasites, pets, poop, scavenging, study, survey, uc davis, wolf, wolves

Comments: none
A survey conducted for Milk-Bone says more Americans than ever are including their dogs in their New Year's resolutions.
To which dogs, could they respond, would probably do so with a sarcastic "Gee, thanks."
But fret not canines. Putting you on a diet ranks all the way down at nine in the top 10 list, and the most popular resolutions are mainly ones dogs would wholeheartedly support.
And keep it mind, we humans hardly ever carry out our resolutions, anyway.
Three thousand pet owners were surveyed, and the most popular resolutions were:
1. I will spend more time with my dog. (52%)
2. I will help my dog to have better health and wellness. (42%)
3. I will take my dog on more trips with me. (34%)
4. I will brush my dog's teeth regularly. (31%)
5. I will help my dog get essential vitamins and nutrients.(30%)
6. I will help my dog become less anxious and stressed. (29%)
7. I won't feed my dog food from the dinner table. (25%)
8. I won't leave my dog home alone for quite so long. (23%)
9. I will help my pet lose weight. (21%)
10. I will take my dog to dog training class. (15%)
(Photo: Instagram)
Posted by John Woestendiek December 31st, 2015 under Muttsblog.
Tags: animals, attention, canine, diet, dog, dogs, happy new yea, health, milk-bone, new year, new year's resolutions, new years, pets, resolutions, survey, time

Comments: none
The test results are in: Those stones in Ace's bladder — the ones that clogged him up and made for a scary weekend — are of the struvite variety.
That's good news. Struvite stones, unlike calcium oxalate stones, are commonly treated by switching to a prescription diet — rather than surgery.
With a little luck, things will continue to flow through his bladder as freely as Niagara Falls (pictured above), which he visited a few years back.
For now, Ace is taking antibiotics and has been switched to a prescription dog food with the unappetizing name of "Urinary SO."
He seems to like it anyway.
I am to continue monitoring his urine stream (given I have nothing better to do), make sure he drinks plenty of water, and hope that the stones remaining in his bladder decompose and exit his body smoothly and without incident.
Struvite stones are often the result of infections, but most experts say one's choice of dog food — particularly choosing a dry food that's high in grain — can also be the culprit.
I don't want to blame the Beneful he has been eating for the past four years,  even though the Purina product is being blamed for far worse these days — so much so that I was contemplating a switch already.
I'm hoping he doesn't have to stay on the Urinary SO for too long. The vet's office recommended four cans a day for a dog of his size. It costs more than $3 per can. That amounts to more than I spend at the grocery to feed my own self.
In a compromise, the vet's office said I could mix in some Urinary SO dry food, which costs slightly less.
Maybe, in the future — once we're done with Urinary SO — I'll return him to a raw diet. The years he was on that seemed to be his healthiest.
Since his Saturday emergency, when a catheter was used to get things flowing again, he has been peeing freely and abundantly. You might see it differently, but to me that, like the falls, is a glorious sight to behold.
Posted by John Woestendiek May 20th, 2015 under Muttsblog.
Tags: ace, animals, bladder stones, diet, dog, dog food, dogs, health, pets, prescription, prescription diet, struvite, urinary, veterinary

Comments: 4
A University of Maine graduate student says he has found a bone fragment from what he believes is the earliest domesticated dog ever found in the Americas — one that walked the continent 9,400 years ago.
And where he found it — ensconced in a dried-out sample of human waste — gives proof that eating dog was part of America's culture, at least before America was America.
Graduate student Samuel Belknap III came across the fragment while analyzing a sample of human waste unearthed in  the 1970s. Carbon-dating placed the age of the bone at 9,400 years, and a DNA analysis confirmed it came from a dog — as opposed to a wolf, coyote or fox.
The Associated Press  reports that the fragment — which was the dark orange color characteristic of bone that has passed through the digestive track — was found in Hinds Cave in southwest Texas. 
The fragment provides the earliest evidence that dogs were eaten by humans in North America, and may have been bred as a food source, he said.
Belknap was studying the diet and nutrition of the people  in the Lower Pecos region of Texas between 1,000 and 10,000 years ago when he came across the bone.
Belknap and other researchers from the University of Maine and the University of Oklahoma's molecular anthropology laboratories, where the DNA analysis was done, have written a paper on their findings, scheduled for publication in the American Journal of Physical Anthropology later this year.
The fragment is about six-tenths of an inch long and three- to four-tenths of an inch wide. Belknap said he and a fellow student identified the bone as a fragment from where the skull connects with the spine. He said it came from a dog that probably resembled the small short-haired dogs that were common among the Indians of the Great Plains.
Other archaeological findings have found evidence of domestic dogs in the U.S. as long as 8,000 years ago.
A 1980s study reported dog bones found at Danger Cave, Utah, were between 9,000 and 10,000 years old, but those dates were based on an analysis of the surrounding rock laters as opposed to carbon dating. In Idaho, researchers believed they'd found 11,000-year-old dog bones, but later tests showed them to be no more than 3,000 years old.
Worldwide, studies have found evidence of dogs going back 31,000 years from a site in Belgium, 26,000 years in the Czech Republic and 15,000 years in Siberia.
The earliest dogs in North America are believed to have come with the early settlers across the Bering land bridge from Asia.
Belknap said eating dogs was once common in Central America, and that some Great Plain Indian tribes ate dogs when food was scarce or for celebrations.
 "It was definitely an accepted practice among many populations," he said.
Posted by John Woestendiek January 19th, 2011 under Muttsblog.
Tags: america, analysis, anthropology, archaeology, ate, bone, carbon dating, diet, digested, dna, dog, domesticated, earliest, eaten, evidence, excrement, first, fragment, hinds cave, human, indians, nutrition, oldest, research, samuel belknap, study, texas, university of maine, waste

Comments: 2
PETA thinks Baltimore residents are too fat, and that a vegetarian diet could help them achieve a much-needed slimming down.
To that end, it is sending women clad in lettuce bikinis to the city to hand out veggie hot dogs.
Makes perfect sense.
Baltimore was recently ranked the eighth fattest city in the country, so PETA's "Lettuce Ladies" are hitting the road to show Baltimore (and other fat cities, as well)  how healthy, compassionate, and delicious it is to be vegan.
The free veggie dogs will be handed out at noon this coming Friday at City Hall, 100 Holliday St.
PETA says meat consumption has been directly linked to obesity, and that adult vegans are, on average, 10 to 20 pounds lighter than adult meat-eaters. On top of that, PETA says, foregoing meat also helps fight heart disease, diabetes, arthritis, and certain types of cancer.
Posted by John Woestendiek October 4th, 2010 under Muttsblog.
Tags: baltimore, bikinis, cities, city, city hall, consumption, diet, fat, fattest, freebies, handout, health, lettuce ladies, meat, people for the ethical treatment of animals, peta, samples, vegan, vegetarian, veggie dogs, veggie hot dogs, weight

Comments: 1