Tag: dog food
Amazon (remember when it was a river?) continues its quest to dominate the world (make that the universe) — by selling everything that can possibly be sold, delivering it in ways never before possible, and taking people where they've never been able to go.
Now it wants to feed your dog, too.
In its march to ruling every retail category imaginable, Amazon has announced the debut of a dog food line, which will be part of a much bigger step into the highly profitable, nearly inflation-proof world of pet food and products.
According to Bloomberg, Amazon is calling the pet food Wag, named after Wag.com, which Amazon acquired in 2011. Wag.com now redirects to an Amazon landing page.
The food comes in several different varieties, with primarily protein sources including chicken, beef, salmon, lamb, and turkey. It will be available in puppy or adult formula and sold in five-, 15-, and 30-pound bags.
The food line is labeled "no grain added."
Americans are projected to spend more than $72 billion on their pets in 2018, according to the American Pet Products Association. So the only real surprise here is, what took Amazon, which owns everything from Whole Foods to the Washington Post, which is renowned as a dog-friendly company, so long?
The move is seen as a threat to Petco Animal Supplies Inc. and PetSmart Inc., which purchased Chewy.com last year for more than $3 billion, as well as big box retailers and supermarkets that sell pet supplies online to many of the nation's 85 million pet-owning households.
So don't be surprised if you are seeing dog food-toting drones flying over head in your area some day soon.
Posted by John Woestendiek May 4th, 2018 under Muttsblog.
Tags: adult, amazon, amazon prime, animals, beef, chicken, delivery, dog food, dog food line, dogs, drones, dry food, food, internet, jeff bezos, lamb, no grain, online, pet food, pet market, pets, puppy, salmon, shopping, supplies, turkey, wag

Comments: none
The nation's most beloved maker of jams and jellies is buying up the pet food company that carries the name of the nation's most beloved TV cook.
J.M. Smucker Co. has agreed to pay $1.9 billion to buy Ainsworth Pet Nutrition, which makes primarily the Rachel Ray brand dog Nutrish.
The acquisition is the latest pet food line taken over by Smucker, which also owns Kibbles n' Bits, Meow Mix, Gravy Train, Skippy and Ol' Roy brands.
By putting more emphasis on pet food — specifically so-called "premium" pet foods — the company hope to invigorate sales, which have been sluggish for consumer goods aimed at humans.
The purchase comes on the heels of recent recalls for some of Smucker's canned dog food brands — Gravy Train, Skippy, Ol' Roy and Kibbles 'N Bits.
Traces of the euthanasia drug pentobarbital found in some cans led to the recall.
Smucker first got into the pet business in 2015 with a $5.8 billion acquisition of Big Heart Pet Brands, according to Bloomberg. The company, best known for its namesake jam, also produces Folgers coffee and Jif peanut butter.
With the purchase of Nutrish, pet foods will become Smucker's larges source of sales.
The company is also looking at selling off some of its human food products, including the Pillsbury line of baked goods.
It is focusing more on premium pet foods. High-end pet food has surged 33 percent industrywide over the past five years and now accounts for more than 50 percent of the market.
Smucker generates about 85 percent of its revenue in the U.S. and the acquisition of Ainsworth will make pet food its largest business unit, accounting for about $3 billion in sales.
Smucker is the latest food company to tap into the upscale pet market. General Mills Inc., mired in a three-year sales slump, agreed in February to buy Blue Buffalo Pet Products Inc. for about $8 billion.
Posted by John Woestendiek April 6th, 2018 under Muttsblog.
Tags: acquisition, ainsworth pet nutrition, animals, canned, cans, dog food, dogs, euthanasia drug, food, gravy train, j.m. smucker co., kibbles 'n bits, meow mix, nutrish, ol roy, pentobarbital, pets, premium dog foods, rachel ray, recall, skippy, smucker, sold

Comments: 1
The J.M. Smucker Company has recalled two different kinds of Milo's Kitchen dog treats.
According to the Milo's Kitchen website, shipments of Milo's Kitchen Steak Grillers / Steak Grillers Recipe with Angus Steak and Milo's Kitchen Grilled Burger Bites with Sweet Potato and Bacon are being recalled over concerns of potentially elevated levels of a beef thyroid hormone.
The FDA says three dogs are known to have been sickened by the treats.
Dogs who have consumed high levels of beef thyroid hormone may show symptoms of increased thirst and urination, weight loss, increased heart rate and restlessness, according to the FDA.
The symptoms should subside once consumption of the treats is discontinued, but prolonged consumption can cause vomiting, diarrhea and labored breathing.
One of the first dog owners to report a problem with the treats was a Seattle area woman, whose Pomeranian-Chihuahua, named Teka, became ill at the end of last year.
"She was barely getting up. She wasn't running around. Her activity level was low and it clearly looked like she could die that weekend … She would just sit there and drink and drink and drink," Eide told KING5.
The dog was a gift to Eide's dying daughter, Karina.
"It was our daughter's 'Make A Wish' dog," Eide said. "She said, 'I know some kids want to go to Disneyland for Make a Wish. We'll have Teka forever'. It was our responsibility to take good care of her," Fernette said.
Karina passed away in 2014.
When Teka became ill, Eide took the dog to the vet, where abnormally high levels of thyroid hormones were detected.
After she reported the issue to the FDA, she was interviewed and supplied the agency with some of the treats.
The recall includes two flavors of the treats:
Milo's Kitchen Steak Grillers / Steak Grillers Recipe with Angus Steak:
UPC Code: 0 7910051822 7 Size: 18 oz. bag Best By Date: 11/15/2018
UPC Code: 0 7910051822 7 Size: 18 oz. bag Best By Date: 4/26/2019
UPC Code: 0 7910051823 4 Size: 22 oz. bag Best By Date: 4/26/2019
UPC Code: 0 7910052776 2 Size: 10 oz. bag Best By Date: 4/26/2019
Milo's Kitchen Grilled Burger Bites with Sweet Potato and Bacon:
UPC Code: 0 7910052126 5 Size: 15 oz. bag Best By Date: 11/19/2018
Posted by John Woestendiek March 27th, 2018 under Muttsblog.
Tags: animals, burger bites, dog, dog food, dog food recalls, dog treat recalls, dog treats, dogs, fda, health, j.m. smucker company, kitchen, milo's, milos kitchen, pets, recall, safety, steak grillers, thyroid hormone, treats

Comments: none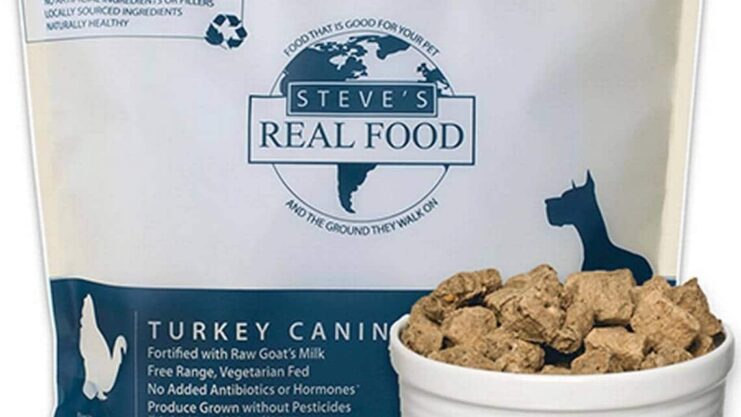 If it seems like there's a new pet food or treat being recalled every week recently, that's because it has gotten that bad.
Worse even.
We count ten since Feb. 8 — most of those of food and treats suspected of possibly being contaminated with salmonella.
The recalled products include dry food, canned food and raw food, treats and bully sticks.
Probably most notable of those recalled are the Gravy Train, Kibbles 'N Bits, Skippy and Ol' Roy brands of canned dog food made by the J.M. Smucker company. Pentobarbital, the sedative used to put dogs down, has been found in cans dating back to 2016.
Smucker released a statement on its website, confirming "extremely low levels of pentobarbital" have been found in "in select shipments."
On Sunday, it told the Miami Herald that the source of the drug was "animal fat was sourced from cow, chicken, and pig."
While those are common sources of pet food, animals euthanized with the drug are not supposed to end up in the food chain — for either dogs or humans.
Last week also saw the recall of an eighth pet food product suspected of containing salmonella or listeria in 24 days, Steve's Real Food's Raw Frozen Dog Food Turkey Canine Recipe, recalled one lot that was distributed to 21 states.
The Nebraska Department of Agriculture found salmonella when testing a retail sold sample.
The 5-pound bags in lot No. E 178 with a best by date of Sept. 17, 2018 went to retail stores in Florida, New York, New Jersey, Connecticut, California, Texas, Pennsylvania, Virginia, Colorado, Iowa, Kansas, Maryland, Michigan, Minnesota, Missouri, North Dakota, Nebraska, Oregon, Utah and Washington, according to the Miami Herald.
Dogs with salmonella can suffer from vomiting, diarrhea and fever.
Humans also can get salmonella, both from dogs and from handling contaminated food or touching unwashed surfaces that the food touched.
Those who have purchased the products should dispose of them and contact the company for a refund.
Other recalls and product withdrawals in the past month include:
▪ Raws for Paws ground turkey
▪ Smokehouse Beefy Munchies treats
▪ Arrow Reliance/Darwin's Natural ZooLogics Duck with Vegetable Meals for Dogs and ZooLogics Chicken with Vegetable Meals for Dogs
▪ Redbarn, 7-inch Bully Sticks
▪ TruPet, Treat Me Crunchy Beef Delight treats
▪ Northwest Naturals, Chicken and Salmon
▪ Carnivore Meat Company, Vital Essentials Freeze-Dried Beef Nibblets Entrée for Dogs
▪ Kitten Grind raw pet food
Posted by John Woestendiek March 6th, 2018 under Muttsblog.
Tags: animals, arrow reliance, bully sticks, canned, darwin, darwin's naturals, diet, dog food, dog food recall, dogs, drug, dry, euthanasia, food, frozen, gravy train, health, kibbles 'n bits, listeria, northwest naturals, ol roy, pentobarbital, pet food, pets, raw, raws for paws, recall, recalls, redbarn bully sticks, safety, salmonella, skippy, smokehouse beefy munchies, smucker, steve's real foods, treats, trupet, warning, zoologics

Comments: 1
The J.M. Smucker Co. is withdrawing some shipments of dog food amid reports that it could be tainted with traces of a drug used to euthanize animals.
The company said Thursday it is pulling back shipments of 27 of its brands, including canned Gravy Train, Kibble 'N Bits, Skippy and Ol' Roy brands.
It said it is investigating how the euthanasia drug pentobarbital got into its supply chain and is focusing on a single supplier of a minor ingredient used at one manufacturing facility.
The recalls come after WJLA-TV in Washington, D.C., said it tested 15 cans of Gravy Train and found nine cans, or 60 percent of the sample, tested positive for pentobarbital.
Smucker pointed out that the low levels of the drug cited in the report do not pose a threat to pets.
"However, the presence of this substance at any level is not acceptable to us and not up to our quality standards," the company said in a statement.
The company, based in Orrville, Ohio, said it does not use meat from euthanized animals in its pet food.
A consumer-level product recall has not been initiated, and neither Smucker nor any government agencies has said if any of the implicated dog food made it to retail shelves.
Smucker has requested retailers remove the potentially affected brands from their warehouses.
Read on for the full list:
Posted by John Woestendiek February 16th, 2018 under Muttsblog.
Tags: animals, brands, canned, cans, dog food, dogs, drug, euthanasia, gravy train, health, kibble 'n bits, ol roy, pentobarbital, pets, recall, report, safety, skippy, smucker, voluntary, washington, wjla

Comments: 2
Pentobarbital, part of the cocktail administered to dogs, cats and sometimes horses to euthanize them, continues to show up in dog food.
How that happens — and why it is allowed to — are questions raised in an investigative report last week by WJLA in Washington.
The station teamed up with Ellipse Analytics, a lab that specializes in testing food for contaminants,
In testing 62 samples of wet dog food, across more than two dozen brands, one brand came back positive for for the euthanasia drug pentobarbital. Nine of 15 cans of Gravy Train showed non-lethal levels of the drug.
Under federal law, no concentration of pentobarbital is permitted in pet food. WJLA reported the FDA didn't initially seem too interested about its findings.
The agency declined requests for an on-camera interview, and referred the station to the Pet Food Institute — the trade organization that represents the pet food industry. Further requests for information from the FDA were met with the response that it will "investigate the matter and take appropriate enforcement action."
It's not the first time pentobarbital has been found in dog food.
About a year ago Evanger's recalled some lots of its "Hunk of Beef" canned dog food after it was found to contain the sedative.
The company said at the time that the meat in question came from a cow rendered by a supplier, but, as WJLA reported, federal law does not allow use of the toxin to kill animals that are part of the food supply.
Gravy Train is made by Big Heart Pet Foods and owned by Smucker's.
Big Heart Brands is also the maker of Meow Mix, Milk Bone, Kibbles'n Bits, 9 Lives, Natural Balance, Pup-Peroni, Gravy Train, Nature's Recipe, Canine Carry Outs, Milo's Kitchen, Alley Cat, Jerky Treats, Meaty Bone, Pounce and Snausages.
Dr. Nicholas Dodman, chief scientific officer for The Center for Canine Behavior Studies and former director of the Animal Behavior Program at Tufts University, said even non-lethal amounts of the drug should be a concern.
"Whether it's doing something or nothing, what's it doing there? Where did it come from? If they don't like the explanation that it's coming from animals that have been euthanized, what is their explanation as to how it gets in?" asked Dodman.
Smucker's declined WJLA's request for an on-camera interview, but issued a statement saying, "We launched and are conducting a thorough investigation, including working closely with our suppliers, to determine the accuracy of these results and the methodology used."
Most believe pentobarbital, when it shows up in dog food, is a result of euthanized animals being blended into food by those who render the carcasses.
That, in itself is against federal laws that prohibits the use in both dog and human food of any animals that have not been slaughtered. Using euthanized animals is prohibited.
As Susan Thixton, a pet food consumer advocate told the station, "Billion dollar a year companies are making profit selling illegal adulterated products to unknowing consumers in the U.S. every day."
She added, "The FDA tells industry 'Yeah, it's a violation of law, but go ahead, we're not going to do anything,'" said Thixton.
Posted by John Woestendiek February 13th, 2018 under Muttsblog, videos.
Tags: big heart pet foods, canned, cats, dog food, dogs, drug, euthanasia, euthanize, euthanizing, evangers, fda, gravy train, horses, investigation, livestock, non-lethal levels, pentobarbital, pet food, rendering, slaughter, smucker's, suppliers, toxic

Comments: none
Because your dog is not going to tell you that he has already been fed, a California company is introducing a "smart scoop" that, via bluetooth technology and an app, will let you know if that daily deed has been done.
That's right. A smart dog food scoop. What's next? Smart spatulas? Smart doorstops? Don't tell me if they already exist; I don't want to know.
Leave it to 21st Century America to come up with fancy, complex, intrusive and expensive communication technology to get the most mundane of chores accomplished when much simpler ways exist, such as a hand-written note, or perhaps the spoken word.
YaDoggie delivers its brand of dog food and treats to your door, and it plans to make the smart scoop available this spring to those who sign up for subscription plans.
The company showed off the scoop at the CES tech show in Las Vegas Monday.
CNET described how it works:
"The YaDoggie scoop will connect to an iOS app on your phone through a Bluetooth connection. A small light on the scoop will turn green if no one has picked up the scoop and connected with the app that day, which means you're good to feed your dog. The light will turn red if the app has detected that someone has used the scoop. The app will also tell you who has fed the dog based on whose phone is closest to the scoop."
Now I understand that, in an active, on-the-go modern American family, multiple family members might take it upon themselves to feed a dog not knowing he had already been fed. I understand that such mundane matters aren't always communicated between family members.
I can understand that happening even when it's just a couple sharing a home with a dog.
And I'll admit that even those who live alone, such as me, might forget if they've already fed their dog on a particular day. (My solution is attaching a Post-it note to my forehead.)
In all seriousness, though, there truly are simpler, no-cost ways, to accomplish this.
I don't think that multiple feedings alone are the main cause of overweight dogs, as the company's promotional video (above) implies. Treats, lack of exercise and table scraps are all probably bigger factors.
On its website, the company says the "simple, elegant scoop," when paired with the app, notifies everyone in the family that the dog has been fed. It also lets the company "figure out when you're running low on food so we can make sure you never run out."
At least it doesn't keep tabs on how many times you are feeding yourself, or sneaking treats for yourself, in the kitchen — at least as far I know.
The company says the battery in the scoop will last at least "a year, if not more" so there is "no need to worry about charging or replacing batteries." It doesn't make clear whether you get a new scoop after a year, or a new battery, or have to spend hours reprogramming everything, but it says more information will be coming out before the device hits the market.
I don't want one. I'm old school enough to suspected that the more "smart" devices we come to rely on, the more stupid we are going to get. And I'm already getting stupid enough. Sometimes I don't even realize I'm walking around with a Post-it note on my head — until the dog tells me.
Posted by John Woestendiek January 10th, 2018 under Muttsblog, videos.
Tags: animals, app, bluetooth, california, ces, ces show, communication, company, delivered, delivers, dog, dog food, dogs, feeding, las vegas, overfeeding, pets, scoop, smart, smart scoop, subscription, technology, yadoggie

Comments: none