Tag: dog food
A $5 million class action lawsuit has been filed against Rachael Ray's Nutrish dog food, alleging it contains a chemical used in weed killer.
The suit, brought by Bronx resident Markeith Parks on behalf of himself and others, claims that samples of the dog food were found to contain the chemical glyphosate, a herbicide used in Roundup and other weed killers.
The lawsuit says the dog food brand is deceiving and misleading customers by touting itself as healthy and natural.
"The products at issue are not 'natural.' Instead, the products contain the unnatural chemical glyphosate, a potent biocide and endocrine disruptor, with detrimental health effects that are still becoming known," the lawsuit says.
The New York Daily News reported on the lawsuit yesterday, saying it was unable to get a comment from the company it names, Ainsworth Pet Nutrition.
Ainsworth sold the Nutrish brand to J.M. Smucker Co. last month for $1.9 billion.
The brand's new owner strongly denied the lawsuit's claim.
Bobby Modi, vice president of Pet Food and Pet Snacks for JM Smucker, said: "We are in the process of reviewing the details of the claim but strongly stand behind the quality of our products, ingredients, and sourcing practices. As animal lovers and humans, it goes without saying that we do not add pesticides to our products as an ingredient. We plan to aggressively fight these claims."
And even Ray chimed in, telling the Daily Mail, through a spokesperson, "Rachael herself has always championed the great lengths Ainsworth Pet Nutrition and now The J.M. Smucker Company take to create and provide the highest quality and safest pet food products on the market. This is why she does, and will continue to, feed Nutrish to her own dog Isaboo and her extended pet family."
The spokesperson also called previous reports alleging that Rachael herself had been named in the suit 'libelous'.
Ray is not named in the suit, but the dog food carries her name and she has said the recipes used are based on her own.
In the lawsuit, Parks says he purchased the dog food several times at a BJ's Wholesale Club on Exterior St. in the Bronx because he "saw, relied upon, and reasonably believed Rachael Ray Nutrish's representations that its products were 'natural.'"
Glyphosate, the active ingredient used in weed killers, was found in tests done by an independent lab, the court papers claim.
The lawsuit states that the source of the glyphosate in the food could be from "crops such as peas, soy, corn, beets and alfalfa" being sprayed with the chemical in order to "produce an earlier, more uniform harvest."
"By deceiving consumers about the nature, quality, and/or ingredients of the products, Rachael Ray Nutrish is able to sell a greater volume of the products," the lawsuit says.
Posted by John Woestendiek August 8th, 2018 under Muttsblog, videos.
Tags: ainsworth, animals, dog food, dogs, glyphosate, herbicide, j.m. smucker, lawsuit, nutrish, pets, rachael ray, round up, weed killer

Comments: none
Pet food containing potatoes, peas, lentils and other legumes might be causing heart disease in dogs, the U.S. Food and Drug Administration said in a warning to pet owners.
Citing "highly unusual" reports about canine dilated cardiomyopathy, the FDA said last week it is investigating a link between the food and cases in which dogs have been diagnosed with the disease, which can cause an enlarged, weakened heart and eventual heart failure.
Large breeds have always been prone to the disease, but the new cases include a Shih Tzu, a bulldog, and a miniature schnauzer.
Canine DCM is a disease of a dog's heart muscle and results in having an enlarged heart. As the dog's heart and chambers become dilated, the heart becomes unable to pump normally, leading valves to leak and a buildup of fluids in the chest and abdomen.
It often results in heart failure, but can be improved if caught early.
Breeds more prone to the disease include larger breeds like Great Danes, Boxers, Newfoundlands, Irish Wolfhounds, Saint Bernards and Doberman Pinschers.
Among those reported cases, the dog's diets frequently included potatoes, multiple legumes like peas, lentils, other seeds of legumes, as main ingredients, the FDA said.
Foods labeled "grain-free" typically have higher levels of legumes or potatoes, but it is not yet known how the ingredients are linked to the heart disease.
Medical records for four atypical DCM cases revealed three Golden Retrievers and one Labrador Retriever, showed low whole blood levels of the amino acid taurine. Taurine deficiency is well-documented as a possible leading factor in the disease.
Other cases include a mini Schnauzer, Shih Tzu, and two Labrador Retrievers. The FDA is working with the Veterinary Response Network, a collaboration of government and veterinary diagnostic laboratories investigate the potential association between these ingredients and DCM.
The FDA said it is in contact with pet food manufacturers that make the foods.
The FDA is encouraging pet owners and veterinary professionals to report any cases of DCM in dogs that are suspected of having a link to diet. To report a case, click here.
Posted by John Woestendiek July 17th, 2018 under Muttsblog.
Tags: animals, breeds, canine dcm, death, diet, dilated cardiomyopathy, dog food, dogs, fda, food and drug administration, health, heart disease, heart failure, illness, investigating, legumes, peas, pet food, pets, potatoes

Comments: 3
Amazon (remember when it was a river?) continues its quest to dominate the world (make that the universe) — by selling everything that can possibly be sold, delivering it in ways never before possible, and taking people where they've never been able to go.
Now it wants to feed your dog, too.
In its march to ruling every retail category imaginable, Amazon has announced the debut of a dog food line, which will be part of a much bigger step into the highly profitable, nearly inflation-proof world of pet food and products.
According to Bloomberg, Amazon is calling the pet food Wag, named after Wag.com, which Amazon acquired in 2011. Wag.com now redirects to an Amazon landing page.
The food comes in several different varieties, with primarily protein sources including chicken, beef, salmon, lamb, and turkey. It will be available in puppy or adult formula and sold in five-, 15-, and 30-pound bags.
The food line is labeled "no grain added."
Americans are projected to spend more than $72 billion on their pets in 2018, according to the American Pet Products Association. So the only real surprise here is, what took Amazon, which owns everything from Whole Foods to the Washington Post, which is renowned as a dog-friendly company, so long?
The move is seen as a threat to Petco Animal Supplies Inc. and PetSmart Inc., which purchased Chewy.com last year for more than $3 billion, as well as big box retailers and supermarkets that sell pet supplies online to many of the nation's 85 million pet-owning households.
So don't be surprised if you are seeing dog food-toting drones flying over head in your area some day soon.
Posted by John Woestendiek May 4th, 2018 under Muttsblog.
Tags: adult, amazon, amazon prime, animals, beef, chicken, delivery, dog food, dog food line, dogs, drones, dry food, food, internet, jeff bezos, lamb, no grain, online, pet food, pet market, pets, puppy, salmon, shopping, supplies, turkey, wag

Comments: none
The nation's most beloved maker of jams and jellies is buying up the pet food company that carries the name of the nation's most beloved TV cook.
J.M. Smucker Co. has agreed to pay $1.9 billion to buy Ainsworth Pet Nutrition, which makes primarily the Rachel Ray brand dog Nutrish.
The acquisition is the latest pet food line taken over by Smucker, which also owns Kibbles n' Bits, Meow Mix, Gravy Train, Skippy and Ol' Roy brands.
By putting more emphasis on pet food — specifically so-called "premium" pet foods — the company hope to invigorate sales, which have been sluggish for consumer goods aimed at humans.
The purchase comes on the heels of recent recalls for some of Smucker's canned dog food brands — Gravy Train, Skippy, Ol' Roy and Kibbles 'N Bits.
Traces of the euthanasia drug pentobarbital found in some cans led to the recall.
Smucker first got into the pet business in 2015 with a $5.8 billion acquisition of Big Heart Pet Brands, according to Bloomberg. The company, best known for its namesake jam, also produces Folgers coffee and Jif peanut butter.
With the purchase of Nutrish, pet foods will become Smucker's larges source of sales.
The company is also looking at selling off some of its human food products, including the Pillsbury line of baked goods.
It is focusing more on premium pet foods. High-end pet food has surged 33 percent industrywide over the past five years and now accounts for more than 50 percent of the market.
Smucker generates about 85 percent of its revenue in the U.S. and the acquisition of Ainsworth will make pet food its largest business unit, accounting for about $3 billion in sales.
Smucker is the latest food company to tap into the upscale pet market. General Mills Inc., mired in a three-year sales slump, agreed in February to buy Blue Buffalo Pet Products Inc. for about $8 billion.
Posted by John Woestendiek April 6th, 2018 under Muttsblog.
Tags: acquisition, ainsworth pet nutrition, animals, canned, cans, dog food, dogs, euthanasia drug, food, gravy train, j.m. smucker co., kibbles 'n bits, meow mix, nutrish, ol roy, pentobarbital, pets, premium dog foods, rachel ray, recall, skippy, smucker, sold

Comments: 1
The J.M. Smucker Company has recalled two different kinds of Milo's Kitchen dog treats.
According to the Milo's Kitchen website, shipments of Milo's Kitchen Steak Grillers / Steak Grillers Recipe with Angus Steak and Milo's Kitchen Grilled Burger Bites with Sweet Potato and Bacon are being recalled over concerns of potentially elevated levels of a beef thyroid hormone.
The FDA says three dogs are known to have been sickened by the treats.
Dogs who have consumed high levels of beef thyroid hormone may show symptoms of increased thirst and urination, weight loss, increased heart rate and restlessness, according to the FDA.
The symptoms should subside once consumption of the treats is discontinued, but prolonged consumption can cause vomiting, diarrhea and labored breathing.
One of the first dog owners to report a problem with the treats was a Seattle area woman, whose Pomeranian-Chihuahua, named Teka, became ill at the end of last year.
"She was barely getting up. She wasn't running around. Her activity level was low and it clearly looked like she could die that weekend … She would just sit there and drink and drink and drink," Eide told KING5.
The dog was a gift to Eide's dying daughter, Karina.
"It was our daughter's 'Make A Wish' dog," Eide said. "She said, 'I know some kids want to go to Disneyland for Make a Wish. We'll have Teka forever'. It was our responsibility to take good care of her," Fernette said.
Karina passed away in 2014.
When Teka became ill, Eide took the dog to the vet, where abnormally high levels of thyroid hormones were detected.
After she reported the issue to the FDA, she was interviewed and supplied the agency with some of the treats.
The recall includes two flavors of the treats:
Milo's Kitchen Steak Grillers / Steak Grillers Recipe with Angus Steak:
UPC Code: 0 7910051822 7 Size: 18 oz. bag Best By Date: 11/15/2018
UPC Code: 0 7910051822 7 Size: 18 oz. bag Best By Date: 4/26/2019
UPC Code: 0 7910051823 4 Size: 22 oz. bag Best By Date: 4/26/2019
UPC Code: 0 7910052776 2 Size: 10 oz. bag Best By Date: 4/26/2019
Milo's Kitchen Grilled Burger Bites with Sweet Potato and Bacon:
UPC Code: 0 7910052126 5 Size: 15 oz. bag Best By Date: 11/19/2018
Posted by John Woestendiek March 27th, 2018 under Muttsblog.
Tags: animals, burger bites, dog, dog food, dog food recalls, dog treat recalls, dog treats, dogs, fda, health, j.m. smucker company, kitchen, milo's, milos kitchen, pets, recall, safety, steak grillers, thyroid hormone, treats

Comments: none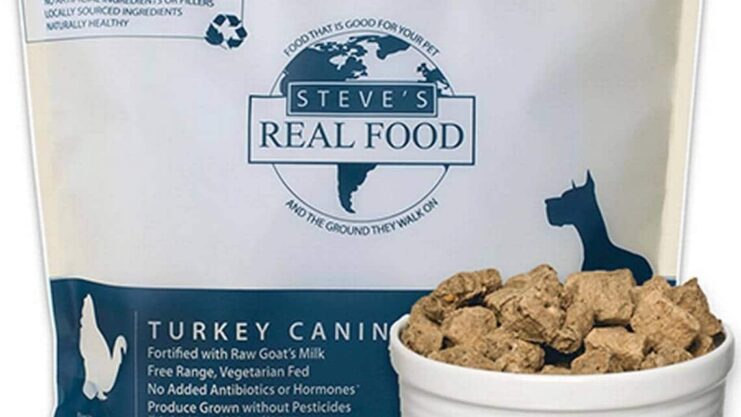 If it seems like there's a new pet food or treat being recalled every week recently, that's because it has gotten that bad.
Worse even.
We count ten since Feb. 8 — most of those of food and treats suspected of possibly being contaminated with salmonella.
The recalled products include dry food, canned food and raw food, treats and bully sticks.
Probably most notable of those recalled are the Gravy Train, Kibbles 'N Bits, Skippy and Ol' Roy brands of canned dog food made by the J.M. Smucker company. Pentobarbital, the sedative used to put dogs down, has been found in cans dating back to 2016.
Smucker released a statement on its website, confirming "extremely low levels of pentobarbital" have been found in "in select shipments."
On Sunday, it told the Miami Herald that the source of the drug was "animal fat was sourced from cow, chicken, and pig."
While those are common sources of pet food, animals euthanized with the drug are not supposed to end up in the food chain — for either dogs or humans.
Last week also saw the recall of an eighth pet food product suspected of containing salmonella or listeria in 24 days, Steve's Real Food's Raw Frozen Dog Food Turkey Canine Recipe, recalled one lot that was distributed to 21 states.
The Nebraska Department of Agriculture found salmonella when testing a retail sold sample.
The 5-pound bags in lot No. E 178 with a best by date of Sept. 17, 2018 went to retail stores in Florida, New York, New Jersey, Connecticut, California, Texas, Pennsylvania, Virginia, Colorado, Iowa, Kansas, Maryland, Michigan, Minnesota, Missouri, North Dakota, Nebraska, Oregon, Utah and Washington, according to the Miami Herald.
Dogs with salmonella can suffer from vomiting, diarrhea and fever.
Humans also can get salmonella, both from dogs and from handling contaminated food or touching unwashed surfaces that the food touched.
Those who have purchased the products should dispose of them and contact the company for a refund.
Other recalls and product withdrawals in the past month include:
▪ Raws for Paws ground turkey
▪ Smokehouse Beefy Munchies treats
▪ Arrow Reliance/Darwin's Natural ZooLogics Duck with Vegetable Meals for Dogs and ZooLogics Chicken with Vegetable Meals for Dogs
▪ Redbarn, 7-inch Bully Sticks
▪ TruPet, Treat Me Crunchy Beef Delight treats
▪ Northwest Naturals, Chicken and Salmon
▪ Carnivore Meat Company, Vital Essentials Freeze-Dried Beef Nibblets Entrée for Dogs
▪ Kitten Grind raw pet food
Posted by John Woestendiek March 6th, 2018 under Muttsblog.
Tags: animals, arrow reliance, bully sticks, canned, darwin, darwin's naturals, diet, dog food, dog food recall, dogs, drug, dry, euthanasia, food, frozen, gravy train, health, kibbles 'n bits, listeria, northwest naturals, ol roy, pentobarbital, pet food, pets, raw, raws for paws, recall, recalls, redbarn bully sticks, safety, salmonella, skippy, smokehouse beefy munchies, smucker, steve's real foods, treats, trupet, warning, zoologics

Comments: 1
The J.M. Smucker Co. is withdrawing some shipments of dog food amid reports that it could be tainted with traces of a drug used to euthanize animals.
The company said Thursday it is pulling back shipments of 27 of its brands, including canned Gravy Train, Kibble 'N Bits, Skippy and Ol' Roy brands.
It said it is investigating how the euthanasia drug pentobarbital got into its supply chain and is focusing on a single supplier of a minor ingredient used at one manufacturing facility.
The recalls come after WJLA-TV in Washington, D.C., said it tested 15 cans of Gravy Train and found nine cans, or 60 percent of the sample, tested positive for pentobarbital.
Smucker pointed out that the low levels of the drug cited in the report do not pose a threat to pets.
"However, the presence of this substance at any level is not acceptable to us and not up to our quality standards," the company said in a statement.
The company, based in Orrville, Ohio, said it does not use meat from euthanized animals in its pet food.
A consumer-level product recall has not been initiated, and neither Smucker nor any government agencies has said if any of the implicated dog food made it to retail shelves.
Smucker has requested retailers remove the potentially affected brands from their warehouses.
Read on for the full list:
Posted by John Woestendiek February 16th, 2018 under Muttsblog.
Tags: animals, brands, canned, cans, dog food, dogs, drug, euthanasia, gravy train, health, kibble 'n bits, ol roy, pentobarbital, pets, recall, report, safety, skippy, smucker, voluntary, washington, wjla

Comments: 2