Tag: dogfights
The arrests of a couple accused of running a dogfighting operation in Chester County has led Pennsylvania congressmen to renew calls for tougher laws.
Rep. Jim Gerlach, of West Pikeland, and Rep. Pat Meehan, of Delaware County, both Republicans, urged passage of a bill that would make it a federal offense to attend an organized animal fight.
"As former prosecutors we know how crucial it is for law enforcement to have all of the tools necessary to deprive the organizers of these horrific events from receiving the financial rewards they need to continue the criminal enterprises," Meehan and Marino said in a joint statement.
"With passage of this bill, we can give federal prosecutors more ability to crack down on animal fighting and the criminal culture that typically surrounds animal fighting events."
The bill, sponsored by Rep. Tom Marino, a Pennsylvania Republican, and Sen. Richard Blumenthal, a Connecticut Democrat, was passed by the Senate last week, but remains in the House Agriculture Committee.
Despite bipartisan support, the bill could die if no action is taken before the end of the year.
Called the Animal Fighting Spectator Prohibition Act, the bill would also institute harsher penalties for bringing minors to animal fights.
Shane Santiago and his wife Laura Acampora, both 33, were arrested last week for allegedly operating a dogfighting ring out of the home they shared with five young children in West Brandywine.
Officials accused the couple of contributing to the death of at least 10 dogs and the maiming of many more that were forced to fight in an arena in the basement of the couple's home. Two of the dogs were found in Chester County, left for dead at the side of the road. One survived.
Santiago and Acampora are charged with over 30 counts of animal cruelty and numerous other offenses. Both remain in Chester County Prison, according to the Pottstown Mercury.
(Photo: One of the dogs seized from the West Brandywine dogfighting operation)
Posted by jwoestendiek December 18th, 2012 under Muttsblog.
Tags: animal cruelty, animal fighting, arena, basement, bill, chester county, congress, couple, dog fighting, dogfighting, dogfights, family, house, jim gerlach, laura acompora, law, legislation, pass, passage, pat meehan, pennsylvania, senate, shane santiago, spectator prohibition act

Comments: 19
The U.S. Senate has passed an anti-dogfighting measure that prohibits attendance at organized animal fights, and another bill that improves care for retired military dogs.
While it's already a felony under federal law to stage animal fights, the Animal Fighting Spectator Prohibition Act, which the Senate passed unanimously yesterday, is aimed at cracking down on the spectators who finance animal fights through admission fees and  making bets. It also impose additional penalties for bringing a child to those events.
Animal welfare groups commended the Senate's passage of the act, which was introduced by Sen. Richard Blumenthal, (D-CT). Blumenthal also introduced the measure calling for better care for retired military dogs.
"The U.S. Senate has recognized the canine heroes who serve in our military as well as dogs victimized in underground animal fighting rings, passing legislation for both," said Nancy Perry, senior vice president of ASPCA Government Relations.  "The ASPCA applauds Senator Blumenthal's brilliant leadership in the twilight hours of this Congress, ensuring that animals in need will not be forgotten by federal lawmakers."
The Senate passed a provision to help retired military dogs by streamlining the adoption process and authorizing veterinary care for the retired animals at no expense to taxpayers.
Both measures still need to be approved by the House.
Posted by jwoestendiek December 6th, 2012 under Muttsblog.
Tags: acts, adoption, animal fighting, animals, apsca, attendance, bets, bills, care, children, dog fighting, dog fights, dogfighting, dogfights, dogs, laws, measures, military dogs, pets, prohibits, retired, retirement, spectators, support, veterinary, wagers

Comments: 2
Amid a continuing investigation into allegations of animal cruelty, what was once the entire animal control staff of Chesterfield County, S.C., has been fired.
Sheriff Sam Parker said the firings took place Monday "in an effort to begin a new start at the shelter."
The animal shelter has been under investigation by the Sheriff's Office, South Carolina Law Enforcement Division and the state's Attorney General's office since allegations came out in March that dogs were being shot as a form of euthanasia, according to WBTV.
The state Attorney General's Office has not released its findings on the investigation, and says it is still underway.
While it has been alleged that nearly two dozen dogs at the shelter were shot and dumped in a landfill, Sheriff Parker said he believes the initial number was exaggerated, and that his office is investigating the deaths of six. Allegations also surfaced that dog fights were being staged at the shelter, but the sheriff said those allegations appear false.
WBTV filed a Freedom of Information Act request with the Sheriff's Office to learn the names of the four fired animal control staff members – Brian Burch, Eric Donahue, Lee Carnea and James Calvin Culledge.
The shelter was shut down and its employees placed on administrative leave after the investigation began. Deborah Farhi, a volunteer who works with the shelter, says a tip led her to discover dead shelter dogs in the landfill. She said she dug up two dogs that had been shot in the head.
While deputies were temporarily assigned to operate the shelter, the sheriff prohibited them from driving animal control vehicles because of hundreds of threats towards the animal control officers.
Posted by jwoestendiek August 4th, 2011 under Muttsblog.
Tags: animal control, animals, attorney general, chesterfield county, deborah farhi, dogfights, dogs, euthanasia, fired, firings, investigation, landfill, pets, shelter, sheriff, shooting, shot, south carolina, staff, threats, volunteer

Comments: none
A dogfighting game application called "Dog Wars," in which players fight virtual dogs for virtual money, is being offered through Google's Android Marketplace.
Developed by Kage Games, the downloadable game allows players to choose an identity, pick their dogs and feed, train and fight them, thereby gaining "cred" and making money.
The game is now available for free download. Players can purchase virtual "adrenaline pens," from Android which can be used to "revive your dog during a fight or even bring it back to life."
"Never let your dog go hungry or thirsty… you must train it and feed it a while before you can fight other player's dogs … Building Cred puts money in your pocket and lets you earn more in fights," the game description reads.
"Let's get it on!"
Given its exceedingly bad taste, and how it perpetuates pit bull myths and glamorizes cruel and illegal activity, there are many who'd rather see the game taken off — the market, that is. 
In a post on BSL News, (BSL standing for Breed Specific Legislation), readers are encouraged to flood both Google and Android with emails and complaints.
(Android is an open source operating system created by Google. While Google does not approve every app offered there, it does maintain a website where people can complain about objectionable content in games and apps. You can find it here.)
The makers sound more than a little defensive about the game.
"It is just a video game," they say in the game description, as if anticipating some controversy. "Perhaps one day we will make gerbil wars or beta fish wars for people who can't understand fantasy role play games …  Just because something is illegal in real life in certain countries, does not mean it is illegal to make a song, movie, or video game about it."
It doesn't mean it's right, or smart, either.
What's next, a game in which players compete to see how many children they can molest?
Sure, the folks who came up with "Dog Wars" have a right to market any sick game concept they want. But my advice? Zap that app.
Posted by jwoestendiek April 23rd, 2011 under Muttsblog.
Tags: android, applications, apps, aps, dog fighting, dog wars, dogfighting, dogfights, games, google, iphone, kage games, pit bulls, pitbulls, software, video

Comments: 33
Michael Vick told a group of young people yesterday that he participated in dogfights in Baltimore — held several years ago in an abandoned warehouse at an undisclosed location.
The Philadelphia Eagles quarterback told a group of 35 youngsters that, while he was an Atlanta Falcon and before his arrest, conviction and prison sentence, he came to Baltimore to fight dogs at an event organized by acquaintances inside an abandoned building.
Vick, who served 18 months in federal prison in connection with his dogfighting operation, spoke at Baltimore's downtown Juvenile Justice Center.
The talk was one of many that Vick, working with  the Humane Society of the United States, has given to urge young people not to get involved in dogfighting.
While yesterday's talk was not open to the news media, the Baltimore Sun says that those who attended said Vick acknowledged taking part in Baltimore dogfights. He spoke of his mistakes and answered questions about his football career. Vick also met with incarcerated kids inside the center.
The youngsters Vick addressed were from the Choice Program, which is a part of the Shriver Center at UMBC. The program provides young people with mentoring, supervision and case management, said its director, LaMar Davis.
"He was fantastic," Davis said of Vick. "He really connected with the kids. I felt fortunate that he was able to connect with our kids."
Posted by jwoestendiek May 7th, 2010 under Muttsblog.
Tags: animals, baltimore, convicted, dog fighting, dog fights, dogfighting, dogfights, football, hsus, humane society of the united states, juvenile, juvenile justice center, michael vick, news, nfl, offenders, pets, quarterback, vick

Comments: 1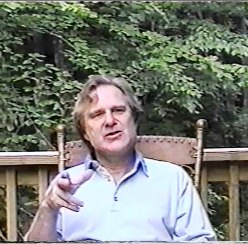 The self-described "author and journalist" whose dogfighting videos were given the Supreme Court's seal of approval this week, has at least three "pro-dogfighting videos" to his credit as well as an instructional book for aspiring dogfighters, the Humane Society of the United States says.
Robert "Bob" Stevens, a 69-year-old resident of Virginia, produced the videos "Japan Pit Fights," "Pick a Winna," and "Catch Dogs and Country Living." He has also sold other dogfighting videos, including "The $100 Keep."
Stevens, the first person tried and convicted under the now-defunct federal Depiction of Animal Cruelty Act, is also the author of "Dogs of Velvet and Steel."
Stevens' was convicted under the 1999 law in 2005 and sentenced to 37 months in prison. A decision from the U.S. Court of Appeals for the Third Circuit overturned the conviction, and the Supreme Court agreed with the appeals court decision this week.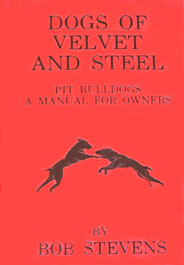 While Stevens has claimed to be merely a pit bull lover with no interest in dogfighting, HSUS says the evidence points to the contrary. In "Dogs of Velvet and Steel," he declares, "I attended many pit fights" and gives graphic accounts of several.
"Japan Pit Fights" includes a series of graphic dogfights. In "Pick-a-Winna," Stevens invites viewers to pick the dog they think is going to win the fight. He goes on to act as commentator for each match, providing analysis on which dog is the better fighter. 
"Theeeere they go!" he shouts as each new pit bull match launches.
Stevens' final video, "Catch Dogs and Country Living," is geared toward training dogs for hog catching, an event in which pit bulls commonly latch onto the faces of pigs. Sometimes the pigs go down, sometimes the dogs do.
During one scene a pit bull named Katie is shown doing "catch work" by latching onto the face of a  farm hog. "In about three minutes there is no bottom jaw on that hog.  Stevens says. "Katie took that, and good part of his throat and his nose out…"
(Photo: Stevens, in a scene from Pick-a-Winna)
Posted by jwoestendiek April 22nd, 2010 under Muttsblog.
Tags: act, animal cruelty, bob stevens, book, catch dogs, catch dogs and country living, depiction, dog fighting, dogfighting, dogfights, dogs of velvet and steel, free speech, instructional, japan pit fights, manual, movies, news, pick a winna, robert stevens, supreme court, videos

Comments: 4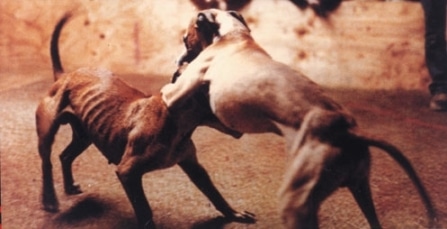 The Supreme Court has ruled that videos showing dogfights and other acts of animal cruelty are protected by free speech.
The court, in an 8-1 decision, struck down a federal law designed to stop the sale and marketing of such videos. The justices concluded the 10-year-old statute was overly broad.
The case before the court stemmed from an appeal by Robert Stevens, of Pittsville, Virginia, who sold videos through his business, Dogs of Velvet and Steel. The tapes show pit bulldogs attacking other animals and one another in staged confrontations.
The high court threw out Stevens' conviction for selling depictions of animal cruelty.
Stevens argued his 37-month sentence sentence was longer than the 14 months given professional football player Michael Vick, who ran an illegal dogfighting ring.
His case was the first prosecution in the United States to proceed to trial under the 1999 law.
Posted by jwoestendiek April 20th, 2010 under Muttsblog.
Tags: animal cruelty, chief justice, child pornography, conviction, crush videos, decision, depictions, dissent, dissenting, dog fighting, dogfighting, dogfights, dogs of velvet and steel, first amendment, free speech, hsus, humane society of the united states, john roberts, law, opinion, overturned, protected, robert stevens, ruling, samuel alito, speech, statute, struck down, supreme court, video

Comments: 5
Trooper, the pit bull found bleeding, duct taped in a bag and left for dead in a Washington D.C. dumpster in August, continues to recuperate and will soon be available for adoption.
"She's nearing the completion of her rehabilitation and we anticipate she'll be entering an adoption program real soon," Scott Giacoppo of the Washington Humane Society told the Washington City Paper.
A resident of an apartment building in southeast Washington was throwing her trash into a dumpster when she found the dog, sticking her head out of a bag. The Washington Humane Society took the dog to Friendship Hospital for Animals, where she was treated.
Investigators believe Trooper was used as a "bait" animal by dogfighters.
After surgeries and treatment, Trooper left the hospital in October (when the report above appeared), for months of therapy at a facility that specializes in the emotional rehabilitation of abused animals.
The Washington Humane Society is still offering a $1500 reward for anyone who has information leading to an arrest in the case.
Posted by jwoestendiek January 5th, 2010 under Muttsblog, videos.
Tags: abandoned, adoption, animal cruelty, bag, bait dog, bin, d.c., dogfighting, dogfights, duct taped, dumpster, friendship hospital for animals, pit bull, recovery, rehabilitation, scott giacoppo, surgery, therapy, trash, trooper, washington, washington humane society

Comments: 3
Michael Vick, after serving 18 months for operating a dogfighting ring, was conditionally reinstated to the NFL today.
Vick can immediately take part in preseason practices, workouts and meetings and can play in the final two preseason games — if he can find a team that will sign him.
A number of teams have already said they would not.
Once the season begins, Vick may participate in all team activities except games, but NFL Commissioner Roger Goodell said he would consider Vick for full reinstatement by Week 6 of the season, at the latest, according to ESPN.
Goodell suspended Vick indefinitely in August 2007 after the former Atlanta Falcons quarterback admitted bankrolling a dogfighting operation on his property in Virginia. At the time, Goodell said Vick must show remorse before he would consider reinstating him.
"I accept that you are sincere when you say that you want to, and will, turn your life around, and that you intend to be a positive role model for others," Goodell said in his letter to Vick. "I am prepared to offer you that opportunity. Whether you succeed is entirely in your hands."
"Needless to say, your margin for error is extremely limited," the letter said. "I urge you to take full advantage of the resources available to support you and to dedicate yourself to rebuilding your life and your career. If you do this, the NFL will support you."
"I do recognize that some will never forgive him for what he did," Goodell said.
Vick, once the highest-paid player in the league, said he was grateful for a second chance.
Vick pleaded guilty after his three co-defendants had already done so. They told of how Vick participated in the killing of dogs that didn't perform well in test fights by shooting, hanging, drowning or slamming them to the ground.
Vick's appearances at federal court in Richmond, Va., prompted large groups of protesters to gather outside. Many were with PETA and held signs depicting photographs of pit bulls ravaged in dogfights. Some supporters showed up as well, some wearing his No. 7 jersey.
Posted by jwoestendiek July 27th, 2009 under Muttsblog.
Tags: atlanta falcons, conditional, conditions, dogfighting, dogfights, dogs, drowned, federal sentence, games, hung, killed, michael vick, nfl, preseason, prison, reinstated, roger goodell

Comments: 2
Dogfighting is experiencing a resurgence in Afghanistan, the New York Times reports.
Banned under the Taliban, who considered it un-Islamic, the "sport" has regained its earlier popularity since the Taliban's ouster in 2001. Dogfighters line up weekly for informal tournaments on dusty lots in the country's major cities.
In Kabul, there are two tournaments every week, both on Friday, the larger of which takes place in the morning at the bottom of a slope on the city's outskirts and draws thousands.
Times reporter Kirk Semple describes a scene in which dozens of mastiff-like dogs, some of which required two men to restrain them, awaited their matches.
Some fights had been organized days in advance, with hundreds of dollars, sometimes thousands, riding on each, he reported.
"The event was presided over by a ringmaster, a toothless old man with a turban and a limp. He carried a wooden staff that he used to beat spectators who crowded the pitch and members of the dogfighters' entourages who blocked the spectators' view."
The country's elite frown upon the dogfighters, seeing them as uncultured and the criminal.
"In my personal view, it's not a good thing," said Ghulam Nabi Farahi, deputy minister of information and culture. "In today's world, these animals should be treated well. But unfortunately, there's a lot of fighting."
Posted by jwoestendiek December 29th, 2008 under Muttsblog.
Tags: afghanistan, animal welfare, dogfighting, dogfights, dogs, increase, mastiffs, matches, new york times, popularity, resurgence, rise, sport, taliban

Comments: none