Tag: elementary
As I've said before, many of the world's problems — not just animal abuse but lots more — could be helped by putting a dog in every school, if not every classroom.
As I've also said, it wouldn't hurt to put one, or two, or three, in every prison, every facility for the elderly, every homeless shelter, every domestic abuse shelter, and any other place — from institution to group home to halfway house – where there are people who have lost hope, never learned empathy, aren't feeling loved, need some friendship or could otherwise benefit from the curative power of dogs.
Of course, things don't happen that quickly, or on that kind of scale. Obstacles get in the way, like bureaucracies, and liability concerns and the erroneous belief that only trained therapy dogs can provide therapy.
Considering that, a Washington DC-based non-profit organization is thinking pretty big: Within the next five years, the Pet Care Trust hopes to reach a point where it has introduced 5 million children in 100,000 classrooms to pets and the benefits they provide.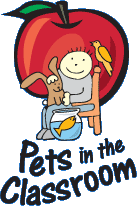 The new goal for the teacher grant program comes after the much quicker-than-anticipated growth of the program in the last couple of years.
In the 2010-11 school year, the Pet Care Trust provided 3,200 Pets in the Classroom grants. With support from Petsmart and Petco, along with rebate grants supported by independent pet stores, the number of grants increased to more than 6,000 for the 2011-12 school year. In the next five years, the trust plans to have provided 30,000 grants enabling teachers to bring pets into the classroom.
The goal of the Pet Care Trust — its board is made up mostly of representatives from the pet products industry, we should point out — is to help promote public understanding of the value of companion animals, to enhance knowledge about companion animals through research and education, and to promote professionalism among members of the companion animal community.
Pet Care Trust executive director Steve King says the Pets in the Classroom program, established in 1990, is already halfway to the new goal.
"We have reached the half-way point to this goal far sooner than any of us thought possible. It really is a remarkable achievement thanks to the Board's foresight and the support of so many pet retailers and suppliers."
More than 500,000 elementary and middle school students having already been given the opportunity to interact with pets on a daily basis in their classroom. and with more than 6,800 grants issued since August 1, the total since the program's inception has risen to 15,500.
At the beginning of 2012, the program — initially available only to pre-k through 6th grade teachers — expanded to include 7th and 8th grade classrooms,
The Pets in the Classroom program benefits students by teaching them responsible, long-term pet care at an early age and providing the psychological and developmental benefits associated with the human-animal bond. 
Studies have shown that caring for pets has a positive effect on children, improving school attendance and teaching children responsibility, as well as encouraging nurturing and building self esteem. 
To learn more about the Pets in the Classroom grant program, visit www.petsintheclassroom.org.
(Photo: Ace, though it was done without a grant, visits a Baltimore school)
Posted by jwoestendiek November 29th, 2012 under Muttsblog.
Tags: animals, compassion, dogs, elementary, empathy, grants, junior high, pet care trust, petco, pets, pets in the classroom, petsmart, responsibility, schools, self esteem, students, teachers

Comments: 2
Clifford, who has always been so much more than big, so much more than red, is now more than half a century old.
Clifford turned 50 Monday.
And he had a big red birthday party — many of them, in fact.
While his birthday was celebrated in schools across the country, the biggest  shindig was in New York, where students sang happy birthday outside the headquarters of his publishing company and Mayor Michael Bloomberg declared it Clifford the Big Red Dog Day.
Clifford's creator, Norman Bridwell, took questions from first- and second-graders during a webcast shown there and beamed live into more than 5,000 classrooms around the country.
Bridwell, 84, told the Associated Press, his initial plans were for Clifford to be as big as a horse; eventually, though, Clifford became bigger than a house. He ended up red because that's the color of the jar of paint Bridwell had nearby.
"I don't really understand it," he said of Clifford's enduring nature. "Whether it's his color, or if it's the fact that he's clumsy, like a lot of kids are clumsy."
Bridwell's daughter, upon whom the character Emily in the books is based, told  reporters her artist father and his wife, Norma, were struggling to earn a living in New York when Norma suggested he try his hand at illustrating children's books. Norma came up with the name Clifford, too, based on an imaginary friend she had as a girl.
Bridwell's daughter, now a teacher, was a one-year-old at the time.
Bridwell shopped his drawings around, meeting initially with rejection. Eventually, he and Clifford were welcomed at Scholastic, and the company provided Bridwell with "10 Big Ideas" around which to fashion the stories, including sharing, respect, believing in oneself and helping others.
Today, Clifford is part of elementary school curriculum, and more than 126 million copies of the 90 books about the big and big-hearted dog are in print in 13 languages, in addition to a TV show, plush toys, a magazine and, yes — who says old dogs can't learn new tricks? – even a Clifford app.
(Photos: Courtesy of Scholastic)
Posted by jwoestendiek September 25th, 2012 under Muttsblog.
Tags: 50, 50th, big, big red dog, birthday, books, books on dogs, bridwell, celebrate, children's books, clifford, curriculum, dog, dog books, elementary, good dog reads, lessons, norma, norman bridwell, red, schools, students, teachers

Comments: 1
An elementary school teacher called police and confessed to beating his dog to death after the Lab-Chow mix soiled himself, authorities said.
"Why did I do this? I'm an animal," the fourth grade teacher reportedly told officers.
Derek Fierro, a teacher at Eugene Field Elementary School in Rogers Park, was ordered held in lieu of $200,000 bail Saturday. He faces a felony count of aggravated cruelty to animals and was ordered by a judge to not possess or have contact with any animals.
About 3 a.m. on Friday, Fierro, 25, called police and told them he had beaten his dog to death at his home in Lake View, according to the Chicago Sun-Times.
When police arrived, he handed officers his car keys and they found the dog Fierro adopted, named Doc, in his trunk, according to court documents.
Police said Fierro told them he beat the dog with his fists after he returned home and found that the dog had defecated on himself.
"I got home and he had eaten through every piece of paper," Fierro told officers. "He (defecated on) himself, so I put him in a tub. I was gonna give him a bath, and he didn't want to get in the bath and I got mad."
(Photo: Chicago Canine Rescue Foundation)
Posted by jwoestendiek August 14th, 2012 under Muttsblog.
Tags: adopted, angry, animal, animal cruelty, animals, beaten, called, chow, confession, cruelty to animals, defecated, derek fierro, dog, dogs, elementary, eugene field, fourth grade, i'm an animal, lab, mad, mix, pets, police, rescue, rogers park, school, school teacher, soiled, teacher

Comments: 3
My favorite part of this news report is not the beginning, which dredges up recent footage about dog attacks to establish the pit bull's reputation as violent and unpredictable.
It's not the part where they shatter that stereotype, or at least put a dent in it, it by noting that — gasp! — pit bulls are being used as therapy dogs.
My favorite part is near the end, where a student reading to a pit bull stumbles over a word, and the dog's owner, Lydia Zaidman — her chin resting on the dog's back  —  offers some assistance.
"NAYSAYERS," she says. "Do you want to know what that means?"
"Yeah, what?" the student replies.
"That's people who say you can't do something."
A lot of people would say you can't trust a pit bull, much less put them to work with children as therapy dogs, but a program  in north Austin's Gullett Elementary School is going a long way toward proving them wrong, according to TV news report from KXAN in Austin.
It's hardly — despite the report's exclamation points —  the first time pit bulls have served as therapy dogs. Across the country, pit bulls — even one of Michael Vick's former dogs — have been certified as therapy dogs. The therapy dog group Ace and I work with, Karma Dogs, recently qualified its first pit bull member. Zaidman, who's president of " Love-A-Bull ," a nonprofit group that sticks up for the pit bull, has been taking her pit bull Mocha to the school for two years now.
What is unusual is that Zaidman's therapy dog organization, called the  Pit Crew,  trains only pit bulls for therapy work. It's believed to be the only program in the nation that does so.
Working with professional dog trainer Julie Eskoff, Zaidman recently concluded a training program designed to certify pit bulls for use in schools. The training program started with nine animals. Seven graduated, but two were soon sent home — not an unusual dropout rate for therapy dog qualification.
"They love people; they're extremely tolerant of people." Zaidman said of pit bulls. "Of course, each individual one has to be temperament tested and each one is an individual like any other dog. But in general, they temperament test very high. They really love people; they like to be around people and so they do really well."
"They are the number one most abused dog in this country," Zaidman told KXAN. "Abuse is going to lead to a problem, no question. Unfortunately, there are a lot of irresponsible owners out there and that's going to lead to a problem, but they have to use everything from amphetamines to abuse to get them to fight. So the idea that they are meant to fight is a falsity.
"Unfortunately, there's a cycle right now," she added. "There's a media image, just like there was for Dobermans in the 80s or German shepherds in the 70s and it's a cycle that just keeps happening. The more misinformation that gets out there, the more people that are attracted to the wrong dog. What we're trying to do is put a positive image out there so that the wrong people don't continue to be attracted to the dog.
"It's like any other prejudice. You know, you have to educate yourself as to the facts. Unfortunately, too many people read things on the Internet and they don't bother to find out what the truth is, you know, bother to actually meet one."
Zaidman seems not only to have her facts right, and a well-articulated message (she's a lawyer, after all), but she's proving it daily through deeds.
If only people like Baltimore's Mickey, and all the other naysayers, would listen. 
Posted by jwoestendiek March 30th, 2011 under Muttsblog.
Tags: animals, austin, breeds, dogs, elementary, gullett, image, love-a-bull, lydia zaidman, mickey cucchiella, perception, pets, pit bull, pit crew, pitbull, pitbulls, reputation, schools, stereotype, stereotypes, temperament, texas, therapy, therapy dogs

Comments: 11
Glassboro, N.J. has a group of third graders to thank for its new dog park — expected to open next year.
More than a dozen students from Dorothy L. Bullock Elementary School showed up at a borough council meeting in March, taking turns reading from a prepared statement, urging the council members to consider creating a dog park. It was signed by all their classmates.
Three months later, and even amid serious cuts elsewhere in the borough budget, the dog park, students recently learned, is a go.
Just before the school year ended, Glassboro Council President Tony Fiola and Councilman Ed Malandro went to the children's classroom to deliver the news, according to the Philadelphia Inquirer.
Malandro and Fiola had spoken to their class earlier in the year, and they invited the students to the next council session, encouraging them to present their thoughts on how their community could be a better place. After that their teacher, Shelly Petrozza, had the students nominate things they thought would improve Glassboro. It ended up a tie, with half the students favoring a dog park, half choosing a skate park. The children presented the council with a case for each proposal.
After research, the skate park was ruled out because of cost – at least $75,000, Malandro said. The dog park idea, on the other hand, appeared to be possible.
"We said, 'This is something we can afford to do,' " Malandro said. "It lets us do something for the kids, and it lets them see government does work in the right ways."
The dog park will likely be in East New Street Park, next to the Bullock school, and plans call for a plaque commemorating the role the third graders played.
"We all said to them, 'Boys and girls, look at what you did. You're only 8 and 9 years old,' " said their teacher. "I think they realized you do have power no matter how little you are."
(Photo: Philadelphia Inquirer)
Posted by jwoestendiek July 2nd, 2010 under Muttsblog.
Tags: animals, borough, borough council, class, council, dog park, dog parks, dogs, dorothy l. bullock, ed malandro, education, elementary, gloucester, new jersey, pets, proposal, school, shelly petrozza, students, third grade, third graders, tony fiola

Comments: none
A first grade class in Florida has bid farewell to Murry, the fluffy white dog who served as their class mascot. 
For 10 years, Murry, who belongs to teacher Karen McGehee, had served as mascot of her classes at Astoria Park Elementary School in Tallahassee.
Adopted from the Tallahassee animal shelter, Murry only visited the class a few times a year, but his picture was displayed prominently in the classroom, where McGehee would warn misbehaving students, "Remember, Murry is watching," or "I don't think Murry would like that, do you?"
She stamped his doggy image on the children's especially good papers. His face was on the cover of her students' sticker books. And he was the subject of a book, written by the class, called "Our Class Pet," according to the Tallahassee Democrat.
"I think all kids, or at least most kids, love animals, especially dogs," said Karen Hollenbeck, whose four children all passed through McGehee's class and bonded with Murry. "They accept you as you are — they ask no questions and give no criticisms."
When Murry died, in December, "we all cried," said McGehee, who'd prepared for the dog's demise.
She'd talked with  a grief counselor who provided tiny heart-shaped pillows with paw prints on them, enough for every child when she told them of Murry's death. Murry's vet donated dog-angel pins for each child in the class, as well as cards bearing Murry's paw print and locks of his white hair.
McGehee also wrote a personal letter to parents about losing Murry and sent her students home with handouts on children and pet loss that Mezzina had given her. Because Murry had been adopted from the animal shelter, McGehee set up a box for donations for animals at the Tallahassee shelter — toys, treats, old towels and blankets.
McGehee, who is nearing retirement, isn't sure if she'll get another mascot for her classes.
"Murry was one of a kind," she said. "He was special,"
Posted by jwoestendiek January 20th, 2010 under Muttsblog.
Tags: animal, astoria park, class, class pet, classroom, death, died, dog, dogs, dogs in the classroom, elementary, first grade, florida, grief, karen mcgehee, lesson, mascot, murry, pets, school, shelter, tallahassee, teacher, teaching

Comments: none