Tag: environment
Once a week, Meredith College art professor Shannon Johnstone takes a homeless dog for a walk to the top of what used to be a landfill.
The Raleigh area landfill has a new life now, as a park.
The dogs she photographs there are still waiting for one.
They all come from the Wake County Animal Center, where, after being abandoned or surrendered, they've been living anywhere from a couple of weeks to more than a year.
The park, located atop a 470-foot peak formed from 20 year's worth of Raleigh's trash, serves as a scenic backdrop, but also, for Johnstone,  as a metaphor.
Johnstone has photographed 66 "landfill dogs" so far — either on her climb up or atop the hill, according to a column in the Raleigh  News & Observer.
Shot at what's now one of the highest points in Wake County, the pictures of throwaway dogs playing atop a hill made from other things people threw away are sometimes haunting, sometimes hopeful, sometimes a little of both.
Some of the dogs she photographed have found homes right away; others remained at the animal shelter. Five have died.
Johnstone, 40, has degrees from the School of the Art Institute of Chicago and she's on a yearlong sabbatical from Meredith.
Johnstone has photographed shelter dogs before. While she declined to name the city, one project she was involved in photographed animals before, during and after euthanasia.
She said the idea for the current project came from Wake County's former environmental director, who envisioned dozens of dogs at the park.
Instead Johnstone brings them there one at a time, and doesn't remove their leashes (except later with Photoshop).
Landfill Dogs, according to its website, is a project with three overlapping components: fine art photographs, adoption promotions, and environmental advocacy.
The project  was made possible by a year-long sabbatical granted by Meredith College's Environmental Sustainability Initiative, and with cooperation from the staff and volunteers at Wake County Animal Center.
(Top photo by Shannon Johnstone; bottom photo by Corey Lowenstein / News & Observer)
Posted by John Woestendiek November 14th, 2013 under Muttsblog.
Tags: adopt, adoptable, animal welfare, animals, art, dogs, environment, hill, landfill, meredith college, mountain, north wake, park, pets, photographs, photography, professor, raleigh, shannon johnstone, shelters, trash, wake county, wake county animal center

Comments: none
The health hazards that unscooped dog waste in public places can pose to humans has been well-established, well-documented and well-hollered-about.
So — yucky as it is – it's only right to share some news that shows the reverse side of the equation can be true, too.
According to a report from the German newspaper Tagesspiegel, dogs in Berlin are being sickened by human feces left in some public parks frequented by drug users.
Veterinarians say they've seen an increase in such poisonings.
Dogs who ingest the waste show symptoms that include shaking, dehydration and difficulty walking. Tests on dogs have found heroin and other illegal drugs present in their systems.
Vets say most cases took place in parks the city's Treptow and Kreuzberg areas, where drug users are known to gather, especially at night.
Berlin-based veterinarian Reinhold Sassnau told Tagesspiegel that the poisonings are rarely fatal. Most dogs recover if they quickly receive treatment, which includes inducing vomiting. Otherwise, prolonged treatment might be required.
Just something to keep in mind next time you (or your dog) step in a  pile of dog poop (or is it?) at the park.
Posted by John Woestendiek October 24th, 2013 under Muttsblog.
Tags: addicts, berlin, defecation, dog, dog poop, drug, environment, feces, germany, hazard, health, heroin, human, human poop, ingesting, parks, poop, public, toilets, users, waste

Comments: none
This ad for Trifexis depicts a dog living in a bubble — albeit it one that's outside and has plenty of tubes to run around in.
It serves to protect him from heartworms, hookworms, roundworms, whipworms, flea infestations and all those other frightening hazards that exist in that place where dogs, for centuries, managed to survive:
Outside.
What we find most interesting about it, though, are the disclaimers, which seem to have risen with doggie prescription drugs to the same level they have with human ones, where three-fourths of the advertisement are devoted to a listing of potential scary side effects, quickly recited in monotone, in hopes you — or your dog — won't really hear them.
With Trifexis, it goes like this: "Treatment with fewer than three monthly doses after the last exposure to mosoquitoes may not provide complete heartworm prevention. The most common adverse reactions were vomiting, itching and lethargy. Serious adverse reactions have been reported following concomitant extra-label use of ivermectin with spinosad alone, one of the components of Trifexis."
On top of the warnings recited, more appear in small print during the ad:
"To ensure parasite protection, observe your dog for one hour after administration."
"If vomiting occurs within an hour of administration, give another full dose."
"Puppies less than 14 weeks of age may experience a higher rate of vomiting."
In their print ads, the makers of Trifexis additionally advise the drug be used with caution in breeding females, and in dogs with epilepsy. Its use in breeding males has not been evaluated. Print ads also list lethargy, depression, decreased appetite and diarrhea as possible side effects.
The chewable, beef-flavored tablets — administered once a month – are a combination of spinosad and milbemycin oxime, and they serve to prevent heartworm disease, kill fleas and prevent infestations and treat hookworm, roundworm and whipworm infections.
The tagline for the ad is "You don't have to go to extremes to protect your dog from parasites."
Apparently you do, though, if you're selling prescription drugs — for canines or humans — to protect your ass from lawsuits.
To see all our "Woof in Advertising" posts, click here.
Posted by John Woestendiek May 21st, 2013 under Muttsblog, videos.
Tags: animals, appetite, bubble, canine, caution, chewable, depression, diarrhea, disclaimers, disease, dog, dogs, drugs, environment, fleas, health, heartworm, hookworm, human, infections, itching, lethargy, loss, mosquitoes, parasites, pets, prescription, prevention, protection, roundworm, safety, side effects, tablets, trifexis, tube, veterinarians, veterinary, vomiting, warning, whipworm

Comments: 3
Driving down a two-lane highway whose dips send your stomach somewhere in the vicinity above your lungs, alongside an accidental lake that is saltier than the ocean, through a landscape that can only be described as lunar, you know there's a good chance things might turn weird — if they haven't already.
There are, I'm convinced, certain little pockets of America that attract the eccentric — the sort of people who  march, to use a cliche, to the beat of a different drummer, or, given how alien and variable their rhythms may seem, perhaps to no drummer at all. They are like highly spicy food: You can avoid them and play it safe, or you can dive in, which could leave you dazzled, or possibly being asked for some spare change.
Which brings us to the Salton Sea.
It wasn't the first oasis of oddness we've encountered on our cross country (twice) journey. Butte, Montana was surely one; along the southern coast of Oregon we unknowingly stepped into another. But unlike those places, the Salton Sea gives you fair warning.
Heading south on Highway 111, the salty lake stretches out to your right, while to your left there's the jagged outline of bald and craggy mountains. It's a bumpy, bouncy road, dotted with boarded-up businesses and lonely trailers, punctuated by small towns, recreational areas and wannabe resorts, and populated, in large part, by people who moved there to either get rich or be left alone.
If you ever saw "Plagues & Pleasures on the Salton Sea," a documentary narrated by John Waters, you have some idea of the place.
I was in more of a hurry than usual — so much so that I didn't have time to stop at the Fountain of Youth.
I wanted to visit Slab City (that story tomorrow), catch Leonard Knight, founder and builder of Salvation Mountain (tune in Monday), and make it to the Arizona line and get something for Thanksgiving dinner, other than the Reese's Cups and Orange Crush that served as breakfast and lunch.
So I sped along the highway, from Indio to Niland, portions of which were like a roller coaster ride on the moon. A powerful wind sent me drifting in and out of my lane, and with each dip, Ace issued a "harrumph" from the back seat.
We didn't see the roadside nudist or the Hungarian revolutionary depicted in "Plagues and Pleasures," but we did see Lawrence of Arabia, or at least a guy that looked a little like him when he galloped by.
We stopped only once, at a gas station/convenience store where a bearded man walked up to me, but said nothing. He just stood there, for a minute or so — leading me to pop open the back window of the Jeep, at which point Ace stuck his head out and the man left.
Later, we'd get stared at by some recently-shorn sheep, though, in fairness, I had stopped to stare at them first, wondering if they, like me, always think they look funny after getting a haircut.
Much of the trip, though, was along California's largest lake, which is at once an environmental disaster and a recreation area, drawing about 150,000 visitors a year who engage in boating, water-skiing, fishing, jet-skiing, hiking and birdwatching
The Salton Sea is basically a basin that filled and dried up over the ages, until 1905 when flooding on the Colorado River crashed the canal gates leading into the Imperial Valley. For the next 18 months the entire volume of the Colorado River poured into the below-sea-level basin  By the time engineers were finally able to stop the breach — shades of BP! — two years later, the Salton Sea was 45 miles long and 20 miles wide, with about 130 miles of shoreline.)
If that weren't weird enough, it's also located directly atop the San Andreas Fault.
To fully understand the Salton Sea, you have to go back three million years, and I'm not willing to do that.
Suffice to say, the accidental lake, by the 1920′s, had developed into a tourist attraction, and was even referred to as the California Riviera. Since then, its salinity has steadily increased, primary because of agricultural runoff. Wastewater inflows have added to its problems, leading to high bacteria counts, massive fish kills and subsequent bird deaths.
I stopped alongside it only briefly. I didn't dip my toes in, and didn't allow Ace to, either.
Posted by John Woestendiek November 27th, 2010 under Muttsblog.
Tags: animals, california, desert, dog's country, dogs, dogscountry, eccentric, ecology, environment, fountain of youth, imperial county, john waters, lake, niland, odd, outcasts, pets, plagues & pleasures, salinity, salt, salton sea, salvation mountain, slab city, tourism, travel, travels with ace, vortex, weird

Comments: 1
The best way to experience the redwoods is in quiet reverence — like you're in church, but without the boring sermon, sleep-inducing songs and plate passing.
Ace and I did some of that. We sat silently among the giant trees, craning our necks back, as if looking up to the heavens.
And — except for Ace relieving himself on the biggest one he could find – we behaved with all the appropriate decorum, being the types (though I can't speak for Ace) who believe nature may really be the holiest thing of all, and that man, to satisfy his silly needs, has messed with it far to much.
For a good 30 minutes we sat wordlessly in a redwood grove, admiring their pristine beauty and giving thanks that, in a country that's grown more environmentally conscious, steps have been taken to ensure these glorious giants won't be exploited, and will be around when we who are just quickly passing through no longer are.
Then we drove through one.
Call it curiosity, or sacrilege, or reporting — which I'm prone to do even though I'm not a reporter anymore, at least not the newspaper variety – but when we saw a sign in Leggett on Highway 101 inviting us to "Drive Through a Redwood Tree," we exited.
Leggett is the home of Chandelier Tree, one of four redwoods in northern California that tourists regularly drive through because, well, they can. They've been there since the days when exploiting redwoods was something you could get  away with.
The commercialization of the redwoods was well under way — and already controversial –when John Steinbeck and Charley passed through 50 years ago.
Man's imprint — without even including harvesting the trees for lumber — was  apparent then, and most of the tourists traps remain.
Around Klamath, for instance, you can find a drive-through redwood, take a cable car ride through the redwoods, and see a nearly 50-foot-tall talking Paul Bunyan, with Babe at his side. We passed on that one.
In Leggett, though, we followed the signs, paid our $5 entry fee and went down a winding dirt road before crunching to a halt in front of Chandelier Tree.
I wasn't sure my Jeep would fit through, especially with the cargo bag on the roof.
A tourist egged me on, telling me he was pretty sure I'd make it. I inched forward, having visions of my car getting lodged and becoming a permanent part of a roadside attraction that — though it had sucked me in — was against my (slightly flexible) principles.
As I slowly rolled through, both side mirrors began scraping the inside of the tree. Thankfully they were collapsible; thankfully too there was nothing breakable in my rooftop carrier, which was scraping the top of the opening as well.
But we made it, and I felt at once a sense of accomplishment and shame, for although I justified my trip through a tree by telling myself it was for journalistic purposes, the bottom line was I was just another sappy tourist, as gullible to gimmicks as all the rest.
Beyond that, it all seemed so lazily American — so par for the course in a country of people who, when we are able to tear ourselves away from our computers and go outside, commonly drive up to the windows of banks and drug stores, McDonalds and Starbucks to satisfy our thirsts, hungers and needs, all without exiting the vehicle.
What could be more American than a drive-through tree?
Nothing. Except maybe a drive-though tree where you could also get a Big Mac and withdraw some cash.
Posted by John Woestendiek November 22nd, 2010 under Muttsblog.
Tags: america, animals, california, chandelier tree, commercialization, dog's country, dogs, dogscountry, drive thru, drive-through, environment, exploitation, leggett, pets, redwood, redwoods, road trip, travel, traveling with dogs, travels with ace, trees

Comments: 2
When it came to Seattle, John Steinbeck found some charm in the downtown market area, but otherwise painted a bleak portrait. To him, by the time he and Charley rolled through the Emerald City, the flower was off the bloom. 
Seattle had boomed repeatedly before he arrived, thanks to lumber, gold, shipbuilding and Boeing; and, decades after he was gone, it would boom again, thanks to Microsoft, Amazon and a slew of other high tech and biotech companies that located there. 
The Seattle Steinbeck and Charley pulled into in 1960 was far different from the Seattle of today, and far different from the one he remembered — its rapid growth, in his view, having tarnished the land: 
"I remembered Seattle as a town sitting on hills beside a matchless harborage — a little city of space and trees and gardens … It is no longer so. The tops of hills are shaved off to make level warrens for the rabbits of the present. The highways eight lanes wide cut like glaciers through the uneasy land. This Seattle had no relation to the one I remembered. The traffic rushed with murderous intensity … 
"Along what had been country lanes rich with berries, high wire fences and mile-long factories stretched and the yellow smoke of progress hung over all, fighting the sea winds' efforts to drive them off … Everywhere frantic growth, a carcinomatous growth … I wonder why progress looks so much like destruction." 
That's not the Seattle I saw. 
To me, Seattle seems a city that has come to handle growth far better than most. It's one of America's most scenic, literate, educated, progressive, well off and environmentally conscious cities. It's green in all three meanings of the word. And it's highly dog-friendly. 
Maybe it's a case of the difference 50 years makes, or of how city leaders have taken control of the reigns of growth. Maybe, too, Steinbeck's less than flattering description was partly a result of being a little down when he arrived — what with his dog having been sick, himself being travel weary. Likely, Steinbeck — who waited several days in Seattle for his wife, who was having difficulty getting a flight –  was getting a little crabby. 
He spent three or four days luxuriating in his hotel room near the airport, watching "I Love Lucy" and other TV shows — not the best way to get one's fingers into the fabric of a city — as he waited for Elaine Steinbeck.
Once she arrived, they visited the downtown market before heading down the coast of Oregon together to California. Sections of the original manuscript recounting his time with his wife were later edited out of the book — the "we's" changed to "I's". 
"… I walked in the old part of Seattle, where the fish and crabs and shrimps lay beautifully on white beds of shaved ice and where the washed and shining vegetables were arranged in pictures. I drank clam juice and ate the sharp crab cocktails at stands along the waterfront. It was not much changed — a little more run-down and dingy than it was twenty years ago." 
Seattle — now better known for grunge than dinge — would continue to have it's ups and downs  after he left. Two years after Steinbeck's visit — the year "Travels with Charley" came out — Seattle was the site of the 1962 World's Fair. In the late 60s and early 70s, its economy took a turn for the worse – to the point that one local Realtor put up a now legendary billboard requesting that the last resident to exit turn off the light. 
Like all big cities, Seattle, during the suburbanization of America, faced seeing its core rot away — or, as Steinbeck described it: 
"… When a city begins to grow and expand outward, from the edges, the center which was once its glory is in a sense abandoned to time. Then the buildings grow dark and a kind of decay sets in, poorer people move in as the rents fall, and small fringe buinesses take the place of once flowering establishments…" 
The downtown Seattle I saw — unlike some — was still flowering, and thriving, as much as any place is thriving nowadays. 
It's all subjective, though. Our impression of a new place is based on the tiny part of it we see, what transpires in that process, the mood we're in while seeing it, and, often, who we see it with.
In my case, this time around I had two long-time residents serving as my hosts and tour guides. (More on them tomorrow.) 
Had I been on my own, I likely would have sought out and found the market, but I probably wouldn't have found what's called the first Starbucks.
I probably wouldn't have seen the view of the skyline from Kerry Park; the street performer that plays and juggles guitars, all while hula-hooping; or the hotel that bears the same name as my dog. (More on that Monday.)
I'd been to Seattle before, but only in a rush-in, pester-people, get-the-story, rush-out newspaper reporter kind of way. 
That — a hit and run — is not the correct way to meet a city. 
What is? 
Here again, maybe we can learn something from dogs. For starters, take your time. Forget your schedule, and all those other uniquely human notions. Instead, let the city hold its hand out to you. Circle it a time or two, explore the periphery, then approach it slowly. Give it a sniff and, if you like what you smell, maybe a lick. After that, you can jump up on it, snuggle with it, play with it, fetch what it throws, savor the treats it offers, even choose to become loyal to it.
In other words, to paraphrase the author whose route we are following, and who some might suggest failed to follow his own advice when it came to Seattle: Don't take the trip, let the trip take you.
Posted by John Woestendiek November 13th, 2010 under Muttsblog.
Tags: animals, cities, dog, dog friendly, dog's country, dogs, dogscountry, economy, environment, growth, history, impressions, industry, john steinbeck, market, pets, road trip, seattle, steinbeck, tourism, travel, traveling with dogs, travels with ace, travels with charley

Comments: 1
Here's my theory: The more ghost signs a town has, the more ghosts it probably has, too.
Butte, Montana, it should come as no surprise, has plenty. Of both.
Here are some of the ones that, during just 30 minutes of driving around town one day this week, we came across  – touting  cigars, beer and hotels that have all been long outlived by their hand-painted advertisements.
Flor de Baltimore was a cigar brand that appears to go back at least a century or so. I'm not sure if its named after Lord Baltimore, the founder of Maryland, or the city. I'm guessing Flor means flower, which isn't the first thing that Baltimore brings to my mind, but maybe the imagery the city evoked was different back then.
Most of the signs are for hotels — long since gone, but luxurious in their day, and even fireproof, which was a good thing considering all the mining executives who were probably lighting up Flor de Baltimores in their beds.
Those were the glory days, though — back when the copper mines were thriving and Butte was a rollicking city of 100,000.
Now, only about a third as many people live here. Mining, though it still goes on, is nowhere near what it once was. You can't find a good whorehouse when you need one (and they say the defunct one is haunted). And nobody's drinking Butte Special Beer. It was brewed by a company that, more than 100 years old, closed in 1963.
There's a big difference between what was in Butte and what is in Butte. Some look at Butte and see a depressing town; some see a fight-hardened survivor, a town that's testament to man's resiliency. Some see only its rough edges; some see its rich and colorful history, faded over time.
The New Tait hotel is not only not new anymore; it's non-existent, but the old sign remains, as does the building, since converted into apartments.
Butte is the hometown of Evel Knievel. One of its tops tourist draws is a huge mine pit, part of a Superfund site that encompasses the historic district as well. If towns can be eccentric, Butte is — and quite proudly so.
But it's also haunting — a place where the sun and clouds cast shadows that crawl, tarantula like, up and down its high hills; where mining has left poisons lurking, zombie like, beneath the surface.
Today, Butte is equal parts defunct and funky; gritty and, if you look hard, graceful. The ghost signs bring back memories of the freewheeling greatness that was; but they also are reminders to Butte that, in some ways, it's a has-been.
But has-beens — and I know some, personally – seem to love regressing to the glory days, recalling better times. When the present's not so great, the past seems more worth revisiting.
The trick is to not get stuck there — to appreciate what was, but keep looking at what could be … all, of course, while not forgetting to appreciate what is.
Before it fades away.
Posted by John Woestendiek November 3rd, 2010 under Muttsblog.
Tags: advertisements, advertising, america, animals, beer, butte, cigars, dog's country, dogs, dogscountry, environment, fading, flor de baltimore, ghost, ghost signs, hand painted, history, hotels, legacy, memories, mining, montana, nostalgia, painting, pets, road trip, signs, traveling with dogs, travels with ace, west

Comments: none
Once upon a time in Butte, in a huge and barren expanse of waste that's part of the nation's largest Superfund site, there lived a dog.
Nobody knows how he got there, why he stayed, or how he managed to remain alive in the toxic confines of what's known as the Berkeley Pit. But live he did, for 17 years — during times of active mining, during its suspension, during its limited restart, during the ongoing clean-up effort and right up until the pit transitioned into one of the country's oddest tourist attractions.
He just showed up, back in 1986. Once miners figured out that the ghostly white image in the distance was a dog, they named him "The Auditor," because of his tendency to appear when he was least expected.
With matted ropes of white hair covering his legs, The Auditor — a Puli — sometimes appeared to be hovering when he moved, and he seemed to want nothing to do with humans. The miners would leave him food, and build him a house, and even started sticking baby aspirin in his food when they noticed he was limping, but The Auditor was mostly unapproachable up until the end.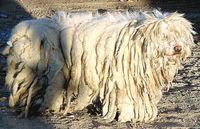 He died peacefully in his dog house in 2003, but The Auditor – like mining – would leave a legacy. His name would live on — in statues, in science, and as a symbol for, well, lots of things.
Appropriately enough, for a mining site in the midst of a massive EPA clean-up that will continue for generations, The Auditor had a coat like a mop.
His yellowing dreadlocks covered his eyes, too, limiting his vision – similar to the blind eye Montana once turned to the environmental havoc mining would wreak on and beneath its landscape.
But perhaps more than anything else, the mysterious white dog became a metaphor for Butte, and its ability to survive hard times — of the hardy stuff of which Montanans are made.
Butte's still kicking — though not the way it once kicked. It's about a third of the size it was in its heyday.  Once called the "Richest Hill on Earth" for its massive copper deposits, Butte in the early 1900s, boasted a population of 100,000.
When the mines shut down by 1982, Butte was left economically crippled and environmentally contaminated. Piles of mine waste and years of smoke from smelters contaminated the land and water around Butte with arsenic, mercury, lead and other metals.  
In the 1980s, the Berkeley Pit and Butte's historic Uptown District were declared a Superfund site — one that extends 130 miles downstream due to tailings that settled along the Clark Fork River.
The Auditor lingers too. After the local newspaper brought him to the public's attention in 2003, a campaign began to honor him with a series of statues, three of which now sit in various locations around town, honoring him not for any heroics, but solely for staying alive in a place where not much does.
Berkeley Pit lies just a few blocks from the center of Butte. It stretches a mile-and-a-half across and is almost 2,000 feet deep. Barren soil surrounds a lake laden with heavy metals. In 1995, a flock of migrating geese landed in the water. The next morning 342 were found dead.
How The Auditor managed to survive all that time is as mysterious as the dog himself. Maybe his rope-like locks, instead of soaking in the toxins, kept them from reaching his skin. Maybe the toxins weren't as toxic as thought. Maybe, as dogs do, he adapted to them. The only company still in operation at the site — after mourning his loss — had The Auditor cremated.
Normally, that would slam the door shut on the mystery — but Holly Peterson already had her foot in it.
Peterson, an environmental engineer at Montana Tech in Butte, saw the article about The Auditor — 16 years old by then — in 2003. It tugged at her heartstrings as well as her scientific curiosity.
"How can that not touch you?" she said over the weekend, sitting in her office, which is decorated with photos of The Auditor. "I kept wondering, how can that thing survive? With all the contamination in Butte, I started thinking, how can we study that in a different way?"
With her students, she began getting samples of hair from dogs in Butte and the surrounding areas, and when she ran into an official from the mining company, Montana Resources, at a presentation, she asked about getting a sample from The Auditor.
The Auditor was first seen roaming the mine in 1986, the year Montana Resources started its operations. The company, due to plunging copper prices, shut down operations there in 2000, leaving only a skelton crew, but reopened in 2003.
After getting permission from the company, Peterson went to the site, where a mining company employee, wearing gloves, approached The Auditor, on his last legs by then, and snipped off a few locks of hair.
"You could tell he just wanted us to leave him alone," Peterson said.
Tests on the sample in July of 2003 revealed "elevated levels of almost every element imaginable," Peterson said, including 128 times the amount of arsenic in a typical dog's hair.
Peterson's research project would expand from there, shedding new light on the extent of environmental degradation in Butte and introducing a new, if not conclusive, way to measure it and the continuing efforts to clean it up. Her work marked the first time pet hair has been used to monitor toxins in a residential Superfund site.
Since then, the project has moved on to testing the hair of animals in Austrialia and Nairobi, and sampling the hair of animals bagged by hunters back home in Montana. Through taking samples at hunter check stations, they found far higher levels of metals in animals shot in the area around Anaconda, once home to a huge smelting operation.
The Auditor, as it turned out, inspired Peterson on several levels. She was the one behind the effort to install statues of him — created by a Texas sculptor — at several locations around town, including the one she showed me at the Butte Plaza Mall.
It's made of bronze, with a copper patina that has worn off in spots from people petting it. Most of funding for the sculpture came from a California couple, who read of The Auditor in a Puli Club of America newsletter.
Peterson's hope was that The Auditor — after his death on Nov. 19, 2003 —  would become a mascot for Butte, or a mascot for environmental causes, that his legacy would serve as inspiration to others, and as a reminder to not abandon pets, or abuse the planet.
What she wasn't planning on was her own little Auditor.
Living with her 86-year-old mother, she didn't see a dog fitting into her life.
But after publicity about The Auditor, and connecting with the Puli Club, she started getting emails when a Puli would show up at a shelter in need of rescue.
That's how, three years ago, she ended up with Birke-Beiner.
"I couldn't pass him up when I saw the picture of him," Peterson said.
Birke-Beiner, who earlier in the day had gone to a Halloween Party — as a basket of yarn — came along on our trip to the mall, much of which he spent draped over Peterson's shoulder, looking something like a Lady Gaga fashion accessory.
Peterson says some people call him Little Auditor, but Birke is his own dog — playful, people-friendly and, one gets the impression, destined to live a happy and non-toxic life, far away from a giant hole in the ground known as the Berkeley Pit.
Posted by John Woestendiek November 2nd, 2010 under Muttsblog.
Tags: abandoned, animals, arsenic, auditor, berkeley pit, butte, contamination, dog, dog's country, dogs, dogscountry, environment, epa, hair, history, holly peterson, levels, memorial, metals, miners, mining, mining waste, montana, montana resources, montana tech, pets, puli, puli club of america, research, science, site, statue, stray, superfund, testing, tests, the auditor, toxic, travels with ace

Comments: 10
Try as I might, I couldn't figure out what these long tubes I kept passing on Interstate 94 in Montana were.
Airplane wings? Some new form of irrigation equipment? Space shuttle components? Pieces of some secret governmental weapon?
I was tilting at windmills.
Which is what they turned out to be — windmill blades, to be precise.
I found that out later at a truck stop in Rocker, just west of of Butte, where several of the oversized loads, having just negotiated the winding stretch of interstate on Butte's eastern side, had pulled over for a rest.
According to the Associated Press, the explosive growth of the wind energy industry has led to dozens of trucks a day toting the blades down the nation's Interstate highways to their new homes, mostly in the west.
Commonly traveling in convoys, the oversized loads haven't caused too many problems. They're not any wider than a normal truck, but they are longer — much longer. Some of the blades extend 180 feet, about triple the length of regular semitrailer loads.
That means it takes about three times as long to get around them, but considering the clean, renewable, independent energy they will go on to supply, I'm a fan.
Posted by John Woestendiek November 1st, 2010 under Muttsblog.
Tags: animals, blades, dog's country, dogs, dogscountry, energy, environment, highway, interstate, montana, oversized load, pets, road trip, transport, transportation, travels with ace, trucking, trucks, turbines, wind, windmills, wings

Comments: 1
Dog feces is being used to keep the lights on — well, one light, anyway – at a park in Cambridge.
Conceptual artist Matthew Mazzotta, through an MIT-funded project known as Project Park Spark, is the brains behind the scheme, in which a "methane digester" is used to to convert freshly scooped dog waste into methane.
Dog owners simply collect their dog waste in a special biodegradable bag and throw it into an air-tight cylinder. The feces are broken down by anaerobic bacteria. The process produces methane, which is then released through a valve and burnt as fuel — in this case to power an old-fashioned gas-burning lamppost in the park.
Mazzotta is open to other suggestions on how to use the flame, and suggestions have included a teahouse, popcorn stand and shadow-projection box.
It's a pretty brilliant use of dog waste, which, when it goes into landfill, releases methane into the atmosphere. Harnessing it is a far better idea, considering methane is a potent greenhouse gas more than times more harmful than carbon dioxide, WIRED reports.
Mazzotta hopes to install permanent underground digesters in parks throughout the United States.
(Photo: Project Park Spark)
Posted by John Woestendiek September 16th, 2010 under Muttsblog.
Tags: animals, art, digesters, dog, dog feces, dogs, environment, feces, gas, lamp, light, mathew mazzotta, methane, mit, park, pets, poop, power, powered, project park spark, science, waste

Comments: none