Tag: euthanasia
Animal rights activists fear history will will repeat itself in Russia as cities hosting the World Cup attempt to purge their streets of stray dogs — just as Sochi did prior to the 2014 Winter Olympics.
Earlier this year, Russia's deputy prime minister, Vitaly Mutko, met with animal rights activist to discuss their fears that stray dogs would be exterminated ahead of the event. He pledged to stop all cruelty, and said new shelters for strays would be built.
But activists say the effort by cities to put their best face forward during the event is continuing to result in culls in which the lives of strays are ended via methods less than humane.
"If you put it in plain Russian, they said 'sod off, we're going to carry on killing'," Yekaterina Dmitriyeva, the head of the Foundation for the Protection of Urban Animals, told The Guardian.
The Guardian reported that there are about two million strays in Russia's 11 World Cup host cities and it has been estimated that local authorities will spend up to £119 million on catching, caging, sterilizing and euthanizing animals this year.
Activists say they fear the private companies the government contracts with to carry out the sweeps will resort to shooting and poisoning strays — both of which were reported in the weeks leading up to the Olympics.
In protest, some Olympic athletes adopted Sochi dogs and took them back to their respective countries.
In addition, local animal lovers opened makeshift shelters to try and house all the collected strays and help them avoid being euthanized.
In many Russian cities, large numbers of strays peacefully co-exist with human populations, living off their handouts and even riding the subways.
"Russia's street dogs are perhaps more lovable than most. They have drawn admiration for their intelligence and resilience," Chas Newkey-Burden, UK author and journalist, wrote in a commentary piece in this week's Guardian.
"Many of them commute into the cities each morning on the trains. They know to get on the train's front or back carriage for the least crowded journey, and they know where to get off for the best food. When they beg for food as a pack, they move their youngest and cutest member to the front, knowing this will melt the hearts of passers-by. On busy streets, they've even learned to obey traffic lights and cross when it's safe, trotting alongside pedestrians.
"These are the sweet, abandoned creatures who are being exterminated in the name of the beautiful game … Lives silently snuffed out because they don't fit the image the authorities want to present."
Officials say their focus is to move dogs into shelters. But those are so crowed that euthanasia becomes the easiest option.
Russian parliament member Vladimir Burmatov recently visited a shelter in Yekaterinburg and discovered a "very painful" scene, with "malnourished dogs and conditions that you couldn't even call satisfactory."
The shelter is run by a rubbish collection and disposal firm.
Newkey-Burden urged soccer stars to follow the example of Olympic athletes who went home with dogs from Sochi.
"In this money-spinning game, the influence of these superstars is immense. Here's their chance to show they really love dogs."
(Photo: From The Telegraph)
Posted by John Woestendiek June 5th, 2018 under Muttsblog.
Tags: capture, cities, culls, dogs, euthanasia, extermination, image, kill, olympics, poison, private contractors, russia, russian, shelters, shot, soccer, Sochi, stray dogs, strays, street dogs, world cup

Comments: none
The TV station that disclosed the presence of the euthanasia drug pentobarbital in canned dog food — leading to the recall of 107 million cans — is staying on the case and reporting that the manufacturer was aware of, and remained silent about, even higher levels of the drug.
Earlier this year, ABC7 (WJLA) in Washington aired an investigative report on the drug being found in Gravy Train canned food.
A recall was later announced for Gravy Train and three other canned dog foods — Kibbles 'N Bits, Ol' Roy and Skippy, all of which, like Gravy Train, are made by Big Heart Brands, a subsidiary of Smucker's.
Any levels of pentobarbital in dog food are concerning, as is the use of any drug-euthanized animal as a source of either human or pet food are outlawed.
The FDA (maybe recognizing a TV station was doing its job, maybe not) launched its own investigation into Smucker's just hours after the report aired.
Big Heart Brands — saying its top priority is the "safety and quality of its products" — has maintained that the levels of pentobarbital detected in tests by the WJLA were far too low to be concerned about.
But WJLA reported last week that even higher levels — 80 times higher — have been found by the FDA.
According to a class action lawsuit against the company, the FDA found pentobarbital in the company's fat supply, at levels at least 80-times higher than what the TV station discovered in products on the shelves.
And the company apparently had been alerted to that. It retained a sample of that fat from a full year earlier, in 2017, with levels of pentobarbital more than 50-times higher than the results that prompted the recall.
"It is an important fact because they retained it, yet they didn't test it," said attorney Rebecca Peterson, one of the attorneys handling one of the class action lawsuits against Smucker's and its subsidiary, Big Heart Pet Brands "Or they did test it and they still went forward by including that tallow in the contaminated dog food."
At issue is a rendered fat ingredient — the boiled byproduct of carcasses that contained the euthanasia drug pentobarbital.
In a statement, Smuckers said it has "robust quality assurance procedures in place, we are committed to enhancing sourcing and supplier oversight procedures to help ensure this does not happen again."
Court documents allege the source of contaminated fat was the company's supplier JBS.
JBS is also the subject of investigations related to E.coli contaminations and the inhumane treatment of animals.
In a statement, JBS stated it has modified it procurement process and "will divert all third-party sourced materials to non-edible production until the company can ensure these materials meet its high standards for quality and safety."
Posted by John Woestendiek May 7th, 2018 under Muttsblog.
Tags: abc7, big heart brands, brands, canned, canned dog food, cans, class action, dog food recall, euthanasia, euthanasia drug, fda, gravy train, investigation, jbs, kibbles 'n bits, laboratory, lawsuit, levels, ol'roy, pentobarbital, recall, skippy, smucker's, tests, wjla

Comments: none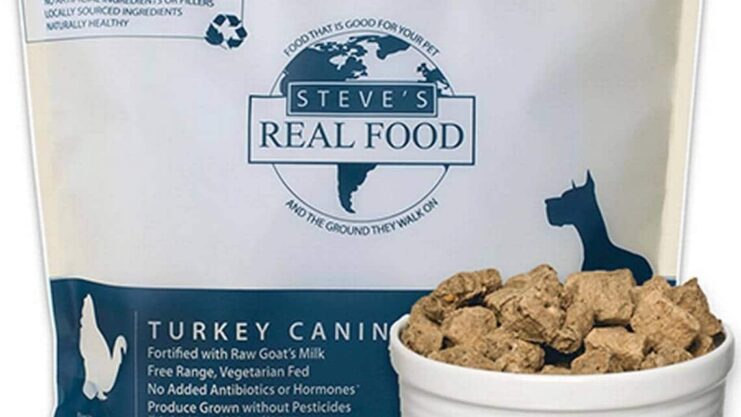 If it seems like there's a new pet food or treat being recalled every week recently, that's because it has gotten that bad.
Worse even.
We count ten since Feb. 8 — most of those of food and treats suspected of possibly being contaminated with salmonella.
The recalled products include dry food, canned food and raw food, treats and bully sticks.
Probably most notable of those recalled are the Gravy Train, Kibbles 'N Bits, Skippy and Ol' Roy brands of canned dog food made by the J.M. Smucker company. Pentobarbital, the sedative used to put dogs down, has been found in cans dating back to 2016.
Smucker released a statement on its website, confirming "extremely low levels of pentobarbital" have been found in "in select shipments."
On Sunday, it told the Miami Herald that the source of the drug was "animal fat was sourced from cow, chicken, and pig."
While those are common sources of pet food, animals euthanized with the drug are not supposed to end up in the food chain — for either dogs or humans.
Last week also saw the recall of an eighth pet food product suspected of containing salmonella or listeria in 24 days, Steve's Real Food's Raw Frozen Dog Food Turkey Canine Recipe, recalled one lot that was distributed to 21 states.
The Nebraska Department of Agriculture found salmonella when testing a retail sold sample.
The 5-pound bags in lot No. E 178 with a best by date of Sept. 17, 2018 went to retail stores in Florida, New York, New Jersey, Connecticut, California, Texas, Pennsylvania, Virginia, Colorado, Iowa, Kansas, Maryland, Michigan, Minnesota, Missouri, North Dakota, Nebraska, Oregon, Utah and Washington, according to the Miami Herald.
Dogs with salmonella can suffer from vomiting, diarrhea and fever.
Humans also can get salmonella, both from dogs and from handling contaminated food or touching unwashed surfaces that the food touched.
Those who have purchased the products should dispose of them and contact the company for a refund.
Other recalls and product withdrawals in the past month include:
▪ Raws for Paws ground turkey
▪ Smokehouse Beefy Munchies treats
▪ Arrow Reliance/Darwin's Natural ZooLogics Duck with Vegetable Meals for Dogs and ZooLogics Chicken with Vegetable Meals for Dogs
▪ Redbarn, 7-inch Bully Sticks
▪ TruPet, Treat Me Crunchy Beef Delight treats
▪ Northwest Naturals, Chicken and Salmon
▪ Carnivore Meat Company, Vital Essentials Freeze-Dried Beef Nibblets Entrée for Dogs
▪ Kitten Grind raw pet food
Posted by John Woestendiek March 6th, 2018 under Muttsblog.
Tags: animals, arrow reliance, bully sticks, canned, darwin, darwin's naturals, diet, dog food, dog food recall, dogs, drug, dry, euthanasia, food, frozen, gravy train, health, kibbles 'n bits, listeria, northwest naturals, ol roy, pentobarbital, pet food, pets, raw, raws for paws, recall, recalls, redbarn bully sticks, safety, salmonella, skippy, smokehouse beefy munchies, smucker, steve's real foods, treats, trupet, warning, zoologics

Comments: 1
The J.M. Smucker Co. is withdrawing some shipments of dog food amid reports that it could be tainted with traces of a drug used to euthanize animals.
The company said Thursday it is pulling back shipments of 27 of its brands, including canned Gravy Train, Kibble 'N Bits, Skippy and Ol' Roy brands.
It said it is investigating how the euthanasia drug pentobarbital got into its supply chain and is focusing on a single supplier of a minor ingredient used at one manufacturing facility.
The recalls come after WJLA-TV in Washington, D.C., said it tested 15 cans of Gravy Train and found nine cans, or 60 percent of the sample, tested positive for pentobarbital.
Smucker pointed out that the low levels of the drug cited in the report do not pose a threat to pets.
"However, the presence of this substance at any level is not acceptable to us and not up to our quality standards," the company said in a statement.
The company, based in Orrville, Ohio, said it does not use meat from euthanized animals in its pet food.
A consumer-level product recall has not been initiated, and neither Smucker nor any government agencies has said if any of the implicated dog food made it to retail shelves.
Smucker has requested retailers remove the potentially affected brands from their warehouses.
Read on for the full list:
Posted by John Woestendiek February 16th, 2018 under Muttsblog.
Tags: animals, brands, canned, cans, dog food, dogs, drug, euthanasia, gravy train, health, kibble 'n bits, ol roy, pentobarbital, pets, recall, report, safety, skippy, smucker, voluntary, washington, wjla

Comments: 2
Pentobarbital, part of the cocktail administered to dogs, cats and sometimes horses to euthanize them, continues to show up in dog food.
How that happens — and why it is allowed to — are questions raised in an investigative report last week by WJLA in Washington.
The station teamed up with Ellipse Analytics, a lab that specializes in testing food for contaminants,
In testing 62 samples of wet dog food, across more than two dozen brands, one brand came back positive for for the euthanasia drug pentobarbital. Nine of 15 cans of Gravy Train showed non-lethal levels of the drug.
Under federal law, no concentration of pentobarbital is permitted in pet food. WJLA reported the FDA didn't initially seem too interested about its findings.
The agency declined requests for an on-camera interview, and referred the station to the Pet Food Institute — the trade organization that represents the pet food industry. Further requests for information from the FDA were met with the response that it will "investigate the matter and take appropriate enforcement action."
It's not the first time pentobarbital has been found in dog food.
About a year ago Evanger's recalled some lots of its "Hunk of Beef" canned dog food after it was found to contain the sedative.
The company said at the time that the meat in question came from a cow rendered by a supplier, but, as WJLA reported, federal law does not allow use of the toxin to kill animals that are part of the food supply.
Gravy Train is made by Big Heart Pet Foods and owned by Smucker's.
Big Heart Brands is also the maker of Meow Mix, Milk Bone, Kibbles'n Bits, 9 Lives, Natural Balance, Pup-Peroni, Gravy Train, Nature's Recipe, Canine Carry Outs, Milo's Kitchen, Alley Cat, Jerky Treats, Meaty Bone, Pounce and Snausages.
Dr. Nicholas Dodman, chief scientific officer for The Center for Canine Behavior Studies and former director of the Animal Behavior Program at Tufts University, said even non-lethal amounts of the drug should be a concern.
"Whether it's doing something or nothing, what's it doing there? Where did it come from? If they don't like the explanation that it's coming from animals that have been euthanized, what is their explanation as to how it gets in?" asked Dodman.
Smucker's declined WJLA's request for an on-camera interview, but issued a statement saying, "We launched and are conducting a thorough investigation, including working closely with our suppliers, to determine the accuracy of these results and the methodology used."
Most believe pentobarbital, when it shows up in dog food, is a result of euthanized animals being blended into food by those who render the carcasses.
That, in itself is against federal laws that prohibits the use in both dog and human food of any animals that have not been slaughtered. Using euthanized animals is prohibited.
As Susan Thixton, a pet food consumer advocate told the station, "Billion dollar a year companies are making profit selling illegal adulterated products to unknowing consumers in the U.S. every day."
She added, "The FDA tells industry 'Yeah, it's a violation of law, but go ahead, we're not going to do anything,'" said Thixton.
Posted by John Woestendiek February 13th, 2018 under Muttsblog, videos.
Tags: big heart pet foods, canned, cats, dog food, dogs, drug, euthanasia, euthanize, euthanizing, evangers, fda, gravy train, horses, investigation, livestock, non-lethal levels, pentobarbital, pet food, rendering, slaughter, smucker's, suppliers, toxic

Comments: none
Squish, an Ohio dog whose face was left twisted and contorted by what veterinarians believe was a severe beating, will be a guest on "The Rachel Ray Show" today.
Appearing via a video call with the once-abused dog will be the woman who rescued him and to whom he now belongs, a veterinary intern at the time who now practices in San Antonio.
Squish was a four-month-old stray when he ended up in the Cuyahoga County Animal Shelter in 2016, with a fractured jaw, fractured skull and missing one eye.
After two months, given his appearance made him unlikely to be adopted, and given he was barely able to eat, the shelter added him to the list of dogs to be euthanized, but sent him to VCA Great Lakes Veterinary Specialists for a second opinion.
When intern Danielle Boyd was sent to carry him into the exam room, she was taken with his friendliness and trust. "I was enamored by this little one-eyed pup who clearly endured so much pain," she told the dodo.
Boyd decided to bring him home that night, just to give him a break from the shelter.
He has been her's ever since.
Even though she was just a week away from a scheduled to move to Texas to finish her veterinary residency, she adopted the dog and a series of extensive surgeries began.
Less than 36 hours after Squish's surgery, they drove from Ohio to Texas. "That became the beginning of our many adventures together," she says. Boyd had lost her dog just days before she met Squish.
After several surgeries, Squish — who had difficulty seeing out of his one eye and whose injuries prevented him from being able to eat — is chewing on tennis balls, munching dry dog food, and apparently carrying around sticks as crooked as his face.
Vets suspect blunt force trauma led to his misshapen head. Both his skull and upper jaw had been fractured by a blow, or a series of them.
Squish now spends his time being the mascot for the veterinary hospital where Boyd works.
"Employees come visit him in my office when they need a little Squish love," Boyd said. "Squish also shows clients whose pets are facing eye removal surgery how happy he is with one eye."
Ray gave Boyd a lifetime supply of products from her Nutrish pet food line, and, along with everyone else in the studio audience, a $100 PetSmart gift cards.
(Top photo by Kin Man Hui /San Antonio Express-News, bottom photos by Danielle Boyd)
Posted by John Woestendiek January 18th, 2018 under Muttsblog.
Tags: abused, adopted, animals, appearance, beaten, crooked, cuyahoga county animal shelter, dog, dogs, euthanasia, face, fractured jaw, fractured skull, intern, nutrish, ohio, one-eyed, pets, rachel ray, rachel ray show, san antonio, squish, stray, texas, twisted, vca great lakes veterinary specialists, veterinarian, veterinary, video call

Comments: 3
The Department of Veterans Affairs says it will tighten oversight of controversial medical experiments on dogs after an investigation found surgery failures and canine deaths in research projects at a VA facility in Virginia.
The announcement of a change in policy comes as Congress considers a bill to defund the experiments altogether.
Nationwide, invasive experiments at three VA facilities are slated to include roughly 300 dogs, and involve surgeries on their brains, spines and hearts by researchers seeking treatments for heart disease and other ailments, USA Today reported yesterday.
All the dogs will be killed when the research is complete.
Michael Fallon, the VA's chief veterinary medical officer, said all future research projects involving dogs will have to be approved by the VA's accrediting body.
The VA's Office of Research Oversight found in May that researchers at the VA facility in Richmond failed to adequately document whether dogs had been treated properly, and that four dogs suffered complications in experimental surgeries.
Those findings are fueling an effort to halt VA dog experiments deemed painful for the dogs. The House passed legislation — known as the PUPPERS Act — in July that eliminated funding for such research, but the VA is hoping to persuade senators to reject the measure.
"If this legislation passes the Senate, it would stop potential VA canine research-related medical advancements that offer seriously disabled veterans the hope of a better future," VA Secretary David Shulkin wrote in a USA Today op-ed this month.
Opponents of the dog research say much of that research hasn't translated to humans and that the VA is relying on outdated models that don't fully take into account scientific advances that may provide alternatives to dogs as research subjects.
"The VA is abusing its authority and fear-mongering to defend taxpayer-funded experiments on dogs that are cruel and unlikely to help veterans or anybody else," said Justin Goodman, vice president of White Coat Waste Project, an advocacy group that wants to end funding to the agency's dog experiments.
Only three VA facilities are conducting the type of research that would be affected by the legislation.
In Milwaukee, VA researchers looking for ways to decrease pain without slowing breathing are using dogs to study neurons that control breathing rates. In those experiments, researchers place the dogs under anesthesia and remove parts of their brains to cause a complete loss of consciousness and sensation, according to research protocol documents.
In Cleveland, VA researchers are studying ways to restore cough functions after spinal cord injury. The experiments involve placing dogs under anesthesia and then using electrodes for high-frequency stimulation at various places on their spinal cords to induce coughing. The research calls for 41 dogs, who are euthanized upon the completion of the studies.
At the Richmond VA, researchers are seeking therapies for heart disease. They are implanting pacemakers in dogs, running them on treadmills and performing various tests, including by injecting medications, inducing irregular heartbeats, creating heart attacks and blocking arteries with latex. After the research is done, the dogs are euthanized by injection or by draining their blood.
The investigation of the Richmond cardiac experiments followed a complaint to the VA inspector general's office in March.
Investigators concluded a dog received an overdose of anesthetic during one surgery, and two dogs suffered surgical disruptions of nerves controlling digestive functions. One later died and the other was euthanized during subsequent surgeries. A fourth dog died after a surgeon accidentally cut into one of its lungs during surgery.
The VA says dogs accounted for less than 1% of the animals used in agency research last year.
Photo: Billboard in Cleveland area calls for an end to the experiments, from Cleveland.com)
Posted by John Woestendiek September 26th, 2017 under Muttsblog.
Tags: advancements, anesthesia, brain, cleveland, congress, david shulkin, deaths, dogs, electrodes, euthanasia, experiments, funding, heart, heart disease, increased, investigation, legislation, medical, milwaukee, oversight, pacemakers, policy change, procedures, puppers act, research, research projects, richmond, spine, surgical, va, va office of research oversight, veterans administration, virginia, white coat waste project

Comments: none