Tag: food
The theft of a trailer loaded with pet supplies Saturday means some dogs will wait a little longer for homes, and that an Albuquerque rescue group called the People's Anti-Cruelty Association is going to have to rebuild.
The trailer was parked at a street corner where the nonprofit volunteer group holds adoption events every Saturday.
Sometime during the night, thieves hauled it away, along with the paperwork, leashes, pet food and other supplies inside, KOB in Albuquerque reported.
"When they stole our trailer it has greatly, greatly hindered our ability to (help animals) because if we can't find it and its contents, we're going to have to start all over," said Arnielle Fernandez, a volunteer with PACA. "And that is very pricey."
"Everything that was in the trailer was like crates that we set up for our dogs, our collars, our leashes, some dog food. Puppy pens, blankets, you know, towels – everything we need to function," Fernandez said. "Ordinarily we, throughout the years, we have found permanent loving homes for thousands of dogs and cats."
The group is now asking the public to keep an eye out for the trailer, which is white and has paw print decals, along with the PACA logo.
"Ask them to bring it back. That would be wonderful. It would be like Christmas in May," Fernandez said.
While the group works to plan another event this weekend, Fernandez said it will be more difficult to pull off.
"Anybody that is in such a horrible state, on a personal level, that would do something like that to a non-profit rescue organization – they're of very, very little character," she said.
Posted by John Woestendiek May 8th, 2018 under Muttsblog, videos.
Tags: adoption, albuquerque, animal welfare, events, food, new mexico, nonprofit, paca, papers, park, people's anti-cruelty association, pet, records, rescue, rescues, shelter, shelters, stolen, supplies, theft, trailer

Comments: none
Amazon (remember when it was a river?) continues its quest to dominate the world (make that the universe) — by selling everything that can possibly be sold, delivering it in ways never before possible, and taking people where they've never been able to go.
Now it wants to feed your dog, too.
In its march to ruling every retail category imaginable, Amazon has announced the debut of a dog food line, which will be part of a much bigger step into the highly profitable, nearly inflation-proof world of pet food and products.
According to Bloomberg, Amazon is calling the pet food Wag, named after Wag.com, which Amazon acquired in 2011. Wag.com now redirects to an Amazon landing page.
The food comes in several different varieties, with primarily protein sources including chicken, beef, salmon, lamb, and turkey. It will be available in puppy or adult formula and sold in five-, 15-, and 30-pound bags.
The food line is labeled "no grain added."
Americans are projected to spend more than $72 billion on their pets in 2018, according to the American Pet Products Association. So the only real surprise here is, what took Amazon, which owns everything from Whole Foods to the Washington Post, which is renowned as a dog-friendly company, so long?
The move is seen as a threat to Petco Animal Supplies Inc. and PetSmart Inc., which purchased Chewy.com last year for more than $3 billion, as well as big box retailers and supermarkets that sell pet supplies online to many of the nation's 85 million pet-owning households.
So don't be surprised if you are seeing dog food-toting drones flying over head in your area some day soon.
Posted by John Woestendiek May 4th, 2018 under Muttsblog.
Tags: adult, amazon, amazon prime, animals, beef, chicken, delivery, dog food, dog food line, dogs, drones, dry food, food, internet, jeff bezos, lamb, no grain, online, pet food, pet market, pets, puppy, salmon, shopping, supplies, turkey, wag

Comments: none
It's never really looked at it in its entirety, as one phenomenon, but how alike dogs and humans are — and keep becoming — continues to astound scientists around the globe.
Compassion? Both species seem to have it. Cognition? Dogs are quite capable of that, perhaps even exceeding us in certain areas. The diseases and disorders we get? Pretty much the same.
Not too many people look at the forest — at what all this, cobbled together, might mean — but scientists from particular disciplines, locked in a lab with a narrow focus, keep discovering new similarities, such as this latest one, deep in our intestines.
The microorganisms that live in dog's intestines are more similar to the microbes inside us than to those in other animals, says a new study published in the journal Microbiome.
The dog microbiome "has some of the same species [of bacteria] as the human's," said lead author Luis Pedro Coelhos, "but different strains."
The researchers were surprised because they expected that dogs would share only a few strains of bacteria with their owners. Instead, their intestinal flora could be cousins, says a summary of the study in Popular Science.
The study was not really about those similarities; it was aimed at better understanding canine weight loss.
Researchers at the European Molecular Biology Laboratory and Nestlé Purina Research worked with a sample of 32 beagles and 32 Labrador retrievers. Half of the members of each breed were overweight, while the other half were a healthy weight. For four weeks, they fed all of the dogs the same diet of Purina.
Then, they collected poop and conducted DNA analyses as they further altered the diets of the dogs.
They found the leaner dogs' microbiomes changed much less than that of the overweight dogs. The findings, they say, gave then a baseline for how a healthy dog microbiome should behave, and suggested dogs may be better subjects for research into human weight loss than other species that have been used for that purpose.
Jack Gilbert, a researcher at the University of Chicago's Microbiome Center who does research for Purina but was not involved in the study, told Popular Science the study was significant for what it showed about the similarities between the guts of dogs and our own.
"You can control a dog's diet much more than you can do a human's," says Gilbert. The same is true for pigs and mice, but the fact that dogs have such a similar microbiomes to humans means that studying their response to certain diets could produce the best results.
The cause of the similarities isn't entirely understood, but the study pointed out, "Dogs were domesticated early in modern human history and frequently shared food resources with humans."
Over time, their digestive systems might have grown even more like our's, and their obesity rates have come to mirror that of humans.
Further proof that we don't just like each other, we are like each other — and in ways that continue to be discovered, as we sit around learning, bonding, loving, overeating and growing fat together, becoming, more and more, reflections of each other.
(Photo: Digital Vision/Getty)
Posted by John Woestendiek April 24th, 2018 under Muttsblog.
Tags: animals, bacteria, diets, digestion, diseases, disorders, dna, dog, dogs, dogs and human, eating, european molecular biology lag, food, health, humans, intestines, microbiome, microorganisms, mirrors, pets, purina, reflections, research, science, similarities, studies, study

Comments: none
The nation's most beloved maker of jams and jellies is buying up the pet food company that carries the name of the nation's most beloved TV cook.
J.M. Smucker Co. has agreed to pay $1.9 billion to buy Ainsworth Pet Nutrition, which makes primarily the Rachel Ray brand dog Nutrish.
The acquisition is the latest pet food line taken over by Smucker, which also owns Kibbles n' Bits, Meow Mix, Gravy Train, Skippy and Ol' Roy brands.
By putting more emphasis on pet food — specifically so-called "premium" pet foods — the company hope to invigorate sales, which have been sluggish for consumer goods aimed at humans.
The purchase comes on the heels of recent recalls for some of Smucker's canned dog food brands — Gravy Train, Skippy, Ol' Roy and Kibbles 'N Bits.
Traces of the euthanasia drug pentobarbital found in some cans led to the recall.
Smucker first got into the pet business in 2015 with a $5.8 billion acquisition of Big Heart Pet Brands, according to Bloomberg. The company, best known for its namesake jam, also produces Folgers coffee and Jif peanut butter.
With the purchase of Nutrish, pet foods will become Smucker's larges source of sales.
The company is also looking at selling off some of its human food products, including the Pillsbury line of baked goods.
It is focusing more on premium pet foods. High-end pet food has surged 33 percent industrywide over the past five years and now accounts for more than 50 percent of the market.
Smucker generates about 85 percent of its revenue in the U.S. and the acquisition of Ainsworth will make pet food its largest business unit, accounting for about $3 billion in sales.
Smucker is the latest food company to tap into the upscale pet market. General Mills Inc., mired in a three-year sales slump, agreed in February to buy Blue Buffalo Pet Products Inc. for about $8 billion.
Posted by John Woestendiek April 6th, 2018 under Muttsblog.
Tags: acquisition, ainsworth pet nutrition, animals, canned, cans, dog food, dogs, euthanasia drug, food, gravy train, j.m. smucker co., kibbles 'n bits, meow mix, nutrish, ol roy, pentobarbital, pets, premium dog foods, rachel ray, recall, skippy, smucker, sold

Comments: 1
The Circle H Bar-B-Q & Grill in the tiny east Texas town of Emory has lost its best non-paying customer.
Like clockwork, an elderly yellow Lab named Jake would show up daily at the restaurant's drive-thru window, take a seat and patiently wait for handouts.
Why? Because it was convenient for one thing. Jake lived at an auto repair shop right next door. Plus, he just flat out loved barbecue.
"Everybody else does too, he just gets his for free," said Tyson Thompson, a waiter at Circle H.
"Everybody knows Jake," said Josh Hines, the man who provided Jake with all his favorite food at the drive-thru. "He's definitely the town mascot."
He may have gotten all sorts of treats from customers, but Hines knew to provide him only with rib bones,according to EastTexasMatters.com.
"He loves the rib bones … I think that's all he's allowed to have cause all of the other stuff is bad for him," said Thompson.
Jake would station himself just underneath the drive thru window and take a seat. When a customer pulled up, he would limp out of the way, resuming his position as soon as the car pulled out.
Jake's owners operate Parmer's Automotive, where he serves as shop mascot too.
"Everyone loves Jake. In the parking lots, they'll come up and pet him, they'll just talk to him and give him treats. One person even bought him a whole sandwich," said Keldon Parmer, the son of the auto shop's operator.
After downing some barbecue, Jake would traipse back to the auto shop and wash it down with some toilet water before climbing into the back of a truck bed for his nap.
The Parmers say Jake died on Easter, at age 13. He'd been diagnosed with cancer in January. Surgery was performed, KXAN reported, but he was diagnosed with only months to live.
Posted by John Woestendiek April 4th, 2018 under Muttsblog, videos.
Tags: animals, barbecue, bbq, cancer, circle h, circle H Bar-b-q & grill, death, died, dog, dogs, drive thru, easter, emory, food, handouts, jake, mascot, parmer's automotive, pets, rib bones, texas, treats, window, yellow lab, yellow labrador

Comments: 1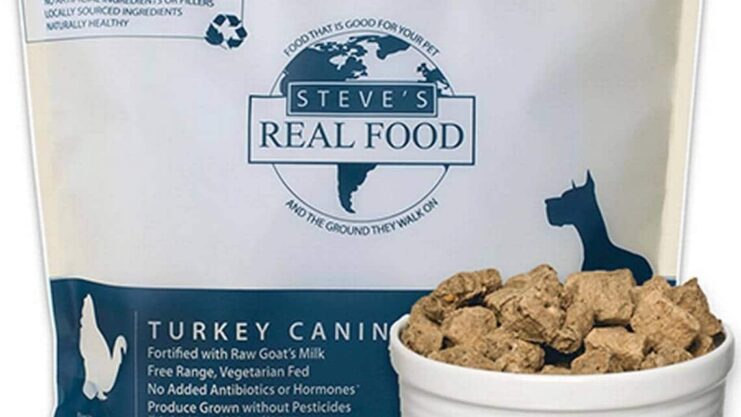 If it seems like there's a new pet food or treat being recalled every week recently, that's because it has gotten that bad.
Worse even.
We count ten since Feb. 8 — most of those of food and treats suspected of possibly being contaminated with salmonella.
The recalled products include dry food, canned food and raw food, treats and bully sticks.
Probably most notable of those recalled are the Gravy Train, Kibbles 'N Bits, Skippy and Ol' Roy brands of canned dog food made by the J.M. Smucker company. Pentobarbital, the sedative used to put dogs down, has been found in cans dating back to 2016.
Smucker released a statement on its website, confirming "extremely low levels of pentobarbital" have been found in "in select shipments."
On Sunday, it told the Miami Herald that the source of the drug was "animal fat was sourced from cow, chicken, and pig."
While those are common sources of pet food, animals euthanized with the drug are not supposed to end up in the food chain — for either dogs or humans.
Last week also saw the recall of an eighth pet food product suspected of containing salmonella or listeria in 24 days, Steve's Real Food's Raw Frozen Dog Food Turkey Canine Recipe, recalled one lot that was distributed to 21 states.
The Nebraska Department of Agriculture found salmonella when testing a retail sold sample.
The 5-pound bags in lot No. E 178 with a best by date of Sept. 17, 2018 went to retail stores in Florida, New York, New Jersey, Connecticut, California, Texas, Pennsylvania, Virginia, Colorado, Iowa, Kansas, Maryland, Michigan, Minnesota, Missouri, North Dakota, Nebraska, Oregon, Utah and Washington, according to the Miami Herald.
Dogs with salmonella can suffer from vomiting, diarrhea and fever.
Humans also can get salmonella, both from dogs and from handling contaminated food or touching unwashed surfaces that the food touched.
Those who have purchased the products should dispose of them and contact the company for a refund.
Other recalls and product withdrawals in the past month include:
▪ Raws for Paws ground turkey
▪ Smokehouse Beefy Munchies treats
▪ Arrow Reliance/Darwin's Natural ZooLogics Duck with Vegetable Meals for Dogs and ZooLogics Chicken with Vegetable Meals for Dogs
▪ Redbarn, 7-inch Bully Sticks
▪ TruPet, Treat Me Crunchy Beef Delight treats
▪ Northwest Naturals, Chicken and Salmon
▪ Carnivore Meat Company, Vital Essentials Freeze-Dried Beef Nibblets Entrée for Dogs
▪ Kitten Grind raw pet food
Posted by John Woestendiek March 6th, 2018 under Muttsblog.
Tags: animals, arrow reliance, bully sticks, canned, darwin, darwin's naturals, diet, dog food, dog food recall, dogs, drug, dry, euthanasia, food, frozen, gravy train, health, kibbles 'n bits, listeria, northwest naturals, ol roy, pentobarbital, pet food, pets, raw, raws for paws, recall, recalls, redbarn bully sticks, safety, salmonella, skippy, smokehouse beefy munchies, smucker, steve's real foods, treats, trupet, warning, zoologics

Comments: 1
What's being billed as New York's first dog cafe will open later this month in the East Village.
Boris & Horton, on 12th Street and Avenue A, is slated to hold a soft opening within the week and be fully open by the end of the month.
The owners describe it as a place where you can "have great coffee, eat, have wine and beer, hang out, and also bring your dog inside."
It's named for the owner's own dogs — Boris, a pit bull mix belonging to Coppy Holzman, and Horton, a Chihuahua-poodle mix who belongs to his daughter, Logan Mikhly.
It's designed like a living room, and the owners hope it will be the kind of place where people bond with their dogs and other people, as opposed to their laptops.
"It's not just a coffee shop where people sit there with headphones on their laptops," Holzman told Grub Street.
For humans, there will be pastries from Balthazar and Bien Cuit, plus gluten-free options from Husk Bakeshop, and coffee from City of Saints, as well as a more substantial menu and, in the evening until the 11 p.m. closing time, wine and beer.
There will also be a shop for dog products and store swag, and a puppy Instagram booth. On weekends, adoption events will be held.
Because the health department tends to take issue with dogs being allowed where food is prepared, the establishment will be divided into a café side, with food and drink sales, and a dog side, featuring tables and dog-focused retail.
Dogs must remain on their leashes and employees will be trained by the School for the Dogs to read canine body language and be prepared for altercations and issues.
(Photos: Milla Chappell / Boris & Horton website)
Posted by John Woestendiek January 11th, 2018 under Muttsblog.
Tags: animals, beer, bonding, boris & Horton, cafe, coffee, dog, dog cafe, dog friendly, east village, food, health department, menu, new york, new york city, opening, pastries, pets, retail, shop, social, socializing, wine

Comments: none