Tag: food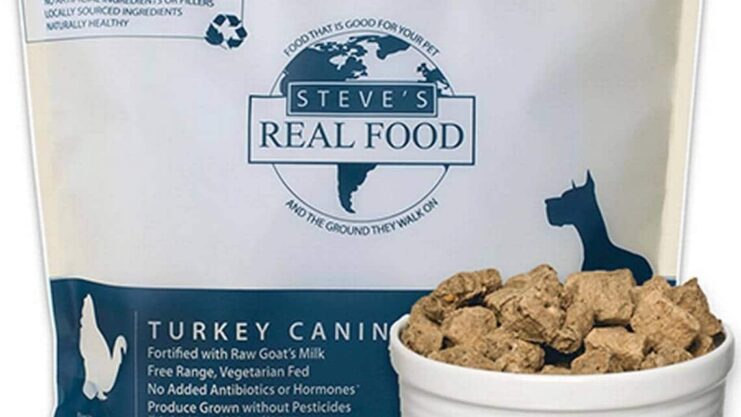 If it seems like there's a new pet food or treat being recalled every week recently, that's because it has gotten that bad.
Worse even.
We count ten since Feb. 8 — most of those of food and treats suspected of possibly being contaminated with salmonella.
The recalled products include dry food, canned food and raw food, treats and bully sticks.
Probably most notable of those recalled are the Gravy Train, Kibbles 'N Bits, Skippy and Ol' Roy brands of canned dog food made by the J.M. Smucker company. Pentobarbital, the sedative used to put dogs down, has been found in cans dating back to 2016.
Smucker released a statement on its website, confirming "extremely low levels of pentobarbital" have been found in "in select shipments."
On Sunday, it told the Miami Herald that the source of the drug was "animal fat was sourced from cow, chicken, and pig."
While those are common sources of pet food, animals euthanized with the drug are not supposed to end up in the food chain — for either dogs or humans.
Last week also saw the recall of an eighth pet food product suspected of containing salmonella or listeria in 24 days, Steve's Real Food's Raw Frozen Dog Food Turkey Canine Recipe, recalled one lot that was distributed to 21 states.
The Nebraska Department of Agriculture found salmonella when testing a retail sold sample.
The 5-pound bags in lot No. E 178 with a best by date of Sept. 17, 2018 went to retail stores in Florida, New York, New Jersey, Connecticut, California, Texas, Pennsylvania, Virginia, Colorado, Iowa, Kansas, Maryland, Michigan, Minnesota, Missouri, North Dakota, Nebraska, Oregon, Utah and Washington, according to the Miami Herald.
Dogs with salmonella can suffer from vomiting, diarrhea and fever.
Humans also can get salmonella, both from dogs and from handling contaminated food or touching unwashed surfaces that the food touched.
Those who have purchased the products should dispose of them and contact the company for a refund.
Other recalls and product withdrawals in the past month include:
▪ Raws for Paws ground turkey
▪ Smokehouse Beefy Munchies treats
▪ Arrow Reliance/Darwin's Natural ZooLogics Duck with Vegetable Meals for Dogs and ZooLogics Chicken with Vegetable Meals for Dogs
▪ Redbarn, 7-inch Bully Sticks
▪ TruPet, Treat Me Crunchy Beef Delight treats
▪ Northwest Naturals, Chicken and Salmon
▪ Carnivore Meat Company, Vital Essentials Freeze-Dried Beef Nibblets Entrée for Dogs
▪ Kitten Grind raw pet food
Posted by John Woestendiek March 6th, 2018 under Muttsblog.
Tags: animals, arrow reliance, bully sticks, canned, darwin, darwin's naturals, diet, dog food, dog food recall, dogs, drug, dry, euthanasia, food, frozen, gravy train, health, kibbles 'n bits, listeria, northwest naturals, ol roy, pentobarbital, pet food, pets, raw, raws for paws, recall, recalls, redbarn bully sticks, safety, salmonella, skippy, smokehouse beefy munchies, smucker, steve's real foods, treats, trupet, warning, zoologics

Comments: 1
What's being billed as New York's first dog cafe will open later this month in the East Village.
Boris & Horton, on 12th Street and Avenue A, is slated to hold a soft opening within the week and be fully open by the end of the month.
The owners describe it as a place where you can "have great coffee, eat, have wine and beer, hang out, and also bring your dog inside."
It's named for the owner's own dogs — Boris, a pit bull mix belonging to Coppy Holzman, and Horton, a Chihuahua-poodle mix who belongs to his daughter, Logan Mikhly.
It's designed like a living room, and the owners hope it will be the kind of place where people bond with their dogs and other people, as opposed to their laptops.
"It's not just a coffee shop where people sit there with headphones on their laptops," Holzman told Grub Street.
For humans, there will be pastries from Balthazar and Bien Cuit, plus gluten-free options from Husk Bakeshop, and coffee from City of Saints, as well as a more substantial menu and, in the evening until the 11 p.m. closing time, wine and beer.
There will also be a shop for dog products and store swag, and a puppy Instagram booth. On weekends, adoption events will be held.
Because the health department tends to take issue with dogs being allowed where food is prepared, the establishment will be divided into a café side, with food and drink sales, and a dog side, featuring tables and dog-focused retail.
Dogs must remain on their leashes and employees will be trained by the School for the Dogs to read canine body language and be prepared for altercations and issues.
(Photos: Milla Chappell / Boris & Horton website)
Posted by John Woestendiek January 11th, 2018 under Muttsblog.
Tags: animals, beer, bonding, boris & Horton, cafe, coffee, dog, dog cafe, dog friendly, east village, food, health department, menu, new york, new york city, opening, pastries, pets, retail, shop, social, socializing, wine

Comments: none
There's one thing that wolves are still way better at than their domesticated descendants (aka dogs) — cooperating with their own kind.
Domestication may have led to canines becoming more skilled at cooperating, manipulating and melting the hearts of people, but they lost something in the transition.
While they'll still run together, play together and display other pack-like tendencies, dogs are less likely than wolves to work together as a team to accomplish a goal, says a new study.
To provide a human equivalent, wolves will work together like a team of Navy Seals, while dogs are more like, well, Congress.
Sarah Marshall-Pescini, from the University of Vienna, has found that dogs lag far behind wolves when it comes to accomplishing a task that requires them to cooperate.
She conducted a simple series of experiments in which dogs have to pull on two pieces of rope to bring a piece of distant tray of food within reach. While the dogs almost always failed, the wolves, working together, frequently succeeded.
"The idea is that we've changed their psychology to make them into super-cooperative beings," says Marshall-Pescini. But that's only true for their relationships with humans, she added.
By domesticating dogs, humans ruined the pack instinct that makes wolves such great hunters and survivors.
"They adapted to the niche we provided for them and it changed their sociality," Marshall-Pescini says.
That applies even to dogs living in the wild. They mostly keep to themselves, scavenging alone on human garbage. When they do form packs, they are usually small and loose-knit.
By contrast, wolves live in extremely tight-knit family groups. They rely on their pack-mates to bring down large prey, and they work together to rear each other's pups.
Fifteen wolves and 15 dogs currently live in Vienna's Wolf-Science Center, a facility established to look at the differences between wolves and dogs "in as fair a way as possible," says Marshall-Pescini.
"They're raised in exactly the same way, with a lot of human contact. This allows us to test a lot of different things without the confounding variables of wolves not being used to humans and pet dogs being super-used to humans."
In the experiment, a string was threaded through rings on a tray of food on a side of a cage the animals could not access.
If one animal grabs an end of the string and pulls, it just comes out of the rings. If two animals pull on the two ends together, the tray slides close enough for them to eat the food.
All in all, the dog teams did terribly. Just one out of eight pairs managed to pull the tray across, and only once out of dozens of trials. By contrast, five out of seven wolf pairs succeeded, on anywhere between 3 and 56 percent of their attempts.
As The Atlantic explained it in an excellent summary of the study:
"It's not that the dogs were uninterested: They explored the strings as frequently as the wolves did. But the wolves would explore the apparatus together — biting, pawing, scratching, and eventually pulling on it. The dogs did not. They tolerated each other's presence, but they were much less likely to engage with the task at the same time, which is why they almost never succeeded."
"The dogs are really trying to avoid conflict over what they see as a resource," said Marshall-Pescini. "This is what we found in food-sharing studies, where the dominant animal would take the food and the subordinate wouldn't even try to approach. With wolves, there's a lot of arguing and it sounds aggressive, but they end up sharing. They have really different strategies in situations of potential conflict. [With the dogs], you see that if you avoid the other individual, you avoid conflict, but you can't cooperate either."
(Bottom photo: Wolf Science Center/Vetmeduni Vienna)
Posted by John Woestendiek October 19th, 2017 under Muttsblog.
Tags: animals, behavior, cooperating, cooperation, dogs, domestication, experiment, food, goal, groups, mission, pets, rope, sarah marchall-pescini, sharing, social, string, study, task, teamwork, tray, university of vienna, wolves

Comments: none
It's not clear where Otis was heading when he escaped during Hurricane Harvey and hit the road.
But it is clear he didn't leave unprepared.
Otis was photographed by a stranger while he was at large — with a giant bag of dog food in his mouth.
Otis, a German shepherd mix, got loose Friday night from a screened-in back porch in Sinton, Texas, where he had been left in the care of 65-year-old Salvador Segovia.
Segovia was watching the dog for his 5-year-old grandson Carter whose family had fled the city due to flooding.
Segovia noticed the dog was gone Friday night when he went to check on him on the porch.
"I kept yelling his name and yelling his name and he wasn't around," Segovia told the Houston Chronicle.
When he checked the porch again Saturday morning, he noticed Otis' bag of dog food was also missing.
A few people in Sinton — a town of about 6,000 — had seen Otis walking down the street with a bag of dog food in his mouth, including Tiele Dockens, who saw Otis, snapped a photo and posted it on Facebook.
The photo of Otis went viral, and Otis himself was tracked down Saturday and is back with Segovia — happily, all before his young master, Carter, returned home.
The dog has comforted the boy after several hospital visits, Segovia says, and is well-known around town. Wandering the streets is nothing new for him, though this is the first time he has brought his own food along.
Segovia said Otis is the "only dog allowed to lie down in front of the county court house," and that he sometimes goes to Dairy Queen for a hamburger.
Maybe Otis was trying to get himself, and his dog food, back to his home. Maybe he sensed an emergency had been declared, and wanted to be prepared. Or maybe he just wanted to go for a walk, and knew the DQ was going to be closed Friday night.
We'll never know, but it's fun to speculate.
(Top photo by Tiele Dockens, from Facebook; photos of Carter and Otis courtesy of Salvador Segovia)
Posted by John Woestendiek August 28th, 2017 under Muttsblog.
Tags: animals, bag, carrying, disaster, dog, dog food, dogs, emergency, escaped, facebook, food, harvey, hurricane, hurricane harvey, mouth, otis, pets, photo, photograph, preparedness, sinton, texas, tiele dockens, viral

Comments: 1
The four new arrivals at the Watauga Humane Society, a no-kill shelter nestled in the hills outside Boone, N.C., started adapting to their new lives not long after they were removed from a farm south of Seoul, Korea.
They continued to grow a little less timid and fearful of humans while they were quarantined in a sanctuary there, flown to the U.S., driven hundreds of miles to five different shelters and quarantined again.
Soon, they'll be making the final step on the way to becoming pets, instead of meat.
The four are among 31 dogs from Korea who arrived at no-kill shelters in North Carolina last week to be put up for adoption.
And those 31 are among 525 who have come to the U.S. and Canada since the beginning of last year, when Humane Society International added a new strategy to its campaign to bring an end to dog farms in Korea — closing them down one farm at a time.
Representatives of HSI, working with local animal activists in South Korea, have succeeded in shutting down five farms since then — usually by negotiating deals with the farmers and persuading them to pursue new, less brutal livelihoods.
One dog farm became a blueberry farm. Another switched from raising dogs to growing chili peppers. One dog farmer agreed to stop dog farming and, with help from HSI, started a water delivery business.
It's only a small dent, given there are thousands of dog farms in South Korea, some with 1,000 dogs or more, all being raised to be sold for their meat.
They are commonly abused and neglected and spend their lives in crates before being sold to markets, where things get even crueler.
Farm dogs are sometimes boiled alive, sometimes beaten before slaughter under the belief that it makes their meat more flavorful. Their meat is sold to individuals and restaurants at open air markets, where you can pick a live one for butchering.
It's all a perfectly legal tradition under laws in Korea, where a minority of the population still eats dogs, and many believe the meat offers health benefits, particularly in the summer months.
That minority is shrinking more as younger Koreans turn away from the practice, a fledgling animal welfare movement grows and the perception of dogs as family members becomes more widespread.
Perhaps, South Korea will, in time, outgrow the practice. Perhaps the Olympics coming to Seoul in 2018 — as it did in 1988 — will lead government officials, who did their best to hide it then, to take more meaningful steps.
Until then, animal activists — locally and globally — do what they can.
My first exposure to dog farms was seven years ago, when I went to South Korea to research a book I was writing on dog cloning. On the road to achieving that "feat," researchers regularly bought and borrowed meat dogs from farms, using them for experiments, to help clone the first canine and to clone the dogs of pet-owning customers once the practice hit the marketplace.
I ended up at Moran Market — and quickly wished I hadn't.
Images of what I saw then still pop up in my head, unasked. I'll spare you the graphic details.
It is estimated that more than 2 million dogs are slaughtered for human consumption in South Korea each year.
Add in those consumed in China, Vietnam and other Asian countries, and as many as 30 million dogs a year are killed for their meat.
South Korea is the only country where the practice has been industrialized. The New York Times reported in May that government data show there are more than 17,000 dog farms.
The Humane Society program is an attempt to shine a light on the issue, while also giving at least a few of the dogs a chance. On top of that, it strives to show that farm dogs, stigmatized in Korea and often perceived as different from pet dogs, are one and the same.
In one of the largest agreements brokered so far, this past May, a dog farmer in Wonju turned over all 260 of the dogs he was raising — mostly on discarded scraps he collected from restaurants — in exchange for certain considerations.
The particulars of the deal weren't announced, but HSI offers incentives to farmers — $2,000 to $60,000 depending on the number of dogs involved — who agree to forfeit their dogs and get out of the business.
That farmer, Gong In-young, told the New York Times that many of the dogs were just weeks away from being sent to the slaughterhouse.
Gong, in addition to his farm dogs, had a pet dog, too. Asked about the difference in the lives of his farm dogs and his own dog, a spitz named Snow White, he described it as "the difference between heaven and hell."
The most recent batch of dogs transported to the U.S. by HSI was small by comparison.
The dogs lived on a small farm in Jeonju, about 120 miles south of Seoul. A Canadian organization, Free Korean Dogs, was tipped off about it by local activists and, upon further investigation, learned it was an illegal operation.
While dog farms are legal, this farmer and his dogs were squatters, occupying land that didn't belong to him. Law enforcement authorities were contacted and ordered the farmer and the dogs off the land.
That left the farmer willing to negotiate, and he eventually agreed to turn all 30-plus dogs over to a sanctuary at the end of July.
HSI, working with Free Korean Dogs, then took steps to have them shipped to the U.S., making arrangements for them to be taken in and adopted out by no-kill shelters who participate in the Humane Society's Emergency Placement Partners program.
Those who participate in the program accept dogs the Humane Society has rescued — from everything from puppy mills to natural disasters.
All 31 farm dogs, after their flight and a few days in Maryland, were brought to shelters in North Carolina.
In the parking lot of a shopping center in Cary, the dogs were turned over to volunteers from local humane societies and shelters in the state, the News & Observer reported.
Those shelters included Cashiers Highlands Humane Society, Paws of Bryson City, Moore Humane Society in Carthage, Outer Banks SPCA in Manteo, and the Watauga Humane Society in Boone.
I visited the four who went to Boone last week.
I wanted to take some photos. I wanted to see how anti-social and fearful of humans they might be, or if that resilience dogs are famous for was already becoming apparent.
I wanted to understand how hard it might be for them to shake the past. Many who have adopted them say they've gone on to make greats pets — as has been the case with many of Michael Vick's fighting dogs, puppy mill dogs and other dogs who have seen and suffered from the worst in humans.
And in the back of my head, which is also where those images of meat market dogs linger, I was thinking I might like to have one.
(For part two of this story, click here.)
(Photos: From top to bottom, Jindol, one of the four Korean dogs now at the Watauga Humane Society, by John Woestendiek; caged dogs at a South Korean dog farm, by Jean Chung for The New York Times; dogs awaiting butchering at Moran Market in Seoul, by John Woestendiek)

Posted by John Woestendiek October 12th, 2016 under Muttsblog, videos.
Tags: adopt, adopted, adoption, animals, cloning, dog meat, dog meat trade, dogs, eaten, emergency placement partners, farm, food, free korea dogs, free korean dogs, humane society international, humane society of the united states, jeonju, korea, meat dogs, Moore Humane Society, moran meat market, north carolina, olympics, Outer Banks SPCA, pets, rescue, rescued, restaurants, seoul, shelters, south korea, united states, watauga humane society

Comments: 2
A study at Emory University suggests that dogs aren't strictly the food-obsessed beasts they've traditionally been seen as — and that many, maybe even most, prefer attention and praise over a chewy treat.
While only 13 dogs participated in the study, there were only two of them who — judging from their neural reactions — showed a distinct preference for food over praise.
The study, published in the journal Social, Cognitive and Affective Neuroscience, is one of the first to combine brain-imaging data with behavioral experiments to explore what kind of rewards canines prefer.
"We are trying to understand the basis of the dog-human bond and whether it's mainly about food, or about the relationship itself," says Gregory Berns, a neuroscientist at Emory and lead author of the research.
"Out of the 13 dogs that completed the study, we found that most of them either preferred praise from their owners over food, or they appeared to like both equally. Only two of the dogs were real chowhounds, showing a strong preference for the food."
Berns heads the Dog Project in Emory's Department of Psychology. It was the first to train dogs to voluntarily enter a functional magnetic resonance imaging (fMRI) scanner and remain motionless during scanning, without restraint or sedation.
Their previous research using the technique identified the ventral caudate region of the canine brain as a reward center and showed that region responds more strongly to the scents of familiar humans than to the scents of other humans, or even to those of familiar dogs.
Phys.org reports that, in the new study, researchers trained the dogs to associate three different objects with different outcomes. A pink toy truck signaled a food reward; a blue toy knight signaled verbal praise from the owner; and a hairbrush signaled no reward, to serve as a control.
The dogs then were tested on the three objects while in an fMRI machine. Each dog underwent 32 trials for each of the three objects as their neural activity was recorded.
Four of the dogs showed a particularly strong activation for the stimulus that signaled praise from their owners. Nine of the dogs showed similar neural activation for both the praise stimulus and the food stimulus. And two of the dogs consistently showed more activation when shown the stimulus for food.
Berns says the findings run counter to the old view that dogs "just want food and their owners are simply the means to get it … Another, more current, view of their behavior is that dogs value human contact in and of itself."
In another part of the study, dogs were put into a Y-shaped maze in which one path led to a bowl of food and the other path to the dog's owner.
The dogs were repeatedly released into the room and allowed to choose one of the paths.
While most dogs alternated between the food and their owner, dogs who showed a greater response to praise in the first part of experiment chose to go to their owners 80 to 90 percent of the time.
Berns said the study "shows the importance of social reward and praise to dogs. It may be analogous to how we humans feel when someone praises us."
(Photos: At top, Kady, a Lab-retriever mix in the study who preferred praise from her owner to food; at bottom, Ozzie, a shorthaired terrier mix who chose food over his owner's praise / Emory University)
Posted by John Woestendiek August 18th, 2016 under Muttsblog.
Tags: animals, attention, behavior, brain, canine, dogs, emory university, experiment, fmri, food, gregory berns, humans, imaging, love, motivation, mri, pats, pets, praise, responses, rewards, science, study, training, treats, ventral caudate

Comments: 2
Researchers at the University of Nottingham say they've documented a serious decline in the fertility of male dogs — and suggest that dog food or environmental causes may be to blame.
In a study spanning 26 years, researchers tracked the sperm motility levels of five different breeds — Labrador retrievers, golden retrievers, curly coat retrievers, border collies and German shepherds.
They took samples from between 42 and 97 dogs each year, according to the study, published in Scientific Reports.
Between 1988 and 1998, the team recorded a 2.5 percent decline in the amount of motile sperm per year. Between 2002 and 2014, this trend continued at a rate of 1.2 percent each year.
The researchers also found that male pups produced by dogs with declining sperm quality had an increased incidence of cryptorchidism, a condition where one or both of the testicles don't descend properly.
The study suggests that the sperm quality may have been impacted by contaminants in dog food.
"We looked at other factors which may also play a part, for example, some genetic conditions do have an impact on fertility," said Dr Richard Lea, leader of the study. "However, we discounted that because 26 years is simply too rapid a decline to be associated with a genetic problem."
Dogs used for the study were all bred, raised and trained as service animals for disabled people at an unidentified center in England, according to the New York Times.
The scientists said that in addition to collecting samples throughout the study, they examined the testicles collected from dogs that had undergone castration.
Both showed environmental contaminants in high enough concentrations to affect sperm motility. These same chemicals were also discovered in various commercially available dog foods.
The researchers say the findings raise the question of whether a reported decline in human semen quality over the last 70 years could also be a result of environmental factors.
(Photos: Roscoe, a yellow Lab who was not involved in the study, and has no interest in the results, by John Woestendiek)
Posted by John Woestendiek August 12th, 2016 under Muttsblog.
Tags: animals, breeding, chemicals, contaminants, decline, dog food, dogs, food, health, motility, pets, quality, reproduction, research, semen, sperm, study, testicles, university of nottingham

Comments: 2