Tag: foundation
The widow of Chicago Cubs legend Ron Santo says she's in the final stages of setting up a nonprofit charity to help pair diabetics with dogs.
The foundation would help people with diabetes buy trained dogs that can alert them when their blood-sugar levels rise too high.
She sees the Ron and Vick Santo Diabetes-Alert Dog Foundation as a way to continue Santo's legacy, she said last week, on the second anniversary of his death.
Before Ron Santo's death, Vicki Santo says she'd never heard of such dogs, but she says they saw evidence of that power in their own pet, Joker, near the end of the Hall of Famer's life.
"I was in the basement, and Joker came and got me," she told the Daily Herald. She followed him to the bedroom and found Ron unable to get off the bed because his blood sugar was so low.
While dogs can be trained to detect changes in blood sugar and alert their owner – often faster than a glucometer can — Joker had not been.
Still, Vicki Santo thinks he must have had some abilities.
Children with diabetes, especially, could benefit from alert dogs. Sometimes they are hesitant to participate in sports and other activities because they worry about how their blood-sugar levels might change, she said.
While Ron Santo was dedicated to helping researchers find a cure, Vicki Santo thinks that helping others cope with diabetes through the foundation's work would make him happy.
"He loved dogs," she said. "I think he would have been so proud to share the knowledge of what these dogs can do."
Posted by jwoestendiek December 10th, 2012 under Muttsblog.
Tags: alert, alert dogs, animals, assistance, chicago cubs, diabetes, diabetic alert dogs, diabetics, dogs, foundation, health, pets, ron santo, service, vicki santo

Comments: 1
Childhood memories of a pig being led to slaughter prompted Chinese lawyer and businessman Lu Xun to fight for the welfare of animals.
"I remember the horrible screaming from the pig as it knew it was nearing its end," Lu told China Daily.
Now 47, Lu is the man behind The Benevolence Foundation, which he says is China's first fund dedicated solely to the welfare of animals. Lu invested $315,000 to set up The Benevolence Foundation in January 2010.
"To some extent, the way a country treats its animals reflects the standards of civilization in that country. China in this aspect should improve itself," Lu says.
The foundation made headlines in April of last year when it helped save 280 dogs being sent to restaurants in Changchun, Jilin province.
The foundation has also worked to make slaughterhouses more humane, and in at least one case donated a quarter of the funds one company needed for more modern equipment.
Getting government to support his efforts is difficult he says,  and some in China question his priorities.
"Some people do not agree with what I've done. They say in China there are lots of people who are suffering from poverty, and you are creating a foundation for animals?"
Before setting up his animal welfare foundation, Lu took part in other charities in China, including those that helped children and the elderly. There are far fewer charities in China working to protect animals, he said.
"I'm glad I can help. When you do things that touch others, you are also touched. As a child, I could do nothing about it when I saw animals being slaughtered terribly on the farm. But now I am capable of doing something to improve their situation."
(Photo: China Daily)
Posted by jwoestendiek October 2nd, 2012 under Muttsblog.
Tags: animal welfare, animals, benevolence foundation, businessman, china, chinese, dogs, foundation, lawyer, lu xun, pets, philanthropist, reform, restaurants, slaughterhouses, trucks

Comments: 2
Trouble, the Maltese who became a multi-millionaire upon the death of her owner, Leona Helmsley, has died.
Trouble, who Helmsley left $12 million — but who only got $2 million – passed away in Florida. She was 12.
Either her death was a well guarded secret, or the news media doesn't sniff out stories as quickly as it used to: Trouble died almost six months ago, in December. (The media seems equally callous about Trouble's gender, with a good half of all reports calling her a him.)
While Helmlsey, who died in 2007, wanted Trouble buried next to her, that won't be happening.
Even though Helmsley is interred in a 12,000 square-foot family mausoleum, a board member at Sleepy Hollow Cemetery, north of New York City said, sniffily: Dogs are not permitted.
Instead, Trouble has been cremated, and her remains are being "privately retained," according to the New York Daily News.
As for the remainder of the $2 million earmarked for the dog's care — probably a good $1.5 million – it will revert to the Helmsley Trust and, if the past is any indication, be spent as the the trustees see fit, as opposed to following Helmsley's wishes.
While Helmsley left the dog $12 million, a judge later knocked it down to $2 million. Helmsley also requested that much of her fortune, estimated at upwards of $5 billion, go to dog-related causes, but she was snubbed in that regard as well. Only a small percentage of the millions the foundation has given away has gone to animal welfare organizations. Several sued to get a bigger piece, but a judge said no.
Since 2007, Trouble has been cared for by Carl Lekic, the general manager of the Helmsley Sandcastle hotel in Sarasota.
Lekic estimated about $100,000 a year was spent on taking care of Trouble –  $8,000 for grooming, $1,200 for food and the rest for his fee and a full-time security guard.
Trouble died in December after "a series of health setbacks that left her blind and infirm," the Daily News said.
Trouble was purchased at a Manhattan pet shop to console Helmsley after the death of her husband, Harry, and spent most of her life in luxury, traveling with Helmsley in private jets and stretch limousines.
Despite her inherited millions, Trouble was not the richest dog in the world, MSNBC reports.
That distinction belongs to Gunther IV, a German dog left $372 million by his owner. In America, Miss Charlie Brown, an English cocker spaniel in South Dakota, stands to inherit $130 million from her mineral magnate owners. And Oprah Winfrey, MSNBC said, is rumored to have earmarked $30 million for the care of her pups.
Posted by jwoestendiek June 9th, 2011 under Muttsblog.
Tags: animals, billionaire, dead, death, dies, dog, dogs, estate, foundation, gunther IV, helmsley, last wishes, leona helmsley, maltese, media, millionaire, miss charlie brown, news, oprah winfrey, pets, rich, trouble, trust, trustees, wealth, wealthiest dogs, will

Comments: 1
A pit bull found hogtied and abandoned in a muddy field in California last month has a new home, thanks to the efforts of actress Katherine Heigl and her family's rescue foundation.
The dog was discovered last month in Bakersfield. The dog's owner James Worley, 52, has been arrested and faces a possible charge of felony animal cruelty.
The pitbull, who has been named England after the animal control officer who saved him, Kristen England, was placed into a new home on Wednesday.
Meanwhile, a petition asking the District Attorney's office to prosecute the dog's owner to the fullest extent the law allows has received almost 1,000 signatures.
The petition was started April 26 by Karen Marousek, of the Friends of the Kern County Animal Shelters Foundation, according to the Bakersfield Californian.
As of Wednesday morning, more than 1,000 signatures had been gathered. The petitions will be presented to the prosecutor and judge handling the case.
Worley, 52, was arrested on suspicion of felony animal cruelty on April 26.  An arraignment is scheduled for Friday in Lamont.
The Jason Debus Heigl Foundation was founded by Katherine Heigl and her mother Nancy Heigl in memory of Jason Debus Heigl, Katherine's brother. It  rescues dogs and works to increase awareness of inhumane treatment to animals.
The Heigls, officials from the group Last Chance For Animals and Kern County Animal Control Director Guy Shaw held a press conference in Los Angeles Tuesday.
(Photo: England, as he was found; courtesy of Kern County Animal Control)
Posted by jwoestendiek May 5th, 2010 under Muttsblog.
Tags: abandoned, animal control, animal cruelty, animals, bakersfield, california, dogs, england, field, foundation, friends of the kern county animal shelters foundation, heigl, hogtied, home, james worley, jason debus heigl foundation, karen marousek, katherine heigl, kern county, kristen england, last chance for animals, news, ohmidog!, petition, pets, pit bull, pitbull, rescue

Comments: 7
News that Michael Vick is expected to attend the 32nd annual Ed Block Courage Awards dinner in Baltimore Tuesday has led to a change in the ceremony's format and an increase in security.
Vick, who was convicted in 2007 of running a dogfighting ring, is one of 32 winners to be honored with the award, which singles out one member of each NFL team for his courage, sportsmanship and inspiration to his community.
Vick's unanimous selection by his Philadelphia Eagles teammates triggered angry e-mails to the Ed Block Courage Award Foundation, a petition drive and a planned protest by dog lovers and animal welfare activists at the award's ceremony, to be held at Martin's West, 6817 Dogwood Road, from 4 to 10 p.m.
More than 100 people have already signed up to protest at the event — a number that could grow as a result of the news that the quarterback will be attending.
In addition to scrapping the long-standing tradition of having the athletes mingle with fans and sign autographs,  organizers say they are boosting security, according to the Baltimore Sun.
"We've put in place enough [guards] to make sure that our players are safe and that everything runs smoothly."said Ed Block Courage Award Foundation spokesman Paul Mittermeier.
The Block Award is named for a former team trainer of the Baltimore Colts, who worked for years to help abused children.
 Criticism for bestowing the award on Vick has come from groups ranging from animal rights activists to the American Kennel Club. "It is unconscionable that a man who tortured and abused helpless animals be honored by an organization dedicated to ending abuse," the AKC said.
Vick will be accompanied to the event by Michael Markarian, chief operating officer of the Humane Society of the United States,  a group for which the quarterback has made public appearances in recent months, attempting to steer youth away from dogfighting.
Posted by jwoestendiek March 5th, 2010 under Muttsblog.
Tags: abuse, award, baltimore, ceremony, convicted, conviction, courage, courage award, demonstration, dogfighter, dogfighting, ed block, foundation, honor, increased, inspiration, martin's west, michael vick, news, petition, philadelphia eagles, protest, quarterback, security, sportsmanship, vick, vick protest

Comments: 4
The chairperson of the Mayor's Anti-Animal Abuse Task Force says bestowing an Ed Block Courage Award on Michael Vick is "premature at best and disgraceful at its worst."
In a letter to Sam Lamantia, Jr., CEO of the Baltimore-based Ed Block Courage Award Foundation, Caroline A. Griffin, head of a task force charged with reducing animal abuse in Baltimore, expresses "grave disappointment" with the decision to honor Vick with the reward. Vick was unanimously nominated by his Philadelphia Eagles teammates.
Vick's award, scheduled to be presented in March, is also being protested in the form of  a petition drive.
Here is Griffin's letter, as it appears on Mayor Sheila Dixon's website, in its entirety:
Dear Mr. Lamantia,
On behalf of the Mayor's Anti-Animal Abuse Task Force, we wish to express our grave disappointment and concerns over the decision of the Philadelphia Eagles to nominate Michael Vick as the recipient of the Ed Block Courage Award.
We believe that this nomination is premature at best and disgraceful at its worst. It is ironic that Mr. Vick's teammates have selected him to receive an award in honor of a man who extolled that mankind should "work toward alleviating suffering and especially to alleviate the suffering of those who cannot help themselves." Yet in response to this nomination, Mr. Vick seemingly laments only the hardships that he has endured as a convicted felon rather than those he imposed on the many victims of his crimes.
Mr. Vick apparently acknowledged, by virtue of his guilty plea, that he engaged in a cowardly and sadistic criminal enterprise for more than six (6) years, which terminated not because he saw the errors of his ways, but because he got caught. To date, we believe that he has done nothing more than fulfill the terms of his federal sentence. Aside from demeaning the memory of Mr. Block, there is a risk that bestowing this award to Michael Vick may unwittingly glamorize the brutal crime of dogfighting rather than deter it.
While we question the wisdom of this decision, we commend the Philadelphia Eagles for initiating a Treat Animals With Kindness (TAWK) program, which educates children and adults concerning animal abuse and dogfighting. Mr. Vick has several teammates who have voluntarily advocated against violence and abuse and who would appear to be more suitable candidates for such an honor. We believe that Mr. Vick is neither courageous nor a role model and that he remains an inappropriate recipient of such a prestigious award.
Very truly yours,
Caroline A. Griffin
Chair, Mayor's Anti-Animal
Abuse Task Force
Posted by jwoestendiek January 27th, 2010 under Muttsblog.
Tags: anti-animal abuse, award, caroline a. griffin, ceo, courage, dog fighting, dogfighting, ed block, foundation, j.r., letter, mayor's, michael vick, philadelphia eagles, sam lamantia, task force

Comments: 6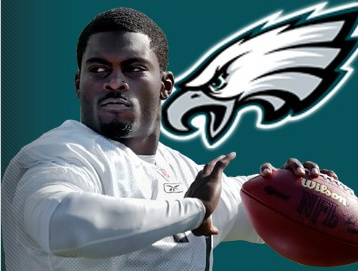 Philadelphia Eagles quarterback Michael Vick will receive an award in March for his "commitment to the principles of sportsmanship and courage."
If you just coughed up your breakfast cereal, join the club.
Vick was hired by the Eagles after his release from federal prison, where he served a sentence for dogfighting. If anyone deserves a courage award, it's his former dogs.
Vick will be receiving the Ed Block Courage Award — named for a former Baltimore Colts trainer who was an advocate for abused children. It's given to a player on all 32 NFL teams.
The Ed Block Courage Award Foundation, based in Baltimore, will hold a press conference at Sports Legends Museum announcing the 2009 winners, and an awards ceremony is scheduled for March. Here's the foundation's press release. Here's the NFL press release on Vick's selection.
Neither specifies exactly what courage Vick has demonstrated, so its unclear if he's being honored for his anti-dogfighting appearances for the Humane Society of the United States; surviving prison, surviving the wrath of animal rights activists, rehabilitating himself or at least his image, overcoming his bankruptcy, his return to football, or what.
For 32 years the award has been given to NFL players, who are selected by their teammates.
The Ed Block Courage Award Foundation is an NFL-supported charity dedicated to recognizing courage in the League while improving the lives of abused and neglected children in NFL cities throughout the country.
Posted by jwoestendiek December 24th, 2009 under Muttsblog.
Tags: award, child abuse, courage, dog fighting, dogfighting, dogs, ed block, ed block courage award, foundation, honored, michael vick, neglect, nfl, philadelphia eagles, quarterback, receive, sportsmanship, teams, vick

Comments: 21
Pittsburgh Steelers quarterback Ben Roethlisberger — instead of commiting crime — is taking a bite out of it, with his donation of two K-9 unit dogs to Detroit,  the city where he won the first Super Bowl.
Roethlisberger, in Detroit yesterday to play the Lions, is paying for both dogs. They replace a pair of retiring dogs that left the Detroit Police Department at the end of the year.
Detroit Police Chief Warren Evans told the Detroit Free Press he was grateful for the donation.
"We are deeply appreciative to the Ben Roethlisberger Foundation for this grant," Evans said. "In these difficult budgetary times, we must rely more and more on outside sources of funding to support our officers' efforts. This grant will provide our officers additional resources to protect the citizens of Detroit."
The quarterback created the the foundation to distribute grants to police and fire departments in Pittsburgh and cities of each regular season road opponent for the Steelers.
"It's incredible to see the strong bond that is formed between the dogs and their partners both on the job and at home," Roethlisberger said in a statement.
Posted by jwoestendiek October 12th, 2009 under Muttsblog.
Tags: ben, detroit, dog, dogs, donation, foundation, K-9, pittsburgh, police, quarterback, roethlisberger, steelers

Comments: none