Tag: foundation
Here's a public service announcement that takes the story of Hachiko — the Japanese dog who waited at a train station for his master every day for nine years after he died — and gives it what is possibly an even more tear-jerking spin.
"The Man And The Dog" was created by director Rodrigo Garcia Saiz for Fundación Argentina de Transplante Hepático, Argentina's liver transplant foundation.
It shows a loyal dog who follows the ambulance that takes his owner away to the hospital — not unheard of in real life — and then waits, and waits, and waits.
We won't say any more than that, so as not to spoil the ending.
Garcia Saiz, who's been called "one of the world's leading Spanish language commercial directors" by Ad Week, has directed other hard-hitting PSAs worth viewing, including the distracted-driving spot "Discussion" and the anti-bullying spot "Playground," according to o the advertising publication Little Black Book Online.
Posted by John Woestendiek May 22nd, 2015 under Muttsblog, videos.
Tags: ambulance, animals, argentina, death, dog, dogs, fath, foundation, Fundación Argentina de Transplante Hepático, hachiko, hospital, liver, loyalty, organ transplants, pets, psa, public service announcement, rodrigo garcia saiz, tearjerker, transplant, video

Comments: 3
A pit bull found hogtied and abandoned in a muddy field in California last month has a new home, thanks to the efforts of actress Katherine Heigl and her family's rescue foundation.
The dog was discovered last month in Bakersfield. The dog's owner James Worley, 52, has been arrested and faces a possible charge of felony animal cruelty.
The pitbull, who has been named England after the animal control officer who saved him, Kristen England, was placed into a new home on Wednesday.
Meanwhile, a petition asking the District Attorney's office to prosecute the dog's owner to the fullest extent the law allows has received almost 1,000 signatures.
The petition was started April 26 by Karen Marousek, of the Friends of the Kern County Animal Shelters Foundation, according to the Bakersfield Californian.
As of Wednesday morning, more than 1,000 signatures had been gathered. The petitions will be presented to the prosecutor and judge handling the case.
Worley, 52, was arrested on suspicion of felony animal cruelty on April 26.  An arraignment is scheduled for Friday in Lamont.
The Jason Debus Heigl Foundation was founded by Katherine Heigl and her mother Nancy Heigl in memory of Jason Debus Heigl, Katherine's brother. It  rescues dogs and works to increase awareness of inhumane treatment to animals.
The Heigls, officials from the group Last Chance For Animals and Kern County Animal Control Director Guy Shaw held a press conference in Los Angeles Tuesday.
(Photo: England, as he was found; courtesy of Kern County Animal Control)
Posted by John Woestendiek May 5th, 2010 under Muttsblog.
Tags: abandoned, animal control, animal cruelty, animals, bakersfield, california, dogs, england, field, foundation, friends of the kern county animal shelters foundation, heigl, hogtied, home, james worley, jason debus heigl foundation, karen marousek, katherine heigl, kern county, kristen england, last chance for animals, news, ohmidog!, petition, pets, pit bull, pitbull, rescue

Comments: 7
News that Michael Vick is expected to attend the 32nd annual Ed Block Courage Awards dinner in Baltimore Tuesday has led to a change in the ceremony's format and an increase in security.
Vick, who was convicted in 2007 of running a dogfighting ring, is one of 32 winners to be honored with the award, which singles out one member of each NFL team for his courage, sportsmanship and inspiration to his community.
Vick's unanimous selection by his Philadelphia Eagles teammates triggered angry e-mails to the Ed Block Courage Award Foundation, a petition drive and a planned protest by dog lovers and animal welfare activists at the award's ceremony, to be held at Martin's West, 6817 Dogwood Road, from 4 to 10 p.m.
More than 100 people have already signed up to protest at the event — a number that could grow as a result of the news that the quarterback will be attending.
In addition to scrapping the long-standing tradition of having the athletes mingle with fans and sign autographs,  organizers say they are boosting security, according to the Baltimore Sun.
"We've put in place enough [guards] to make sure that our players are safe and that everything runs smoothly."said Ed Block Courage Award Foundation spokesman Paul Mittermeier.
The Block Award is named for a former team trainer of the Baltimore Colts, who worked for years to help abused children.
 Criticism for bestowing the award on Vick has come from groups ranging from animal rights activists to the American Kennel Club. "It is unconscionable that a man who tortured and abused helpless animals be honored by an organization dedicated to ending abuse," the AKC said.
Vick will be accompanied to the event by Michael Markarian, chief operating officer of the Humane Society of the United States,  a group for which the quarterback has made public appearances in recent months, attempting to steer youth away from dogfighting.
Posted by John Woestendiek March 5th, 2010 under Muttsblog.
Tags: abuse, award, baltimore, ceremony, convicted, conviction, courage, courage award, demonstration, dogfighter, dogfighting, ed block, foundation, honor, increased, inspiration, martin's west, michael vick, news, petition, philadelphia eagles, protest, quarterback, security, sportsmanship, vick, vick protest

Comments: 4
The chairperson of the Mayor's Anti-Animal Abuse Task Force says bestowing an Ed Block Courage Award on Michael Vick is "premature at best and disgraceful at its worst."
In a letter to Sam Lamantia, Jr., CEO of the Baltimore-based Ed Block Courage Award Foundation, Caroline A. Griffin, head of a task force charged with reducing animal abuse in Baltimore, expresses "grave disappointment" with the decision to honor Vick with the reward. Vick was unanimously nominated by his Philadelphia Eagles teammates.
Vick's award, scheduled to be presented in March, is also being protested in the form of  a petition drive.
Here is Griffin's letter, as it appears on Mayor Sheila Dixon's website, in its entirety:
Dear Mr. Lamantia,
On behalf of the Mayor's Anti-Animal Abuse Task Force, we wish to express our grave disappointment and concerns over the decision of the Philadelphia Eagles to nominate Michael Vick as the recipient of the Ed Block Courage Award.
We believe that this nomination is premature at best and disgraceful at its worst. It is ironic that Mr. Vick's teammates have selected him to receive an award in honor of a man who extolled that mankind should "work toward alleviating suffering and especially to alleviate the suffering of those who cannot help themselves." Yet in response to this nomination, Mr. Vick seemingly laments only the hardships that he has endured as a convicted felon rather than those he imposed on the many victims of his crimes.
Mr. Vick apparently acknowledged, by virtue of his guilty plea, that he engaged in a cowardly and sadistic criminal enterprise for more than six (6) years, which terminated not because he saw the errors of his ways, but because he got caught. To date, we believe that he has done nothing more than fulfill the terms of his federal sentence. Aside from demeaning the memory of Mr. Block, there is a risk that bestowing this award to Michael Vick may unwittingly glamorize the brutal crime of dogfighting rather than deter it.
While we question the wisdom of this decision, we commend the Philadelphia Eagles for initiating a Treat Animals With Kindness (TAWK) program, which educates children and adults concerning animal abuse and dogfighting. Mr. Vick has several teammates who have voluntarily advocated against violence and abuse and who would appear to be more suitable candidates for such an honor. We believe that Mr. Vick is neither courageous nor a role model and that he remains an inappropriate recipient of such a prestigious award.
Very truly yours,
Caroline A. Griffin
Chair, Mayor's Anti-Animal
Abuse Task Force
Posted by John Woestendiek January 27th, 2010 under Muttsblog.
Tags: anti-animal abuse, award, caroline a. griffin, ceo, courage, dog fighting, dogfighting, ed block, foundation, j.r., letter, mayor's, michael vick, philadelphia eagles, sam lamantia, task force

Comments: 6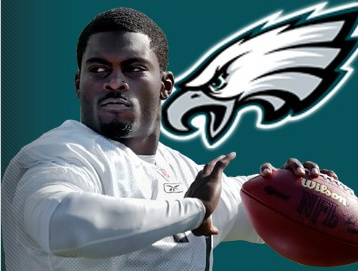 Philadelphia Eagles quarterback Michael Vick will receive an award in March for his "commitment to the principles of sportsmanship and courage."
If you just coughed up your breakfast cereal, join the club.
Vick was hired by the Eagles after his release from federal prison, where he served a sentence for dogfighting. If anyone deserves a courage award, it's his former dogs.
Vick will be receiving the Ed Block Courage Award — named for a former Baltimore Colts trainer who was an advocate for abused children. It's given to a player on all 32 NFL teams.
The Ed Block Courage Award Foundation, based in Baltimore, will hold a press conference at Sports Legends Museum announcing the 2009 winners, and an awards ceremony is scheduled for March. Here's the foundation's press release. Here's the NFL press release on Vick's selection.
Neither specifies exactly what courage Vick has demonstrated, so its unclear if he's being honored for his anti-dogfighting appearances for the Humane Society of the United States; surviving prison, surviving the wrath of animal rights activists, rehabilitating himself or at least his image, overcoming his bankruptcy, his return to football, or what.
For 32 years the award has been given to NFL players, who are selected by their teammates.
The Ed Block Courage Award Foundation is an NFL-supported charity dedicated to recognizing courage in the League while improving the lives of abused and neglected children in NFL cities throughout the country.
Posted by John Woestendiek December 24th, 2009 under Muttsblog.
Tags: award, child abuse, courage, dog fighting, dogfighting, dogs, ed block, ed block courage award, foundation, honored, michael vick, neglect, nfl, philadelphia eagles, quarterback, receive, sportsmanship, teams, vick

Comments: 21
Pittsburgh Steelers quarterback Ben Roethlisberger — instead of commiting crime — is taking a bite out of it, with his donation of two K-9 unit dogs to Detroit,  the city where he won the first Super Bowl.
Roethlisberger, in Detroit yesterday to play the Lions, is paying for both dogs. They replace a pair of retiring dogs that left the Detroit Police Department at the end of the year.
Detroit Police Chief Warren Evans told the Detroit Free Press he was grateful for the donation.
"We are deeply appreciative to the Ben Roethlisberger Foundation for this grant," Evans said. "In these difficult budgetary times, we must rely more and more on outside sources of funding to support our officers' efforts. This grant will provide our officers additional resources to protect the citizens of Detroit."
The quarterback created the the foundation to distribute grants to police and fire departments in Pittsburgh and cities of each regular season road opponent for the Steelers.
"It's incredible to see the strong bond that is formed between the dogs and their partners both on the job and at home," Roethlisberger said in a statement.
Posted by John Woestendiek October 12th, 2009 under Muttsblog.
Tags: ben, detroit, dog, dogs, donation, foundation, K-9, pittsburgh, police, quarterback, roethlisberger, steelers

Comments: none