Tag: frozen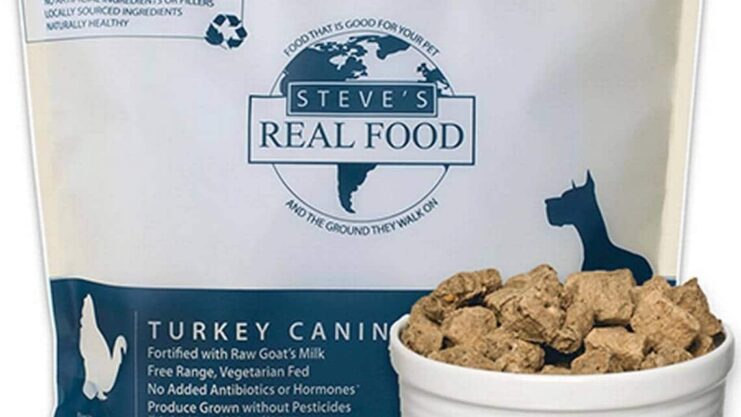 If it seems like there's a new pet food or treat being recalled every week recently, that's because it has gotten that bad.
Worse even.
We count ten since Feb. 8 — most of those of food and treats suspected of possibly being contaminated with salmonella.
The recalled products include dry food, canned food and raw food, treats and bully sticks.
Probably most notable of those recalled are the Gravy Train, Kibbles 'N Bits, Skippy and Ol' Roy brands of canned dog food made by the J.M. Smucker company. Pentobarbital, the sedative used to put dogs down, has been found in cans dating back to 2016.
Smucker released a statement on its website, confirming "extremely low levels of pentobarbital" have been found in "in select shipments."
On Sunday, it told the Miami Herald that the source of the drug was "animal fat was sourced from cow, chicken, and pig."
While those are common sources of pet food, animals euthanized with the drug are not supposed to end up in the food chain — for either dogs or humans.
Last week also saw the recall of an eighth pet food product suspected of containing salmonella or listeria in 24 days, Steve's Real Food's Raw Frozen Dog Food Turkey Canine Recipe, recalled one lot that was distributed to 21 states.
The Nebraska Department of Agriculture found salmonella when testing a retail sold sample.
The 5-pound bags in lot No. E 178 with a best by date of Sept. 17, 2018 went to retail stores in Florida, New York, New Jersey, Connecticut, California, Texas, Pennsylvania, Virginia, Colorado, Iowa, Kansas, Maryland, Michigan, Minnesota, Missouri, North Dakota, Nebraska, Oregon, Utah and Washington, according to the Miami Herald.
Dogs with salmonella can suffer from vomiting, diarrhea and fever.
Humans also can get salmonella, both from dogs and from handling contaminated food or touching unwashed surfaces that the food touched.
Those who have purchased the products should dispose of them and contact the company for a refund.
Other recalls and product withdrawals in the past month include:
▪ Raws for Paws ground turkey
▪ Smokehouse Beefy Munchies treats
▪ Arrow Reliance/Darwin's Natural ZooLogics Duck with Vegetable Meals for Dogs and ZooLogics Chicken with Vegetable Meals for Dogs
▪ Redbarn, 7-inch Bully Sticks
▪ TruPet, Treat Me Crunchy Beef Delight treats
▪ Northwest Naturals, Chicken and Salmon
▪ Carnivore Meat Company, Vital Essentials Freeze-Dried Beef Nibblets Entrée for Dogs
▪ Kitten Grind raw pet food
Posted by John Woestendiek March 6th, 2018 under Muttsblog.
Tags: animals, arrow reliance, bully sticks, canned, darwin, darwin's naturals, diet, dog food, dog food recall, dogs, drug, dry, euthanasia, food, frozen, gravy train, health, kibbles 'n bits, listeria, northwest naturals, ol roy, pentobarbital, pet food, pets, raw, raws for paws, recall, recalls, redbarn bully sticks, safety, salmonella, skippy, smokehouse beefy munchies, smucker, steve's real foods, treats, trupet, warning, zoologics

Comments: 1
Be prepared to cringe a bit at this — just like you did with that flagpole scene in "A Christmas Story."
The unlucky dog was spotted attempting to pull her tongue free after it froze to a manhole cover in Vladivostok, Russia, where temperatures have been running around 5 degrees.
A good Samaritan spotted her and poured bottled water on her tongue hoping to free it.
After draining the bottle, the stranger shouts for help.
The dog is later shown free and apparently uninjured as she gets a pat from the good Samaritan.
It is not known if the dog had an owner or was a stray, or whether she received any treatment from a vet.
The video was made in Vladivostok on Thursday.
Posted by John Woestendiek January 31st, 2018 under Muttsblog, videos.
Tags: a christmas story, animals, cold, dog, dogs, flagpole, freeze, freezing, frozen, hazards, manhole, manhole cover, pets, russia, stuck, tongue, video, vladivostok, weather, winter

Comments: 1
Reports popped up across the country last week — both in the north and south — of dogs freezing to death after being left outside during a bitterly cold stretch of winter weather.
As single-digit temperatures gripped the eastern United States, local news outlets and animal welfare organizations were reminding people of what you would think any fool would know (but apparently they don't) — that freezing temperatures can hurt and kill your dog.
The news reports made that much clear.
Police in Hartford, Conn., charged a woman with animal cruelty after a neighbor reported a dog frozen to death and still chained to a small shelter outside a home.
In Toledo, a dog was found frozen to death on a front porch last week, and three other frozen dogs were discovered last week in Franklin County, Ohio. In Butler County, Ohio, north of Cincinnati, a man was charged with cruelty after his dog was discovered frozen.
"The dog was found in an outside dog house with no insulation. The dog was frozen to death due to the severe cold weather …" read a Facebook post from Sheriff Richard K. Jones. "Freezing to death is a horrible way for an animal to die."
In Michigan, Detroit Dog Rescue said a Pomeranian mix left outside its offices Monday night was found dead the next day. Another dog, found shivering in a barrel outdoors, was being treated for frostbite.
"Trying to escape the frigid temperatures he curled up and crouched down, but even his underbelly and penis began to freeze," Detroit Dog Rescue said in a Facebook post. "His feet are so painful he doesn't want to stand."
In Aiken, S.C., a woman was cited after officers discovered a shivering dog chained outside in 15 degree temperatures, next to a puppy in a cage that appeared to have frozen to death.
In Knox County, Illinois, the owner of a black lab mix found eight newborn puppies frozen to death in the snow last week. According to WQAD, the owner claimed not to have known his dog, whom he kept outside despite below-freezing temperatures, was pregnant. A ninth puppy survived.
We could go on, but it's just too maddening — the lack of common sense that can exist in some humans.
"Dogs, cats and horses depend on our care, especially during life-threatening cold snaps. Take the animals in, or somehow provide a safe environment for them," Wayne Pacelle, president and chief executive of the Humane Society of the United States, said in a statement.
Dogs aren't immune from the cold, no matter how thick their coat. Bigger, furrier dogs, like huskies, can fare better in the extreme cold than a Chihuahua might. But all dogs can perish if left in extreme enough weather for long enough periods, as the chart above indicates.
Consult it, if you feel the need to. Better yet, just keep in mind that if it's too cold for you outside, it's too cold for pets.
(Graphic: Petplan.com)
Posted by John Woestendiek January 8th, 2018 under Muttsblog.
Tags: animals, arrests, cats, charges, cold, cruelty, dangers, dogs, freeze, freezing, frozen, frozen dogs, fur, hazards, inside, outside, pets, protection, temperatures, too cold, weather, winter

Comments: none
The police chief of Kingston, N.H., jumped into an icy lake to save a boy's dog — a Chihuahua-dachschund mix named Chloe.
Three-and-a-half-year-old Jason Bragg was standing on the edge of the lake watching as Chloe fell through the ice, then struggled unsuccessfully to pull herself out of the water, according to the Union-Leader in Manchester.
That's when Police Chief Donald Briggs Jr. arrived, jumped in the water and began smashing the inch-thick ice to work his way 30 feet from shore to the yelping dog.
"It was obvious that the dog needed to be rescued," he later told the newspaper. "The dog kept slipping and going into the water even deeper and my fear was that it was going to drown."
Briggs brought Chloe back to the beach, where she was wrapped in a blanket and rushed to Plaistow-Kingston Animal Medical Center. Chloe was treated for hypothermia and reunited with the family Tuesday afternoon.
Chloe had escaped from the deck of her home and wandered onto the ice. Jason and his mother were able to find her, but when they called her back, she fell through the ice. The boy's mother, who called 911, said it was fortunate the chief arrived quickly.
"I appreciate it so much. He basically saved her life," she said. "The vet said that if she had been in there any longer, she wouldn't have been so lucky."
(Photo by DAVID LANE / Union-Leader)
Posted by John Woestendiek April 1st, 2011 under Muttsblog.
Tags: animals, chief, chihuahua, chloe, dachschund, dogs, donald briggs jr, fell, frozen, ice, jason bragg, kingston, lake, new hampshire, pets, police, police chief, rescue, rescued, save, saved, saves

Comments: 2
"All Over Albany" has noticed that dog poop is, well, all over Albany — and they've fashioned a helpful flow chart to help address the (fecal) matter.
(Click on the illegible version above to be taken to the full size chart. Then come back, for this isn't just an upstate New York issue, but a national, nay, global one.)
At my park in Baltimore, and probably your's, it seems that, when the snow and cold arrive, the manners of some otherwise responsible dog owners depart.
Whether it's because people don't want to traipse throught the snow to scoop it up, or because it's just so darned cold, there are a lot more lingering dog droppings to be seen, and stepped in.
In a perfect world, those not scooping would be the ones stepping in it — but it never seems to work out that way.
And while, granted, solidly frozen poopage won't despoil your footwear, neglected droppings, amid continued freeze and thaw, can come back to haunt us.
"We've thought a lot about this issue," Alloveralbany.com reported in a piece last month. "And we finally came to the conclusion that winter somehow impairs the ability of some people to make good decisions about whether they should pick up their dog's poop.
"So, we're here to help. We've constructed a flow chart to assist citizens of the Capital Region in their decision-making process on the all important question: 'It's winter. My dog has pooped. What now?'"
Posted by John Woestendiek January 29th, 2011 under Muttsblog.
Tags: albany, all over albany, animals, civility, cold, dog, dog poop, dog poop flow chart, dogs, feces, flow chart, freezing, frozen, ice, manners, pet owners, pets, pick up the poop, pick-up, poop, poopsicle, responsible, scoop, shit, snow, turd, waste, weather, winter, wintry

Comments: 3
Nature's Variety has expanded its voluntary recall of all Chicken Formula and Organic Chicken Formula products with a "Best If Used By" date on or before 2/5/11.
Nature's Variety has received new test results from an outside facility that indicate that its Chicken Formula Raw Frozen Diet, issued under the "Best If Used By" dates of 10/29/10 and 11/9/10, may be contaminated with Salmonella.
The company — out of an "abundance of caution," it says — is also expanding the recall to include all Chicken Formula and Organic Chicken Formula Raw Frozen Diets for dogs and cats with any "Best If Used By" date on or before 2/5/11.
The products included in the expanded recall are:
UPC#7 69949 60130 2 – Chicken Formula 3 lb medallions
UPC#7 69949 60120 3 – Chicken Formula 6 lb patties
UPC#7 69949 60121 0 – Chicken Formula 2 lb single chubs
UPC#7 69949 50121 3 – Chicken Formula 12 lb retail display case of chubs
UPC#7 69949 60137 1 – Organic Chicken Formula 3 lb medallions
UPC#7 69949 60127 2 – Organic Chicken Formula 6 lb patties
The "Best If Used By" date is located on the back of the package above the safe handling instructions.
If you have purchased one of the affected products, you may return the unopened product to your local retail store to receive a complete refund, or exchange it for another variety. If your package has been opened, dispose of the raw food in a safe manner by securing it in a covered trash receptacle. Then, bring your receipt (or the empty package in a sealed bag) to your local retailer for a complete refund or replacement.
Posted by John Woestendiek March 9th, 2010 under Muttsblog.
Tags: cat food, chicken, chicken formula, chubs, contamination, diet, dog, dog food, exchange, food, frozen, medallions, nature's variety, news, organic chicken formula raw, patties, pet food, raw, raw diet, recall, refund, replacement, salmonella

Comments: none
Possible salmonella contamination has led to a recall of Nature's Variety frozen chicken diet for dogs and cats, according to the U.S. Food and Drug Administration.
The FDA said the Lincoln, Neb., company initiated a voluntary recall of its chicken formula raw frozen diet. The company said the recalled product is limited to:
3 lb chicken medallions (UPC# 7 69949 60130 2) with a "Best If Used By" date of 11/10/10
6 lb chicken patties (UPC# 7 69949 60120 3) with a "Best If Used By" date of 11/10/10
2 lb chicken chubs (UPC# 7 69949 60121 0) with a "Best If Used By" date of 11/10/10
The recalled dog and cat food was distributed across the United States, with limited distribution in Canada.
Consumers with the affected products may return them unopened for a refund or replacement, according to a message to customers at the Nature's Variety website. If the package has been opened, consumers should dispose of the raw food in a sealed container. The empty package can be returned, also in a sealed container, for a refund or replacement at the place of purchase.
Nature's Variety says no human or pet illnesses have been reported to date in connection with the products, and that no other Nature's Variety products are affected.
Salmonella can affect both humans and animals. Pets with salmonella infections may become lethargic and have diarrhea or bloody diarrhea, fever or vomiting. Some pets may experience only a decreased appetite, fever or abdominal pain.
Posted by John Woestendiek February 15th, 2010 under Muttsblog.
Tags: animals, best used date, cat food, cats, chicken, chubs, code, dog food, dogs, fda, food and drug administration, frozen, health, medallions, nature's variety, news, patties, pets, products, raw, raw diet, recall, upc

Comments: none