Tag: hair
Young dogs who are especially anxious and impulsive can grow gray hair on their muzzles prematurely — just like humans, a new study says.
Scientists involved in the study, published in the journal Applied Animal Behaviour Science, said they had long suspected stress led to premature gray around the muzzle in dogs, even though little research exists on the topic.
"Based on my years of experience observing and working with dogs, I've long had a suspicion that dogs with higher levels of anxiety and impulsiveness also show increased muzzle grayness," said Camille King, a Denver area veterinarian who led the study.
Author Temple Grandin also took part in the study, according to a press release from Northern Illinois University, King's alma mater.
To investigate, the researchers traveled to dog parks and veterinary clinics in Colorado, giving questionnaires to the owners of 400 dogs, CBS reported.
The owners answered 42 questions about their dogs' behavior, age and health, while the researchers took photos of each dog.
The researchers excluded dogs with light-colored fur. They focused just on dogs between ages 1 and 4, as older dogs could have gray fur simply from aging, the researchers said.
To gauge anxiety levels, the researchers asked about whether the dog destroyed things when left alone, had hair loss during vet exams or when entering new places, or cringed or cowered around groups of people.
To rate impulsivity, the researchers asked if the dogs jumped on people, whether they could be calmed, if they had difficulty focusing, and if they continued to be hyperactive after exercising.
Female dogs tended to have higher levels of grayness than male dogs did, the researchers found, and dogs that showed fearfulness toward loud noises and unfamiliar animals and people also tended to have increased grayness, they said.
In contrast, they said, grayness had nothing to do with the dog's size, whether it was fixed and whether it had any medical problems.

(Photos by John Woestendiek)
Posted by John Woestendiek December 20th, 2016 under Muttsblog.
Tags: aging, animals, anxiety, behavior, dog, dogs, fur, gray, grayness, grey, greyness, hair, impulsivity, muzzle, permaturely grey, pets, premature, prematurely gray, research, stress

Comments: 2
This is not a Halloween costume for your dog, though it could work for one.
And it's not a full body version of the ThunderShirt, though it could work as that, too.
It's not made for dogs with body issues, or to hide embarrassing skin conditions, or to keep them from delving nose first into regions of their body that are best left alone in polite company — though it could work for all those things, too.
No, this doggie leotard, sort of a combination between onesie and Snuggie, is called the Shed Defender, invented by a man who got tired of cleaning up hair shed by his dog, Harley.
According to the website for the Shed Defender, Tyson Walters was inspired to make it after he moved back home after studying at San Diego State University.
"I needed a solution to control Harley's hair; it was everywhere," he says on the website. "I had tumbleweeds of her hair on my hardwood floors. My car was close to ruined because of all the hair intertwined in the fabric. There was nothing I could do, just brush and brush and brush, and yet that still wasn't enough."
At first he had his mother start sewing a prototype. Then he turned to a professional seamstress.
The outcome, he says on the website, is a "flawless design that is not only effective, but also allows for a comfortable fit for the dog."
It is made of a "lightweight, breathable, stretchy athletic mesh that does NOT make the dog hot."
The Shed Defender is priced at $44.99 for a small, up to $59.99 for an XXL.
A video on the website shows how easily it can be put on a dog, and advises one to take special care when zipping it up, especially in the groin area.
"Once you take it off just shake it out or throw it in the dryer to remove the hair."
The outfit leaves the dogs tail and rear exposed, and it can be partially unzipped when the dog goes out to pee.
They come in a choice of vibrant colors, and Walters is reported to be contemplating adding a line fashioned like sports team jerseys.
(Photos and video from Shed Defender website)
Posted by John Woestendiek October 11th, 2016 under Muttsblog, videos.
Tags: animals, apparel, car, clothing, costumes, dog, dog hair, dog wear, dogs, hair, halloween, home, leotard, onesie, outfit, pet products, pets, shed, shed defender, shedding, snuggie, tyson walters

Comments: 1
Though we've become less than enamored with the World's Ugliest Dog Contest, and while we've never been fans of Donald Trump, we couldn't pass this one up.
It seems one of this year's contestants might be gaining voter support based on his Trump-like hairstyle.
His name is Himisaboo. He's half-dachshund, and the other half is believed to be either Chinese Crested or Xoloitzcuintli. He hails from Payette, Idaho.
The look, his owner says, is entirely natural — though in past ugly dog competitions (he has been in four) he has sported a mohawk style cut on the one spot of his body where he has hair.
"We figured whether people loathe the Donald or love the Donald, a vote for Himisaboo is a vote for a dog that looks like Donald Trump," owner Heather Wilson told KBOI 2News.
The contest — open to online voting — wraps up tonight when the winner will be announced.
In online voting, Himisaboo was running in second place as of yesterday.
(Photo: World's Ugliest Dog Contest, Sonoma-Marin Fair)
Posted by John Woestendiek June 24th, 2016 under Muttsblog.
Tags: animals, chinese crested, coat, contest, contestant, dachshund, dog, dogs, donald trump, hair, hairstyle, himisaboo, petaluma, pets, sonoma marin fair, ugliest, ugliest dog contest, worlds ugliest dog contest, Xoloitzcuintli

Comments: 1
A Cairn Terrier stolen from outside a grocery store in Seattle was tracked down by her owner — despite having been dyed black by the homeless woman suspected of the theft.
Waffles, a formerly blond and gray dog, is back home after police and a veterinarian determined she was indeed the same dog that Robert Lucier and his family had spent four days looking for.
"Thank goodness she had a microchip," Lucier told the New York Daily News.
The family had put up posters and searched for the dogs since she was stolen last week, while briefly left tied up outside a grocery store.
On Saturday, Lusicer received a tip from someone saying he saw a homeless woman "washing the paint" out of his dog in a public bathroom at Seattle Center. Lucier hopped on his bike and began searching the area.
He saw a woman with a dog that strongly resembled Waffles — except for being solid black.
He confronted the woman, who insisted it was her dog.
Lucier remained suspicious, especially after he got close enough to the dog to detect the scent of chemicals.
He said he and the woman wrestled a bit, and that's when three police cars pulled up.
Both sides insisted the dog was their's and a veterinarian was called in to check for a microchip.
Sure enough, the dog had one, identifying her as Waffles and Lucier as the owner.
She is back home now, and, after a few baths, still mostly black — but Lucier expects the coloring will fade away over time.
"She's still shocked. She's normally such a friendly, outgoing dog. She's still walking around with her tail between her legs," he said. "It's going to take a little time for her to get adjusted."
Waffle's family decided not to press charges against the woman who he said "has bigger problems" to deal with.
Posted by John Woestendiek September 22nd, 2015 under Muttsblog.
Tags: animals, black, cairn terrier, confrontation, dog, dogs, dye, dyed, found, fur, hair, homeless, lost, microchip, pets, police, reunion, reunited, search, seattle, stolen, theft, tied, waffles, woman

Comments: none
No surgical procedures were involved — thank God — but Japanese artist Aki Inomata and her dog, Cielo, have exchanged hair.
As an artistic exploration into the relationship between pets and their owners, Inomata has made a coat out of her own hair for her dog to wear, and a cape out of her dog's hair, which she can be seen modeling above.
It took several years of gathering the locks of herself and her dog, followed by much weaving, to assemble the hair and fur into wearable items.
An art installation that displays both coats, and a video of the process, is entitled, aptly enough, "I Wear the Dog's Hair, and the Dog Wears My Hair."
The coat exchange was an exercise in empathy, Inomata says.
"I have had various pets, and do so now as well," Inomata is quoted as saying in an article on DesignBoom.
"I believe that all people who have pets wonder at some point whether their pet is happy, and I face the dilemma of whether it is right to make a living creature into a pet. Within this context, I have had these animals appear in my artwork.
"My works take as their starting point things that I have felt within everyday experiences, and transplant the structure of these experiences analogically to the modes of life of the animals. The concept of my works is to get people to perceive the modes of life of various living creatures by experiencing a kind of empathy towards them."
Posted by John Woestendiek August 12th, 2014 under Muttsblog.
Tags: aki inomata, animals, art, artist, bond, cielo, coats, connection, dog art, dogs, dogs and humans, empathy, exhange, fur, hair, humans, i wear the dog's hair, japan, pets

Comments: none
I feel bad for what happened to Snickers the cat. But to be brutally honest, I'm having a hard time working up much sympathy for her owner.
Snickers died last week, shortly after arrival at the Hartford airport aboard Delta Flight 738.
Airline officials had promised Heather Lombardi, who had purchased the cat from a breeder in Utah and was having her delivered, that the cargo hold the cat would travel in was climate controlled.
If you can't guess what happened next, here's some additional information:
Snickers was 11 weeks old.
Snickers was a Sphynx, or hairless cat.
It is winter, and a particularly cold one.
Once a plane lands, the cargo area is depressurized, and that climate control stuff doesn't apply anymore.
Lombardi sent out an email blast to tell the world about "the worst tragedy I have ever personally experienced" — not to gain pity, or money, or, we'd hope, bolster her odds in a lawsuit. Instead, she says, she wanted to inform the world of the dangers of shipping a cat, by air, in winter.
With her two children, Lombardi arrived at the airport and was told to wait in the baggage area. Fifty minutes passed after the flight landed, the delay in unloading baggage being caused at least partly by a cargo hold latch that was stuck, she was told.
"I wasn't incredibly alarmed … I figured she would be fine as long as she wasn't outdoors," wrote Lombardi, who paid $290 to transport Snickers. Outdoors, it was 7 degrees.
Upon being handed the crate, Lombardi opened it and pulled Snickers out:
"The kitten was ICE cold, limp, and unresponsive. I IMMEDIATELY put her into my coat, grabbed my kids by the hands & ran out of the airport to get her into my car & cranked up the heat putting all vents on her as I rubbed her trying to warm her up. She couldn't lift or control any limbs, her breathing was labored, she had a blank stare in her eyes, and she let out a meow. As if to say help me — please. We rushed her to the emergency vet clinic, but to my utter devastation, on the drive, she let out a blood curdling cry & went completely limp …"
Ten minutes after handing the apparently lifeless cat to the vet, Lombardi was informed that Snickers was indeed dead.
"Her last hour of life was spent frozen & unable to escape. I am so utterly devastated — I cannot express to anyone how this feels. I am so sad for her, her little 11 week life lost for no reason. A tragedy that could have been prevented if the airline had valued her little promising life."
Delta told her it is investigating, but, she said, "the bottom line is that they can't bring her back to me or my family, there is nothing they can say or do to make this whole. We don't want a new kitten; we fell in love with HER. She was our new child & there is nothing that can be done to bring her home to us. Snickers lost her life unnecessarily …  Value life everyone, I have just experienced something I pray no one else has too. Don't let Snickers lost life be in vain, I pray you guys read this & maybe another animals life won't be lost to the cold & lonely Delta Cargo holds."
Reading over her summary of events, what stuns me most is that a customer would even consider having an 11-week-old hairless cat transported by air in the dead of winter. That the breeder would permit it is surprising as well. That Delta signed off on it is equally shocking.
So, much as we regret Snickers' passing, we, unlike Lombardi, wouldn't aim our anger solely at Delta. There appear to be plenty of humans to share the blame, including the one who — though her subsequent warning not to ship animals when it's below 30 degrees is valid — probably should have done a little more research and used a little more common sense before having her new hairless cat placed on a plane.
And we have to wonder a little bit, too — coldhearted as it may be at her time of clearly anguishing loss — why, any allergies aside, someone would opt for a pricey, high-maintenance novelty pet from the other side of the country when hundreds of cats are in the Hartford area's animal shelters, waiting for homes.
Heather Lombardi responds: 
"… I first wanted to thank you for bringing attention to what happened to Snickers. Knowledge is power & even if you don't agree with my actions & poor decision, not everyone knows or understands the risks of placing your pets in a climate controlled cargo hold. I myself was guilty of that. I do not place blame solely on Delta, my lack of knowledge & belief that travel was safe for animals in this weather was the obvious reason she was on the flight. It's why I decided to share her story. She died due to my lack of knowledge & an obvious service failure on Delta's behalf. I can't control Delta, their practices or policies, what I can control is how I handle the situation. I choose to raise awareness, and I thank you for helping with that."
Posted by John Woestendiek January 26th, 2011 under Muttsblog.
Tags: age, air travel, airplanes, airport, animals, blast, breeders, cargo, cargo hold, cat, cold, death, delta, email, exposure, grief, hair, hairless, hartford, heather lombardi, kitten, loss, mourning, novelty, pets, shipping, snickers, sphynx, transporting, travel, traveling with pets, winter, young

Comments: 17
Once upon a time in Butte, in a huge and barren expanse of waste that's part of the nation's largest Superfund site, there lived a dog.
Nobody knows how he got there, why he stayed, or how he managed to remain alive in the toxic confines of what's known as the Berkeley Pit. But live he did, for 17 years — during times of active mining, during its suspension, during its limited restart, during the ongoing clean-up effort and right up until the pit transitioned into one of the country's oddest tourist attractions.
He just showed up, back in 1986. Once miners figured out that the ghostly white image in the distance was a dog, they named him "The Auditor," because of his tendency to appear when he was least expected.
With matted ropes of white hair covering his legs, The Auditor — a Puli — sometimes appeared to be hovering when he moved, and he seemed to want nothing to do with humans. The miners would leave him food, and build him a house, and even started sticking baby aspirin in his food when they noticed he was limping, but The Auditor was mostly unapproachable up until the end.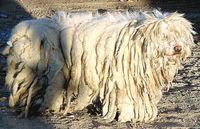 He died peacefully in his dog house in 2003, but The Auditor — like mining — would leave a legacy. His name would live on — in statues, in science, and as a symbol for, well, lots of things.
Appropriately enough, for a mining site in the midst of a massive EPA clean-up that will continue for generations, The Auditor had a coat like a mop.
His yellowing dreadlocks covered his eyes, too, limiting his vision — similar to the blind eye Montana once turned to the environmental havoc mining would wreak on and beneath its landscape.
But perhaps more than anything else, the mysterious white dog became a metaphor for Butte, and its ability to survive hard times — of the hardy stuff of which Montanans are made.
Butte's still kicking — though not the way it once kicked. It's about a third of the size it was in its heyday.  Once called the "Richest Hill on Earth" for its massive copper deposits, Butte in the early 1900s, boasted a population of 100,000.
When the mines shut down by 1982, Butte was left economically crippled and environmentally contaminated. Piles of mine waste and years of smoke from smelters contaminated the land and water around Butte with arsenic, mercury, lead and other metals.  
In the 1980s, the Berkeley Pit and Butte's historic Uptown District were declared a Superfund site — one that extends 130 miles downstream due to tailings that settled along the Clark Fork River.
The Auditor lingers too. After the local newspaper brought him to the public's attention in 2003, a campaign began to honor him with a series of statues, three of which now sit in various locations around town, honoring him not for any heroics, but solely for staying alive in a place where not much does.
Berkeley Pit lies just a few blocks from the center of Butte. It stretches a mile-and-a-half across and is almost 2,000 feet deep. Barren soil surrounds a lake laden with heavy metals. In 1995, a flock of migrating geese landed in the water. The next morning 342 were found dead.
How The Auditor managed to survive all that time is as mysterious as the dog himself. Maybe his rope-like locks, instead of soaking in the toxins, kept them from reaching his skin. Maybe the toxins weren't as toxic as thought. Maybe, as dogs do, he adapted to them. The only company still in operation at the site — after mourning his loss — had The Auditor cremated.
Normally, that would slam the door shut on the mystery — but Holly Peterson already had her foot in it.
Peterson, an environmental engineer at Montana Tech in Butte, saw the article about The Auditor — 16 years old by then — in 2003. It tugged at her heartstrings as well as her scientific curiosity.
"How can that not touch you?" she said over the weekend, sitting in her office, which is decorated with photos of The Auditor. "I kept wondering, how can that thing survive? With all the contamination in Butte, I started thinking, how can we study that in a different way?"
With her students, she began getting samples of hair from dogs in Butte and the surrounding areas, and when she ran into an official from the mining company, Montana Resources, at a presentation, she asked about getting a sample from The Auditor.
The Auditor was first seen roaming the mine in 1986, the year Montana Resources started its operations. The company, due to plunging copper prices, shut down operations there in 2000, leaving only a skelton crew, but reopened in 2003.
After getting permission from the company, Peterson went to the site, where a mining company employee, wearing gloves, approached The Auditor, on his last legs by then, and snipped off a few locks of hair.
"You could tell he just wanted us to leave him alone," Peterson said.
Tests on the sample in July of 2003 revealed "elevated levels of almost every element imaginable," Peterson said, including 128 times the amount of arsenic in a typical dog's hair.
Peterson's research project would expand from there, shedding new light on the extent of environmental degradation in Butte and introducing a new, if not conclusive, way to measure it and the continuing efforts to clean it up. Her work marked the first time pet hair has been used to monitor toxins in a residential Superfund site.
Since then, the project has moved on to testing the hair of animals in Australia and Nairobi, and sampling the hair of animals bagged by hunters back home in Montana. Through taking samples at hunter check stations, they found far higher levels of metals in animals shot in the area around Anaconda, once home to a huge smelting operation.
The Auditor, as it turned out, inspired Peterson on several levels. She was the one behind the effort to install statues of him — created by a Texas sculptor — at several locations around town, including the one she showed me at the Butte Plaza Mall.
It's made of bronze, with a copper patina that has worn off in spots from people petting it. Most of funding for the sculpture came from a California couple, who read of The Auditor in a Puli Club of America newsletter.
Peterson's hope was that The Auditor — after his death on Nov. 19, 2003 —  would become a mascot for Butte, or a mascot for environmental causes, that his legacy would serve as inspiration to others, and as a reminder to not abandon pets, or abuse the planet.
What she wasn't planning on was her own little Auditor.
Living with her 86-year-old mother, she didn't see a dog fitting into her life.
But after publicity about The Auditor, and connecting with the Puli Club, she started getting emails when a Puli would show up at a shelter in need of rescue.
That's how, three years ago, she ended up with Birke-Beiner.
"I couldn't pass him up when I saw the picture of him," Peterson said.
Birke-Beiner, who earlier in the day had gone to a Halloween Party — as a basket of yarn — came along on our trip to the mall, much of which he spent draped over Peterson's shoulder, looking something like a Lady Gaga fashion accessory.
Peterson says some people call him Little Auditor, but Birke is his own dog — playful, people-friendly and, one gets the impression, destined to live a happy and non-toxic life, far away from a giant hole in the ground known as the Berkeley Pit.
Posted by John Woestendiek November 2nd, 2010 under Muttsblog.
Tags: abandoned, animals, arsenic, auditor, berkeley pit, butte, contamination, dog, dog's country, dogs, dogscountry, environment, epa, hair, history, holly peterson, levels, memorial, metals, miners, mining, mining waste, montana, montana resources, montana tech, pets, puli, puli club of america, research, science, site, statue, stray, superfund, testing, tests, the auditor, toxic, travels with ace

Comments: 12