Tag: health
French bulldogs are now the most popular breed in New York and Los Angeles, and the fourth most popular nationwide, according to the American Kennel Club's annual ranking of breed popularity.
This year's national ranking show Frenchies climbing into the top five for the first time. Twenty years ago, the breed was 76th on the list.
And, no, we're not burying the lede here.
Yes, Labrador retrievers have once again been proclaimed America's most popular breed, but after 27 years in a row of that happening it hardly qualifies as news.
The French bulldog's rise is a fresher, more significant and more worrisome development, perhaps highlighting the divide between dainty big city breeds and those good ol' breeds we've long held dear.
The breed jumped two spots from number six to number four in 2017. In doing so, it knocked the beagle out of the top five for the first time since 1998, and further cemented its hold on the top spot in New York, Los Angeles, San Francisco and West Palm Beach.
Yes, it is a trendy breed, and an urban breed. A French bulldog is not going to retrieve that duck whose life you just ended. You're not going to see a French bulldog on the cover of Field and Stream.
One did make the cover of the Village Voice back in 2015, though, under the headline, "Don't Buy This Dog."
The breed had already become No. 1 in New York by then, and the article, by Michael Brandow, enumerated all the reasons that was a bad thing — chief among them the health problems the breed faces because of decades of inbreeding.
An excerpt:
"What's wrong with French bulldogs? Where should I begin? Generations of unwise inbreeding to no good end, far beyond what would be needed to keep their signature looks, have left these cartoon critters with low resistance to illness and allergies. Physically handicapped at birth (by cesarean, because the heads are, like the owners' pride, inflated) with squashed-in faces that are freakishly flat, they face serious challenges in performing some of any mammal's basic functions — like getting enough oxygen and keeping their bodies at a safe temperature. Life's burdens grow heavier under a long list of deformities preventing even mobility, and a task as simple as walking is no small feat."
New Yorkers didn't much heed the then-newsweekly's warning. Demand just kept increasing, and with it so did worries about unscrupulous breeders and under-informed owners.
AKC officials say they expect the popularity of the downsized bulldogs with the pointed ears to continue as more city dwellers look for a breed that is compact and relatively quiet.
"The French bulldog is poised for a takeover," AKC Executive Secretary Gina DiNardo said in a statement, noting the breed's "adaptability" and "loveable temperament."
Here are the top 10 breeds in the U.S., according to the AKC:
1. Labrador retriever
2. German shepherd
3. Golden retriever
4. French bulldog
5. Bulldog
6. Beagle
7. Poodle
8. Rottweiler
9. Yorkshire terrier
10. German short-haired pointer
Posted by John Woestendiek March 29th, 2018 under Muttsblog.
Tags: akc, american kennel club, beagle, breathing, breed, breed rankings, breeding, bulldog, deformities, french bulldog, frenchies, german shepherd, german shorthaired pointer, golden retriever, health, inbreeding, labrador retriever, los angeles, new york, poodle, popular, popularity, rankings, rottweiler, san francisco, trend, trendy, village voice, yorkshire terrier

Comments: 1
The J.M. Smucker Company has recalled two different kinds of Milo's Kitchen dog treats.
According to the Milo's Kitchen website, shipments of Milo's Kitchen Steak Grillers / Steak Grillers Recipe with Angus Steak and Milo's Kitchen Grilled Burger Bites with Sweet Potato and Bacon are being recalled over concerns of potentially elevated levels of a beef thyroid hormone.
The FDA says three dogs are known to have been sickened by the treats.
Dogs who have consumed high levels of beef thyroid hormone may show symptoms of increased thirst and urination, weight loss, increased heart rate and restlessness, according to the FDA.
The symptoms should subside once consumption of the treats is discontinued, but prolonged consumption can cause vomiting, diarrhea and labored breathing.
One of the first dog owners to report a problem with the treats was a Seattle area woman, whose Pomeranian-Chihuahua, named Teka, became ill at the end of last year.
"She was barely getting up. She wasn't running around. Her activity level was low and it clearly looked like she could die that weekend … She would just sit there and drink and drink and drink," Eide told KING5.
The dog was a gift to Eide's dying daughter, Karina.
"It was our daughter's 'Make A Wish' dog," Eide said. "She said, 'I know some kids want to go to Disneyland for Make a Wish. We'll have Teka forever'. It was our responsibility to take good care of her," Fernette said.
Karina passed away in 2014.
When Teka became ill, Eide took the dog to the vet, where abnormally high levels of thyroid hormones were detected.
After she reported the issue to the FDA, she was interviewed and supplied the agency with some of the treats.
The recall includes two flavors of the treats:
Milo's Kitchen Steak Grillers / Steak Grillers Recipe with Angus Steak:
UPC Code: 0 7910051822 7 Size: 18 oz. bag Best By Date: 11/15/2018
UPC Code: 0 7910051822 7 Size: 18 oz. bag Best By Date: 4/26/2019
UPC Code: 0 7910051823 4 Size: 22 oz. bag Best By Date: 4/26/2019
UPC Code: 0 7910052776 2 Size: 10 oz. bag Best By Date: 4/26/2019
Milo's Kitchen Grilled Burger Bites with Sweet Potato and Bacon:
UPC Code: 0 7910052126 5 Size: 15 oz. bag Best By Date: 11/19/2018
Posted by John Woestendiek March 27th, 2018 under Muttsblog.
Tags: animals, burger bites, dog, dog food, dog food recalls, dog treat recalls, dog treats, dogs, fda, health, j.m. smucker company, kitchen, milo's, milos kitchen, pets, recall, safety, steak grillers, thyroid hormone, treats

Comments: none
As a whippet named Tease was being crowned best in show at Crufts, protesters disrupted the prestigious UK dog show by running onto the field and unfurling a banner that read "Crufts: Canine Eugenics."
The owner of Tease grabbed her dog, Crufts officials quickly secured the trophy even more protectively, and it was all over in less than a minute, after the two protesters were promptly tackled by security officers and whisked away, along with their banner.
The protest broke out just as Yvette Short of Edinburgh lifted her dog onto the podium as the event's live feed broadcast across the globe.
People for the Ethical Treatment of Animals (PETA) took responsibility for the incident.
"Crufts glorifies pedigree fetishists' twisted pursuit of the 'perfect' dog," Elisa Allen, PETA's UK's director, told the Independent on Sunday. "There's nothing natural about breeding dogs with extreme and debilitating physical traits, and PETA urges everyone to stay away from this cruel beauty pageant."
Many animal welfare groups take issue with the over-breeding of pedigree dogs to meet arbitrary physical standards and at the expense of health problems and physical ailments, but none with quite the zeal of PETA.
In 2008, the BBC stopped broadcasting Crufts after 40 years following public outcry over health concerns that were raised by a BBC One investigation called "Pedigree Dogs Exposed."
The documentary focused on chronic health concerns that have resulted from breeders trying to attain physical standards The Kennel Club and breeders promulgate.
The Kennel Club, the organization behind Crufts, called the documentary "biased and selective," but went on to revise some of the least healthy breeding standards it calls for.
Still, "canine eugenics" remains a pretty apt description of what dog shows are all about.
After Sunday's demonstration, a Crufts spokesman said the protesters "scared the dogs and put the safety of both dogs and people at risk in a hugely irresponsible way."
We'd suggest that the security response to the protesters looked far scarier than anything those two were doing, and that the Kennel Club, over its long history, has behaved more irresponsibly than a couple of PETA protesters ever could.
Posted by John Woestendiek March 13th, 2018 under Muttsblog, videos.
Tags: animal welfare, animals, bbc, best in show, breeding, canine eugenics, crufts, demonstration, dog shows, dogs, health, pedigree dogs exposed, people for the ethical treatment of animals, peta, peta uk, pets, protest, security, standards, tease, the kennel club, uk

Comments: none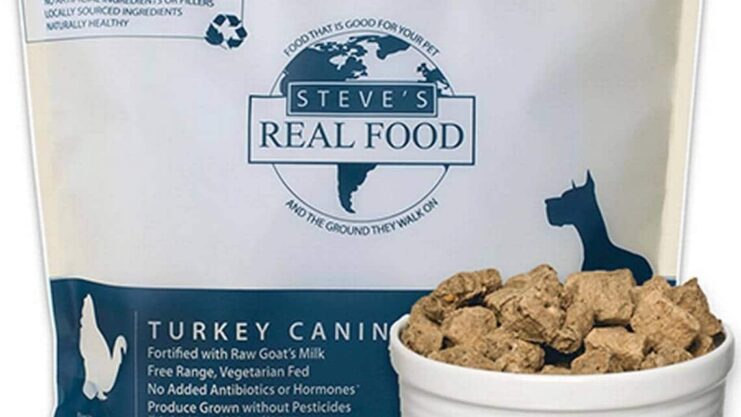 If it seems like there's a new pet food or treat being recalled every week recently, that's because it has gotten that bad.
Worse even.
We count ten since Feb. 8 — most of those of food and treats suspected of possibly being contaminated with salmonella.
The recalled products include dry food, canned food and raw food, treats and bully sticks.
Probably most notable of those recalled are the Gravy Train, Kibbles 'N Bits, Skippy and Ol' Roy brands of canned dog food made by the J.M. Smucker company. Pentobarbital, the sedative used to put dogs down, has been found in cans dating back to 2016.
Smucker released a statement on its website, confirming "extremely low levels of pentobarbital" have been found in "in select shipments."
On Sunday, it told the Miami Herald that the source of the drug was "animal fat was sourced from cow, chicken, and pig."
While those are common sources of pet food, animals euthanized with the drug are not supposed to end up in the food chain — for either dogs or humans.
Last week also saw the recall of an eighth pet food product suspected of containing salmonella or listeria in 24 days, Steve's Real Food's Raw Frozen Dog Food Turkey Canine Recipe, recalled one lot that was distributed to 21 states.
The Nebraska Department of Agriculture found salmonella when testing a retail sold sample.
The 5-pound bags in lot No. E 178 with a best by date of Sept. 17, 2018 went to retail stores in Florida, New York, New Jersey, Connecticut, California, Texas, Pennsylvania, Virginia, Colorado, Iowa, Kansas, Maryland, Michigan, Minnesota, Missouri, North Dakota, Nebraska, Oregon, Utah and Washington, according to the Miami Herald.
Dogs with salmonella can suffer from vomiting, diarrhea and fever.
Humans also can get salmonella, both from dogs and from handling contaminated food or touching unwashed surfaces that the food touched.
Those who have purchased the products should dispose of them and contact the company for a refund.
Other recalls and product withdrawals in the past month include:
▪ Raws for Paws ground turkey
▪ Smokehouse Beefy Munchies treats
▪ Arrow Reliance/Darwin's Natural ZooLogics Duck with Vegetable Meals for Dogs and ZooLogics Chicken with Vegetable Meals for Dogs
▪ Redbarn, 7-inch Bully Sticks
▪ TruPet, Treat Me Crunchy Beef Delight treats
▪ Northwest Naturals, Chicken and Salmon
▪ Carnivore Meat Company, Vital Essentials Freeze-Dried Beef Nibblets Entrée for Dogs
▪ Kitten Grind raw pet food
Posted by John Woestendiek March 6th, 2018 under Muttsblog.
Tags: animals, arrow reliance, bully sticks, canned, darwin, darwin's naturals, diet, dog food, dog food recall, dogs, drug, dry, euthanasia, food, frozen, gravy train, health, kibbles 'n bits, listeria, northwest naturals, ol roy, pentobarbital, pet food, pets, raw, raws for paws, recall, recalls, redbarn bully sticks, safety, salmonella, skippy, smokehouse beefy munchies, smucker, steve's real foods, treats, trupet, warning, zoologics

Comments: 1
The J.M. Smucker Co. is withdrawing some shipments of dog food amid reports that it could be tainted with traces of a drug used to euthanize animals.
The company said Thursday it is pulling back shipments of 27 of its brands, including canned Gravy Train, Kibble 'N Bits, Skippy and Ol' Roy brands.
It said it is investigating how the euthanasia drug pentobarbital got into its supply chain and is focusing on a single supplier of a minor ingredient used at one manufacturing facility.
The recalls come after WJLA-TV in Washington, D.C., said it tested 15 cans of Gravy Train and found nine cans, or 60 percent of the sample, tested positive for pentobarbital.
Smucker pointed out that the low levels of the drug cited in the report do not pose a threat to pets.
"However, the presence of this substance at any level is not acceptable to us and not up to our quality standards," the company said in a statement.
The company, based in Orrville, Ohio, said it does not use meat from euthanized animals in its pet food.
A consumer-level product recall has not been initiated, and neither Smucker nor any government agencies has said if any of the implicated dog food made it to retail shelves.
Smucker has requested retailers remove the potentially affected brands from their warehouses.
Read on for the full list:
Posted by John Woestendiek February 16th, 2018 under Muttsblog.
Tags: animals, brands, canned, cans, dog food, dogs, drug, euthanasia, gravy train, health, kibble 'n bits, ol roy, pentobarbital, pets, recall, report, safety, skippy, smucker, voluntary, washington, wjla

Comments: 2
Should an advertising executive and his wife who live in a $1.4 million home — she owning her own business, he making a six-figure salary — be asking for the public's help to pay for their dog's $10,000 surgery?
In retrospect, probably not — unless they're willing to be called "shameless," "pompous," "greedy," "selfish," and "narcissistic," and see themselves, and their yacht-cap wearing dog, roundly ridiculed on social media.
Richard Huntington, a chairman at the firm of Saatchi & Saatchi in London, and his wife, Annabel Bird, a fashioner designer who sells luxury dog products, made the plea after learning their dog Edward Lear needed surgery for elbow dysplasia in his front leg and torn cruciate ligaments in his two rear legs.
While they have pet health insurance, their policy set a limit on what it would pay — and that was only about a third of the cost being quoted to them by their celebrity vet Noel Fitzpatrick, star of the British TV show Supervet.
So they launched a Gofundme page with the aim of raising the additional £7,500.
On it, Annabel Bird wrote of the Welsh terrier, "I adore him more than anything in the world. Edward is a happy, friendly, popular dog who has lots of friends both in real life and on Instagram who check in everyday to see his adventures. (He is @edward.lear on instagram).
"All I want is for my funny little dog to be able to run around again like the crazy terrier he is and climb mountains in the Lake District and Snowdonia like he used to and enjoy his life to the fullest. He hasn't walked for more than ten minutes in four months and I feel so bad for him. He's missed out on so much fun and excitement."
The dog has received two of the three operations his vet says he needs.
The Gofundme campaign raised about £5,400 of the £7,500 goal when the couple closed it out.
Now, any member of the dog-loving community knows that such fund-raising pleas to cover the costs of veterinary surgery have become commonplace. Often they are legitimate. Sometimes they are scams. But those of this ilk are both disturbing and laughable.
It's hard to have much empathy for a family that could easily — even if they are having cash flow problems — sell that fourth car, cancel the country club membership or go to a non-celebrity vet.
The couple says the campaign was aimed more at close friends and family than the general public.
Still, it's not surprising, that their plea led to news coverage, and a barrage of criticism. What's more suprising is how many people donated.
"Thank you again to everyone who contributed …" Annabel Bird wrote on the GoFundme page. "Unfortunately, his page has received some negative press because of who my husband Richard works for … As you know, this page was set up for our friends and family and those of mine and Edward's Instagram followers who kindly asked to donate money to help with his recovery. This is not uncommon in the dog community on Instagram which is a wholly supportive and wonderful place to hang out."
(Photos: Edward Lear, from Instagram)
Posted by John Woestendiek January 29th, 2018 under Muttsblog.
Tags: advertising, animals, annabel bird, bet, campaign, celebrity vet, cost, crowdfunding, dog, dogs, donations, dysplasia, edward lear, executive, firm, gofundme, health, instagram, insurance, london, noel fitzpatrick, pets, richard huntington, saatchi & saatchi, sought, surgery, torn ligaments, uk, veterinary, wealth, welsh terrier

Comments: none
Thousands of poisoned syringes that were sold to dog meat vendors to instantly kill dogs on the streets have been seized by police in China.
The police investigation led to the discovery of a ton of dead dogs at a storage facility in the eastern province of Anhui, and the arrest of eight gang members who were selling the weapon in 20 provinces and regions across the China, the news agency Xinhua said.
Police believe the gang sold more than 200,000 poisoned syringes to vendors who hunted pets on the street and traded their meat with restaurants.
The syringes contained a large enough dose of the muscle relaxant suxamethonium to kill the dogs instantly — and enough to be toxic to any human later consuming the dog's meat.
Police said the needles were modified with a spring and a tailfin at the rear so they could be shot like a dart.
The Telegraph reported that the investigation into the gang began in September when police were tipped off by a postal worker who came across a suspicious package leaking a pungent smelling fluid.
They discovered 200 syringes in the package, and arrested the man who it was being delivered to in Huainan city, in Anhui.
Police then arrested two accomplices who shot the dogs in local streets, before finding a ton of frozen dogs at a nearby cold storage.
The men had frozen the meat and had planned to sell it in the winter.
Police also raided the gang's workshop in central China's Hubei Province, where they arrested another five men who were making the syringes.
At that site they discovered four kilograms of the chemical powder, 10,000 needles and 100,000 yuan, or more than $15,000, Xinhua said.
The poisoned darts have been in use for years. Two years ago, in Hunan province, a man who ran a dog meat-selling operation shot himself with one while demonstrating how to fire one with a crossbow. He died on his way to the hospital.
The other members of the operation were later arrested, and confessed to freezing the canine carcasses with the intention of selling the meat to restaurants.
"The dog meat trade in China is organized, large scale and facilitated by crime, with as many as 20 million dogs and four million cats killed every year," said Wendy Higgins, from the Humane Society International. "Stopping the gangs involved is a major step in the right direction."
She added: "The use of poison to catch dogs for the meat trade is a cruelty that very often sees people's beloved pets targeted, and the animals involved can suffer enormously."
Dog meat has long been consumed by humans in China and other Asian countries. It is eaten by a small minority of Chinese, and the practice is fading as dogs become a popular pet.
Posted by John Woestendiek December 14th, 2017 under Muttsblog.
Tags: animals, arrests, bow, china, cruelty, darts, dog meat, dog meat trade, dogs, gang, gun, health, investigation, kill, killing, muscle relaxant, needles, pets, poison, poisoned, police, restaurants, risk, seized, seizure, shot, street, syringes, vendors

Comments: none