Tag: health
Michigan State University has had its hands full with, and its coffers drained by, a sexual assault scandal involving the university physician who sexually abused young women under the guise of administering medical treatment.
Now comes another allegation, on behalf of a victim who is not a gymnast, but a bassett hound.
Joseph Hattey, a health physicist within MSU's Environmental Health and Safety office, has been charged with two counts of bestiality.
Hattey, according to a press release by the Michigan attorney general's office, penetrated the animal with his hand and his penis. It is not believed the crimes happened on the Michigan State University campus, and the dog was not one owned by the university.
Hattey, 51, had previously been assigned duties within the university's Veterinarian Diagnostic Laboratory.
The bassett hound is in custody of Ingham County Animal Control.
An MSU spokesperson issued this statement:
"Michigan State University was informed by the MSU Police Department on April 17 of a criminal investigation against Joseph Hattey, a health physicist with the Environmental Health and Safety Unit (note this position does not work with students, patients or animals). Hattey was immediately put on administrative suspension, pending the investigation. The university has been and will continue to cooperate with law enforcement officials on this matter. MSUPD is providing digital forensic support in the investigation."
Hattey entered a not guilty plea at his arraignment on the charges Monday. A preliminary hearing is set for June 21.
"These are merely allegations that have not been proven," Hattey's attorney, Alexander Rusek, told the Lansing State Journal. "Mr. Hattey pleaded not guilty in court today and looks forward to addressing the fact of the matter during the preliminary examination."
Michigan State University has been rocked by a sex scandal involving a university physician who also served as doctor for the U.S. Olympic women's gymnastics team.
The university, under the terms of a settlement, has agreed to pay $500 million to victims of Lawrence G. Nassar, who was sentenced to 40-125 years in prison.
That settlement is believed to be the largest ever reached in a sexual abuse case involving an American university.
Posted by John Woestendiek June 6th, 2018 under Muttsblog.
Tags: abuse, animals, arraignment, arrest, bassett hound, bestiality, charged, charges dropped, dog, dogs, gymnastics, health, ingham county animal control, investigation, joseph hattey, lansing, michigan, michigan state university, msu, nassar, pets, physicist, preliminary hearing, scandal, sexual abuse, sodomy, unnatural acts, victims

Comments: 1
At age 102, Milt Lessner had a little trouble locating a shelter or rescue that was willing to let him adopt a dog.
The retired psychiatrist has had dogs through most of this life and being without one — especially since the passing of his wife and their dogs several years ago — wasn't acceptable.
So he began contacting rescue organizations and shelters, most of which, after learning his age, opted to decline his offer of a forever home — given his forever likely wasn't all that long.
Finally, he found success through Lionel's Legacy, a rescue in San Diego that specializes in older dogs. They arranged for him to foster a dog name Layla for as long as he's able.
Layla is a senior herself, a mellow and affable little mutt and former stray, and as you might expect they have bonded. They've been together almost two years.
Milt is 104 now.
"In no time at all, we were quite friendly with each other," Milt told the BBC. "She's very conciliatory and very agreeable. "We're trying to stay in good health, both of us. So far, we've succeeded and we're still alive."
As a psychiatrist, Milt used to bring dogs to his sessions to help relax his patients. He knows the health benefits — physical and emotional — they can provide.
"I enjoy the familiarity with them, and the pleasantness, and the bonding – especially the bonding. I can't think of anything better," he says.
Laura Oliver, founder of Lionel's Legacy, says the pairing has benefited all involved.
"You can tell they're both smitten," she said.
(Photos: By Dona Tracy, via BBC)
Posted by John Woestendiek May 21st, 2018 under Muttsblog.
Tags: adoptions, aging, animals, bbc, california, dogs, elderly, forever home, fosters, health, layla, lionel's legacy, milt lessner, old, pets, rescues, san diego, seniors, shelters

Comments: 1
It's never really looked at it in its entirety, as one phenomenon, but how alike dogs and humans are — and keep becoming — continues to astound scientists around the globe.
Compassion? Both species seem to have it. Cognition? Dogs are quite capable of that, perhaps even exceeding us in certain areas. The diseases and disorders we get? Pretty much the same.
Not too many people look at the forest — at what all this, cobbled together, might mean — but scientists from particular disciplines, locked in a lab with a narrow focus, keep discovering new similarities, such as this latest one, deep in our intestines.
The microorganisms that live in dog's intestines are more similar to the microbes inside us than to those in other animals, says a new study published in the journal Microbiome.
The dog microbiome "has some of the same species [of bacteria] as the human's," said lead author Luis Pedro Coelhos, "but different strains."
The researchers were surprised because they expected that dogs would share only a few strains of bacteria with their owners. Instead, their intestinal flora could be cousins, says a summary of the study in Popular Science.
The study was not really about those similarities; it was aimed at better understanding canine weight loss.
Researchers at the European Molecular Biology Laboratory and Nestlé Purina Research worked with a sample of 32 beagles and 32 Labrador retrievers. Half of the members of each breed were overweight, while the other half were a healthy weight. For four weeks, they fed all of the dogs the same diet of Purina.
Then, they collected poop and conducted DNA analyses as they further altered the diets of the dogs.
They found the leaner dogs' microbiomes changed much less than that of the overweight dogs. The findings, they say, gave then a baseline for how a healthy dog microbiome should behave, and suggested dogs may be better subjects for research into human weight loss than other species that have been used for that purpose.
Jack Gilbert, a researcher at the University of Chicago's Microbiome Center who does research for Purina but was not involved in the study, told Popular Science the study was significant for what it showed about the similarities between the guts of dogs and our own.
"You can control a dog's diet much more than you can do a human's," says Gilbert. The same is true for pigs and mice, but the fact that dogs have such a similar microbiomes to humans means that studying their response to certain diets could produce the best results.
The cause of the similarities isn't entirely understood, but the study pointed out, "Dogs were domesticated early in modern human history and frequently shared food resources with humans."
Over time, their digestive systems might have grown even more like our's, and their obesity rates have come to mirror that of humans.
Further proof that we don't just like each other, we are like each other — and in ways that continue to be discovered, as we sit around learning, bonding, loving, overeating and growing fat together, becoming, more and more, reflections of each other.
(Photo: Digital Vision/Getty)
Posted by John Woestendiek April 24th, 2018 under Muttsblog.
Tags: animals, bacteria, diets, digestion, diseases, disorders, dna, dog, dogs, dogs and human, eating, european molecular biology lag, food, health, humans, intestines, microbiome, microorganisms, mirrors, pets, purina, reflections, research, science, similarities, studies, study

Comments: none
French bulldogs are now the most popular breed in New York and Los Angeles, and the fourth most popular nationwide, according to the American Kennel Club's annual ranking of breed popularity.
This year's national ranking show Frenchies climbing into the top five for the first time. Twenty years ago, the breed was 76th on the list.
And, no, we're not burying the lede here.
Yes, Labrador retrievers have once again been proclaimed America's most popular breed, but after 27 years in a row of that happening it hardly qualifies as news.
The French bulldog's rise is a fresher, more significant and more worrisome development, perhaps highlighting the divide between dainty big city breeds and those good ol' breeds we've long held dear.
The breed jumped two spots from number six to number four in 2017. In doing so, it knocked the beagle out of the top five for the first time since 1998, and further cemented its hold on the top spot in New York, Los Angeles, San Francisco and West Palm Beach.
Yes, it is a trendy breed, and an urban breed. A French bulldog is not going to retrieve that duck whose life you just ended. You're not going to see a French bulldog on the cover of Field and Stream.
One did make the cover of the Village Voice back in 2015, though, under the headline, "Don't Buy This Dog."
The breed had already become No. 1 in New York by then, and the article, by Michael Brandow, enumerated all the reasons that was a bad thing — chief among them the health problems the breed faces because of decades of inbreeding.
An excerpt:
"What's wrong with French bulldogs? Where should I begin? Generations of unwise inbreeding to no good end, far beyond what would be needed to keep their signature looks, have left these cartoon critters with low resistance to illness and allergies. Physically handicapped at birth (by cesarean, because the heads are, like the owners' pride, inflated) with squashed-in faces that are freakishly flat, they face serious challenges in performing some of any mammal's basic functions — like getting enough oxygen and keeping their bodies at a safe temperature. Life's burdens grow heavier under a long list of deformities preventing even mobility, and a task as simple as walking is no small feat."
New Yorkers didn't much heed the then-newsweekly's warning. Demand just kept increasing, and with it so did worries about unscrupulous breeders and under-informed owners.
AKC officials say they expect the popularity of the downsized bulldogs with the pointed ears to continue as more city dwellers look for a breed that is compact and relatively quiet.
"The French bulldog is poised for a takeover," AKC Executive Secretary Gina DiNardo said in a statement, noting the breed's "adaptability" and "loveable temperament."
Here are the top 10 breeds in the U.S., according to the AKC:
1. Labrador retriever
2. German shepherd
3. Golden retriever
4. French bulldog
5. Bulldog
6. Beagle
7. Poodle
8. Rottweiler
9. Yorkshire terrier
10. German short-haired pointer
Posted by John Woestendiek March 29th, 2018 under Muttsblog.
Tags: akc, american kennel club, beagle, breathing, breed, breed rankings, breeding, bulldog, deformities, french bulldog, frenchies, german shepherd, german shorthaired pointer, golden retriever, health, inbreeding, labrador retriever, los angeles, new york, poodle, popular, popularity, rankings, rottweiler, san francisco, trend, trendy, village voice, yorkshire terrier

Comments: 1
The J.M. Smucker Company has recalled two different kinds of Milo's Kitchen dog treats.
According to the Milo's Kitchen website, shipments of Milo's Kitchen Steak Grillers / Steak Grillers Recipe with Angus Steak and Milo's Kitchen Grilled Burger Bites with Sweet Potato and Bacon are being recalled over concerns of potentially elevated levels of a beef thyroid hormone.
The FDA says three dogs are known to have been sickened by the treats.
Dogs who have consumed high levels of beef thyroid hormone may show symptoms of increased thirst and urination, weight loss, increased heart rate and restlessness, according to the FDA.
The symptoms should subside once consumption of the treats is discontinued, but prolonged consumption can cause vomiting, diarrhea and labored breathing.
One of the first dog owners to report a problem with the treats was a Seattle area woman, whose Pomeranian-Chihuahua, named Teka, became ill at the end of last year.
"She was barely getting up. She wasn't running around. Her activity level was low and it clearly looked like she could die that weekend … She would just sit there and drink and drink and drink," Eide told KING5.
The dog was a gift to Eide's dying daughter, Karina.
"It was our daughter's 'Make A Wish' dog," Eide said. "She said, 'I know some kids want to go to Disneyland for Make a Wish. We'll have Teka forever'. It was our responsibility to take good care of her," Fernette said.
Karina passed away in 2014.
When Teka became ill, Eide took the dog to the vet, where abnormally high levels of thyroid hormones were detected.
After she reported the issue to the FDA, she was interviewed and supplied the agency with some of the treats.
The recall includes two flavors of the treats:
Milo's Kitchen Steak Grillers / Steak Grillers Recipe with Angus Steak:
UPC Code: 0 7910051822 7 Size: 18 oz. bag Best By Date: 11/15/2018
UPC Code: 0 7910051822 7 Size: 18 oz. bag Best By Date: 4/26/2019
UPC Code: 0 7910051823 4 Size: 22 oz. bag Best By Date: 4/26/2019
UPC Code: 0 7910052776 2 Size: 10 oz. bag Best By Date: 4/26/2019
Milo's Kitchen Grilled Burger Bites with Sweet Potato and Bacon:
UPC Code: 0 7910052126 5 Size: 15 oz. bag Best By Date: 11/19/2018
Posted by John Woestendiek March 27th, 2018 under Muttsblog.
Tags: animals, burger bites, dog, dog food, dog food recalls, dog treat recalls, dog treats, dogs, fda, health, j.m. smucker company, kitchen, milo's, milos kitchen, pets, recall, safety, steak grillers, thyroid hormone, treats

Comments: none
As a whippet named Tease was being crowned best in show at Crufts, protesters disrupted the prestigious UK dog show by running onto the field and unfurling a banner that read "Crufts: Canine Eugenics."
The owner of Tease grabbed her dog, Crufts officials quickly secured the trophy even more protectively, and it was all over in less than a minute, after the two protesters were promptly tackled by security officers and whisked away, along with their banner.
The protest broke out just as Yvette Short of Edinburgh lifted her dog onto the podium as the event's live feed broadcast across the globe.
People for the Ethical Treatment of Animals (PETA) took responsibility for the incident.
"Crufts glorifies pedigree fetishists' twisted pursuit of the 'perfect' dog," Elisa Allen, PETA's UK's director, told the Independent on Sunday. "There's nothing natural about breeding dogs with extreme and debilitating physical traits, and PETA urges everyone to stay away from this cruel beauty pageant."
Many animal welfare groups take issue with the over-breeding of pedigree dogs to meet arbitrary physical standards and at the expense of health problems and physical ailments, but none with quite the zeal of PETA.
In 2008, the BBC stopped broadcasting Crufts after 40 years following public outcry over health concerns that were raised by a BBC One investigation called "Pedigree Dogs Exposed."
The documentary focused on chronic health concerns that have resulted from breeders trying to attain physical standards The Kennel Club and breeders promulgate.
The Kennel Club, the organization behind Crufts, called the documentary "biased and selective," but went on to revise some of the least healthy breeding standards it calls for.
Still, "canine eugenics" remains a pretty apt description of what dog shows are all about.
After Sunday's demonstration, a Crufts spokesman said the protesters "scared the dogs and put the safety of both dogs and people at risk in a hugely irresponsible way."
We'd suggest that the security response to the protesters looked far scarier than anything those two were doing, and that the Kennel Club, over its long history, has behaved more irresponsibly than a couple of PETA protesters ever could.
Posted by John Woestendiek March 13th, 2018 under Muttsblog, videos.
Tags: animal welfare, animals, bbc, best in show, breeding, canine eugenics, crufts, demonstration, dog shows, dogs, health, pedigree dogs exposed, people for the ethical treatment of animals, peta, peta uk, pets, protest, security, standards, tease, the kennel club, uk

Comments: none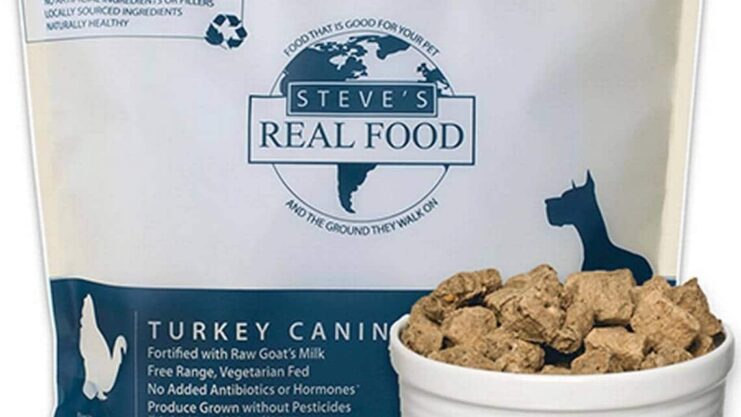 If it seems like there's a new pet food or treat being recalled every week recently, that's because it has gotten that bad.
Worse even.
We count ten since Feb. 8 — most of those of food and treats suspected of possibly being contaminated with salmonella.
The recalled products include dry food, canned food and raw food, treats and bully sticks.
Probably most notable of those recalled are the Gravy Train, Kibbles 'N Bits, Skippy and Ol' Roy brands of canned dog food made by the J.M. Smucker company. Pentobarbital, the sedative used to put dogs down, has been found in cans dating back to 2016.
Smucker released a statement on its website, confirming "extremely low levels of pentobarbital" have been found in "in select shipments."
On Sunday, it told the Miami Herald that the source of the drug was "animal fat was sourced from cow, chicken, and pig."
While those are common sources of pet food, animals euthanized with the drug are not supposed to end up in the food chain — for either dogs or humans.
Last week also saw the recall of an eighth pet food product suspected of containing salmonella or listeria in 24 days, Steve's Real Food's Raw Frozen Dog Food Turkey Canine Recipe, recalled one lot that was distributed to 21 states.
The Nebraska Department of Agriculture found salmonella when testing a retail sold sample.
The 5-pound bags in lot No. E 178 with a best by date of Sept. 17, 2018 went to retail stores in Florida, New York, New Jersey, Connecticut, California, Texas, Pennsylvania, Virginia, Colorado, Iowa, Kansas, Maryland, Michigan, Minnesota, Missouri, North Dakota, Nebraska, Oregon, Utah and Washington, according to the Miami Herald.
Dogs with salmonella can suffer from vomiting, diarrhea and fever.
Humans also can get salmonella, both from dogs and from handling contaminated food or touching unwashed surfaces that the food touched.
Those who have purchased the products should dispose of them and contact the company for a refund.
Other recalls and product withdrawals in the past month include:
▪ Raws for Paws ground turkey
▪ Smokehouse Beefy Munchies treats
▪ Arrow Reliance/Darwin's Natural ZooLogics Duck with Vegetable Meals for Dogs and ZooLogics Chicken with Vegetable Meals for Dogs
▪ Redbarn, 7-inch Bully Sticks
▪ TruPet, Treat Me Crunchy Beef Delight treats
▪ Northwest Naturals, Chicken and Salmon
▪ Carnivore Meat Company, Vital Essentials Freeze-Dried Beef Nibblets Entrée for Dogs
▪ Kitten Grind raw pet food
Posted by John Woestendiek March 6th, 2018 under Muttsblog.
Tags: animals, arrow reliance, bully sticks, canned, darwin, darwin's naturals, diet, dog food, dog food recall, dogs, drug, dry, euthanasia, food, frozen, gravy train, health, kibbles 'n bits, listeria, northwest naturals, ol roy, pentobarbital, pet food, pets, raw, raws for paws, recall, recalls, redbarn bully sticks, safety, salmonella, skippy, smokehouse beefy munchies, smucker, steve's real foods, treats, trupet, warning, zoologics

Comments: 1