Tag: history
When Mary Murphy died in San Francisco 35 years ago, a provision of her will named her dog, Sido — but not as what you might call a beneficiary.
Murphy asked in her will that Sido, an 11-year-old part collie, part sheepdog, be killed.
Murphy didn't want her dog languishing in a shelter, or ending up as part of a laboratory research project, and she feared that even if she did get adopted, her new family might not be as loving and caring as she had been.
In short, she thought Sido would be better off dead.
It all made for a fascinating little story (with big implications) back in 1980, with the case ending up in court and making it onto the June 17 broadcast of the "CBS Evening News with Walter Cronkite."
It was animal advocate Richard Avanzino who, after the terms of Murphy's will became known, took up Sido's cause, and took in Sido, serving as the dog's foster parent until things got straightened out in court. At the time, he was head of the San Francisco SPCA.
"There's no justification for her life to be taken," Avanzino said at the time. "She's committed no crime. The only crime that she committed was that she loved totally her master and for that she's been condemned to die."
CBS dug up the original news report this week, and reinterviewed Avanzino — soon to retire as head of Maddie's Fund, the largest dog and cat charity in the world.
Today, Avanzino considers Sido the original poster child for the no-kill movement.
"Sido was just the quintessential champion for animal rescue," he said. "I'm eternally grateful for the time that I had with her but more importantly for the great role she played in telling America that we can be a no-kill nation."
"I took Sido into my home realizing that the lawsuit would probably take months to resolve the outcome and Sido joined my family as a foster pet," Avanzino told CBS News this week from San Francisco.
Avanzino fought in court for Sido's life, arguing that the dog wasn't "property."
At the same time, he and others lobbied state politicians to work on a measure that would save Sido's life.
A bill was drafted, passed and sent to then-Governor Jerry Brown to consider.
The judge's ruling came the same day the governor signed the bill.
San Francisco Superior Court Judge Jay Pfotenhauer — whose name, CBS pointed out, translates to Paw-Slapper from German — decided that the killing of pets as personal property no longer had validity and that pets have rights.
Sido was spared, and spent the next five years as a member of Avanzino's family.
On Sido's 16th birthday, just hours before the cake was to be cut, Sido had a stroke and was rushed to UC Davis Veterinary School. She died three days later.
Avanzino says he believes Sido's case served to inspire animal lovers, and help stem the number of euthanizations across the country.
In 1980, 16 million dogs and cats were killed in shelters; today that number is closer to 2.7 million.
(Photos: Courtesy of Richard Avanzino)
Posted by John Woestendiek June 19th, 2015 under Muttsblog.
Tags: 1980, animals, case, cbs, court, dog, dogs, dogs as property, euthanize, flashback, history, law, legal, maddie's fund, mary murphy, news, pets, property, put down, report, richard avanzino, ruling, san francisco, san francisco spca, will

Comments: 1
A discovery at an ancient dog burial ground in Egypt proves, archaeologically, what history has already recorded — ticks have been around for a loooooong time.
At least one of the well-preserved parasites was found in a mummified dog's right ear.
According to LiveScience.com, it's the the first archaeological evidence of bloodsucking parasites plaguing dogs as far back as the era of Roman rule in Egypt.
French archaeologists found the infested dog mummy while studying hundreds of mummified dogs at the excavation site of El Deir in Egypt, known as the Dog Catacombs, during expeditions in 2010 and 2011.
The parasites included the common brown tick and louse fly.
"Although the presence of parasites, as well as ectoparasite-borne diseases, in ancient times was already suspected from the writings of the major Greek and Latin scholars, these facts were not archaeologically proven until now," said Jean-Bernard Huchet, an archaeoentomologist at the National Museum of Natural History in Paris.
The Dog Catacombs date to 747-730 B.C., and are dedicated to the Anubis, the Egyptians' jackal-headed god of the dead.
They were first documented in the 19th century, but weren't fully excavated until 2011 when a team led by Paul Nicholson, an archaeologist at Cardiff University in the United Kingdom, started examining the tunnels and their contents.
It's estimated the catacombs contain the remains of 8 million animals, mostly dogs and jackals.
Many appear to have been only hours or days old when they were killed and mummified. 
The Dog Catacombs are located at Saqqara, the burial ground for the ancient capital Memphis.
Posted by John Woestendiek September 26th, 2013 under Muttsblog.
Tags: ancient, archaeologists, archaeology, brown tick, burial, dog, dog catacombs, dogs, egypt, flies, ground, history, jackals, mummies, mummified, mummy, parasites, pests, site, ticks

Comments: 1
So he played a big role in getting a nation hooked on cigarettes. So he was the richest man in the state of North Carolina. So he was the sort of fat cat businessman from whom I tend to initially withhold respect — based on my automatic assumption that they had to crush a lot of butts on their way to the top of whatever heap they are on.
I wanted to hate him — for being the father of my addiction, for the fact that I can't finish this blog entry without taking a break for one of his products — but, after a little research, I think I almost like R.J. Reynolds, and, even more, the estate he left behind.
Ace and I hang out there at least once a week — roaming the 130 acres that were part of his 1,000-plus acre country home, known as Reynolda.
The mansion is an art museum now. There are formal gardens, and a one-time village that's now home to galleries, shops and restaurants.
But what we like best are the hiking trails that take you through thick woods and open meadows, rich with wildflowers and wildlife, past beds of pine needles and vines of  honeysuckle so pungently sweet they penetrate even a smoker's jaundiced nostrils.
I got my start in cigarettes at, probably, age 16, pilfering Salems from my mother. Then I moved on to unfiltered Pall Malls — also a R.J. Reynolds brand, and also pilfered, in this case from a neighbor.
I remember my mother used to put her Salems in little ceramic holders. The little cups with a dozen or so cigarettes in them could be found around the house, serving almost as decorations. She didn't smoke them that often, and when she did, she didn't inhale.
I did — first her throat-searing menthols, then the neighbor's filterless Pall Malls, before working my way up to Marlboros; those, after all, were perceived as the most manly, and didn't leave you spitting out little pieces of tobacco.
Like most smokers, I ponder quitting at least weekly, most recently last week as I walked the trails of Reynolda, past a vine of honeysuckle that was leaning out into the path, the tiny tendrils of its blossom waving in the wind, like beckoning index fingers.
If only I could be hooked on honeysuckle, I thought. If only its sweet essence could be inhaled. Then I realized that's exactly what I was doing. As I wondered if honeysuckle might be my salvation, I realized, if somebody studied it enough, honeysuckle could turn out to be bad for us too (though I don't see how something with "honey" and "suckle" in its name possibly could).
Then too — even if honeysuckle did satiate that urge, and even if I harvested my own and came up with a smokeless way to imbibe it — it would still lack that ease of use that plays such a big role in getting us hooked.
It was R.J. Reynolds who made smoking so convenient.
In 1913, Reynolds developed the pre-rolled, packaged cigarette. He priced them low, called them Camels, because Turkish paper was used, and they helped propel him to the top of the tobacco heap.
Reynold was born in Virginia to a tobacco-growing, slave-owning family. He attended two colleges, one of them in Baltimore, and went to work for his father before striking out on his own.
In 1874, he moved to what's now Winston-Salem to start his own tobacco company.  He started his own tobacco company in what was then Winston. There were 15 other tobacco companies in town, but his outgrew them all.
Reynolds was an astute businessman and a hard worker, and he quickly became a wealthy man. He married a woman 30 years his junior, his former secretary Mary Katherine Smith, who, historical accounts suggest, helped bring out his progressive and philanthropic sides.
She successfully urged him to shorten the work hours of employees, pay them more and provide them with meals, schools and nursery services.
When he built what would become Reynolda House, he also had a village constructed nearby where workers could live. It's now called Reynolda Village, a collection of restaurants and shops. Also on the grounds, golf being his passion, he commissioned a 9-hole golf course, which now serves as the grassy meadow where Ace likes to romp, or just rest.
Before he died, in 1918 of pancreatic cancer, Reynolds served as a city commissioner and helped get both property taxes and income taxes approved.
He also granted endowments to Guilford College, the Oxford Orphan Asylum, and the Baptist Orphanage, in addition to a lot of  other charities and churches in the Winston-Salem community. He became the first southern man to establish a hospital serving African-Americans. He donated as well to establish the Slater Industrial School, which became Winston-Salem State University.
R.J. didn't get to enjoy Reynolda House too long. He died the year after it was completed.
His daughter, Mary Reynolds Babcock, would donate it for use as an art museum, and the Reynolds' philanthropic ways would continue. About 300 acres of the Reynolda estate was donated to Wake Forest University, which moved from the town of Wake Forest to Winston-Salem in 1956.
Today, the Reynolds family name is stamped on much of Winston-Salem, including the library at Wake Forest, the airport, a high school, a park and an auditorium, and the various components that make up Reynolda — Reynolda House, Reynolda Village, Reynolda Gardens.
(Having recently returned to my ancestral homeplace in Winston-Salem, moving into the modest apartment in which my parents lived when I was born, I thought about naming it and its adjoining patch of grass after me. But I'm only renting, and Woestendieka doesn't quite roll off the tongue like Reynolda.)
My honeysuckle encounter, and the hours I've spent slow-walking with Ace around Reynolda, have got me thinking I need to do more walking and less smoking, more pursuing of health and less feeding of urges. They've gotten me thinking too about how times change, and how things we were told were OK turn out not to be –  like slavery and smoking, which, not to diminish the massive evil of the former, have much in common.
I don't blame R.J. Reynolds for inflicting the scourge of cigarettes on society. He was a product of his times, peddling a product of his times, and pouring some of the profits back into his community. Far more devious, I think, were the subsequent generations of tobacco pitchmen and the marketing techniques they used, aimed as they were at young people (Camels) and women (Virginia Slims and Eve).
Light up — if you want to be cool, if you want to be sexy, if you want to be liberated, or if you merely want to be a rugged Marlboro man.
Most of us — though it took decades — wised up and saw through that. Smoking is bad, and bad for you — always has been, always will be.
At least, maybe, until they come out with All Natural Smokeless Honeysuckle 100′s, which would have the added benefit of leaving you smelling sweet.
Then, and only then, will we have come a long way, baby.
(For more about visiting Reynolda with your dog, see our next entry.)
Posted by John Woestendiek June 8th, 2011 under Muttsblog.
Tags: ace, addictions, animals, cigarettes, company, dog, dogs, donations, evils, habits, hiking, history, honeysuckle, marketing, north carolina, pets, philanthropy, reynolda, reynolda gardens, reynolda house, reynolda village, reynolds, rj reynolds, slavery, smokers, smoking, tobacco, trails, winston-salem

Comments: 3
"The beaches are clean where once they festered with fish guts and flies. The canneries which once put up a sickening stench are gone, their places filled with restaurants, antique shops and the like. They fish for tourists now, not pilchards, and that species they are not likely to wipe out."
John Steinbeck's return to a much-changed Monterey in 1960 was more bitter than sweet — he found it much improved cosmetically, and economically, but its old fishing character and its saltiness were gone.
It wasn't home anymore.
The town's transition from a sardine-based economy to a tourist-based one was well underway by then, and while that would ensure that Monterey would continue to thrive, seeing how much had been erased — fish guts and all — returned Steinbeck, a native of the area, to the kind of funk he seemed to teeter on the edge of, periodically, in "Travels with Charley." 
"My return caused only confusion and uneasiness," he wrote. "… Tom Wolfe was right. You can't go home again because home has ceased to exist except in the mothballs of memory."
If he were to return again today to this spic and span city by the sea, he'd likely be even more displeased. Cannery Row and Fisherman's Wharf are now full-fledged tourist attractions that, while giving nods to the past, no longer have much connection with it.
And, quite possibly, he'd be downright irate over how his name and likeness have become an integral part of the area's business and tourism marketing.
He probably wouldn't think much of the way his name has been seized by business operations large and small: Steinbeck Garden Inn, Steinbeck Jewelers, Steinbeck Mortgage, Steinbeck Travel, Steinbeck Credit Union, Steinbeck Country Bail Bonds.
Steinbeck shunned publicity. In fact, he once moved out of the area to avoid it. Maybe he'd be OK with his bust being on display, in Steinbeck Plaza, but to see his face flapping in the breeze on banners above the streets in Cannery Row? I'm guessing he wouldn't care for that.
The Steinbeck bust is right in the middle of things, and tourists regularly stop and have their photos taken with it. It faces away from the bay, toward the traffic, which probably wouldn't have been his preference, either. He stares, somewhat solemnly, into the distance. Not even Ace could get him to break into a smile.
Monterey, and the surrounding area makes much of its Steinbeck connection — Steinbeck Country, they call it — from the flatlands of Salinas to the hilly bayfront of Pacific Grove.
It was in the family cottage there, purchased by his father as a family retreat, that Steinbeck wrote several novels and got started on "Of Mice and Men."
Steinbeck stayed in the cottage with his wife Elaine, as he headed south through California and then back east on the trip that would become "Travels with Charley,"
He visited old haunts, at least those still standing, and old friends, at least those who were still around. Between the people who had died or moved away and the makeover the city had received, Steinbeck felt out of place.
"The place of my origin had changed, and having gone away I had not changed with it. In my memory it stood as it once did and its outward appearance confused and angered me."
Monterey was a new place. And Carmel, he wrote, "begun by starveling writers and unwanted painters, is now a community of the well-to-do and the retired. If Carmel's founders should return, they could not afford to live there…They would be instantly picked up as suspicious character and deported over the city line."
Ace and I visited Cannery Row, then drove by Steinbeck's former cottage in Pacific Grove to snap a quick photo. We found a nice spot, cliffside, near Lover's Point, to rest our weary paws.
We walked Fisherman's Wharf, which once served as the major port on the Pacific and whose fishermen once set off daily on quests for huge whales, and later tiny sardines — until overfishing brought the sardine industry, which thrived during the Depression, to a grinding halt in the 1950s. By 1960, as Steinbeck noted, tourists had become the city's salvation.
In the 50 years since, the supply of them has not depleted. I've visited Monterey  several times, first  in 1987, and a couple more times in the early 1990′s, once for a story at Ford Ord, the once massive military base that was shut down in 1994. This visit, I was surprised to see mostly emptiness on the massive Army base by the sea, built in the 1940s to train soldiers for World War II. And surprised, too, that, given our times, it hadn't been reopened.
Funny how sardines are limited, but we seem to have an endless supply of wars. Even over-warring doesn't seem to bring an end to that industry.
Ace and I stayed at Motel 6 near what used to be Fort Ord, in a town called Marina, which I don't even remember existing when I was last here. But we spent most of our time in Monterey, which, despite all the tourists trappings, despite never being my home, still never fails to touch my soul.
It's not because of anything man has built; it's not because John Steinbeck slept here. It's the pockets of nature that still exist between the seafood restaurants and wax museums and souvenir shops and boutiques. It's the topography, the way the peninsula stretches into the bay, and the wildlife that, despite all man's tinkering, still call it home.
To me, that, more than anything else — moreso even than the famous writer — is what still gives salt-free Monterey  character:
The pelicans, the gulls, the seals and sea lions and all the other squirmy sea life you can see, not just in the confines of the Monterey Bay Aquarium, but in their natural habitat.
If I ever return — and I hope I do — that will be why.
Posted by John Woestendiek November 24th, 2010 under Muttsblog.
Tags: ace, animals, bay, business, bust, california, cannery row, carmel, coast, dog's country, dogs, dogscountry, fisherman's wharf, fishing, history, home, home again, industry, john steinbeck, legacy, memorial, monterey, name, nature, pacific grove, pelicans, pets, salinas, sardines, statue, steinbeck, steinbeck country, tourism, tourists, travels with charley, wildlife

Comments: 2
When it came to Seattle, John Steinbeck found some charm in the downtown market area, but otherwise painted a bleak portrait. To him, by the time he and Charley rolled through the Emerald City, the flower was off the bloom. 
Seattle had boomed repeatedly before he arrived, thanks to lumber, gold, shipbuilding and Boeing; and, decades after he was gone, it would boom again, thanks to Microsoft, Amazon and a slew of other high tech and biotech companies that located there. 
The Seattle Steinbeck and Charley pulled into in 1960 was far different from the Seattle of today, and far different from the one he remembered — its rapid growth, in his view, having tarnished the land: 
"I remembered Seattle as a town sitting on hills beside a matchless harborage — a little city of space and trees and gardens … It is no longer so. The tops of hills are shaved off to make level warrens for the rabbits of the present. The highways eight lanes wide cut like glaciers through the uneasy land. This Seattle had no relation to the one I remembered. The traffic rushed with murderous intensity … 
"Along what had been country lanes rich with berries, high wire fences and mile-long factories stretched and the yellow smoke of progress hung over all, fighting the sea winds' efforts to drive them off … Everywhere frantic growth, a carcinomatous growth … I wonder why progress looks so much like destruction." 
That's not the Seattle I saw. 
To me, Seattle seems a city that has come to handle growth far better than most. It's one of America's most scenic, literate, educated, progressive, well off and environmentally conscious cities. It's green in all three meanings of the word. And it's highly dog-friendly. 
Maybe it's a case of the difference 50 years makes, or of how city leaders have taken control of the reigns of growth. Maybe, too, Steinbeck's less than flattering description was partly a result of being a little down when he arrived — what with his dog having been sick, himself being travel weary. Likely, Steinbeck — who waited several days in Seattle for his wife, who was having difficulty getting a flight –  was getting a little crabby. 
He spent three or four days luxuriating in his hotel room near the airport, watching "I Love Lucy" and other TV shows — not the best way to get one's fingers into the fabric of a city — as he waited for Elaine Steinbeck.
Once she arrived, they visited the downtown market before heading down the coast of Oregon together to California. Sections of the original manuscript recounting his time with his wife were later edited out of the book — the "we's" changed to "I's". 
"… I walked in the old part of Seattle, where the fish and crabs and shrimps lay beautifully on white beds of shaved ice and where the washed and shining vegetables were arranged in pictures. I drank clam juice and ate the sharp crab cocktails at stands along the waterfront. It was not much changed — a little more run-down and dingy than it was twenty years ago." 
Seattle — now better known for grunge than dinge — would continue to have it's ups and downs  after he left. Two years after Steinbeck's visit — the year "Travels with Charley" came out — Seattle was the site of the 1962 World's Fair. In the late 60s and early 70s, its economy took a turn for the worse – to the point that one local Realtor put up a now legendary billboard requesting that the last resident to exit turn off the light. 
Like all big cities, Seattle, during the suburbanization of America, faced seeing its core rot away — or, as Steinbeck described it: 
"… When a city begins to grow and expand outward, from the edges, the center which was once its glory is in a sense abandoned to time. Then the buildings grow dark and a kind of decay sets in, poorer people move in as the rents fall, and small fringe buinesses take the place of once flowering establishments…" 
The downtown Seattle I saw — unlike some — was still flowering, and thriving, as much as any place is thriving nowadays. 
It's all subjective, though. Our impression of a new place is based on the tiny part of it we see, what transpires in that process, the mood we're in while seeing it, and, often, who we see it with.
In my case, this time around I had two long-time residents serving as my hosts and tour guides. (More on them tomorrow.) 
Had I been on my own, I likely would have sought out and found the market, but I probably wouldn't have found what's called the first Starbucks.
I probably wouldn't have seen the view of the skyline from Kerry Park; the street performer that plays and juggles guitars, all while hula-hooping; or the hotel that bears the same name as my dog. (More on that Monday.)
I'd been to Seattle before, but only in a rush-in, pester-people, get-the-story, rush-out newspaper reporter kind of way. 
That — a hit and run — is not the correct way to meet a city. 
What is? 
Here again, maybe we can learn something from dogs. For starters, take your time. Forget your schedule, and all those other uniquely human notions. Instead, let the city hold its hand out to you. Circle it a time or two, explore the periphery, then approach it slowly. Give it a sniff and, if you like what you smell, maybe a lick. After that, you can jump up on it, snuggle with it, play with it, fetch what it throws, savor the treats it offers, even choose to become loyal to it.
In other words, to paraphrase the author whose route we are following, and who some might suggest failed to follow his own advice when it came to Seattle: Don't take the trip, let the trip take you.
Posted by John Woestendiek November 13th, 2010 under Muttsblog.
Tags: animals, cities, dog, dog friendly, dog's country, dogs, dogscountry, economy, environment, growth, history, impressions, industry, john steinbeck, market, pets, road trip, seattle, steinbeck, tourism, travel, traveling with dogs, travels with ace, travels with charley

Comments: 1
Here's my theory: The more ghost signs a town has, the more ghosts it probably has, too.
Butte, Montana, it should come as no surprise, has plenty. Of both.
Here are some of the ones that, during just 30 minutes of driving around town one day this week, we came across  – touting  cigars, beer and hotels that have all been long outlived by their hand-painted advertisements.
Flor de Baltimore was a cigar brand that appears to go back at least a century or so. I'm not sure if its named after Lord Baltimore, the founder of Maryland, or the city. I'm guessing Flor means flower, which isn't the first thing that Baltimore brings to my mind, but maybe the imagery the city evoked was different back then.
Most of the signs are for hotels — long since gone, but luxurious in their day, and even fireproof, which was a good thing considering all the mining executives who were probably lighting up Flor de Baltimores in their beds.
Those were the glory days, though — back when the copper mines were thriving and Butte was a rollicking city of 100,000.
Now, only about a third as many people live here. Mining, though it still goes on, is nowhere near what it once was. You can't find a good whorehouse when you need one (and they say the defunct one is haunted). And nobody's drinking Butte Special Beer. It was brewed by a company that, more than 100 years old, closed in 1963.
There's a big difference between what was in Butte and what is in Butte. Some look at Butte and see a depressing town; some see a fight-hardened survivor, a town that's testament to man's resiliency. Some see only its rough edges; some see its rich and colorful history, faded over time.
The New Tait hotel is not only not new anymore; it's non-existent, but the old sign remains, as does the building, since converted into apartments.
Butte is the hometown of Evel Knievel. One of its tops tourist draws is a huge mine pit, part of a Superfund site that encompasses the historic district as well. If towns can be eccentric, Butte is — and quite proudly so.
But it's also haunting — a place where the sun and clouds cast shadows that crawl, tarantula like, up and down its high hills; where mining has left poisons lurking, zombie like, beneath the surface.
Today, Butte is equal parts defunct and funky; gritty and, if you look hard, graceful. The ghost signs bring back memories of the freewheeling greatness that was; but they also are reminders to Butte that, in some ways, it's a has-been.
But has-beens — and I know some, personally – seem to love regressing to the glory days, recalling better times. When the present's not so great, the past seems more worth revisiting.
The trick is to not get stuck there — to appreciate what was, but keep looking at what could be … all, of course, while not forgetting to appreciate what is.
Before it fades away.
Posted by John Woestendiek November 3rd, 2010 under Muttsblog.
Tags: advertisements, advertising, america, animals, beer, butte, cigars, dog's country, dogs, dogscountry, environment, fading, flor de baltimore, ghost, ghost signs, hand painted, history, hotels, legacy, memories, mining, montana, nostalgia, painting, pets, road trip, signs, traveling with dogs, travels with ace, west

Comments: none
Once upon a time in Butte, in a huge and barren expanse of waste that's part of the nation's largest Superfund site, there lived a dog.
Nobody knows how he got there, why he stayed, or how he managed to remain alive in the toxic confines of what's known as the Berkeley Pit. But live he did, for 17 years — during times of active mining, during its suspension, during its limited restart, during the ongoing clean-up effort and right up until the pit transitioned into one of the country's oddest tourist attractions.
He just showed up, back in 1986. Once miners figured out that the ghostly white image in the distance was a dog, they named him "The Auditor," because of his tendency to appear when he was least expected.
With matted ropes of white hair covering his legs, The Auditor — a Puli — sometimes appeared to be hovering when he moved, and he seemed to want nothing to do with humans. The miners would leave him food, and build him a house, and even started sticking baby aspirin in his food when they noticed he was limping, but The Auditor was mostly unapproachable up until the end.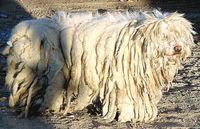 He died peacefully in his dog house in 2003, but The Auditor – like mining – would leave a legacy. His name would live on — in statues, in science, and as a symbol for, well, lots of things.
Appropriately enough, for a mining site in the midst of a massive EPA clean-up that will continue for generations, The Auditor had a coat like a mop.
His yellowing dreadlocks covered his eyes, too, limiting his vision – similar to the blind eye Montana once turned to the environmental havoc mining would wreak on and beneath its landscape.
But perhaps more than anything else, the mysterious white dog became a metaphor for Butte, and its ability to survive hard times — of the hardy stuff of which Montanans are made.
Butte's still kicking — though not the way it once kicked. It's about a third of the size it was in its heyday.  Once called the "Richest Hill on Earth" for its massive copper deposits, Butte in the early 1900s, boasted a population of 100,000.
When the mines shut down by 1982, Butte was left economically crippled and environmentally contaminated. Piles of mine waste and years of smoke from smelters contaminated the land and water around Butte with arsenic, mercury, lead and other metals.  
In the 1980s, the Berkeley Pit and Butte's historic Uptown District were declared a Superfund site — one that extends 130 miles downstream due to tailings that settled along the Clark Fork River.
The Auditor lingers too. After the local newspaper brought him to the public's attention in 2003, a campaign began to honor him with a series of statues, three of which now sit in various locations around town, honoring him not for any heroics, but solely for staying alive in a place where not much does.
Berkeley Pit lies just a few blocks from the center of Butte. It stretches a mile-and-a-half across and is almost 2,000 feet deep. Barren soil surrounds a lake laden with heavy metals. In 1995, a flock of migrating geese landed in the water. The next morning 342 were found dead.
How The Auditor managed to survive all that time is as mysterious as the dog himself. Maybe his rope-like locks, instead of soaking in the toxins, kept them from reaching his skin. Maybe the toxins weren't as toxic as thought. Maybe, as dogs do, he adapted to them. The only company still in operation at the site — after mourning his loss — had The Auditor cremated.
Normally, that would slam the door shut on the mystery — but Holly Peterson already had her foot in it.
Peterson, an environmental engineer at Montana Tech in Butte, saw the article about The Auditor — 16 years old by then — in 2003. It tugged at her heartstrings as well as her scientific curiosity.
"How can that not touch you?" she said over the weekend, sitting in her office, which is decorated with photos of The Auditor. "I kept wondering, how can that thing survive? With all the contamination in Butte, I started thinking, how can we study that in a different way?"
With her students, she began getting samples of hair from dogs in Butte and the surrounding areas, and when she ran into an official from the mining company, Montana Resources, at a presentation, she asked about getting a sample from The Auditor.
The Auditor was first seen roaming the mine in 1986, the year Montana Resources started its operations. The company, due to plunging copper prices, shut down operations there in 2000, leaving only a skelton crew, but reopened in 2003.
After getting permission from the company, Peterson went to the site, where a mining company employee, wearing gloves, approached The Auditor, on his last legs by then, and snipped off a few locks of hair.
"You could tell he just wanted us to leave him alone," Peterson said.
Tests on the sample in July of 2003 revealed "elevated levels of almost every element imaginable," Peterson said, including 128 times the amount of arsenic in a typical dog's hair.
Peterson's research project would expand from there, shedding new light on the extent of environmental degradation in Butte and introducing a new, if not conclusive, way to measure it and the continuing efforts to clean it up. Her work marked the first time pet hair has been used to monitor toxins in a residential Superfund site.
Since then, the project has moved on to testing the hair of animals in Australia and Nairobi, and sampling the hair of animals bagged by hunters back home in Montana. Through taking samples at hunter check stations, they found far higher levels of metals in animals shot in the area around Anaconda, once home to a huge smelting operation.
The Auditor, as it turned out, inspired Peterson on several levels. She was the one behind the effort to install statues of him — created by a Texas sculptor — at several locations around town, including the one she showed me at the Butte Plaza Mall.
It's made of bronze, with a copper patina that has worn off in spots from people petting it. Most of funding for the sculpture came from a California couple, who read of The Auditor in a Puli Club of America newsletter.
Peterson's hope was that The Auditor — after his death on Nov. 19, 2003 —  would become a mascot for Butte, or a mascot for environmental causes, that his legacy would serve as inspiration to others, and as a reminder to not abandon pets, or abuse the planet.
What she wasn't planning on was her own little Auditor.
Living with her 86-year-old mother, she didn't see a dog fitting into her life.
But after publicity about The Auditor, and connecting with the Puli Club, she started getting emails when a Puli would show up at a shelter in need of rescue.
That's how, three years ago, she ended up with Birke-Beiner.
"I couldn't pass him up when I saw the picture of him," Peterson said.
Birke-Beiner, who earlier in the day had gone to a Halloween Party — as a basket of yarn — came along on our trip to the mall, much of which he spent draped over Peterson's shoulder, looking something like a Lady Gaga fashion accessory.
Peterson says some people call him Little Auditor, but Birke is his own dog — playful, people-friendly and, one gets the impression, destined to live a happy and non-toxic life, far away from a giant hole in the ground known as the Berkeley Pit.
Posted by John Woestendiek November 2nd, 2010 under Muttsblog.
Tags: abandoned, animals, arsenic, auditor, berkeley pit, butte, contamination, dog, dog's country, dogs, dogscountry, environment, epa, hair, history, holly peterson, levels, memorial, metals, miners, mining, mining waste, montana, montana resources, montana tech, pets, puli, puli club of america, research, science, site, statue, stray, superfund, testing, tests, the auditor, toxic, travels with ace

Comments: 12