Tag: history
Our book is done, so Ace and I — Lord willing and the creek don't rise — are starting a new chapter.
For two years — yes, two — I've been assembling the book version of "Travels with Ace," which documents the year my dog and I wandered the country, tracing the path John Steinbeck took with his poodle Charley and venturing down some of our own.
Unlike "Travels with Charley" (the literary classic), "Travels with Ace" (the book in search of a publisher) is a more lighthearted account of road tripping with a dog across America. It's more laden with dogs, dog lore and dog facts, and delves more deeply into just what it is that makes you, me and America so bonkers over dogs.
Written by a former newspaper journalist (that would be me) whose massive mystery mutt altered the course of his life, the book looks at how we and our country have changed in the 50 years since Steinbeck and Charley circumnavigated America in a camper named Rocinante.
One recurring theme — as you might expect from a newspaper guy who watched his industry shrink and crumble, and who's approaching old manhood — is my grumbling and anxiety over technology, and where, besides unemployment, it might take us.
That theme showed up in my first book, too – about cloning dogs, a technology that, at least when it comes to pet owners, would be better off never having been invented, in my opinion.
It was, in large part, that first book that led to the second one. Seeing the lengths to which dog owners go upon losing, or learning they're about to lose, their dog — cloning being probably the most extreme of them — I decided that the best time to celebrate one's dog (and one's people) is while they're still alive.
So I showed my dog America, and came to the conclusion, among others, that while full speed ahead is sometimes fine, slowing down (which dogs can help with) and stepping backwards can be good, too.
Ace and I ended up in North Carolina — moving, backwards, into the same apartment unit my parents lived in when I was born. We stayed there until last week when — because the landlord sold it to a new owner — we were required to vacate the premises.
It was by accident, or maybe fate, that we ended up in Bethania, the oldest planned Moravian settlement in North Carolina, established in 1759.
Looking at boring apartment developments, Ace and I made a wrong turn, or two, or three, and found ourselves going down its bucolic Main Street, which is lined with historic homes. Bethania, while surrounded by Winston-Salem, is an independent jurisdiction, with a population of about 350. It feels like another world, and a very peaceful one at that.
Bethania is not to be confused – but often is — with Bethabara, which was the first Moravian settlement in North Carolina, established by 15 church members who walked here from Pennsylvania. Fleeing religious persecution, the German-speaking Protestants first came to the U.S. when it was still a group of British colonies. Once Bethabara became a thriving village, and became overcrowded with refugees, a second Moravian settlement was laid out — Bethania
After that, a third settlement was founded – Salem, which would become the congregation's headquarters and the biggest and best known of the villages of what was called Wachovia. Today, Bethabara is an historic park, Bethania is a little town, and Old Salem is a tourist attraction, where one can learn about the old ways
The Moravians were known for doing missionary work with local Indian tribes, and avoiding, on principal, violent conflict. Their cemeteries, such as God's Acre in Old Salem, are highly regimented affairs where the grave markers, in addition to being in neat rows and grouped according to the Moravian choir system, are all of the same size — a reminder that, as much as we might like or think we deserve a big ostentatious tombstone, we're all equal. I like that.
Bethania seems to reflect an attention to detail as well. Church members built their houses in the middle of town, and the orchards and farms they worked were on its periphery. I'm pretty sure my house was once orchard area.
It's quiet, and it feels like I'm out in the country, even though it's only 7 miles from downtown.
I knew I made the right decision on our new location when, at the town's visitor center, I inquired whether it would be okay to take my dog, on a leash, down the hiking trails behind it.
"You don't need a leash," came the reply.
While my home (1940-ish) isn't an historic one, I do live right across the street from one of those and, once I get some rocking chairs for the front porch, I can admire it all I want to.
Almost every home in Bethania has a front porch with two rocking chairs — and, while I'm pretty sure it's not required by local ordinance, I plan to follow suit
My little white house with a green tin roof has a fireplace in the living room, a grapevine in the backyard, room to plant lots of vegetables and a shed in which I plan to tinker with things. I'm not sure what things, but I definitely want to tinker.
I have a neighbor to one side, an empty lot on the other, and judging from the vines in the trees, I think I'll have some kudzu to look at, which some of you might remember I have a thing for.
There are a few things to do in Bethania other than watch the kudzu grow.
In addition to the visitor center, and the trails, there's a public golf course, Long Creek Club, just down the road (owned by my landlord); and the old mill in the center of town has been refurbished and sports several shops, studios, and the Muddy Creek Café, a dog friendly spot with live music on weekends.
I'm just a newcomer, but I suspect the biggest social hub is the Moravian Church, just a few hundred yards from my home. (In a bit of a coincidence, it's interim minister once graced the pages of ohmidog!)
I am not now a Moravian and have never been one, but I do have a family connection. She was considered my great aunt, though she wasn't a blood relative.
Kathleen Hall was born to another family, but grew up as a sister to my grandmother. We called her "Tan," believed to be derived from a mispronunciation of "aunt."
Every Easter, my mother instructs me to put a flower on Tan's grave at God's Acre in Old Salem — preferably purple, Tan's favorite color. I did that on Easter, and noticed, as in previous years, another flower, a white lily, was already there. Who leaves it every year is a mystery to us.
Tan, born in 1891, went on to become a beloved school teacher, and today there's a school named after her in Winston-Salem.
There's also a memory of her in my living room — her stitchwork covers a footstool my mother passed along to me years ago.
Given that connection, and the fact that the Moravian church is just a few hundred yards away from my new home, I may check it out — at least once I get my boxes unpacked and my Internet set up.
They do have that here — even though several internet/cable companies told me my address in Bethania doesn't exist.
One who uses Bethania as their mailing address can't get mail delivered. I could use Winston-Salem or Pfafftown as my mailing address, but I've opted to go with Bethania and avoid getting a mailbox. Instead, I'll walk three houses down to the little post office when I want my mail, which, given it's mostly bills, I usually don't.
Other than that, Bethania isn't one of those places stuck in the past, just a place that honors it. It's not like an Amish community. I'm pretty sure people aren't churning butter and blacksmithing. But there does seem to be a respect for times gone by, and the older I get, the more frustrated I get with my computer, and apps, and talking to robots on the phone, the more important that has become to me.
Despite my growing techno-anxiety, I will admit — after moving 20 or so boxes of books — that the Kindle might not be an entirely bad idea.
After the Saturday move, I woke up pretty sore on Easter Sunday.
I'd fully intended to take Ace to the Moravian sunrise service here in Bethania.
But the sound of rain on my new tin roof lulled me back to sleep.
Once I did wake up, Ace and I had Easter lunch with my mother, then dropped by God's Acre in Old Salem to pay respects to Tan and drop off a purple hyacinth. Then we headed back home.
So that's the tale of our new place, and a long way of saying our new address is:
PO Box 169
Bethania, NC, 27010
Posted by jwoestendiek April 5th, 2013 under Muttsblog.
Tags: ace, animals, bethabara, bethania, church, dog inc., dogs, hiking, history, home, house, john steinbeck, mill, moravians, move, moving, muddy creek cafe, north carolina, ohmidog!, old salem, pets, religion, salem, settlement, simpler, technology, trails, travels with ace, travels with charley, walking, way of life, winston-salem

Comments: 8
Our original plan was to simply post this song and dedicate it to Marylanders who have pit bull type dogs as companions — they being stressed out now over the state's highest court badmouthing their loved ones, and the implications that might carry.
But then, as sometimes happens, we got fascinated with its backstory, and attempted to pin down the song's history, which is difficult to do nowadays with all the bogus flotsam — like pit bull myths — that bobs to the surface on the Internet.
We think we got to the root of it, though, and we still dedicate it to Maryland pit bull owners, whose dogs aren't nearly as "inherently dangerous" as sweeping, ill-informed court rulings.
To them we dedicate all three versions of the song we're showing you here, even the Yugoslavian one.
We began, above, with one by Lulu Belle and Scotty, a husband and wife, both now deceased, from the mountains of North Carolina. It was recorded during a radio performance, which Lulu Belle only slightly flubbed.
Next we offer you this rendition — combining a 1926 recording by Gid Tanner & the Skillet Lickers with some Walt Disney animation, circa 1924, in which a dog catcher gets his due. Don't try this at home, for it would make you a terrorist, and, in the U.S., only courts and governments are allowed to instill terror.
It cuts the song short, leaving out a last verse, so here are the full lyrics:
Me and old Lem Briggs and old Bill Brown
Took a load of corn to town
Old Jim dog, the on'ery pup
He just naturally followed us up
Chorus:
Every time I come to town
The boys go to kicking my dog around
Makes no difference if he's a hound
Ya gotta quit kicking my dog around
As we driv' past the country store
A passel of yaps came out the door
Jim he scooted behind a box
Showered him with sticks and rocks
They tied a tin can to his tail
And run him past the county jail
That just naturally makes me sore
Bill he cussed and Lem he swore
Me and Lem Briggs and old Bill Brown
Lost no time a-getting down
We whupped them fellers to the ground
For kickin' my old dog, Jim, around
Jim seed his duty there and then
He sure let into those gentlemen
He sure messed up that townhouse square
With rags and meat and hide and hair
While Gid Tanner & the Skillet Lickers are credited with first recording the song, it was written 14 years earlier and copyrighted in 1912 by Webb M. Oungst and Cy Perkins, a pseudonym for Mrs. William Stark, wife of a famous publisher of ragtime music.
Mrs. Stark used the pseudonym, it is said, because she was afraid the song would be rejected if it was known that a woman had written it.
The same year, Champ Clark, a Missouri Democrat adopted it as his  theme song in his campaign for the presidential nomination. He lost. Woodrow Wilson won.
Given the exposure, though, the song became briefly popular, and Witmark & Sons purchased the copyright for $10,000. Some accounts say the payments weren't met, which led to a lawsuit.
The Second Missouri Infantry chose it as their marching song, and there are those who have pushed over the years for it to become the state song, which given the state's not yet totally forgotten and overcome reputation for puppy mills probably would be a mistake.
I think it makes a better theme song for pit bulls, for no breed or type of dog gets more kicked around than them.
Here's the original sheet music
And here's the version recorded by Yugoslavian — back when it was still Yugoslavia — pop singer Diego Varagic, "Krcma Na Putu Za Tenesi."
Posted by jwoestendiek May 24th, 2012 under Muttsblog, videos.
Tags: appeals court, campaign, campaign song, candidate, champ clark, diego varagic, folk, gid tanner, history, inherently dangerous, lulu belle and scotty, maryland, missouri, pit bull, pit bulls, pitbull, pitbulls, presidential, ragtime, sheet music, skillet lickers, song, versions, video, walt disney, who wrote, ya gotta quit kickin' my dog around, you gotta quick kicking my dog around, yugoslavia

Comments: 1
Humane officials are appealing to Montreal residents for supplies and help to care for about 525 dogs seized on the weekend — the largest seizure of dogs in Quebec's history.
"We're calling on Montrealers to open up their hearts and give a desperately needed second chance to these dogs," Rebecca Aldworth, executive director of Humane Society International Canada, told The Gazette in Montreal.
On Friday night, officials raided a breeding operation in Clarendon, northwest of Ottawa, and began removing the dogs, a task that took until late Saturday night to complete.
Aldworth appealed for donations of dog toys, dog bowls and bedding. "We want these dogs to be as comfortable as we can make them," Aldworth said. "We're also calling on people to volunteer."
The dogs – of 30 different breeds, some pups, some full grown — are being housed in an emergency shelter in Montreal.
Officials say the animals were malnourished, and that many had skin ailments and breathing problems.
The Agriculture and Fisheries Department said the animals will remain in care until a judge rules on whether they should be returned to the owner or put up for adoption.
The dogs' owner, Charlene Labombard defended her operation — Paws "R" Us — Friday, and said the investigation was sparked by a disatisified customer.
Labombard says the facility has automated feeding equipment on every animal pen and that the visiting veterinarian would have told her if the puppies were malnourished.
People who want to donate dog toys, dog bowls and bedding, or who want to volunteer, should contact the Humane Society International Canada at info@hsicanada.ca or call 514-395-2914.
(Photo: Rebecca Aldworth with one of the seized dogs. By Robert J. Galbraith / Montreal Gazette)
Posted by jwoestendiek September 19th, 2011 under Muttsblog.
Tags: animals, breeders, breeding, breeds, canada, charlene labombard, clarendon, dogs, history, humane society international, largest, paws r us, pets, puppy mill, quebec, rebecca aldworth, seized, seizure

Comments: 3
Our travels have taken us into the past again — this time pretty far, 240 years or so, when my great-great-great-great-great-great-great-great grandfather was captured, convicted for his role in a pre-Revolutionary War uprising and sentenced to die.
Five years before the American Revolution officially began — under orders of North Carolina Royal Gov. William Tryon, being carried out by Col. Edmund Fanning — grandpa James was placed atop a barrel (by most accounts) in Hillsborough, North Carolina. The noose of a rope secured to a tree limb was looped around his neck, and he was permitted a few last words.
Among the things James Pugh said, and the quote that still lingers — it being a precursor of what Nathan Hale would later, and far more famously, utter from the gallows — was this:
"The blood that we have shed will be as good seeds sown in good ground — which soon shall reap a hundredfold!"
On the gallows, grandpa James — and who could blame him for being verbose, given the circumstances — reviewed the causes of the conflict he'd been captured during. He explained that the band of rebellious backwoods farmers he'd been swept up with, known as the Regulators, were seeking only a redress of grievances. And he reiterated the call for an end to unfair taxation and local government corruption, especially in the sheriff's office.
He had been granted 30 minutes to talk, which might be considered generous were it not for the sentence that was to be carried out when he finished, prescribed by the court thusly:
"That the prisoner should be carried to the place from whence he came, that he should be drawn from thence to the place of execution and hanged by the neck; that he should be cut down while yet alive; that his bowels should be taken out and burned before his face; that his head should be cut off, and that his body should be divided into four quarters, which were to be placed at the king's disposal, and may the lord have mercy on your soul."
Speaking from atop the barrel, and apparently still well within his 30-minute time limit, grandpa James worked in one last verbal jab at Col. Fanning — a Yale-educated dandy (my words) — calling him "unfit to hold any office." Fanning, whose home had been ravaged by rioting Regulators the previous year, ordered a soldier to kick over the barrel, snapping grandpa James' neck in mid-sentence.
Whether the additional terms of his sentence were carried out — the bowel burning and quartering and such — seems lost to history. But grandpa James, who was convicted not of murder but of violating a government order aimed at quelling uprisings, was later buried, in whole or in parts, along the peaceful green banks of the Eno River, along with five other Regulators captured and hung after what's known as the Battle of Alamance.
Fortunately — for me anyway — great (times eight) grandpa James had already sown his personal seeds by then, or at least the one from which I, many generations later, would sprout.
I did not learn of grandpa James until I was in my 40′s, which is maybe a good thing because it would not have made for a nice bedtime story.
Once I did, I began researching, sporadically, the history of the Regulators, who over the centuries have been viewed as everything from outlaws to heroes to hillbillies to the true instigators of what would become the Revolutionary War. There are some who have described the bloodshed at the Battle of Alamance — grandpa James being responsible for much of that spillage — as that war's first battle.
That, I've concluded, despite it being engraved on at least one historical marker, is a bit of a stretch. Historical markers, like the Internet, are not to be trusted.
My family connection with a pre-Revolutionary revolutionary, a rabble rouser before it became cool, has prompted some personal speculation.
I don't put much stock in genes being the force that primarily shape us — at least not when it comes to our hearts (in the non-organic sense) and minds and personalities — yet still I've wondered if grandpa James might be the source of my rebellious streak, my disdain for bureaucracies and my belief that public disturbances are often OK, because sometimes the public needs a good disturbing.
Might it explain — even though it existed long before I heard of him — my opposition to capital punishment, not to mention decapitation and bowel burning?
Did I inherit his tendency to go on too long, even if in my case that's limited to the written word?
Or, conversely, might his abrupt demise — that rudest of interruptions — be the reason I don't talk too much? I think not, since learned experiences aren't passed on through genes (despite what pit bull haters may say), especially those lessons learned a millisecond before, or at the time of death.
Most of all, as I look at the family tree, nooses and all, I wonder: Do I come from righteous activist stock, or rowdy outlaw stock, or is the line between those two sometimes so thin that its hard to separate one from the other? Was great-times-eight grandpa a felon, or folk hero?
There's more to this post. To read it in its uninterrupted entirety, see it on Travels with Ace.
(Top photos by John Woestendiek, John and Ace photo by Will Richardson, 14, of Hillsborough)
Posted by jwoestendiek August 10th, 2011 under Muttsblog.
Tags: alamance county, america, battle of alamance, corruption, dissent, edmund fanning, execution, family, family tree, forefathers, gallows, genealogy, government, hang, hanged, hanging, hillsborough, history, insurgents, james pugh, john woestendiek, north carolina, pugh, regulators, revolutionary war, road trip, taxation, travels with ace, william tryon

Comments: 1
So he played a big role in getting a nation hooked on cigarettes. So he was the richest man in the state of North Carolina. So he was the sort of fat cat businessman from whom I tend to initially withhold respect — based on my automatic assumption that they had to crush a lot of butts on their way to the top of whatever heap they are on.
I wanted to hate him — for being the father of my addiction, for the fact that I can't finish this blog entry without taking a break for one of his products — but, after a little research, I think I almost like R.J. Reynolds, and, even more, the estate he left behind.
Ace and I hang out there at least once a week — roaming the 130 acres that were part of his 1,000-plus acre country home, known as Reynolda.
The mansion is an art museum now. There are formal gardens, and a one-time village that's now home to galleries, shops and restaurants.
But what we like best are the hiking trails that take you through thick woods and open meadows, rich with wildflowers and wildlife, past beds of pine needles and vines of  honeysuckle so pungently sweet they penetrate even a smoker's jaundiced nostrils.
I got my start in cigarettes at, probably, age 16, pilfering Salems from my mother. Then I moved on to unfiltered Pall Malls — also a R.J. Reynolds brand, and also pilfered, in this case from a neighbor.
I remember my mother used to put her Salems in little ceramic holders. The little cups with a dozen or so cigarettes in them could be found around the house, serving almost as decorations. She didn't smoke them that often, and when she did, she didn't inhale.
I did — first her throat-searing menthols, then the neighbor's filterless Pall Malls, before working my way up to Marlboros; those, after all, were perceived as the most manly, and didn't leave you spitting out little pieces of tobacco.
Like most smokers, I ponder quitting at least weekly, most recently last week as I walked the trails of Reynolda, past a vine of honeysuckle that was leaning out into the path, the tiny tendrils of its blossom waving in the wind, like beckoning index fingers.
If only I could be hooked on honeysuckle, I thought. If only its sweet essence could be inhaled. Then I realized that's exactly what I was doing. As I wondered if honeysuckle might be my salvation, I realized, if somebody studied it enough, honeysuckle could turn out to be bad for us too (though I don't see how something with "honey" and "suckle" in its name possibly could).
Then too — even if honeysuckle did satiate that urge, and even if I harvested my own and came up with a smokeless way to imbibe it — it would still lack that ease of use that plays such a big role in getting us hooked.
It was R.J. Reynolds who made smoking so convenient.
In 1913, Reynolds developed the pre-rolled, packaged cigarette. He priced them low, called them Camels, because Turkish paper was used, and they helped propel him to the top of the tobacco heap.
Reynold was born in Virginia to a tobacco-growing, slave-owning family. He attended two colleges, one of them in Baltimore, and went to work for his father before striking out on his own.
In 1874, he moved to what's now Winston-Salem to start his own tobacco company.  He started his own tobacco company in what was then Winston. There were 15 other tobacco companies in town, but his outgrew them all.
Reynolds was an astute businessman and a hard worker, and he quickly became a wealthy man. He married a woman 30 years his junior, his former secretary Mary Katherine Smith, who, historical accounts suggest, helped bring out his progressive and philanthropic sides.
She successfully urged him to shorten the work hours of employees, pay them more and provide them with meals, schools and nursery services.
When he built what would become Reynolda House, he also had a village constructed nearby where workers could live. It's now called Reynolda Village, a collection of restaurants and shops. Also on the grounds, golf being his passion, he commissioned a 9-hole golf course, which now serves as the grassy meadow where Ace likes to romp, or just rest.
Before he died, in 1918 of pancreatic cancer, Reynolds served as a city commissioner and helped get both property taxes and income taxes approved.
He also granted endowments to Guilford College, the Oxford Orphan Asylum, and the Baptist Orphanage, in addition to a lot of  other charities and churches in the Winston-Salem community. He became the first southern man to establish a hospital serving African-Americans. He donated as well to establish the Slater Industrial School, which became Winston-Salem State University.
R.J. didn't get to enjoy Reynolda House too long. He died the year after it was completed.
His daughter, Mary Reynolds Babcock, would donate it for use as an art museum, and the Reynolds' philanthropic ways would continue. About 300 acres of the Reynolda estate was donated to Wake Forest University, which moved from the town of Wake Forest to Winston-Salem in 1956.
Today, the Reynolds family name is stamped on much of Winston-Salem, including the library at Wake Forest, the airport, a high school, a park and an auditorium, and the various components that make up Reynolda — Reynolda House, Reynolda Village, Reynolda Gardens.
(Having recently returned to my ancestral homeplace in Winston-Salem, moving into the modest apartment in which my parents lived when I was born, I thought about naming it and its adjoining patch of grass after me. But I'm only renting, and Woestendieka doesn't quite roll off the tongue like Reynolda.)
My honeysuckle encounter, and the hours I've spent slow-walking with Ace around Reynolda, have got me thinking I need to do more walking and less smoking, more pursuing of health and less feeding of urges. They've gotten me thinking too about how times change, and how things we were told were OK turn out not to be –  like slavery and smoking, which, not to diminish the massive evil of the former, have much in common.
I don't blame R.J. Reynolds for inflicting the scourge of cigarettes on society. He was a product of his times, peddling a product of his times, and pouring some of the profits back into his community. Far more devious, I think, were the subsequent generations of tobacco pitchmen and the marketing techniques they used, aimed as they were at young people (Camels) and women (Virginia Slims and Eve).
Light up — if you want to be cool, if you want to be sexy, if you want to be liberated, or if you merely want to be a rugged Marlboro man.
Most of us — though it took decades — wised up and saw through that. Smoking is bad, and bad for you — always has been, always will be.
At least, maybe, until they come out with All Natural Smokeless Honeysuckle 100′s, which would have the added benefit of leaving you smelling sweet.
Then, and only then, will we have come a long way, baby.
(For more about visiting Reynolda with your dog, see our next entry.)
Posted by jwoestendiek June 8th, 2011 under Muttsblog.
Tags: ace, addictions, animals, cigarettes, company, dog, dogs, donations, evils, habits, hiking, history, honeysuckle, marketing, north carolina, pets, philanthropy, reynolda, reynolda gardens, reynolda house, reynolda village, reynolds, rj reynolds, slavery, smokers, smoking, tobacco, trails, winston-salem

Comments: 3
Here in the waning days of Travels With Ace – it has been just about a year since we pulled out of Baltimore some 27,000 miles ago — our journey is going in a different direction.
Backwards.
We're heading to the past, for multiple reasons.
One: Oftentimes you can get to the past pretty easily — without burning a lot of gas. Sometimes it can be a matter of letting your fingers do the walking through a dusty box of photographs, digging up that family tree your uncle once assembled, asking questions of your parents you never asked before, or getting in touch with a relative you've never met. While visiting the past we will, of course, continue to live in the moment (Ace insists upon it).
Two: We humans, in addition to getting too busy to live in the moment, also get so rushed to get where we're going  that we fail to appreciate where we've been. And even though the pace of our travels across America was more full dawdle than full throttle, life before that, jammed as it was with deadlines and pushy editors, is in some ways a blur. Sometimes the only thing that slows us down to a reasonable pace – enough to appreciate life, smell the roses, all that crap – is our dog.
Three: Our travels triggered memories, many grown hazy. That, along with the return to the state of my birth, to the town of my birth, to the exact same house of my birth, has sparked my interest in how I came to be on the planet. Realizing that I probably know more about the heritage of my dog than I do my own, prompts me to put at least a little effort into investigating the latter.
Not long after I got Ace six years ago, I decided – because I was constantly being asked what kind of dog he was, and since almost everything about him was a mystery, from his age to his breed to how he ended up in Baltimore's animal shelter – to find out what I could about his roots.
The result was a seven-part series in the Baltimore Sun about his heritage. In addition to being lengthy, it had a lot of those hanging thoughts set off between dashes — like in the paragraph above, and, hey, now this one, too — because that's the way I think and because I like making dashes.
The investigation included searching records, pestering the shelter he came from, consultations with veterinarians, at-home DNA tests to determine his breed, wandering the zip code he came from in hopes he would be recognized, and even turning to an animal communicator — an attempt to get the story from the horse's mouth, which in this case was a dog.
I learned Ace had been a stray, wandering the streets, spotted by a citizen who called animal control. He was picked up in southwest Baltimore and taken to the city's animal shelter, where he was labeled a hound mix, and where he'd stay a couple of months.
I met him while visiting the shelter for research on a story about volunteerism.  Three days later, I was back to fill out the paperwork and adopt him.
I've had three DNA breed tests conducted on Ace — not so much because I was dying to know what he's made up of, but for the purposes of that story, and subsequent ones that tested the tests that were hitting the market.
All three had slightly different results — but the breeds that showed up were Rottweiler, Akita, chow and pit bull (unless you are a landlord or insurance company or other form of breed nazi, in which case he is a, um … cat.)
Tracking down Ace's heritage gave me more than just an answer for the dozen people a day who asked what kind of dog he was. By using methods scientific and spiritual — and neither of those is foolproof — the project gave me a better understanding of what made him him, convinced me that environment plays at least as large a role in a creature's development as genes, and showed me that being pure of breed, unless you're the AKC or a breeder, isn't the most important thing in the world, or maybe even desirable.
The four breeds, all of at least some ill repute, joined together, in his case, to produce 130 pounds of gentle, mellow sweetness, enabling him to serve as a therapy dog for others, ward off evil humans by his size alone and keep me sane on the side.
I'm a mutt, too — the product of a mother whose roots are Welsh, a father whose are German and Irish, not to mention I'm a cross between a southerner and a Yankee.
Those are my parents at the top of this entry, youthfully frolicking it appears, in the yard of my father's father's house in Saugerties, New York.
Here they are again — not frolicking.
The photo of my father was taken while he was serving in the Army in Korea (and, yes, the typewriter is mightier than the sword, or at least it used to be.) 
The photo of my mother — though she appears to be multi-tasking before it was called that — is a staged one, shot to illustrate a 1950s era newspaper story about newfangled kitchen appliances. While homemaking was among her skills, she was not a stay-at-home housewife, but among those groundbreaking women who stepped into newspaper work when journalism was still mainly a boys-only pursuit.
My father's parents met in Newark — the New Jersey one — when both were working at the laundry that my great grandfather, who immigrated from Germany, owned. They married and later moved to  Saugerties, N.Y., where they'd raise three boys in a big white farmhouse.
My mother, meanwhile, grew up in Asheboro, N.C., where her family dates back to Revolutionary War days. Her father owned a furniture company that, seeing how well coffins sold, made the transition to full-fledged funeral home and, later, a chain of them.
So, in one way of looking at it, I owe my existence to dirty laundry and dead bodies — those being the lifeblood of the industries that enabled my parents' respective families to make enough money to send them off to college.
They both ended up at the University of North Carolina, studying journalism — a pursuit that traditionally draws its practitioners from those with egos too big and egos too small; people with a desire to change the world, or at least see it; the nosey, the gossipy, the terminally curious, the perpetually suspicious, and those who lack any truly marketable skills.
After graduation, getting newspaper jobs, getting married and moving to Winston-Salem — eventually into the apartment I have recently re-occupied — they had their their first child, my sister.
Here she is sitting on the front steps of the apartment in College Village I now sit on most evenings, writing on my laptop computer while Ace watches squirrels.
She was about three years old when my father got called upon to serve in Korea.
Upon returning from his stint there, pretty immediately as I understand it, I was conceived, in the room I now sleep in.
Not long after his return he was off again — one of  the journalists invited to witness atomic bomb tests in Nevada.
Unlike area residents and, possibly, him, I was not subjected to any fallout from that, for I was already forming in the womb by the time he left. While, in subsequent years, I would have to hide under my elementary school desk during bomb drills, I was otherwise unaffected by the Cold War's psychological shrapnel, I think.
A few months after my father witnessed that spectacle, there came another one — me. For one year, I slept, peed, cried, spit up and crawled here in the apartment I moved into last month.
Being here hasn't automatically rekindled memories. There is only the vaguest sense that I've been here before. The doorbell, and it's actually a bell — you turn the crank and it rings — struck me as familiar. The first time it rang, I did a dog-like head tilt (but didn't start barking). Was it stirring an infant memory, or just my imagination?
At the age of one, I'd be moved — temporarily — to Boston when my father was selected to be a Nieman Fellow at Harvard. Instead of returning to North Carolina after that year, my parents moved to New York, where my father had gotten a job at Newsday.
After 10 years there — we lived in Huntington, where my parents would have another son — we moved to Houston, where my father would work at the Houston Post, and my mother at the Houston Chronicle.
Their marriage would implode about the time I was 12, After their divorce, I lived with my mom in Houston and later Raleigh, spending summers with my father in Connecticutt and Colorado.
I, like them, would end up at the University of North Carolina, and, like them, in journalism — and as a result I would see both dead bodies and dirty laundry, but plenty of joyous and inspiring things as well.
I, like my father, would have the privilege of getting a fellowship (a Knight Fellowship, at Stanford University), be involved in winning my newspaper a Pulitzer Prize (Philadelphia Inquirer, 1987), bounce around to a lot of different newspapers and get divorced twice.
From time to time, I'd wonder how much those similarities had to do with genetics, environment or simply coincidence – how far the apple fell from the family tree. (That's it to the left.)
After about 35 years in newspapers, I left to write a book, and produce my own website. And a year ago, in a  rare show of spontaneity, I put my belongings in storage, moved out of my house and hit the road with Ace, to see America, and its dogs, and blog about it.
During those travels, we made some stops at places of my past — my grandfather's house in New York, Houston, where our house in Raleigh used to be, and  Tucson, the site of my first real newspaper job — and doing so sparked a desire to remember more and learn more about my past, and about my family roots, whitebread as they may be.
Among the many things I learned, or had reaffirmed, on our trip were not to take my dog for granted, or my friends, or my family.
Since coming to Winston-Salem, I've been rummaging through old boxes of family stuff, reconnecting with relatives, and learning more about my family history and working on better remembering my own life as well — all those memories that got shoved aside to make room for new ones. For the next few weeks, we'll continue doing that, including taking at least two more trips, the kind that do burn gas, before we wrap things up.
By the time you read this, we'll be off on one fo them – a camping trip in the mountains where I plan to reunite with two college roomates.
A little further down the road, we'll be visiting a battlefield and a cemetery and seeking to shed some light on this question:
Why, on June 19 (which is also my sister's birthday), 1771, was my great great great great great great great grandfather hung?
Posted by jwoestendiek May 18th, 2011 under Muttsblog.
Tags: ace, america, atom bomb, atomic bomb, author, background, bill woestendiek, birth, book, breeds, dead bodies, dirty laundry, dna, dog inc., dog's country, dogscountry, family, heritage, history, home, homeplace, houston, jo woestendiek, john woestendiek, journalism, korean war, memories, mix, mixed, new york, ohmidog!, past, pugh, road trip, roots, testing, travels with ace, tree, unearthing, university of north carolina, what kind of dog is that, winston-salem journal, woestendiek, writer

Comments: 4
"The beaches are clean where once they festered with fish guts and flies. The canneries which once put up a sickening stench are gone, their places filled with restaurants, antique shops and the like. They fish for tourists now, not pilchards, and that species they are not likely to wipe out."
John Steinbeck's return to a much-changed Monterey in 1960 was more bitter than sweet — he found it much improved cosmetically, and economically, but its old fishing character and its saltiness were gone.
It wasn't home anymore.
The town's transition from a sardine-based economy to a tourist-based one was well underway by then, and while that would ensure that Monterey would continue to thrive, seeing how much had been erased — fish guts and all — returned Steinbeck, a native of the area, to the kind of funk he seemed to teeter on the edge of, periodically, in "Travels with Charley." 
"My return caused only confusion and uneasiness," he wrote. "… Tom Wolfe was right. You can't go home again because home has ceased to exist except in the mothballs of memory."
If he were to return again today to this spic and span city by the sea, he'd likely be even more displeased. Cannery Row and Fisherman's Wharf are now full-fledged tourist attractions that, while giving nods to the past, no longer have much connection with it.
And, quite possibly, he'd be downright irate over how his name and likeness have become an integral part of the area's business and tourism marketing.
He probably wouldn't think much of the way his name has been seized by business operations large and small: Steinbeck Garden Inn, Steinbeck Jewelers, Steinbeck Mortgage, Steinbeck Travel, Steinbeck Credit Union, Steinbeck Country Bail Bonds.
Steinbeck shunned publicity. In fact, he once moved out of the area to avoid it. Maybe he'd be OK with his bust being on display, in Steinbeck Plaza, but to see his face flapping in the breeze on banners above the streets in Cannery Row? I'm guessing he wouldn't care for that.
The Steinbeck bust is right in the middle of things, and tourists regularly stop and have their photos taken with it. It faces away from the bay, toward the traffic, which probably wouldn't have been his preference, either. He stares, somewhat solemnly, into the distance. Not even Ace could get him to break into a smile.
Monterey, and the surrounding area makes much of its Steinbeck connection — Steinbeck Country, they call it — from the flatlands of Salinas to the hilly bayfront of Pacific Grove.
It was in the family cottage there, purchased by his father as a family retreat, that Steinbeck wrote several novels and got started on "Of Mice and Men."
Steinbeck stayed in the cottage with his wife Elaine, as he headed south through California and then back east on the trip that would become "Travels with Charley,"
He visited old haunts, at least those still standing, and old friends, at least those who were still around. Between the people who had died or moved away and the makeover the city had received, Steinbeck felt out of place.
"The place of my origin had changed, and having gone away I had not changed with it. In my memory it stood as it once did and its outward appearance confused and angered me."
Monterey was a new place. And Carmel, he wrote, "begun by starveling writers and unwanted painters, is now a community of the well-to-do and the retired. If Carmel's founders should return, they could not afford to live there…They would be instantly picked up as suspicious character and deported over the city line."
Ace and I visited Cannery Row, then drove by Steinbeck's former cottage in Pacific Grove to snap a quick photo. We found a nice spot, cliffside, near Lover's Point, to rest our weary paws.
We walked Fisherman's Wharf, which once served as the major port on the Pacific and whose fishermen once set off daily on quests for huge whales, and later tiny sardines — until overfishing brought the sardine industry, which thrived during the Depression, to a grinding halt in the 1950s. By 1960, as Steinbeck noted, tourists had become the city's salvation.
In the 50 years since, the supply of them has not depleted. I've visited Monterey  several times, first  in 1987, and a couple more times in the early 1990′s, once for a story at Ford Ord, the once massive military base that was shut down in 1994. This visit, I was surprised to see mostly emptiness on the massive Army base by the sea, built in the 1940s to train soldiers for World War II. And surprised, too, that, given our times, it hadn't been reopened.
Funny how sardines are limited, but we seem to have an endless supply of wars. Even over-warring doesn't seem to bring an end to that industry.
Ace and I stayed at Motel 6 near what used to be Fort Ord, in a town called Marina, which I don't even remember existing when I was last here. But we spent most of our time in Monterey, which, despite all the tourists trappings, despite never being my home, still never fails to touch my soul.
It's not because of anything man has built; it's not because John Steinbeck slept here. It's the pockets of nature that still exist between the seafood restaurants and wax museums and souvenir shops and boutiques. It's the topography, the way the peninsula stretches into the bay, and the wildlife that, despite all man's tinkering, still call it home.
To me, that, more than anything else — moreso even than the famous writer — is what still gives salt-free Monterey  character:
The pelicans, the gulls, the seals and sea lions and all the other squirmy sea life you can see, not just in the confines of the Monterey Bay Aquarium, but in their natural habitat.
If I ever return — and I hope I do — that will be why.
Posted by jwoestendiek November 24th, 2010 under Muttsblog.
Tags: ace, animals, bay, business, bust, california, cannery row, carmel, coast, dog's country, dogs, dogscountry, fisherman's wharf, fishing, history, home, home again, industry, john steinbeck, legacy, memorial, monterey, name, nature, pacific grove, pelicans, pets, salinas, sardines, statue, steinbeck, steinbeck country, tourism, tourists, travels with charley, wildlife

Comments: 2
When it came to Seattle, John Steinbeck found some charm in the downtown market area, but otherwise painted a bleak portrait. To him, by the time he and Charley rolled through the Emerald City, the flower was off the bloom. 
Seattle had boomed repeatedly before he arrived, thanks to lumber, gold, shipbuilding and Boeing; and, decades after he was gone, it would boom again, thanks to Microsoft, Amazon and a slew of other high tech and biotech companies that located there. 
The Seattle Steinbeck and Charley pulled into in 1960 was far different from the Seattle of today, and far different from the one he remembered — its rapid growth, in his view, having tarnished the land: 
"I remembered Seattle as a town sitting on hills beside a matchless harborage — a little city of space and trees and gardens … It is no longer so. The tops of hills are shaved off to make level warrens for the rabbits of the present. The highways eight lanes wide cut like glaciers through the uneasy land. This Seattle had no relation to the one I remembered. The traffic rushed with murderous intensity … 
"Along what had been country lanes rich with berries, high wire fences and mile-long factories stretched and the yellow smoke of progress hung over all, fighting the sea winds' efforts to drive them off … Everywhere frantic growth, a carcinomatous growth … I wonder why progress looks so much like destruction." 
That's not the Seattle I saw. 
To me, Seattle seems a city that has come to handle growth far better than most. It's one of America's most scenic, literate, educated, progressive, well off and environmentally conscious cities. It's green in all three meanings of the word. And it's highly dog-friendly. 
Maybe it's a case of the difference 50 years makes, or of how city leaders have taken control of the reigns of growth. Maybe, too, Steinbeck's less than flattering description was partly a result of being a little down when he arrived — what with his dog having been sick, himself being travel weary. Likely, Steinbeck — who waited several days in Seattle for his wife, who was having difficulty getting a flight –  was getting a little crabby. 
He spent three or four days luxuriating in his hotel room near the airport, watching "I Love Lucy" and other TV shows — not the best way to get one's fingers into the fabric of a city — as he waited for Elaine Steinbeck.
Once she arrived, they visited the downtown market before heading down the coast of Oregon together to California. Sections of the original manuscript recounting his time with his wife were later edited out of the book — the "we's" changed to "I's". 
"… I walked in the old part of Seattle, where the fish and crabs and shrimps lay beautifully on white beds of shaved ice and where the washed and shining vegetables were arranged in pictures. I drank clam juice and ate the sharp crab cocktails at stands along the waterfront. It was not much changed — a little more run-down and dingy than it was twenty years ago." 
Seattle — now better known for grunge than dinge — would continue to have it's ups and downs  after he left. Two years after Steinbeck's visit — the year "Travels with Charley" came out — Seattle was the site of the 1962 World's Fair. In the late 60s and early 70s, its economy took a turn for the worse – to the point that one local Realtor put up a now legendary billboard requesting that the last resident to exit turn off the light. 
Like all big cities, Seattle, during the suburbanization of America, faced seeing its core rot away — or, as Steinbeck described it: 
"… When a city begins to grow and expand outward, from the edges, the center which was once its glory is in a sense abandoned to time. Then the buildings grow dark and a kind of decay sets in, poorer people move in as the rents fall, and small fringe buinesses take the place of once flowering establishments…" 
The downtown Seattle I saw — unlike some — was still flowering, and thriving, as much as any place is thriving nowadays. 
It's all subjective, though. Our impression of a new place is based on the tiny part of it we see, what transpires in that process, the mood we're in while seeing it, and, often, who we see it with.
In my case, this time around I had two long-time residents serving as my hosts and tour guides. (More on them tomorrow.) 
Had I been on my own, I likely would have sought out and found the market, but I probably wouldn't have found what's called the first Starbucks.
I probably wouldn't have seen the view of the skyline from Kerry Park; the street performer that plays and juggles guitars, all while hula-hooping; or the hotel that bears the same name as my dog. (More on that Monday.)
I'd been to Seattle before, but only in a rush-in, pester-people, get-the-story, rush-out newspaper reporter kind of way. 
That — a hit and run — is not the correct way to meet a city. 
What is? 
Here again, maybe we can learn something from dogs. For starters, take your time. Forget your schedule, and all those other uniquely human notions. Instead, let the city hold its hand out to you. Circle it a time or two, explore the periphery, then approach it slowly. Give it a sniff and, if you like what you smell, maybe a lick. After that, you can jump up on it, snuggle with it, play with it, fetch what it throws, savor the treats it offers, even choose to become loyal to it.
In other words, to paraphrase the author whose route we are following, and who some might suggest failed to follow his own advice when it came to Seattle: Don't take the trip, let the trip take you.
Posted by jwoestendiek November 13th, 2010 under Muttsblog.
Tags: animals, cities, dog, dog friendly, dog's country, dogs, dogscountry, economy, environment, growth, history, impressions, industry, john steinbeck, market, pets, road trip, seattle, steinbeck, tourism, travel, traveling with dogs, travels with ace, travels with charley

Comments: 1
Here's my theory: The more ghost signs a town has, the more ghosts it probably has, too.
Butte, Montana, it should come as no surprise, has plenty. Of both.
Here are some of the ones that, during just 30 minutes of driving around town one day this week, we came across  – touting  cigars, beer and hotels that have all been long outlived by their hand-painted advertisements.
Flor de Baltimore was a cigar brand that appears to go back at least a century or so. I'm not sure if its named after Lord Baltimore, the founder of Maryland, or the city. I'm guessing Flor means flower, which isn't the first thing that Baltimore brings to my mind, but maybe the imagery the city evoked was different back then.
Most of the signs are for hotels — long since gone, but luxurious in their day, and even fireproof, which was a good thing considering all the mining executives who were probably lighting up Flor de Baltimores in their beds.
Those were the glory days, though — back when the copper mines were thriving and Butte was a rollicking city of 100,000.
Now, only about a third as many people live here. Mining, though it still goes on, is nowhere near what it once was. You can't find a good whorehouse when you need one (and they say the defunct one is haunted). And nobody's drinking Butte Special Beer. It was brewed by a company that, more than 100 years old, closed in 1963.
There's a big difference between what was in Butte and what is in Butte. Some look at Butte and see a depressing town; some see a fight-hardened survivor, a town that's testament to man's resiliency. Some see only its rough edges; some see its rich and colorful history, faded over time.
The New Tait hotel is not only not new anymore; it's non-existent, but the old sign remains, as does the building, since converted into apartments.
Butte is the hometown of Evel Knievel. One of its tops tourist draws is a huge mine pit, part of a Superfund site that encompasses the historic district as well. If towns can be eccentric, Butte is — and quite proudly so.
But it's also haunting — a place where the sun and clouds cast shadows that crawl, tarantula like, up and down its high hills; where mining has left poisons lurking, zombie like, beneath the surface.
Today, Butte is equal parts defunct and funky; gritty and, if you look hard, graceful. The ghost signs bring back memories of the freewheeling greatness that was; but they also are reminders to Butte that, in some ways, it's a has-been.
But has-beens — and I know some, personally – seem to love regressing to the glory days, recalling better times. When the present's not so great, the past seems more worth revisiting.
The trick is to not get stuck there — to appreciate what was, but keep looking at what could be … all, of course, while not forgetting to appreciate what is.
Before it fades away.
Posted by jwoestendiek November 3rd, 2010 under Muttsblog.
Tags: advertisements, advertising, america, animals, beer, butte, cigars, dog's country, dogs, dogscountry, environment, fading, flor de baltimore, ghost, ghost signs, hand painted, history, hotels, legacy, memories, mining, montana, nostalgia, painting, pets, road trip, signs, traveling with dogs, travels with ace, west

Comments: none
Once upon a time in Butte, in a huge and barren expanse of waste that's part of the nation's largest Superfund site, there lived a dog.
Nobody knows how he got there, why he stayed, or how he managed to remain alive in the toxic confines of what's known as the Berkeley Pit. But live he did, for 17 years — during times of active mining, during its suspension, during its limited restart, during the ongoing clean-up effort and right up until the pit transitioned into one of the country's oddest tourist attractions.
He just showed up, back in 1986. Once miners figured out that the ghostly white image in the distance was a dog, they named him "The Auditor," because of his tendency to appear when he was least expected.
With matted ropes of white hair covering his legs, The Auditor — a Puli — sometimes appeared to be hovering when he moved, and he seemed to want nothing to do with humans. The miners would leave him food, and build him a house, and even started sticking baby aspirin in his food when they noticed he was limping, but The Auditor was mostly unapproachable up until the end.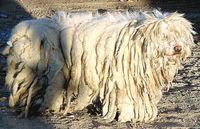 He died peacefully in his dog house in 2003, but The Auditor – like mining – would leave a legacy. His name would live on — in statues, in science, and as a symbol for, well, lots of things.
Appropriately enough, for a mining site in the midst of a massive EPA clean-up that will continue for generations, The Auditor had a coat like a mop.
His yellowing dreadlocks covered his eyes, too, limiting his vision – similar to the blind eye Montana once turned to the environmental havoc mining would wreak on and beneath its landscape.
But perhaps more than anything else, the mysterious white dog became a metaphor for Butte, and its ability to survive hard times — of the hardy stuff of which Montanans are made.
Butte's still kicking — though not the way it once kicked. It's about a third of the size it was in its heyday.  Once called the "Richest Hill on Earth" for its massive copper deposits, Butte in the early 1900s, boasted a population of 100,000.
When the mines shut down by 1982, Butte was left economically crippled and environmentally contaminated. Piles of mine waste and years of smoke from smelters contaminated the land and water around Butte with arsenic, mercury, lead and other metals.  
In the 1980s, the Berkeley Pit and Butte's historic Uptown District were declared a Superfund site — one that extends 130 miles downstream due to tailings that settled along the Clark Fork River.
The Auditor lingers too. After the local newspaper brought him to the public's attention in 2003, a campaign began to honor him with a series of statues, three of which now sit in various locations around town, honoring him not for any heroics, but solely for staying alive in a place where not much does.
Berkeley Pit lies just a few blocks from the center of Butte. It stretches a mile-and-a-half across and is almost 2,000 feet deep. Barren soil surrounds a lake laden with heavy metals. In 1995, a flock of migrating geese landed in the water. The next morning 342 were found dead.
How The Auditor managed to survive all that time is as mysterious as the dog himself. Maybe his rope-like locks, instead of soaking in the toxins, kept them from reaching his skin. Maybe the toxins weren't as toxic as thought. Maybe, as dogs do, he adapted to them. The only company still in operation at the site — after mourning his loss — had The Auditor cremated.
Normally, that would slam the door shut on the mystery — but Holly Peterson already had her foot in it.
Peterson, an environmental engineer at Montana Tech in Butte, saw the article about The Auditor — 16 years old by then — in 2003. It tugged at her heartstrings as well as her scientific curiosity.
"How can that not touch you?" she said over the weekend, sitting in her office, which is decorated with photos of The Auditor. "I kept wondering, how can that thing survive? With all the contamination in Butte, I started thinking, how can we study that in a different way?"
With her students, she began getting samples of hair from dogs in Butte and the surrounding areas, and when she ran into an official from the mining company, Montana Resources, at a presentation, she asked about getting a sample from The Auditor.
The Auditor was first seen roaming the mine in 1986, the year Montana Resources started its operations. The company, due to plunging copper prices, shut down operations there in 2000, leaving only a skelton crew, but reopened in 2003.
After getting permission from the company, Peterson went to the site, where a mining company employee, wearing gloves, approached The Auditor, on his last legs by then, and snipped off a few locks of hair.
"You could tell he just wanted us to leave him alone," Peterson said.
Tests on the sample in July of 2003 revealed "elevated levels of almost every element imaginable," Peterson said, including 128 times the amount of arsenic in a typical dog's hair.
Peterson's research project would expand from there, shedding new light on the extent of environmental degradation in Butte and introducing a new, if not conclusive, way to measure it and the continuing efforts to clean it up. Her work marked the first time pet hair has been used to monitor toxins in a residential Superfund site.
Since then, the project has moved on to testing the hair of animals in Austrialia and Nairobi, and sampling the hair of animals bagged by hunters back home in Montana. Through taking samples at hunter check stations, they found far higher levels of metals in animals shot in the area around Anaconda, once home to a huge smelting operation.
The Auditor, as it turned out, inspired Peterson on several levels. She was the one behind the effort to install statues of him — created by a Texas sculptor — at several locations around town, including the one she showed me at the Butte Plaza Mall.
It's made of bronze, with a copper patina that has worn off in spots from people petting it. Most of funding for the sculpture came from a California couple, who read of The Auditor in a Puli Club of America newsletter.
Peterson's hope was that The Auditor — after his death on Nov. 19, 2003 —  would become a mascot for Butte, or a mascot for environmental causes, that his legacy would serve as inspiration to others, and as a reminder to not abandon pets, or abuse the planet.
What she wasn't planning on was her own little Auditor.
Living with her 86-year-old mother, she didn't see a dog fitting into her life.
But after publicity about The Auditor, and connecting with the Puli Club, she started getting emails when a Puli would show up at a shelter in need of rescue.
That's how, three years ago, she ended up with Birke-Beiner.
"I couldn't pass him up when I saw the picture of him," Peterson said.
Birke-Beiner, who earlier in the day had gone to a Halloween Party — as a basket of yarn — came along on our trip to the mall, much of which he spent draped over Peterson's shoulder, looking something like a Lady Gaga fashion accessory.
Peterson says some people call him Little Auditor, but Birke is his own dog — playful, people-friendly and, one gets the impression, destined to live a happy and non-toxic life, far away from a giant hole in the ground known as the Berkeley Pit.
Posted by jwoestendiek November 2nd, 2010 under Muttsblog.
Tags: abandoned, animals, arsenic, auditor, berkeley pit, butte, contamination, dog, dog's country, dogs, dogscountry, environment, epa, hair, history, holly peterson, levels, memorial, metals, miners, mining, mining waste, montana, montana resources, montana tech, pets, puli, puli club of america, research, science, site, statue, stray, superfund, testing, tests, the auditor, toxic, travels with ace

Comments: 10