Tag: honored
Even more than we love his name …  Americus Rambeau … we love what the Baltimore police officer did on Dec. 29, 2010 — namely, jump into the icy waters of Baltimore's Inner Harbor to rescue a dog named Penny.
"She was happy to have somebody to hang onto," he was quoted as saying after saving the dog's life.
Aren't we all.
On Jan. 26, at noon, the Baltimore Humane Society (BHS) will honor Rambeau and three other members of the Baltimore Police Department's Marine Unit for their rescue of Penny, a black lab mix who ran out of her Federal Hill home, across Key Highway and into the harbor.
The ceremony will take place at the shelter building on the grounds of BHS.  The event is open to the public.
Rambeau, along with Sergeant Michael Kain, Officer William Edgar and Officer  John Wagner, arrived by boat to save Penny. She avoided them at first, but once Rambeau was in the water, she allowed him to get close enough to help her.
Once ashore, Penny was treated for "cold-water exposure and hypothermia," said a spokesman for the BPD Marine Unit.
Penny's owner, Rachel Naumann, was at work when her roommate opened the front door to sign for a package and Penny, who's about a year old, got out and headed straight for the harbor, possibly in pursuit of a seagull.
Rambeau, who has multiple cats, told the Baltimore Sun he didn't hesitate to jump in the water for Penny. He has done the same thing for other dogs, cats, deer and, in 1998, a 79-year-old man.
Naumann picked Penny up from the shelter the next morning, happily paying a $95 fee to pay to reclaim her pet.
"I'm just happy she's back," she said.
(Baltimore Sun photos by Kim Hairston)
Posted by John Woestendiek January 18th, 2011 under Muttsblog.
Tags: americus rambeau, animals, baltimore, baltimore humane society, ceremony, cold, dog, dogs, federal hill, harbor, honor, honored, hypothermia, inner harbor, john wagner, key highway, labrador, lalb, marine unit, maryland, michael kain, mix, penny, pets, police, rachel naumann, rescue, water, william edgar

Comments: none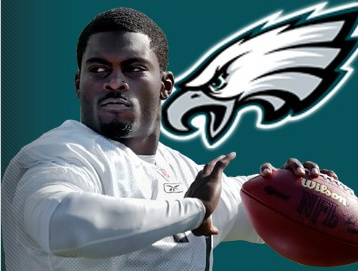 Philadelphia Eagles quarterback Michael Vick will receive an award in March for his "commitment to the principles of sportsmanship and courage."
If you just coughed up your breakfast cereal, join the club.
Vick was hired by the Eagles after his release from federal prison, where he served a sentence for dogfighting. If anyone deserves a courage award, it's his former dogs.
Vick will be receiving the Ed Block Courage Award — named for a former Baltimore Colts trainer who was an advocate for abused children. It's given to a player on all 32 NFL teams.
The Ed Block Courage Award Foundation, based in Baltimore, will hold a press conference at Sports Legends Museum announcing the 2009 winners, and an awards ceremony is scheduled for March. Here's the foundation's press release. Here's the NFL press release on Vick's selection.
Neither specifies exactly what courage Vick has demonstrated, so its unclear if he's being honored for his anti-dogfighting appearances for the Humane Society of the United States; surviving prison, surviving the wrath of animal rights activists, rehabilitating himself or at least his image, overcoming his bankruptcy, his return to football, or what.
For 32 years the award has been given to NFL players, who are selected by their teammates.
The Ed Block Courage Award Foundation is an NFL-supported charity dedicated to recognizing courage in the League while improving the lives of abused and neglected children in NFL cities throughout the country.
Posted by John Woestendiek December 24th, 2009 under Muttsblog.
Tags: award, child abuse, courage, dog fighting, dogfighting, dogs, ed block, ed block courage award, foundation, honored, michael vick, neglect, nfl, philadelphia eagles, quarterback, receive, sportsmanship, teams, vick

Comments: 21
 When U.S. Marine Cpl. Dustin Lee was cut down by a rocket-propelled grenade in Iraq's Anbar province, his partner was hit by shrapnel too, but still managed to crawl over to Lee and lay on top of him, protecting him until medics arrived.
Lee, who hadn't yet turned 21 and was three months from finishing his tour, didn't survive. But his partner did. He came back home for medical treatment, attended Lee's funeral, got awarded a Commemorative Purple Heart  and — though still carrying shrapnel — was assigned to complete his tour of duty.
That's when Lee's family intervened and, with help from a Congressman, persuaded the Marines to let Lee's partner — a bomb-sniffing German shepherd named Lex — take early retirement and come live with them.
Lee's parents, Jerome and Rachel Lee, and his teenage brother and sister, thought that adopting the dog that survived the attack would help fill the void left by their son's death. They had previously adopted another of their son's military working dogs after the animal started going blind and had to retire.
Lee and Lex, who were renowned for their abilities to detect and clear roadside bombs, shared a deep bond, his family says — as evidenced Lex's behavior when they were under attack.
"He was still protecting him until the end," said Lee's mother. "Lex was bleeding. Dustin was bleeding. "Their blood combined. They were already brothers and partners. They just became one."
Posted by John Woestendiek February 14th, 2009 under Muttsblog.
Tags: akc, bomb-sniffing, congress, corporal, detection, dog, dustin lee, honored, hsus, iraq, john burnam, lex, marines, memorial, news, representative, walter jones, war, war dogs

Comments: 2