Tag: ireland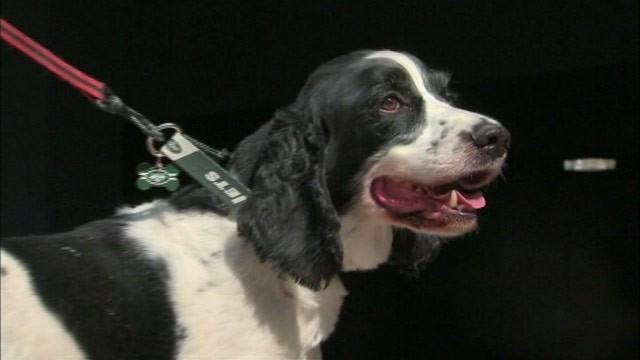 Aside from both having seven letters, Ireland and Arizona wouldn't seem to be that easily confused — one is green, one is not; one is on the other side of the Atlantic and one is on this side.
But, four days before St. Patrick's Day, a dog destined for Phoenix was accidentally put on a flight to Ireland.
United Airlines realized the mistake even before the dog, named Hendrix, landed at the airport in Shannon.
Once he did, he was bathed, fed, and put on a flight back to Newark.
Edith Lombardo-Albach of Staten Island, N.Y., told ABCNews.com that Hendrix, a six-year-old English springer spaniel was scheduled to arrive in Phoenix Thursday evening on a United flight from Newark.
But seven minutes before the flight was supposed to land, she received a phone call telling her that Hendrix would not be arriving in Arizona.
"Originally, I thought the dog had died and I started screaming," she said.
An airline representative told Lombardo-Albach that her dog was put on the wrong flight, and was destined for Ireland. United told her that once Hendrix arrived in Shannon, they would send him back.
"The dog had already gone seven hours to Ireland, and now the dog has a two-hour layover and then a seven-hour flight to Newark," she said. "I was insane."
The dog was flown back to New Jersey on Friday morning, and Lombardo-Albach was waiting. She stayed with him at the airport until he boarded his flight for Phoenix, where the family is moving.
Lombardo-Albach said Hendrix was hesitant to get back in his crate for the next leg of the flight — and who could blame him?
A United Airlines spokeswoman said the airline regretted the mistake: "We are reviewing the circumstances surrounding the situation and will take steps to prevent this from happening again.  Hendrix's experience is not typical of the service we provide to the more than 100,000 pets who travel with us every year."
United Airlines offered Lombardo-Albach a refund for the dog's flight.
Posted by jwoestendiek March 19th, 2013 under Muttsblog.
Tags: airlines, animals, arizona, dog, dogs, english springer spaniel, hendrix, ireland, mistake, newark, pets, phoenix, shannon, travel, united, united airlines

Comments: 2
Lennox has been put down, the Belfast City Council has confirmed.
The dog whose only crime was resembling a pit bull was euthanized today, after a deadline for legal appeals expired.
His execution – despite 200,000 signatures supporting a reprieve — brings an end to an international effort to save him.
The BBC reports that the city council issued a statement that read:
"Whilst there is an exemption scheme to which dogs of this type (pit-bull terrier type) may be admitted as an alternative to destruction, there were no such measures that could be applied in this case that would address the concerns relating to public safety."
"The council's expert described the dog as one of the most unpredictable and dangerous dogs he had come across."
In June, after two lower courts had already ruled that the dog should be put down, Northern Ireland's highest court rejected Caroline Barnes' legal bid to overturn an order calling for the destruction of her pet.
Ms. Barnes insisted that Lennox was not dangerous, and her battle to save Lennox snowballed into an often-heated international campaign to save his life.
One Belfast councillor has received a death threat over Lennox's proposed destruction, the BBC reported, and workers in Belfast City Council have become the target of a fresh series of intimidating messages.
Lennox was impounded by Belfast City Council's dog wardens in May of 2010, when a new breed specific law went into effect, banning pit bull types in the UK.
Among those calling for Lennox to be spared were boxer Lennox Lewis, Northern Ireland First Minister Peter Robinson, and television dog training expert Victoria Stillwell, who had offered to have Lennox re-homed in America where he would not be in contact with the public.
Stillwell said she was "absolutely devastated" that Lennox had been put down. "I hoped Belfast City Council would realize that there were alternatives that provided a sanctuary for Lennox in the USA where he would be safe but they did not listen," she said.
Stillwell said requests that the family be allowed to visit the dog one last time before he was put down were declined — as were requests to allow the family see the dog after he was euthanized.
Posted by jwoestendiek July 11th, 2012 under Muttsblog.
Tags: belfast, belfast city council, breed bans, breed-specific, breeds, campaign, dangerous, denied, dog, dogs, euthanized, executed, global, international, ireland, killed, laws, lennox, news, pit bull, pit bull type, put down, put to sleep, resemblance, uk, victoria stillwell, visits

Comments: 7
Lennox the alleged pit bull is scheduled to be euthanized in Belfast this week, despite continuing international efforts to save him.
A protest Saturday in Belfast included demonstrators who flew in from the U.S., England and Dublin, according to UTV in Belfast, and demonstrations are scheduled at the British and Irish consulates in New York today, organized by No Kill New York.
Victoria Stilwell, host of "It's Me or the Dog" on the Animal Planet network, offered to find Lennox a new home in the U.S., and cover all expenses, but on Sunday she told msnbc.com she has received no response.
The 7-year-old dog was seized in 2010 after pit bulls were banned under the UK's Dangerous Dog act.
The dog's owners say he is an American bulldog-Labrador mix, but dog wardens, after taking measurements, declared him a "possible pitbull type" and claimed that — though he has bitten no one and been the subject of no complaints — he had a  personality disorder.
Protesters say they are trying to raise awareness not only about Lennox but also to show that breed specific legislation is unfair.
You can find more information on Lennox on a Save Lennox website and on a Facebook page. Many of his supporters are also protesting his impending execution on Twitter.
Posted by jwoestendiek July 9th, 2012 under Muttsblog, videos.
Tags: animal welfare, animals, bans, belfast, breed, breed bans, breeds, dangerous, demonstrations, dogs, euthanasia, execution, facebook, ireland, laws, lennox, news, offer, pets, pit bull, pitbull, protests, save lennox, twitter, uk, victoria stilwell

Comments: 5
Lennox, locked up as he has been, hasn't been running for two years now, but his story has, around the world.
Now it appears, despite a massive online campaign to save him, his time has run out.
After three court hearings, orders to execute him — because of his resemblance to a pit bull — have come down from the Lord Chief Justice of Northern Ireland. (Now there's a scary title.)
The seven-year-old dog was seized in May 2010 from his owner, Caroline Barnes, after amendments to the Dangerous Dogs Act were extended to Northern Ireland in 2011.
Two lower courts have already ruled that he should be put down because he poses a risk to the public under that legislation, which declares all pit bull types dangerous.
During his year on death row, lawyers presented evidence that Lennox has never bitten anyone and has behaved well since being impounded, according to the Belfast Telegraph.
In the latest, and final, court decision, judges said dog wardens who tried to examine Lennox in May 2010 were told by a man that the dog would "rip their head off."
An expert dog handler retained by the City Council concluded that the dog had a severe personality defect.
Experts presented in Lennox's defense, meanwhile, described him as well-handled and a wonderful family dog, who served to comfort the Barnes special needs children before the city took him away.
"Lennox will essentially be killed for looking like a pit bull not actually acting like one," Patrick Roberts opined in Irish Central.
"It is like saying every Catholic in Northern Ireland should be jailed because some in the past were violent."
While a date hasn't been specified, officials say his euthanization is imminent.
Posted by jwoestendiek June 14th, 2012 under Muttsblog.
Tags: animals, bans, belfast, breed specific legislation, campaign, caroline barnes, dangerous, dangerous dogs act, dogs, euthanasia, euthanize, execute, execution, internet, ireland, lennox, lord chief justice, online, pets, pit bull, pit bulls, pitbulls, put down, save, save lennox

Comments: 3
Whether he's mostly pit bull, mostly Labrador or mostly bulldog, Lennox has definitely become an Irish setter.
For almost two years now, the Belfast dog has been sitting in limbo, as courts in Ireland decide whether to euthanize him.
Seized by Belfast City Council dog wardens in May 2010, due to his likeness to the banned pit-bull breed, Lennox recently celebrated a second birthday on death row, and supporters marked the occasion by sending birthday cards to him — in care of the Lord Mayor of Belfast
His owner Caroline Barnes, who is appealing a court ruling to put him down, says Lennox is a American bull dog-Labrador mix who, in addition to never having bitten anyone, is a best friend of her disabled daughter.
Last October, in the latest development in the long-running case, a judge upheld a court decision that Lennox should be put to sleep.
The decision to terminate the family pet prompted an online Save Lennox campaign, which has generated almost 60,0000 Facebook supporters and almost 127,000 signatures of support. Barnes started the birthday card campaign as well.
Belfast City Council confirmed to the Belfast Telegraph that it had received a number of cards for Lennox wishing him a happy birthday. (It was April 1.)
"Just wanted to say a huge thank you for all the wonderful, beautiful, supportive and very creative messages and artwork received over the past few days," Barnes said on the "Save Lennox" Facebook page. "Really means a lot and it has touched our family very much. Thank you all."
The next hearing in the case is scheduled for May 24.
Posted by jwoestendiek April 11th, 2012 under Muttsblog.
Tags: animals, belfast, birthday, birthday cards, breed bans, breed-specific, breeds, campaign, death row, dogs, euthanasia, facebook, ireland, lennox, pets, pit bull, pit bulls, pitbull, pitbulls, put down, put to sleep, save, save lennox

Comments: 4
On an island off the coast of Ireland, a Labrador retriever and a dolphin have become swimming buddies.
This footage, from a television program (or programme, in this case) called Countryfile, shows the dolphin, named Doogie, and the dog, named Ben, frolicking in the harbor (or harbour).
Tory Island, accessible only by boat, is off the coast of County Donegal. Ben, it's reported, resides at a hotel on the island and trots down to the water regularly to meet up with Doogie, who, on the Internet at least, is sometimes referred to as Dougie.
Reporter Adam Henson managed to captured the moment of interspecies play.
Posted by jwoestendiek August 28th, 2010 under Muttsblog, videos.
Tags: animals, ben, countryfile, dog, dogs, doogie, dougie, harbor, harbour, hotel, interspecies play, ireland, lab, labrador, pets, retriever, swim, swimming, swimming with dolphins, tory island, yellow lab

Comments: 2
The Irish love dogs far more than cats, according to a new study about pet ownership.
Research by University College Dublin found that 36 percent of homes in Ireland have a dog, while just one in 10 homes own a cat, IrishCentral.com reports.
The dog-to-cat ratio is much more drastic than in most other countries, including the U.S, where nearly 40 percent of homes have dogs, compared to about 34 percent with cats.
Researchers believe the Irish may lean more toward dogs because of the  prevalence of farming and the higher number of people living in rural areas.
But dogs also seem to have a better image than cats in Ireland, the study notes. They're viewed more as pets while cats are largely considered stray animals.
Tony Forshaw of the Siamese and All Breeds Cat Club of Ireland said there is less of a history of cat-owning in Ireland, compared with the U.S. or Britain, and that "Irish people tend to laugh at cats."
Forshaw blames the Irish dog bias on the fact that dogs get more screen time in movies and TV.
(Photo: Costumecraze.com)
Posted by jwoestendiek October 1st, 2009 under Muttsblog.
Tags: cats, dog-to-cat, dogs, dublin, homes, image, ireland, irish, ownership, pet, pets, ratio, study, university college

Comments: none
Grisly testimony was heard yesterday in the trial of a woman accused of being a member of one of England's biggest dog fighting gangs.
 The case was brought against Claire Parker by the Royal SPCA after Steve Ibinson, an undercover investigator, infiltrated a dog fighting gang called the Farmer Boys in Northern Ireland for a BBC Panorama program.
The busted dogfighting ring had links to Northern Irish paramilitary organizations, according to the Times of London.
Parker, a 44-old breeder of Boston terriers, denies being present at a dog fight, using her property for fights and owning three pit bulls.
Parker is on trial with 33-year-old Mohammed Nasir Farooq,  who it is claimed acted as the "time keeper" during the Lincolnshire fight in May 2007.
At the opening of what's expected to be a two-week trial, the Lincoln Magistrates Court heard how some of the gang made the dogs train on treadmills and in swim tanks, used lunge poles with dummies hanging on them, electrocuted dogs, and used "rape harnesses" to force female dogs to mate.
RSPCA raids also uncovered weighing scales, 'break sticks' for parting the animals once their jaws had locked on to each other and veterinary products to treat wounded animals.
Ibinson, a former SAS operative who had lived in fear of his life following the investigation, uncovered links between the gang and dog fighting fanatics across the United Kingdom. His identity was revealed after his death, from natural causes, earlier this year while serving as a security guard in Afghanistan.
Statements he made are being given as part of a case that has seen five people from across the North of England already admit various dog fighting offenses.
In a secretly recorded video, Gary Adamson, a 38-year-old welder, is shown standing next to three reinforced pens in his yard boasting about how his pit bull, Pablo, suffered a "real good ragging" during a 26-minute fight held in the garage of  Parker's home in Lincolnshire.
In his statement, Ibinson said that Adamson was a representative of the Farmers Boys, from County Armagh, and aspired to be for pit bull fighting what Don King was for boxing.
(Photo: Courtesy of the RSPCA)
Posted by jwoestendiek September 9th, 2009 under Muttsblog.
Tags: abuse, bbc, claire parker, court, cruelty, dog, dogfighting, dogs, england, farmer boys, fighting, investigation, ireland, law, lincolnshire, northern, operation, raid, ring, rspca, steve ibinson, trial, undercover, united kingdom

Comments: none
Suzie, a 16-year-old border collie, fell off a cliff in Northern Ireland, plunged 200 feet to the ground and survived.
The dog fell Saturday night while on a walk in County Feremangh with her owners, Mike and Cathy Tenan, of London, BBC News reported.
Fire crews could not get to her as darkness fell, but a volunteer rescue unit started a new search on Sunday. Tracks and fur led the team to Suzie, who was distressed and dehydrated, but not seriously injured.
Rescue workers gave her water and carried her to a reunion with her owners.
Posted by jwoestendiek October 14th, 2008 under Muttsblog.
Tags: animals, border collie, cliff, dog, dogs, fall, ireland, news, pets, plunge, rescued, survived, suzie

Comments: none