Tag: levels
The TV station that disclosed the presence of the euthanasia drug pentobarbital in canned dog food — leading to the recall of 107 million cans — is staying on the case and reporting that the manufacturer was aware of, and remained silent about, even higher levels of the drug.
Earlier this year, ABC7 (WJLA) in Washington aired an investigative report on the drug being found in Gravy Train canned food.
A recall was later announced for Gravy Train and three other canned dog foods — Kibbles 'N Bits, Ol' Roy and Skippy, all of which, like Gravy Train, are made by Big Heart Brands, a subsidiary of Smucker's.
Any levels of pentobarbital in dog food are concerning, as is the use of any drug-euthanized animal as a source of either human or pet food are outlawed.
The FDA (maybe recognizing a TV station was doing its job, maybe not) launched its own investigation into Smucker's just hours after the report aired.
Big Heart Brands — saying its top priority is the "safety and quality of its products" — has maintained that the levels of pentobarbital detected in tests by the WJLA were far too low to be concerned about.
But WJLA reported last week that even higher levels — 80 times higher — have been found by the FDA.
According to a class action lawsuit against the company, the FDA found pentobarbital in the company's fat supply, at levels at least 80-times higher than what the TV station discovered in products on the shelves.
And the company apparently had been alerted to that. It retained a sample of that fat from a full year earlier, in 2017, with levels of pentobarbital more than 50-times higher than the results that prompted the recall.
"It is an important fact because they retained it, yet they didn't test it," said attorney Rebecca Peterson, one of the attorneys handling one of the class action lawsuits against Smucker's and its subsidiary, Big Heart Pet Brands "Or they did test it and they still went forward by including that tallow in the contaminated dog food."
At issue is a rendered fat ingredient — the boiled byproduct of carcasses that contained the euthanasia drug pentobarbital.
In a statement, Smuckers said it has "robust quality assurance procedures in place, we are committed to enhancing sourcing and supplier oversight procedures to help ensure this does not happen again."
Court documents allege the source of contaminated fat was the company's supplier JBS.
JBS is also the subject of investigations related to E.coli contaminations and the inhumane treatment of animals.
In a statement, JBS stated it has modified it procurement process and "will divert all third-party sourced materials to non-edible production until the company can ensure these materials meet its high standards for quality and safety."
Posted by John Woestendiek May 7th, 2018 under Muttsblog.
Tags: abc7, big heart brands, brands, canned, canned dog food, cans, class action, dog food recall, euthanasia, euthanasia drug, fda, gravy train, investigation, jbs, kibbles 'n bits, laboratory, lawsuit, levels, ol'roy, pentobarbital, recall, skippy, smucker's, tests, wjla

Comments: none
Leave it to scientists to confirm what we already know, and to do so using words we don't begin to understand.
Case in point: Nervous dogs often have nervous owners. This is not to say a nervous dog can't have a cool as a cucumber (coolus cucumberus) owner. Nor is it to say some highly twitchy (humanus nervosa) folks can't have calm dogs.
Only that, as anyone who visits a dog park knows, nervous owners tend to have nervous dog at the end of the leash.
The new study buttresses the concept that our dogs tend to take on our personalities, and that tension — while it may not actually "flow down the leash" — is picked up on by our dogs, and often reflected in their own behavior.
It looks at the chemistry behind that.
The study at the University of Vienna — published in the journal PLOS One "investigated dyadic psychobiological factors influencing intra-individual cortisol variability in response to different challenging situations by testing 132 owners and their dogs in a laboratory setting."
You might understand that, or, you (like me) might not know spit — or that cortisol levels can be measured through it.
In the study, the researchers measured the levels of cortisol — and the variability of those levels — in the saliva of dogs and owners put through stressful situations.
In addition, they assessed the personality of both dog and human participants — ranging from highly sensitive and neurotic to secure and self confident.
"We calculated the individual coefficient of variance of cortisol (iCV = sd/mean*100) over the different test situations as a parameter representing individual variability of cortisol concentration," the study's authors wrote. "We hypothesized that high cortisol variability indicates efficient and adaptive coping and a balanced individual and dyadic social performance."
For a more reader-friendly account of the study, check out Stanley Coren's Psychology Today blog:
"You can think of people who are high in neuroticism as being sensitive and nervous while people who score low in neuroticism are secure and confident. In this study, the dog owners who scored high in neuroticism had dogs with low variability in their cortisol. This suggests that dogs with highly neurotic owners are less able to deal with pressure and stress."

"Conversely, dog owners who were more laid back and agreeable had calmer dogs. Those folks have greater variability in their cortisol response, suggesting that they are better able to cope with situations involving tension and strain."
The study says the male dogs of female owners often have less variability in their cortisol responses and are often generally less sociable and less relaxed than male dogs belonging to male owners.
(That's the study saying that females generally score higher on measures of anxiety and neuroticism — not me. I would be way too nervous to say that.)
"Owners behave differently because they are pessimistic or neurotic, and perhaps dogs read the emotions of their owners and think the world is more dangerous — so they are more reactive to it," the study says. "It looks like people who are pessimistic have dogs which are worse at coping with stress than others."
Of course, where a dog was before ending up with its owner can play a pretty big role, too.
I, for example, am the cool as a cucumber owner of a nervous dog. He came from a farm in Korea where he was being raised to become meat. That would tend to instill some nervousness in anyone.
Three months after being adopted by me, he still gets pretty nervous — around large groups, when hearing loud noises. I don't know about his cortisol levels, but at these times he whimpers, sheds profusely — is there such a thing as projectile shedding? — and pees in inappropriate places, such as on my leg.
He is making great strides in every way, but Jinjja still needs to chill, and get less worked up by new situations.
Of all the factors that shape our dogs — genetics, environment, owners — time (and its cousin, patience) may be the most important ones of all.
So my game plan is to provide him with plenty of both, expose him to new settings and situations, and show him that not all the world is a dangerous place — all while being a mellow role model.
In other words, impossible as it might be, I'm going to have to become EVEN cooler.
Posted by John Woestendiek February 21st, 2017 under Muttsblog.
Tags: adrenalin, animals, anxiety, cortisol, dog, dogs, environment, factors, farm, genetics, humans, jinjja, korea, levels, meat trade, nervous, owner, owners, personality, pets, research, science, shape, stress, study, university of vienna, variance

Comments: 1
Specially trained dogs have been alerting diabetics to decreases in their blood sugar levels for years now — but only now do scientists have a pretty good clue of how dogs are able to do it.
Researchers at the University of Cambridge say what the dogs are able to sniff out is a common chemical called isoprene, which is found on our breath.
Isoprene increases significantly — and sometimes almost doubles — during hypoglycemia.
Medical detection dogs wake up or alert their owners whenever their blood sugar level drops to the point of hypoglycemia, a condition that can cause shakiness, loss of consciousness, and, if untreated, death.
Using mass spectrometry, the scientists studied the breath of eight women with type 1 diabetes, noting changes in the chemical signatures of their exhalations when their blood sugar levels were lowered to the point of hypoglycemia.
The increased in isoprene is too subtle for humans to smell, but with the ability to detect odors at concentrations of around one part per trillion, dogs are able to sense it.
The scientists aren't sure why isoprene increases as blood sugar levels drop, but they suspect it might be a byproduct of cholesterol.
Their findings were published in the July issue of the journal Diabetes Care.
The research could lead the way to developing medical sensors that replicate some of what diabetic alert dogs do, providing diabetics with an alternative to frequent blood testing, said lead researcher, Mark Evans.
"It's our vision that a new breath test could at least partly – but ideally completely – replace the current finger-prick test, which is inconvenient and painful for patients, and relatively expensive to administer."
Posted by John Woestendiek July 1st, 2016 under Muttsblog, videos.
Tags: animals, blood sugar, breath, detection, diabetes, diabetic, diabetic alert dogs, dog, dogs, hypoglycemia, increased, isoprene, levels, medical, pets, research, science, scientists, sense, smell, sniff, university of cambridge

Comments: 1
In the perpetual debate over which makes a better pet — dog or cat — cats have been taking a drubbing lately.
It's a silly argument to begin with: Why must we deem one species superior? What possible good does that serve? And it's mostly a waste of time. Converting a dyed-in-the-wool dog lover to a staunch cat lover is about as likely as getting someone to switch from Donald to Hillary.
Yet, conflict seems to be something we humans require, or at least enjoy. And the endless argument does provide fodder for bloggers. And, every now and then, something interesting comes up.
In the past year, scientific and semi-scientific studies comparing dogs and cats have come down more squarely on the side of dogs — enough so that you've got to wonder if some cat-hater is behind it all.
(For the record, we confess a personal preference for dog right here at the start, though we like cats, too.)
One such study was conducted as part of a new BBC2 documentary called "Cats v. Dogs: Which is Better" — a silly concept for a TV show, though we admit some of what they bring to light is thought provoking.
Dr. Paul Zak, a California neuroscientist, compared how much oxytocin dogs produce compared to cats, and he concluded that dogs love humans more than cats do. Five times as much to be exact.
It has been well documented that bonding, petting and having eye contact with your dog produces increased levels of the oxytocin, also known as the love hormone, in both dog and human.
"It's one of the chemical measures of love in mammals," Zak said. "Humans produce the hormone in our brains when we care about someone. For example, when we see our spouse or child the levels in our bloodstream typically rise by 40-60 percent."
The neuroscientist checked the oxytocin levels in both cats and dogs, taking saliva samples from 10 cats and 10 dogs on two occasions – 10 minutes before a playtime session with their owners and immediately after.
"I was really surprised to discover that dogs produced such high levels of oxytocin .. The dog level of 57.2 percent is a very powerful response. It shows these dogs really care about their owners," he said.
Zak said he was surprised to find any oxytocin at all in cats, which he said had never been tested for the hormone before.
Zak, also known as "Dr.Love," believes upping our oxytocin (and hugging more) could change the world. He once took blood from an entire wedding party and a sampling of guests, to see how their oxytocin levels went up during the ceremony.
He also spent two years trying to get the Food and Drug Administration to approve his use of oxytocin inhalers on experimental subjects. (In the meantime, as reported in The Guardian, he used one on himself.)
Zak's determination that canines love us more than felines do was just the latest bit of bad press for cats.
Another recent study, at Manhattanville College in New York, found canines provide humans with more benefits than cats.
The research suggested dog owners are more conscientious, less neurotic and more agreeable than cat owners. Dog owners scored higher in well-being than cat owners on all measures.
Last year, a study at the University of California, Berkeley, found, through web-based surveying, that cat owners were more anxious than cat owners.
If you still don't believe cats have been getting some bad press, check out this headline on a story about a study of cats last year: "Study: Your cat might be trying to kill you."
The story dealt with a study by researchers from the University of Edinburgh and the Bronx Zoo that compared the personality of the domestic cat with bigger, wilder members of the cat species.
The headline … well, it's what happens when you try to condense a 40-page study into eight catchy words.
So if you find yourself reading/listening to/watching the latest account of which is better, cats or dogs — whether it's labeled science or not — be at least a little wary.
And if it stresses you out, go pet your dog. Or cat.
Posted by John Woestendiek February 2nd, 2016 under Muttsblog.
Tags: animals, argument, bbc 2, cat or dog, cat people, cats, debate, documentary, dog people, dogs, levels, oxytocin, paul zak, pets, science, studies, study, which is better

Comments: 2
I rescued dozens, possibly hundreds, of pets from certain death the other night.
But before you call me a hero, or saint, you should know I only did it on Facebook, and only in a video game.
Pet Rescue Saga is the popular new puzzle game, downloaded more than 150 million times and playable on Facebook and through apps. It's free, at first,  but then, like a drug dealer who has handed out samples to get new clients hooked, it starts charging you to play more, or play more effectively, or to reach greater highs.
The game comes from King.com, the makers of Candy Crush Saga, which is similar and reportedly equally addictive.
When invitations to play Pet Rescue Saga first started showing up on my Facebook page, I wrongly assumed — given most of my Facebook friends are die-hard, do-gooding animal lovers — that it was a game that somehow was related to, or benefited, animal welfare causes.
It's not, and it doesn't.
There might be some unintentional similarities to the real world of animal rescue, such as walls being put up in front of you, and things piling up faster than you can handle them. But "Pet Rescue Saga" isn't about rescuing pets in the animal welfare sense of the word. It's mainly about busting blocks, and then more blocks, and then more blocks, by clicking on them to ensure that the "adorable" little pets atop them don't get squished.
Given video games have a reputation for catering to our basest instincts — chopping off heads, running people over in cars and the like —  I had hopes, especially when Facebook friends kept inviting me to play, that this one might actually be about a noble pursuit, or might even be educational.
No such luck. What it teaches us about pet rescue is that we can save animals by matching two or more blocks of the same color.
Still, I ended up spending an hour playing it on Facebook, which annoyingly notified me to "share" every time I passed some friend's record, before it got to the point where further play would require an investment of money. (That — having to fork up some money — generally prevents and/or cures any addictions to which I might fall victim.)
There are hundreds of levels of the game, and the higher you go (or the more you spend) the more tools you get to "save pets" — like sizzling rockets, hammers and exploding bombs.
In playing it, one becomes so focused on the blocks that he forgets about the animals. The endangered animals really seem a well-contrived afterthought, as if the gamemakers thought putting pets in need of rescue atop the stacks of blocks — as opposed to pots of gold or damsels in distress — might give it some relevance, or, pet rescue being a popular cause, add to its popularity.
"Wait! Don't forget about the animals! " says a review of the game on gamezebo.com. "Some levels of Pet Rescue Saga have dogs, pigs, and pigeons trapped on stacks of blocks, or wedged in columns. When you successfully clear away blocks, said animals drop safely to the ground. However, since many levels of Pet Rescue Saga scroll vertically, the animals on tall columns are in constant danger of getting squished on the top of the screen. Nothing ruins your day like the anguished squeal of a piglet."
Squishing aside, it's nice to see a game that's seemingly about rescuing and saving, as opposed to killing and maiming.
It would be much nicer to see a game that was really about rescuing and saving animals, or that really taught compassion, or at least tried to.
I'm not necessarily saying the makers and marketers of the game are trying to capitalize on tender-hearted pet lovers, or that they mislead people to think the game might have some legitimate connection to the actual world of animal rescue.
But, after playing the game, I did start receiving emails from the gamemaker — far too many emails — with subject lines like: "Pets in danger. Help them now!" Clicking on the link in the email took me directly to the game's Facebook app.
I don't keep up much anymore with the latest developments in video games. So I don't know if phony altruism is the latest video game trend: Bust up the blocks and find a cure for cancer. Bust up the blocks to feed the starving children.
Maybe there are some truly altruistic video games out there. The Game Show Network came close to that last month when it introduced Pet Pals Slots, a limited-edition game on Facebook. It earmarked a portion of money made from gameplay in November — up to $30,000 — to go to Best Friends Animal Society, providing food, medical care and shelter for animals at the organization's Utah sanctuary. In other words, while playing a mostly mindless game, those who played Pet Pals Slots, at least in a way, were saving pets.
Video games, with exceptions, are rarely educational, and I don't really expect them to serve as our moral compass. (More often they seem aimed at sending that compass haywire.)
And of course they're not obligated to share the wealth they make with any deserving causes they borrow their themes from.
But how cool would it be to see — in addition to less squishing — more of that?
Posted by John Woestendiek January 9th, 2014 under Muttsblog.
Tags: animal rescue, animal welfare, animals, app, blocks, bombs, candy crush, cause, contributions, crushed, dogs, donations, exploit, exploiting, facebook, game, games, hammers, king, levels, mission, money, pet, pet rescue, pet rescue saga, pets, philanthropy, pigs, profits, reality, rescue, rockets, share, video

Comments: 1
Once upon a time in Butte, in a huge and barren expanse of waste that's part of the nation's largest Superfund site, there lived a dog.
Nobody knows how he got there, why he stayed, or how he managed to remain alive in the toxic confines of what's known as the Berkeley Pit. But live he did, for 17 years — during times of active mining, during its suspension, during its limited restart, during the ongoing clean-up effort and right up until the pit transitioned into one of the country's oddest tourist attractions.
He just showed up, back in 1986. Once miners figured out that the ghostly white image in the distance was a dog, they named him "The Auditor," because of his tendency to appear when he was least expected.
With matted ropes of white hair covering his legs, The Auditor — a Puli — sometimes appeared to be hovering when he moved, and he seemed to want nothing to do with humans. The miners would leave him food, and build him a house, and even started sticking baby aspirin in his food when they noticed he was limping, but The Auditor was mostly unapproachable up until the end.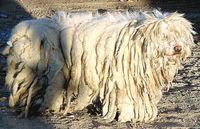 He died peacefully in his dog house in 2003, but The Auditor — like mining — would leave a legacy. His name would live on — in statues, in science, and as a symbol for, well, lots of things.
Appropriately enough, for a mining site in the midst of a massive EPA clean-up that will continue for generations, The Auditor had a coat like a mop.
His yellowing dreadlocks covered his eyes, too, limiting his vision — similar to the blind eye Montana once turned to the environmental havoc mining would wreak on and beneath its landscape.
But perhaps more than anything else, the mysterious white dog became a metaphor for Butte, and its ability to survive hard times — of the hardy stuff of which Montanans are made.
Butte's still kicking — though not the way it once kicked. It's about a third of the size it was in its heyday.  Once called the "Richest Hill on Earth" for its massive copper deposits, Butte in the early 1900s, boasted a population of 100,000.
When the mines shut down by 1982, Butte was left economically crippled and environmentally contaminated. Piles of mine waste and years of smoke from smelters contaminated the land and water around Butte with arsenic, mercury, lead and other metals.  
In the 1980s, the Berkeley Pit and Butte's historic Uptown District were declared a Superfund site — one that extends 130 miles downstream due to tailings that settled along the Clark Fork River.
The Auditor lingers too. After the local newspaper brought him to the public's attention in 2003, a campaign began to honor him with a series of statues, three of which now sit in various locations around town, honoring him not for any heroics, but solely for staying alive in a place where not much does.
Berkeley Pit lies just a few blocks from the center of Butte. It stretches a mile-and-a-half across and is almost 2,000 feet deep. Barren soil surrounds a lake laden with heavy metals. In 1995, a flock of migrating geese landed in the water. The next morning 342 were found dead.
How The Auditor managed to survive all that time is as mysterious as the dog himself. Maybe his rope-like locks, instead of soaking in the toxins, kept them from reaching his skin. Maybe the toxins weren't as toxic as thought. Maybe, as dogs do, he adapted to them. The only company still in operation at the site — after mourning his loss — had The Auditor cremated.
Normally, that would slam the door shut on the mystery — but Holly Peterson already had her foot in it.
Peterson, an environmental engineer at Montana Tech in Butte, saw the article about The Auditor — 16 years old by then — in 2003. It tugged at her heartstrings as well as her scientific curiosity.
"How can that not touch you?" she said over the weekend, sitting in her office, which is decorated with photos of The Auditor. "I kept wondering, how can that thing survive? With all the contamination in Butte, I started thinking, how can we study that in a different way?"
With her students, she began getting samples of hair from dogs in Butte and the surrounding areas, and when she ran into an official from the mining company, Montana Resources, at a presentation, she asked about getting a sample from The Auditor.
The Auditor was first seen roaming the mine in 1986, the year Montana Resources started its operations. The company, due to plunging copper prices, shut down operations there in 2000, leaving only a skelton crew, but reopened in 2003.
After getting permission from the company, Peterson went to the site, where a mining company employee, wearing gloves, approached The Auditor, on his last legs by then, and snipped off a few locks of hair.
"You could tell he just wanted us to leave him alone," Peterson said.
Tests on the sample in July of 2003 revealed "elevated levels of almost every element imaginable," Peterson said, including 128 times the amount of arsenic in a typical dog's hair.
Peterson's research project would expand from there, shedding new light on the extent of environmental degradation in Butte and introducing a new, if not conclusive, way to measure it and the continuing efforts to clean it up. Her work marked the first time pet hair has been used to monitor toxins in a residential Superfund site.
Since then, the project has moved on to testing the hair of animals in Australia and Nairobi, and sampling the hair of animals bagged by hunters back home in Montana. Through taking samples at hunter check stations, they found far higher levels of metals in animals shot in the area around Anaconda, once home to a huge smelting operation.
The Auditor, as it turned out, inspired Peterson on several levels. She was the one behind the effort to install statues of him — created by a Texas sculptor — at several locations around town, including the one she showed me at the Butte Plaza Mall.
It's made of bronze, with a copper patina that has worn off in spots from people petting it. Most of funding for the sculpture came from a California couple, who read of The Auditor in a Puli Club of America newsletter.
Peterson's hope was that The Auditor — after his death on Nov. 19, 2003 —  would become a mascot for Butte, or a mascot for environmental causes, that his legacy would serve as inspiration to others, and as a reminder to not abandon pets, or abuse the planet.
What she wasn't planning on was her own little Auditor.
Living with her 86-year-old mother, she didn't see a dog fitting into her life.
But after publicity about The Auditor, and connecting with the Puli Club, she started getting emails when a Puli would show up at a shelter in need of rescue.
That's how, three years ago, she ended up with Birke-Beiner.
"I couldn't pass him up when I saw the picture of him," Peterson said.
Birke-Beiner, who earlier in the day had gone to a Halloween Party — as a basket of yarn — came along on our trip to the mall, much of which he spent draped over Peterson's shoulder, looking something like a Lady Gaga fashion accessory.
Peterson says some people call him Little Auditor, but Birke is his own dog — playful, people-friendly and, one gets the impression, destined to live a happy and non-toxic life, far away from a giant hole in the ground known as the Berkeley Pit.
Posted by John Woestendiek November 2nd, 2010 under Muttsblog.
Tags: abandoned, animals, arsenic, auditor, berkeley pit, butte, contamination, dog, dog's country, dogs, dogscountry, environment, epa, hair, history, holly peterson, levels, memorial, metals, miners, mining, mining waste, montana, montana resources, montana tech, pets, puli, puli club of america, research, science, site, statue, stray, superfund, testing, tests, the auditor, toxic, travels with ace

Comments: 12
The City of Austin Parks Department plans to close a popular dog park for six to eight months because of high E. coli bacteria levels in the creek.
Officials blame the bacteria — found during regular water sampling since 2007 — on dog waste at the Bull Creek District Park, one of 12 off-leash parks in Austin.
In March 2008, the city put up signs at the park about the environmental dangers of dog waste, but problems persisted, parks Director Sara Hensley said. The department plans to require leashes at the park beginning Sept. 8. In October, plans call for the dog area to be closed entirely to plant more vegetation to helps keep pollutants from draining into the creek. City officials haven't determined yet whether leashes would be required when the park reopens in the spring.
Heavy use of the park has worn down existing vegetation there, city officials say, and the drought has led to low, slow-moving waters in the creek where bacteria can thrive, the Austin American-Statesman reported.
Austin's leash ordinance requires dogs to be on a leash no longer than six feet on public land. The maximum fine for violating that rule is $500.
The parks department is trying to find other spaces that could be turned into off-leash parks, Hensley said.
Debra Bailey, a task force member who formed a volunteer group last year to regularly clean up dog waste at the park, said sewage spills and other trash left in the creek could also be to blame for high bacteria levels. The city should look at other options before closing the dog park or requiring leashes, such as better enforcement and signs related to picking up dog waste, she said.
"They are blaming the dogs and not addressing other issues," she said.
Posted by John Woestendiek August 10th, 2009 under Muttsblog.
Tags: austin, bacteria, bull creek district park, closing, dog park, dogs, E. coli, feces, leash, levels, off-leash, parks, pollutants, poop, scoop, tests, texas, vegetation, waste, water

Comments: 2