Tag: memorial
Whether it's art, propaganda, or a combination of the two, a memorial to victims of fatal dog attacks is creating controversy as one of dozens of entries in a public art display in downtown Grand Rapids, Michigan.
The work  is called "Out of the Blue," a reference to how dog attacks — and particularly pit bull attacks, the artist repeatedly points out — usually happen.
The display, created by a woman identifying herself as Joan Marie Kowal, consists of more than 30 decorated crosses, representing the number of people killed in dog attacks this year, and images of the victims, many of them children.
The artwork is rubbing some dog lovers, and particularly pit bull lovers, the wrong way, which has led to some demonstrations and the kind of heated, everybody's an expert debate that follows pit bulls around wherever they go.
Joan Marie Kowal, we suspect, has more experience in badmouthing pit bulls than she does in creating art, but then again artists don't need credentials in this competition.
Every year, for 19 days, three square miles of downtown Grand Rapids is opened up to artists in ArtPrize, a competition that awards $200,000 to the grand prize winner.
Downtown becomes "an open playing field where anyone can find a voice in the conversation about what is art and why it matters," according to the  ArtPrize  website. "Art from around the world pops up in every inch of downtown … It's unorthodox, highly disruptive, and undeniably intriguing to the art world and the public alike."
This year, "Out of the Blue" has proved among the most disruptive.
A week ago, perturbed pit bull owners brought their dogs to Calder Plaza, where the entry is displayed, in hopes of presenting their views and showing that pit bulls — the breed most often mentioned in the memorial — aren't vicious killing machines.
When they sat down in front of the memorial, Kowal complained they were obstructing the public's view.
Kowal told MLIVE.com in an email that "visitors can't even see the art and many have told me the bully breed owners, sitting on the ledges blocking the view of the victims' biographies and refusing to move, makes them unable to enjoy the piece."
Grand Rapids Police Lt. Pat Dean said Kowal filed a complaint in late September about people sitting with pit bulls on the stone wall in front of her ArtPrize entry. Police found nothing illegal at that time, he said, and members of the group, while on public property, moved at the request of officers.
Kowal describes the work as "an opportunity to Pay it Forward, and show the good side of humanity. Visitors are encouraged to express their sympathy, respect, and support for the victims and their families by leaving teddy bears, flowers, or memorial decorations in the designated heart-shaped memorial space."
According to a brief biography listed on the ArtPrize website,  Kowal is an animal lover, who has feral cats and pet squirrels. She attended Grand Valley State University.
Not a whole lot can be learned about her through searching her name on the Internet, and there's no mention of any previous artistic pursuits.
There was a 2011 MLIVE.com article that mentioned her name, and quoted her as being a supporter of a proposed pit bull ban in Wyoming, Michigan.
Perhaps she became an artist "out of the blue." Perhaps her anti-pit bull passion needed an outlet.
We support the right for just about anyone to call themselves an artist, assuming they are making some form of art. We don't have a problem with Kowal expressing herself — either vocally or through her "art" — on the streets of Grand Rapids. By the same token, we have no problem with pit bull owners and their dogs sitting down squarely in front of it, as long as it's public property. They have the right to express themselves in public, too, whether they're ArtPrize contestants or not.
So do we. And our opinion is Kowal is pushing her personal agenda under the guise of a non-profit organization's art competition, and that it's likely part of a well-plotted effort by those forces intent on painting all members of the breed with the same brush, reinforcing negative stereotypes while playing fast and loose with the facts.
Kowal says she plans to add three more crosses this weekend in remembrance of three other people who died from injuries she says were caused by pit bull attacks.
"That is not my fault that they were all killed by pit bulls," she said. "I'm just showing the facts."
Posted by John Woestendiek October 6th, 2014 under Muttsblog.
Tags: animals, art, artist, artprize, artworks, attacks, breed, breeds, contest, discrimination, dog, dogs, downtown, fatal, grand rapids, joan marie kowal, memorial, out of the blue, pets, pit bulls, pitbulls, victims

Comments: 8
It's easy to ignore statistics. They're cold and dry and lack soulful eyes. And when the numbers are overwhelming — like the 5,500 unwanted dogs who are put to death daily in U.S. shelters — we tend, as a rule, to find life is more comfortable and less depressing when we don't do the math.
Louisville artist Mark Barone is an exception to that rule. Rather than ignore the problem, he decided to put a face on it — 5,500 of them, in fact.
For two years now, he has been painting portraits of dogs who have been put down at shelters across the country, and he's more than halfway to his goal: 5,500 portraits that he hopes will someday — unlike their subjects — find a forever home.
Barone and his partner, Marina Dervan, call the project "An Act of Dog."
Their hope is the works will someday be displayed in a permanent memorial museum, which — between its emotional impact and the funds it would help raise for no-kill rescues and shelters – could help lead to their larger goal,  a no-kill nation.
Mark, a well-established artist, had moved to Santa Fe when, about three years ago, he lost his dog of 21 years, Santina.
"It was kind of a sad time, and I thought it would be therapeutic for Mark to go to the dog park," Marina recalled. "I thought it would be helpful for him to get some dog love, and it was. It was really great. It got me in the mood to think about adopting another dog. Mark wasn't at that stage, but it didn't stop me from looking."
Looking for adoptable dogs online and at local shelters, she quickly learned the sad reality that she says neither she nor Mark, up to then, were aware of — that millions of dogs in need of homes are put down at shelters every year.
"Instead of finding a dog, I found out all these horrifying statistics," she said. She shared them with Mark, along with images and videos of dogs who had been, or were on the verge of, being put down.
He asked her to stop sharing, but she kept up.
"If we don't look at it, nothing will change," she said. "So he looked at it, as painful as it was, and day or two later, we were standing in the kitchen and he asked me the number of dogs killed everyday in the country … I gave him the number 5,500, based on statistics from Best Friends."
It was then that the idea of honoring shelter dogs by painting 5,500 portraits of those who had been killed was born, and along with it, the longer term plan of a memorial museum, along the lines of the Vietnam Memorial and the Holocaust Museum.
First, they started looking for the studio space to get started on the task, mailing out inquiries in search of a city or town that might offer free space for him to paint.
Santa Fe wasn't interested. Louisville was among about 30 places that were.
That's where the couple lives now, and where Mark has completed about 3,200 of the portraits — some of them life- sized, some of them larger.
"It's the big ones, 8 feet by 8 feet, that slow things down," Mark said.
Only one of the 8×8-foot paintings depicts a dog who died a natural death — Mark's dog, Santina. According to Marina, Santina will serve as the gatekeeper of the exhibit. Other large portraits feature  Batman, a 10-year-old pit bull who was left outside in 21 degree weather, and was found dead at a shelter the next morning, and Grant, who was deemed unadoptable due food bowl aggression and put down.
The large paintings — there will be 10 of them — will include the individual stories of those dogs, representing the most common reasons shelters give to put animals down.
"It's pretty much the wall of shame," Marina said.
Mark and Marina are still looking for a permanent place to house the works, and for sponsors and benefactors for the museum, and they have some promising leads, both in Louisville and around the country. In addition to being an educational center, the museum would also be an outlet for selling merchandise that features the images – shirts, cards, and other products. An Act of Dog, which is a nonprofit organization, would pass on all profits to no-kill facilities and rescue groups.
The dogs in the paintings come from shelters all around the country. Their photos are submitted by rescue groups, volunteers and shelter employees. They have all been put down.
Mark and Marina object to the use of the term "euthanized" when it's applied to healthy animals. "Deliberately ending the life of a healthy and treatable pet is killing.  Deliberately ending the life of a medically hopeless and suffering pet is euthanasia," Marina said. They don't much like "put to sleep," either.
"Semantics are a powerful way to keep people from the truth and our mission is to show reality without the candy wrapping," she added.
Mark paints everyday, from sunrise to sunset. At night, he and Marina work on the An Act of Dog website. They're both foregoing salaries at this point.
Mark has served as a consultant to cities interested in using the arts to revitalize blighted areas, among them Paducah, Kentucky, and its Paducah Artist Re-locaton Program. Marina worked 20 years coaching corporate executives.  
Now they've cashed in their retirement savings and are devoting full time to the project.
"We could turn away and pretend like we didn't see what we saw, or we could do something about it," she added. "If that means we have to live poor,  we're OK with that, because we know we did something."
They're working now in studio space provided by the Mellwood Art Center in Louisville, where they did end up adopting a new dog, named Gigi, from a local shelter.
What drives the couple, though, are all the dogs who don't get out alive — the thousands put down each day.
"The no-kill movement is making strides, but not fast enough," said Mark who, on those days he doesn't feel like painting, reminds himself of the bleak numbers, and the 5,500 reasons — every day — he must continue.
To learn more about An Act of Dog, and how to become a sponsor or benefactor, visit its Facebook page or the An Act of Dog website.
(Photos and video courtesy of An Act of Dog: At top, a collage of Mark's paintings; Mark and Marina in their studio; some of the larger paintings, with Mark's former dog, Santina, at left; and three shelter dogs dogs Breeze, Freckles and Sky)
Posted by John Woestendiek May 10th, 2013 under Muttsblog, videos.
Tags: act of dog, an act of dog, animal welfare, animals, art, artist, death, dogs, euthanasia, faces, holocaust museum, kentucky, killed, killing, louisville, marina dervan, mark barone, mellwood art center, memorial, museum, no kill nation, no-kill, painting, paintings, pets, portraits, project, put down, put to sleep, rescues, santa fe, shelter, shelter dogs, shelters, statistics, vietnam memorial

Comments: 5
Police in Thomasville, North Carolina, paid their tribute to one of their canine partners Thursday – Cheko, a 9-year-old drug-sniffing dog who died after being poisoned.
About 150 people gathered for a memorial service at the Thomasville Funeral Home.
Police Chief Jeffrey Insley said before the service that an autopsy determined that Cheko — a drug-detecting dog who also was trained as a tracker — had been poisoned, according to the Winston-Salem Journal. He was one of four dogs in the K-9 unit.
Cheko died in March, just a week before he was scheduled to retire, at the Randolph County home of his handler, Thomasville Police Sgt. John Elgin. Elgin found Cheko dead inside his kennel, about two days after the dog started acting sluggish.
The Randolph County Sheriff's Department is investigating how the dog ingested the poison. Elgin said additional tests will be conducted to determine what chemicals or poisons killed Cheko.
"It could have been an act of retaliation from a past arrest, but we are not going to point any fingers until we complete our investigation," he said.
"Any new dog who takes Cheko's place will have big paws to fill," Insley said at the service.
Among those paying tribute to Cheko was  Thomasville Mayor Joe Bennett told the audience, Cheko had gone to heaven. "I doubt there are drugs there, but he is looking for something and having fun."
Posted by John Woestendiek April 9th, 2011 under Muttsblog.
Tags: animals, cheko, dead, detecting, died, dog, dogs, drug, funeral, john elgin, K-9, k9, killed, law enforcement, memorial, north carolina, pets, poison, poisoned, police, randolph county, sniffing, thomasville, tribute

Comments: 3
A makeshift memorial was constructed Sunday night in honor of a California woman who was struck by a car and killed after rescuing a dog that had wandered into traffic.
Mara Steves, 48, of Laguna Niguel, had coaxed the dog off the highway and was kneeling with it on the corner when two cars collided nearby, one of which went off the road and struck her.
Friends and family decorated the corner with flowers, candles and notes in memory of Steves, a mother of two.
The dog, who wasn't believed to be the cause of the accident, was not injured and reportedly made its way back home, according to the Los Angeles Times.
Steves was a former PTA president at a local elementary school, was jogging when she saw the dog in the road, a sheriff's department official said.
Posted by John Woestendiek February 14th, 2011 under Muttsblog, videos.
Tags: accident, animals, california, car, dog, hit, jogger, jogging, killed, laguna niguel, mara steves, memorial, news, orange county, pets, rescue, rescuing, saved, saving, traffic, woman

Comments: 5
Target, the dog brought to the U.S. from Aghanistan by one of the soldiers whose lives she was credited with saving — only to be accidentally euthanized by an animal shelter – was remembered in a memorial service last night.
The candlelight vigil was held at the Pima County Animal Shelter in Tucson.
In Afghanistan, Target, a stray befriended by a group of American soldiers, kept a suicide bomber who was trying to enter a building on a military base from gaining access. Instead, the bomber instead set off his bomb in a doorway. Five soldiers were injured, several of whom credited Target with helping save their lives.
Phoenix soldier Terry Young brought Target back home to Arizona.  Last month, the dog escaped from Young's yard and ended up in at the Pinal County animal shelter in Casa Grande, where she was accidentally euthanized the next day. The employee responsible for the mistake has been suspended.
Young said his son, Tavius, and the rest of the family is still working to get over the dog's death, according to KGUN9.
"It's been a few weeks already and Tavius still says, 'Where's Target?' It's heartbreaking."
Posted by John Woestendiek December 4th, 2010 under Muttsblog.
Tags: accidentally euthanized, afhganistan, animal shelter, animals, bomb, dogs, euthanasia, euthanized, hero, hero dog, memorial, military, pets, pima county animal shelter, pinal county, shelters, soldiers, stray, suicide bomber, target, terry young, tucson, vigil

Comments: 4
"The beaches are clean where once they festered with fish guts and flies. The canneries which once put up a sickening stench are gone, their places filled with restaurants, antique shops and the like. They fish for tourists now, not pilchards, and that species they are not likely to wipe out."
John Steinbeck's return to a much-changed Monterey in 1960 was more bitter than sweet — he found it much improved cosmetically, and economically, but its old fishing character and its saltiness were gone.
It wasn't home anymore.
The town's transition from a sardine-based economy to a tourist-based one was well underway by then, and while that would ensure that Monterey would continue to thrive, seeing how much had been erased — fish guts and all — returned Steinbeck, a native of the area, to the kind of funk he seemed to teeter on the edge of, periodically, in "Travels with Charley." 
"My return caused only confusion and uneasiness," he wrote. "… Tom Wolfe was right. You can't go home again because home has ceased to exist except in the mothballs of memory."
If he were to return again today to this spic and span city by the sea, he'd likely be even more displeased. Cannery Row and Fisherman's Wharf are now full-fledged tourist attractions that, while giving nods to the past, no longer have much connection with it.
And, quite possibly, he'd be downright irate over how his name and likeness have become an integral part of the area's business and tourism marketing.
He probably wouldn't think much of the way his name has been seized by business operations large and small: Steinbeck Garden Inn, Steinbeck Jewelers, Steinbeck Mortgage, Steinbeck Travel, Steinbeck Credit Union, Steinbeck Country Bail Bonds.
Steinbeck shunned publicity. In fact, he once moved out of the area to avoid it. Maybe he'd be OK with his bust being on display, in Steinbeck Plaza, but to see his face flapping in the breeze on banners above the streets in Cannery Row? I'm guessing he wouldn't care for that.
The Steinbeck bust is right in the middle of things, and tourists regularly stop and have their photos taken with it. It faces away from the bay, toward the traffic, which probably wouldn't have been his preference, either. He stares, somewhat solemnly, into the distance. Not even Ace could get him to break into a smile.
Monterey, and the surrounding area makes much of its Steinbeck connection — Steinbeck Country, they call it — from the flatlands of Salinas to the hilly bayfront of Pacific Grove.
It was in the family cottage there, purchased by his father as a family retreat, that Steinbeck wrote several novels and got started on "Of Mice and Men."
Steinbeck stayed in the cottage with his wife Elaine, as he headed south through California and then back east on the trip that would become "Travels with Charley,"
He visited old haunts, at least those still standing, and old friends, at least those who were still around. Between the people who had died or moved away and the makeover the city had received, Steinbeck felt out of place.
"The place of my origin had changed, and having gone away I had not changed with it. In my memory it stood as it once did and its outward appearance confused and angered me."
Monterey was a new place. And Carmel, he wrote, "begun by starveling writers and unwanted painters, is now a community of the well-to-do and the retired. If Carmel's founders should return, they could not afford to live there…They would be instantly picked up as suspicious character and deported over the city line."
Ace and I visited Cannery Row, then drove by Steinbeck's former cottage in Pacific Grove to snap a quick photo. We found a nice spot, cliffside, near Lover's Point, to rest our weary paws.
We walked Fisherman's Wharf, which once served as the major port on the Pacific and whose fishermen once set off daily on quests for huge whales, and later tiny sardines — until overfishing brought the sardine industry, which thrived during the Depression, to a grinding halt in the 1950s. By 1960, as Steinbeck noted, tourists had become the city's salvation.
In the 50 years since, the supply of them has not depleted. I've visited Monterey  several times, first  in 1987, and a couple more times in the early 1990′s, once for a story at Ford Ord, the once massive military base that was shut down in 1994. This visit, I was surprised to see mostly emptiness on the massive Army base by the sea, built in the 1940s to train soldiers for World War II. And surprised, too, that, given our times, it hadn't been reopened.
Funny how sardines are limited, but we seem to have an endless supply of wars. Even over-warring doesn't seem to bring an end to that industry.
Ace and I stayed at Motel 6 near what used to be Fort Ord, in a town called Marina, which I don't even remember existing when I was last here. But we spent most of our time in Monterey, which, despite all the tourists trappings, despite never being my home, still never fails to touch my soul.
It's not because of anything man has built; it's not because John Steinbeck slept here. It's the pockets of nature that still exist between the seafood restaurants and wax museums and souvenir shops and boutiques. It's the topography, the way the peninsula stretches into the bay, and the wildlife that, despite all man's tinkering, still call it home.
To me, that, more than anything else — moreso even than the famous writer — is what still gives salt-free Monterey  character:
The pelicans, the gulls, the seals and sea lions and all the other squirmy sea life you can see, not just in the confines of the Monterey Bay Aquarium, but in their natural habitat.
If I ever return — and I hope I do — that will be why.
Posted by John Woestendiek November 24th, 2010 under Muttsblog.
Tags: ace, animals, bay, business, bust, california, cannery row, carmel, coast, dog's country, dogs, dogscountry, fisherman's wharf, fishing, history, home, home again, industry, john steinbeck, legacy, memorial, monterey, name, nature, pacific grove, pelicans, pets, salinas, sardines, statue, steinbeck, steinbeck country, tourism, tourists, travels with charley, wildlife

Comments: 2
Once upon a time in Butte, in a huge and barren expanse of waste that's part of the nation's largest Superfund site, there lived a dog.
Nobody knows how he got there, why he stayed, or how he managed to remain alive in the toxic confines of what's known as the Berkeley Pit. But live he did, for 17 years — during times of active mining, during its suspension, during its limited restart, during the ongoing clean-up effort and right up until the pit transitioned into one of the country's oddest tourist attractions.
He just showed up, back in 1986. Once miners figured out that the ghostly white image in the distance was a dog, they named him "The Auditor," because of his tendency to appear when he was least expected.
With matted ropes of white hair covering his legs, The Auditor — a Puli — sometimes appeared to be hovering when he moved, and he seemed to want nothing to do with humans. The miners would leave him food, and build him a house, and even started sticking baby aspirin in his food when they noticed he was limping, but The Auditor was mostly unapproachable up until the end.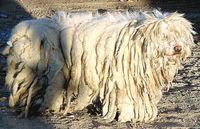 He died peacefully in his dog house in 2003, but The Auditor – like mining – would leave a legacy. His name would live on — in statues, in science, and as a symbol for, well, lots of things.
Appropriately enough, for a mining site in the midst of a massive EPA clean-up that will continue for generations, The Auditor had a coat like a mop.
His yellowing dreadlocks covered his eyes, too, limiting his vision – similar to the blind eye Montana once turned to the environmental havoc mining would wreak on and beneath its landscape.
But perhaps more than anything else, the mysterious white dog became a metaphor for Butte, and its ability to survive hard times — of the hardy stuff of which Montanans are made.
Butte's still kicking — though not the way it once kicked. It's about a third of the size it was in its heyday.  Once called the "Richest Hill on Earth" for its massive copper deposits, Butte in the early 1900s, boasted a population of 100,000.
When the mines shut down by 1982, Butte was left economically crippled and environmentally contaminated. Piles of mine waste and years of smoke from smelters contaminated the land and water around Butte with arsenic, mercury, lead and other metals.  
In the 1980s, the Berkeley Pit and Butte's historic Uptown District were declared a Superfund site — one that extends 130 miles downstream due to tailings that settled along the Clark Fork River.
The Auditor lingers too. After the local newspaper brought him to the public's attention in 2003, a campaign began to honor him with a series of statues, three of which now sit in various locations around town, honoring him not for any heroics, but solely for staying alive in a place where not much does.
Berkeley Pit lies just a few blocks from the center of Butte. It stretches a mile-and-a-half across and is almost 2,000 feet deep. Barren soil surrounds a lake laden with heavy metals. In 1995, a flock of migrating geese landed in the water. The next morning 342 were found dead.
How The Auditor managed to survive all that time is as mysterious as the dog himself. Maybe his rope-like locks, instead of soaking in the toxins, kept them from reaching his skin. Maybe the toxins weren't as toxic as thought. Maybe, as dogs do, he adapted to them. The only company still in operation at the site — after mourning his loss — had The Auditor cremated.
Normally, that would slam the door shut on the mystery — but Holly Peterson already had her foot in it.
Peterson, an environmental engineer at Montana Tech in Butte, saw the article about The Auditor — 16 years old by then — in 2003. It tugged at her heartstrings as well as her scientific curiosity.
"How can that not touch you?" she said over the weekend, sitting in her office, which is decorated with photos of The Auditor. "I kept wondering, how can that thing survive? With all the contamination in Butte, I started thinking, how can we study that in a different way?"
With her students, she began getting samples of hair from dogs in Butte and the surrounding areas, and when she ran into an official from the mining company, Montana Resources, at a presentation, she asked about getting a sample from The Auditor.
The Auditor was first seen roaming the mine in 1986, the year Montana Resources started its operations. The company, due to plunging copper prices, shut down operations there in 2000, leaving only a skelton crew, but reopened in 2003.
After getting permission from the company, Peterson went to the site, where a mining company employee, wearing gloves, approached The Auditor, on his last legs by then, and snipped off a few locks of hair.
"You could tell he just wanted us to leave him alone," Peterson said.
Tests on the sample in July of 2003 revealed "elevated levels of almost every element imaginable," Peterson said, including 128 times the amount of arsenic in a typical dog's hair.
Peterson's research project would expand from there, shedding new light on the extent of environmental degradation in Butte and introducing a new, if not conclusive, way to measure it and the continuing efforts to clean it up. Her work marked the first time pet hair has been used to monitor toxins in a residential Superfund site.
Since then, the project has moved on to testing the hair of animals in Austrialia and Nairobi, and sampling the hair of animals bagged by hunters back home in Montana. Through taking samples at hunter check stations, they found far higher levels of metals in animals shot in the area around Anaconda, once home to a huge smelting operation.
The Auditor, as it turned out, inspired Peterson on several levels. She was the one behind the effort to install statues of him — created by a Texas sculptor — at several locations around town, including the one she showed me at the Butte Plaza Mall.
It's made of bronze, with a copper patina that has worn off in spots from people petting it. Most of funding for the sculpture came from a California couple, who read of The Auditor in a Puli Club of America newsletter.
Peterson's hope was that The Auditor — after his death on Nov. 19, 2003 —  would become a mascot for Butte, or a mascot for environmental causes, that his legacy would serve as inspiration to others, and as a reminder to not abandon pets, or abuse the planet.
What she wasn't planning on was her own little Auditor.
Living with her 86-year-old mother, she didn't see a dog fitting into her life.
But after publicity about The Auditor, and connecting with the Puli Club, she started getting emails when a Puli would show up at a shelter in need of rescue.
That's how, three years ago, she ended up with Birke-Beiner.
"I couldn't pass him up when I saw the picture of him," Peterson said.
Birke-Beiner, who earlier in the day had gone to a Halloween Party — as a basket of yarn — came along on our trip to the mall, much of which he spent draped over Peterson's shoulder, looking something like a Lady Gaga fashion accessory.
Peterson says some people call him Little Auditor, but Birke is his own dog — playful, people-friendly and, one gets the impression, destined to live a happy and non-toxic life, far away from a giant hole in the ground known as the Berkeley Pit.
Posted by John Woestendiek November 2nd, 2010 under Muttsblog.
Tags: abandoned, animals, arsenic, auditor, berkeley pit, butte, contamination, dog, dog's country, dogs, dogscountry, environment, epa, hair, history, holly peterson, levels, memorial, metals, miners, mining, mining waste, montana, montana resources, montana tech, pets, puli, puli club of america, research, science, site, statue, stray, superfund, testing, tests, the auditor, toxic, travels with ace

Comments: 10