Tag: montana
Here's my theory: The more ghost signs a town has, the more ghosts it probably has, too.
Butte, Montana, it should come as no surprise, has plenty. Of both.
Here are some of the ones that, during just 30 minutes of driving around town one day this week, we came across  – touting  cigars, beer and hotels that have all been long outlived by their hand-painted advertisements.
Flor de Baltimore was a cigar brand that appears to go back at least a century or so. I'm not sure if its named after Lord Baltimore, the founder of Maryland, or the city. I'm guessing Flor means flower, which isn't the first thing that Baltimore brings to my mind, but maybe the imagery the city evoked was different back then.
Most of the signs are for hotels — long since gone, but luxurious in their day, and even fireproof, which was a good thing considering all the mining executives who were probably lighting up Flor de Baltimores in their beds.
Those were the glory days, though — back when the copper mines were thriving and Butte was a rollicking city of 100,000.
Now, only about a third as many people live here. Mining, though it still goes on, is nowhere near what it once was. You can't find a good whorehouse when you need one (and they say the defunct one is haunted). And nobody's drinking Butte Special Beer. It was brewed by a company that, more than 100 years old, closed in 1963.
There's a big difference between what was in Butte and what is in Butte. Some look at Butte and see a depressing town; some see a fight-hardened survivor, a town that's testament to man's resiliency. Some see only its rough edges; some see its rich and colorful history, faded over time.
The New Tait hotel is not only not new anymore; it's non-existent, but the old sign remains, as does the building, since converted into apartments.
Butte is the hometown of Evel Knievel. One of its tops tourist draws is a huge mine pit, part of a Superfund site that encompasses the historic district as well. If towns can be eccentric, Butte is — and quite proudly so.
But it's also haunting — a place where the sun and clouds cast shadows that crawl, tarantula like, up and down its high hills; where mining has left poisons lurking, zombie like, beneath the surface.
Today, Butte is equal parts defunct and funky; gritty and, if you look hard, graceful. The ghost signs bring back memories of the freewheeling greatness that was; but they also are reminders to Butte that, in some ways, it's a has-been.
But has-beens — and I know some, personally – seem to love regressing to the glory days, recalling better times. When the present's not so great, the past seems more worth revisiting.
The trick is to not get stuck there — to appreciate what was, but keep looking at what could be … all, of course, while not forgetting to appreciate what is.
Before it fades away.
Posted by John Woestendiek November 3rd, 2010 under Muttsblog.
Tags: advertisements, advertising, america, animals, beer, butte, cigars, dog's country, dogs, dogscountry, environment, fading, flor de baltimore, ghost, ghost signs, hand painted, history, hotels, legacy, memories, mining, montana, nostalgia, painting, pets, road trip, signs, traveling with dogs, travels with ace, west

Comments: none
Once upon a time in Butte, in a huge and barren expanse of waste that's part of the nation's largest Superfund site, there lived a dog.
Nobody knows how he got there, why he stayed, or how he managed to remain alive in the toxic confines of what's known as the Berkeley Pit. But live he did, for 17 years — during times of active mining, during its suspension, during its limited restart, during the ongoing clean-up effort and right up until the pit transitioned into one of the country's oddest tourist attractions.
He just showed up, back in 1986. Once miners figured out that the ghostly white image in the distance was a dog, they named him "The Auditor," because of his tendency to appear when he was least expected.
With matted ropes of white hair covering his legs, The Auditor — a Puli — sometimes appeared to be hovering when he moved, and he seemed to want nothing to do with humans. The miners would leave him food, and build him a house, and even started sticking baby aspirin in his food when they noticed he was limping, but The Auditor was mostly unapproachable up until the end.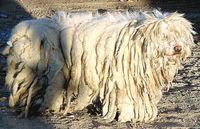 He died peacefully in his dog house in 2003, but The Auditor – like mining – would leave a legacy. His name would live on — in statues, in science, and as a symbol for, well, lots of things.
Appropriately enough, for a mining site in the midst of a massive EPA clean-up that will continue for generations, The Auditor had a coat like a mop.
His yellowing dreadlocks covered his eyes, too, limiting his vision – similar to the blind eye Montana once turned to the environmental havoc mining would wreak on and beneath its landscape.
But perhaps more than anything else, the mysterious white dog became a metaphor for Butte, and its ability to survive hard times — of the hardy stuff of which Montanans are made.
Butte's still kicking — though not the way it once kicked. It's about a third of the size it was in its heyday.  Once called the "Richest Hill on Earth" for its massive copper deposits, Butte in the early 1900s, boasted a population of 100,000.
When the mines shut down by 1982, Butte was left economically crippled and environmentally contaminated. Piles of mine waste and years of smoke from smelters contaminated the land and water around Butte with arsenic, mercury, lead and other metals.  
In the 1980s, the Berkeley Pit and Butte's historic Uptown District were declared a Superfund site — one that extends 130 miles downstream due to tailings that settled along the Clark Fork River.
The Auditor lingers too. After the local newspaper brought him to the public's attention in 2003, a campaign began to honor him with a series of statues, three of which now sit in various locations around town, honoring him not for any heroics, but solely for staying alive in a place where not much does.
Berkeley Pit lies just a few blocks from the center of Butte. It stretches a mile-and-a-half across and is almost 2,000 feet deep. Barren soil surrounds a lake laden with heavy metals. In 1995, a flock of migrating geese landed in the water. The next morning 342 were found dead.
How The Auditor managed to survive all that time is as mysterious as the dog himself. Maybe his rope-like locks, instead of soaking in the toxins, kept them from reaching his skin. Maybe the toxins weren't as toxic as thought. Maybe, as dogs do, he adapted to them. The only company still in operation at the site — after mourning his loss — had The Auditor cremated.
Normally, that would slam the door shut on the mystery — but Holly Peterson already had her foot in it.
Peterson, an environmental engineer at Montana Tech in Butte, saw the article about The Auditor — 16 years old by then — in 2003. It tugged at her heartstrings as well as her scientific curiosity.
"How can that not touch you?" she said over the weekend, sitting in her office, which is decorated with photos of The Auditor. "I kept wondering, how can that thing survive? With all the contamination in Butte, I started thinking, how can we study that in a different way?"
With her students, she began getting samples of hair from dogs in Butte and the surrounding areas, and when she ran into an official from the mining company, Montana Resources, at a presentation, she asked about getting a sample from The Auditor.
The Auditor was first seen roaming the mine in 1986, the year Montana Resources started its operations. The company, due to plunging copper prices, shut down operations there in 2000, leaving only a skelton crew, but reopened in 2003.
After getting permission from the company, Peterson went to the site, where a mining company employee, wearing gloves, approached The Auditor, on his last legs by then, and snipped off a few locks of hair.
"You could tell he just wanted us to leave him alone," Peterson said.
Tests on the sample in July of 2003 revealed "elevated levels of almost every element imaginable," Peterson said, including 128 times the amount of arsenic in a typical dog's hair.
Peterson's research project would expand from there, shedding new light on the extent of environmental degradation in Butte and introducing a new, if not conclusive, way to measure it and the continuing efforts to clean it up. Her work marked the first time pet hair has been used to monitor toxins in a residential Superfund site.
Since then, the project has moved on to testing the hair of animals in Austrialia and Nairobi, and sampling the hair of animals bagged by hunters back home in Montana. Through taking samples at hunter check stations, they found far higher levels of metals in animals shot in the area around Anaconda, once home to a huge smelting operation.
The Auditor, as it turned out, inspired Peterson on several levels. She was the one behind the effort to install statues of him — created by a Texas sculptor — at several locations around town, including the one she showed me at the Butte Plaza Mall.
It's made of bronze, with a copper patina that has worn off in spots from people petting it. Most of funding for the sculpture came from a California couple, who read of The Auditor in a Puli Club of America newsletter.
Peterson's hope was that The Auditor — after his death on Nov. 19, 2003 —  would become a mascot for Butte, or a mascot for environmental causes, that his legacy would serve as inspiration to others, and as a reminder to not abandon pets, or abuse the planet.
What she wasn't planning on was her own little Auditor.
Living with her 86-year-old mother, she didn't see a dog fitting into her life.
But after publicity about The Auditor, and connecting with the Puli Club, she started getting emails when a Puli would show up at a shelter in need of rescue.
That's how, three years ago, she ended up with Birke-Beiner.
"I couldn't pass him up when I saw the picture of him," Peterson said.
Birke-Beiner, who earlier in the day had gone to a Halloween Party — as a basket of yarn — came along on our trip to the mall, much of which he spent draped over Peterson's shoulder, looking something like a Lady Gaga fashion accessory.
Peterson says some people call him Little Auditor, but Birke is his own dog — playful, people-friendly and, one gets the impression, destined to live a happy and non-toxic life, far away from a giant hole in the ground known as the Berkeley Pit.
Posted by John Woestendiek November 2nd, 2010 under Muttsblog.
Tags: abandoned, animals, arsenic, auditor, berkeley pit, butte, contamination, dog, dog's country, dogs, dogscountry, environment, epa, hair, history, holly peterson, levels, memorial, metals, miners, mining, mining waste, montana, montana resources, montana tech, pets, puli, puli club of america, research, science, site, statue, stray, superfund, testing, tests, the auditor, toxic, travels with ace

Comments: 10
Try as I might, I couldn't figure out what these long tubes I kept passing on Interstate 94 in Montana were.
Airplane wings? Some new form of irrigation equipment? Space shuttle components? Pieces of some secret governmental weapon?
I was tilting at windmills.
Which is what they turned out to be — windmill blades, to be precise.
I found that out later at a truck stop in Rocker, just west of of Butte, where several of the oversized loads, having just negotiated the winding stretch of interstate on Butte's eastern side, had pulled over for a rest.
According to the Associated Press, the explosive growth of the wind energy industry has led to dozens of trucks a day toting the blades down the nation's Interstate highways to their new homes, mostly in the west.
Commonly traveling in convoys, the oversized loads haven't caused too many problems. They're not any wider than a normal truck, but they are longer — much longer. Some of the blades extend 180 feet, about triple the length of regular semitrailer loads.
That means it takes about three times as long to get around them, but considering the clean, renewable, independent energy they will go on to supply, I'm a fan.
Posted by John Woestendiek November 1st, 2010 under Muttsblog.
Tags: animals, blades, dog's country, dogs, dogscountry, energy, environment, highway, interstate, montana, oversized load, pets, road trip, transport, transportation, travels with ace, trucking, trucks, turbines, wind, windmills, wings

Comments: 1
Posted by John Woestendiek October 31st, 2010 under Muttsblog.
Tags: animals, bad route road, dog, dog's country, dogs, dogscountry, exit, exit sign, haiku, highway, highway haiku, interstate, montana, pets, poetry, road, road poetry, road trip, sign, travel, travels with ace

Comments: none
Three years after we first met them at their home in Montana, we hooked up with some old friends Monday — in New Hampshire.
We reunited with Travis, who, due to a rare disease, has a jaw that's fused shut; with Patti, who lost both of her eyes when she was assaulted with a shovel; and with Soba (above), whose neurological disorder, known as cerebellar hypoplasia, makes getting from one place to another an arduous task as she wobbles, flails and jerks about. 
Oh, and we reconnected with some human friends, too –  Steve Smith and Alayne Marker, who this year faced an arduous task of their own — moving their Rolling Dog Ranch, a sanctuary for disabled and unwanted animals, from a sprawling spread in golden Montana to much greener pastures in Lancaster, New Hampshire.
I first met the couple in 2007, during a stint as a visiting professor at the University of Montana. 
I visited their ranch to see the work they were doing with animals– most of them blind, all of them deemed useless, too handicapped to have a life of any quality and destined to be put down. 
Rolling Dog Ranch in Ovando was a beautiful place — in part because of its setting on 160 acres under Montana's big sky, in larger part because it showed those doing that deeming that they were as wrong as they could be. 
Steve and Alayne bought the ranch in Montana while both still worked in Seattle for Boeing — he in the communications department, she as a lawyer. They'd planned to take early retirement and start a sanctuary for disabled animals. They got tired of waiting for their dream, though, and ditched their jobs.
They packed up their own dogs and moved to Montana. They named the ranch Rolling Dog, after the way their own dogs gleefully rolled in the grass there every time they visited. 
The ranch opened, slightly earlier than planned, in 2000, when Steve and Alayne were asked to take in a blind horse. Seven years later, it served as home to 80 animals – 40 dogs, 10 cats and 30 horses, 25 of which are blind. It is funded through donations from the public.
After 10 years in Montana, though, the couple decided to head east. The ranch's remoteness, Montana's harsh winters, difficulties finding employees, rising gas prices, and the hour-plus drives to the closest cities of Missoula and Helena were among the reasons for relocating.  
On the Internet, they scoped out possible new locations for the sanctuary, and, after finding one they liked in New Hampshire, just outside of Lancaster, bought it and began making the necessary improvements — like ramps at all the entrances — all while choreographing what would be a complex move.
There were tons of supplies and equipment to be shipped across the country; ten horses, all but two of them blind; 35 dogs with assorted disabilities, the five barn cats and five tons of Montana hay — so that the horses could make a gradual transition to New Hampshire hay and grass.
"It went about as good as you could expect," Steve said. "The dogs just did wonderfully. There were some people saying it would be too hard on the animals, but what people forget is that these animals have already been through a lot, and that they came to us from all over the country. After coping with something like losing your vision, it's not a problem to travel to New Hampshire.".
Altogether, it took 17 trips. Steve toted seven dogs across country; Alayne took five, including Soba.
In Lancaster, they're only three miles from town and a veterinary clinic. They started taking in new animals in May, including Fuzzy, a blind terrier from Louisiana who arrived the day before my visit.
A sweet little bundle, he seems as happy as he can be, and — not for the first time on this trip — I had the urge to take on a second dog.
He was small enough that he could squeeze in with Ace in the back seat. And, like all the animals at Rolling Dog Ranch, he seems to have adapted magnificently to his — and this is the wrong word for it – disability. 
I stopped myself though, realizing that, cute as he is, he'll probably get adopted easily. 
Rolling Dog Ranch, while it does make some of its animals available for adoption, is generally not a place where animals are briefly harbored until homes are found. 
Most often, it's a place they come to live out the rest of their days. 
Dogs like Spinner, who was sound asleep on a bed outside the front door when Steve quietly leaned over and blew in the dog's direction. 
Spinner — though both blind and deaf — woke up and walked straight to him, operating on scent alone.
Spinner has a rare condition known as restrictive strabithmus — her eyeballs don't face forward, but point instead to the back of her head. Attempts to have it corrected surgically weren't successful. 
Three other dogs I'd met in Montana back in 2007 all seemed to be faring well.
Soba, a collie mix, was one of two pups that came to Rolling Dog Ranch from a humane society in Iowa — both born to a mother who when pregnant, got distemper. As a result, some of her pups were born with the neurological disorder. It takes Soba a while to get where she's going, almost as if each leg has a mind of its own. 
Patti, who lost both of her eyes after being attacked with a shovel, was as lovable as ever. She sniffed me out and leaned into me for a good scratching. 
And then there was Travis, who ended up at Rolling Dog Ranch after being left tied to a veterinary clinic door in Spokane. Vets determined that he had a rare muscular disease that went untreated for so long that his jaw fused shut. 
Surgeons could find no solution to his problem, other than feeding him through a tube inserted in his stomach. For months, Steve and Alayne fed him that way. Then one day they noticed that, with effort, he could stick his tongue out through a small opening between his teeth on one side of his mouth. 
They began feeding him with a bowl, running the food through a blender first so that he could slurp it up.
Malnourished and lethargic when he arrived, Travis became more and more lively. Three years later, I could see he has filled out some, and is probably one of the more energetic dogs at the ranch. 
A playful sort, Travis gets excited when visitors come, and tends to show off one of his tricks. He'll go over to his water bowl, suck in a bunch of water, then approach the visitor and exhale, spraying him, elephant style, with water.  Seeing them all again was just as inspiring as meeting them the first time. 
And Rolling Dog Ranch's new headquarters seems a perfect spot — from its setting amid 120 acres of rolling hills to the home's large solarium that Steve and Alayne have devoted to the blind dogs. In the morning, it fills up with sunshine. 
The dogs can't see it. 
But they can feel it.
(To read more "Travels with Ace," click here.)
(To contribute to Rolling Dog Ranch, or learn more about its animals, visit its website: rollingdogranch.org.)
Posted by John Woestendiek October 13th, 2010 under Muttsblog.
Tags: adopt, alayne marker, america, animal welfare, animals, blind, disabled, dog's country, dogs, dogscountry, handicapped, horses, lancaster, montana, move, new hampshire, ovando, patty, pets, relocate, relocation, rescue, road trip, rolling dog ranch, sanctuary, shelter, soba, spinner, steve smith, travel, travels with ace, travis

Comments: 7
Rolling Dog Ranch, a Montana sanctuary for blind, deaf and maimed animals, is moving to New Hampshire.
Steve Smith and Alayne Marker, who founded the animal sanctuary 10 years ago after leaving jobs with Boeing in Seattle, say the 160-acre Montana ranch in Ovando will be put up for sale and that they will start moving horses, dogs and cats to a 120-acre ranch on the outskirts of Lancaster, N.H., on May 24..
Many in Montana are sad to see them go, according to The Missoulian
"My heart is breaking. I'm sobbing,"  Heather Montana of Helena, wrote in a comment on the Rolling Dog Ranch blog, where the news was broken. "Part of my love of being in Montana has been knowing you made this State a better place. You and Alayne are simply the best. Montana is losing the best. The people and volunteers are losing the best. It is crushing."
(The slideshow above is from my visit there three years ago, which led to a five-part series on the ranch in the "Mutts" blog, now known as "Unleashed," in the Baltimore Sun.)
Marker and Smith were among 10 recipients of the 2009 Humane Award presented by the American Society for the Prevention of Cruelty to Animals — and that was just the latest in a stream of tributes they have received.
Last Christmas, the ranch received the $20,000 first prize in an online National Shelter Challenge.
Rising gas prices and the hour-plus drives to the closest cities of Missoula and Helena are among the reasons for the move. In Lancaster, they'll be three miles from the city and minutes from their veterinary clinic.
Smith said on the ranch's blog that he expects employees and volunteers will be easier to find. "It was always a major problem for us to hire employees here, because most people did not want to move to such a remote area," Smith said. "And of the few who were willing to move out here, most quickly tired of living so far out."
Property was cheaper in New Hampshire, too, he noted, and there's no sales tax or personal income tax.
"I think the day Alayne and I finally decided to get serious about moving, back in December, it was 22 below zero here and 24 above back there (in New Hampshire). We had just finished scooping poop that morning, our hands were frozen, and we thought, we've had enough of this kind of cold!" Smith wrote.
(Photo: Blind Madison, rolling in the grass at Rolling Dog Ranch's new property in New Hamsphire/courtesy of Rolling Dog Ranch)
Posted by John Woestendiek April 20th, 2010 under Muttsblog, videos.
Tags: adoption, alayne marker, animals, blind, deaf, disabilities, disabled, dogs, handicapped, horses, lancaster, maimed, montana, move, moving, new hampshire, news, ohmidog!, ovando, pets, rescue, rolling dog ranch, sanctuary, shelter, sick, steve smith

Comments: none
We may be down on the Iditarod, but that doesn't mean we're down on dog sledding.
As Greg Breining showed in yesterday's New York Times, when it's not an 1,100-mile endurance test dogs are forced to take part in, dog sledding can be an exhilarating experience.
"Dog sledding is an exercise in changed states, of chaos turning to order. One moment dogs were barking, yapping, whining, snarling, scrapping, jumping, biting and all the other things dogs do. The next moment they were straining at the gang line, and with a burst of acceleration, all turned silent but for the hiss of the runners on the snow …"
But it's the breathtaking scenery one encounters while silently sliding through the wilderness that makes dog sledding a popular vacation choice.
"As we crested a small hill, the valley opened, and brilliant Pilot Peak burst into view in stark relief against a black snow cloud. 'This is why I do this,' Jason Matthews said, standing on the sled runner next to me. 'This is why I'm out here.'
Matthews runs Yellowstone Dog Sled Adventures of Immigrant, Mont., one of many sled-dog outfitters running trips from Alaska to the Rockies to Maine. Matthews offers a range of trips — from his two-hour "sled-dog sampler" on a groomed, nearly level trail, to overnight cabin stays high in the mountains.
Other outfitters listed in the Times article are the Wintergreen Dogsled Lodge in Minnesota, and Mahoosuc Guide Service in Maine. Closer to Baltimore, dogsledding is offered at Husky Power Dog Sledding in western Maryland.
(Photo: courtesy of huskypowerdogsledding.com)
Posted by John Woestendiek March 15th, 2009 under Muttsblog.
Tags: adventure, alaska, cabin, dog sled, dog sledding, huskies, iditarod, maine, malamutes, maryland, minnesota, montana, mush, musher, mushing, new hampshire, race, scenery, siberian huskies, sledding, snow, sport, travel, trips, vacation, wilderness, wildlife, winter, yellowstone

Comments: 2