Tag: opinion
Piercing kittens is cruel, a panel of Pennsylvania judges has affirmed.
Three judges of the Superior Court upheld a conviction for animal cruelty of a dog groomer who had offered "gothic" kittens for sale on eBay.
An investigation into the pierced kittens began in 2008 when a citizen saw the animals being offered for $100 each on eBay, inquired about them and reported it to the Society for the Prevention of Cruelty to Animals of Luzerne County, according to the Times Leader in Wilkes Barre.
A citizen tipped off PETA, as well, which conducted an investigation of its own and passed on information to the SPCA.
Accompanied by state police, SPCA officials visited Pawside Parlor, located at the home of Holly Crawford in Sweet Valley, Pa. They removed three kittens and a cat. While at the home, police also found a dog with pierced ears.
A jury found Crawford guilty of animal cruelty, and last year she was sentenced to six months of home detention and electronic monitoring, followed by probation.
In her appeal, Crawford argued that Pennsylvania's cruelty statutes were too vague, and pointed out that many accepted veterinary procedures like declawing cats and cutting a dog's vocal cords could fall under the same category she was being prosecuted under.
The law forbids "acts that maim, mutilate, torture or disfigure the animal."
This week, the Superior Court panel upheld the lower court's findings, the New York Times reported.
In a 19-page opinion, Judge Kate Ford Elliott wrote that "metal protruded from the kittens' small bodies, pierced through their ears and necks, and at least one of these kittens also had an elastic band tied around its tail, an attempt at docking …"
Crawford, who was described in the opinion as being "enthusiastic about piercing," had admitted to piercing the kittens without anesthetic.
"Appellant's claims center on her premise that a person of normal intelligence would not know whether piercing a kitten's ears or banding its tail is maiming, mutilating, torturing or disfiguring an animal." Judge Elliott wrote.  "We disagree."
Posted by jwoestendiek June 17th, 2011 under Muttsblog.
Tags: animal cruelty, cats, decision, disfiguring, ebay, goth cats, gothic, gothic kittens, holly crawford, kittens, luzerne county, maiming, mutilating, opinion, pennsylvania, peta, piercing, sale, spca, superior court, upheld, wilkes-barre

Comments: 5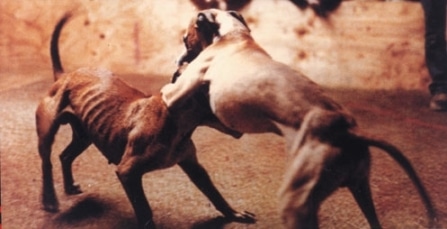 The Supreme Court has ruled that videos showing dogfights and other acts of animal cruelty are protected by free speech.
The court, in an 8-1 decision, struck down a federal law designed to stop the sale and marketing of such videos. The justices concluded the 10-year-old statute was overly broad.
The case before the court stemmed from an appeal by Robert Stevens, of Pittsville, Virginia, who sold videos through his business, Dogs of Velvet and Steel. The tapes show pit bulldogs attacking other animals and one another in staged confrontations.
The high court threw out Stevens' conviction for selling depictions of animal cruelty.
Stevens argued his 37-month sentence sentence was longer than the 14 months given professional football player Michael Vick, who ran an illegal dogfighting ring.
His case was the first prosecution in the United States to proceed to trial under the 1999 law.
Posted by jwoestendiek April 20th, 2010 under Muttsblog.
Tags: animal cruelty, chief justice, child pornography, conviction, crush videos, decision, depictions, dissent, dissenting, dog fighting, dogfighting, dogfights, dogs of velvet and steel, first amendment, free speech, hsus, humane society of the united states, john roberts, law, opinion, overturned, protected, robert stevens, ruling, samuel alito, speech, statute, struck down, supreme court, video

Comments: 5
The attempted reinvention of Michael Vick continues tonight with the premiere of BET's "Michael Vick Project" — a quasi-documentary that focuses on his alleged redemption and glosses over the horrors he perpetrated on dogs.
As its name implies, the show stars Michael Vick, who, up to now at least, has been less than convincing in the role of the remorseful, regretful and rehabilitated fighter of dogs who managed to resecure a multi-million contract as an NFL quarterback.
The word on the show is it focuses little, and then only superficially, on the evils he committed — as has been the case with his appearances at schools and before youth groups on behalf of the Humane Society of the United States.
Those appearances, the TV show, and his Ed Block Courage Award — all focusing on Michael Vick's travails, Michael Vick's "bravery," Michael Vick's struggle, Michael Vick's "redemption" — are only reinforcing the concept that one can get away with murder, or at least end up sitting pretty afterwards, at least when the perpetrator is a quarterback and the victims are dogs.
At this point, let me say that I'm all for rehabilitation, and all for second chances. In the eight years I reported about and hung out with prisoners — murderers even — I came to know, trust and, in a few cases, even respect many of them. I'm not a throw away the key kind of guy.
But allowing a convict to return to society is one thing. Seeing him return to the NFL, giving him a TV show, and topping it off with a "courage award" based on — what? — are quite another.
Michael Vick has every right to pursue and obtain those things. I'm not saying he should be banned from reaping riches, or anything else, with the possible exception of dog ownership — only that it turns my stomach to watch it all, and to watch the masses not just accept it, but throw their support behind him.
Yes, he served his time. Yes, he has a right to make a living. Yes, he can throw a football. But as for his choreographed image makeover, I'm not buying it – based on the comments he has made and his seemingless emotionless demeanor. I've yet to see any remorse in his face, and I've heard far more, from him, about his suffering than that of his dogs.
There's no question he — and many others — are putting a lot of work into redeeming his image, but that's different from redeeming oneself.
In an a radio interview with Dan Patrick this week to promote the TV show (it premieres tonight at 10 on BET), Vick was asked if he would still be fighting dogs if he hadn't been caught.
"That's the scary thing," Vick responded. "I think about it. I would have continued to put my life in jeopardy. From a distance I would have still been involved."
James DuBose, CEO of Dubose Entertainment, which is producing the Michael Vick Project, said, "We hope his story will be one in which years from now, people particularly young men, will view and learn valuable lessons from."
My fear – given that in the year since he completed his less than two-year prison sentence he's been signed up as Philadelphia Eagles quarterback, given a TV show and will be honored in March with an award – is that those lessons may not be the right ones.
Posted by jwoestendiek February 2nd, 2010 under Muttsblog.
Tags: bet, dan patrick, documentary, dog, dog fighting, dogfighting, dogs, editorial, image, michael vick, michael vick project, opinion, redemption, remorse, series, television, tv, vick

Comments: 27
 
"Virginia may be for lovers, but Loudoun County isn't the place for dog lovers."
That's the conclusion of an animal welfare legislative analyst in light of a Loudoun County judge's ruling that the county can ban pit bull adoptions — despite a Virginia law to that ensures the right to own a pit bull.
"This is a dark day for shelter dogs in our nation," said Ledy VanKavage, of Best Friends Animal Society.  "Throughout the land, cities and states are rejecting breed discriminatory laws and this decision embraces profiling."
The judge's May 21 ruling ended the nearly two-year battle over the county's no-adopt policy on pit bulls.
In a 13-page opinion, Loudoun County Circuit Court Judge Burke F. McCahill sided with the county, ruling that banning the adoption of pit bulls does not break state or local laws, the Loudoun Times reports. The ruling came after a two-day trial May 5 and 6.
The ruling stems from a lawsuit filed by Loudoun resident Ronald Litz in 2007 after he tried to adopt a pit bull from the county animal shelter. He was told the shelter did not allow pit bull adoptions.
Of the judge's May 21 decision, Litz said, "If the judge doesn't want to enforce Virginia law, there's nothing I can do about it." Litz had argued that the county was denying him the right of ownership of a pit bull, which is against Virginia law.
McCahill disagreed, saying that while state law may give county residents the right to own pit bulls, there is no right to adopt one.
Effectively, the sentence is a death penalty for any pit bulls who end up in Loudoun's animal shelter and go unclaimed by owners.
Posted by jwoestendiek May 26th, 2009 under Muttsblog.
Tags: adopt, adoption, animal rescue of tidewater, ban, best friends, bias, breed, breed-specific, bsl, burke f. mccahill, circuit court, decision, discrimination, ed fritz, euthanasia, euthanized, judge, law, lawsuit, ledy vankavage, loudoun county, lynne rhode, news, no-adopt, ohmidog!, opinion, ownership, pit bull, pit bulls, rights, ronald litz, ruling, state, virginia

Comments: 5
I had hoped it wouldn't come to this.
But after a little opinion piece that appeared yesterday in a Baltimore Sun feature called Second Opinion – one that opined all dogs should always be on leashes because some of them interfere with joggers — I have no choice.
I'm coming out against joggers.
The Sun editorial blurb begins this way: "The city is fining people who let their dogs roam off-leash $1,000. I say good.
"I'm a runner, and I can't count the number of times dogs have snapped, lurched and barked at me as I went past. Perhaps even more galling than the canine response in these situations is the human one. Almost without fail the dog's owner will look at me with wonder and bewilderment, as if I must have done something wrong to elicit such a mysterious reaction. You may think your furry friend is cute and harmless, but I've got news for you: He or she is almost never quite so well behaved as you think … I object to many dog advocates' apparent belief that leash laws should merely be a suggestion."
Typical jogger logic, or lack thereof. The consistent jarring of the brain that occurs while jogging is the culprit, leading joggers to think they have dominion, not just over animals, but over non-jogging man, not to mention motor vehicle and bicyclist.
Joggers annoy me. Joggers scare me. Joggers get in my way and, more often, make me feel I am in their's. They leave foul scents in their wake, and often fling off little sweat particles, which assuredly contain swine flu or other germs, as they churn their arms and pant, interfering with my God-given (but city taken away) right to enjoy tobacco products. Worse yet, they make me feel fat, lazy and unhealthy, which, even though I am, there's no reason to so relentlessly pound that point in.
Joggers tend to eat only healthy and fibrous food, and as a result have no sense of humor.
Most irksome though, they think they are above everyone else. They — though I must admit some dog people fit this one too — often come across as holier than thou, or at least skinnier than thou.
Joggers like everything to be predictable. Dogs are not. That's what makes them more interesting than joggers. True, humans are more intelligent, meaning they should have the brains to maybe adjust their path or swerve out of the way when nearing dogs. But joggers don't, because they don't want to vary their monotonous route and run the risk of seeing something new.
They are a hazard, traveling at an unsafe speed, often while tuning everything out except the music pumping through their ear buds, thus endangering small children, and the elderly.
On the sidewalks, they get impatient if someone is so crass as to be walking in front of them at a normal rate of speed, forcing them to slow their all-important pace. If they run up against a traffic signal, they tend to either violate the law and jayrun, or, far more annoying yet, do that little running in place thing they do while they wait for the signal to change.
There is, I'm told, something called a runner's high. While I would not interfere with a joggers' right to achieve this state of euphoria, I think it should be done in the privacy of their homes, or in a stinky gym on a treadmill – not out in public, and certainly not, in their intoxicated state, on the roadways and sidewalks.
It doesn't seem right that dogs are taking all the heat when it comes to park issues — least of all from joggers. There are far more annoying things at the park — any park — on any given day. Joggers, as I believe I've mentioned, but also operators of little remote control cars that make an awful whiny noise, annoying to both humans and dogs. Also people who drop the f-bomb every third or fourth word, often with their children alongside them. Also skateboarders. Also drug dealers. Also spitters. Also people playing music louder than any dog could ever bark. I could go on, but the point is, should we criminalize all of them?
Of course not.
Only the joggers.
Posted by jwoestendiek May 13th, 2009 under Muttsblog.
Tags: animal rights, animals, annoying, baltimore, baltimore sun, behavior, criminalize, dog, dogs, dominion, editorial, f-bomb, f-word, hazardous, health, healthy, humor, illegal, interfering, joggers, leash free, leash law, leashed, ohmidog!, opinion, outlaw, parks, remote control cars, rights, runners high, running, satire, scourge, skateboarders, smelly, stinky, sweaty, unhealthy, unleashed

Comments: 4