Tag: pet food
Pet food containing potatoes, peas, lentils and other legumes might be causing heart disease in dogs, the U.S. Food and Drug Administration said in a warning to pet owners.
Citing "highly unusual" reports about canine dilated cardiomyopathy, the FDA said last week it is investigating a link between the food and cases in which dogs have been diagnosed with the disease, which can cause an enlarged, weakened heart and eventual heart failure.
Large breeds have always been prone to the disease, but the new cases include a Shih Tzu, a bulldog, and a miniature schnauzer.
Canine DCM is a disease of a dog's heart muscle and results in having an enlarged heart. As the dog's heart and chambers become dilated, the heart becomes unable to pump normally, leading valves to leak and a buildup of fluids in the chest and abdomen.
It often results in heart failure, but can be improved if caught early.
Breeds more prone to the disease include larger breeds like Great Danes, Boxers, Newfoundlands, Irish Wolfhounds, Saint Bernards and Doberman Pinschers.
Among those reported cases, the dog's diets frequently included potatoes, multiple legumes like peas, lentils, other seeds of legumes, as main ingredients, the FDA said.
Foods labeled "grain-free" typically have higher levels of legumes or potatoes, but it is not yet known how the ingredients are linked to the heart disease.
Medical records for four atypical DCM cases revealed three Golden Retrievers and one Labrador Retriever, showed low whole blood levels of the amino acid taurine. Taurine deficiency is well-documented as a possible leading factor in the disease.
Other cases include a mini Schnauzer, Shih Tzu, and two Labrador Retrievers. The FDA is working with the Veterinary Response Network, a collaboration of government and veterinary diagnostic laboratories investigate the potential association between these ingredients and DCM.
The FDA said it is in contact with pet food manufacturers that make the foods.
The FDA is encouraging pet owners and veterinary professionals to report any cases of DCM in dogs that are suspected of having a link to diet. To report a case, click here.
Amazon (remember when it was a river?) continues its quest to dominate the world (make that the universe) — by selling everything that can possibly be sold, delivering it in ways never before possible, and taking people where they've never been able to go.
Now it wants to feed your dog, too.
In its march to ruling every retail category imaginable, Amazon has announced the debut of a dog food line, which will be part of a much bigger step into the highly profitable, nearly inflation-proof world of pet food and products.
According to Bloomberg, Amazon is calling the pet food Wag, named after Wag.com, which Amazon acquired in 2011. Wag.com now redirects to an Amazon landing page.
The food comes in several different varieties, with primarily protein sources including chicken, beef, salmon, lamb, and turkey. It will be available in puppy or adult formula and sold in five-, 15-, and 30-pound bags.
The food line is labeled "no grain added."
Americans are projected to spend more than $72 billion on their pets in 2018, according to the American Pet Products Association. So the only real surprise here is, what took Amazon, which owns everything from Whole Foods to the Washington Post, which is renowned as a dog-friendly company, so long?
The move is seen as a threat to Petco Animal Supplies Inc. and PetSmart Inc., which purchased Chewy.com last year for more than $3 billion, as well as big box retailers and supermarkets that sell pet supplies online to many of the nation's 85 million pet-owning households.
So don't be surprised if you are seeing dog food-toting drones flying over head in your area some day soon.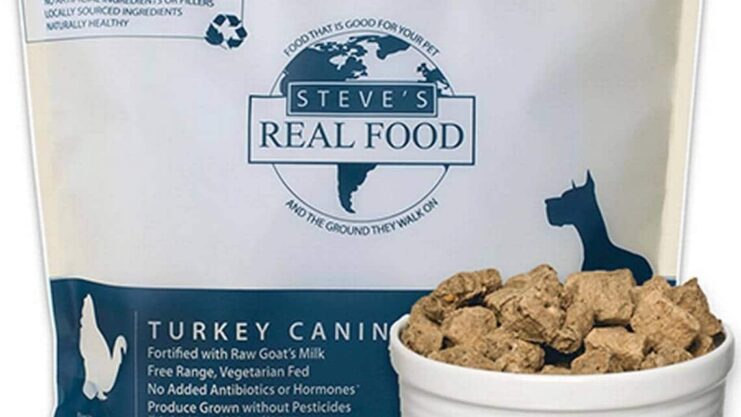 If it seems like there's a new pet food or treat being recalled every week recently, that's because it has gotten that bad.
Worse even.
We count ten since Feb. 8 — most of those of food and treats suspected of possibly being contaminated with salmonella.
The recalled products include dry food, canned food and raw food, treats and bully sticks.
Probably most notable of those recalled are the Gravy Train, Kibbles 'N Bits, Skippy and Ol' Roy brands of canned dog food made by the J.M. Smucker company. Pentobarbital, the sedative used to put dogs down, has been found in cans dating back to 2016.
Smucker released a statement on its website, confirming "extremely low levels of pentobarbital" have been found in "in select shipments."
On Sunday, it told the Miami Herald that the source of the drug was "animal fat was sourced from cow, chicken, and pig."
While those are common sources of pet food, animals euthanized with the drug are not supposed to end up in the food chain — for either dogs or humans.
Last week also saw the recall of an eighth pet food product suspected of containing salmonella or listeria in 24 days, Steve's Real Food's Raw Frozen Dog Food Turkey Canine Recipe, recalled one lot that was distributed to 21 states.
The Nebraska Department of Agriculture found salmonella when testing a retail sold sample.
The 5-pound bags in lot No. E 178 with a best by date of Sept. 17, 2018 went to retail stores in Florida, New York, New Jersey, Connecticut, California, Texas, Pennsylvania, Virginia, Colorado, Iowa, Kansas, Maryland, Michigan, Minnesota, Missouri, North Dakota, Nebraska, Oregon, Utah and Washington, according to the Miami Herald.
Dogs with salmonella can suffer from vomiting, diarrhea and fever.
Humans also can get salmonella, both from dogs and from handling contaminated food or touching unwashed surfaces that the food touched.
Those who have purchased the products should dispose of them and contact the company for a refund.
Other recalls and product withdrawals in the past month include:
▪ Raws for Paws ground turkey
▪ Smokehouse Beefy Munchies treats
▪ Arrow Reliance/Darwin's Natural ZooLogics Duck with Vegetable Meals for Dogs and ZooLogics Chicken with Vegetable Meals for Dogs
▪ Redbarn, 7-inch Bully Sticks
▪ TruPet, Treat Me Crunchy Beef Delight treats
▪ Northwest Naturals, Chicken and Salmon
▪ Carnivore Meat Company, Vital Essentials Freeze-Dried Beef Nibblets Entrée for Dogs
▪ Kitten Grind raw pet food
Pentobarbital, part of the cocktail administered to dogs, cats and sometimes horses to euthanize them, continues to show up in dog food.
How that happens — and why it is allowed to — are questions raised in an investigative report last week by WJLA in Washington.
The station teamed up with Ellipse Analytics, a lab that specializes in testing food for contaminants,
In testing 62 samples of wet dog food, across more than two dozen brands, one brand came back positive for for the euthanasia drug pentobarbital. Nine of 15 cans of Gravy Train showed non-lethal levels of the drug.
Under federal law, no concentration of pentobarbital is permitted in pet food. WJLA reported the FDA didn't initially seem too interested about its findings.
The agency declined requests for an on-camera interview, and referred the station to the Pet Food Institute — the trade organization that represents the pet food industry. Further requests for information from the FDA were met with the response that it will "investigate the matter and take appropriate enforcement action."
It's not the first time pentobarbital has been found in dog food.
About a year ago Evanger's recalled some lots of its "Hunk of Beef" canned dog food after it was found to contain the sedative.
The company said at the time that the meat in question came from a cow rendered by a supplier, but, as WJLA reported, federal law does not allow use of the toxin to kill animals that are part of the food supply.
Gravy Train is made by Big Heart Pet Foods and owned by Smucker's.
Big Heart Brands is also the maker of Meow Mix, Milk Bone, Kibbles'n Bits, 9 Lives, Natural Balance, Pup-Peroni, Gravy Train, Nature's Recipe, Canine Carry Outs, Milo's Kitchen, Alley Cat, Jerky Treats, Meaty Bone, Pounce and Snausages.
Dr. Nicholas Dodman, chief scientific officer for The Center for Canine Behavior Studies and former director of the Animal Behavior Program at Tufts University, said even non-lethal amounts of the drug should be a concern.
"Whether it's doing something or nothing, what's it doing there? Where did it come from? If they don't like the explanation that it's coming from animals that have been euthanized, what is their explanation as to how it gets in?" asked Dodman.
Smucker's declined WJLA's request for an on-camera interview, but issued a statement saying, "We launched and are conducting a thorough investigation, including working closely with our suppliers, to determine the accuracy of these results and the methodology used."
Most believe pentobarbital, when it shows up in dog food, is a result of euthanized animals being blended into food by those who render the carcasses.
That, in itself is against federal laws that prohibits the use in both dog and human food of any animals that have not been slaughtered. Using euthanized animals is prohibited.
As Susan Thixton, a pet food consumer advocate told the station, "Billion dollar a year companies are making profit selling illegal adulterated products to unknowing consumers in the U.S. every day."
She added, "The FDA tells industry 'Yeah, it's a violation of law, but go ahead, we're not going to do anything,'" said Thixton.
There's a new animated turd in town, and no, it's not a character on South Park.
Halo dog food, Ellen DeGeneres' brand, has launched a new advertising campaign featuring a saintly pile of feces know as "Poopsie."
The mascot appears in two advertising spots that have been made so far, both telling us that Halo brand pet foods are free of filler, and that the consumption of it leads to healthier, friendlier, more polite poops.
Halo promises dog owners "a poop that's a pleasure to scoop."
It's not clear what, if any, role, DeGeneres played in conceiving the new mascot for the brand, but the ads were developed by RPA (Rubin Postaer and Associates), an advertising and marketing agency headquartered in Santa Monica, according to AdWeek.com.
Poopsie is not the first animated poop to hit the airwaves. That honor, many think, belongs to Mr. Hankey, a talking, sewer-dwelling lump of human feces who first appeared in a Christmas-time episode during the first season of South Park. He went on to become a recurring character.
South Park, however, has been accused of stealing the character from Ren and Stimpy creator John K., who says the cartoon rips off a series of Spumco comics and cartoons that featured "Nutty the Friendly Dump." The two characters look alike, and the plot lines are similar, too, with the talking feces surfacing to befriend a main character who has been rejected by classmates.
That controversy didn't make a lot of headlines when it was playing out, back in 1997, so I don't know, nor do I want to, whether it led to a court battle over who first produced talking poop.
Twenty years later, though I don't think anybody is going to sue Ellen (because she's too nice). And the advertising agency is probably in the clear, too, because Poopsie, being coiled, has an entirely different shape than either Mr. Hankey or Nutty. And Poopsie — as much as I would like to call him a spokesturd — doesn't talk (at least not yet).
In any event, Halo brand has trademarked the name "Poopsie" and the Poopsie image — basically a spiraled piece of poop with eyeballs and a mouth and a golden halo hovering over it.
Poopsie's point … and it does have one .. is that "the proof is in the poop."
Dogs who eat Halo brand are avoiding difficult to digest filler and "meat meal," and as a result they dispense poop that is, if not truly angelic, at least less offensive, the ads contend.
As the next ad says, "the truth always comes out in the end."
(This link will lead you to more of our Woof in Advertising posts)
Mention the idea of food stamps for dogs and you're likely to get one of two reactions:
Those touchy-feely animal lovers (such as me) will say it's a great idea that could help keep dogs from being surrendered to shelters, abandoned, or worse, by owners who can't afford to feed them anymore.
Those "It's-just-a-dog" types will say its ludicrous, that they'd hate to see their tax dollars used for something like that, and that, if you can't afford a dog, don't get one in the first place.
When the idea does float to the surface, there's usually some quick debate — then it vanishes as quickly as a bowl of kibble.
Now, in a way, the concept is back, and it's being carried out on a national scale — with no involvement from government, and no use of tax dollars, it should be noted. It's the mission of a nonprofit organization formed by a New York man who describes himself as a stockbroker, journalist, entrepreneur and business consultant — a frightful combination if ever there was one.
The organization is called Pet Food Stamps, though no stamps actually appear to be involved. Instead, low income individuals can submit applications, which, if approved, lead to six months worth of deliveries of dog food from Pet Flow, an online pet food store. It's all to be funded through private donations, founder Marc Okon says.
Pet Food Stamps and Pet Flow announced their "exclusive partnership" in February:
"Pet Food Stamps aims to provide pet food for pets of families receiving public assistance and for food stamp recipients who otherwise could not afford to feed their pets. Based in New York City, the program is open to anyone in the United States. More than 80,000 pets have already been registered …"
Okon, 36, said the idea was inspired in part by a friend going through some economic hard times who told him "she sometimes fed her cat before herself," Wall Street Journal columnist Al Lewis reported. Also, he says, doing something philanthropic helps remove the bad taste that remains from some of his previous employment experiences in corporate America.
Okon says he briefly worked for a firm that sold dubious medical benefits to seniors in the South. "Their whole corporate philosophy was to manipulate seniors who didn't have any type of insurance," he said. "I could only do that for about a week and half," Okon said. The article calls him "a man so disgusted with the lack of ethics he witnessed in private enterprise that he founded a nonprofit to hand out dog food."
While many a humane society operates similar programs on the local level, Pet Food Stamps says it has been swamped with applications — 45,000 in the first two weeks alone, according to a press release.
Okon says the applicants often describe how they've lost their jobs and homes.
"Millions of pets are surrendered to shelters each year and euthanized because their owners can't afford to feed them," he said.
Okon says he isn't against the idea of the government providing food stamps for dogs, but that it's not part of the current picture.
"We're not looking for government funding at this point," Okon told ABCNews.com. "Should the government be willing to provide assistance further down the line, we will look into it."
It seems a noble idea, and we hope it's nobly carried out — with enough transparency that dog lovers who make donations know exactly how much money the organization is receiving, how much of that is going to buy and ship dog food, and what profits, if any, the private dog food company is making.
We'd point out, too, that people unable to afford to feed their pets can check with their local humane society or SPCA to see what programs might be available in their area. Some food banks distribute dog food and cat food, and some chapters of Meals on Wheels deliver pet food, too.  In 2006, Meals on Wheels started the We All Love Our Pets (WALOP) initiative after finding some of their clients were sharing their meals with their pets because they couldn't afford pet food.
For a state by state list of programs offering free and discounted services — from food to veterinary care — check out this Humane Society of the United States link.
Truth, always elusive, is even tougher to get a handle on in the chaotic aftermath of a tsunami — and that's one reason the fate of the two dogs pictured in the now famous video of one stranded dog loyally watching over another remains obscure.
Despite reports from CNN, UK Telegraph, NPR, PETA and others that the dogs were rescued — all based solely on Facebook posts by Kenn Sakurai, the owner of a dog food supply company in Japan — their fates remain unclear and uncomfirmed.
The best account we can find is one prepared by Global Animal, an online animal magazine that, unlike most major media,  interviewed Sakurai, who is being described, without documentation, as both a savior or a charlatan in Internet posts 
Global Animal reports that Sakurai told them the two dogs were rescued by friends of his who are off-road bikers and that the dogs are being treated by an undisclosed veterinarian.
Sakurai posted on Facebook last week that the dogs had been saved — and on that page he also sought donations to continue what he described as his work rescuing animals left homeless by the tsunami.
Sakurai lists his occupation as president of Butch Japan, Inc., a dog food company. Oddly, for a self described animal lover, his Facebook page lists Michael Vick among his "favorite athletes."
Sakurai has reportedly deleted all negative comments from the page — as well as those that questioned his involvement in rescuing the dogs.
Sakurai's page says he was born in Tokyo, raised in Tokyo and the UK and went to school in Tokyo and New York City. He says he was involved with the development of Tokyo Disneyland and that he now is the importer of "the safest dog and cat food on the planet."
After the tsunami, he set up a paypal account so that people could donate to his effort, but, in his later posts on his Facebook page, he says he plans to donate that money to established shelters.
Still, many remain troubled that he has presented no photographic evidence that the two dogs are safe.
Global Animal reports: "Mr. Sakurai says he promised the bikers that he wouldn't reveal the location of the veterinarian because they don't want animal rescue organizations to take the dogs for their own fundraising purposes. This is why no pictures are being made available, claims Mr. Sakurai."
In an editorial written by Arthur Jeon, co-founder of the online magazine, Sakurai is quoted as saying he would try and send the organization photos. But, the magazine said, "we are not hopeful that credible evidence will materialize."
"Our best guess is that some difficult truth may be hidden here, and that either one or both dogs have died, possibly on the trip or shortly after. Or, that this is a story that got out of hand, perhaps being used to raise money by Mr. Sakurai himself, though he is not associated with any animal rescue organization that's mobilized in the devastated areas."
Global Animal provided readers interested in donating money to the animal rescue effort in Japan with a list of legitimate and long-standing animal rescue organizations.
The editorial concludes: "It's human nature to yearn for a happy ending, to be able to move these dogs' misery off our mental list of anguish and to find heroes in a horrible reality. It also makes for 'good copy' by mainstream news organizations who hit it for its feel-good elements, then move on. However, the web and Facebook are not good places to collect facts for substantiated reporting; these reputable news organizations know better.
"Ultimately, the two dogs … deserve the truth. As do we. If Mr. Sakurai responds with verifiable truth that the dogs are alive and well, nobody will be happier than the hardcore animal lovers and readers of Global Animal."