Tag: petco
The U.S. Food and Drug Administration announced today that Kasel Associates Industries Inc. is recalling all pet treats manufactured at its Denver plant from April 20 through Sept. 19, 2012 due to potential contamination with Salmonella.
Products manufactured by the company are sold under various brand names by retailers that include Target, Petco, Sam's Club and Costco.
The company had issued three previous recall notices for specific products manufactured during this time period. Now the list of recalled products has expanded to more than 50.
In September, Kasel recalled Boots & Barkley beef bully sticks. Weeks later it recalled Nature's Deli Chicken Jerky Dog Treat. Two weeks after that it recalled Boots & Barkley Roasted American Pig Ears and Boots & Barkley American Variety Pack Dog Treats
The recalls began after the Colorado Department of Agriculture tested a retail sample of a Kasel pet treat product and found it to be positive for Salmonella. Follow-up inspections by the FDA found that at all of the finished pet treat product samples and 48 out of 87 environmental samples collected tested positive for Salmonella.
More than ten different species of Salmonella were found in the firm's products and manufacturing facility, indicating multiple sources of contamination, according to an FDA press release.
The FDA says it has received a small number of complaints of illness in dogs who were exposed to the treats.
Because of the multiple positive tests for Salmonella, and the production practices and conditions observed at the facility during the inspection, the FDA believes that there is a reasonable probability that all pet treat products manufactured in the facility from April 20, 2012 through September 19, 2012 are contaminated with Salmonella.
Both people and animals can contract Salmonellosis from handling or eating contaminated products. People handling dry pet treats should thoroughly wash their hands after having contact with the treats as well as any surfaces exposed to these products.
Salmonella is a public health risk and is one of the most common causes of foodborne illness. Its symptoms include nausea, vomiting, diarrhea or bloody diarrhea, abdominal cramping and fever.
Pets with Salmonella infections may become lethargic and have diarrhea or bloody diarrhea, fever and vomiting. Some pets may experience only a decreased appetite, fever and abdominal pain. Infected, but otherwise healthy pets can be carriers and infect other animals or humans. If your pet has consumed any of the affected product or is experiencing any of these symptoms, contact your veterinarian immediately.
You can find the full list of recalled Kasel products here.
Posted by jwoestendiek February 25th, 2013 under Muttsblog.
Tags: animals, bixbi, boots and barkley, colorado, colorado naturals, contamination, costco, denver, dog food, dog treats, dogs, fda, food and drug adminstration, health, kasel, kasel associates industries, pet treats, petco, pets, recall, safety, salmonella, sams club, target, treats, urgent, voluntary

Comments: 1
As I've said before, many of the world's problems — not just animal abuse but lots more — could be helped by putting a dog in every school, if not every classroom.
As I've also said, it wouldn't hurt to put one, or two, or three, in every prison, every facility for the elderly, every homeless shelter, every domestic abuse shelter, and any other place — from institution to group home to halfway house – where there are people who have lost hope, never learned empathy, aren't feeling loved, need some friendship or could otherwise benefit from the curative power of dogs.
Of course, things don't happen that quickly, or on that kind of scale. Obstacles get in the way, like bureaucracies, and liability concerns and the erroneous belief that only trained therapy dogs can provide therapy.
Considering that, a Washington DC-based non-profit organization is thinking pretty big: Within the next five years, the Pet Care Trust hopes to reach a point where it has introduced 5 million children in 100,000 classrooms to pets and the benefits they provide.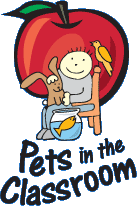 The new goal for the teacher grant program comes after the much quicker-than-anticipated growth of the program in the last couple of years.
In the 2010-11 school year, the Pet Care Trust provided 3,200 Pets in the Classroom grants. With support from Petsmart and Petco, along with rebate grants supported by independent pet stores, the number of grants increased to more than 6,000 for the 2011-12 school year. In the next five years, the trust plans to have provided 30,000 grants enabling teachers to bring pets into the classroom.
The goal of the Pet Care Trust — its board is made up mostly of representatives from the pet products industry, we should point out — is to help promote public understanding of the value of companion animals, to enhance knowledge about companion animals through research and education, and to promote professionalism among members of the companion animal community.
Pet Care Trust executive director Steve King says the Pets in the Classroom program, established in 1990, is already halfway to the new goal.
"We have reached the half-way point to this goal far sooner than any of us thought possible. It really is a remarkable achievement thanks to the Board's foresight and the support of so many pet retailers and suppliers."
More than 500,000 elementary and middle school students having already been given the opportunity to interact with pets on a daily basis in their classroom. and with more than 6,800 grants issued since August 1, the total since the program's inception has risen to 15,500.
At the beginning of 2012, the program — initially available only to pre-k through 6th grade teachers — expanded to include 7th and 8th grade classrooms,
The Pets in the Classroom program benefits students by teaching them responsible, long-term pet care at an early age and providing the psychological and developmental benefits associated with the human-animal bond. 
Studies have shown that caring for pets has a positive effect on children, improving school attendance and teaching children responsibility, as well as encouraging nurturing and building self esteem. 
To learn more about the Pets in the Classroom grant program, visit www.petsintheclassroom.org.
(Photo: Ace, though it was done without a grant, visits a Baltimore school)
Posted by jwoestendiek November 29th, 2012 under Muttsblog.
Tags: animals, compassion, dogs, elementary, empathy, grants, junior high, pet care trust, petco, pets, pets in the classroom, petsmart, responsibility, schools, self esteem, students, teachers

Comments: 2
Pet stores that sell live animals purchased from breeders may be looking for a new lease on life — but they won't be getting one from Macerich, which operates 71 shopping centers in the western U.S.
Under a policy adopted last year, Santa Monica-based Macerich will not renew the leases for any pet stores that sell live animals.
Instead, only adoption centers with rescued animals will be allowed in Macerich-owned malls.
In Arizona, that impact of that change is becoming visible, according to the Arizona Republic, and it's serving to help out a lot of animal shelters and homeless pets. At many a mall pet  store, animals in need of adoption have replaced those pumped out by breeders.
The change in the company's policy reflects shifts in public opinion regarding pet buying, and a growing recognition that many of the dogs sold in stores come from puppy mills. A 2011 survey by New Jersey-based Hartz Mountain Corp., a pet-product company, found that, of more than 1,000 pet owners only 4 percent would buy their next pet from a pet store.
"Our focus is now directed to working with local pet-rescue organizations in our communities and pet-accessory retailers to serve the needs of our shoppers," said Melissa Rupp, assistant marketing manager at Macerich-owned SanTan Village in Gilbert.
The trend toward adoption centers, which had begun in some Arizona retail locations even before Macerich changed its policy, has accelerated, the Republic reports.
Many large retailers already operate adoption programs in with animal-welfare organizations, including and Petco and PetSmart, which reports the adoptions of more than 5 million cats and dogs since 1994.
According to the Humane Society of the United States, 1,700 pet stores across the country have signed its "Pet Friendly Pledge" not to sell puppies in their stores. Fifty-three of those locations are in Arizona.
The Humane Society Petique at the Biltmore Fashion Park opened in November 2009, two years before Macerich's policy change, and it marked the first time a retail developer partnered with a Valley rescue group. More than 2,000 animals have been adopted out of the rescue storefront.
The venture has helped the local Humane Society, which charges adoption fees of $10 to $160. The money goes to programs for homeless animals such as Second Chance Animal Hospital and daily sheltering needs, Nelson said. The society also runs Petopia at Desert Sky Mall.
Maricopa County Animal Care and Control partners with PetSmart to host adoption events, and it runs the storefront Under One Woof! at Metrocenter Mall, a shopping mall not owned by Macerich.
(Photo: Michael Schennum / The Arizona Republic)
Posted by jwoestendiek July 31st, 2012 under Muttsblog.
Tags: adopt, adoption, adoption centers, animals, arizona, attitudes, breeders, breeding, dogs, don't buy, hsus, humane society of the united states, leases, macerich, malls, pet friendly pledge, pet stores, petco, pets, petsmart, phoenix, policy, public, puppy, puppy mills, selling, shopping centers, surveys

Comments: 2
Growing numbers of pet owners are seeking bargains and shunning opulent items as the $87 billion pet product market — still surviving the recession better than most — is showing some signs of slowing down.
So reports Business Week, citing surveys that show more families are cutting back on pet spending, particularly when it comes to luxury items.
Nearly four out of 10 U.S. pet owners in a September survey by Packaged Facts said they're spending less on pet products, up from 27 percent in February 2010; and three-quarters of them are looking for deals, particularly on non-food items like apparel and toys.
"The totally discretionary stuff is increasingly being cast aside," said Lee Linthicum, head of food research at Euromonitor. "People still want to spend a fair bit of money on their pets, but they are reevaluating their priorities."
Retailers such as PetSmart and Petco are turning to promotions to keep customers from defecting to discount stores like Target and Wal-Mart Stores Inc., but that comes with a cost. Discounts caused PetSmart's profit margins on merchandise to narrow last quarter for the first time in two years, according to David Strasser, an analyst at Janney Montgomery Scott LLC in New York.
"Our industry is not recession-proof — we're recession flexible," said Leo Sanders, the owner of a grooming and boarding business in Corning, New York. "People will still spend, but instead of frivolous spending on squeakers and rawhide bones, now they are reading labels and making sure it's a quality product. And they're asking for discounts more."
Joanne Mahon, managing director of Diamond Dogs in the U.K., said sales of the company's diamond leash and collar combinations, and other upscale items, dropped as much as 25 percent last year. And Joan Volpe, managing coordinator at the Center for Professional Studies at New York's Fashion Institute of Technology, said tighter household budgets have had a "sobering effect" on pricey pet apparel, such as that unveiled in its annual pet fashion show.
"There has been a turn to practicality," Volpe said. "The seemingly frivolous items of just a few years ago like net tutus are no longer in demand."
Posted by jwoestendiek February 28th, 2012 under Muttsblog.
Tags: accessories, bargains, discounts, economy, food, industry, items, luxury, pet, pet products, pet smart, petco, pets, products, recession, retail, sales, spending, stores, surveys

Comments: 3
A pet owner in Honolulu says groomers at a local Petco cut portions of her dog's ears off, then apparently used glue and tape to reattach them.
Gladys Kapuwai said she dropped off her Pomeranian-Maltese mix at the Petco store in Kaneohe for some simple grooming, and didn't notice anything out of the ordinary when she picked up the dog.
Within a matter of weeks, though, pieces of Dodo's ears fell off, and upon examination by a veterinarian, it was discovered that the bottom portions of the dog's ears had been cut off and reattached with tape, according to a lawsuit.
Kapuwai's attorney, Michael Green, filed the lawsuit on her behalf and also on behalf of his wife, who claims her dog was injured during a grooming session at the store. Estelle Green says her dog Hope had the tip of her tail cut off, and suffered other injuries.
Fox News reported that San Diego-based Petco issued a statement saying it takes "any animal care concerns very seriously and we're actively investigating these cases."
"We can't comment on the specifics at this time, but we can tell you that we have very strong standards and policies in place for the care and treatment of animals in our grooming salon and we provide training on those standards and policies for our grooming associates," the statement said.
Posted by jwoestendiek February 16th, 2012 under Muttsblog, videos.
Tags: accident, animals, attorney, cut, dodo, dogs, ears, estelle green, gladys kapuwai, glue, groomer, groomers, grooming, hawaii, lawsuit, maltese, michael green, petco, pets, pieces, pomeranian, reattached, store, tape

Comments: 3
Eva LaRue and Omar Miller, stars of TV's "CSI: Miami" are teaming with Dick Van Patten's Natural Balance Pet Foods, PETCO™ and independent pet stores to celebrate National Guide Dog Month in September.
The goal is to  raise money and awareness for guide dog organizations across the country.
"We want people to realize that this is more than just a fundraiser for a good cause," said Miller. "This is really about empowering the visually impaired with the life-changing gift of a guide dog. Guide dogs and training are provided at no cost to qualified applicants who are blind or visually impaired. With 10 million visually impaired people in the U.S., the demand for guide dogs continues to grow."
"Every seven minutes someone in America becomes blind or visually impaired," said LaRue. "Guide dogs are heroes, providing safe mobility, loving companionship and restoring confidence to their handlers."
You can see the public service announcement they made here.
Throughout September, pet owners can visit any of PETCO's locations as well as select independent retailers of Natural Balance to help support National Guide Dog Month.
Shoppers can purchase specially marked bags of Natural Balance to donate $1 of the purchase price to participating guide dog schools.
Petco shoppers can also "round up" their purchases at the register or make donations directly online at  www.petco.com.
Recipients of the money raised will include: Guide Dogs for the Blind, Inc., Guide Dogs of the Desert, Fidelco Guide Dog Foundation, Inc., Southeastern Guide Dogs, Leader Dogs for the Blind, The Seeing Eye, Inc., Freedom Guide Dogs for the Blind, Inc., Guide Dog Foundation for the Blind, Guiding Eyes for the Blind and Guide Dogs of Texas, Inc.
Posted by jwoestendiek August 12th, 2011 under Muttsblog.
Tags: animals, blind, csi, csi miami, dick van patten, dogs, donate, eva larue, fidelco guide dog foundation, freedom guide dogs for the blind, guide dog foundation for the blind, guide dog organizations, guide dogs, guide dogs for the blind, guide dogs of texas, guide dogs of the desert, guiding eyes for the blind, leader dogs for the blind, national guide dog month, natural balance, omar miller, organizations, petco, pets, psa, southeastern guide dogs, the seeing eye, visually impaired

Comments: none
The San Diego Padres may be in the basement of the National League West, but they set a record this week.
Guinness World Record officials were at PETCO Park's annual "Dog Days of Summer" event to pronounce it official: The 337 costume-clad dogs is now the record for most dogs in a pet costume parade.
The annual infield costume parade was lead by Tillman, the world famous skateboarding dog. The record setting took place during the Wednesday, before the Padres played the Arizona Diamondbacks.
"It has been an amazing record attempt and I'm happy to say it was successful," said Freddie Hoff, adjudicator for Guinness World Records. "The 337 dogs in the costume parade was way above the set amount and on behalf of Guinness World Records, I'd like to say congratulations."
Posted by jwoestendiek July 30th, 2011 under Muttsblog.
Tags: costume parade, costumes, dog days of summer, event, guinness, guinness world records, major legue baseball, most dogs, parade, petco, petco park, record, records, san diego, san diego padres. petco park, tillman, world, world record

Comments: 1
Previously available only on the Internet, the Potty Patch — basically a porous slab of artifical grass situated atop a drainage tray — will now be available at PetCo, one of the nation's largest pet retailers, and will be sold under the American Kennel Club name.
Eagle Eye Marketing, makers of the indoor doggie restroom, announced the marketing breakthrough yesterday.
The three-tiered doggie restroom is perfect for patios and indoor use, says Eagle Eye Marketing, and serves as a valuable training aid, getting dogs used to relieving themselves on grass, or what appears to be grass. It is the only product of its type endorsed by the American Kennel Club, Eagle Eye says.
In fact, the AKC has done more than endorse the product. The non-profit organization has agreed to it being sold under their brand.
As for the product itself, the top portion is made out of a soft artificial grass specifically designed to let liquid flow through. The collection tray holds up to a gallon of liquid. It comes in two different sizes, regular (17″ x 27″) and large (27″ x 34″).
"We are very excited to finally have Potty Patch available at PetCo," said Simon Wright at Eagle Eye Marketing. "This is a big milestone for us and we look forward to even better serve our customers. For extra convenience, Potty Patch is no longer available exclusively online but you can actually go to the store and see it first."
Potty Patch is available through the product's website, www.pottypatch.com.
Posted by jwoestendiek November 3rd, 2009 under Muttsblog, videos.
Tags: aid, akc, american kennel club, artificial, bathroom, brand, dogs, eagle eye marketing, endorsed, grass, indoor, pee, pet, petco, potty patch, products, system, training, urination, urine, video

Comments: 4
Scott MacIntyre is no longer in the running for "American Idol," but the blind contestant did win a surprise gift from Paula Abdul last week — a guide dog.
Abdul presented a guide dog to MacIntyre at a Guide Dogs of America event on Friday as part of the official kick-off of  National Guide Dog Month.
MacIntyre had been told he was at the ceremony to perform, but instead Abdul informed him that he would be receiving a guide dog after his upcoming tour, according to a press release.
Abdul, Natural Balance Pet Foods, Petco and independent pet stores nationwide are teaming to raise funds and awareness for guide dogs, with hopes of raising more than $2 million during May.
"Being part of this important cause is truly special and very close to my heart," said Abdul. "Most people have no idea how much time and money it takes to train these beautiful animals to give such a precious gift to those who need it most. It can take more than two years and $40,000 to properly train a guide dog. Together, we can help guide dog schools provide more of these life-changing partners to people who are blind."
Throughout the month of May, PETCO's more than 950 locations nationwide and many independent pet stores will be selling specially marked bags of Natural Balance dog food with Paula Abdul's picture on them, and donating 50 cents of the purchase price to participating guide dog schools.
PETCO shoppers can also "round up" their purchases at the register to donate the difference to the cause, or make donations directly online at PETCO.com.
"Having Paula Abdul, a huge animal lover, as our spokesperson will help us get the message out to raise money to match people who are visually impaired and in need of these amazing guide dogs", said Dick Van Patten of Natural Balance Pet Foods.
Posted by jwoestendiek May 11th, 2009 under Muttsblog.
Tags: ai, american idol, blind, blindness, dick van patten, dog, dog food, dogs, event, funds, gift, guide dogs, guide dogs of america, idol, national guide dog month, natural balance, natural balance pet foods, paula abdul, petco, presentation, scott mcintyre, television

Comments: none
American Idol judge — and Chihuahua owner (times four) — Paula Abdul has signed up to help raise money for guide dog programs.
Abdul will be helping Dick Van Patten's Natural Balance, Petco, and independent pet stores raise awareness and money for guide dog organizations across the country, according to Dogchannel.com.
Her role involves getting the word out to the public about the time and effort that goes into training a potential guide dog puppy — an18 to 20 months process, followed by another six months in formal guide dog training school. After about six months of school, the dog gets matched with a blind person. For 28 days, more training takes place at the guide dog facility so the person can learn how to handle their dog.
Learning about the amount of time and money it takes to train these dogs inspired her to join the nonprofit side of raising awareness so that more guide dogs are made available. Abdul said. "I have always been amazed at how it transforms people's lives."
Posted by jwoestendiek March 29th, 2009 under Muttsblog.
Tags: american idol, awareness, blind, campaign, celebrities, chihuahuas, dick van patten, guide dogs, natural balance, paula abdul, petco, programs, training

Comments: none