Tag: recall
IKEA has issued a global recall for a water dispenser for pets that caused the suffocation of at least two dogs.
The water dispenser was part of the Lurvig line of pet products IKEA introduced last fall.
The company is urging customers to immediately stop using the water dispenser and return it to any IKEA store for a full refund.
The Swedish company took the action after two dogs died after getting their heads stuck in the device.
The water dispenser is made up of two components. Its bottom serves as a water bowl and the base for an attachable transparent domed container that dispenses the water. The company did not disclose where the two dogs lived.
The water dispenser is no longer being included in the company's catalog.
The $7.99 water dispenser was one of the 75 pet products the company introduced last October, including leashes, collars, bowls, to cat houses, dog beds, and poop bag dispensers.
Posted by John Woestendiek July 13th, 2018 under Muttsblog.
Tags: animals, deaths, dispenser, dogs, heads, health, ikea, lurvig, pet products, pets, recall, recalled, recalls, safety, stuck, suffocation, warning, water, water dispenser

Comments: none
The TV station that disclosed the presence of the euthanasia drug pentobarbital in canned dog food — leading to the recall of 107 million cans — is staying on the case and reporting that the manufacturer was aware of, and remained silent about, even higher levels of the drug.
Earlier this year, ABC7 (WJLA) in Washington aired an investigative report on the drug being found in Gravy Train canned food.
A recall was later announced for Gravy Train and three other canned dog foods — Kibbles 'N Bits, Ol' Roy and Skippy, all of which, like Gravy Train, are made by Big Heart Brands, a subsidiary of Smucker's.
Any levels of pentobarbital in dog food are concerning, as is the use of any drug-euthanized animal as a source of either human or pet food are outlawed.
The FDA (maybe recognizing a TV station was doing its job, maybe not) launched its own investigation into Smucker's just hours after the report aired.
Big Heart Brands — saying its top priority is the "safety and quality of its products" — has maintained that the levels of pentobarbital detected in tests by the WJLA were far too low to be concerned about.
But WJLA reported last week that even higher levels — 80 times higher — have been found by the FDA.
According to a class action lawsuit against the company, the FDA found pentobarbital in the company's fat supply, at levels at least 80-times higher than what the TV station discovered in products on the shelves.
And the company apparently had been alerted to that. It retained a sample of that fat from a full year earlier, in 2017, with levels of pentobarbital more than 50-times higher than the results that prompted the recall.
"It is an important fact because they retained it, yet they didn't test it," said attorney Rebecca Peterson, one of the attorneys handling one of the class action lawsuits against Smucker's and its subsidiary, Big Heart Pet Brands "Or they did test it and they still went forward by including that tallow in the contaminated dog food."
At issue is a rendered fat ingredient — the boiled byproduct of carcasses that contained the euthanasia drug pentobarbital.
In a statement, Smuckers said it has "robust quality assurance procedures in place, we are committed to enhancing sourcing and supplier oversight procedures to help ensure this does not happen again."
Court documents allege the source of contaminated fat was the company's supplier JBS.
JBS is also the subject of investigations related to E.coli contaminations and the inhumane treatment of animals.
In a statement, JBS stated it has modified it procurement process and "will divert all third-party sourced materials to non-edible production until the company can ensure these materials meet its high standards for quality and safety."
Posted by John Woestendiek May 7th, 2018 under Muttsblog.
Tags: abc7, big heart brands, brands, canned, canned dog food, cans, class action, dog food recall, euthanasia, euthanasia drug, fda, gravy train, investigation, jbs, kibbles 'n bits, laboratory, lawsuit, levels, ol'roy, pentobarbital, recall, skippy, smucker's, tests, wjla

Comments: none
The nation's most beloved maker of jams and jellies is buying up the pet food company that carries the name of the nation's most beloved TV cook.
J.M. Smucker Co. has agreed to pay $1.9 billion to buy Ainsworth Pet Nutrition, which makes primarily the Rachel Ray brand dog Nutrish.
The acquisition is the latest pet food line taken over by Smucker, which also owns Kibbles n' Bits, Meow Mix, Gravy Train, Skippy and Ol' Roy brands.
By putting more emphasis on pet food — specifically so-called "premium" pet foods — the company hope to invigorate sales, which have been sluggish for consumer goods aimed at humans.
The purchase comes on the heels of recent recalls for some of Smucker's canned dog food brands — Gravy Train, Skippy, Ol' Roy and Kibbles 'N Bits.
Traces of the euthanasia drug pentobarbital found in some cans led to the recall.
Smucker first got into the pet business in 2015 with a $5.8 billion acquisition of Big Heart Pet Brands, according to Bloomberg. The company, best known for its namesake jam, also produces Folgers coffee and Jif peanut butter.
With the purchase of Nutrish, pet foods will become Smucker's larges source of sales.
The company is also looking at selling off some of its human food products, including the Pillsbury line of baked goods.
It is focusing more on premium pet foods. High-end pet food has surged 33 percent industrywide over the past five years and now accounts for more than 50 percent of the market.
Smucker generates about 85 percent of its revenue in the U.S. and the acquisition of Ainsworth will make pet food its largest business unit, accounting for about $3 billion in sales.
Smucker is the latest food company to tap into the upscale pet market. General Mills Inc., mired in a three-year sales slump, agreed in February to buy Blue Buffalo Pet Products Inc. for about $8 billion.
Posted by John Woestendiek April 6th, 2018 under Muttsblog.
Tags: acquisition, ainsworth pet nutrition, animals, canned, cans, dog food, dogs, euthanasia drug, food, gravy train, j.m. smucker co., kibbles 'n bits, meow mix, nutrish, ol roy, pentobarbital, pets, premium dog foods, rachel ray, recall, skippy, smucker, sold

Comments: 1
The J.M. Smucker Company has recalled two different kinds of Milo's Kitchen dog treats.
According to the Milo's Kitchen website, shipments of Milo's Kitchen Steak Grillers / Steak Grillers Recipe with Angus Steak and Milo's Kitchen Grilled Burger Bites with Sweet Potato and Bacon are being recalled over concerns of potentially elevated levels of a beef thyroid hormone.
The FDA says three dogs are known to have been sickened by the treats.
Dogs who have consumed high levels of beef thyroid hormone may show symptoms of increased thirst and urination, weight loss, increased heart rate and restlessness, according to the FDA.
The symptoms should subside once consumption of the treats is discontinued, but prolonged consumption can cause vomiting, diarrhea and labored breathing.
One of the first dog owners to report a problem with the treats was a Seattle area woman, whose Pomeranian-Chihuahua, named Teka, became ill at the end of last year.
"She was barely getting up. She wasn't running around. Her activity level was low and it clearly looked like she could die that weekend … She would just sit there and drink and drink and drink," Eide told KING5.
The dog was a gift to Eide's dying daughter, Karina.
"It was our daughter's 'Make A Wish' dog," Eide said. "She said, 'I know some kids want to go to Disneyland for Make a Wish. We'll have Teka forever'. It was our responsibility to take good care of her," Fernette said.
Karina passed away in 2014.
When Teka became ill, Eide took the dog to the vet, where abnormally high levels of thyroid hormones were detected.
After she reported the issue to the FDA, she was interviewed and supplied the agency with some of the treats.
The recall includes two flavors of the treats:
Milo's Kitchen Steak Grillers / Steak Grillers Recipe with Angus Steak:
UPC Code: 0 7910051822 7 Size: 18 oz. bag Best By Date: 11/15/2018
UPC Code: 0 7910051822 7 Size: 18 oz. bag Best By Date: 4/26/2019
UPC Code: 0 7910051823 4 Size: 22 oz. bag Best By Date: 4/26/2019
UPC Code: 0 7910052776 2 Size: 10 oz. bag Best By Date: 4/26/2019
Milo's Kitchen Grilled Burger Bites with Sweet Potato and Bacon:
UPC Code: 0 7910052126 5 Size: 15 oz. bag Best By Date: 11/19/2018
Posted by John Woestendiek March 27th, 2018 under Muttsblog.
Tags: animals, burger bites, dog, dog food, dog food recalls, dog treat recalls, dog treats, dogs, fda, health, j.m. smucker company, kitchen, milo's, milos kitchen, pets, recall, safety, steak grillers, thyroid hormone, treats

Comments: none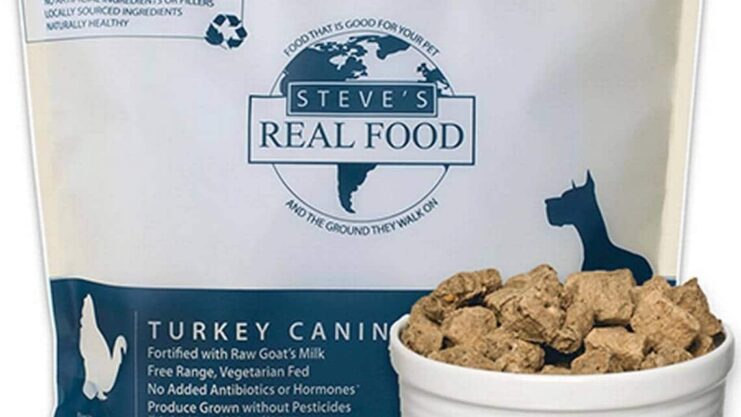 If it seems like there's a new pet food or treat being recalled every week recently, that's because it has gotten that bad.
Worse even.
We count ten since Feb. 8 — most of those of food and treats suspected of possibly being contaminated with salmonella.
The recalled products include dry food, canned food and raw food, treats and bully sticks.
Probably most notable of those recalled are the Gravy Train, Kibbles 'N Bits, Skippy and Ol' Roy brands of canned dog food made by the J.M. Smucker company. Pentobarbital, the sedative used to put dogs down, has been found in cans dating back to 2016.
Smucker released a statement on its website, confirming "extremely low levels of pentobarbital" have been found in "in select shipments."
On Sunday, it told the Miami Herald that the source of the drug was "animal fat was sourced from cow, chicken, and pig."
While those are common sources of pet food, animals euthanized with the drug are not supposed to end up in the food chain — for either dogs or humans.
Last week also saw the recall of an eighth pet food product suspected of containing salmonella or listeria in 24 days, Steve's Real Food's Raw Frozen Dog Food Turkey Canine Recipe, recalled one lot that was distributed to 21 states.
The Nebraska Department of Agriculture found salmonella when testing a retail sold sample.
The 5-pound bags in lot No. E 178 with a best by date of Sept. 17, 2018 went to retail stores in Florida, New York, New Jersey, Connecticut, California, Texas, Pennsylvania, Virginia, Colorado, Iowa, Kansas, Maryland, Michigan, Minnesota, Missouri, North Dakota, Nebraska, Oregon, Utah and Washington, according to the Miami Herald.
Dogs with salmonella can suffer from vomiting, diarrhea and fever.
Humans also can get salmonella, both from dogs and from handling contaminated food or touching unwashed surfaces that the food touched.
Those who have purchased the products should dispose of them and contact the company for a refund.
Other recalls and product withdrawals in the past month include:
▪ Raws for Paws ground turkey
▪ Smokehouse Beefy Munchies treats
▪ Arrow Reliance/Darwin's Natural ZooLogics Duck with Vegetable Meals for Dogs and ZooLogics Chicken with Vegetable Meals for Dogs
▪ Redbarn, 7-inch Bully Sticks
▪ TruPet, Treat Me Crunchy Beef Delight treats
▪ Northwest Naturals, Chicken and Salmon
▪ Carnivore Meat Company, Vital Essentials Freeze-Dried Beef Nibblets Entrée for Dogs
▪ Kitten Grind raw pet food
Posted by John Woestendiek March 6th, 2018 under Muttsblog.
Tags: animals, arrow reliance, bully sticks, canned, darwin, darwin's naturals, diet, dog food, dog food recall, dogs, drug, dry, euthanasia, food, frozen, gravy train, health, kibbles 'n bits, listeria, northwest naturals, ol roy, pentobarbital, pet food, pets, raw, raws for paws, recall, recalls, redbarn bully sticks, safety, salmonella, skippy, smokehouse beefy munchies, smucker, steve's real foods, treats, trupet, warning, zoologics

Comments: 1
The J.M. Smucker Co. is withdrawing some shipments of dog food amid reports that it could be tainted with traces of a drug used to euthanize animals.
The company said Thursday it is pulling back shipments of 27 of its brands, including canned Gravy Train, Kibble 'N Bits, Skippy and Ol' Roy brands.
It said it is investigating how the euthanasia drug pentobarbital got into its supply chain and is focusing on a single supplier of a minor ingredient used at one manufacturing facility.
The recalls come after WJLA-TV in Washington, D.C., said it tested 15 cans of Gravy Train and found nine cans, or 60 percent of the sample, tested positive for pentobarbital.
Smucker pointed out that the low levels of the drug cited in the report do not pose a threat to pets.
"However, the presence of this substance at any level is not acceptable to us and not up to our quality standards," the company said in a statement.
The company, based in Orrville, Ohio, said it does not use meat from euthanized animals in its pet food.
A consumer-level product recall has not been initiated, and neither Smucker nor any government agencies has said if any of the implicated dog food made it to retail shelves.
Smucker has requested retailers remove the potentially affected brands from their warehouses.
Read on for the full list:
Posted by John Woestendiek February 16th, 2018 under Muttsblog.
Tags: animals, brands, canned, cans, dog food, dogs, drug, euthanasia, gravy train, health, kibble 'n bits, ol roy, pentobarbital, pets, recall, report, safety, skippy, smucker, voluntary, washington, wjla

Comments: 2
Five years ago, Danny Rawley was an inmate in a North Carolina prison.
One year ago, my dog Jinjja was one of more than 100 dogs waiting to be slaughtered for their meat at a dog farm in South Korea.
Four weeks ago, I was on an operating table, having what doctors suspected was a cancerous kidney removed.
Recently, we all came together, proving not only that it's a small world, but one that — thank goodness — often gives us second chances. And sometimes third, fourth and fifth ones as well.
Some backing up is in order.
I adopted Jinjja last November from the Watauga Humane Society, which was hosting four dogs that were among a much larger group rescued from a dog farm in South Korea and brought to the United States for adoption.
He was fearful. He was skittish. He didn't seem to much like men. But in the months that followed he made slow but steady progress, in everything except for his fear of meeting new human males and his tendency to run away if he experienced a small taste of freedom.
We made it to our first obedience class (and he did great) before I got ill, and, in a matter of weeks, found myself scheduled to have one of my kidneys removed.
Given the outlook beyond the surgery was uncertain, given the operation comes with a six-week no-heavy-lifting recovery period, given Jinjja's tendencies to sometimes tug pretty hard on the leash, to be be slow to warm up to new people, and the escape risks he posed, I was hesitant to ask a friend to care for him.
I was contemplating surrendering him back to the Watauga Humane Society when a friend at the Forsyth Humane Society offered to take him into her own home. Darla Kirkeeng, the society's director of development, volunteered to keep him as long as necessary — even after I warned her of his eccentricities and that he'd likely be slow to warm up to her husband.
But that's where he has been since shortly before my surgery, living happily with Darla and her daughter, tolerating Darla's husband, and joining her pack of two other rescued dogs, Luigi and Olivia.
As if that act wasn't gracious enough, Darla threw in a bonus, and arranged for Danny Rawley, a dog trainer, to drop by for a few sessions with Jinjja.
That's where I met him recently when I dropped by Darla's for my first visit with Jinjja since my surgery.
Despite my fears that being apart would harm the bond we'd developed, Jinjja remembered me and didn't hesitate to approach and allow me to pet him and show him affection — something he doesn't generally permit males to do.
Danny admitted Jinjja was skittish around him, too, and snarled and snapped at him during the first session.
Once leashed though, Jinjja paid attention to instructions and, as Danny demonstrated, made some great progress.
Danny also gave me some advice on working on recall — something Jinjja, if he accidentally gets unleashed outside, doesn't begin to understand. The smallest taste of freedom, and he's off and running, and gets into a mode where he will allow no one to approach.
My guess is that's partly a trait of his breed (Jindo), a once wild breed that populated an island of the same name off the coast of Korea. Partly too it's a result of the dog farm environment, where dogs live crated or chained, and anyone putting their hands on you was likely a sign that it was your turn to be slaughtered or taken to market.
Likely, it is something he will never fully overcome. Freedom, and the desire for it, are powerful forces, especially to any being that has had his freedom taken away.
If anyone can relate to that, it's Danny.
After growing up in Mt. Airy, he got caught up in selling drugs and, through that, using them.
"That turned my whole world around. I ended up hurting a man," he said.
He was sentenced to 12 years. While serving that sentence at the state prison in Caledonia, a maximum security facility in the eastern part of the state, he learned of and enrolled in a newly started program called "New Leash on Life."
In it, a inmates spent their days with dogs who lived on the grounds who were awaiting — but not always prepared for — adoption.
He jumped at the opportunity because of "my love for dogs for one thing, and wanting to put something positive in my life."
As has been the experience with similar programs across the country, it worked, improving the lives and outlooks for both canine and human participants.
Danny remembers the first dog he was assigned — Lee, a coon dog mix who seemed pretty untrainable and also had a problem with recall. Jinjja reminded him of another dog he trained in prison, named Spirit, who was mostly feral, to the point she preferred eating bugs to eating dog food.
"She finally came around to be a great dog," he said. In all, he probably trained 25 to 30 dogs while in prison, and just as he helped changed them, they helped change him.
"When a dog and a man come together, somehow or another it changes your soul, that feeling that your care, that you believe, and it don't go away … The more you work with dogs, the more you earn their trust. It's all about trust."
When the New Leash on Life program was launched, with funding from the humane society, at the Forsyth Correctional Center, Danny agreed to a transfer to help train inmates there to take part in the program.
He was released in 2012, after serving eight years, and was hired as an employee by the Forsyth Humane Society.
Danny, in addition to having his own business training dogs, is based at the facility and spends much of his time making house calls, going to the homes of people who are having issues with their recently adopted dogs.
The New Leash program at Forsyth Correctional Center is now on hiatus while the Humane Society undergoes a pretty big transition and restructuring. Since moving into a new building, its adoption rates have surged, and dogs are moving in and out more quickly. On top of that, there are plans for the society to assume all adoption services at Forsyth Animal Control, part of an ongoing effort to make Forsyth a "no-kill" county by 2023. The goal is to reduce the countywide euthanasia rate from 64 percent to 10 percent or less.
Under the proposal, the Humane Society would run the 215-kennel county shelter, possibly by as early as this fall.
It's a massive joint effort between Animal Control, the Humane Society, the Animal Adoption & Rescue Foundation and other local rescue groups — aimed at better coordinating all agencies involved and giving thousands more dogs and cats a second chance.
And, as both Danny and Jinjja could probably attest, you can't put a price tag on a second chance. I'd agree (though my hospital, judging from the one-foot high stack of unpaid bills on my desk, seems to do a pretty good job of it).
Though I'm down to my final kidney, my surgeon was pleased with how things went, confident that they removed all of the cancerous mass, and he has given me a positive prognosis with no need for follow-up treatments.
I'm feeling good enough to, as of today, fire ohmidog! back up and make it daily, or almost daily, again.
And, in about one more week, more or less, I'll be ready to bring Jinjja back home.
Posted by John Woestendiek June 26th, 2017 under Muttsblog.
Tags: animals, behavior, breed, cancer, danny rawley, dog meat, dog meat farm, dog meat trade, dogs, fear, forsyth humane society, inmate, jindo, jinjja, john woestendiek, kidney, nature, nurture, pets, recall, rehabilitation, rescued, rescues, second chances, socialization, south korea, trainer, training, watauga humane society

Comments: 11