Tag: recalls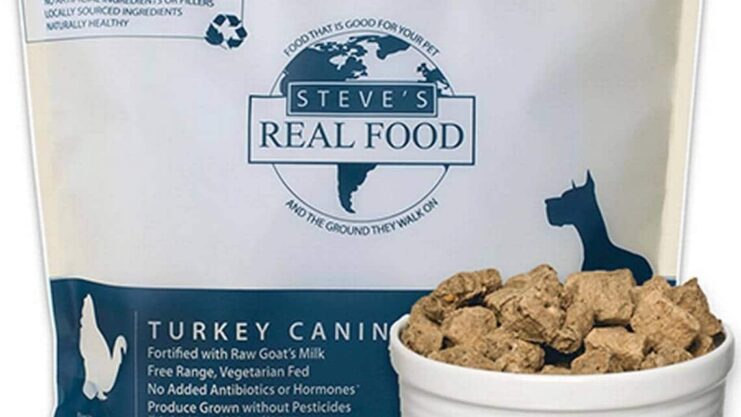 If it seems like there's a new pet food or treat being recalled every week recently, that's because it has gotten that bad.
Worse even.
We count ten since Feb. 8 — most of those of food and treats suspected of possibly being contaminated with salmonella.
The recalled products include dry food, canned food and raw food, treats and bully sticks.
Probably most notable of those recalled are the Gravy Train, Kibbles 'N Bits, Skippy and Ol' Roy brands of canned dog food made by the J.M. Smucker company. Pentobarbital, the sedative used to put dogs down, has been found in cans dating back to 2016.
Smucker released a statement on its website, confirming "extremely low levels of pentobarbital" have been found in "in select shipments."
On Sunday, it told the Miami Herald that the source of the drug was "animal fat was sourced from cow, chicken, and pig."
While those are common sources of pet food, animals euthanized with the drug are not supposed to end up in the food chain — for either dogs or humans.
Last week also saw the recall of an eighth pet food product suspected of containing salmonella or listeria in 24 days, Steve's Real Food's Raw Frozen Dog Food Turkey Canine Recipe, recalled one lot that was distributed to 21 states.
The Nebraska Department of Agriculture found salmonella when testing a retail sold sample.
The 5-pound bags in lot No. E 178 with a best by date of Sept. 17, 2018 went to retail stores in Florida, New York, New Jersey, Connecticut, California, Texas, Pennsylvania, Virginia, Colorado, Iowa, Kansas, Maryland, Michigan, Minnesota, Missouri, North Dakota, Nebraska, Oregon, Utah and Washington, according to the Miami Herald.
Dogs with salmonella can suffer from vomiting, diarrhea and fever.
Humans also can get salmonella, both from dogs and from handling contaminated food or touching unwashed surfaces that the food touched.
Those who have purchased the products should dispose of them and contact the company for a refund.
Other recalls and product withdrawals in the past month include:
▪ Raws for Paws ground turkey
▪ Smokehouse Beefy Munchies treats
▪ Arrow Reliance/Darwin's Natural ZooLogics Duck with Vegetable Meals for Dogs and ZooLogics Chicken with Vegetable Meals for Dogs
▪ Redbarn, 7-inch Bully Sticks
▪ TruPet, Treat Me Crunchy Beef Delight treats
▪ Northwest Naturals, Chicken and Salmon
▪ Carnivore Meat Company, Vital Essentials Freeze-Dried Beef Nibblets Entrée for Dogs
▪ Kitten Grind raw pet food
Posted by John Woestendiek March 6th, 2018 under Muttsblog.
Tags: animals, arrow reliance, bully sticks, canned, darwin, darwin's naturals, diet, dog food, dog food recall, dogs, drug, dry, euthanasia, food, frozen, gravy train, health, kibbles 'n bits, listeria, northwest naturals, ol roy, pentobarbital, pet food, pets, raw, raws for paws, recall, recalls, redbarn bully sticks, safety, salmonella, skippy, smokehouse beefy munchies, smucker, steve's real foods, treats, trupet, warning, zoologics

Comments: 1
Blue Buffalo has issued another dog food recall — the third in the last two months.
The company says its Blue Wilderness Rocky Mountain Recipe Red Meat Dinner Wet Food for Adult Dogs has the potential to contain elevated levels of naturally-occurring beef thyroid hormones.
The voluntary recall applies to one production lot (840243101153). The cans have an expiration date of June 7, 2019,
The FDA said in a press release that affected products were distributed nationally through pet specialty and on-line retailers.
Dogs ingesting high levels of beef thyroid hormones may exhibit symptoms such as increased thirst and urination, weight loss, increased heart rate and restlessness. These symptoms often resolve themselves when the use of the impacted food is discontinued, the FDA said.
With prolonged consumption, though, the symptoms may increase in severity and may include vomiting, diarrhea, and rapid or difficulty breathing. Should these symptoms occur, contact your veterinarian immediately.
The company says its customer care resource team has not received any reports of dogs exhibiting symptoms from consuming this product, but it was advised by the FDA that a consumer reported symptoms in one dog. The dog recovered.
Blue Buffalo in February issued a voluntary recall of one production lot of its Homestyle Recipe Healthy Weight Chicken Dinner with Garden Vegetables in 12.5 oz cans after metal fragments were found in some cans.
Earlier this month, the company issued a voluntary recall of 17 varieties of its Blue Divine Delights and Blue Wilderness Trail Trays due to quality issues with the foil seals on the top of the cups.
Posted by John Woestendiek March 21st, 2017 under Muttsblog.
Tags: animals, beef thyroid hormones, blue, blue buffalo, blue wilderness, dog food, dogs, fda, health, notice, pets, recall, recalls, red meat, rocky mountain recipe, safety, sick, symptoms, treats, voluntary, warning

Comments: none
Blue Buffalo is recalling some of its "healthy" and "holistic" canned dog food because it might contain pieces of metal.
It's the second company this week to recall canned dog food due to concerns about metal fragments, and the third canned dog food recall this month.
Blue Buffalo's CEO said in a statement on the company's website that it is recalling the food as part of its "mission of bringing transparency to pet foods."
(That from a company that paid $32 million last year to settle a lawsuit about its deceptive advertising.)
It's kind of hard to find the "transparent" company's statement on the company website, so here is the link.
"My father, brother and I founded Blue Buffalo with the mission of bringing transparency to pet foods, and so, even though it is highly unlikely that you will have a product affected by this problem, we felt that we needed to voluntarily withdraw the product from retailers and let you know that we were doing this," CEO Billy Bishop says in a letter to customers.
The recalled product is Blue Buffalo Homestyle Recipe Healthy Weight Chicken Dinner with Garden Vegetables. The cans have a "best by" date of Aug. 3, 2019 and the UPC is 8-40243-10017-0
PetSmart this week announced recalls of both the Blue Buffalo product and cans of Grreat Choice chicken and rice dog food.
In both cases, the companies said there had been no reports of illness or injury as a result of the possible contamination.
In both cases, the lots came from suppliers not identified by the companies or in news reports. Dog food companies commonly outsource their manufacturing to multiple manufacturers.
Also this month, Evanger's announced a recall of its Hunk of Beef canned dog food after some of it was found to contain a sedative used to euthanize animals.
That contamination led one dog to die and at least four more to become ill in Washington state.
Yesterday, the FDA announced another dog food brand, Against the Grain, was recalling some cans of its Pulled Beef with Gravy Dinner for Dogs amid concerns it contains the same sedative.
Against the Grain appears to be a sister company of Evanger's.
Food Safety News reported they may share manufacturing facilities and ingredients, and that the founders of Against the Grain are listed as the son and daughter of Evanger's owners Holly and Joel Sher.
Chelsea Sher, who serves as vice president for exports at Evanger's, is listed as owner of the Against the Grain trademark.
Posted by John Woestendiek February 16th, 2017 under Muttsblog.
Tags: against the grain, animals, blue buffalo, canned, cans, dog, dog food, dog food recalls, dogs, drug, euthanasia, fda, food & drug administration, fragments, health, metal, pets, petsmart, recall, recalled, recalls, safety, sedative

Comments: none
PetSmart has issued a recall on cans of its Grreat Choice dog food after a manufacturer informed the company of consumer complaints about finding pieces of metal that could cause a choking hazard to pets.
The product is sold nationwide at PetSmart retail stores and online at PetSmart.com, Pet360.com, and PetFoodDirect.com.
The dog food was sold between October 10, 2016 and Feb. 7, 2017 and has a "Best By" date of 8/5/19.
PetSmart said in a press release that only one lot of Grreat Choice chicken and rice dog food is affected by the recall.
No injuries or illnesses have been reported, the company said.
The cans have a lot number of 1759338, and a UPC code of 7-3725726116-7.
Neither the manufacturer or PetSmart have given any indication of how the metal pieces ended up in the food.
Customers who have purchased the recalled food are advised to stop feeding it to their pets and bring any remaining cans to a PetSmart store for a full refund or exchange.
For more information, consumers can contact PetSmart customer service at 1-888-839-9638 between 7 a.m. and 10 p.m. CST
Posted by John Woestendiek February 15th, 2017 under Muttsblog.
Tags: animals, canned, cans, chicken and rice, choking, dog, dog food, dogs, fda, grreat choice, hazard, health, metal, pets, petsmart, pieces, recall, recalls, safety

Comments: none
Evanger's is recalling some lots of its "Hunk of Beef" canned dog food after it was found to contain a sedative used to euthanize animals.
Four dogs in Washington state became sick on New Year's Eve after eating the food, and one died, the Wheeling, Illinois-based company said.
Tests on a deceased pug named Talula found the drug pentobarbital, a sedative, in the dog's stomach. The owner's other pugs were sick after consuming the food, but survived.
It's the first recall in the company's 82-year history.
Evanger's has ended its relationship with a beef supplier and promised to guarantee the safety of its products in the future, according to the Chicago Tribune.
The pentobarbital was detected in one lot of Hunk of Beef Au Jus, and company officials are stumped on how it got there.
Pentobarbital can affect animals that ingest it by causing drowsiness, dizziness, excitement, loss of balance, nausea and death.
On the family-owned company's website, a video has been posted in which members of the Sher family, which owns it, explain that pentobarbital can be found in other dry pet foods if they are made with euthanized cow meat.
"We were unaware of the problem of pentobarbital in the pet food industry because it is most pervasive in dry foods that source most of their ingredients from rendering plants, unlike Evanger's, which mainly manufactures canned foods that would not have any rendered materials in its supply chain," the owners said.
They added that once an animal has been euthanized there are no regulations requiring veterinarians to tag the meat as such, allowing the meat to find its way into the food chain.
Although only one lot was found to be affected, the company has recalled five lots, distributed to retail locations and sold online in Washington, California, Minnesota, Illinois, Indiana, Michigan, Wisconsin, Ohio, Pennsylvania, New York, Massachusetts, Maryland, South Carolina, Georgia, and Florida. They were manufactured the week of June 6 – June 13, 2016, and have an expiration date of June 2020.
The recall applies to lot numbers starting with 1816E03HB, 1816E04HB, 1816E06HB, 1816E07HB, and 1816E13HB, The second half of the barcode reads 20109, which can be found on the back of the product label.
Evanger's says all of its meat suppliers are USDA approved, and that it is still investigating how the substance entered their raw material supply.
Consumers who still have cans with the lot numbers should return them to the place of purchase for a full refund. Consumers with questions may contact the company at 1-847-537-0102 between 10:00 AM – 5:00 PM Central Time, Monday – Friday.
Evanger's has apologized on its website, promised transparency and posted several updates for customers.
"We are sorry we let you down, but we will make a better pet industry because of it," Evanger's owners wrote. "First and foremost we are pet parents," they wrote.
The Sher family said they paid veterinary bills for the four pugs in Washington state and made a donation to a local animal shelter.
Posted by John Woestendiek February 9th, 2017 under Muttsblog, videos.
Tags: animals, apology, death, dog, dog food, dogs, drug, euthanasia, evangers, fda, health, hunk of beef, pentobarbital, pets, pug, recall, recalled, recalls, safety, sick, usda

Comments: none
Merrick Pet Care Inc. of Amarillo, Texas, has expanded its dog treats recall to include all lots of the two products — Beef Filet Squares for Dogs and Texas Hold'ems treats.
The treats come in 10-ounce packages and were shipped to distributors and retailers throughout the United States, according to Merrick.
While the expanded recall is based on salmonella concerns, no illnesses related to the product have been reported.
Merrick issued limited recalls of its Beef Filet Squares and Texas Hold'ems treats in July and August after samples turned up positive for salmonella.
Pets with salmonella infections may be lethargic and have diarrhea or bloody diarrhea, fever and vomiting. Some pets may have decreased appetite, fever and abdominal pain. Infected but otherwise healthy pets can be carriers and infect other animals or humans, according to the company.
Dog owners are urged to contact their veterinarian if their pet has consumed the recalled product and is exhibiting symptoms.
Consumers who have purchased 10-ounce packages of Beef Filet Squares for Dogs and Texas Hold'ems are urged to return the unused portion to the place of purchase for a full refund. Consumers with questions may contact the company at 800-664-7387, Monday through Friday, 8 a.m. to 5 p.m. CDT.
Posted by John Woestendiek August 17th, 2010 under Muttsblog.
Tags: alert, amarillo, animals, beef filet squares, consumer, dog, dog treats, dogs, expanded, health, lots, merrick, merrick pet care, news, packages, pets, recall, recalled, recalls, safety, salmonella, texas hold'em, treats, warning

Comments: none
United Pet Group of Cincinnati is recalling all unexpired lots of its Pro-Pet Adult Daily vitamin supplement tablets for dogs because of possible salmonella contamination.
The Ohio company says it took the action "out of an abundance of caution" after one lot of the product tested positive for salmonella, according to Consumeraffairs.com.
The recalled vitamins — sold in retail stores nationwide — come in 100-count white plastic bottles with a light blue label and have a UPC of 26851-01800. All bottles with expiration dates on or before "06/13" are included in the recall.
Consumers with pets that consumed the recalled vitamins and have symptoms should contact their veterinarians.
United Pet Group said consumers should immediately stop giving their dogs the recalled vitamins. For more information about the recall, pet owners can contact the company at 1-800-645-5154, extension 3.
Posted by John Woestendiek June 24th, 2010 under Muttsblog.
Tags: animals, cincinnati, contamination, dogs, health, news, ohio, ohmidog!, pets, pro-pet, recall, recalls, safety, salmonella, supplement, united pet group, vitamin, vitamins

Comments: 16