Tag: research
Seventy-five years after his death, scientists say they have determined what killed Hachiko, the legendary Akita whose story has been immortalized in his native Japan and the rest of the world.
Japan's most famous dog — though rumors have persisted for decades that worms did him in, or that he swallowed a chicken skewer that ruptured his stomach — had heart and lung cancer, scientists now say.
Hachiko became legendary for the loyalty he showed by waiting for his owner every day at a train station — for 10 years after his master died.
Hachiko died in 1935 at the age of 13. After his death, researchers at what is now the University of Tokyo performed an autopsy on Hachiko's body and discovered roundworms in his heart and liquid collected in his abdomen.
Using more sophisticated tests like MRI's,  the Mainichi Daily News reports, a team of scientists at the University of Tokyo team analyzed Hachiko's preserved organs and discovered large cancers in the heart and lungs. They speculated that the cancer may have spread from the lungs to the heart. Hachiko also had filariasis (a worm-caused diseased), and it's possible that could have caused his death as well, said professor Hiroyuki Nakayama, part of the research team.
Hachiko's preserved organs are displayed at a University of Tokyo resource center in Bunkyo Ward, Tokyo, along with a bust of his owner. A "stuffed" Hachiko is also on display at the National Museum of Nature and Science in Tokyo's Taito Ward. A statue of Hachiko was erected in his honor at Shibuya Station.
Hachiko accompanied his owner, a university professor named Eisaburo Uyeno, to the train station every day and watched him leave for work. Every evening the dog would be waiting for him when he returned. When Uyeno died, Hachiko continued going to the train station every day to wait for his master for about ten years.
The legend has been told in numerous forms in the 75 years since, most recently as a childrens' book and a 2009 movie remake, re-set in Rhode Island, starring Richard Gere.
Posted by John Woestendiek March 2nd, 2011 under Muttsblog.
Tags: akita, animals, cancer, cause of death, death, dog, dogs, eisaburo, hachiko, heart cancer, japan, japanese, legends, loyalty, lung cancer, medical, news, pets, professor, research, roundworms, science, shibuya, tests, train station, ueno, university of tokyo, uyeno, veterinary

Comments: 6
One year after he was rescued from an ice floe, Baltic remains on the high seas — just not in them.
The crew of a Polish ship, named Baltica, pulled the dog from the icy waters of the Baltic Sea after observing him struggling. The dog was first seen on an ice floe in the Vistula River. Some estimated at the time that he traveled 70 miles atop the floe on the river, then another 20 miles out to sea.
Several people came forward wanting to adopt Baltic after his story gained headlines around Europe, but his rescuer Adam Buczynski decided to keep him.
Despite his bad experience, the dog is now there regularly at sea, serving as the research ship's pet and mascot. He shows signs of anxiety when the sea is rough but sails around happily with the crew when it is calm, Buczynski said.
Posted by John Woestendiek February 1st, 2011 under Muttsblog.
Tags: adam buczynski, animals, baltic, baltic sea, baltica, dog, dogs, floe, headlines, ice, mascot, news, one year later, pets, poland, polish, rescued, research, saved, sea, ship, update, video, vistula river

Comments: none
A researcher who I'm guessing doesn't have a dog says pets don't belong in the bed, and that allowing them to sleep with us can lead to infections, parasites and diseases.
He further advises that anyone who is licked by a dog wash the area immediately.
To me, a guy who has spent the last eight months with my dog nearly constantly at my side during our travels across America — including in whatever bed we happen to be sleeping in at night — that seems a massive over-reaction.
Bruno Chomel, a professor at the School of Veterinary Medicine at the University of California, Davis, says that, while such cases aren't common, people have contracted infections from sleeping with, kissing and being licked by their pets. Chomel and fellow researcher Ben Sun, of the California Department of Public Health, express their views in the latest issue of the journal Emerging Infectious Diseases.
I don't subscribe to that publication, because my theory is the surest way to get a disease is not from sleeping with your dog, but from reading about that disease.
Though I sleep with my dog nightly, I'm not so much concerned about Zoonoses, or diseases transmitted to humans by animals, as I am about Merckitis, a chronic case of which I've suffered from since childhood.
It stemmed from a big blue book called The Merck Manual, on my mother's bookshelf, which allowed you to, based on your symptoms, diagnose your medical issue, read about the treatment and determine, in my case, if I was going to live to see 13.
I must have diagnosed myself with a dozen different diseases, many of them fatal, in the course of matching up my symptoms — usually those of a common cold — with the worst  possible maladies.
I remember one night that — congested, unable to breathe through my nose and worried that my throat breathing pipe (non-medical term) might close up – I gathered the necessary supplies to perform an emergency tracheotomy (bic pen, with the ink part removed, pocket knife, duck tape) and kept them under my bed, alongside the book.
The Internet has made it much easier to wrongly self diagnose — just a few clicks and you can jump to the conclusion that you have the most dreaded disease imaginable. The key word there being imaginable. In a way, those medical self-help websites, rather than lessen the need for doctors, only create more of one as we, fueled by our fears, rush to confirm our faulty self diagnoses.
Pulled muscle? I was sure it was a heart attack.
Of course, such concerns are not always entirely baseless, and many of them should be checked out by professionals. But often, they're only in our heads — having been placed there by WebMD, yourdiagnosis.com, familydoctor.org and the like. Often they are really far-fetched, instilling a fear out of all proportion with reality, which is the case with Chomel's study, or at least his remarks:
"I think pets can be very nice in the home environment, but certainly, they don't belong on the bed," Chomel told LiveScience.
Chomel says humans can contract bubonic plague from flea-infested pets, bacterial infections resistant to multiple strains of antibiotics, and various parasitic worms.
Since 1974, Chomel says, multiple cases of plague have been associated with people in the southwestern U.S. who allowed flea-infested cats to sleep with them. And in a  2008 outbreak, a study found that people infected with bubonic plague were "more likely to have shared a bed with a dog than uninfected counterparts." (Despite that, I still don't recommend sharing a bed with uninfected counterparts.)
The authors cite surveys conducted in the U.S., the United Kingdom, France and the Netherlands that show up to 45 percent of dogs sleep in their owners' bed.
Several reports of bacterial infections have been attributed to sharing a bed with pets, and in "multiple" cases, they report, patients acquired various infections after allowing their dogs or cats to lick wounds or damaged skin.
That's the total opposite of my philosophy. Whenever I get a boo-boo, the first thing I do is let Ace lick it. Then it feels better. If thousands of microscopic parasites enter my bloodstream by doing so, so be it … join the party, fellas.
Don't tell me not to sleep with my dog, especially when it's this cold. That's like saying, because there may be some impurities in the air, I should stop breathing. I'm going to continue to engage in both risky behaviors.
And if worse comes to worst I can always, after consulting my Merck Manual, perform an emergency tracheotomy.
OUR FAVORITE READER COMMENT: "Pity poor Chomel. He has obviously not enjoyed the delight of a canine companion…I've spent the past 50 years sleeping with dogs – most of the canine persuasion – and if anything it must have strengthened my immune system … The plague? Only a plague of comfort and love. Poor Chomel."
(For all the comments on this post, click the comment button below, and scroll to the bottom to leave one of your own.)
Posted by John Woestendiek January 24th, 2011 under Muttsblog.
Tags: animals, bruno chomel, bubonic, davis, diagnosis, disease, dog, dogs, emergency, fleas, germs, infection, infectious, kisses, licks, medical, parasites, pets, plague, research, science, self diagnosis, self help, sick, sleeping with dogs, tracheotomy, transmit, transmitted, university of california, veterinary, zoonoses, zoonosis

Comments: 25
A University of Maine graduate student says he has found a bone fragment from what he believes is the earliest domesticated dog ever found in the Americas — one that walked the continent 9,400 years ago.
And where he found it — ensconced in a dried-out sample of human waste — gives proof that eating dog was part of America's culture, at least before America was America.
Graduate student Samuel Belknap III came across the fragment while analyzing a sample of human waste unearthed in  the 1970s. Carbon-dating placed the age of the bone at 9,400 years, and a DNA analysis confirmed it came from a dog — as opposed to a wolf, coyote or fox.
The Associated Press  reports that the fragment — which was the dark orange color characteristic of bone that has passed through the digestive track — was found in Hinds Cave in southwest Texas. 
The fragment provides the earliest evidence that dogs were eaten by humans in North America, and may have been bred as a food source, he said.
Belknap was studying the diet and nutrition of the people  in the Lower Pecos region of Texas between 1,000 and 10,000 years ago when he came across the bone.
Belknap and other researchers from the University of Maine and the University of Oklahoma's molecular anthropology laboratories, where the DNA analysis was done, have written a paper on their findings, scheduled for publication in the American Journal of Physical Anthropology later this year.
The fragment is about six-tenths of an inch long and three- to four-tenths of an inch wide. Belknap said he and a fellow student identified the bone as a fragment from where the skull connects with the spine. He said it came from a dog that probably resembled the small short-haired dogs that were common among the Indians of the Great Plains.
Other archaeological findings have found evidence of domestic dogs in the U.S. as long as 8,000 years ago.
A 1980s study reported dog bones found at Danger Cave, Utah, were between 9,000 and 10,000 years old, but those dates were based on an analysis of the surrounding rock laters as opposed to carbon dating. In Idaho, researchers believed they'd found 11,000-year-old dog bones, but later tests showed them to be no more than 3,000 years old.
Worldwide, studies have found evidence of dogs going back 31,000 years from a site in Belgium, 26,000 years in the Czech Republic and 15,000 years in Siberia.
The earliest dogs in North America are believed to have come with the early settlers across the Bering land bridge from Asia.
Belknap said eating dogs was once common in Central America, and that some Great Plain Indian tribes ate dogs when food was scarce or for celebrations.
 "It was definitely an accepted practice among many populations," he said.
Posted by John Woestendiek January 19th, 2011 under Muttsblog.
Tags: america, analysis, anthropology, archaeology, ate, bone, carbon dating, diet, digested, dna, dog, domesticated, earliest, eaten, evidence, excrement, first, fragment, hinds cave, human, indians, nutrition, oldest, research, samuel belknap, study, texas, university of maine, waste

Comments: 2
PETA has filed a complaint with the U.S. Department of Agriculture calling for an immediate investigation of how the University of Texas Medical Branch (UTMB) at Galveston is treating the dogs, monkeys, sheep, goats, ferrets and mice being used in experiments.
PETA says a whistleblower has informed them that the animals are being intentionally burned, mutilated, and cut open for experiments the organization describes as "cruel." Also at issue, PETA says, are claims that the animals are receiving inadequate veterinary care, and are being neglected and handled carelessly by improperly trained staff.
The unidentified whistleblower told PETA that researcher Daniel Traber has subjected sheep, pigs, and mice to third-degree burns on up to 40 percent of their bodies and forced the animals to inhale smoke from burning cotton. UTMB experimenters also intentionally caused spinal cord and sciatic nerve injuries in sheep, PETA says.
"Our source also reports the following: UTMB faculty members cut open dogs and surgically implanted tubes into their colons for irritable bowel experiments. One dog reportedly died during surgery, and another died in pain following surgery when staff members did not provide anesthetics and were apparently unable to use the monitoring equipment correctly."
PETA says it has has repeatedly reached out to UTMB through letters and phone calls to discuss the alleged violations, but has gotten no response. A PETA petition urges  UTMB to "immediately conduct a thorough investigation of the university's laboratories and dismiss any employees whose incompetence, negligence, or outright cruelty are found to have contributed to increased pain and misery for animals."
PETA highlighted Traber, of UTMB Department of Anesthesiology, two years ago in its "Vivisector of the Month" column, which reported that:
"Traber … has made a living for almost three decades by burning animals' skin off. In a recent experiment, he either torched mice with a Bunsen burner until more than 40 percent of their bodies was charred or forced them to inhale smoke. A few select mice got the full treatment—they were both burned and forced to inhale smoke. Some died during the experiment, and survivors were subsequently killed.
"In another study, Traber heated an aluminum bar to nearly 400 degrees with a Bunsen burner and roasted the skin of live pigs on it for 30 seconds, creating a series of deep burns that covered 15 percent of their bodies. In order to repair the deliberately injured animals, Traber and colleagues then removed skin from the pigs' legs to graft over the areas that had been burned off. After living through all this torture, the pigs were killed. Again, this is only his most recent work—Traber has been burning, mutilating, and killing sheep for years."
Posted by John Woestendiek January 14th, 2011 under Muttsblog.
Tags: agriculture, animals, burned, burning, burns, care, compalint, cruel, cruelty, daniel traber, dogs, experiments, galveston, goats, grafts, humane, investigation, medical, mice, monkeys, neglect, peta, pets, research, sheep, sking, texas, traber, usda, vivisection, vivisector, whistleblower

Comments: none
Given the endlessly rising popularity of dogs, and our increasing emotional attachment to them, medical researchers who use them for experiments can expect stronger and growing opposition to the practice from the public, a leading expert in canine-human interaction told a conference at Johns Hopkins University this week.
James Serpell, director of the Center for the Interaction of Animals and Society at the University of Pennsylvania School of Veterinary Medicine, was the keynote speaker at a conference sponsored by the Center for Alternatives to Animal Testing at the Bloomberg School of Public Health.
The 30-year-old, non–profit center promotes humane science by supporting the creation, development and use of alternatives to animals in research, product safety testing, and education. It seeks ways to replace animals with non-animal methods, reduce the numbers of animals necessary, or refine methods to make them less painful or stressful to the animals involved
Serpell and other speakers both pointed out that after decades of declining, the use of dogs in medical research has increased in the last couple of years.
U.S. Department of Agriculture figures show that the number of dogs used in medical research and testing dropped from 200,000 in 1973 to 66,000 in 2007, said Tanya Burkholder, chief of the Small Animal Section at the National Institutes of Health. Now, she said, the number has risen to about 75,000 a year.
Much of the increase is likely a result of advancements in, and the promise of, gene therapy.
Dogs have always been a valuable research model for scientists, going as far back as Aristotle's day. Their size, physiology and cooperative behavior have made them convenient models for scientists, who, like Pavlov's dog, grew conditioned to using them in experiments.
While public opposition to subjecting dogs to medical experiments resulted in the practice dwindling in recent decades, the use of dogs has crept up again in the last two years due to advances in molecular biology, genetics and the sequencing of the canine genome.
Because dogs get about 220 of the same inherited diseases and disorders that humans do — including Alzheimer's, muscular dystrophy, hemophilia and retinal degeneration – medical researchers are able to study the underlying genetic defects and, through dogs, seek cures.
This means dogs are being bred to be born with the diseases in colonies at U.S. universities and research institutes and, in the case of South Korea, cloned to be born with the diseases.
No one at the conference went so far as to suggest a halt to using dogs in research, but Serpell warned that the practice does come with risks, and a price.
Dogs evoke protective and nurturing instincts in people, and those have grown stronger as the dog-human relationship has evolved — to the point that dogs are viewed more as family members than family pets. Public opposition to the laboratory use of dogs has continually grown in the last few decades.
Researchers need to be cognizant not just of society's strong feelings about dogs, but also about dog's strong feelings for humans, Serpell said.  "Many dogs undergo severe distress when contact with a human is limited or thwarted. We don't give that regard sufficient credence," he said.
The stronger attachment to dogs is in part due to breeders focusing on creating animals for purposes of human companionship, unlike in the past when they were bred for the work they could do. Serpell noted that baby-like features, for one thing, appeal to humans.
Showing photos of dogs, Serpell pointed to one and said, "This animal looks like it was invented by Walt Disney."
Our attraction to dogs stems too from the fact that they make eye contact with humans more than any other species, and studies have shown that petting, or even looking, at a dog increases our levels of oxytocin.
"These dogs are turning us on by looking at us," he said.
Our evolving closeness to dogs has implications for the laboratory, he noted, and perhaps all of society.
Serpell pointed to commentator Tucker Carlson's recent statement that dogs are the social equals of humans, and that therefore Micheal Vick should have been executed for killing them.
"Lots of people feel the same way," he said.
Posted by John Woestendiek January 13th, 2011 under Muttsblog.
Tags: beagle, caat, canines, center for alternatives to animal testing, cures, disease, dog, dog lovers, dogs, experiments, genes, genetics, humane, james serpell, johns hopkins university, laboratory, love, medcial, medical, opposition, oxytocin, pain, pavlov, products, research, rising, school, stature, status, stress, tests, therapy, treatment, university of pennsylvania, veterinary

Comments: 1
Once upon a time in Butte, in a huge and barren expanse of waste that's part of the nation's largest Superfund site, there lived a dog.
Nobody knows how he got there, why he stayed, or how he managed to remain alive in the toxic confines of what's known as the Berkeley Pit. But live he did, for 17 years — during times of active mining, during its suspension, during its limited restart, during the ongoing clean-up effort and right up until the pit transitioned into one of the country's oddest tourist attractions.
He just showed up, back in 1986. Once miners figured out that the ghostly white image in the distance was a dog, they named him "The Auditor," because of his tendency to appear when he was least expected.
With matted ropes of white hair covering his legs, The Auditor — a Puli — sometimes appeared to be hovering when he moved, and he seemed to want nothing to do with humans. The miners would leave him food, and build him a house, and even started sticking baby aspirin in his food when they noticed he was limping, but The Auditor was mostly unapproachable up until the end.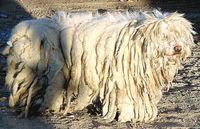 He died peacefully in his dog house in 2003, but The Auditor – like mining – would leave a legacy. His name would live on — in statues, in science, and as a symbol for, well, lots of things.
Appropriately enough, for a mining site in the midst of a massive EPA clean-up that will continue for generations, The Auditor had a coat like a mop.
His yellowing dreadlocks covered his eyes, too, limiting his vision – similar to the blind eye Montana once turned to the environmental havoc mining would wreak on and beneath its landscape.
But perhaps more than anything else, the mysterious white dog became a metaphor for Butte, and its ability to survive hard times — of the hardy stuff of which Montanans are made.
Butte's still kicking — though not the way it once kicked. It's about a third of the size it was in its heyday.  Once called the "Richest Hill on Earth" for its massive copper deposits, Butte in the early 1900s, boasted a population of 100,000.
When the mines shut down by 1982, Butte was left economically crippled and environmentally contaminated. Piles of mine waste and years of smoke from smelters contaminated the land and water around Butte with arsenic, mercury, lead and other metals.  
In the 1980s, the Berkeley Pit and Butte's historic Uptown District were declared a Superfund site — one that extends 130 miles downstream due to tailings that settled along the Clark Fork River.
The Auditor lingers too. After the local newspaper brought him to the public's attention in 2003, a campaign began to honor him with a series of statues, three of which now sit in various locations around town, honoring him not for any heroics, but solely for staying alive in a place where not much does.
Berkeley Pit lies just a few blocks from the center of Butte. It stretches a mile-and-a-half across and is almost 2,000 feet deep. Barren soil surrounds a lake laden with heavy metals. In 1995, a flock of migrating geese landed in the water. The next morning 342 were found dead.
How The Auditor managed to survive all that time is as mysterious as the dog himself. Maybe his rope-like locks, instead of soaking in the toxins, kept them from reaching his skin. Maybe the toxins weren't as toxic as thought. Maybe, as dogs do, he adapted to them. The only company still in operation at the site — after mourning his loss — had The Auditor cremated.
Normally, that would slam the door shut on the mystery — but Holly Peterson already had her foot in it.
Peterson, an environmental engineer at Montana Tech in Butte, saw the article about The Auditor — 16 years old by then — in 2003. It tugged at her heartstrings as well as her scientific curiosity.
"How can that not touch you?" she said over the weekend, sitting in her office, which is decorated with photos of The Auditor. "I kept wondering, how can that thing survive? With all the contamination in Butte, I started thinking, how can we study that in a different way?"
With her students, she began getting samples of hair from dogs in Butte and the surrounding areas, and when she ran into an official from the mining company, Montana Resources, at a presentation, she asked about getting a sample from The Auditor.
The Auditor was first seen roaming the mine in 1986, the year Montana Resources started its operations. The company, due to plunging copper prices, shut down operations there in 2000, leaving only a skelton crew, but reopened in 2003.
After getting permission from the company, Peterson went to the site, where a mining company employee, wearing gloves, approached The Auditor, on his last legs by then, and snipped off a few locks of hair.
"You could tell he just wanted us to leave him alone," Peterson said.
Tests on the sample in July of 2003 revealed "elevated levels of almost every element imaginable," Peterson said, including 128 times the amount of arsenic in a typical dog's hair.
Peterson's research project would expand from there, shedding new light on the extent of environmental degradation in Butte and introducing a new, if not conclusive, way to measure it and the continuing efforts to clean it up. Her work marked the first time pet hair has been used to monitor toxins in a residential Superfund site.
Since then, the project has moved on to testing the hair of animals in Austrialia and Nairobi, and sampling the hair of animals bagged by hunters back home in Montana. Through taking samples at hunter check stations, they found far higher levels of metals in animals shot in the area around Anaconda, once home to a huge smelting operation.
The Auditor, as it turned out, inspired Peterson on several levels. She was the one behind the effort to install statues of him — created by a Texas sculptor — at several locations around town, including the one she showed me at the Butte Plaza Mall.
It's made of bronze, with a copper patina that has worn off in spots from people petting it. Most of funding for the sculpture came from a California couple, who read of The Auditor in a Puli Club of America newsletter.
Peterson's hope was that The Auditor — after his death on Nov. 19, 2003 —  would become a mascot for Butte, or a mascot for environmental causes, that his legacy would serve as inspiration to others, and as a reminder to not abandon pets, or abuse the planet.
What she wasn't planning on was her own little Auditor.
Living with her 86-year-old mother, she didn't see a dog fitting into her life.
But after publicity about The Auditor, and connecting with the Puli Club, she started getting emails when a Puli would show up at a shelter in need of rescue.
That's how, three years ago, she ended up with Birke-Beiner.
"I couldn't pass him up when I saw the picture of him," Peterson said.
Birke-Beiner, who earlier in the day had gone to a Halloween Party — as a basket of yarn — came along on our trip to the mall, much of which he spent draped over Peterson's shoulder, looking something like a Lady Gaga fashion accessory.
Peterson says some people call him Little Auditor, but Birke is his own dog — playful, people-friendly and, one gets the impression, destined to live a happy and non-toxic life, far away from a giant hole in the ground known as the Berkeley Pit.
Posted by John Woestendiek November 2nd, 2010 under Muttsblog.
Tags: abandoned, animals, arsenic, auditor, berkeley pit, butte, contamination, dog, dog's country, dogs, dogscountry, environment, epa, hair, history, holly peterson, levels, memorial, metals, miners, mining, mining waste, montana, montana resources, montana tech, pets, puli, puli club of america, research, science, site, statue, stray, superfund, testing, tests, the auditor, toxic, travels with ace

Comments: 10
Scientists have discovered a gene mutation that causes a fatal neurodegenerative disease in American Staffordshire terriers, and they say the same gene may also be linked to a fatal brain disease in humans.
The discovery of the gene may lead to improved screening and diagnosis of the disease in dogs, and could be a first step in developing a cure for NCLs (neuronal ceroid lipofuscinoses) in humans, Business Week reports.
NCLs are a family of diseases that lead to mental and motor deterioration and death.
Adult-onset NCL affects one of every 400 registered American Staffordshire terriers, according to research team member Dr. Natasha Olby, an associate professor of neurology at North Carolina State University.
Genetic analysis revealed the location of the specific gene and an entirely new mutation that has not been reported in people.
In humans, NCLs such as Batten disease mostly affect children, but there is an adult-onset form called Kufs' disease that causes gradual death of brain neurons, resulting in vision loss, epilepsy, loss of coordination and dementia, according to the National Institute of Neurological Disorders and Stroke.
The findings mean that researchers can now conduct tests to determine if the same mutation is responsible for Kufs' disease in humans.
Posted by John Woestendiek September 1st, 2010 under Muttsblog.
Tags: american staffordshire terrier, animals, batten disease, brain disease, diganosis, discovered, discovery, disease, dogs, gene, health, humans, kufs' disease, mutation, ncl, ncls, neurodegenerative, north carolina state university, pets, pit bulls, pitbulls, research, science

Comments: none
Kiko the terrier not only detected his master's diabetes, he went so far as to perform surgery — chewing off his owner's toe, and possibly saving his life.
The Jack Russell terrier apparently sensed an infection festering in his master's right big toe — and, unlike his master, took steps to resolve the situation.
A trip to the hospital afterwards confirmed that Jerry Douthett's toe required amputation, and Douthett credits the dog with helping him realize he has been suffering from Type 2 diabetes.
Douthett had a dangerously high blood-sugar level of 560 when admitted to the hospital, according to the Grand Rapids Press – many times the recommended 80 to 120.
Kiko apparently even waited until his owner, a 48-year-old musician, was well anesthesized before beginning the operation.
"Jerry had had all these Margaritas, so I just let him sleep," his wife, Rosee, a registered nurse, told the newspaper. "But then I heard these screams coming from the bedroom, and he was yelling, 'My toe's gone, my toe's gone!'"
Douthett said his toe began swelling several months ago, but he didn't tell anyone:  "I was hiding it from people, Rosee included … It smelled, and I look back now and realize every time we'd visit someone with a dog, their dog would be sniffing all over my foot."
At the hospital, doctors determined his toe was infected to the bone, and amputated what was left of the digit.
Researchers have found that dogs may be able to tell when their diabetic owners are in danger of having a severe diabetic episode. In a 2008 survey at Queen's University Belfast in Northern Ireland, researchers found that 65 percent of diabetics reported that their pets had reacted by whining, barking or licking when they were having a blood sugar emergency.
At the Cancer and Bio-Detection Dogs Research Center in Aylesbury, England, dogs are trained and paired with diabetics so that they might be alerted when their blood sugar drops dangerously low.
(Photo: Katy Batdorff / The Grand Rapids Press)
Posted by John Woestendiek August 9th, 2010 under Muttsblog.
Tags: amputates, animals, big toe, bio-detection, blood sugar, cancer, chews, detection, diabetes, diabetic, disease, dog, dogs, health, infected, jack russell, jack russell terrier, kiko, master, medicine, news, ohmidog!, owner, pets, removes, research, study, terrier, toe

Comments: none
The 120 beagles rescued from a bankrupt New Jersey laboratory earlier this month are learning life's simple pleasures — chief among them, the joy of grass.
Having spent their entire lives in cages, the beagles were turned over to rescue groups on the 4th of July weekend. They had been left behind, along with 55 monkeys, when Aniclin Preclinical Services in Warren County, N.J., went out of business in April.
The beagles were taken to Pets Alive, where the video above was shot, and since then, in a joint effort by several rescue organizations — they've been taught how to be dogs, as opposed to specimens.
As of Friday, all but 15 had been adopted, and those were expected to be placed soon, Pets Alive reported on its website.
Some of the beagles have taken more quickly to freedom than others, according to this dispatch, on the Best Friends website:
"For the first few days, volunteers would show up at Pets Alive and want to walk the beagles. Ordinarily, this would be welcomed help. But before the Great Escape, the beagles had never been outside, so a common item like a leash is a foreign object from outer space. When everything is new, it's important not to introduce too much at once because if the dogs become too overwhelmed they can withdraw and shock becomes an issue.
"But these dogs are resilient. Every day, they are increasingly curious and decreasingly timid. So after slow stepping it for a week, today, the walks began.
"With the help of wonderful volunteers, like John, the dogs were each walked more times today then all the days of their previous lives combined. For most of the dogs, it was a bit of a painstaking experience. Take a step. Stop. Look around. Step. Freeze. Move backward. Take a step.
"But one dog, Rex, took to walking like a fish to water. In fact, it wasn't long before he was racing laps around the play yard. With those beagle ears flapping in the wind …
"But while Rex was at the head of the class, little Millie was sitting in the back of the room hoping nobody would notice her. Millie is a sweet little girl who has captured the heart of all of us involved with the rescue. She has struggled with all the changes, at times being outgoing and jovial and then quickly changing to withdrawn and timid.
"Today, when a young couple came in to find a female beagle to adopt, Millie didn't give them much to work with. She was curled up tight in her kennel, with her back to all potential adopters and her face tucked under her legs. Motionless, she stayed like a ball. Trying to shut everyone out. But something about this family told me Millie was the perfect dog for them…
"It took a good 20 minutes before Millie and the couple were warming up to each other. An hour later? Millie was strutting, on a leash, down the driveway with her tail wagging, heading home with her new family."
(Photo: Rex running, by Becky Tegze / Courtesy of Best Friends)
Posted by John Woestendiek July 19th, 2010 under Muttsblog.
Tags: adopted, adoptions, aniclin, animal welfare, animals, beagle, beagles, best friends, dogs, experiments, great escape, lab, laboratory, new jersey, ohmidog!, pets, pets alive, rehabilitate, rehabilitation, rescue, research

Comments: 3