Tag: ruling
Clearly, there's a bit of a cultural divide between the gritty streets of New Orleans and the plush chambers of the Louisiana Supreme Court.
And that might explain why the state justices denied a request to hear the appeal of a man awaiting trial who says remarks he made to police after he asked for "a lawyer dog" were used against him.
Apparently the state Supreme Court, didn't buy his contention that he was asking for "a lawyer, dawg."
So, for the lack of a comma in a transcript, he's facing a mandatory sentence of life in prison.
Asking for "a lawyer dog," the state's high court said, was an "ambiguous" request.
Here, based on police transcripts, is exactly what Warren Demesme told a detective:
"This is how I feel, if y'all think I did it, I know that I didn't do it so why don't you just give me a lawyer dog cause this is not what's up."
In an attempt to suppress what police said was a confession, Demesme contended that police denied his constitutional right to an attorney when they questioned him two years ago.
But to the Supreme Court, asking for a "lawyer dog" wasn't a clear enough request to make clear he was attempting to exercise his Miranda rights.
Apparently, under the courts thinking, he could have been asking to be represented by an actual lawyer dog — maybe an F. Lee Beagle or a Johnnie Cockerspaniel, or that lawyer dog who appears in recurring dog memes. (That's him, above)
All of this would be laughable (or mildly amusing) if not for the serious of the case.
Demesme, 24, was arrested in October 2015 on allegations that he sexually assaulted two juvenile victims, including the rape of one preteen girl. He faces a mandatory life sentence if convicted of the rape charge, NOLA.com reports.
Justices voted 6-1 last week to deny the writ application of Demesme, who awaits trial in Orleans Parish on charges of first-degree rape and indecent behavior with a juvenile under 13.
Demesme was seeking to suppress a purportedly incriminating statement made to NOPD sex crimes detective Nijel Baddoo. Demesme admitted to sexually assaulting one of the child accusers, but denied doing so to the other, according to arrest documents.
State Supreme Court Justice Scott J. Crichton concurred with the majority opinion issued late Friday that Demesme did not clearly invoke his right to counsel.
Crichton cited a 2002 state Supreme Court decision that requires a certain level of clarity in a suspect or defendant's request for counsel.
"As this court has written, 'If a suspect makes a reference to an attorney that is ambiguous or equivocal in that a reasonable police officer in light of the circumstances would have understood only that the suspect might be invoking his right to counsel, the cessation of questioning is not required,'" Crichton wrote.
In both recorded interviews with police, Demesme was read his Miranda rights, said he understood them and waived those rights, Crichton said.
"In my view, the defendant's ambiguous and equivocal reference to a 'lawyer dog' does not constitute an invocation of counsel that warrants termination of the interview," he wrote.
Posted by John Woestendiek November 1st, 2017 under Muttsblog.
Tags: animals, assault, confession, constitutional, courts, crime, dawg, dog, interview, justice, juvenile, lawyer dawg, lawyer dog, legal, louisiana, louisiana supreme court, miranda, new orleans, pets, police, questioning, rape, recorded, right to an attorney, rights, ruling, supreme court, warren demesme

Comments: none
When Mary Murphy died in San Francisco 35 years ago, a provision of her will named her dog, Sido — but not as what you might call a beneficiary.
Murphy asked in her will that Sido, an 11-year-old part collie, part sheepdog, be killed.
Murphy didn't want her dog languishing in a shelter, or ending up as part of a laboratory research project, and she feared that even if she did get adopted, her new family might not be as loving and caring as she had been.
In short, she thought Sido would be better off dead.
It all made for a fascinating little story (with big implications) back in 1980, with the case ending up in court and making it onto the June 17 broadcast of the "CBS Evening News with Walter Cronkite."
It was animal advocate Richard Avanzino who, after the terms of Murphy's will became known, took up Sido's cause, and took in Sido, serving as the dog's foster parent until things got straightened out in court. At the time, he was head of the San Francisco SPCA.
"There's no justification for her life to be taken," Avanzino said at the time. "She's committed no crime. The only crime that she committed was that she loved totally her master and for that she's been condemned to die."
CBS dug up the original news report this week, and reinterviewed Avanzino — soon to retire as head of Maddie's Fund, the largest dog and cat charity in the world.
Today, Avanzino considers Sido the original poster child for the no-kill movement.
"Sido was just the quintessential champion for animal rescue," he said. "I'm eternally grateful for the time that I had with her but more importantly for the great role she played in telling America that we can be a no-kill nation."
"I took Sido into my home realizing that the lawsuit would probably take months to resolve the outcome and Sido joined my family as a foster pet," Avanzino told CBS News this week from San Francisco.
Avanzino fought in court for Sido's life, arguing that the dog wasn't "property."
At the same time, he and others lobbied state politicians to work on a measure that would save Sido's life.
A bill was drafted, passed and sent to then-Governor Jerry Brown to consider.
The judge's ruling came the same day the governor signed the bill.
San Francisco Superior Court Judge Jay Pfotenhauer — whose name, CBS pointed out, translates to Paw-Slapper from German — decided that the killing of pets as personal property no longer had validity and that pets have rights.
Sido was spared, and spent the next five years as a member of Avanzino's family.
On Sido's 16th birthday, just hours before the cake was to be cut, Sido had a stroke and was rushed to UC Davis Veterinary School. She died three days later.
Avanzino says he believes Sido's case served to inspire animal lovers, and help stem the number of euthanizations across the country.
In 1980, 16 million dogs and cats were killed in shelters; today that number is closer to 2.7 million.
(Photos: Courtesy of Richard Avanzino)
Posted by John Woestendiek June 19th, 2015 under Muttsblog.
Tags: 1980, animals, case, cbs, court, dog, dogs, dogs as property, euthanize, flashback, history, law, legal, maddie's fund, mary murphy, news, pets, property, put down, report, richard avanzino, ruling, san francisco, san francisco spca, will

Comments: 1
A Florida condo association that told a woman with multiple sclerosis that her service dog was too big has agreed to pay $300,000 to atone for its collective stupidity.
The settlement followed a federal judge's declaration that Sabal Palm Condominiums in Davie, which sued to force the woman to get rid of the dog, had behaved in a manner both absurd and unreasonable, not to mention in violation of the Fair Housing Act.
"Sabal Palm got it exactly — and unreasonably — wrong," U.S. District Judge Robert N. Scola wrote in his order.
"This is not just common sense — though it is most certainly that."
Scola ordered the condo association to allow Deborah Fischer, a retired art teacher, to keep her service dog, the Miami Herald reported.
Fischer, who uses a wheelchair and has limited use of her arms and hands, received a service dog in November 2011 from Canine Companions for Independence, a nonprofit group that provides dogs for people with disabilities.
The dog — a 5-year-old Labrador-golden retriever mix named Sorenson — has been trained to help Fischer pick things up, open and close doors and retrieve items from counter tops.
The condominium association, saying the dog violated its 20-pound limit on pets, began demanding medical records and other information to prove that Fischer needed Sorenson — and it sued Fischer when, it said, she failed to provide it.
Fischer, along with her husband, Larry, counter-sued, saying the condo board's demands violated the federal Fair Housing Act, or FHA.
Judge Scola, in a 30-page ruling, strongly agreed with Fischer.
That the condo association "turned to the courts to resolve what should have been an easy decision is a sad commentary on the litigious nature of our society. And it does a disservice to people like Deborah who actually are disabled and have a legitimate need for a service dog as an accommodation under the FHA," he wrote.
Condo board members suggested that Fischer could get a smaller service dog, but Scola didn't buy that argument.
After Scola ruled in the Fischers' favor, their attorney negotiated a $300,000 settlement with the attorney representing Sabal Palm.
Fischer said Sorenson can recognize 40 separate commands.
"He has made my life so much better," she said.
(Photo: Courtesy of Matthew Dietz)
Posted by John Woestendiek May 30th, 2014 under Muttsblog.
Tags: animals, association, condo, condo association, condominium, countersuit, court, davie, deborah fischer, disabilities, dog, dogs, fair housing act, federal, fha, florida, golden retriever, judge, judge robert scola, labrador retriever, lawsuit, matthew dietz, mix, ms, multiple sclerosis, pets, robert scola, ruling, service, service dog, settlement, sorenson

Comments: 2
The Federal Trade Commission ruled last week that a "raccoon dog" is not a dog.
More commonly known as the "Asiatic Raccoon," members of the fox-like species (Nyctereutes procyonoides) are raised and skinned by fur farmers in China, Finland and other countries.
The creature, native to East Asia, is technically a member of the Canidae family, which includes wolves, foxes, coyotes and the domestic dog.
But the FTC, in a 59-page ruling, rejected a bid from animal welfare advocates to have it renamed "Raccoon Dog," a move aimed at slowing the importation and sales of its fur, according to the Wall Street Journal.
The fur ends up in clothing sold in the U.S., where the Humane Society of the United States has been waging a campaign for years to ban or relabel the product — under the thinking even a cold-hearted wearer of fur wouldn't wear dog fur.
"To our knowledge, no single furbearing animal has ever before been so mistreated and completely misrepresented to the public," the HSUS said in a statement in 2008: "Raccoon dogs are not raccoons (Procyon lotor) — they merely have facial markings that resemble raccoons."
In an update of fur labeling rules, the Federal Trade Commission rejected that argument: "It has rings around its eyes and it climbs trees." the document said. "The name 'Asiatic Raccoon' best identifies this animal for fur consumers."
Industry leaders praised the decision, saying the anti-fur campaign "relied on confusion, misinformation and the sympathies it created to disparage the fur trade and convince consumers that the fur industry was trading in products made of domestic dog." The Humane Society, as you'd expect, was less than pleased.
"Here's an example of the FTC bending over backwards to accept an industry name made up out of whole cloth, in the face of overwhelming scientific evidence and common English usage," chief program and policy officer Michael Markarian wrote.
"A raccoon dog isn't a raccoon, just as a kangaroo rat isn't a kangaroo — and the FTC should know the difference."
(Photo: Zumapress.com via the Wall Street Journal)
Posted by John Woestendiek May 14th, 2014 under Muttsblog.
Tags: animals, anti-fur, appeal, asia, asiatic raccoon, brief, campaign, dog, dogs, farmers, federal trade commission, fur, fur industry, hsus, humane society of the united states, labels names, Nyctereutes procyonoides, raccoon, raccoon dog, relabel, ruling

Comments: 2
Normally, we would call Mick, a Portland, Oregon, police dog killed in the line of duty this week, a hero.
Or maybe even a life-saver, which is how his partner, Officer Jeff Dorn, referred to him while recuperating in a hospital  from two gunshot wounds fired by the same burglary suspect who fatally gunned down Mick.
But according, at least, to an Oregon Court of Appeals decision — issued the very same day Mick died while trying to apprehend the fleeing, gun-firing suspect — Mick, being a dog, was merely "property."
The court ruling wasn't about Mick — instead it stemmed from an abuse case — but the timing and juxtaposition of the two stories serve to make a point that society, and lawmakers, and law enforcers, and courts, ought to start heeding.
Dogs aren't toasters.
Mick joined the Portland Police Bureau K-9 Unit in March. After only a few days on the job, police, he captured three suspects within a 10-hour period. On Wednesday, he was with Dorn, chasing down a fleeing burglary suspect, when he was shot.
"Officer Dorn would like the community to know that 'Mick saved my life,' " Portland police Sgt. Pete Simpson said in a press release.
"The dog was doing its job. He was out there protecting our community, and it's tragic that we lost the dog," said Portland Police Chief Mike Reese.
After Mick's body was recovered, a procession of police cars followed him to a veterinarian's office, according to a report in Wednesday's Oregonian, but it was too late.
On the same day Mick died, the Oregon Court of Appeals issued a ruling declaring — in line with what all the law books say — that dogs are "property."
As such, the three-judge panel ruled, dogs can't be seized and examined without a warrant, even if the purpose is to save a dog's life.
The legal view of dogs as — above all else — property both degrades and endangers man's best friend, and can make it difficult for animal-cruelty investigators to provide help to beaten, starved or neglected pets.
Changing that age-old view would require throwing away a lot of law books, and it would require judges to finally start showing half the backbone Mick did.
It's time to make a legal distinction between inanimate "property" that has no soul, and "property" (if we must call them that) that does have a soul.
The Court of Appeals Wednesday did the opposite, throwing out the conviction of a 28-year-old woman who, based on evidence from a veterinarian who tested and treated the animal without a warrant, was found guilty of starving her dog, the Oregonian reported.
After an informant told the Oregon Humane Society that Amanda L. Newcomb was beating her dog and failing to properly feed it, an animal-cruelty investigator went to Newcomb's apartment in December 2010 and saw the dog in the yard "in a near emaciated condition."
Newcomb told the investigator she was out of dog food and that she was going to get some more, but the investigator  determined the dog likely needed medical care and brought the dog to a Humane Society vet for an examination.
That exam, according to the appeals court ruling, constituted unreasonable search and seizure of property — namely, Newcomb's dog.
While the investigator had probable cause to seize the dog without a warrant, the court said, the "search" — i.e. medical exam — of the dog violated Newcomb's privacy rights because the authorities hadn't obtained a warrant.
The ruling effectively overturns her conviction on charges of second-degree animal neglect, and the original judge's orders for her to serve one year of probation and not possess animals for five years.
It could also serve to hamper animal cruelty investigations across the state.
Maybe worst of all, it confirms the foolish concept that dogs — despite their heroics, despite their loyalty, despite their having character traits that we humans can only envy — are, first and foremost, property, a wrongful designation that legally, if not in reality, seems to trump all else.
Posted by John Woestendiek April 18th, 2014 under Muttsblog.
Tags: animals, burglary, chasing, court, courts, dog, dogs, jeff dorn, K-9, k9, killed, law, law enforcement, lawmakers, legal, mick, officer, oregon, pets, police, police dog, portland, property, ruling, suspect

Comments: 3
If Leona Helmsley was betrayed as much in life as she is being betrayed in death, it's easy to understand why she might have become the bitch — and we're not talking female dog — she was so often portrayed as.
In the latest development with the wealth she left behind, a second judge has ruled, in effect, that the foundation divvying up her fortune among charitable groups need not follow her express wish that much of that money be spent on the care of dogs.
The judge denied a bid by the ASPCA, the Humane Society of the United States and other animal groups to get a larger share of Helmsley's billions.
Although Helmsley directed a share of her massive fortune go to "the care of dogs" — that being in addition to the $12 million she asked be left to her own dog — the Helmsley Foundation's trustees have seen fit to dispense most of the foundation money among organizations that have little or nothing to do with canines.
According to the animal welfare groups, only about $100,000 of the $450 million the foundation has given away has gone to dog causes.
The dog charities argued they should have standing to challenge how the foundation gives away its money in light of Helmsley's written statements and last wishes. Wayne Pacelle, president of HSUS, called the $100,000 received so far "a trifling amount, and contrary to Helmsley's intentions."
Surrogate's Court Judge Nora Anderson in Manhattan rejected the bid by the animal welfare organizations to intervene in the case, agreeing with a judge who ruled earlier that the trustees have sole discretion in how to distribute the money, the New York Post reported yesterday.
She said she feared the groups' challenge could open the floodgates to countless lawsuits from dog organizations around the world.
It's hardly the first time Helmsley's last wishes have been overruled since her death: Of that $12 million she left in her will for the care of her Maltese, named Trouble, a judge reduced the amount to $2 million.
Beyond what she intended to leave for the care and feeding of Trouble, Helmsley had another $5 to $8 billion, according to estimates of the trust's worth.
Helmsley, who died in 2007, wrote in a 2004 mission statement for the trust that she wanted that money used for "1) purposes related to the provision or care of dogs and 2) such other charitable activities as the Trustees shall determine."
In 2009, though, the Surrogate's Court found that the mission statement did not place any legal restrictions on what donations could be made from the trust.
Later that year, the ASPCA, the Humane Society and Maddie's Fund, filed a motion asking the court to vacate its earlier order and allow them to intervene. The primary interest of those groups was not, of course, in seeing solely that Helmsley's wishes were honored, but neither, it seems, are the foundation's. The animal welfare groups' goals seem more aligned with her wishes, though.
By all descriptions, the so-called "queen of mean" was a hard-hearted woman, with one soft spot — dogs.
The foundation doling out her fortune doesn't seem to have a whole lot of respect for dogs, or for Helmsley.
I'm no legal expert, just a dog lover, and I'm not asking for Trouble.  But if I arranged to leave my fortune — non-existent though it may currently be — to my dog Ace, or anywhere else, and you didn't carry out my wishes, you can be sure I'd be back to haunt you.
I'd show you mean.
Posted by John Woestendiek May 9th, 2011 under Muttsblog.
Tags: animal welfare, animals, aspca, bequeath, bequest, billions, bitch, charities, death, dogs, editorial, fortune, groups, helmsley foundation, hsus, humane society of the united states, inheritance, intervene, judge, leona helmsley, mean, organizations, pets, queen of mean, ruling, trouble, wayne pacelle, will

Comments: 2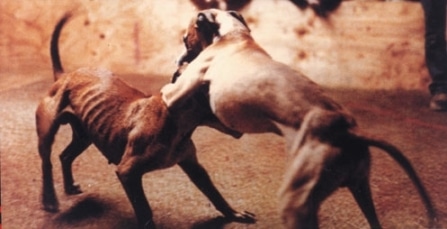 The Supreme Court has ruled that videos showing dogfights and other acts of animal cruelty are protected by free speech.
The court, in an 8-1 decision, struck down a federal law designed to stop the sale and marketing of such videos. The justices concluded the 10-year-old statute was overly broad.
The case before the court stemmed from an appeal by Robert Stevens, of Pittsville, Virginia, who sold videos through his business, Dogs of Velvet and Steel. The tapes show pit bulldogs attacking other animals and one another in staged confrontations.
The high court threw out Stevens' conviction for selling depictions of animal cruelty.
Stevens argued his 37-month sentence sentence was longer than the 14 months given professional football player Michael Vick, who ran an illegal dogfighting ring.
His case was the first prosecution in the United States to proceed to trial under the 1999 law.
Posted by John Woestendiek April 20th, 2010 under Muttsblog.
Tags: animal cruelty, chief justice, child pornography, conviction, crush videos, decision, depictions, dissent, dissenting, dog fighting, dogfighting, dogfights, dogs of velvet and steel, first amendment, free speech, hsus, humane society of the united states, john roberts, law, opinion, overturned, protected, robert stevens, ruling, samuel alito, speech, statute, struck down, supreme court, video

Comments: 5