Tag: ruling
Normally, we would call Mick, a Portland, Oregon, police dog killed in the line of duty this week, a hero.
Or maybe even a life-saver, which is how his partner, Officer Jeff Dorn, referred to him while recuperating in a hospital  from two gunshot wounds fired by the same burglary suspect who fatally gunned down Mick.
But according, at least, to an Oregon Court of Appeals decision — issued the very same day Mick died while trying to apprehend the fleeing, gun-firing suspect – Mick, being a dog, was merely "property."
The court ruling wasn't about Mick — instead it stemmed from an abuse case — but the timing and juxtaposition of the two stories serve to make a point that society, and lawmakers, and law enforcers, and courts, ought to start heeding.
Dogs aren't toasters.
Mick joined the Portland Police Bureau K-9 Unit in March. After only a few days on the job, police, he captured three suspects within a 10-hour period. On Wednesday, he was with Dorn, chasing down a fleeing burglary suspect, when he was shot.
"Officer Dorn would like the community to know that 'Mick saved my life,' " Portland police Sgt. Pete Simpson said in a press release.
"The dog was doing its job. He was out there protecting our community, and it's tragic that we lost the dog," said Portland Police Chief Mike Reese.
After Mick's body was recovered, a procession of police cars followed him to a veterinarian's office, according to a report in Wednesday's Oregonian, but it was too late.
On the same day Mick died, the Oregon Court of Appeals issued a ruling declaring — in line with what all the law books say — that dogs are "property."
As such, the three-judge panel ruled, dogs can't be seized and examined without a warrant, even if the purpose is to save a dog's life.
The legal view of dogs as — above all else — property both degrades and endangers man's best friend, and can make it difficult for animal-cruelty investigators to provide help to beaten, starved or neglected pets.
Changing that age-old view would require throwing away a lot of law books, and it would require judges to finally start showing half the backbone Mick did.
It's time to make a legal distinction between inanimate "property" that has no soul, and "property" (if we must call them that) that does have a soul.
The Court of Appeals Wednesday did the opposite, throwing out the conviction of a 28-year-old woman who, based on evidence from a veterinarian who tested and treated the animal without a warrant, was found guilty of starving her dog, the Oregonian reported.
After an informant told the Oregon Humane Society that Amanda L. Newcomb was beating her dog and failing to properly feed it, an animal-cruelty investigator went to Newcomb's apartment in December 2010 and saw the dog in the yard "in a near emaciated condition."
Newcomb told the investigator she was out of dog food and that she was going to get some more, but the investigator  determined the dog likely needed medical care and brought the dog to a Humane Society vet for an examination.
That exam, according to the appeals court ruling, constituted unreasonable search and seizure of property — namely, Newcomb's dog.
While the investigator had probable cause to seize the dog without a warrant, the court said, the "search" — i.e. medical exam — of the dog violated Newcomb's privacy rights because the authorities hadn't obtained a warrant.
The ruling effectively overturns her conviction on charges of second-degree animal neglect, and the original judge's orders for her to serve one year of probation and not possess animals for five years.
It could also serve to hamper animal cruelty investigations across the state.
Maybe worst of all, it confirms the foolish concept that dogs — despite their heroics, despite their loyalty, despite their having character traits that we humans can only envy — are, first and foremost, property, a wrongful designation that legally, if not in reality, seems to trump all else.
Posted by John Woestendiek April 18th, 2014 under Muttsblog.
Tags: animals, burglary, chasing, court, courts, dog, dogs, jeff dorn, K-9, k9, killed, law, law enforcement, lawmakers, legal, mick, officer, oregon, pets, police, police dog, portland, property, ruling, suspect

Comments: 2
If Leona Helmsley was betrayed as much in life as she is being betrayed in death, it's easy to understand why she might have become the bitch — and we're not talking female dog — she was so often portrayed as.
In the latest development with the wealth she left behind, a second judge has ruled, in effect, that the foundation divvying up her fortune among charitable groups need not follow her express wish that much of that money be spent on the care of dogs.
The judge denied a bid by the ASPCA, the Humane Society of the United States and other animal groups to get a larger share of Helmsley's billions.
Although Helmsley directed a share of her massive fortune go to "the care of dogs" — that being in addition to the $12 million she asked be left to her own dog — the Helmsley Foundation's trustees have seen fit to dispense most of the foundation money among organizations that have little or nothing to do with canines.
According to the animal welfare groups, only about $100,000 of the $450 million the foundation has given away has gone to dog causes.
The dog charities argued they should have standing to challenge how the foundation gives away its money in light of Helmsley's written statements and last wishes. Wayne Pacelle, president of HSUS, called the $100,000 received so far "a trifling amount, and contrary to Helmsley's intentions."
Surrogate's Court Judge Nora Anderson in Manhattan rejected the bid by the animal welfare organizations to intervene in the case, agreeing with a judge who ruled earlier that the trustees have sole discretion in how to distribute the money, the New York Post reported yesterday.
She said she feared the groups' challenge could open the floodgates to countless lawsuits from dog organizations around the world.
It's hardly the first time Helmsley's last wishes have been overruled since her death: Of that $12 million she left in her will for the care of her Maltese, named Trouble, a judge reduced the amount to $2 million.
Beyond what she intended to leave for the care and feeding of Trouble, Helmsley had another $5 to $8 billion, according to estimates of the trust's worth.
Helmsley, who died in 2007, wrote in a 2004 mission statement for the trust that she wanted that money used for "1) purposes related to the provision or care of dogs and 2) such other charitable activities as the Trustees shall determine."
In 2009, though, the Surrogate's Court found that the mission statement did not place any legal restrictions on what donations could be made from the trust.
Later that year, the ASPCA, the Humane Society and Maddie's Fund, filed a motion asking the court to vacate its earlier order and allow them to intervene. The primary interest of those groups was not, of course, in seeing solely that Helmsley's wishes were honored, but neither, it seems, are the foundation's. The animal welfare groups' goals seem more aligned with her wishes, though.
By all descriptions, the so-called "queen of mean" was a hard-hearted woman, with one soft spot — dogs.
The foundation doling out her fortune doesn't seem to have a whole lot of respect for dogs, or for Helmsley.
I'm no legal expert, just a dog lover, and I'm not asking for Trouble.  But if I arranged to leave my fortune – non-existent though it may currently be — to my dog Ace, or anywhere else, and you didn't carry out my wishes, you can be sure I'd be back to haunt you.
I'd show you mean.
Posted by John Woestendiek May 9th, 2011 under Muttsblog.
Tags: animal welfare, animals, aspca, bequeath, bequest, billions, bitch, charities, death, dogs, editorial, fortune, groups, helmsley foundation, hsus, humane society of the united states, inheritance, intervene, judge, leona helmsley, mean, organizations, pets, queen of mean, ruling, trouble, wayne pacelle, will

Comments: 2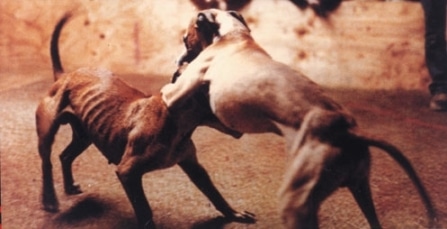 The Supreme Court has ruled that videos showing dogfights and other acts of animal cruelty are protected by free speech.
The court, in an 8-1 decision, struck down a federal law designed to stop the sale and marketing of such videos. The justices concluded the 10-year-old statute was overly broad.
The case before the court stemmed from an appeal by Robert Stevens, of Pittsville, Virginia, who sold videos through his business, Dogs of Velvet and Steel. The tapes show pit bulldogs attacking other animals and one another in staged confrontations.
The high court threw out Stevens' conviction for selling depictions of animal cruelty.
Stevens argued his 37-month sentence sentence was longer than the 14 months given professional football player Michael Vick, who ran an illegal dogfighting ring.
His case was the first prosecution in the United States to proceed to trial under the 1999 law.
Posted by John Woestendiek April 20th, 2010 under Muttsblog.
Tags: animal cruelty, chief justice, child pornography, conviction, crush videos, decision, depictions, dissent, dissenting, dog fighting, dogfighting, dogfights, dogs of velvet and steel, first amendment, free speech, hsus, humane society of the united states, john roberts, law, opinion, overturned, protected, robert stevens, ruling, samuel alito, speech, statute, struck down, supreme court, video

Comments: 5
According to the old saying — at least as old as Shakespeare — every dog has his day. 
In California they just got an extra one.
Interpreting a regulation that sets the "holding period" for a stray dog impounded in a public or private animal shelter at "six business days" (or, if certain exceptions apply, "four business days"), a state appeals court in San Francisco has ruled that Saturdays don't count as business days.
The ruling  was the first to interpret a 1998 California law that increased the holding periods for public and private shelters, according to the San Francisco Chronicle.
The ruling will affect Contra Costa County Animal Services and all other counties and cities with similar policies.
The case goes back to 2006, when a miniature pinscher named Duke, was impounded at a county shelter in Pinole on a Thursday. The shelter held the dog until the following Wednesday, when another person took him. Duke's owner, Veena Purifoy, went to the shelter the next day the following to find him gone.
She sued both the county and the new owner, who relinquished Duke in a settlement, Evans said. The suit against the county challenged its claim that the shelter had held the dog for the required four business days.
Overturning a judge's ruling in the county's favor, the appeals court said the state law did not define business days but was intended to increase holding periods from the pre-1998 law, which required a 72-hour hold.
Excluding Saturday as a business day serves "the legislative goal of access, because longer holding periods will often provide more opportunities for redemption and adoption," Justice Martin Jenkins said in the 3-0 ruling.
(Photo from Cafepress.com)
Posted by John Woestendiek March 31st, 2010 under Muttsblog.
Tags: animal, california, contra costa, control, days, duke, euthanasia, every dog has its day, holding period, impound, impounded, judge, law, lawsuit, limits, rescue, ruling, services, shakespeare, shelters, state appeals court, strays, time, tom hayden, veena purifoy

Comments: none
A couple agrees to care for a friend's Chihuahua for the weekend.
The dog's owner doesn't pick her up when the weekend's over; in fact, she doesn't try to reclaim the Chihuahua, named Lola,  for 10 months.
What's the couple who cared for the dog owed?
According to the Nebraska Court of Appeals — the third court to hear the case — absolutely nothing.
The saga of Lola, a four-pound, black-and-tan Chihuahua, began Aug. 22, 2007, when Heather Linville of Lincoln asked her friends Travis Derr and Natasha Combs to care for her dog for the weekend, according to the Omaha World-Herald. Linville's new apartment complex didn't allow dogs, and she explained she needed time to make arrangements for her pet.
When, 10 months later, Linville asked to get Lola back, Derr and Combs said they wanted to keep the dog.
Linville summoned police, and the dog was returned to her, but Derr and Combs filed a small-claims court case, asking to be paid $2,700 for boarding the animal for 320 days.
A Lancaster County judge ruled in favor of Derr and Combs, a decision later upheld by a district judge. But the appeals court overturned the $2,700 judgment in a 3-0 ruling — proving, in my view, three heads aren't better than one. What Lola's owner did sounds to me like abandonment, pure and simple.
The court said Derr and Combs did not ask for compensation when they agreed to keep the dog for the weekend. They should have notified Linville if they were no longer willing to keep Lola for free, the panel said. The court said the couple was entitled only to reimbursement for a $152.98 veterinarian's bill.
Posted by John Woestendiek January 4th, 2010 under Muttsblog.
Tags: abandoned, abandonment, animal law, animals, appeals court, case, chihuahua, courts, custody, dispute, dog, dogs, friends, heather linville, lancaster county, law, legal, lola, natasha combs, nebraska, ownership, pets, petsitting, ruling, travis derr

Comments: 1
Ofcom — the UK's equivalent to our FCC — has ruled that the controversial BBC documentary "Pedigree Dogs Exposed" was mostly fair, but didn't give Kennel Club officials a chance to fully respond to all of the allegations it made.
"Pedigree Dogs Exposed," which is receiving its first U.S. airing tonight, alleged that events such as the Crufts dog show awarded top prizes to unhealthy and inbred animals and encouraged breeders to place appearance above health concerns.
The Ofcom ruling was in response to complaints by the Kennel Club, according to The Guardian.
Ofcom said that the way the film was edited was fair and that the Kennel Club was not, as it claimed, deceived about its purpose." However, it added, the Kennel Club was "not given a proper opportunity to respond to an allegation about eugenics and a comparison with Hitler and the Nazi Party, or an allegation that it covered up the nature of an operation carried out on a Crufts Best in Show winner".
The Kennel Club made complaints about the program in five areas. Ofcom — here's the full ruling — rejected complaints in four of these areas stating that there was "no unfairness."
Only the Kennel Club's fifth complaint was deemed somewhat valid. The Kennel Club said it was not given an appropriate opportunity to respond to 15 specific allegations, and Ofcom agreed that was in the case for four of the 15.
In one of those, Jeff Sampson, the Kennel Club's senior scientific adviser and spokesman, "was not given the chance to show how seriously he took the health problems confronting pedigree dogs," Ofcom said.
The BBC said it stood by the program. "While we note Ofcom's findings regarding some aspects of Pedigree Dogs Exposed, we stand firmly by the programme, which was clearly in the public interest, and we stand firmly by its conclusions," said a spokesman for the BBC.
"The broadcast has accelerated unprecedented reform in the way pedigree dogs are bred, including new limits on inbreeding, changes to the written standards of 78 breeds of dog and a new code of ethics which prohibits the culling of puppies for cosmetic reasons," he added.
Posted by John Woestendiek December 10th, 2009 under Muttsblog.
Tags: allegations, appearance, bbc, breeds, complaint, crufts, disease, documentary, dogs, eugenics, fairness, fcc, genetics, health, hitler, investigation, jeff sampson, kennel club, nazi, ofcom, pedigree dogs exposed, ruling, scientific adviser

Comments: none
Chewey can stay in first grade.
A judge in Douglas County, Illinois ruled Tuesday that first grader Kaleb Drew, who has autism, can attend class with Chewey, his service dog.
The Villa Grove school district had opposed the dog's presence, arguing he wasn't a true service animal, and that other students might be fearful or have allergic reactions to him.
Judge Chris Freese sided with the Kaleb's family, which argued that the yellow Labrador retriever is a service animal allowed in schools under Illinois law, according to an Associated Press report. The family said the dog is similar to a seeing-eye dog for the blind and is trained to help Kaleb deal with his disabilities.
Chewey has accompanied Kaleb to school since August under court order, pending the judge's final ruling on the family's lawsuit against the school district.
Similar lawsuits have been filed on behalf of autistic children in other states, including California and Pennsylvania, and another case is pending in Illinois involving 5-year-old Carter Kalbfleisch and the service dog that accompanies him to pre-kindergarten.
"I'm very pleased and happy that Kaleb and Chewey are going to get to continue their work together and continue to grow as a team and learn from each other," Nichelle Drew, Kaleb's mother, said after the ruling.
She says the dog keeps Kaleb from running in front of cars in the school parking lot, helps him feel calm and allows him to more easily transition from one activity to another.
Posted by John Woestendiek November 11th, 2009 under Muttsblog.
Tags: assistance dog, autism, autistic, chewey, disabilities, disability, dog, dogs, douglas county, first grade, illinois, judge, kaleb drew, labrador retriever, ruling, school district, service dog, villa grove

Comments: none
Las Vegas residents eagerly waiting to get their pups cleaned by Heidi Fleiss are going to have to wait a little more.
The 43-year-old former Hollywood madam's attempt to open a dog grooming business — called the "Dirty Dog" — was blocked Wednesday by a District Court judge, according to the Las Vegas Review-Journal.
The judge ruled in favor of Jeffery Marvian, who alleged his estranged wife, Nickol, conspired to sell Fleiss their dog grooming business — named Little Buddy Bath and located in a Kmart shopping center — in violation of the couple's ongoing divorce action.
Under the ruling, the shop will remain closed pending completion of the divorce proceedings.
Nickol Marvian said Fleiss had threatened and bullied her in text messages. "She basically threatened me (that) she would go to Family Court and try to get my daughter taken away from me and she also wanted all of her money back."
Jeffery Marvian's attorney, Shelley Lubritz, said Fleiss entered into the deal with Nickol Marvian knowing it was wrong.
"Ms. Fleiss' hands are as dirty as the name she wants to put on the business," Lubritz said after the hearing.
Porn star Kendra Jade Rossi was also involved in the deal, but the judge dropped her from the complaint because she was not with Fleiss and Nickol Marvian when the agreement was reached.
Posted by John Woestendiek October 2nd, 2009 under Muttsblog.
Tags: business, court, dirty dog, divorce, groomer, grooming, heidi fleiss, hollywood madam, jeffery marvian, kendra jade rossi, las vegas, little buddy bath, nickol marvian, ruling, shop

Comments: none
After three years of litigation and $40,000 in legal fees, who gets Dexter — a six-year-old pug at the center of a New Jersey custody case — has been decided.
Dexter, the Philadelphia Inquirer reports, will be shared.
Under a New Jersey Superior Court judge's ruling yesterday, the dog will be rotated, every five weeks, between the homes of Eric Dare, who was originally awarded custody of the dog, and his ex, Doreen Houseman, who sued to get Dexter back.
Dexter has been with Dare since the initial court ruling, filed after the couple ended their relationship in May 2006. They spent 13 years as a couple, but never married.
An appeals panel earlier this year reversed the original ruling by Judge John Tomasello, saying the judge had failed to consider Dexter's "subjective value."
The panel said the dog was similar to a family heirloom, or work of art, that cannot simply be awarded to one person in exchange for a face-value payment. Houseman was paid $1,500, the price of the pedigree dog, but she wanted the pet, which she frequently dressed in costumes and lavished with gifts.
Both live in Gloucester County, N.J.
Houseman, 35, who now lives with her parents, said she was "very happy" with the ruling and can't wait to give Dexter "a lot of hugs and kisses" when she sees him Friday. Dare, 37, said he was shocked and may appeal the ruling.
Posted by John Woestendiek September 22nd, 2009 under Muttsblog.
Tags: custody, decision, dexter, doreen houseman, eric dare, gloucester county, judge, lawsuit, legal, new jersey, news, pug, ruling, shared, subjective, value

Comments: none
Boo, hiss and three thumbs down to TV Judge Jeanine Pirro.
The one-time real judge, loser in her race for New York attorney general and a regular on the TV talking head circuit has ruled that freak show owner John Strong was wronged when a North Carolina man pulled out of an agreement to sell Strong a five-legged dog.
A contract is a contract, the heartless TV judge ruled.
Fortunately, being a TV judge, her ruling has no real impact — other than provide some network bucks to Strong, whose Coney Island freak show features 27 odd animals, including a two-headed turtle named Pete and Repeat, a six-legged cow and an eight-legged pig.
Calvin Owensby of Gastonia, N.C. had agreed to sell the five-legged puppy formerly known as Precious to Strong on June 29. Strong sent Owensby $1,000, with a promise of $2,000 more when Precious got to New York.
Owensby, an unemployed electrician, researched Strong, and learned he makes his living displaying freaks.  When he received a call from Allyson Siegel of Charlotte, N.C., offering $4,000 in an attempt to save the pup from growing up on public display, he accepted her offer, and returned Strong's $1,000.
Siegel renamed the dog  Lilly and quickly had the extra leg removed.
Strong sued for breach of contract.
"We've got a contract, and the defendant broke it, pure and simple," Pirro ruled. Strong will receive $4,000 in damages, paid off by the TV show, the Charlotte Observer reports.
Strong said after the taping that he's thrilled with the decision, and that after the show airs Sept. 8 he plans to sue Siegel to reclaim the dog — even though she only has four legs now. Siegel did not take part in the TV show.
In 1993, Pirro was the first woman elected  district attorney in Westchester County, N.Y., a position she held through 2005. In 1997, the well-coiffed DA was voted one of People magazine's "50 Most Beautiful People." A Republican, she lost the state attorney general election to Andrew Cuomo in November.
Posted by John Woestendiek August 13th, 2009 under Muttsblog.
Tags: allyson siegel, calvin owensby, coney island, contract, court, dog, five, five-legged, five-legged dog, freak show, freakshow, jeanine, john strong, judge, lilly, north carolina, pirro, precious, puppy, ruling, sideshow, television, tv

Comments: 1