Tag: speech
Last time we checked in on Ricochet, she was riding the waves, teaching the disabled to surf, and raising gobs of money for good causes in the process.
Now Surf Dog Ricochet, as she's still known, is involved with a program that allows individuals with speech disabilities to communicate with their dogs by using an electronic voice, via an iPad.
Ricochet, who's also a therapy dog, is shown here reacting to commands given from an  iPad electronic voice through the TouchChat app without any cues from her handler.
The app allows people who have verbal disabilities as a result of Autism, Downs Syndrome, stroke, or other causes to communicate directly with a dog, giving them a sense of independence, self confidence and control.
Ricochet's working with the Poway Unified School District Transition Program, through the therapy dog organizations she belongs to — Paws'itive Teams
Paws'itive Teams trains service dogs to assist mobility-limited persons in achieving greater independence and, through educational presentations and animal assisted therapy, enhances the lives of persons living in San Diego County.
Posted by jwoestendiek December 5th, 2012 under Muttsblog, videos.
Tags: animals, commands, communication, disabilities, dogs, electronic, ipad, obey, pawsitive teams, pets, poway, ricochet, schools, speech, surf dog, surf dog ricochet, therapy dogs, touchchat, video, voice

Comments: none
The last time Barack Obama won a presidential election, he promised his daughters the family would get a dog.
This time, President Obama told Sasha and Malia how proud he was of them during his victory speech — but that they shouldn't expect a second dog.
Looking at his word choice, though, he didn't seem to totally rule it out:
"… And I am so proud of you guys. But I will say that, for now, one dog's probably enough."
Between the "probably" and the "for now," he seems to leave the door open.
You can read the full transcript of his victory speech a lot of places — even on Fox News.
According to the latest numbers, Obama garnered 303 electoral votes, compared to 206 for Romney, the Republican candidate who, long ago on a family vacation, once transported his Irish setter, Seamus, in a crate on the roof of his car.
Last night's victory means Bo, the Obama's Portuguese water dog, gets four more years in the White House, whose lawn, we'd note, seems plenty big for another dog or two.
(Photos: Top photo, Associated Press; Bo photo, White House)
Posted by jwoestendiek November 7th, 2012 under Muttsblog.
Tags: animals, barack obama, bo, dogs, election, malia, obama, pets, portuguese water dog, presidency, president, reelection, results, sasha, seamus, speech, victory

Comments: 5
President Obama made his first public reference to Seamus — the dog his opponent once strapped to the roof of his car for a family trip — while on the campaign trail in Iowa.
Appearing in Oskaloosa, a town named after all those actors who were nominated but didn't win Academy Awards — (that's a joke) — Obama referred to Seamus, though not by name, while discussing energy policy, specifically windmills.
Appearing in front of the Nelson Pioneer Farm and Museum and touting the job-creating potential of wind energy in Iowa, Obama criticized Romney for saying, "You can't drive a car with a windmill on it."
"Now, I don't know if he's actually tried that," Obama said. "I know he's had other things on his car."
Romney in 1983 toted his Irish setter on the roof of the family station wagon, in a crate, on a trip from Boston to Ontario, Canada, for a family vacation.
In response to Obama's remark, reported by ABC News and many others, the Romney campaign said the president "continues to embarrass himself and diminish his office with his un-presidential behavior."
"This election is about creating jobs, turning around our economy and helping the middle class. The President's policies have failed on all counts and he will do anything to distract from his abysmal record," Romney spokesman Ryan Williams said in a written statement.
Obama's appearance in Iowa came as the GOP nominee campaigned in coal country.
"Gov. Romney said, let's end the tax credits for wind energy production. Let's get rid of them. He said that new sources of energy, like wind, are imaginary. His running mate calls them a fad," Obama said
The president, who is pushing Congress to extend a production tax credit for wind energy companies, added,   "These jobs aren't a fad. These are good jobs. And they're a source of pride that we need to fight for."
(Photo: Carolyn Kaster / AP)
Posted by jwoestendiek August 15th, 2012 under Muttsblog.
Tags: animals, barack obama, campaign, car, crate, dogs, energy, family, iowa, irish setter, mitt romney, obama, pets, politics, presidency, president, presidential, reference, romney, romney's dog, roof, seamus, speech, station wagon, strapped, trip, windmills

Comments: 1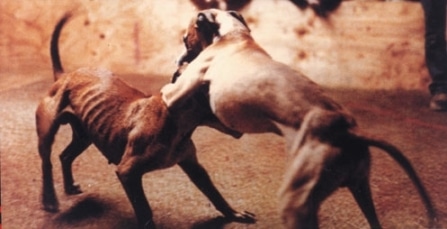 The Supreme Court has ruled that videos showing dogfights and other acts of animal cruelty are protected by free speech.
The court, in an 8-1 decision, struck down a federal law designed to stop the sale and marketing of such videos. The justices concluded the 10-year-old statute was overly broad.
The case before the court stemmed from an appeal by Robert Stevens, of Pittsville, Virginia, who sold videos through his business, Dogs of Velvet and Steel. The tapes show pit bulldogs attacking other animals and one another in staged confrontations.
The high court threw out Stevens' conviction for selling depictions of animal cruelty.
Stevens argued his 37-month sentence sentence was longer than the 14 months given professional football player Michael Vick, who ran an illegal dogfighting ring.
His case was the first prosecution in the United States to proceed to trial under the 1999 law.
Posted by jwoestendiek April 20th, 2010 under Muttsblog.
Tags: animal cruelty, chief justice, child pornography, conviction, crush videos, decision, depictions, dissent, dissenting, dog fighting, dogfighting, dogfights, dogs of velvet and steel, first amendment, free speech, hsus, humane society of the united states, john roberts, law, opinion, overturned, protected, robert stevens, ruling, samuel alito, speech, statute, struck down, supreme court, video

Comments: 5
Michael Vick spoke to a group of Philadelphia high school students Tuesday, warning them against the dangers of peer pressure and urging them to make the right choices and resist the temptation to follow the crowd.
The Philadelphia Eagles quarterback addressed 200 freshmen on their first day at Nueva Esperanza Academy, a North Philadelphia charter school.
"I didn't choose to go the right way, which led to 18 months in prison, which was the toughest time of my life," he said. "Being away from my family, being away from my kids who I adore dearly, and being away from the game of football, doing something so foolish, and I wish I could take it all back.
"I was influenced by so many people when I should have been a leader, not a follower."
The 10-minute talk marked Vick's first anti-dogfighting public appearance in Philadelphia since he signed a one-year, $1.6 million deal with the Eagles on Aug. 13, the Associated Press reported.
"My future was promising … at some point, I got sidetracked. I started listening to my friends and doing some things that were not ethical and not right."
Vick visited the school with Wayne Pacelle, president and CEO of the Humane Society of the United States. Pacelle met with Vick in prison at the quarterback's request and agreed to allow him help in the organization's anti-dogfighting campaign.
Once the highest paid player in the NFL, Vick was suspended from the league following his conviction in August 2007 on charges of conspiracy and organizing the dogfighting ring. He was released from federal custody in July and was signed by the Eagles in August.
Vick is suspended for the first two games of the regular season and is eligible to play beginning Sept. 27.
Posted by jwoestendiek September 10th, 2009 under Muttsblog, videos.
Tags: animal welfare, animals, appearance, cruelty, dogfighting, dogs, federal, first, football, high school, humane society of the united states, michael vick, nfl, nueva esperanza academy, pets, philadelphia, philadelphia eagles, prison, public, sentence, speaks, speech, students, wayne pacelle

Comments: 6