Tag: speech
Of course it goes without saying — that dogs are woman's best friend, too — but Cesar Canine Cuisine is saying it anyway, in a new advertising campaign that celebrates women and their dogs.
In honor of International Women's Day, the dog food company launched its "Woman's Best Friends, Too," campaign, featuring the ad above and inviting women to share photos and stories about their dogs on a special Facebook page
The campaign "highlights the special bond between women and their dogs, and turns the age-old saying of 'man's best friend' on its head," reads a company press release.
The new campaign was created by advertising agency BBDO San Francisco.
To support the campaign, the brand has teamed up with Elias Weiss Freidman, the photographer behind the popular website and book, The Dogist, to capture the real-life stories of 14 women and their dogs. It has also invited women to submit photos of themselves and their dogs to the campaign's Facebook page.
Cesar is a Mars Petcare brand.
The ad recites the speech that made the phrase "Man's Best Friend" famous — given in a Missouri courtroom by a lawyer representing a farmer whose dog, Old Drum, was shot and killed by a neighbor in 1869.
George Vest, who would later go on to become a U.S. senator, told the jury that "The one absolutely unselfish friend that a man can have in this selfish world, the one that never deserts him, the one that never proves ungrateful or treacherous, is his dog."
(Photo: Gloria and her dogs Bo and Rex; by Elias Weiss Freidman / Facebook)

For more of our Woof in Advertising posts, click here.
Posted by John Woestendiek March 10th, 2017 under Muttsblog, videos.
Tags: advertising, animals, best friend, cesar, cesar canine cuisine, company, dog food, dogs, george vest, marketing, mars pet care, pets, speech, woman, women, woof in advertising

Comments: 3
We don't abide fake news here on ohmidog!, so we shall not be reporting, at least not with any authority, on reports that the man with the smirk you love to hate — ex-pharmaceutical executive Martin Shkreli — had dog poop hurled in his face at a speaking event Friday.
We can't report that as fact, which is a shame, because few more deserve poop in their face than the man who drew national attention in 2015 when his company jacked up the price of a life-saving drug from $13.50 to $750 per pill.
TMZ reported unequivocally that the substance hurled was dog poop, while the New York Post said it "reportedly" happened — said report being a Twitter post showing Shkreli having something thrown in his face.
The attack came at a speaking engagement scheduled at UC Davis — with a line up apparently conceived by (as the old Weekly World News used to call him) the Devil himself.
The discussion was to have featured Shkreli and Breitbart columnist/troll/hate speaker extraordinaire Milo Yiannopoulos. Who better to inspire impressionable young minds?
If you don't believe intellectual thought in this country has been taken over by professional wrestling promoters, consider this: The UC Davis event was one many college campus visits that are part of a "Dangerous Faggot" tour by Yiannopolous.
Actually it wasn't the devil himself who arranged the event, but the Davis College Republicans Club. The event was canceled after protesters barricaded the venue's entrance, which resulted in one person getting arrested, according to a university statement.
Yiannopoulos calls himself "the internet's most fabulous supervillain." He has also been called the poster boy for new alt right, and his vicious Twitter feeds are filled with racist slurs and bigoted commentary.
Among his more recent victims was actress Leslie Jones.
Shkreli was invited to appear with Yiannopoulos on the UC Davis stop of his tour.
Its upcoming stops include UC Berkeley, UCLA, University of Colorado, and University of Washington.
As for the exact substance Shkreli was showered with, he told Mashable in an email that his security team determined what was thrown were leaves.
"The lack of smell, stain or other obvious findings eliminates the possibility," Shkreli said.
"There was no poop thrown," he added, bashing initial reports as "fake news."
Apparently, while he has no problem with fake and outlandish pricing for pharmaceuticals, fake news is bad in his eyes.
Shkreli resigned as CEO of Turing Pharmaceuticals after his arrest on charges of security fraud.
Posted by John Woestendiek January 16th, 2017 under Muttsblog, videos.
Tags: alt right, appearance, breitbart, ceo, dangerous fag tour, dog poop, event, hurled, intellectual thought, internet, martin shkreli, Milo Yiannopoulos, panel, pharmaceuticals, poop, price gouging, professional wrestling, smirk, smirker, speech, substance, talk, thrown, troll, turing, uc davis, unknown, video, villain

Comments: 1
Look at you! Look at you! You are the cutest little reader I've ever seen. Yes you are. Yes you are! You're just the sweetest reader ever. What a good reader! And, yes, you're a genius, too. So very smart. Just a good good good pretty genius reader. Yes. Yes!
Talk to a baby like that (and most people do) and you're going to get a reaction, studies show. You're going to hold their attention, stimulate their brain, and (put most unscientifically) make them feel warm and bubbly inside.
Talk to a dog like that — especially if it's a puppy and you have a higher-pitched, female type voice — and you're going to achieve the same, a new study suggests. They'll be more responsive and more likely to retain what (though it's mostly gibberish) you're saying.
Talk to your website readers like that, and they're likely to think you've gone off the deep end, that you're either stalking or patronizing them, and report you to the Internet police.
But you wouldn't do that. Would you, pretty reader? Noooo. 'Cuz you're a good reader. Yes! You're such a sweetie pie. Yes! Yes!
Dogs, at least younger ones, find being talked to in a slow, sing-song, high-pitched, "baby-talk" type voice exciting, and react better to it, a new study says.
The findings show that the voice pitch and patterns of humans may help dogs learn words, as is believed to be the case with human babies.
To find out how dogs reacted to human speech, Nicolas Mathevon, a bioacoustician at the University of Lyon in Saint Étienne, France, recorded the voices of 30 women.
The women were asked to read the scripted phrases as they would to dogs, and as they would to humans. For the dog-directed readings, researchers provided them with photos of dogs to help them get in the mood.
Each woman read the following words: "Hi! Hello cutie! Who's a good boy? Come here! Good boy! Yes! Come here sweetie pie! What a good boy!"
The women read the words as they would to a puppy, as they would to an older dog, and as they would to a human.
The recordings were then played to dogs — 10 puppies and 10 adult dogs at a New York City animal shelter.
Nine of the 10 puppies reacted strongly to the pupy-directed recordings, barking and running toward the loudspeaker and even going into a play stance.
The pups were less interested when the women were using the lower pitched, less playful voices they would use while talking to other humans.
The older dogs, possibly having heard their fill of baby talk, didn't react at all — likely because they'd become more attuned to their master's voice and less to those of strangers.
The study's findings were presented this week in the Proceedings of the Royal Society B.
Why we talk to babies this ultra-animated, affirmation-filled way — both our own and those we're just meeting — is instinctual. Why we talk to dogs, especially puppies, like this, is a result of their big-eyed, baby-like appearance that brings out similar instincts in us.
In either case, it's all related to our instinct for nurturing, and our desire to communicate with a non-verbal, or not-yet-verbal, being.
In the study, the women's exaggerated, high-pitched speech served far better to get the attention of the dogs, said Mathevon, who believes this way of talking may help dogs learn words.
I couldn't find an explanation of why only women's voices — 30 of them aged 18 to 55 — were used in the study, but I'd guess it's because women are generally better at, and less embarrassed, at using baby talk in public.
Most of my dogs have favored women. Ace always preferred females, and my dog new dog, Jinjja, is much more comfortable around them too. If he hears a female voice in the distance he pulls toward it, if he hears a male one, he stops or retreats.
A lot of it I think is simply a matter of pitch. A higher pitch is less threatening.
Likely, with Jinjja, it also has to do with how he was raised. Probably, men ran the Korean dog farm he was rescued from, and during and after that rescue it was probably mostly women who were kind to him.
The same is probably true of many a shelter or rescue dog. Given women make up the bulk of the staff and volunteers at animal rescue and shelter operations, those dogs often tend to associate a female voice with food, warmth and safety.
Possibly, dogs have figured out females are the kinder and more nurturing gender (though that might be a little sexist to say). Or it could be women's voices, in general, sound more like squeaky toys (though that might be a little sexist to say).
But you're not going to hold that against me. Nooooooo. You're too nice to do that, aren't you? Aren't you? You're such a good reader. Yes, you are.
(Photos by John Woestendiek / ohmidog!)
Posted by John Woestendiek January 12th, 2017 under Muttsblog.
Tags: animals, attention, babies, baby talk, bioacoustics, cognition, communicating, communication, dog, dog-directed speech, dogs, female, good dog, good reader, how you say it, human, inflections, interaction, learning, listen, listening, male, nurturing, older dogs, pets, pitch, puppies, shelter, speech, speech patterns, study, tones, University of Lyon, voice, voice patterns, voices

Comments: 2
Devices claiming to translate what your dog is thinking into human words have been popping up on the Internet for a good five years now, and some of the more gullible among us have bought them — and even contributed to campaigns to bring them to market.
There's No More Woof an electronic device — still in the testing stages, of course — that Swedish scientists say will be able to analyze dogs' brain waves and translate their thoughts into rudimentary English.
There's the slightly more real but far more rudimentary Bow-Lingual, which claims to be able to translate your dog's barks into emotions, currently unavailable on Amazon.com
There are apps — real and prank ones — that offer dog-to-human translations, virtually all of which have disclaimers saying that they should be used primarily for entertainment purposes.
And there are legitimate research projects underway around the world, with real scientists and animal behaviorists seeking to determine and give voice to what is going on in the heads of dogs.
But wait a minute. Do we really want to know?
As this bit of satire shows, we might not like the result.
It was produced by Los Angeles-based Rogue Kite Productions, an independent film company created by writer/producer/director Michelle Boley and camera operator/editor Taylor Gill, who pursue projects of their liking when not doing their day jobs.
Their spoof depicts a speech articulating device much like one a group in Sweden claims to actually be working on.
No More Woof aims to "break the language barrier between animals and humans," the Sweden-based Nordic Society for Invention and Discovery (NSID) says on its Indiegogo page.
NSID says the device records electroencephalogram (EEG) readings from a dog that are then analyzed by a Raspberry Pi microcomputer and translated, through a small speaker, into simple phrases like, "I'm hungry," or "Who is that person?"
Popular Science declared the project almost certainly bogus — and yet money keeps pouring in from donors.
The No More Woof indiegogo page says more than $22,000 has been contributed to the project.
Not to cast aspersions on the Swedish group's attempt to move technology ahead, but I think Rogue Kite Productions could put that money to better use.
Posted by John Woestendiek May 31st, 2016 under Muttsblog, videos.
Tags: animals, apps, articulating, bow-lingual, bowlingual, communicate, communications, devices, dog, dogs, emotions, funny, humans, humor, minds, no more woof, owners, pets, reading, rogue kite productions, speech, thinking, thoughts, translate, translation, video, words

Comments: 1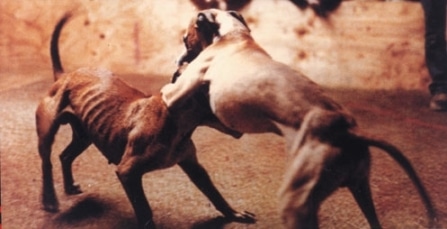 The Supreme Court has ruled that videos showing dogfights and other acts of animal cruelty are protected by free speech.
The court, in an 8-1 decision, struck down a federal law designed to stop the sale and marketing of such videos. The justices concluded the 10-year-old statute was overly broad.
The case before the court stemmed from an appeal by Robert Stevens, of Pittsville, Virginia, who sold videos through his business, Dogs of Velvet and Steel. The tapes show pit bulldogs attacking other animals and one another in staged confrontations.
The high court threw out Stevens' conviction for selling depictions of animal cruelty.
Stevens argued his 37-month sentence sentence was longer than the 14 months given professional football player Michael Vick, who ran an illegal dogfighting ring.
His case was the first prosecution in the United States to proceed to trial under the 1999 law.
Posted by John Woestendiek April 20th, 2010 under Muttsblog.
Tags: animal cruelty, chief justice, child pornography, conviction, crush videos, decision, depictions, dissent, dissenting, dog fighting, dogfighting, dogfights, dogs of velvet and steel, first amendment, free speech, hsus, humane society of the united states, john roberts, law, opinion, overturned, protected, robert stevens, ruling, samuel alito, speech, statute, struck down, supreme court, video

Comments: 5
Michael Vick spoke to a group of Philadelphia high school students Tuesday, warning them against the dangers of peer pressure and urging them to make the right choices and resist the temptation to follow the crowd.
The Philadelphia Eagles quarterback addressed 200 freshmen on their first day at Nueva Esperanza Academy, a North Philadelphia charter school.
"I didn't choose to go the right way, which led to 18 months in prison, which was the toughest time of my life," he said. "Being away from my family, being away from my kids who I adore dearly, and being away from the game of football, doing something so foolish, and I wish I could take it all back.
"I was influenced by so many people when I should have been a leader, not a follower."
The 10-minute talk marked Vick's first anti-dogfighting public appearance in Philadelphia since he signed a one-year, $1.6 million deal with the Eagles on Aug. 13, the Associated Press reported.
"My future was promising … at some point, I got sidetracked. I started listening to my friends and doing some things that were not ethical and not right."
Vick visited the school with Wayne Pacelle, president and CEO of the Humane Society of the United States. Pacelle met with Vick in prison at the quarterback's request and agreed to allow him help in the organization's anti-dogfighting campaign.
Once the highest paid player in the NFL, Vick was suspended from the league following his conviction in August 2007 on charges of conspiracy and organizing the dogfighting ring. He was released from federal custody in July and was signed by the Eagles in August.
Vick is suspended for the first two games of the regular season and is eligible to play beginning Sept. 27.
Posted by John Woestendiek September 10th, 2009 under Muttsblog, videos.
Tags: animal welfare, animals, appearance, cruelty, dogfighting, dogs, federal, first, football, high school, humane society of the united states, michael vick, nfl, nueva esperanza academy, pets, philadelphia, philadelphia eagles, prison, public, sentence, speaks, speech, students, wayne pacelle

Comments: 6