Tag: speech
Devices claiming to translate what your dog is thinking into human words have been popping up on the Internet for a good five years now, and some of the more gullible among us have bought them — and even contributed to campaigns to bring them to market.
There's No More Woof an electronic device — still in the testing stages, of course — that Swedish scientists say will be able to analyze dogs' brain waves and translate their thoughts into rudimentary English.
There's the slightly more real but far more rudimentary Bow-Lingual, which claims to be able to translate your dog's barks into emotions, currently unavailable on Amazon.com
There are apps — real and prank ones — that offer dog-to-human translations, virtually all of which have disclaimers saying that they should be used primarily for entertainment purposes.
And there are legitimate research projects underway around the world, with real scientists and animal behaviorists seeking to determine and give voice to what is going on in the heads of dogs.
But wait a minute. Do we really want to know?
As this bit of satire shows, we might not like the result.
It was produced by Los Angeles-based Rogue Kite Productions, an independent film company created by writer/producer/director Michelle Boley and camera operator/editor Taylor Gill, who pursue projects of their liking when not doing their day jobs.
Their spoof depicts a speech articulating device much like one a group in Sweden claims to actually be working on.
No More Woof aims to "break the language barrier between animals and humans," the Sweden-based Nordic Society for Invention and Discovery (NSID) says on its Indiegogo page.
NSID says the device records electroencephalogram (EEG) readings from a dog that are then analyzed by a Raspberry Pi microcomputer and translated, through a small speaker, into simple phrases like, "I'm hungry," or "Who is that person?"
Popular Science declared the project almost certainly bogus — and yet money keeps pouring in from donors.
The No More Woof indiegogo page says more than $22,000 has been contributed to the project.
Not to cast aspersions on the Swedish group's attempt to move technology ahead, but I think Rogue Kite Productions could put that money to better use.
Posted by John Woestendiek May 31st, 2016 under Muttsblog, videos.
Tags: animals, apps, articulating, bow-lingual, bowlingual, communicate, communications, devices, dog, dogs, emotions, funny, humans, humor, minds, no more woof, owners, pets, reading, rogue kite productions, speech, thinking, thoughts, translate, translation, video, words

Comments: 1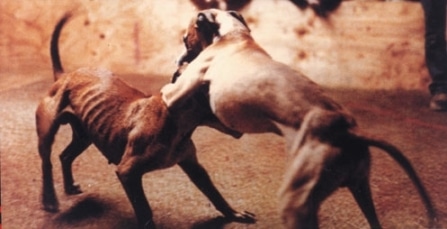 The Supreme Court has ruled that videos showing dogfights and other acts of animal cruelty are protected by free speech.
The court, in an 8-1 decision, struck down a federal law designed to stop the sale and marketing of such videos. The justices concluded the 10-year-old statute was overly broad.
The case before the court stemmed from an appeal by Robert Stevens, of Pittsville, Virginia, who sold videos through his business, Dogs of Velvet and Steel. The tapes show pit bulldogs attacking other animals and one another in staged confrontations.
The high court threw out Stevens' conviction for selling depictions of animal cruelty.
Stevens argued his 37-month sentence sentence was longer than the 14 months given professional football player Michael Vick, who ran an illegal dogfighting ring.
His case was the first prosecution in the United States to proceed to trial under the 1999 law.
Posted by John Woestendiek April 20th, 2010 under Muttsblog.
Tags: animal cruelty, chief justice, child pornography, conviction, crush videos, decision, depictions, dissent, dissenting, dog fighting, dogfighting, dogfights, dogs of velvet and steel, first amendment, free speech, hsus, humane society of the united states, john roberts, law, opinion, overturned, protected, robert stevens, ruling, samuel alito, speech, statute, struck down, supreme court, video

Comments: 5
Michael Vick spoke to a group of Philadelphia high school students Tuesday, warning them against the dangers of peer pressure and urging them to make the right choices and resist the temptation to follow the crowd.
The Philadelphia Eagles quarterback addressed 200 freshmen on their first day at Nueva Esperanza Academy, a North Philadelphia charter school.
"I didn't choose to go the right way, which led to 18 months in prison, which was the toughest time of my life," he said. "Being away from my family, being away from my kids who I adore dearly, and being away from the game of football, doing something so foolish, and I wish I could take it all back.
"I was influenced by so many people when I should have been a leader, not a follower."
The 10-minute talk marked Vick's first anti-dogfighting public appearance in Philadelphia since he signed a one-year, $1.6 million deal with the Eagles on Aug. 13, the Associated Press reported.
"My future was promising … at some point, I got sidetracked. I started listening to my friends and doing some things that were not ethical and not right."
Vick visited the school with Wayne Pacelle, president and CEO of the Humane Society of the United States. Pacelle met with Vick in prison at the quarterback's request and agreed to allow him help in the organization's anti-dogfighting campaign.
Once the highest paid player in the NFL, Vick was suspended from the league following his conviction in August 2007 on charges of conspiracy and organizing the dogfighting ring. He was released from federal custody in July and was signed by the Eagles in August.
Vick is suspended for the first two games of the regular season and is eligible to play beginning Sept. 27.
Posted by John Woestendiek September 10th, 2009 under Muttsblog, videos.
Tags: animal welfare, animals, appearance, cruelty, dogfighting, dogs, federal, first, football, high school, humane society of the united states, michael vick, nfl, nueva esperanza academy, pets, philadelphia, philadelphia eagles, prison, public, sentence, speaks, speech, students, wayne pacelle

Comments: 6