Tag: stray

An animal control officer in South Carolina responded to a call about a barking dog behind a Home Depot, and was touched when she discovered what all the noise was about.
"This is one example of why I love my job," officer Michelle Smith said in her report.
A stray dog was nursing a kitten along North Pointe Creek in Anderson.
On Monday, a caller to animal control reported a dog had been barking in the area along the creek since Saturday, Fox Carolina reported
Smith followed the noise and found the dog and kitten at the bottom of a steep embankment.
She took them both to Anderson County P.A.W.S.
Smith said the dog is taking care of the kitten, cleaning and feeding it.
Animal control is hoping either the dog's owner or whoever adopts her will agree to bring the cat home, too.
Posted by John Woestendiek May 16th, 2013 under Muttsblog, videos.
Tags: anderson, animal control, animals, barking, cat, creek, dog, dog and cat, dog nurses cat, dogs, embankment, friends, friendship, guarding, kitten, loyalty, michelle smith, nursing, officer, pets, south carolina, stray, unlikely friends, video

Comments: 1
After numerous sightings, an elusive stray dubbed "Ducky" — because his snout was wrapped in duct tape — was snagged by animal control officers in western Maryland, and two men have been charged with animal cruelty in connection with his mistreatment.
Ducky, as he has been referred to on the "We Love Ducky" Facebook page, had eluded animal control officers and volunteers for a week.
On Sunday morning, though, he was found resting on the porch of a home in Lonaconing, according to the Cumberland Times-News.
The resident called the county 911 center, which dispatched animal control officials to pick up the dog. By Sunday afternoon, after biting one of the officers, Ducky was being treated at the Western Maryland Animal Hospital by Dr. John T. Fox, according to Elizabeth Care, a volunteer at Ark of Hope Rescue.
Ricky Allen Adams, 25, of Cumberland (left), and Frederick Newton Lease, 27, of Mount Savage, have been charged with animal cruelty. Neither of them owned the dog, police said.
Sightings of Ducky had been reported Saturday on U.S. Route 40 near the Garrett County border. Ducky was first spotted near Corriganville more than a week ago.
"Overall, Ducky is in good health and is being treated for parasites," said a veterinary technician at the animal hospital. Ducky is in quarantine, however, because of the bite, and will remain there for 10 days before a transfer to Ark of Hope.
"We will get him socialized and trusting people, then he will be put up for adoption," said Care.
No one knows where the dog came from.
Updates on Ducky's condition will be provided on the Allegany County Animal Shelter Management Foundation Facebook page.
To help with Ducky's vet expenses, contact Ark of Hope Rescue at 301-478-3300, or by click here.
(Photos: from the We Love Ducky Facebook page)
Posted by John Woestendiek April 5th, 2011 under Muttsblog.
Tags: abuse, allegany county animal shelter, animal cruelty, animals, ark of hope rescue, arrested, charged, cruelty, cumberland, dog, duck tape, ducky, duct tape, facebook, found, frederick newton lease, lonaconing, maryland, pets, ricky allen adams, search, stray, we love ducky, western maryland, western maryland animal hospital

Comments: 4
Ace's herniated disc — steadily improving, it seems — has slowed our wandering ways, leading us to limit out travels for at least another week. So far, during our stay in North Carolina, we've mostly stuck around the mansion grounds, taking it easy.
But that doesn't mean we still can't go to Mayberry, one way or another.
There are those who will tell you there is no real Mayberry in North Carolina. They're the same ones who will tell you there is no Santa. In truth, in North Carolina, Mayberry is never more than 30 minutes away from wherever you are. You just head down that country road, away from the city, past the suburbs, and stop in the first town big enough to have gas pumps and a barber shop. If you're greeted with a smile, and it appears genuine, you're in Mayberry.
Of all the smallish towns in North Carolina, Mount Airy is the one that makes the most of its link to Mayberry, and — it being just up the road — we'll be going there once Ace is up for it.
For now though, we get there via the couch, with a remote control as our steering wheel. Usually, if you keep flipping, you can find it and, for 30 minutes, go back to a time and place where gigabytes didn't exist, the pace was slow, things were black and white, and life had just the right amount of complications — enough to keep it interesting, but not so many as to overwhelm your hard drive.
That's what I liked about Mayberry: Every problem could, in less than 30 minutes, be resolved with some calm and unrushed reasoning — even what to do with a pesky pack of stray dogs.
PART ONE: In which Otis gets his breakfast and Opie finds a dog …
PART TWO: In which Barney takes the dogs — 11 of them now — to a happy place …
PART THREE: In which the strays save the day …
Posted by John Woestendiek March 26th, 2011 under Muttsblog.
Tags: ace, andy griffith, andy griffith show, barney, black and white, dog's country, dogs, dogs dogs dogs, dogscountry, giraffes, investigator, lightning, mayberry, mount airy, mt. airy, north carolina, opie, otis, rescue, shelter, simpler times, storm, stray, television, travel, travels with ace, tv

Comments: 2
Neighbors in South Philadelphia found a bruised, battered and hungry dog, took him in, and have raised enough money for him to have surgery tomorrow.
Apparently, the 6-month-old shepherd mix, who they've named Sailor — given he was a bit of a shipwreck when they found him at 15th and Federal Streets in South Philadelphia — had been abandoned, and hit by a car. Three of his legs were injured and he was barely able to walk, CBS in Philadelphia reported.
When his rescuers brought him home, Sailor was so emaciated some weren't sure he would make it, but he has gained 10 pounds since then, and he's scheduled for surgery this week, at a cost of about $5,000.
"A lot of vets told me to put him down right away," said Clair Sauer. "The surgeons were ready to operate on him yesterday, but I had to tell them 'I don't have the money.'" Sailor's foster family set up a Sailor website to help raise the money. In little more than 24 hours, they reached their goal.
According to the website, the surgery will be performed at CARES in Langhorne, Pa., by Dr. Brentz. Sailor will have his rear femur cut and "put back into place with lots of metal…"
"Recovery will be long and will take patience, but we will be there for him! He will need lots more x-rays to monitor how his bones are healing. And, when he is ready, physical therapy. These will incur more costs, but we will stay optimistic!"
Once Sailor recovers from his surgery, he will be put up for adoption.
Posted by John Woestendiek January 17th, 2011 under Muttsblog, videos.
Tags: abandoned, animals, broken legs, car, cares, chip in, dog, dogs, funds, help, hit, injured, internet, langhorne, mix, neglected, outpouring, pets, philadelphia, raised, rescue, rescued, sailor, shepherd, south philadelphia, stray, surgery, video

Comments: 1
Target, the dog brought to the U.S. from Aghanistan by one of the soldiers whose lives she was credited with saving — only to be accidentally euthanized by an animal shelter – was remembered in a memorial service last night.
The candlelight vigil was held at the Pima County Animal Shelter in Tucson.
In Afghanistan, Target, a stray befriended by a group of American soldiers, kept a suicide bomber who was trying to enter a building on a military base from gaining access. Instead, the bomber instead set off his bomb in a doorway. Five soldiers were injured, several of whom credited Target with helping save their lives.
Phoenix soldier Terry Young brought Target back home to Arizona.  Last month, the dog escaped from Young's yard and ended up in at the Pinal County animal shelter in Casa Grande, where she was accidentally euthanized the next day. The employee responsible for the mistake has been suspended.
Young said his son, Tavius, and the rest of the family is still working to get over the dog's death, according to KGUN9.
"It's been a few weeks already and Tavius still says, 'Where's Target?' It's heartbreaking."
Posted by John Woestendiek December 4th, 2010 under Muttsblog.
Tags: accidentally euthanized, afhganistan, animal shelter, animals, bomb, dogs, euthanasia, euthanized, hero, hero dog, memorial, military, pets, pima county animal shelter, pinal county, shelters, soldiers, stray, suicide bomber, target, terry young, tucson, vigil

Comments: 4
Name: Unknown
Breed: Chihuahua mix
Age: Unknown
Encountered: Atop a scattered pile of discarded clothing in Slab City, outside of Niland, California.
Backstory: During my visit to Slab City, I stopped to take a photograph of a pile of clothing spread across, what else, a concrete slab. It serves as a drop off point, where denizens of and visitors to the makeshift community can discard unwanted clothing that others might be able to use.
I saw something move in the pile; then saw that it was a dog.
He lay there trembling, and wouldn't come when I called. Nor did he get up when I tossed a dog treat, even though it landed just inches away.
There were two bowls, one that held water, one that had held food, but both were empty.
I looked around for some humans, but no one was in sight. I approached a couple of trailers to see if they might be the owners of the dog, but nobody was home. When a woman with a Chihuahua of her own walked by, she said she, being new there, didn't know anything about the dog and left.
I tossed some more treats, refilled his water bowl, and anguished over what to do. Report him to animal control as a stray? But what if he wasn't? What if he'd just wandered over there from his owner's trailer or RV to take a nap in the sun? What if animal control picked him up and did what they often do before any owners had time to claim him?
He had a slight bump on his lower jaw, and he seemed well fed, but the bowls led me to think he'd been abandoned, and he just kept trembling.
Mind your own business, the voice on my left shoulder said. Take him with you, said the voice on my right.
Unable to just drive away, I called him again. He didn't budge. But when I went to pick him up he did, jumping off the slab and heading toward a trailer. He seemed to have a destination in mind, and, though he stopped a couple of times to look back at me, he kept walking away.
And, after watching him disappear around a corner, so did I, wondering if I had been on the verge of being a do-gooder doing wrong, or if I hadn't done good enough.
If you know anything about him, let me know.
Posted by John Woestendiek November 28th, 2010 under Muttsblog.
Tags: abandoned, ace, america, animals, california, chihuahua, dog's country, dogs, dogscountry, encounter, pets, rescue, road trip, roadside, roadside encounters, shelter, shivering, slab city, stray, traveling with dogs, travels with ace, trembling

Comments: 2
Once upon a time in Butte, in a huge and barren expanse of waste that's part of the nation's largest Superfund site, there lived a dog.
Nobody knows how he got there, why he stayed, or how he managed to remain alive in the toxic confines of what's known as the Berkeley Pit. But live he did, for 17 years — during times of active mining, during its suspension, during its limited restart, during the ongoing clean-up effort and right up until the pit transitioned into one of the country's oddest tourist attractions.
He just showed up, back in 1986. Once miners figured out that the ghostly white image in the distance was a dog, they named him "The Auditor," because of his tendency to appear when he was least expected.
With matted ropes of white hair covering his legs, The Auditor — a Puli — sometimes appeared to be hovering when he moved, and he seemed to want nothing to do with humans. The miners would leave him food, and build him a house, and even started sticking baby aspirin in his food when they noticed he was limping, but The Auditor was mostly unapproachable up until the end.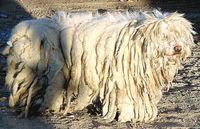 He died peacefully in his dog house in 2003, but The Auditor – like mining – would leave a legacy. His name would live on — in statues, in science, and as a symbol for, well, lots of things.
Appropriately enough, for a mining site in the midst of a massive EPA clean-up that will continue for generations, The Auditor had a coat like a mop.
His yellowing dreadlocks covered his eyes, too, limiting his vision – similar to the blind eye Montana once turned to the environmental havoc mining would wreak on and beneath its landscape.
But perhaps more than anything else, the mysterious white dog became a metaphor for Butte, and its ability to survive hard times — of the hardy stuff of which Montanans are made.
Butte's still kicking — though not the way it once kicked. It's about a third of the size it was in its heyday.  Once called the "Richest Hill on Earth" for its massive copper deposits, Butte in the early 1900s, boasted a population of 100,000.
When the mines shut down by 1982, Butte was left economically crippled and environmentally contaminated. Piles of mine waste and years of smoke from smelters contaminated the land and water around Butte with arsenic, mercury, lead and other metals.  
In the 1980s, the Berkeley Pit and Butte's historic Uptown District were declared a Superfund site — one that extends 130 miles downstream due to tailings that settled along the Clark Fork River.
The Auditor lingers too. After the local newspaper brought him to the public's attention in 2003, a campaign began to honor him with a series of statues, three of which now sit in various locations around town, honoring him not for any heroics, but solely for staying alive in a place where not much does.
Berkeley Pit lies just a few blocks from the center of Butte. It stretches a mile-and-a-half across and is almost 2,000 feet deep. Barren soil surrounds a lake laden with heavy metals. In 1995, a flock of migrating geese landed in the water. The next morning 342 were found dead.
How The Auditor managed to survive all that time is as mysterious as the dog himself. Maybe his rope-like locks, instead of soaking in the toxins, kept them from reaching his skin. Maybe the toxins weren't as toxic as thought. Maybe, as dogs do, he adapted to them. The only company still in operation at the site — after mourning his loss — had The Auditor cremated.
Normally, that would slam the door shut on the mystery — but Holly Peterson already had her foot in it.
Peterson, an environmental engineer at Montana Tech in Butte, saw the article about The Auditor — 16 years old by then — in 2003. It tugged at her heartstrings as well as her scientific curiosity.
"How can that not touch you?" she said over the weekend, sitting in her office, which is decorated with photos of The Auditor. "I kept wondering, how can that thing survive? With all the contamination in Butte, I started thinking, how can we study that in a different way?"
With her students, she began getting samples of hair from dogs in Butte and the surrounding areas, and when she ran into an official from the mining company, Montana Resources, at a presentation, she asked about getting a sample from The Auditor.
The Auditor was first seen roaming the mine in 1986, the year Montana Resources started its operations. The company, due to plunging copper prices, shut down operations there in 2000, leaving only a skelton crew, but reopened in 2003.
After getting permission from the company, Peterson went to the site, where a mining company employee, wearing gloves, approached The Auditor, on his last legs by then, and snipped off a few locks of hair.
"You could tell he just wanted us to leave him alone," Peterson said.
Tests on the sample in July of 2003 revealed "elevated levels of almost every element imaginable," Peterson said, including 128 times the amount of arsenic in a typical dog's hair.
Peterson's research project would expand from there, shedding new light on the extent of environmental degradation in Butte and introducing a new, if not conclusive, way to measure it and the continuing efforts to clean it up. Her work marked the first time pet hair has been used to monitor toxins in a residential Superfund site.
Since then, the project has moved on to testing the hair of animals in Austrialia and Nairobi, and sampling the hair of animals bagged by hunters back home in Montana. Through taking samples at hunter check stations, they found far higher levels of metals in animals shot in the area around Anaconda, once home to a huge smelting operation.
The Auditor, as it turned out, inspired Peterson on several levels. She was the one behind the effort to install statues of him — created by a Texas sculptor — at several locations around town, including the one she showed me at the Butte Plaza Mall.
It's made of bronze, with a copper patina that has worn off in spots from people petting it. Most of funding for the sculpture came from a California couple, who read of The Auditor in a Puli Club of America newsletter.
Peterson's hope was that The Auditor — after his death on Nov. 19, 2003 —  would become a mascot for Butte, or a mascot for environmental causes, that his legacy would serve as inspiration to others, and as a reminder to not abandon pets, or abuse the planet.
What she wasn't planning on was her own little Auditor.
Living with her 86-year-old mother, she didn't see a dog fitting into her life.
But after publicity about The Auditor, and connecting with the Puli Club, she started getting emails when a Puli would show up at a shelter in need of rescue.
That's how, three years ago, she ended up with Birke-Beiner.
"I couldn't pass him up when I saw the picture of him," Peterson said.
Birke-Beiner, who earlier in the day had gone to a Halloween Party — as a basket of yarn — came along on our trip to the mall, much of which he spent draped over Peterson's shoulder, looking something like a Lady Gaga fashion accessory.
Peterson says some people call him Little Auditor, but Birke is his own dog — playful, people-friendly and, one gets the impression, destined to live a happy and non-toxic life, far away from a giant hole in the ground known as the Berkeley Pit.
Posted by John Woestendiek November 2nd, 2010 under Muttsblog.
Tags: abandoned, animals, arsenic, auditor, berkeley pit, butte, contamination, dog, dog's country, dogs, dogscountry, environment, epa, hair, history, holly peterson, levels, memorial, metals, miners, mining, mining waste, montana, montana resources, montana tech, pets, puli, puli club of america, research, science, site, statue, stray, superfund, testing, tests, the auditor, toxic, travels with ace

Comments: 10
Name: Chopper
Age: About 5
Breed: Ummmmm, let's just say a terrier mix
Encountered: On the docks at Nick's Fish House and marina in Baltimore
Backstory: Chopper made the transition from desert dog to boat dog several years ago — relocating from Kingman, Arizona to Baltimore, Maryland, where he now  lives aboard a huge yacht (compared to mine, anyway), in the process of being restored by Travis Guthrie and Magdalena Sudnik.
Travis, a boat builder and yacht carpenter, and Maggie, an artist, are both living on the Lucy Maru — and, as of very recently,  in official wedlock, we can be among the first to report.
(They also do a blog called "Dog on Boat," which tracks their lives on board, the progress of the two boats they're restoring and the hijinks of Chopper and a cat named Billy.)
Maggie was painting a mural as part of an art project on on Route 66 when Chopper, as he would be named, came running up from out of nowhere. They've been together ever since.
Every day, Chopper – he's one of at least half a dozen dogs living with liveaboards at Nick's — runs off the boat, down the pier and into the parking lot at Nick's where he's happy diving into the water to chase his ball.
While doing so he, literally, becomes a different dog. When his fine white coat gets drenched, it all but disappears, revealing a dog with black spots. Once he dries off, he's white again.
Travis and Maggie, who have been together about eight years, can be seen toiling on the Lucy Maru just about every day — though one gets the feeling it's more than just toil.
Their plan is to finish the restoration and do what they've long been contemplating: Sail off into the sunset.
Posted by John Woestendiek September 15th, 2010 under Muttsblog.
Tags: animals, boat, boats, carpenter, chopper, dockside encounter, dog's country, dogonboat.com, dogs on boats, dogscountry, encounter, lucy maru, magdalena sudnik, nick's, nick's fish house, ohmidog!, pets, rescue, restoration, roadside, roadside encounters, stray, travels with ace, travis guthrie, yacht

Comments: 2
A pastor in Dallas who apparently thinks that "do unto others" stuff doesn't apply to canines is drawing criticism for how he's handling the matter of a stray dog who has taken up residence behind the church.
For several months now, local rescuers have been trying to help the dog and animal control officials have been trying to capture it. That's not good enough for the pastor, who reportedly says he plans to hire someone to shoot it, and who scolded a 70-year-old woman who showed up to feed it.
Let's stop for a moment and ponder who's acting in a more Godly manner here.
Pastor Joseph Stabile says the dog is aggressive to parishioners of the Cochran Chapel United Methodist Church, at Midway and Northwest Highway. Others dispute that, saying the dog is shy and avoids people, according to a report by Examiner.com's animal rescue blogger Rebecca Poling in Dallas, who is also a member of the Metroplex Animal Coalition, one of the organizations raising questions about the pastor's behavior.
Poling points out that no parishioners have come forward to back up the pastor's claim the dog is aggressive.
Dallas Animal Services has tried to capture the dog, even using a tranquilizer gun at one point. A group of well-intentioned dog lovers have joined in the cause, trying to humanely catch the dog, known as John Wesley, but he continues to elude everyone.
The group has started a Facebook page, a Care2 petition and has written letters to church and city officials. They also plan Sunday morning protests outside the church to let parishioners know what their pastor is doing.
Update: Rebecca Polin reports that Dallas Police accompanied rescuers to the church this week. Officers spoke to the pastor by phone, and persuaded him to give the rescuers access to the property so they can continue trying to catch the dog. In return, rescuers have called off the protest.
Posted by John Woestendiek July 16th, 2010 under Muttsblog.
Tags: animal control, animal services, animal welfare, animals, church, cochran chapel, dallas, dog, joseph, methodist, metroplex animal coalition, news, pastor, petition, pets, protests, rebecca poling, stabile, stray, texas

Comments: 3
It didn't take an act of Congress, or even a call to the Pentagon: Riley the Weimaraner – swept up by the animal control unit at Fort Knox, then adopted out to a new home — has been returned to her original Kentucky family.
According to the Facebook page started by the family to wage a campaign for Riley's return, the dog is back home and doing fine.
Not a whole lot of details are offered on what transpired, but apparently one Fort Knox official finally listened to the family's pleas and assisted in getting the dog back from her newly adopted home and returned to her old one.
"Riley is back home with her family … happy, and very much loved!!!!!! Thank you Command Sgt. Major Voeller, and thank you to the family!"
Kim Church, of Radcliff, believes the family's 2-year-old Weimaraner was stolen from her yard — her ID tags were left behind — and later showed up either on or near Fort Knox.
Fort Knox's stray animal facility, not generally open to the public, sold the dog to a new owner 11 days after she was picked up by military police, according to the Press-Enterprise, in Hardin County, Kentucky.
Church called city and county pounds and put an ad on Craigslist in search of her missing dog. When a caller notified her that she saw a dog that looked like Riley at an adoption fair at the military post, Church attempted to get information from the facility, but was told both whether her dog had been picked up, and who had adopted it, were confidential.
Church filed a report with Radcliff police, claiming her dog was stolen, and pleaded her case on Facebook. Apparently, her campaign worked. Welcome home, Riley.
Posted by John Woestendiek July 12th, 2010 under Muttsblog.
Tags: adopt, adopted, animal control, animals, army, dog, dogs, facebook, family, fort knox, ft. knox, kentucky, kim church, military, news, ohmidog!, pets, returned, riley, stray, weimaraner

Comments: 1