Tag: students
There's a new counselor on the staff at Loyola University in Chicago, and he's helping students cope with everything from homesickness to the stress of final exams.
He's a 5-year-old black Labrador retriever, named Tivo, and he's on duty every day at the university's Wellness Center.
Seeing a need for a therapy dog, Loyola last year asked Tops Kennels in Grayslake to help find a candidate. The kennel suggested Tivo, who, after some additional training, became a certified therapy dog.
He's on duty from 8 a.m. to 6 p.m, and lives with the Rev. Justin Daffron, Loyola's associate provost for academic services.
Already immensely popular with students, college officials expect Tivo to stay busy in the week ahead, the Chicago Tribune reports. Final exams start today at Loyola, and Tivo has a way of helpling students, at least for a moment, shed some of the stress that builds up.
"They'll come in, pet him, he'll wag his tail, lick their faces, if they want their faces licked," said Joan Holden, associate director of the center. "If you're a dog lover, being with a dog makes you feel better. He'll show his tummy, wag his tail — all the things to make you feel good."
But Tivo doesn't just sit in an office all day, according to an article about him in Inside Loyola.
"We use Tivo with patients for calming, for outreach in the residence halls, and to be sent out with a human counselor in hopes that students can come and pet the dog as a way to connect with the Wellness Center outside the office," says Diane Asaro, the center's director. "It is our first time trying it, and he has already gotten such a positive and wonderful response."
Tivo also serves as a surrogate pet to the many students who are missing the dogs they left behind, noted David deBoer, associate director and clinical psychologist at the Wellness Center.
"Tivo really serves as a comfort, pleasure, and joy for college students; a friendly reminder of the comforts of home," he said.
Students can keep track of where "Talk With Tivo" sessions are being held through his Facebook page.
(Photo: Tivo gives some counseling to student Marc Rosenbaum; by Mark Beane / Loyola University Chicago)
Posted by jwoestendiek April 29th, 2013 under Muttsblog.
Tags: animals, chicago, colleges, counseling, dog, dogs, exams, final, homesickness, labrador, loyola, pets, retriever, stress, students, talk with tivo, therapy, therapy dogs, tivo, universities, university, wellness center

Comments: none
As I've said before, many of the world's problems — not just animal abuse but lots more — could be helped by putting a dog in every school, if not every classroom.
As I've also said, it wouldn't hurt to put one, or two, or three, in every prison, every facility for the elderly, every homeless shelter, every domestic abuse shelter, and any other place — from institution to group home to halfway house – where there are people who have lost hope, never learned empathy, aren't feeling loved, need some friendship or could otherwise benefit from the curative power of dogs.
Of course, things don't happen that quickly, or on that kind of scale. Obstacles get in the way, like bureaucracies, and liability concerns and the erroneous belief that only trained therapy dogs can provide therapy.
Considering that, a Washington DC-based non-profit organization is thinking pretty big: Within the next five years, the Pet Care Trust hopes to reach a point where it has introduced 5 million children in 100,000 classrooms to pets and the benefits they provide.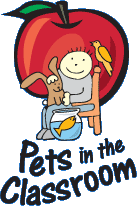 The new goal for the teacher grant program comes after the much quicker-than-anticipated growth of the program in the last couple of years.
In the 2010-11 school year, the Pet Care Trust provided 3,200 Pets in the Classroom grants. With support from Petsmart and Petco, along with rebate grants supported by independent pet stores, the number of grants increased to more than 6,000 for the 2011-12 school year. In the next five years, the trust plans to have provided 30,000 grants enabling teachers to bring pets into the classroom.
The goal of the Pet Care Trust — its board is made up mostly of representatives from the pet products industry, we should point out — is to help promote public understanding of the value of companion animals, to enhance knowledge about companion animals through research and education, and to promote professionalism among members of the companion animal community.
Pet Care Trust executive director Steve King says the Pets in the Classroom program, established in 1990, is already halfway to the new goal.
"We have reached the half-way point to this goal far sooner than any of us thought possible. It really is a remarkable achievement thanks to the Board's foresight and the support of so many pet retailers and suppliers."
More than 500,000 elementary and middle school students having already been given the opportunity to interact with pets on a daily basis in their classroom. and with more than 6,800 grants issued since August 1, the total since the program's inception has risen to 15,500.
At the beginning of 2012, the program — initially available only to pre-k through 6th grade teachers — expanded to include 7th and 8th grade classrooms,
The Pets in the Classroom program benefits students by teaching them responsible, long-term pet care at an early age and providing the psychological and developmental benefits associated with the human-animal bond. 
Studies have shown that caring for pets has a positive effect on children, improving school attendance and teaching children responsibility, as well as encouraging nurturing and building self esteem. 
To learn more about the Pets in the Classroom grant program, visit www.petsintheclassroom.org.
(Photo: Ace, though it was done without a grant, visits a Baltimore school)
Posted by jwoestendiek November 29th, 2012 under Muttsblog.
Tags: animals, compassion, dogs, elementary, empathy, grants, junior high, pet care trust, petco, pets, pets in the classroom, petsmart, responsibility, schools, self esteem, students, teachers

Comments: 2
Mu Shu was just four pounds and four weeks old when she fell off a livestock truck in Kansas and was picked up off the highway and taken home by the owner of Hunter, a yellow Lab.
That was in April, and Hunter would go on to become best friends with the piglet who, before bouncing off the truck, was likely destined for a growing farm and a future as ham.
Stacie Tonn picked the unconscious pig up off U.S. Highway 50, and with help from her veterinarian husband, Shane, their four daughters and Hunter, nursed Mu Shu back to health.
Hunter licked and nudged the injured piglet, and helped her get around when she regained consciousness. Left blinded — only temporarily — by the accident, the piglet would sniff Hunter out and follow him around, curling up with him for naps, according to Kansas.com.
Seven months later, Mu Shu is now 300 pounds, and living at Walton Rural Life Center, a charter school, where she helps teach children about livestock and agriculture.
But she still gets together with Hunter, who visits her once or twice a month.
"She still knows the sound of my truck. When I pull up to her pen, she will pop out with excitement. She knows she's going to get snacks," Stacie Tonn said.
Walton Rural Life Center serves 167 students, from kindergarten to fourth grade, and students are responsible for feeding Mu Shu and the other animals and maintaining their pens.
"Pigs are our biggest project," said kindergarten teacher Rhonda Roux. "If she stays healthy, we are thinking of breeding her and having a litter of piglets."
As for Hunter, he doesn't seem intimidated in the least by Mu Shu's girth, or how she so quickly passed him in size since the days he was licking her motionless body.
"She had a lot of bruising and was pretty unresponsive … Neither one of us thought she would live past 48 hours," Shane Tonn told Kansas.com in an earlier story
You can see a video of Hunter playing with Mu Shu, when she was still a piglet, here.
(Top photo, taken in April, by Mike Hutmacher / Kansas.com)
Posted by jwoestendiek November 26th, 2012 under Muttsblog.
Tags: animals, children, dogs, education, farming, friends, highway, hunter, livestock, mu shu, nursed, pets, pig, piglet, road, school, shane tonn, stacie tonn, students, truck, unlikely friends, walton rural life center, yellow lab

Comments: none
Five students in a communications class at the University of Texas were hoping to get 1,000 YouTube views when, for an assignment, they put together a video of a chocolate Lab going through a decidedly human morning routine.
As of today, after less than a month online, the video is nearing 1.5 million views.
Entitled "Ruff Dog Day," the video shows a dog named Dudley waking up, brushing his teeth, putting on a shirt, eating breakfast and heading to work — all with the aid of human hands.
Dudley belongs to Charli Kilpatrick, who made the video along with four fellow students — Jacqueline Hesson, Sally Ngo, Carolyn Volk and Alison Herschap.
"We sat down one night and uploaded it and were fretting over how to get 1,000 views," Kilpatrick told the Austin American-Statesman.
The assignment – for a communications class on celebrity culture – was to create a video and learn about the value of circulation, said Kilpatrick.
We'll assume they got an "A."
Posted by jwoestendiek November 13th, 2012 under Muttsblog, videos.
Tags: animals, breakfast, brushing teeth, chocolate, chocolate lab, circulation, class, communications, dog, dudley, hands, hits, labrador, morning, paws, pets, routine, ruff dog day, students, university of texas, video, views, viral, you tube, youtube

Comments: none
Clifford, who has always been so much more than big, so much more than red, is now more than half a century old.
Clifford turned 50 Monday.
And he had a big red birthday party — many of them, in fact.
While his birthday was celebrated in schools across the country, the biggest  shindig was in New York, where students sang happy birthday outside the headquarters of his publishing company and Mayor Michael Bloomberg declared it Clifford the Big Red Dog Day.
Clifford's creator, Norman Bridwell, took questions from first- and second-graders during a webcast shown there and beamed live into more than 5,000 classrooms around the country.
Bridwell, 84, told the Associated Press, his initial plans were for Clifford to be as big as a horse; eventually, though, Clifford became bigger than a house. He ended up red because that's the color of the jar of paint Bridwell had nearby.
"I don't really understand it," he said of Clifford's enduring nature. "Whether it's his color, or if it's the fact that he's clumsy, like a lot of kids are clumsy."
Bridwell's daughter, upon whom the character Emily in the books is based, told  reporters her artist father and his wife, Norma, were struggling to earn a living in New York when Norma suggested he try his hand at illustrating children's books. Norma came up with the name Clifford, too, based on an imaginary friend she had as a girl.
Bridwell's daughter, now a teacher, was a one-year-old at the time.
Bridwell shopped his drawings around, meeting initially with rejection. Eventually, he and Clifford were welcomed at Scholastic, and the company provided Bridwell with "10 Big Ideas" around which to fashion the stories, including sharing, respect, believing in oneself and helping others.
Today, Clifford is part of elementary school curriculum, and more than 126 million copies of the 90 books about the big and big-hearted dog are in print in 13 languages, in addition to a TV show, plush toys, a magazine and, yes — who says old dogs can't learn new tricks? – even a Clifford app.
(Photos: Courtesy of Scholastic)
Posted by jwoestendiek September 25th, 2012 under Muttsblog.
Tags: 50, 50th, big, big red dog, birthday, books, books on dogs, bridwell, celebrate, children's books, clifford, curriculum, dog, dog books, elementary, good dog reads, lessons, norma, norman bridwell, red, schools, students, teachers

Comments: 1
The University of Missouri College of Veterinary Medicine is phasing out the use of live dogs to teach surgery.
According to a university spokeswoman, the practice, which usually involves euthanizing the dogs after the surgeries, has existed since the vet school was created.
It will end this summer.
Based on an account in the Kansas City Star, the decision was based partly on "sensitivity," partly on saving money.
"People perceive that surgeries being done on companion animals are worse than on other animals like swine," said Mary Jo Banken, university spokeswoman. She also noted that using pigs is cheaper.
Other vet schools in the region, including Kansas State University, Oklahoma State University, and the University of Nebraska-Lincoln said they do not use live dogs in training that ultimately leads to euthanizing the animals.
The dogs the university has purchased for surgeries were raised "specifically for this purpose," Banken said. She said 117 dogs were put down after student-performed surgeries last school year.
Banken said the school has been trying to phase out the practice for nearly three years.
The dogs have been used so students can practice spaying, neutering and other surgeries. Third-year students in the school's surgery and anesthesiology lab class, where the surgeries are done, are not forced to operate on live animals that they know will be killed afterward, Banken said. They have the option of using cadavers instead. But, she said, operating on live animals is "just more realistic."
This year, the university partnered with the Central Missouri Humane Society to give students practice in spaying and neutering dogs and cats. Operations are done for free at the Humane Society in Columbia.
Posted by jwoestendiek June 11th, 2012 under Muttsblog.
Tags: animal welfare, animals, central missouri humane society, dogs, euthanasia, halted, health, laboratory, live, medicine, neuter, pets, phased out, pigs, practice, schools, sensitivity, spay, students, surgery, surgical, training, university of missouri, veterinarians, veterinary school

Comments: 5
The heartwarming story of an injured stray dog taken in by students at a Catholic school on the Crow Reservation in Montana came to an abrupt end when someone drove onto school grounds and fired six shots at the dog.
Named Mission, the female Rottweiler mix — who'd been nursed back to health after limping onto the grounds of Pretty Eagle Catholic Academy in St. Xavier six years ago — was fatally wounded.
Students are still grieving her death, more than two months ago, according to the Billings Gazette.
"We've had dogs come and go, but never one that stuck around like she did," said Garla Williamson, the principal at the private school for children in kindergarten through eighth grade. "She adopted us, and we adopted her."
The shooting is being investigated by the Bureau of Indian Affairs, and a small reward is being offered by the school for information leading to an arrest.
Samantha Stoddard said she was watching television and heard through an open window at her campus residence what she heard shots, then heard Mission yelp in pain. She ran outside and saw a white sedan parked at a cattle guard near the entrance to the school property.
Two more shots were fired as she ran to the dog.
She found Mission collapsed on the ground and helped carry the dog to the porch of her residence.
"She was trying to die, and it was really painful," she said. With the dog sufferering and no veterinarian, a staff member got a gun and put her down.
Several days passed while staff struggled with how to tell students what had happened.
Stoddard said Mission is buried near her residence, and the children have been making regular visits to the grave.
"It's turned into a little shrine," she said.
Posted by jwoestendiek May 25th, 2012 under Muttsblog.
Tags: academy, adopted, animals, bureau of indian affairs, catholic, crow, crow reservation, dog, dogs, grief, injured, investigation, mission, mix, montana, mourning, pets, pretty eagle, private, rescued, reservation, rottweiler, school, shooting, shot, shrine, st. xavier, stray, students, taken in

Comments: 1
The way I see it — given all they can teach us, given the many ways they can help out, given the miracles they can perform without even trying  – there should be a dog in every school.
Or maybe an entire pack of them.
School districts being bureaucracies, though – often quicker to look for reasons why they can't do something, rather than actually trying something new — that doesn't happen too often.
But in Bucks County, Pa., dogs are turning up in more and more classrooms, the Philadelphia Inquirer reports.
At Holland Elementary School in Bucks County, a 140-pound Rhodesian ridgeback named Kicho shows up regularly as part of a reading program.
"Sometimes, I get jittery inside when I read, but not with Kicho," 9-year-old Conner Weinberg said. "He's very kind and calm. He's my friend. I think of him as my own dog."
Kicho is one of a several dogs that have become beloved classroom companions, in Council Rock, three other Bucks County school districts and a private school, according to the Inquirer report.
The program was founded five years ago by Wendi Huttner, a Bucks County trainer and breeder of Labrador retrievers, and Deborah Glessner, a retired Council Rock School District librarian. Their nonprofit organization, Nor'wester Readers, now fields 34 teams of dogs and handlers who make weekly visits to classrooms in the Council Rock, New Hope-Solebury, Pennsbury, and Bensalem districts and to the Center School in Abington.
The basic idea of the reading program — much like the one Ace took part in with Karma Dogs –  is to give children "positive reinforcement; they get the affirmation of these big brown eyes, a wag of the tail, and a kiss on the cheek," Huttner said. Children who may feel shy about reading in front of teachers or peers can open up to a dog.
"When you are reading to your teacher, your parent, your uncle, or your librarian, and you don't know the right word or you mispronounce a word, you are corrected," Huttner said. Dogs, however, "are not judgmental," she said. "There is a child in just about every class that nobody else can reach, but a dog can. They have magic. . . . It's a wonderful thing to see."
At Council Rock's Richboro Middle School, Jillian, a retriever (pictured above) and her handler, Nan Muska, visit children with severe cognitive deficits who are getting training to help them cope with daily living, along with some others who have multiple disabilities and are largely nonverbal.
"My students light up," said Tim Qualli, the school's multiple disabilities support teacher. "They really enjoy being with her."
(Photo: Tom Gralish / Philadelphia Inquirer)
Posted by jwoestendiek April 4th, 2012 under Muttsblog.
Tags: animals, bensalem, bucks county, cognitive, council rock, dog, dogs, holland elementary school, kicho, learning, new hope, nor'wester readers, pennsbury, pennsylvania, pets, programs, reading, reading to dogs, rhodesian ridgeback, richboro middle school, school districts, schools, solebury, students, teaching, therapy, wendi huttner

Comments: 1
Arizona's Cosmo Dog Park may soon be using dog waste to shed some light.
The town of Gilbert is looking at teaming up with Arizona State University students to build a "digester" — like one we showed you last year — that will create methane gas to power, for starters, one street lamp at the park.
The project is scheduled to go before the Gilbert Town Council next month for approval.
Students from Arizona State University's Polytechnic campus in Mesa hope to design and create the "dog waste digester," according to the Arizona Republic.
The town is seeking a corporate sponsor for the project, estimated to cost $25,000.
Cosmo Park, which opened in 2006, draws more than 600,000 visitors annually and regularly shows up on lists of the nation's best dog parks.
Former Gilbert Councilwoman Linda Abbott has been pushing the project after learning of the machine installed last year as a public-art project in a park in Cambridge, Mass.
(The Cambridge machine was a temporary project and is no longer in operation.)
Gilbert officials have held three meetings with ASU on the plan to design the machine, which would consist of a repository tank and digester.
It will be supervised by professor Kiril D. Hristovski, who will challenge her students to design a machine suited to Arizona's climate, taking advantage of solar power.
"The principals of anaerobic digestion are the same," he said. "We're going to challenge the students to come up with innovative solutions that are unique."
Rather than tossing poop bags into the park's trash can's, dog owners would collect their dogs waste in biodegradable bags, deposit it in the digester and turn a hand crank to stir the mixture so the methane rises to the top.
Posted by jwoestendiek July 8th, 2011 under Muttsblog.
Tags: arizona state university, asu, cambridge, cosmo dog park, cosmo park, digester, dog parks, dog waste, energy, environment, feces, gas, gilbert, innovation, kiril hristovski, light, linda abbott, methane, parks, poop, poop power, power, professor, project, streetlamp, students, town council, waste

Comments: none
In a typical animal cruelty case — on those rare occasions they do get to court — you'll see an attorney representing the people, and another representing a defendant.
But you don't see one representing the dog.
Katie Barnett, for one, doesn't think that's right.
A third-year law student at Kansas University, she's establishing an animal cruelty prosecution clinic at the school — one she says is the first of its kind.
Barnett, 30, will work with animal control, animal cruelty investigators at the Humane Society, police and prosecutors to ensure that justice is served in cases of animal abuse.
"This is the chance for me to give the animals a voice and a place in the justice system," Barnett told the Lawrence Journal-World.
Barnett started researching how to put together the clinic two years ago, after some high-profile animal cruelty cases in Lawrence. She did ride-alongs with the police and animal cruelty investigators and followed cases through the court system.
This spring, Barnett will develop a protocol for how future students can assist in the prosecution of such cases.
"I'm doing a trial run to see how everything works," she said. "I'm getting out all the kinks and really tailoring the position so everyone knows what to do. There's never been a person to collect everything."
The program will begin taking in students in the fall 2011.
Barnett was one of three law students awarded The Animal Legal Defense Fund's (ALDF) Advancement of Animal Law Scholarships last year for their outstanding work in the growing field of animal law.
A graduate of Missouri State University, she has two pit bull mix dogs, including a three-legged rescue named Leonidas. Both are both Delta Society therapy dogs who visit schools, hospitals, and participate in community outreach programs.
Barnett and her husband, Anthony, also run Game Dog Guardian, a local organization that rehabilitates pit bulls and helps find them adoptive homes.
Posted by jwoestendiek April 19th, 2011 under Muttsblog.
Tags: abuse, animal control, animal cruelty, animals, attorney, clinic, court, delta society, dogs, game dog guardian, humane society, investigations, investigators, justice, kansas, kansas university, katie barnett, law, law school, law student, lawrence, lawyer, legal, mixes, pets, pit bulls, prosecution, students, therapy dogs

Comments: 11