Tag: supreme court
A Pennsylvania service dog agency is suing an Episcopal priest with cerebral palsy to force her to give up the service dog she has had since 2007.
So reports the Rochester Democrat and Chronicle.
The Rev. Claire Wimbush says it's unlikely she could continue living on her own without Willa, a 10-year-old yellow Labrador retriever provided to her through Canine Partners for Life, a Cochranville, Pa.-based agency that says it wants the dog back for reasons not fully specified.
Canine Partners filed suit last month in Pennsylvania Supreme Court, accusing Wimbush of violating her dog care contract and asking the court to order the dog's return — along with "reimbursement of all costs and expenses, including legal and court fees."
Darlene Sullivan, executive director of Canine Partners, declined to comment on the specifics of Wimbush's case, according to the Democrat and Chronicle. The newspaper is owned by Gannett Co. Inc., and the Rev. Wimbush is the daughter of Gannett Vice President Jane Ann Wimbush.
According to the lawsuit, the Rev. Wimbush did not follow the agency's training rules, including those that require recipients of  its dogs to maintain contact through follow-up reports. 
"If on repeated occasions there are problems with compliance, we will place that person on probation and they will get a letter explaining everything about why and letting them know if there are further violations they will lose their dog," the agency's director said. "If it gets to that point, and they refuse to return the dog to us, we have no choice but to take legal action."
The Rev. Wimbush said she believes the agency wants Willa back because she was late turning in paperwork about the dog's health and behavior. She said the documents were mailed on March 25, but Canine Partners didn't get them by the April 2 deadline. An email from the agency came on April 4, saying arrangements needed to be made for the dog's return. Six days later, she says, she received a letter telling her to bring Willa to the airport for "repossession."
"I'm bewildered by this," said Wimbush, who who has spastic cerebral palsy quadriplegia and uses a motorized wheelchair for mobility. Wimbush served as Curate of Christian Education at St. Thomas Episcopal Church in Rochester from 2011 until last weekend, and is now planning to move back to her native Virginia to be closer to her mother.
On a website supporting her campaign to keep the dog, claireandwilla.com, the Rev. Wimbush notes that Willa's status changed in February, 2012, when she retired from being a service dog and became a home companion dog:
"My ministry had changed; I was no longer moving from place to place over the course of a day, so I didn't need her to help me carry things and open doors as often. The Rochester winters are tough on both of us. She was nine years old, almost ten; it seemed like the right time to make a change. Since her retirement, she gets to be petted and admired by all the members of my congregation, especially the elementary school crowd. She still goes with me to the church most days, and often accompanies me when I visit parishioners in animal-friendly retirement communities…"
The reverend admits to having had trouble keeping up with the agency's required paperwork in 2007, due to illness. The lawsuit says she has had a history of not complying with those requirements. In 2009, the suit says, Wimbush was placed on "permanent probation" and told that any future violations would result in the immediate loss of the dog.
On the Facebook page of Canine Partners for Life, the agency is taking some lumps for filing the lawsuit against the handicapped priest, and some commenters are saying it is "shameful" for it to be demanding the dog back.
"What part of 'for life' am I missing?" one person wrote.
It's unusual for an agency like Canine Partners to demand a dog be returned, according to Toni Eames, president of the International Association of Assistant Dog Partners, an advocacy group of people with guide, hearing and service dogs.
"It's a very legitimate agency, and there has to be something, mistreatment of the dog, neglect, maybe it has gained a tremendous amount of weight or there's abuse, there's got to be something. Filing papers late is not a reason to demand return of a dog," she told the newspaper.
Marsha Sweet, assistant director of independent living services for the Center for Disability Rights in Rochester, knew of only two such cases, and both times an agreement was reached allowing the person to keep the dog. "Usually, the agencies really try to remedy the situation," she said.
The Rev. Wimbush hopes that might still happen, and an agreement can be worked out.
"I would do anything, anything, to keep my dog," she said.
(Photo: ClaireandWilla.com)
Posted by John Woestendiek June 6th, 2013 under Muttsblog, videos.
Tags: canine partners for life, cerebral palsy, claire and willa, claire wimbush, companion dog, democrat and chronicle, disability, gannett, lawsuit, pennsylvania, piscopal, priest, repossess, retriever, return, reverend, rochester, service dog, supreme court, wheelchair, willa, yellow lab

Comments: 5
The Nevada Supreme Court — no stranger to such matters — will decide whether Onion, the Mastiff mix who killed his owner's grandson on his first birthday, should live or die.
The court will hear arguments — 30 minutes worth, it has specified — on July 3 before deciding whether the city of Henderson should be allowed to kill the dog.
Another option has been offered by the Lexus Project, a New York-based organization that provides legal representation to dogs.
The Lexus Project intervened in the case and wants to gain custody of Onion, then send him to live at a secure sanctuary in Colorado.
The 120-pound mastiff-Rhodesian ridgeback mix killed Jeremiah Eskew-Shahan by biting him on the head the day of his first birthday party. Later that day, the owner turned Onion over to Henderson animal control officers, who planned to kill the dog in accordance with the city's vicious-dog ordinance.
The city turned down the Lexus Project's offer to take responsibility for the dog, and has fought its request to be awarded custody. Onion's former owner now wants Lexus to have the dog, according to the Las Vegas Sun.
The court battle has been going on for a year now.
Last year, Clark County District Court Joanna Kishner ruled the city of Henderson could proceed with the dog's execution.
The state Supreme Court issued a stay — it's second in the case — until arguments could be heard.
Those will take place July 3 at 11:30 a.m.
Posted by John Woestendiek May 15th, 2013 under Muttsblog.
Tags: 120 pounds, animal control, animals, colorado, death, defense, dog, dogs, euthanasia, execution, henderson, jeremiah, legal, lexus project, life, mastiff, mix, nevada, onion, pets, rhodesian, ridgeback, safety, sanctuary, supreme court, the lexus project

Comments: none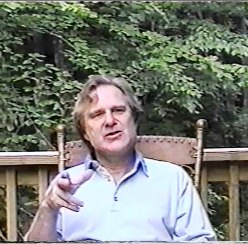 The self-described "author and journalist" whose dogfighting videos were given the Supreme Court's seal of approval this week, has at least three "pro-dogfighting videos" to his credit as well as an instructional book for aspiring dogfighters, the Humane Society of the United States says.
Robert "Bob" Stevens, a 69-year-old resident of Virginia, produced the videos "Japan Pit Fights," "Pick a Winna," and "Catch Dogs and Country Living." He has also sold other dogfighting videos, including "The $100 Keep."
Stevens, the first person tried and convicted under the now-defunct federal Depiction of Animal Cruelty Act, is also the author of "Dogs of Velvet and Steel."
Stevens' was convicted under the 1999 law in 2005 and sentenced to 37 months in prison. A decision from the U.S. Court of Appeals for the Third Circuit overturned the conviction, and the Supreme Court agreed with the appeals court decision this week.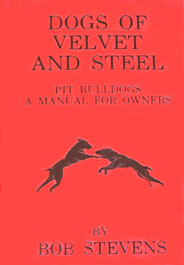 While Stevens has claimed to be merely a pit bull lover with no interest in dogfighting, HSUS says the evidence points to the contrary. In "Dogs of Velvet and Steel," he declares, "I attended many pit fights" and gives graphic accounts of several.
"Japan Pit Fights" includes a series of graphic dogfights. In "Pick-a-Winna," Stevens invites viewers to pick the dog they think is going to win the fight. He goes on to act as commentator for each match, providing analysis on which dog is the better fighter. 
"Theeeere they go!" he shouts as each new pit bull match launches.
Stevens' final video, "Catch Dogs and Country Living," is geared toward training dogs for hog catching, an event in which pit bulls commonly latch onto the faces of pigs. Sometimes the pigs go down, sometimes the dogs do.
During one scene a pit bull named Katie is shown doing "catch work" by latching onto the face of a  farm hog. "In about three minutes there is no bottom jaw on that hog.  Stevens says. "Katie took that, and good part of his throat and his nose out…"
(Photo: Stevens, in a scene from Pick-a-Winna)
Posted by John Woestendiek April 22nd, 2010 under Muttsblog.
Tags: act, animal cruelty, bob stevens, book, catch dogs, catch dogs and country living, depiction, dog fighting, dogfighting, dogfights, dogs of velvet and steel, free speech, instructional, japan pit fights, manual, movies, news, pick a winna, robert stevens, supreme court, videos

Comments: 4
 
The American Humane Association is urging Congress to act immediately in light of Monday's U.S. Supreme Court decision to strike down a federal law that prohibited videos, photographs and other depictions of acts of cruelty to animals for commercial gain.
The association — which bestows the "No animals were harmed" disclaimer on movies — says a new law is needed to "protect animals from the type of horrific cruelty this law was meant to prevent."
The law, the Depiction of Animal Cruelty Act, was intended to prevent the creation and sale of dogfighting, other animal fighting, and "crush" videos that show real and intentional harm to animals for "entertainment" purposes.
"Deliberately killing animals for entertainment has nothing to do with freedom of speech," said American Humane's interim president and CEO, George C. Casey. "Americans are within their right to keep blatant animal torture and killing out of the marketplace, and the Supreme Court should have made that the priority over the supposed protections of those who take sick pleasure in this material."
The American Humane Association, whose mission is to protect both children and animals, says the connection between violence to people and violence to animals is undeniable, and many studies indicate that animal maltreatment is "part of a complex constellation of family violence."
The Supreme Court Monday ruled on the case of  Robert J. Stevens, who was convicted of selling videos of dogs fighting each other and attacking other animals. The court ruled the law was overly broad, and that such depictions are protected by free speech.
Stevens, who made the video "Catch Dogs and Country Living" — sounds almost civilized, don't it? – was the first to be prosecuted under the federal law.
Posted by John Woestendiek April 22nd, 2010 under Muttsblog.
Tags: abuse, american humane association, animal cruelty, animals, crush videos, depictions, dog fighting, dogfighting, films, freedom of speech, news, no animals were harmed, pets, pit bulls, robert J. stevens, supreme court, videos, violence

Comments: none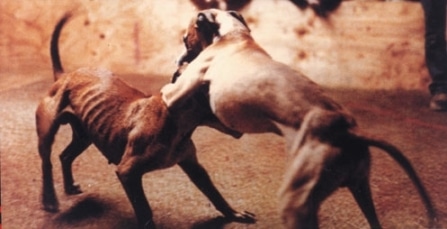 The Supreme Court has ruled that videos showing dogfights and other acts of animal cruelty are protected by free speech.
The court, in an 8-1 decision, struck down a federal law designed to stop the sale and marketing of such videos. The justices concluded the 10-year-old statute was overly broad.
The case before the court stemmed from an appeal by Robert Stevens, of Pittsville, Virginia, who sold videos through his business, Dogs of Velvet and Steel. The tapes show pit bulldogs attacking other animals and one another in staged confrontations.
The high court threw out Stevens' conviction for selling depictions of animal cruelty.
Stevens argued his 37-month sentence sentence was longer than the 14 months given professional football player Michael Vick, who ran an illegal dogfighting ring.
His case was the first prosecution in the United States to proceed to trial under the 1999 law.
Posted by John Woestendiek April 20th, 2010 under Muttsblog.
Tags: animal cruelty, chief justice, child pornography, conviction, crush videos, decision, depictions, dissent, dissenting, dog fighting, dogfighting, dogfights, dogs of velvet and steel, first amendment, free speech, hsus, humane society of the united states, john roberts, law, opinion, overturned, protected, robert stevens, ruling, samuel alito, speech, statute, struck down, supreme court, video

Comments: 5
The Vermont Supreme Court heard arguments yesterday in a case that could create a new precedent for animal lovers who sue over the loss of their dogs.
The lawsuit was filed by a Maryland couple — Sarah and Denis Scheele of Annapolis, whose mixed-breed dog "Shadow" was fatally shot in 2003, according to an ABC News report.
Lewis Dustin, 76, of Northfield, Vt., pleaded guilty to a misdemeanor charge of animal cruelty and was given a year probation. He also was ordered to perform 100 hours of community service and pay $4,000 to the Scheeles for the costs of adoption, medical bills and cremation.
The Scheeles, however, say that doesn't come close to covering the emotional cost inflicted by the incident and the loss of companionship.
"Shadow was our little boy, our son, our child," Sarah Scheele wrote on her website JusticeforShadow.com. "We loved him as if he were our own flesh and blood."
The couple filed a civil suit against Dustin in 2006, arguing that the dog was more than "mere property."
The incident occurred during the Scheeles' July 2003 visit to relatives in Northfield, Vt., a small town south of Montpelier. Shadow wandered into the neighboring yard of Dustin, who fired an air pellet rifle at the dog to scare him off his property.
Posted by John Woestendiek December 18th, 2009 under Muttsblog.
Tags: animal, annapolis, cost, courts, denis scheele, dog, dogs, emotional, family, justice for shadow, justiceforshadow.com, killed, law, lewis dustin, loss, maryland, northfield, pets, property, rifle, sarah scheele, shadow, shot, supreme court, vermont

Comments: 1
Should the sale of videos depicting dogfighting and other animal cruelty be protected by the First Amendment?
That's the question the U.S. Supreme Court will hear arguments on today in the case of Robert J. Stevens, author and producer of several films about pit bulls and dogfighting.
Stevens, 69, says he had nothing to do with the dogfights themselves. He only made and sold tapes showing them — tapes he says had educational and historical value. He was convicted and sentenced to 37 months under a 1999 federal law that bans selling "depictions of animal cruelty."
The law was struck down last year when a federal appeals court overturned Stevens conviction on First Amendment grounds.
The  case has divided animal rights groups and free-speech advocates, according to the New York Times.
At issue is whether the court should designate a category of expression as so vile that it deserves no protection under the First Amendment. The last time the court did that was in 1982, with child pornography.
The law was enacted in 1999 in response to the sale of  "crush videos,"  which showed small animals being stomped on by women.
The law applies to recordings of "conduct in which a living animal is intentionally maimed, mutilated, tortured, wounded or killed." It exempts materials with "serious religious, political, scientific, educational, journalistic, historical or artistic value."
News organizations, including The New York Times, filed a brief supporting Stevens, arguing that the 1999 law "imperils the media's ability to report on issues related to animals."
In a brief supporting the government, the Humane Society of the United States said that "gruesome depictions of animal mutilation targeted" by the law "simply do not merit the dignity of full First Amendment protection."
The American Humane Association also supports the federal government's position. "This is a case about animal cruelty, plain and simple," said American Humane President and CEO Marie Belew Wheatley. "… While many parties may argue the technicalities and interpretations of the law, the real focus should be that it is immoral, it is inhumane and it should be illegal to exploit, torture and kill animals for someone's twisted sense of 'entertainment' and someone else's profit."
"While acts of animal cruelty have long been outlawed," the brief for Stevens said, "there have never been any laws against speech depicting the killing or wounding of animals from the time of the First Amendment's adoption through the intervening two centuries." The brief also notes that Stevens' sentence was 14 months longer than that of Michael Vick.
Posted by John Woestendiek October 6th, 2009 under Muttsblog.
Tags: american humane association, animal cruelty, arguments, crush videos, depictions, dogfighting, dogs, first amendment, free speech, hsus, recordings, robert J. stevens, supreme court, video

Comments: 2