Tag: teams
The first national monument paying tribute to military dogs will be unveiled in California in two months before going on tour on the way to its final destination – Lackland Air Force Base in San Antonio.
The U.S. Military Working Dog Teams National Monument will honor dogs that have served in combat since World War II.
While there are other sculpted memorials to military dogs, this one is the first to be proclaimed a national monument, according to the Associated Press.
The project was spearheaded by John Burnam, a 65-year-old veteran military dog handler and author of "Dog Tags of Courage" and  "A Soldier's Best Friend."
It was a reader who suggested a monument, and Burnam saw that as an idea worth pushing.
"I wanted to give something back to these animals that have done so much and asked for so little, except for food and water and the love of their handlers," said Burnam, who received the Legion of Merit, Bronze Star and Purple Heart.
In 2004, Burnam and two other veterans formed the John Burnam Monument Foundation Inc. In 2007, Rep. Walter B. Jones, R-N.C., introduced legislation authorizing establishment of the monument. Passed unanimously by Congress, it was signed the next year by President George W. Bush, then amended and signed by President Barack Obama.
Burnam designed the monument, which depicts a handler and four dogs — a Doberman, German shepherd, Labrador retriever and Belgian Malinois.
The silicon bronze handler stands more than 9 feet tall and weighs 1,500 pounds. Each dog is about 5 feet tall and weighs 550 pounds. The sculptor, Paula Slater, says she has spent thousands of hours on the project.
Primary funding for the project is being supplied by Natural Balance Pet Foods Inc. To raise funds for the monument and its maintenance, Natural Balance created a jerky treat sold by Petco. Maddie's Fund, a pet rescue foundation, also signed on as a corporate sponsor.
A floral replica of the sculpture, in the form of a float, will be part of the Tournament of Roses parade in Pasadena on Jan. 1, and among those riding on it will be  Burnam, dogs and handlers from every military service branch.
The monument will then go on temporary display next to the float at Victory Park. After that, it will hit the road, headed for Lackland Air Force Base, where most of the nation's military dogs are trained.
(Photos: At top, a model of the U.S. Working Dogs Teams National Monument, courtesy of John Burnam Monument Foundation; above left, handler John Burnam and sculptor Paula Slater stand with the military dog handler that will be part of the monument, courtesy of Natural Balance)
The University of Connecticut is insisting a high school in Clinton that uses a husky for a mascot come up with one that doesn't look so much like the college's trademarked dog head.
The college, though it's reportedly handling the matter in an "amicable" manner, says its husky is  "intellectual property," and that the Connecticut high school is, in effect, trespassing.
College officials apparently fear that, with other similar hand-drawn husky heads lurking out there, they might rake in less money from all the products to which the UConn husky logo is affixed.
We, though no one asked us, have to go with the underdog in this mild and not-too-controversial controversy.
We think the high school's logo — that's it at top left, as it appears in the middle of the school's basketball court — is different enough.
UConn's husky — that's it at the bottom – looks far more well-fed, more protective, and has its tongue hanging out.
We — and that's the editorial we, meaning I — think all hand-drawn husky heads, like all huskies, are going to look at least somewhat similar, and we'd submit that the university is maybe being a little overly possessive of what it considers its turf.
Officials at the Morgan School, a public school, say they were informed last spring that their husky too closely resembled the university's, according to the Hartford Courant.
"We're trying to work with them. We're not looking to shut them down or anything like that,"  Michael Enright, UConn's associate athletic director for communications, is quoted as saying. "We are protecting the state's intellectual property."
Clinton Superintendent of Schools John F. Cross said Morgan School has had a husky as its mascot for at least 25 years.
In a letter from James D. Aronowitz, associate general counsel for the Atlanta-based Collegiate Licensing Company, which represents UConn, Clinton educators were asked to stop using the logo. The letter said use of the similar dog could interfere with UConn's ability to "effectively market and license" the use of the logo.
Cross said the university isn't being nasty about it, and isn't insisting the high school change its logo right away, only that it eventually do away with it.
"It really is a practical matter that we are trying to work out with our big brother at Storrs. It's not adversarial," Cross said.
Cross said the logo has been removed from the school's website. The school district will also use a different husky on the gymnasium floor when it opens a new high school.
The old husky head at the new school football field, just recently completed, will be a more difficult matter, he said. Changing it, he estimated, would cost $20,000.
Cross said students are at work developing a new husky dog logo that will be sufficiently different from UConn's, and we wish them the best on the project.
But what if they both just dropped the whole thing, and that $20,000, and all the money UConn spends on lawyers to ensure its husky drawing isn't too closely replicated by anyone, was given instead to, say, a husky rescue group, or some other cause that benefits huskies, by which we mean the animals?
Of course, that — paying back the breed whose image they have seized and profited from — will never happen in the real world.
But "intellectual property" aside,  it was their head first.
Ace and I finally got around to doing one of the things that was on our to-do list during our travels — attend a Minor League baseball game.
Across America, dog-friendly baseball games are growing more popular. For several years, many Minor League teams have been sponsoring them, and the big leagues are starting to catch on. At least 15 Major League ballparks are holding dog-friendly games this season.
We — having a preference for the minors, anyway — opted for the Greensboro Grasshoppers, since we couldn't find any dog-friendly games on the schedule of our local team, the Winston-Salem Dash.
Just 30 minutes down the road, in downtown Greensboro, the stadium was a gem, the traffic was non-existent and parking was plentiful (and only $3).
Those are some of the reasons I find Minor League baseball  so much more of a pleasure: The prices, for tickets or concessions, aren't exorbitant. The crowds aren't huge. The fans aren't obnoxious. It's just much more laid back.
On Tuesday night, the tickets were $6 each, and a "pooch pass" ran $3. Beers were $1, hot dogs, too. There was no extra charge for the sunset.
Everybody seemed happy, at least on Natty Hill, the grassy knoll in left field set aside for fans bringing their dogs.
Maybe it was the dogs, or maybe it was that so few in the crowd seemed to actually care about the game itself. It was about the outing, not the outcome.
What I liked best about it was seeing so many people bonding with their dogs, and bonding with other people's dogs, and bonding with other dog's people.
Minor League baseball, particularly on dog nights, offers a sense of community — something that seems to be fading away in America. We're more connected than ever, thanks to gadgetry, but somehow more insulated, too. We're "communicating" more than ever, but not saying much at all.
The Greensboro Grasshoppers, the Delmarva Shorebirds, the Bowie Baysox, or the Toledo Mud Hens (and we've got to mention the Reno Aces) may not be the solution to that, but it's nice to have a venue where you can look a person in the eye and exchange words.
Or, if you prefer, spend some time quietly connecting with your dog.
Either way, the dog's there for you — whether you want to meditate or congregate.
In my book, when it comes to being social, a dog is much better  than a BlackBerry or cell phone, Facebook or Twitter or Match.com — for the connection you make with a dog is much more clear and pure and genuine.
If dog nights at the ballpark weren't already win-win enough, they also raise money for local shelters and rescues.  All "pooch pass" fees at the Grasshoppers' Tuesday night game went to Red Dog Farm, an animal rescue network based in Greensboro.
The Grasshoppers were holding two dog-friendly games a season, but this year dropped down to one.
The Grasshoppers beat the West Virginia Power 3-0, though, to be honest, I watched maybe 30 seconds of the entire game.
I did catch the dancing sausage packages, though.
We missed out on the pre-game doggie festivities, as Ace felt the need to make his mark on the streets of downtown Greensboro. Even though parking was right across the street, it took us more than 20 minutes, with his frequent stops, to get to the gate.
One inside the stadium, he stopped to meet some of the adoptable dogs Red Dog Farm had brought to the game. At first he had to check out every dog he encountered — and there had to be over 100 at the game — but eventually he became more selective.
Sitting on a grassy hill in left field — filled with people and dogs — proved a little problematic for him, as he kept sliding down. But we spent most of the time wandering around — me hydrating on $1 beers, Ace patronizing the many bowls of water placed about.
One red bucket in particular intrigued him. He thought he saw something at the bottom of it, and repeatedly submerged his entire head in it, not realizing all he was seeing was the raised surface at the bottom of the bucket.
A crowd gathered to watch and take pictures.
During nine innings of baseball, I answered the question, "What kind of dog is that?" 36 times; the question of how much he weighs at least a dozen; the question of how he got his head all wet about 10.
Back on our blanket on the hill, we enjoyed a sunset on one end of the stadium and, as the game came to an end,  watched the moon rise like a pop fly over the other.
We'll close with a baseball trivia question: Who was the first canine ever ejected from a baseball game?
Answer: Yogi Berra, a mascot for the Greensboro Grasshoppers. He was showing his ball retrieving skills between innings in a 2009 game (despite a stomach virus) when he stopped for a bowel movement on the field (an event noted in news reports and memorialized on YouTube). The home plate umpire, apparently offended by the act, ordered him ejected.
 
Lots of sports teams call themselves Lions, but the University of North Alabama boasts the only live lion mascots in the country — two of them.
I dropped by to see them– Leo III and Una — Friday. Ace, because I didn't want to start a roaring contest, especially after our gas station run in with the big yellow dog, stayed in the air conditioned car with my son, who, living in Florence, had seen the lions many times before.
While I was all ready to lambaste the university for keeping captive lions in this way too hot and humid (for my taste) state, I quickly saw that Leo and Una have it better than many Alabamans.
Now 7 years old,  they reside  in the climate-controlled, 12,764-square-foot George H. Carroll Lion Habitat, which was built with a waterfall, babbling streams, two observatories, private dens with skylights, beamed ceilings and a shaded area provided by a thatched roof. The habitat cost $1.3 million. Feeding and caring for the lions cost $35,000 annually, all of which, like the habitat's construction, is covered by charitable contributions. The habitat also boasts what it describes as the "largest kitty litter box in this part of the state."
UNA's live lion mascot tradition began in 1974, when then-President Dr. Robert Guillot acquired a 12-pound lion cub, Leo I, from a Knoxville zoo.
Leo I lived 14 years, becoming a locally beloved mascot, and the outpouring of support after his death led to Leo II being brought to UNA in July 1988. Leo II, who Sports Illustrated once named the second best college mascot in the country, died in 2000. 
Leo III and Una, born on November 18, 2002, were the first residents of the new habitat, which opened that year.
You can also see them via a university lioncam.
Tomorrow: Coon Dog Cemetery
To read all of Dog's Country, click here.
An online petition drive has been launched, asking the Ed Block Courage Award Foundation to rescind the award that Michael Vick's Philadelphia Eagles teammates unanimously voted for him to receive.
The petition, being sent to Sam Lamantia, CEO of the foundation, reads:
Recently the Philadelphia Eagles have elected Michael Vick as their recipient for this year's Courage Award. Given Mr. Vick's crimes and felony conviction, we do not believe he is worthy of this honor. For several years, in addition to promoting dogfighting, Vick himself tortured, abused, and murdered innocent dogs for his own profit and apparent enjoyment. This is not courage. This is inhumanity, immorality, and sheer brutality and does not warrant giving Vick this or any other reward.
Many of us have protested Vick's reinstatement to the NFL. There has been strong media and PR influence in trying to diminish his past actions and erase the public's memory of his sadistic behavior. We encourage you to stand up for the rights of animals everywhere and the memory of the dogs who endured Vick's cruelty…
The Ed Block Courage Award Foundation, based in Baltimore, is dedicated to promoting awareness and assisting in the prevention of child abuse. Vick's promotion and financing of dogfighting activities and his conviction in 2007 of felony dogfighting charges run counter to that mission, petition backers say.
PETA, meanwhile, has also come out against Vick receiving the honor — one Vick says he deserves because of what he has "been through."
"In no way does Michael Vick represent courage and inspiration," the petition's organizer said. "Rather, he exemplifies cruelty and inhumanity, and is not deserving of reward or recognition. We the undersigned strongly encourage the Ed Block Foundation to demonstrate the true substance of bravery, morals, and ethics. Deny Michael Vick the honor of the Courage Award."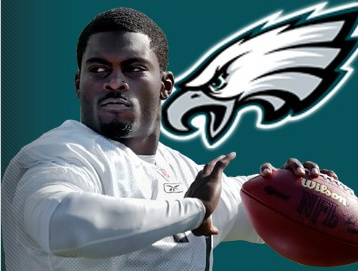 Philadelphia Eagles quarterback Michael Vick will receive an award in March for his "commitment to the principles of sportsmanship and courage."
If you just coughed up your breakfast cereal, join the club.
Vick was hired by the Eagles after his release from federal prison, where he served a sentence for dogfighting. If anyone deserves a courage award, it's his former dogs.
Vick will be receiving the Ed Block Courage Award — named for a former Baltimore Colts trainer who was an advocate for abused children. It's given to a player on all 32 NFL teams.
The Ed Block Courage Award Foundation, based in Baltimore, will hold a press conference at Sports Legends Museum announcing the 2009 winners, and an awards ceremony is scheduled for March. Here's the foundation's press release. Here's the NFL press release on Vick's selection.
Neither specifies exactly what courage Vick has demonstrated, so its unclear if he's being honored for his anti-dogfighting appearances for the Humane Society of the United States; surviving prison, surviving the wrath of animal rights activists, rehabilitating himself or at least his image, overcoming his bankruptcy, his return to football, or what.
For 32 years the award has been given to NFL players, who are selected by their teammates.
The Ed Block Courage Award Foundation is an NFL-supported charity dedicated to recognizing courage in the League while improving the lives of abused and neglected children in NFL cities throughout the country.