Tag: teams
 
Lots of sports teams call themselves Lions, but the University of North Alabama boasts the only live lion mascots in the country — two of them.
I dropped by to see them– Leo III and Una — Friday. Ace, because I didn't want to start a roaring contest, especially after our gas station run in with the big yellow dog, stayed in the air conditioned car with my son, who, living in Florence, had seen the lions many times before.
While I was all ready to lambaste the university for keeping captive lions in this way too hot and humid (for my taste) state, I quickly saw that Leo and Una have it better than many Alabamans.
Now 7 years old,  they reside  in the climate-controlled, 12,764-square-foot George H. Carroll Lion Habitat, which was built with a waterfall, babbling streams, two observatories, private dens with skylights, beamed ceilings and a shaded area provided by a thatched roof. The habitat cost $1.3 million. Feeding and caring for the lions cost $35,000 annually, all of which, like the habitat's construction, is covered by charitable contributions. The habitat also boasts what it describes as the "largest kitty litter box in this part of the state."
UNA's live lion mascot tradition began in 1974, when then-President Dr. Robert Guillot acquired a 12-pound lion cub, Leo I, from a Knoxville zoo.
Leo I lived 14 years, becoming a locally beloved mascot, and the outpouring of support after his death led to Leo II being brought to UNA in July 1988. Leo II, who Sports Illustrated once named the second best college mascot in the country, died in 2000. 
Leo III and Una, born on November 18, 2002, were the first residents of the new habitat, which opened that year.
You can also see them via a university lioncam.
Tomorrow: Coon Dog Cemetery
To read all of Dog's Country, click here.
Posted by John Woestendiek June 6th, 2010 under Muttsblog.
Tags: ace does american, alabama, animals, dog's country, dogscountry, florence, george h. carroll, habitat, leo, leo I, leo II, leo III, lion, lion cam, lioncam, lions, mascot, ohmidog!, pets, sports, teams, travels with ace, una, university of north alabama, webcam

Comments: none
An online petition drive has been launched, asking the Ed Block Courage Award Foundation to rescind the award that Michael Vick's Philadelphia Eagles teammates unanimously voted for him to receive.
The petition, being sent to Sam Lamantia, CEO of the foundation, reads:
Recently the Philadelphia Eagles have elected Michael Vick as their recipient for this year's Courage Award. Given Mr. Vick's crimes and felony conviction, we do not believe he is worthy of this honor. For several years, in addition to promoting dogfighting, Vick himself tortured, abused, and murdered innocent dogs for his own profit and apparent enjoyment. This is not courage. This is inhumanity, immorality, and sheer brutality and does not warrant giving Vick this or any other reward.
Many of us have protested Vick's reinstatement to the NFL. There has been strong media and PR influence in trying to diminish his past actions and erase the public's memory of his sadistic behavior. We encourage you to stand up for the rights of animals everywhere and the memory of the dogs who endured Vick's cruelty…
The Ed Block Courage Award Foundation, based in Baltimore, is dedicated to promoting awareness and assisting in the prevention of child abuse. Vick's promotion and financing of dogfighting activities and his conviction in 2007 of felony dogfighting charges run counter to that mission, petition backers say.
PETA, meanwhile, has also come out against Vick receiving the honor — one Vick says he deserves because of what he has "been through."
"In no way does Michael Vick represent courage and inspiration," the petition's organizer said. "Rather, he exemplifies cruelty and inhumanity, and is not deserving of reward or recognition. We the undersigned strongly encourage the Ed Block Foundation to demonstrate the true substance of bravery, morals, and ethics. Deny Michael Vick the honor of the Courage Award."
Posted by John Woestendiek December 29th, 2009 under Muttsblog.
Tags: award, baltimore, campaign, cancel, child abuse, courage, dog, dog fighting, dogfighting, dogs, drive, ed block courage award, ed block foundation, honor, michael vick, nfl, petition, philadelphia eagles, rescind, revoke, stop, teams, vick, withdraw

Comments: 13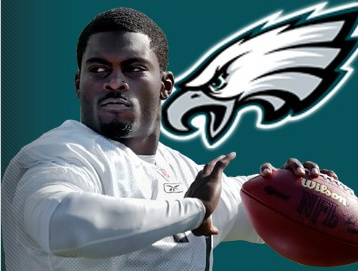 Philadelphia Eagles quarterback Michael Vick will receive an award in March for his "commitment to the principles of sportsmanship and courage."
If you just coughed up your breakfast cereal, join the club.
Vick was hired by the Eagles after his release from federal prison, where he served a sentence for dogfighting. If anyone deserves a courage award, it's his former dogs.
Vick will be receiving the Ed Block Courage Award — named for a former Baltimore Colts trainer who was an advocate for abused children. It's given to a player on all 32 NFL teams.
The Ed Block Courage Award Foundation, based in Baltimore, will hold a press conference at Sports Legends Museum announcing the 2009 winners, and an awards ceremony is scheduled for March. Here's the foundation's press release. Here's the NFL press release on Vick's selection.
Neither specifies exactly what courage Vick has demonstrated, so its unclear if he's being honored for his anti-dogfighting appearances for the Humane Society of the United States; surviving prison, surviving the wrath of animal rights activists, rehabilitating himself or at least his image, overcoming his bankruptcy, his return to football, or what.
For 32 years the award has been given to NFL players, who are selected by their teammates.
The Ed Block Courage Award Foundation is an NFL-supported charity dedicated to recognizing courage in the League while improving the lives of abused and neglected children in NFL cities throughout the country.
Posted by John Woestendiek December 24th, 2009 under Muttsblog.
Tags: award, child abuse, courage, dog fighting, dogfighting, dogs, ed block, ed block courage award, foundation, honored, michael vick, neglect, nfl, philadelphia eagles, quarterback, receive, sportsmanship, teams, vick

Comments: 21