Tag: testing
The board of a ritzy Manhattan co-op is requiring some residents undergo testing of their blood and spit to determine if they are pure enough — and of the proper type — to live there.
As of last month, dog owners living in the luxury tower at 170 West End Avenue must have their veterinarian sign off on the canine's pedigree and, if the pet is a mix, detail the percentage of each breed, according to DNAInfo.com
The policy is designed to purge the building of any pedigrees the board deems troublesome.
And the board deems many breeds troublesome — 27 in all, including the Pomeranian and the Maltese.
Residents were informed of the new policy a few months ago.
The board policy says the 27 breeeds were chosen based on "documented information regarding their tendency towards aggressiveness."
In the case of mixed breed dogs, the co-op board is requiring owners to have their pet undergo a DNA test. If the test shows a dog to be made up of more than 50 percent of one of the outlawed breeds, it will have to leave the building.
Initially, they wanted to require mandatory DNA testing of all dogs, but they amended the policy to require the testing "at the board's discretion."
The latest version of the policy, issued on May 26, says that if a dog's breed is unknown "the board at its sole discretion may require a resident to perform DNA testing."
The 484-unit, 42-story cooperative is one of eight buildings that comprise Lincoln Towers, a 20-acre property near Lincoln Center managed by FirstService Residential. Each building has its own co-op board and makes its own policies.
The board policy also requires that residents register their dog and provide a mugshot of the canine.
The list of banned breeds includes St. Bernards and German shepherds, pit bulls, basset hounds — and even the tiny shih tzu.
"It's like dog racism essentially," one resident said of the new policy. "It's beyond offensive, it's intrusive."
(Photo: From NYcurbed.com)
Posted by John Woestendiek June 17th, 2015 under Muttsblog.
Tags: 170 West End Ave., animals, banned, board, breed bans, breeds, co-op, discrimination, dna, dog, dogs, german shepherd, Lincoln Towers, maltese, mandatory, manhattan, mixed breeds, new york, pets, pit bulls, pitbulls, policy, pomeranian, racism, shih-tzu, st. bernard, testing, tests

Comments: 4
In hopes that potential adopters will find a "Chiratoodle" or a "golden Chinscher" more appealing than a plain old mutt or "Chihuahua mix," an animal shelter in California has begun DNA testing some of its dogs to determine their breeds and market them under more exotic names.
The Peninsula Humane Society and SPCA in Burlingame, south of San Francisco, says initial results show the DNA tested dogs are getting adopted twice as fast.
Not too surprising in a world that prefers labels over mysteries — at least when it comes to what we bring into our homes.
DNA testing is not widely practiced by America's animal shelters, mainly because of its expense. As a result, most people who adopt a dog from a shelter leave with a mystery mutt, or one whose heritage has been guessed at by shelter staff.
My dog Ace, for instance, when he was adopted nearly 10 years ago, was listed as a "hound mix" on his shelter paperwork, referred to as a "shepherd mix" by shelter staff and listed on Petfinder.com as a "Labrador mix."
When DNA tests came on the market in 2007, I purchased one, swabbed his cheek and learned he was Rottweiler and Chow. In the next few years, as the tests became capable of identifying more than the original 38 breeds, I tested him two more times. The second test determined he was Rottweiler, Chow and Akita. The third test showed him to be all of those, and a little bit pit bull.
The tests allowed me to answer the question I was asked at least once a day: "What kind of dog is that?" It wasn't so much that I had to know. All three tests were done mostly as research, for the purpose of writing about them. And once I learned the breeds he was made up of, I kind of missed the mystery.
I don't think the information is all that vital, but I can understand how a purchaser, or adopter, of a dog might like to know what's in his or her mix.
In California, the Peninsula Humane Society and SPCA conducted the tests in an attempt to increase the adoptions of Chihuahua mixes, which make up nearly a quarter the dogs in its shelter.
The campaign, conducted under the slogan "Who's Your Daddy?" is aimed at "finding great homes for dogs at risk of being overlooked," said Scott Delucchi, the shelter's senior vice president.
"People love mutts. Still, we're betting shelter dogs with DNA results included, for free, will be quite fetching," he says in a commercial for the campaign.
The shelter picks up the cost of the $50 tests, which they say can help owners identify what breed-specific traits the dogs might exhibit. The tests also allow the shelter to have some fun coming up with clever breed names — like "Chorgi" (Chiuahua-corgi), "golden Chinscher"  (golden retriever-miniature pinscher-Chihuahua) and "Chiratoodle" (Chihuahua-rat terrier-poodle).
In February, the shelter conducted tests that determined the breed make up of 11 small dogs. All found homes within two weeks — twice as fast as any 11 untested small, brown dogs in the previous months, according to an Associated Press story.
Twelve more dogs have been tested since then and once they are all placed in homes the shelter plans to test 24 more.
Chihuahuas have replaced pit bulls as the most prevalent breed in the shelter, largely due to the "Beverly Hills Chihuahua" movies, and the breed's popularity among celebrities.
While some visitors to the shelter are seeking Chihuahuas, others are looking for mutts — small dogs who, thanks to another breed being in the mix, might have a less nervous dispositions.
While shelter officials have proclaimed the new program a success, they note that it's going to take more than a gimmick to reduce the "alarming" number of Chihuahua mixes coming in.
"Another part is making spay-neuter low-cost or free to the community," Delucchi said. The shelter also exports some of its smaller dogs to shelters in Florida, New York and other states where they are in shorter supply.
(Photo: Lynn and Tony Mazzola, with Lily, their newly adopted  "Chorkie;" by Eric Risberg / AP)
Posted by John Woestendiek March 23rd, 2015 under Muttsblog.
Tags: adopt, adoptions, animals, breed tests, breeds, burlingame, california, chihuahuas, chiratoodle, dna, dogs, golden chinscher, mutts, mystery, peninsula humane society, pets, rescues, shelters, testing

Comments: 1
In the annals of Gotham's crimefighting superheroes, Abby Weissman might not go down as one of the all-time greatest.
But at least he will be noted for capturing a dog pooping on camera and, far more important, that doggie's caretaker not picking it up.
Faster than a speeding bullet, he posted it on Facebook:
In the post, Weissman fires a first blow in his quest for justice, and calls upon others to join in fighting the scourge of canine caretakers who don't pick up after their charges — by submitting photos and videos of scofflaws caught in the act to his block association's Facebook page.
Weissman is president of the South Oxford Street Block Association in New York's Fort Greene neighborhood.
The association started a "Dog Walkers Hall of Shame" campaign July 30, after his home security camera captured a dog walker, busy with her cell phone, walking away from the mess the dog had just deposited on the sidewalk in front of his house.
Weissman hopes a little public humiliation will be more effective than the seldom enforced "pooper scooper" law, and its $250 fines.
Since 2013, 63 "pooper scooper" violations have been issued in Brooklyn, DNAInfo reports. An officer must witness the incident to issue a summons, according to the Department of Sanitation.
Weissman, like any good superhero, seemed to take a great deal of pride in catching the scofflaw, at least on video. "We always wanted a photo or video or someone actually letting their dog shit and purposefully leaving it there. Here it is, thanks to Dropcam."
I'm all for owners taking responsibility for what their dogs drop, and all for laws enforcing that. And I'm fine with fines.
I'm just not so sure we have to view it all in terms of a "war," and I question whether all the high tech weapons being seized upon — like hidden cameras, and sending dog poop to laboratories to see if its DNA can be matched to a particular dog — are a bit of an over-reaction, better used on terrorists than people who don't pick up dog poop.
I have a problem with public "shaming," too — whether it's being used on deadbeat dads, the customers of prostitutes, or those who fail to pick up dog waste. It reminds me of those stocks and pillories we used to punish wrongdoers in colonial times. I'd like to think we've become a little more civilized since then. And I'd like to think we're smart enough to realize people who engage in shameful behavior often don't have a huge sense of shame in the first place.
Most of all I'm puzzled about how we let something with such a simple solution become so huge, and gobble up so much time, money and technology. How much is being wasted sending dog waste through the mail for analysis in laboratories? How many hours did Weissman spend watching video to pinpoint the culprit who pooped in front of his house?
Sometimes I think our species is prone to escalating anything that can possibly escalated.
Perhaps a psychologist could explain that to me.
In the meantime, can't we all just pick it up?
Posted by John Woestendiek August 13th, 2014 under Muttsblog, videos.
Tags: animals, association, block, brooklyn, cameras, cams, dna, dog, dog walker, dog walkers hall of shame, dogs, dogwalker, dropcam, escalation, facebook, fight, fort greene, hall of shame, humiliation, law, new york, pets, poop, pooping, public, responsibility, scoop, scooper, security, shamed, shaming, shit, sidewalk, solutions, south oxford street, technology, testing, war, waste

Comments: 1
Once upon a time in Butte, in a huge and barren expanse of waste that's part of the nation's largest Superfund site, there lived a dog.
Nobody knows how he got there, why he stayed, or how he managed to remain alive in the toxic confines of what's known as the Berkeley Pit. But live he did, for 17 years — during times of active mining, during its suspension, during its limited restart, during the ongoing clean-up effort and right up until the pit transitioned into one of the country's oddest tourist attractions.
He just showed up, back in 1986. Once miners figured out that the ghostly white image in the distance was a dog, they named him "The Auditor," because of his tendency to appear when he was least expected.
With matted ropes of white hair covering his legs, The Auditor — a Puli — sometimes appeared to be hovering when he moved, and he seemed to want nothing to do with humans. The miners would leave him food, and build him a house, and even started sticking baby aspirin in his food when they noticed he was limping, but The Auditor was mostly unapproachable up until the end.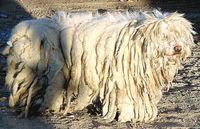 He died peacefully in his dog house in 2003, but The Auditor — like mining — would leave a legacy. His name would live on — in statues, in science, and as a symbol for, well, lots of things.
Appropriately enough, for a mining site in the midst of a massive EPA clean-up that will continue for generations, The Auditor had a coat like a mop.
His yellowing dreadlocks covered his eyes, too, limiting his vision — similar to the blind eye Montana once turned to the environmental havoc mining would wreak on and beneath its landscape.
But perhaps more than anything else, the mysterious white dog became a metaphor for Butte, and its ability to survive hard times — of the hardy stuff of which Montanans are made.
Butte's still kicking — though not the way it once kicked. It's about a third of the size it was in its heyday.  Once called the "Richest Hill on Earth" for its massive copper deposits, Butte in the early 1900s, boasted a population of 100,000.
When the mines shut down by 1982, Butte was left economically crippled and environmentally contaminated. Piles of mine waste and years of smoke from smelters contaminated the land and water around Butte with arsenic, mercury, lead and other metals.  
In the 1980s, the Berkeley Pit and Butte's historic Uptown District were declared a Superfund site — one that extends 130 miles downstream due to tailings that settled along the Clark Fork River.
The Auditor lingers too. After the local newspaper brought him to the public's attention in 2003, a campaign began to honor him with a series of statues, three of which now sit in various locations around town, honoring him not for any heroics, but solely for staying alive in a place where not much does.
Berkeley Pit lies just a few blocks from the center of Butte. It stretches a mile-and-a-half across and is almost 2,000 feet deep. Barren soil surrounds a lake laden with heavy metals. In 1995, a flock of migrating geese landed in the water. The next morning 342 were found dead.
How The Auditor managed to survive all that time is as mysterious as the dog himself. Maybe his rope-like locks, instead of soaking in the toxins, kept them from reaching his skin. Maybe the toxins weren't as toxic as thought. Maybe, as dogs do, he adapted to them. The only company still in operation at the site — after mourning his loss — had The Auditor cremated.
Normally, that would slam the door shut on the mystery — but Holly Peterson already had her foot in it.
Peterson, an environmental engineer at Montana Tech in Butte, saw the article about The Auditor — 16 years old by then — in 2003. It tugged at her heartstrings as well as her scientific curiosity.
"How can that not touch you?" she said over the weekend, sitting in her office, which is decorated with photos of The Auditor. "I kept wondering, how can that thing survive? With all the contamination in Butte, I started thinking, how can we study that in a different way?"
With her students, she began getting samples of hair from dogs in Butte and the surrounding areas, and when she ran into an official from the mining company, Montana Resources, at a presentation, she asked about getting a sample from The Auditor.
The Auditor was first seen roaming the mine in 1986, the year Montana Resources started its operations. The company, due to plunging copper prices, shut down operations there in 2000, leaving only a skelton crew, but reopened in 2003.
After getting permission from the company, Peterson went to the site, where a mining company employee, wearing gloves, approached The Auditor, on his last legs by then, and snipped off a few locks of hair.
"You could tell he just wanted us to leave him alone," Peterson said.
Tests on the sample in July of 2003 revealed "elevated levels of almost every element imaginable," Peterson said, including 128 times the amount of arsenic in a typical dog's hair.
Peterson's research project would expand from there, shedding new light on the extent of environmental degradation in Butte and introducing a new, if not conclusive, way to measure it and the continuing efforts to clean it up. Her work marked the first time pet hair has been used to monitor toxins in a residential Superfund site.
Since then, the project has moved on to testing the hair of animals in Australia and Nairobi, and sampling the hair of animals bagged by hunters back home in Montana. Through taking samples at hunter check stations, they found far higher levels of metals in animals shot in the area around Anaconda, once home to a huge smelting operation.
The Auditor, as it turned out, inspired Peterson on several levels. She was the one behind the effort to install statues of him — created by a Texas sculptor — at several locations around town, including the one she showed me at the Butte Plaza Mall.
It's made of bronze, with a copper patina that has worn off in spots from people petting it. Most of funding for the sculpture came from a California couple, who read of The Auditor in a Puli Club of America newsletter.
Peterson's hope was that The Auditor — after his death on Nov. 19, 2003 —  would become a mascot for Butte, or a mascot for environmental causes, that his legacy would serve as inspiration to others, and as a reminder to not abandon pets, or abuse the planet.
What she wasn't planning on was her own little Auditor.
Living with her 86-year-old mother, she didn't see a dog fitting into her life.
But after publicity about The Auditor, and connecting with the Puli Club, she started getting emails when a Puli would show up at a shelter in need of rescue.
That's how, three years ago, she ended up with Birke-Beiner.
"I couldn't pass him up when I saw the picture of him," Peterson said.
Birke-Beiner, who earlier in the day had gone to a Halloween Party — as a basket of yarn — came along on our trip to the mall, much of which he spent draped over Peterson's shoulder, looking something like a Lady Gaga fashion accessory.
Peterson says some people call him Little Auditor, but Birke is his own dog — playful, people-friendly and, one gets the impression, destined to live a happy and non-toxic life, far away from a giant hole in the ground known as the Berkeley Pit.
Posted by John Woestendiek November 2nd, 2010 under Muttsblog.
Tags: abandoned, animals, arsenic, auditor, berkeley pit, butte, contamination, dog, dog's country, dogs, dogscountry, environment, epa, hair, history, holly peterson, levels, memorial, metals, miners, mining, mining waste, montana, montana resources, montana tech, pets, puli, puli club of america, research, science, site, statue, stray, superfund, testing, tests, the auditor, toxic, travels with ace

Comments: 12
Hartz Mountain Corp. has issued a voluntary recall of nearly 75,000 bags of dog treats because of concerns about salmonella.
The U.S. Food and Drug Administration detected the presence of salmonella organisms in one or more 8-ounce bags of Hartz Naturals Real Beef Treats during random testing.
The company, based in Secaucus, New Jersey, has not received any reports of animals or people becoming ill as a result of contact with the treats, and is investigating the source of the contamination.
The affected treats are stamped with the lot code BZ0969101E, according to the FDA.
Dog owners who have purchased the recalled treats should immediately throw them away, and the FDA advises dog owners whose pets are exhibiting fever, diarrhea, abdominal pain and nausea to seek veterinary assistance.
Consumers with questions regarding the recall should contact Hartz at 1-800-275-1414. You can read the company's press release about the recall here.
Posted by John Woestendiek September 7th, 2010 under Muttsblog.
Tags: alert, animals, consumer, dog, dog treats, dogs, fda, hartz, hartz naturals, health, lot code, naturals, news, pets, press release, random, recall, recalled, safety, salmonella, symptoms, testing, treats, u.s. food and drug administration, voluntary, warning

Comments: none
The proposal to establish a DNA database of every dog who resides in Baltimore's Scarlett Place Condominiums — all in hopes of figuring out who's not picking up their dog's poop — appears to have been dumped.
At a meeting of the condo's board this week, the proposal was tabled and the decision was made to to pursue more "realistic and acceptable" alternatives.
While the meeting was closed to the public, a resident correspondent reports on the Baltimore Sun's Unleashed blog that the board chairman said that other alternatives to finding the culprit would receive further study.
Under the proposal, every dog in Scarlett Place would have had to provide a DNA sample. Any unpicked-up poop found at the building would then be sent to an out of state laboratory for comparison. The owner of the dog linked to the poop would then face fines.
Unleashed author Jill Rosen wrote that, after breaking the story, she was originally invited to attend the meeting, but uninvited when the story developed legs, appearing in publications and on websites across the globe, thereby, in my view, bringing the luxury condominium the embarassment it deserved.
Richard Hopp, a Scarlett Place resident, reported to Unleashed that the condo board, in a standing room only meeting, "tabled the proposal." Not a single resident spoke in favor of it, he said, and the board member who came up with the idea wasn't present.
"For what it is worth, my take on this is that the board members realized they had really 'stepped in it' with their doggy DNA proposal," Hopp reported, "and in order to save face, they tabled the matter, rather than just vote it down and move on…"
Posted by John Woestendiek May 21st, 2010 under Muttsblog.
Tags: analysis, animals, baltimore, board, condominium, database, dna, feces, inner harbor, laboratory, litter, news, not picked up, ohmidog!, pets, poop, proposal, richard hopp, sample, scarlett place, testing, unleashed, unscooped, waste

Comments: none
DNA testing, which may have its place in crime solving — not to mention pinpointing your baby daddy — is increasingly being considered around the world as a way to nab dog owners who fail to pick up poop.
Now, in addition to government bodies from Germany to Israel, a ritzy Baltimore condominium is considering using the technology to help track down the owners of the dog or dogs who are not being picked up after.
Some residents of the Scarlett Place Condominiums are so steamed by dog poop — at least some of which is being deposited indoors — they're willing to watch thousands of dollars be spent in an effort to figure out whodunit or, more appropriately, whodroppedit.
Under the condo board's proposed plan, all dogs in the building would be swabbed for DNA testing to create a database. Dog owners would pay $50 each to cover the costs of tests, and an additional $10 per month for the cost of having building staff pick up wayward piles of poop.
The staff would then send the samples to BioPet Vet Lab, a Tennessee-based company, which would compare the mailed-in samples to those in the dog poop database.
When the company is able to identify the owner of the dog whose poop was not scooped, that owner would pay a $500 fine.
"We pay all this money, and we're walking around stepping in dog poop," resident Steven Frans, the board member who proposed the plan, told the Baltimore Sun. "We bring guests over and this is what they're greeted by."
The Scarlett Place condo board is expected to make a decision later this week.
I, for one, would not want to live in a complex whose management, or for that matter, a city whose government, is so anal that it  goes around collecting dog poop and sending it in for analysis.
Such a program is underway, on a trial basis, in the city of Petah Tikva, a suburb of Tel Aviv in Israel, and other jurisdictions in Europe, as well as New York City, have considered it.
As for the Scarlett Place Condominiums, perhaps a cheaper route would be to hire a poop picker upper, adding that service to what its website describes as its "a plethora of desirable amenities."
"Entering the lobby, you will be greeted by one of the Front Desk attendants who will take care of your packages, guests, concerns, and deliveries. Attendants are on duty 24 hours a day … A full service, recently remodeled health club is available 24 hours a day and a spectacular indoor pool is at your disposal complete with magnificent walls of glass overlooking The Inner Harbor and Scarlett Place Condominiums courtyard."  
Meanwhile, if they pursue testing dog poop for DNA, I'm wondering what the more-money-than-they-know-what-to-do-with condo board's next initiative will be: Establishing a database of their human residents so they can ascertain who's wiping boogers on the elevator walls?
Posted by John Woestendiek May 18th, 2010 under Muttsblog.
Tags: analysis, analyze, animals, baltimore, bipet vet lab, board, collect, condo, condominium, database, dna, dna testing, dogs, exclusive, feces, fines, germany, inner harbor, israel, luxury, news, ohmidog!, pets, poop, samples, scarlett place, scoop, steven frans, stool, testing, tests, teting, waste, waterfront

Comments: 6