Tag: tests
You'd think Brian Andrews, as an investigative reporter at CBS News in Miami, would have plenty of legitimate and important issues to pursue — given all the land-raping, government corruption, injustice, drugs and sleaze the state of Florida has to offer.
Instead, he took his investigative skills inside a dog's mouth. And he discovered there were germs in there.
News flash? Not exactly. We present it here not because it's breaking news, but because it's a good example of broken news — the kind of dopey reports that are increasingly common these days as TV news outfits, like newspapers, and websites, opt for quick and easy, crowd-scaring or crowd-pleasing, stories, then do their best to hype, tease and sensationalize them.
To determine whether you should let your dog lick your face, Andrews, a member of the station's "special projects" team, gathered saliva samples from dogs in Fort Lauderdale and West Palm Beach and sent them to a lab to be tested, as part of the station's continuing series called "How Dirty Is It?"
He was trying to determine if the adage nobody believes in the first place — the one about a dog's mouth being a pristinely clean place — was really true.
We all know, or should, that there are going to be germs in a dog's mouth, based simply on the sort of things that go in there. We also know, or should, that there are also plenty of germs in our own.
Upon completion of the doggy saliva tests, Nova Southeastern University microbiologist Dr. Julie Torruellas-Garcia concluded, "There was quite a bit of bacteria that grew from the dogs' mouths."
Based on the cultures grown in the lab from the samples, she said, there was "evidence of Nyceria, which is linked to STDs, pneumonia and plaque."
"While our testing did not reveal the presence of any e-coli or bacteria that could cause a staph infection, Dr. Torruellas-Garcia and her students found globs of other microbes," the news report said.
"You may want to think twice," the report reads, "before you and your dog exchange siliva." (We're pretty sure they meant saliva.)
After raising fears about mouth to mouth contact with dogs, Andrews, in a complete turnaround, goes on to present a veterinarian who said kissing your dog isn't all that dangerous. West Palm Beach Veterinarian Ken Simmons said any bacteria in a dog's mouth doesn't stay there for long.
"In the end, the testing didn't reveal anything out of the ordinary," the story reports.
So the point of it all was …?
Yes, the canine mouth, like the human mouth, is a breeding ground for germs. (Perhaps a more interesting story approach would have been if Andrews swabbed inside his own mouth, and compared the germs he might be carrying behind his own well-flossed grill with those of dogs.)
And, yes, dogs can pass on illnesses to us, and vice versa.
But spare us the scare tactics, news guys. Stop wasting our time by telling us the obvious, because, obviously, we already know that. And don't bad-mouth dogs, no matter how bad their mouths are.
Posted by John Woestendiek May 15th, 2014 under Muttsblog, videos.
Tags: adage, bacteria, breaking news, brian andrews, broken news, dog, dogs, fear, germs, health, investigative, kiss, kisses, kissing, lab, laboratory, lick, licking, licks, manipulation, mouth, news, news media, reporter, reporting, saliva, scare tactics, special projects, television, tests, tv, zoonosis, zoonotic

Comments: 1
For the second time in less than a year, someone is scattering what are suspected to be poisoned meatballs in a San Francisco neighborhood in an apparent attempt to murder dogs.
A San Francisco animal control officer Saturday found 34 meatballs scattered around the Twin Peaks neighborhood, where a similar incident occurred last year.
The meatballs were placed along curbs and in hedges and bushes, where they're more likely to be sniffed out by dogs and less likely to be spotted by humans.
"These were incredibly well-hidden," Lt. Denise BonGiovanni said.
An animal control officer was sent to search the area near Crestline Drive and Parkridge Drive Saturday after a resident called Friday to report finding fragments of suspicious meatballs.
The officer found 34 pieces of raw meat containing something solid. A 35th ball of meat was turned over to the officer by a resident who picked it up before her dog could eat it, the San Francisco Chronicle reported.
The meatballs have been turned over to the San Francisco Police Department for testing.
"They look very similar to the ones found last year," BonGiovanni said.
Last July, a 7-year-old dachshund died and another dog was sickened after eating meatballs the police believe were filled with strychnine.
No arrest was made in the case.
Since last week's incident, the city's Animal Care and Control staff have posted more than 50 warning signs in the neighborhood. Residents of the neighborhood are being advised to keep their pets inside, or keep them on a short leash when walking.
"If your dog picks up anything and starts to eat it, I wouldn't waste time, I would take it to a vet," BonGiovanni said. "We haven't confirmed it's poison but it's not worth taking chances."
San Francisco police are asking anyone with information that could help the investigation to call their anonymous tip line at (415) 575-4444.
(Photo: Provided by San Francisco Police Department)
Posted by John Woestendiek February 25th, 2014 under Muttsblog.
Tags: analysis, animal control, animals, crestline, dogs, health, hidden, investigation, meatballs, neighborhood, officer, parkridge, pets, poison, safety, san francisco, scattered, strychnine, tests, twin peaks, warning

Comments: 2
I'm a big fan of dogs, and not a fan of dentistry at all, so as you might expect I've got some problems with dogs being used to test out dental implants, in hopes of making better and safer ones for humans.
Especially considering that dogs are suffering and dying in the process, as The Humane Society of the United States  says is the case at Georgia Regents University.
The HSUS last week released this report, containing undercover footage obtained during its three-month-long investigation at GRU. The experiments lead to two questions in my mind.
First, since the research is supposed to benefit humans, why not use humans for the tests? I'm sure there are  plenty of people who are in need of dental implants and who, unable to afford them, might be willing to volunteer. I myself might take the risk, assuming that the researchers don't insist on killing me afterwards to get a sample of my jawbone.
And that's question number two: Why is it necessary to kill a dog after he's already made an unwilling contribution to science — or at least a contribution to us humans being able to have gap-free permanent false teeth and not having to mess with things like denture adhesives?
As one dentist told the Humane Society, it's not.
"In the two studies I reviewed, human research subjects could have been used, given that the products were already approved by the Food and Drug Administration and bone biopsies are commonly done in human studies," said James P. Jensvold, DDS.
"Animals used in research are often 'sacrificed' at the end of the study, and this is accepted as standard practice without taking into consideration the unnecessary emotional and physical suffering that the animals must endure," Jensvold added. "As a dental student and oral and maxillofacial surgery resident, I witnessed laboratory animals being treated as little different than a test tube, which is inconsistent with the values of compassionate healthcare."
"Dogs don't need to die for frivolous dental experiments," said Wayne Pacelle, HSUS president and CEO. "It's painful to watch these forlorn dogs sacrificed for these questionable purposes…"
If you tend to distrust dentists, and Wayne Pacelle, perhaps you'll believe actress Kim Basinger, who narrates the HSUS report:
"GRU buys dogs from a Class B dealer who's under federal investigation," she notes. "Dogs like Shy Guy, along with others, who may have been famiily pets, were all used for unnecessary dental experiments. Their teeth were pulled out and replaced. It's very painful, just look into their eyes."
(Dogs used in the experiments, after having their teeth removed, are given a canine version of dental implants, not human ones, like you find in those freakish — to me, anyway — ads for Pedigree Dentastix.)
The HSUS investigator witnessed dogs having  their teeth pulled out and replaced with implants. Once the experiments were over, the dogs were euthanized for a small sample of their jaw bone. GRU has been conducting dental implant research on random-source Class B dogs for years.
There are only six random-source Class B Dealers still active in the U.S. They are permitted to gather dogs and cats from various sources, including auctions, "free to good home" ads, online sources, flea markets, and even animal control and some shelter facilities — and resell them to research facilities. There have been cases of stolen pets ending up in research laboratories via ClassB dealers, the HSUS says.
The dealer who sold the dogs to GRU, Kenneth Schroeder, has previously been charged by the U.S. Department of Agriculture with violations of the Animal Welfare Act, including obtaining dogs from unauthorized sources, according to the HSUS.
Dr. Mark Hamrick, Senior Vice President for Research at Georgia Regents University, issued the school's response to the HSUS allegations:
"As an institution, we are committed to research that will provide a direct benefit to patient lives by restoring function to damaged and diseased organs and tissues … The Food and Drug Administration, which provides oversight for medical device safety and procedures including dental implants, requires preclinical studies in animals demonstrating that the device or procedure is both safe and effective for its intended use in humans … The research being done with dogs is neither frivolous nor unnecessary, as alleged by the investigation, and is performed in order to develop safe, effective dental procedures for people."
The HSUS says the studies are being done at the university in part to compare a dental implant invented by researchers at GRU, in conjunction with a private company, with that of a competitor.
According to the HSUS, 65,000 dogs per year are used for research, testing, and education in the U.S.
Posted by John Woestendiek November 25th, 2013 under Muttsblog, videos.
Tags: animal welfare, animals, class b, dealers, dental, dentist, dentistry, dogs, experiments, georgia regents university, gru, humane society of the united states, humans, implants, investigation, kim basinger, laboratory, medicine, pets, random source, science, teeth, tests, undercover, video

Comments: 2

Didja hear the one about the blonde Fox News anchorwoman who took her golden retriever to get an IQ test?
While that has all the ingredients for a pretty good joke, it's actually the basis of a pretty informative news report, in which Fox 8′s Katie Nordeen brought her dog Louie to Duke University scientist Brian Hare to find out just exactly what type of dog genius he — Louie, not Dr. Hare — is.
Hare, co-author of "The Genius of Dogs," is the founder of Dognition, a research firm that puts dogs through a series of science-based games designed to assess their personality type — information that Hare says can help dog owners better understand their dogs.
Users of the service (it costs $39) don't get to bring their dog to Hare, as Nordeen did, but get a "toolkit" and instructions on how to conduct the experiments in their own homes.
The experiments measure five dimensions: cunning, empathy, communication, reasoning and memory, and by virtue of the results, dogs are judged to be one of nine types –  Ace, Maverick, Charmer, Socialite, Protodog, Renaissance Dog, Expert, Stargazer, or Einstein.
Customers, after submitting their test results, receive a full report explaining their dog's type, and how the conclusion was reached.
Louie, for example, was found to be a socialite.  (You can read Dognition's full report on Louie here.)
"… Gracefully interacting and communicating with others requires talent. In Louie's case, she takes this talent to a whole new level – it is definitely her genius. Although Louie is not as adept at independent problem-solving skills as other dogs, don't jump to any conclusions about her intelligence. Louie relies on a very specific strategy – using you and other humans in her pack to get what she wants."
(Yes, they got Louie's sex wrong in the report, but they are personality experts, not gender experts.)
Cutsomers also have the option of becoming members of Dognition (for an additional $60 for a year, or $5 a month), entitling them to receive tailored training tips and activities and get a discount for testing additional dogs.
Hare says Dognition, established last year, is proving popular, with thousands of users from around the world.
"Everybody wants to understand what's going on inside of a dog's head. It has not been hard to get people excited about this."
After visiting Dognition's lab in Durham for the FOX8 report,  Nordeen continued conducting the experiments at home over the next two weeks. Once submitting her findings, the results were delivered, by email, almost instantly.
Hare says the purpose of Dognition is to enrich people's relationships with their dogs, but it, like his book, is also aimed at showing the public how truly brilliant dogs are.
"Dogs were thought to be totally unremarkable. There were really no interesting things they could do relative to say dolphins or bonobos, so people were focusing on these other animals," he said. "But at our feet, literally, were geniuses that had been undiscovered … What makes dogs such geniuses is that, relative to other species, they're really skilled, really flexible, in understanding what it is we want and what we're trying to tell them."
The Dognition tests, in their at-home version, may not be the hardest of science, and their results may not be irrefutable. But given the firm's stated goals, given the not entirely exorbitant price tag, and given that they're fun and result in people spending more time with their dogs, I think they have a place in the spectrum of doggie evaluation services.
If people are willing to pay more than $100 to determine what breeds are in their dogs, through DNA testing, $39 doesn't seem like too much to pay to assess that dog's personality — and may even provide more telling clues into what makes them tick.
I haven't run my dog Ace through the online Dognition drill yet, in part because I think his genius is too vast to be measured and could forever skew Dognition's data base, in part because I already know he's a charmer, with shades of socialite and Einstein. But Nordeen's report answered a lot of questions I had about the service, and one of these days, I'll give it a try.
We'll close with some bloopers, courtesy of Fox 8, that occured while Nordeen and Louie were taping a promo for the piece — none of which, I'm sure, had anything to do with them being blond:
Posted by John Woestendiek November 11th, 2013 under Muttsblog, videos.
Tags: ace, animals, blondes, bloopers, brian hare, Charmer, cognition, communication, cunning, dog personality, dognition, dogs, duke, duke university, Einstein, empathy, experiments, expert, fox 8, fox news, games, genius, iq, katie nordeen, louie, Maverick, media, memory, news, personality, pets, Protodog, reasoning, Renaissance Dog, Socialite, Stargazer, tests, the genius of dogs

Comments: none
Seventy-five years after his death, scientists say they have determined what killed Hachiko, the legendary Akita whose story has been immortalized in his native Japan and the rest of the world.
Japan's most famous dog — though rumors have persisted for decades that worms did him in, or that he swallowed a chicken skewer that ruptured his stomach — had heart and lung cancer, scientists now say.
Hachiko became legendary for the loyalty he showed by waiting for his owner every day at a train station — for 10 years after his master died.
Hachiko died in 1935 at the age of 13. After his death, researchers at what is now the University of Tokyo performed an autopsy on Hachiko's body and discovered roundworms in his heart and liquid collected in his abdomen.
Using more sophisticated tests like MRI's,  the Mainichi Daily News reports, a team of scientists at the University of Tokyo team analyzed Hachiko's preserved organs and discovered large cancers in the heart and lungs. They speculated that the cancer may have spread from the lungs to the heart. Hachiko also had filariasis (a worm-caused diseased), and it's possible that could have caused his death as well, said professor Hiroyuki Nakayama, part of the research team.
Hachiko's preserved organs are displayed at a University of Tokyo resource center in Bunkyo Ward, Tokyo, along with a bust of his owner. A "stuffed" Hachiko is also on display at the National Museum of Nature and Science in Tokyo's Taito Ward. A statue of Hachiko was erected in his honor at Shibuya Station.
Hachiko accompanied his owner, a university professor named Eisaburo Uyeno, to the train station every day and watched him leave for work. Every evening the dog would be waiting for him when he returned. When Uyeno died, Hachiko continued going to the train station every day to wait for his master for about ten years.
The legend has been told in numerous forms in the 75 years since, most recently as a childrens' book and a 2009 movie remake, re-set in Rhode Island, starring Richard Gere.
Posted by John Woestendiek March 2nd, 2011 under Muttsblog.
Tags: akita, animals, cancer, cause of death, death, dog, dogs, eisaburo, hachiko, heart cancer, japan, japanese, legends, loyalty, lung cancer, medical, news, pets, professor, research, roundworms, science, shibuya, tests, train station, ueno, university of tokyo, uyeno, veterinary

Comments: 6
Given the endlessly rising popularity of dogs, and our increasing emotional attachment to them, medical researchers who use them for experiments can expect stronger and growing opposition to the practice from the public, a leading expert in canine-human interaction told a conference at Johns Hopkins University this week.
James Serpell, director of the Center for the Interaction of Animals and Society at the University of Pennsylvania School of Veterinary Medicine, was the keynote speaker at a conference sponsored by the Center for Alternatives to Animal Testing at the Bloomberg School of Public Health.
The 30-year-old, non–profit center promotes humane science by supporting the creation, development and use of alternatives to animals in research, product safety testing, and education. It seeks ways to replace animals with non-animal methods, reduce the numbers of animals necessary, or refine methods to make them less painful or stressful to the animals involved
Serpell and other speakers both pointed out that after decades of declining, the use of dogs in medical research has increased in the last couple of years.
U.S. Department of Agriculture figures show that the number of dogs used in medical research and testing dropped from 200,000 in 1973 to 66,000 in 2007, said Tanya Burkholder, chief of the Small Animal Section at the National Institutes of Health. Now, she said, the number has risen to about 75,000 a year.
Much of the increase is likely a result of advancements in, and the promise of, gene therapy.
Dogs have always been a valuable research model for scientists, going as far back as Aristotle's day. Their size, physiology and cooperative behavior have made them convenient models for scientists, who, like Pavlov's dog, grew conditioned to using them in experiments.
While public opposition to subjecting dogs to medical experiments resulted in the practice dwindling in recent decades, the use of dogs has crept up again in the last two years due to advances in molecular biology, genetics and the sequencing of the canine genome.
Because dogs get about 220 of the same inherited diseases and disorders that humans do — including Alzheimer's, muscular dystrophy, hemophilia and retinal degeneration – medical researchers are able to study the underlying genetic defects and, through dogs, seek cures.
This means dogs are being bred to be born with the diseases in colonies at U.S. universities and research institutes and, in the case of South Korea, cloned to be born with the diseases.
No one at the conference went so far as to suggest a halt to using dogs in research, but Serpell warned that the practice does come with risks, and a price.
Dogs evoke protective and nurturing instincts in people, and those have grown stronger as the dog-human relationship has evolved — to the point that dogs are viewed more as family members than family pets. Public opposition to the laboratory use of dogs has continually grown in the last few decades.
Researchers need to be cognizant not just of society's strong feelings about dogs, but also about dog's strong feelings for humans, Serpell said.  "Many dogs undergo severe distress when contact with a human is limited or thwarted. We don't give that regard sufficient credence," he said.
The stronger attachment to dogs is in part due to breeders focusing on creating animals for purposes of human companionship, unlike in the past when they were bred for the work they could do. Serpell noted that baby-like features, for one thing, appeal to humans.
Showing photos of dogs, Serpell pointed to one and said, "This animal looks like it was invented by Walt Disney."
Our attraction to dogs stems too from the fact that they make eye contact with humans more than any other species, and studies have shown that petting, or even looking, at a dog increases our levels of oxytocin.
"These dogs are turning us on by looking at us," he said.
Our evolving closeness to dogs has implications for the laboratory, he noted, and perhaps all of society.
Serpell pointed to commentator Tucker Carlson's recent statement that dogs are the social equals of humans, and that therefore Micheal Vick should have been executed for killing them.
"Lots of people feel the same way," he said.
Posted by John Woestendiek January 13th, 2011 under Muttsblog.
Tags: beagle, caat, canines, center for alternatives to animal testing, cures, disease, dog, dog lovers, dogs, experiments, genes, genetics, humane, james serpell, johns hopkins university, laboratory, love, medcial, medical, opposition, oxytocin, pain, pavlov, products, research, rising, school, stature, status, stress, tests, therapy, treatment, university of pennsylvania, veterinary

Comments: 1
Once upon a time in Butte, in a huge and barren expanse of waste that's part of the nation's largest Superfund site, there lived a dog.
Nobody knows how he got there, why he stayed, or how he managed to remain alive in the toxic confines of what's known as the Berkeley Pit. But live he did, for 17 years — during times of active mining, during its suspension, during its limited restart, during the ongoing clean-up effort and right up until the pit transitioned into one of the country's oddest tourist attractions.
He just showed up, back in 1986. Once miners figured out that the ghostly white image in the distance was a dog, they named him "The Auditor," because of his tendency to appear when he was least expected.
With matted ropes of white hair covering his legs, The Auditor — a Puli — sometimes appeared to be hovering when he moved, and he seemed to want nothing to do with humans. The miners would leave him food, and build him a house, and even started sticking baby aspirin in his food when they noticed he was limping, but The Auditor was mostly unapproachable up until the end.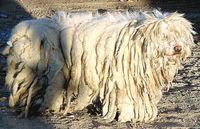 He died peacefully in his dog house in 2003, but The Auditor – like mining – would leave a legacy. His name would live on — in statues, in science, and as a symbol for, well, lots of things.
Appropriately enough, for a mining site in the midst of a massive EPA clean-up that will continue for generations, The Auditor had a coat like a mop.
His yellowing dreadlocks covered his eyes, too, limiting his vision – similar to the blind eye Montana once turned to the environmental havoc mining would wreak on and beneath its landscape.
But perhaps more than anything else, the mysterious white dog became a metaphor for Butte, and its ability to survive hard times — of the hardy stuff of which Montanans are made.
Butte's still kicking — though not the way it once kicked. It's about a third of the size it was in its heyday.  Once called the "Richest Hill on Earth" for its massive copper deposits, Butte in the early 1900s, boasted a population of 100,000.
When the mines shut down by 1982, Butte was left economically crippled and environmentally contaminated. Piles of mine waste and years of smoke from smelters contaminated the land and water around Butte with arsenic, mercury, lead and other metals.  
In the 1980s, the Berkeley Pit and Butte's historic Uptown District were declared a Superfund site — one that extends 130 miles downstream due to tailings that settled along the Clark Fork River.
The Auditor lingers too. After the local newspaper brought him to the public's attention in 2003, a campaign began to honor him with a series of statues, three of which now sit in various locations around town, honoring him not for any heroics, but solely for staying alive in a place where not much does.
Berkeley Pit lies just a few blocks from the center of Butte. It stretches a mile-and-a-half across and is almost 2,000 feet deep. Barren soil surrounds a lake laden with heavy metals. In 1995, a flock of migrating geese landed in the water. The next morning 342 were found dead.
How The Auditor managed to survive all that time is as mysterious as the dog himself. Maybe his rope-like locks, instead of soaking in the toxins, kept them from reaching his skin. Maybe the toxins weren't as toxic as thought. Maybe, as dogs do, he adapted to them. The only company still in operation at the site — after mourning his loss — had The Auditor cremated.
Normally, that would slam the door shut on the mystery — but Holly Peterson already had her foot in it.
Peterson, an environmental engineer at Montana Tech in Butte, saw the article about The Auditor — 16 years old by then — in 2003. It tugged at her heartstrings as well as her scientific curiosity.
"How can that not touch you?" she said over the weekend, sitting in her office, which is decorated with photos of The Auditor. "I kept wondering, how can that thing survive? With all the contamination in Butte, I started thinking, how can we study that in a different way?"
With her students, she began getting samples of hair from dogs in Butte and the surrounding areas, and when she ran into an official from the mining company, Montana Resources, at a presentation, she asked about getting a sample from The Auditor.
The Auditor was first seen roaming the mine in 1986, the year Montana Resources started its operations. The company, due to plunging copper prices, shut down operations there in 2000, leaving only a skelton crew, but reopened in 2003.
After getting permission from the company, Peterson went to the site, where a mining company employee, wearing gloves, approached The Auditor, on his last legs by then, and snipped off a few locks of hair.
"You could tell he just wanted us to leave him alone," Peterson said.
Tests on the sample in July of 2003 revealed "elevated levels of almost every element imaginable," Peterson said, including 128 times the amount of arsenic in a typical dog's hair.
Peterson's research project would expand from there, shedding new light on the extent of environmental degradation in Butte and introducing a new, if not conclusive, way to measure it and the continuing efforts to clean it up. Her work marked the first time pet hair has been used to monitor toxins in a residential Superfund site.
Since then, the project has moved on to testing the hair of animals in Austrialia and Nairobi, and sampling the hair of animals bagged by hunters back home in Montana. Through taking samples at hunter check stations, they found far higher levels of metals in animals shot in the area around Anaconda, once home to a huge smelting operation.
The Auditor, as it turned out, inspired Peterson on several levels. She was the one behind the effort to install statues of him — created by a Texas sculptor — at several locations around town, including the one she showed me at the Butte Plaza Mall.
It's made of bronze, with a copper patina that has worn off in spots from people petting it. Most of funding for the sculpture came from a California couple, who read of The Auditor in a Puli Club of America newsletter.
Peterson's hope was that The Auditor — after his death on Nov. 19, 2003 —  would become a mascot for Butte, or a mascot for environmental causes, that his legacy would serve as inspiration to others, and as a reminder to not abandon pets, or abuse the planet.
What she wasn't planning on was her own little Auditor.
Living with her 86-year-old mother, she didn't see a dog fitting into her life.
But after publicity about The Auditor, and connecting with the Puli Club, she started getting emails when a Puli would show up at a shelter in need of rescue.
That's how, three years ago, she ended up with Birke-Beiner.
"I couldn't pass him up when I saw the picture of him," Peterson said.
Birke-Beiner, who earlier in the day had gone to a Halloween Party — as a basket of yarn — came along on our trip to the mall, much of which he spent draped over Peterson's shoulder, looking something like a Lady Gaga fashion accessory.
Peterson says some people call him Little Auditor, but Birke is his own dog — playful, people-friendly and, one gets the impression, destined to live a happy and non-toxic life, far away from a giant hole in the ground known as the Berkeley Pit.
Posted by John Woestendiek November 2nd, 2010 under Muttsblog.
Tags: abandoned, animals, arsenic, auditor, berkeley pit, butte, contamination, dog, dog's country, dogs, dogscountry, environment, epa, hair, history, holly peterson, levels, memorial, metals, miners, mining, mining waste, montana, montana resources, montana tech, pets, puli, puli club of america, research, science, site, statue, stray, superfund, testing, tests, the auditor, toxic, travels with ace

Comments: 10