Tag: toxic
Pentobarbital, part of the cocktail administered to dogs, cats and sometimes horses to euthanize them, continues to show up in dog food.
How that happens — and why it is allowed to — are questions raised in an investigative report last week by WJLA in Washington.
The station teamed up with Ellipse Analytics, a lab that specializes in testing food for contaminants,
In testing 62 samples of wet dog food, across more than two dozen brands, one brand came back positive for for the euthanasia drug pentobarbital. Nine of 15 cans of Gravy Train showed non-lethal levels of the drug.
Under federal law, no concentration of pentobarbital is permitted in pet food. WJLA reported the FDA didn't initially seem too interested about its findings.
The agency declined requests for an on-camera interview, and referred the station to the Pet Food Institute — the trade organization that represents the pet food industry. Further requests for information from the FDA were met with the response that it will "investigate the matter and take appropriate enforcement action."
It's not the first time pentobarbital has been found in dog food.
About a year ago Evanger's recalled some lots of its "Hunk of Beef" canned dog food after it was found to contain the sedative.
The company said at the time that the meat in question came from a cow rendered by a supplier, but, as WJLA reported, federal law does not allow use of the toxin to kill animals that are part of the food supply.
Gravy Train is made by Big Heart Pet Foods and owned by Smucker's.
Big Heart Brands is also the maker of Meow Mix, Milk Bone, Kibbles'n Bits, 9 Lives, Natural Balance, Pup-Peroni, Gravy Train, Nature's Recipe, Canine Carry Outs, Milo's Kitchen, Alley Cat, Jerky Treats, Meaty Bone, Pounce and Snausages.
Dr. Nicholas Dodman, chief scientific officer for The Center for Canine Behavior Studies and former director of the Animal Behavior Program at Tufts University, said even non-lethal amounts of the drug should be a concern.
"Whether it's doing something or nothing, what's it doing there? Where did it come from? If they don't like the explanation that it's coming from animals that have been euthanized, what is their explanation as to how it gets in?" asked Dodman.
Smucker's declined WJLA's request for an on-camera interview, but issued a statement saying, "We launched and are conducting a thorough investigation, including working closely with our suppliers, to determine the accuracy of these results and the methodology used."
Most believe pentobarbital, when it shows up in dog food, is a result of euthanized animals being blended into food by those who render the carcasses.
That, in itself is against federal laws that prohibits the use in both dog and human food of any animals that have not been slaughtered. Using euthanized animals is prohibited.
As Susan Thixton, a pet food consumer advocate told the station, "Billion dollar a year companies are making profit selling illegal adulterated products to unknowing consumers in the U.S. every day."
She added, "The FDA tells industry 'Yeah, it's a violation of law, but go ahead, we're not going to do anything,'" said Thixton.
Posted by John Woestendiek February 13th, 2018 under Muttsblog, videos.
Tags: big heart pet foods, canned, cats, dog food, dogs, drug, euthanasia, euthanize, euthanizing, evangers, fda, gravy train, horses, investigation, livestock, non-lethal levels, pentobarbital, pet food, rendering, slaughter, smucker's, suppliers, toxic

Comments: none
To thank its loyal customers, the UK supermarket chain Sainsbury's sent complimentary chocolates through the mail to holders of the store's reward card.
Now, it's hearing back from some customers who are feeling less than rewarded — and who are "thanking" Sainsbury's (sarcastically) for poisoning their dogs.
As anyone who receives their mail through a slot in their door knows, dogs are generally curious — and not above tearing into — anything the postal carrier delivers that looks or smells interesting.
As most dog owners know (or should) chocolate can be toxic to dogs.
So, thoughtful as it might seem delivering unsolicited chocolates — a selection of Green & Black's chocolate bars — was a lame-brained move that has now evolved into a public relations's nightmare.
A Sainsbury's spokesperson said the company was "extremely sorry for the distress caused," the BBC reported, and that it is investigating complaints "as a matter of urgency."
The spokesperson added, "We know chocolate is unsafe for pets to eat and that's why we had measures in place to safeguard against pet owners receiving this promotion."
The company didn't say what those safeguards were — only that "we are urgently investigating what went wrong."
Those whose dogs have fallen ill have taken to social media to express their rage.
Sarah Hayward's cocker spaniel Jarvis was rushed to the vet after he tore into the promotional box while she was at work.
"My parents, who came home to let the dogs out at lunchtime, found the empty packet on his bed … They realized it was chocolate and the second they called the vet they were told to rush him straight in. He was put on various drips to flush fluids down him to try and induce him to be sick and, yes, it was a bit of a worry".
"My eight month old puppy is currently having its stomach pumped and is being hospitalized at the vets this evening due to your utter foolishness, wrote another dog owner, Sammy Taylor. "I was out for less than two hours to return home and find three bars of dark chocolate devoured at my front doorstep and a very hyper puppy having heart palpitations … Chocolate is poisonous to dogs… it is well well known fact!"
Dan Dugdale, a 27-year-old designer from York, told The Daily Telegraph that he had arrived home on Monday to find his two two miniature dachshunds had eaten the contents of the package.
He said the two dogs were "completely hyper," and he and his partner rushed them to a vet's office, where the dogs were determined not to have had a significant negative reaction.
Dugdale said he's not a Sainsbury's rewards card holder and that the parcel was addressed to a previous occupant.
Photo: At top, Dan Dugdale's dachshund with the box of chocolates he tore into; lower, Sarah Hayward's cocker spaniel, Jarvis, who also became ill after eating the chocolates; Twitter)
Posted by John Woestendiek September 28th, 2017 under Muttsblog.
Tags: apology, bars, chain, chocolate, chocolate bars, complaints, complimentary, customers, delivery, dog, dogs, free, green & black's, grocery, ill, investigating, loyal, mail slots, mailed, outrage, poisoned, postal, rewards card, safeguards, sainsbury's, sickened, social media, toxic, treatment, uk, unsafe, veterinary, vets, warning, what went wrong

Comments: none
The Mumbai Blue Dogs may sound like a minor league baseball team, but they are real dogs who, thanks to chemicals dumped in a river in India, are really turning blue.
"Handfuls" of blue dogs — all strays — are appearing on the streets of Mumbai, local animal advocates report.
While we can't vouch for how authentic these photos are, or if they've been doctored, we can confirm that the news is real.
Jayavant Hajare, an officer with the Maharashtra Pollution Control Board told the Hindustan Times that five to six dogs entered an area along the Kasadi River that was cordoned off to the public and emerged with a blue cast to their fur.
Industrial waste is regularly dumped into the river in Mumbai, whose waters have long been deemed unfit for human consumption, but the latest surge in blue dog sightings has prompted animal advocates to urge the government to take action against companies.
The pollution control board says it is investigating.
"Allowing the discharge of dye into any water body is illegal. We will take action against the polluters as they are destroying the environment," a spokesman said.
The spokesman said one company, which uses a blue dye to make laundry detergent, has been given seven days notice to cease dumping the pollutant into the river.
Studies quoted in local newspapers show pollution levels in the area — home to nearly a thousand pharmaceutical, food and engineering factories — have risen to 13 times the "safe limit."
Last week, animal advocates officers took pictures of stray dogs who had turned blue and forwarded them to the pollution control board.
(News reports don't indicate the original source of the photo above, or the one at left, so it's not clear if they are photos supplied by the animal protection group. At least one news organization describe the photo at top as a "representational image.")
"It was shocking to see how the dog's white fur had turned completely blue," said Arati Chauhan, with the animal protection group. "We have spotted almost five such dogs here and have asked the pollution control board to act against such industries."
"We have only spotted blue dogs so far. We do not know if birds, reptiles and other creatures are affected or if they have even died owing to the dye discharged into the air," said Chauhan.
A flurry of news reports has called attention to the blue dogs in recent days, but they are not a new phenomenon.
Here's a photo that appeared in a 2013 entry on this travel blog. It was taken on what's known as Blue Dog Street.
Posted by John Woestendiek August 15th, 2017 under Muttsblog.
Tags: animals, blue, blue dog, blue dogs, changing, chemicals, color, dog, dogs, dumped, dyes, india, industrial, kasadi river, mumbai, pets, photos, pollutants, river, stray dogs, strays, toxic, turning, waste

Comments: none
Sierra, a West Highland terrier in Colorado, had 26 cents in her stomach.
But it was the single penny that killed her.
Owner Maryann Goldstein said Sierra was always attracted to change. As a puppy, the Westie swallowed 32 cents and had to have it surgically removed. In March, Sierra got sick again, and X-rays at the vet's office showed a quarter and penny in her stomach.
The smaller coin was the bigger concern.
Pennies minted after 1982 contain zinc, and that's toxic to dogs and cats, according to the American Veterinary Medical Association.
Dr. Rebecca Jackson, a staff veterinarian at Petplan pet insurance, told CBSNews.com that newer pennies are toxic because gastric acid from the pet's stomach reaches the zinc center, causing it to be absorbed in the body rapidly.
She said zinc interferes with red blood cell production, and the longer the exposure, the greater likelihood red blood cells will be destroyed. Symptoms of zinc toxicity include vomiting, diarrhea, lack of appetite, lethargy, red-colored urine or looking jaundiced.
"Be sure to bank your spare change before curious pets can get their paws on it," warned Jackson. "and if they do, get them to the emergency vet immediately."
Goldstein, who now wears Sierra's ashes in a heart-shaped container on a necklace, shared her dog's story with CBS in Denver as a warning to others.
Posted by John Woestendiek April 25th, 2013 under Muttsblog, videos.
Tags: 1982, after, animals, caution, colorado, contain, death, dogs, health, lethal, minted, pennies, penny, pets, safety, sierra, toxic, veterinary, warning, west highland terrier, westie, zinc

Comments: 1
Once upon a time in Butte, in a huge and barren expanse of waste that's part of the nation's largest Superfund site, there lived a dog.
Nobody knows how he got there, why he stayed, or how he managed to remain alive in the toxic confines of what's known as the Berkeley Pit. But live he did, for 17 years — during times of active mining, during its suspension, during its limited restart, during the ongoing clean-up effort and right up until the pit transitioned into one of the country's oddest tourist attractions.
He just showed up, back in 1986. Once miners figured out that the ghostly white image in the distance was a dog, they named him "The Auditor," because of his tendency to appear when he was least expected.
With matted ropes of white hair covering his legs, The Auditor — a Puli — sometimes appeared to be hovering when he moved, and he seemed to want nothing to do with humans. The miners would leave him food, and build him a house, and even started sticking baby aspirin in his food when they noticed he was limping, but The Auditor was mostly unapproachable up until the end.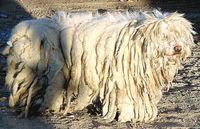 He died peacefully in his dog house in 2003, but The Auditor — like mining — would leave a legacy. His name would live on — in statues, in science, and as a symbol for, well, lots of things.
Appropriately enough, for a mining site in the midst of a massive EPA clean-up that will continue for generations, The Auditor had a coat like a mop.
His yellowing dreadlocks covered his eyes, too, limiting his vision — similar to the blind eye Montana once turned to the environmental havoc mining would wreak on and beneath its landscape.
But perhaps more than anything else, the mysterious white dog became a metaphor for Butte, and its ability to survive hard times — of the hardy stuff of which Montanans are made.
Butte's still kicking — though not the way it once kicked. It's about a third of the size it was in its heyday.  Once called the "Richest Hill on Earth" for its massive copper deposits, Butte in the early 1900s, boasted a population of 100,000.
When the mines shut down by 1982, Butte was left economically crippled and environmentally contaminated. Piles of mine waste and years of smoke from smelters contaminated the land and water around Butte with arsenic, mercury, lead and other metals.  
In the 1980s, the Berkeley Pit and Butte's historic Uptown District were declared a Superfund site — one that extends 130 miles downstream due to tailings that settled along the Clark Fork River.
The Auditor lingers too. After the local newspaper brought him to the public's attention in 2003, a campaign began to honor him with a series of statues, three of which now sit in various locations around town, honoring him not for any heroics, but solely for staying alive in a place where not much does.
Berkeley Pit lies just a few blocks from the center of Butte. It stretches a mile-and-a-half across and is almost 2,000 feet deep. Barren soil surrounds a lake laden with heavy metals. In 1995, a flock of migrating geese landed in the water. The next morning 342 were found dead.
How The Auditor managed to survive all that time is as mysterious as the dog himself. Maybe his rope-like locks, instead of soaking in the toxins, kept them from reaching his skin. Maybe the toxins weren't as toxic as thought. Maybe, as dogs do, he adapted to them. The only company still in operation at the site — after mourning his loss — had The Auditor cremated.
Normally, that would slam the door shut on the mystery — but Holly Peterson already had her foot in it.
Peterson, an environmental engineer at Montana Tech in Butte, saw the article about The Auditor — 16 years old by then — in 2003. It tugged at her heartstrings as well as her scientific curiosity.
"How can that not touch you?" she said over the weekend, sitting in her office, which is decorated with photos of The Auditor. "I kept wondering, how can that thing survive? With all the contamination in Butte, I started thinking, how can we study that in a different way?"
With her students, she began getting samples of hair from dogs in Butte and the surrounding areas, and when she ran into an official from the mining company, Montana Resources, at a presentation, she asked about getting a sample from The Auditor.
The Auditor was first seen roaming the mine in 1986, the year Montana Resources started its operations. The company, due to plunging copper prices, shut down operations there in 2000, leaving only a skelton crew, but reopened in 2003.
After getting permission from the company, Peterson went to the site, where a mining company employee, wearing gloves, approached The Auditor, on his last legs by then, and snipped off a few locks of hair.
"You could tell he just wanted us to leave him alone," Peterson said.
Tests on the sample in July of 2003 revealed "elevated levels of almost every element imaginable," Peterson said, including 128 times the amount of arsenic in a typical dog's hair.
Peterson's research project would expand from there, shedding new light on the extent of environmental degradation in Butte and introducing a new, if not conclusive, way to measure it and the continuing efforts to clean it up. Her work marked the first time pet hair has been used to monitor toxins in a residential Superfund site.
Since then, the project has moved on to testing the hair of animals in Australia and Nairobi, and sampling the hair of animals bagged by hunters back home in Montana. Through taking samples at hunter check stations, they found far higher levels of metals in animals shot in the area around Anaconda, once home to a huge smelting operation.
The Auditor, as it turned out, inspired Peterson on several levels. She was the one behind the effort to install statues of him — created by a Texas sculptor — at several locations around town, including the one she showed me at the Butte Plaza Mall.
It's made of bronze, with a copper patina that has worn off in spots from people petting it. Most of funding for the sculpture came from a California couple, who read of The Auditor in a Puli Club of America newsletter.
Peterson's hope was that The Auditor — after his death on Nov. 19, 2003 —  would become a mascot for Butte, or a mascot for environmental causes, that his legacy would serve as inspiration to others, and as a reminder to not abandon pets, or abuse the planet.
What she wasn't planning on was her own little Auditor.
Living with her 86-year-old mother, she didn't see a dog fitting into her life.
But after publicity about The Auditor, and connecting with the Puli Club, she started getting emails when a Puli would show up at a shelter in need of rescue.
That's how, three years ago, she ended up with Birke-Beiner.
"I couldn't pass him up when I saw the picture of him," Peterson said.
Birke-Beiner, who earlier in the day had gone to a Halloween Party — as a basket of yarn — came along on our trip to the mall, much of which he spent draped over Peterson's shoulder, looking something like a Lady Gaga fashion accessory.
Peterson says some people call him Little Auditor, but Birke is his own dog — playful, people-friendly and, one gets the impression, destined to live a happy and non-toxic life, far away from a giant hole in the ground known as the Berkeley Pit.
Posted by John Woestendiek November 2nd, 2010 under Muttsblog.
Tags: abandoned, animals, arsenic, auditor, berkeley pit, butte, contamination, dog, dog's country, dogs, dogscountry, environment, epa, hair, history, holly peterson, levels, memorial, metals, miners, mining, mining waste, montana, montana resources, montana tech, pets, puli, puli club of america, research, science, site, statue, stray, superfund, testing, tests, the auditor, toxic, travels with ace

Comments: 12
Investigators in Virginia are looking for the person who threw poison-spiked meatballs into the yards of at least three homes in Fairfax County, killing two dogs and making a third ill.
One of the fatalities in the Centreville neighborhood was a five-month-old pit bull puppy; the other, an adult West Highland terrier. The third was taken to a vet for treatment, NBC in Washington reported.
The meat was found around homes in the 15000 block of Olddale Road.
Fairfax County police haven't figured out what was in the meat, but they are warning all residents, especially those with children and small pets, to inspect their yards for anything suspicious.
Posted by John Woestendiek May 28th, 2010 under Muttsblog.
Tags: animals, centreville, dogs, health, killed, meat, meatballs, neighborhood, news, ohmidog!, pets, pit bull, poisoned, police, puppy, tainted, toxic, west highland terrier

Comments: 1
A pack of wild dogs roaming the outskirts of the Russian city of Yekaterinburg have taken on a green tinge, and authorities suspect it's from scavenging for food in a dump that may be contaminated with chemical waste.
The greenish dogs are among a pack of about 20 strays, believed to be former guard dogs.
"I go past those dogs every day," villager Alexei Bukharovsky told the Russian news agency RIA Novosti. "They are usually reddish … but then I saw, running along the white snow, an almost completely emerald dog. At first I thought someone had been playing a joke." 
A police spokesman told the news service that illegal dumping of chemical waste is probably to blame. The spokesman said local councils had been ordered to clean up the site.
You can see more photos here.
Posted by John Woestendiek December 17th, 2009 under Muttsblog.
Tags: chemical, color, dogs, dump, green, greenish, guard dogs, pack, photos, ria novosti, roaming, russia, russian, scavenging, strays, tinge, toxic, waste, wild, yekaterinburg

Comments: none