Tag: toxic
Sierra, a West Highland terrier in Colorado, had 26 cents in her stomach.
But it was the single penny that killed her.
Owner Maryann Goldstein said Sierra was always attracted to change. As a puppy, the Westie swallowed 32 cents and had to have it surgically removed. In March, Sierra got sick again, and X-rays at the vet's office showed a quarter and penny in her stomach.
The smaller coin was the bigger concern.
Pennies minted after 1982 contain zinc, and that's toxic to dogs and cats, according to the American Veterinary Medical Association.
Dr. Rebecca Jackson, a staff veterinarian at Petplan pet insurance, told CBSNews.com that newer pennies are toxic because gastric acid from the pet's stomach reaches the zinc center, causing it to be absorbed in the body rapidly.
She said zinc interferes with red blood cell production, and the longer the exposure, the greater likelihood red blood cells will be destroyed. Symptoms of zinc toxicity include vomiting, diarrhea, lack of appetite, lethargy, red-colored urine or looking jaundiced.
"Be sure to bank your spare change before curious pets can get their paws on it," warned Jackson. "and if they do, get them to the emergency vet immediately."
Goldstein, who now wears Sierra's ashes in a heart-shaped container on a necklace, shared her dog's story with CBS in Denver as a warning to others.
Posted by jwoestendiek April 25th, 2013 under Muttsblog, videos.
Tags: 1982, after, animals, caution, colorado, contain, death, dogs, health, lethal, minted, pennies, penny, pets, safety, sierra, toxic, veterinary, warning, west highland terrier, westie, zinc

Comments: 1
Using stainless steel salad tongs and simulated doggie drool, a Texas Tech researcher conducted tests on dog toys and determined some of them, under chewing-like conditions, leach chemicals that could harm dogs.
Phil Smith, an asssociate professor of terrestrial ecotoxicology — say that three times fast — presented his findings this week at the Society of Environmental Toxicology and Chemistry conference held in California.
Among the toys tested, the worst offenders appear to be plastic fetching batons, or bumpers, which are used to teach dogs how to retrieve, according to a report on his findings by Discovery.com.
Smith, who raises Labrador retrievers, uses bumpers often, and got to wondering whether — with all the reports of dangerous chemicals in plastic — they were causing harm.
"In the process of training a Lab, you do a lot of work with these plastic bumpers," Smith said in a press release. "I have a lot of bumpers in my garage, and they spend a lot of time in the mouths of my retrievers … Since we all care about our dogs, and we want them to be as healthy and smart and well-behaved as possible, we decided to look into this."
Smith and Kimberly Wooten, his colleague at Texas Tech University, suspected that bumpers and other dog toys could leach phthalates and bisphenol A (BPA) into the mouths and bodies of dogs. The chemicals are what give elasticity to plastic and vinyl and they are known endocrine disruptors that mimic estrogen or act as anti-androgens, according to Discovery.com.  
To test for the chemicals, the researchers created simulated dog saliva, then simulated chewing by squeezing dog toys with stainless steel salad tongs. Toys were also weathered outside to determine if older toys gave off more chemicals.
"We found that the aging or weathering the toys increased concentrations of BPA and phthalates," Smith said. "The toys had lower concentrations of phthalates than the bumpers, so that's good news. But they also had some other chemicals that mimicked estrogen. We need to find out what those are."
Wooten said that BPA and phthalates can have effects on developing fetuses. Studies on humans have resulted in mixed conclusions, but raised enough concern that the U.S. government banning the use of BPA in baby bottles this year.
"The interaction of pet health and environmental chemicals is understudied," Wooten said. "What may be a safe dose for one species isn't always a good measure for another species. But the amount of BPA and phthalates we found from the bumpers would be considered on the high end of what you might find in children's toys."
Posted by jwoestendiek December 13th, 2012 under Muttsblog.
Tags: animals, baby bottles, batons, bpa, bumpers, chemicals, chewing, childrens toys, conference, dangerous, dog toys, dogs, environmental, fetching batons, golden, harmful, hazards, hunting, labrador, leach, pets, phil smith, phthalates, plastic, plastic dog toys, retrievers, safety, science, Society of Environmental Toxicology and Chemistry, terrestrial ecotoxicology, tests, texas tech, toxic, toxins, toys, training, warning

Comments: 4
In recent weeks, we've cautioned you about dangers posed to your dogs by wild mushrooms. We've pointed out that medical marijuana is proving increasingly hazardous to them, too.
We haven't warned you this year, as Halloween approaches, about chocolate and other candies that can harm your dog, assuming that by now you already know all that.
But you may not know about toxic toads.
It only took about half an hour for Deborah Barrett's dog, a Jack Russell terrier named Willie, to die after he bit a Bufo marinus toad in his back yard last week.
"It was as big as a salad plate. My dog killed it, and when he came inside, within five minutes he went into convulsions, Barrett told Patch.com in Temple Terrace, which is outside Tampa.
Barrett said Willie died in the car on the way to an animal hospital.
The City of Temple Terrace is cautioning pet owners to watch out for the Bufo marinus toads, an invasive species that has taken hold in Florida. The gray-brown toads secrete a powerful toxin from their glands that can be poisonous to dogs, cats and other animals that bite them, and even people who handle them.
Small dogs are the most at risk, veterinarians say.
"Once they start having seizures, if you don't address it quickly, it can cause massive brain damage," said Dr. Paul Langston, of the Temple Terrace Animal & Bird Hospital."If you can get them (to the vet) quickly, they'll usually be OK."
If you suspect your pet has bitten a Bufo toad, veterinarians advise rinsing its mouth and paws with water and seeking veterinary help immediately.
As with the mushrooms we told you about last week, the toads are being seen in higher numbers because of heavy rains.
(Photo: Patch.com)
Posted by jwoestendiek October 10th, 2012 under Muttsblog.
Tags: animals, bufo marinus, caution, dangers, deadly, death, deborah barrett, dogs, florida, halloween, hazard, health, heavy rains, jack russell terrier, marijuana, mushrooms, pets, poison, rain, temple terrace, toad, toads, toxic, toxic toads, toxins, warning, willie

Comments: none
As medical marijuana grows in popularity, so too does the chance that the dog is going to get into it.
It's always been something that happens – dogs have been chowing down on their owner's illegal stashes for decades, sometimes with fatal results.
But with the increasing use of medical marijuana, dogs are more likely to both have access to it and be tempted by it. For one thing, it doesn't have to be hidden anymore. It can be kept in higher quantities. And, increasingly, those taking it for medical reasons are eating it instead of smoking it.
As a result, instead of a well-hidden bag of green leafy buds, dogs must resist the temptation of such things as rice crispy marijuana treats, cannabis oreo cookie cake, medical snickerdoodles and ganja lasagna.
In Colorado, there has been a spike in the number of cases of dogs getting sick from cannabis since medical marijuana was legalized.
Vets say they used to see dogs who had ingested marijuana a few times a year. Now pet owners bring in doped-up dogs as many as five times a week, CBS4 in Denver reports.
"There are huge spikes in the frequency of marijuana ingestion in places where it's become legal," veterinarian Dr. Debbie Van Pelt said.
Most of the time dogs get the medical marijuana by eating food laced with it — either that which their owners have prepared, or pre-laced foods purchased from dispensaries selling the products.
Dr. Stacy Meola, a veterinarian who coordinated a study looking at the numbers, say four times as many dogs have been getting treatment for ingesting marijuana since medical marijuana was legalized in Colorado.
It's not always fatal, but it can be.
"Two dogs, however, got into baked goods with medical grade marijuana butter in it, which presumably seems to be more toxic to the dogs, so we did have two deaths," Meola said.
Most dogs survive, experiencing symptoms such as lethargy, vomiting, staggering and sensitivity to sound and light.
In addition to accidental cases, veterinarians say some dog owners think it's funny to get their dogs stoned– and even post videos of it.
"We need people to realize it is potentially toxic and potentially fatal to their pets," Van Pelt said.
Posted by jwoestendiek October 3rd, 2012 under Muttsblog, videos.
Tags: animals, baking, brownies, butter, coma, cookies, cooking, deaths, dispensaries, dog, dogs, eating, fatal, ganja lasagna, grass, health, ill, lethargy, marijuana, medical, medical marijuana, pets, pot, recipes, rice crispy treats, safety, sickness, smoking, snickerdoodles, survival, toxic, treatment, veterinarians, vomiting, warning, weed

Comments: 1
My dog Ace likes to forage — to graze on grass, cruise for crumbs under the backyard grill, and gobble up any leftover vegetables my neighbor puts out for the squirrels and rabbits.
It's not that he's a glutton, constantly in search of food, but when no one is around to visit it's generally how he passes the time. I attribute it to him spending his formative early months as a stray — scavenging meals where he could find them.
While he seems willing to sample just about anything that might be distantly related to food, he has thankfully been avoiding the mushrooms that have been popping up all over in recent weeks.
The ones above seemed to sprout overnight. Ace went over to see what they were this past weekend but turned his nose up at them,  almost as if he knew they were not to be messed with.
And they're not. Certain species of wild mushrooms are fatal to dogs, but rather than bombard you with scientific names I might misspell — like Amanita Phalloides — I'll keep it simple:
Keep your dog away from any mushrooms growing outdoors. Beautiful as they are, they can be deadly.
It's the wisest course of action, even if you know a thing or two about fungi. You may know the difference between a toxic species and a non-toxic one, but likely your dog doesn't. So if he or she gets anywhere close, or starts to sniffing, holler "No!" – in Ace's case three times usually works, though sometimes I have to add, "I mean it."
Mushroom poisoning in dogs can cause abdominal pain, drooling, liver and kidney damage, vomiting, diarrhea, convulsions, coma and death.
Cases this year seem to be popping up more than usual, possibly due to heavy rains in many areas that have brought more mushrooms, and bigger mushrooms.
There have been several cases of mushroom poisoning reported in Arizona, including one woman who, in a letter to the editor of her newspaper, reported all three of her dogs became sick from eating them
Earlier this summer, a family in Buffalo lost a second dog to mushroom poisoning. After the first one died, the family got a new dog, gave it the same name, and watched as it too got sick from eating mushrooms in their yard and died.
The ASPCA and other organizations advise making sure your dog avoids all mushrooms growing in the yard.
You, too, no matter how pretty they are.
Posted by jwoestendiek October 1st, 2012 under Muttsblog.
Tags: animals, avoid, damage, deadly, dog, dogs, fatal, fungi, fungus, health, kidney, liver, mushroom, mushrooms, pets, poison, poisonous, safety, sick, toxic, vomiting, warning

Comments: 2
From hungry ticks to shish kabob sticks, from sweltering heat to booming fireworks, the trappings of  the 4th of July hold more than a few perils for dogs.
So, before enjoying Independence Day, it's a good idea to take a minute to remember that dogs — however independent they may be — are dependent on us, and can use a little help in avoiding the hazards that we, mostly, create.
Cookouts, hot weather and fireworks all pose a danger to dogs, says LizRozanski, associate professor of clinical sciences at the Cummings School of Veterinary Medicine at Tufts University.
Here's a list of tip offered by the school. 
Shish kabobs and other foods-on-a-stick pose a special danger to dogs, who can ingest them and wind up with fragments that can cause blockages or gastrointestinal perforations, says Dr. Rozanski, who is section head of emergency care at Tufts' Foster Hospital for Small Animals
Bones, especially cooked ones, can splinter inside a dog's digestive tract. Keep pets clear of chicken wings and don't give them bones from the meat you grill.
Other foods can be toxic to dogs. The garlic in your favorite marinade, the grapes and raisins in your fruit salad, or the chocolate in your brownies can all cause harm. Keep them out of your dog's reach.
A little food at the cookout is fun for dogs, but "people" food adds up quickly, so have your guests, especially kids, check in with you before feeding Fido their scraps. Letting dogs overeat can cause vomiting or more serious problems.
During the hot, humid months, heat stroke and exhaustion are a special concern for canines. Make sure they have plenty of water.  Put some ice cubes in it for a special treat, and provide a shady spot to lie down. If your dog is panting excessively, shows signs of lethargy or has dry gums, call your veterinarian right away.
Never leave pets in the car, particularly during warm weather.
Dogs afraid of thunder are most certainly going to be fearful of fireworks. If you head out with your family to watch the fireworks, make sure your dog has a safe, quiet place to rest.
(Video: Comedian Louis CK posted this video on YouTube of his dog trying to drink from a park sprinkler)
Posted by jwoestendiek July 4th, 2012 under Muttsblog, videos.
Tags: animals, bones, cars, chicken wings, cookouts, dangers, dog, dogs, exhaustion, fireworks, fourth of july, garlic, grapes, grills, hazards, heat, heat stroke, hydration, independence day, july 4, july 4th, july fourth, louis ck, noise, overeating, perils, pets, picnics, raisins, shade, shish kabob, sprinkler, toxic, video, water

Comments: none
Maybe this is a case of making the best of a bad situation.
Maybe it's a case of man's best friend making for an even better scientific paper.
Maybe, as much as I write about my dog, I have no room to talk.
In any event, at least as reported by Discover magazine, a UC Davis veterinarian's dog got into the lab trash and consumed 15 agar plates containing thallium.
Thallium is a poisonous compound used in labs to isolate Mycoplasma fungi. (As the article points out, it has also been used by murderers, and was a favorite of Saddam Hussein.)
Being a vet, the dog's owner did what he could, including administering intravenous fluids and, eventually, a gastric feeding tube. He took notes, ran tests and documented the one-year-old shepherd mix's slow death in a study entitled, "Thallium toxicosis in a dog consequent to ingestion of Mycoplasma agar plates."
According to an abstract of the paper: "Clinical signs over the course of 2-3 weeks included vomiting, diarrhea, weight loss, alopecia, dysphonia, ataxia, paresthesia, intension tremors, megaesophagus with subsequent aspiration pneumonia, and several seizure episodes."
The owner/scientist measured Thallium concentrations in the dog's hair and took blood samples at regular intervals.
After the dog's death, the scientist/owner concluded, "Hair and blood samples are useful specimens to reach an accurate diagnosis even if taken several weeks post exposure. The postexposure blood and hair thallium concentrations reported in this case are useful data for diagnosticians investigating dogs with potential thallium poisoning."
Not exactly the stuff of Jack London, but then again, this was a paper written for the Journal of Veterinary Diagnostic Investigation. Still, that the dog's name is never acknowledged, despite her accidental contribution to scientific knowledge, is troubling.
Why does science have to be so cold? What would it lose by showing some heart?
The Discover magazine article, while putting things in slightly more understandable form, isn't exactly touchy-feely, either:
"At the onset, the dog refused to eat and lost weight. And then things only got worse over several weeks as she lost control of her muscles, seized, caught pneumonia twice, and lost a third of her fur. She had to be fed through a tube. It took 10 months for her to even bark again…"
Ten months???
"While we're glad this dog's suffering was not in vain, we had to wonder how common thallium poisoning really is. Thallium used to be a common pesticide, but that's been banned because it's also such a potent human-cide. Outside of biology labs, thallium can be found in electronics and glass manufacturing or nuclear reactors, so please don't bring your dog to work if your job is in any of those places."
To me, the bigger question in all this, outside of whether anyone was neglectful, is how much and how long the anonymous dog suffered — whether she was kept alive for the purposes of gathering a little more data.
It wouldn't be the first time.
It's amazing how much scientists learn from dogs. What's more amazing is how much they don't.
Posted by jwoestendiek April 17th, 2012 under Muttsblog.
Tags: agar, animals, blood, davis, death, documented, dogs, ethics, experiment, hair, journal of veterinary diagnostic investigation, journals, lab, laboratory, pain, painful, paper, pesticide, pets, plates, poisoned, poisoning, research, samples, science, scientific, taken, thallium, toxic, university of california, veterinarian, veterinary

Comments: 2
In honor of his Shiba Inu, 12-year-old Aaron Coash is lobbying the Kansas legislature to pass a law aimed at stemming the number of dogs killed by antifreeze poisoning.
With the help of the Humane Society, he's proposing a law that would require all antifreeze sold in in the state contain a chemical that turns its sweet taste bitter.
He's calling it Nikko's law, in honor of his dog, who died last month.
Antifreeze poisoning kills an estimated 10,000 animals and more than a thousand children each year, according to the Humane Society of the United States.
Aaron said for the first time in six years, Nikko didn't greet him when he came home from school one day last month.
"The doctor said without a doubt it was antifreeze poisoning," Aaron told Fox News in Kansas City.
Aaron said Kansas Senator Carolyn McGinn has offered to help with the cause.
"Nikko was a champion, so I want to be a champion," he explained. You can sign a petition in support of Nikko's law at his website
Other states that have passed similar legislation are Arizona, California, Georgia, Illinois, Maine, Maryland, Massachusetts, New Jersey, New Mexico, Oregon, Tennessee, Utah, Vermont, Virginia, Washington, West Virginia and Wisconsin.
Ethylene glycol's sweet smell and taste makes antifreeze and coolant attractive to animals and children. It costs manufacturers an estimated additional two to three cents per gallon to add the bittering agent.
Posted by jwoestendiek February 15th, 2012 under Muttsblog, videos.
Tags: aaron coash, agent, antifreeze, attracts, bittering, ethylene glyol, humane society, kansas, kills, law, legislature, manufacturers, nikko, nikkos law, poison, poisoning, shiba inu, sweet, taste, toxic

Comments: 5
Once upon a time in Butte, in a huge and barren expanse of waste that's part of the nation's largest Superfund site, there lived a dog.
Nobody knows how he got there, why he stayed, or how he managed to remain alive in the toxic confines of what's known as the Berkeley Pit. But live he did, for 17 years — during times of active mining, during its suspension, during its limited restart, during the ongoing clean-up effort and right up until the pit transitioned into one of the country's oddest tourist attractions.
He just showed up, back in 1986. Once miners figured out that the ghostly white image in the distance was a dog, they named him "The Auditor," because of his tendency to appear when he was least expected.
With matted ropes of white hair covering his legs, The Auditor — a Puli — sometimes appeared to be hovering when he moved, and he seemed to want nothing to do with humans. The miners would leave him food, and build him a house, and even started sticking baby aspirin in his food when they noticed he was limping, but The Auditor was mostly unapproachable up until the end.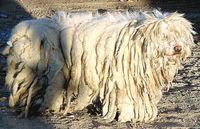 He died peacefully in his dog house in 2003, but The Auditor – like mining – would leave a legacy. His name would live on — in statues, in science, and as a symbol for, well, lots of things.
Appropriately enough, for a mining site in the midst of a massive EPA clean-up that will continue for generations, The Auditor had a coat like a mop.
His yellowing dreadlocks covered his eyes, too, limiting his vision – similar to the blind eye Montana once turned to the environmental havoc mining would wreak on and beneath its landscape.
But perhaps more than anything else, the mysterious white dog became a metaphor for Butte, and its ability to survive hard times — of the hardy stuff of which Montanans are made.
Butte's still kicking — though not the way it once kicked. It's about a third of the size it was in its heyday.  Once called the "Richest Hill on Earth" for its massive copper deposits, Butte in the early 1900s, boasted a population of 100,000.
When the mines shut down by 1982, Butte was left economically crippled and environmentally contaminated. Piles of mine waste and years of smoke from smelters contaminated the land and water around Butte with arsenic, mercury, lead and other metals.  
In the 1980s, the Berkeley Pit and Butte's historic Uptown District were declared a Superfund site — one that extends 130 miles downstream due to tailings that settled along the Clark Fork River.
The Auditor lingers too. After the local newspaper brought him to the public's attention in 2003, a campaign began to honor him with a series of statues, three of which now sit in various locations around town, honoring him not for any heroics, but solely for staying alive in a place where not much does.
Berkeley Pit lies just a few blocks from the center of Butte. It stretches a mile-and-a-half across and is almost 2,000 feet deep. Barren soil surrounds a lake laden with heavy metals. In 1995, a flock of migrating geese landed in the water. The next morning 342 were found dead.
How The Auditor managed to survive all that time is as mysterious as the dog himself. Maybe his rope-like locks, instead of soaking in the toxins, kept them from reaching his skin. Maybe the toxins weren't as toxic as thought. Maybe, as dogs do, he adapted to them. The only company still in operation at the site — after mourning his loss — had The Auditor cremated.
Normally, that would slam the door shut on the mystery — but Holly Peterson already had her foot in it.
Peterson, an environmental engineer at Montana Tech in Butte, saw the article about The Auditor — 16 years old by then — in 2003. It tugged at her heartstrings as well as her scientific curiosity.
"How can that not touch you?" she said over the weekend, sitting in her office, which is decorated with photos of The Auditor. "I kept wondering, how can that thing survive? With all the contamination in Butte, I started thinking, how can we study that in a different way?"
With her students, she began getting samples of hair from dogs in Butte and the surrounding areas, and when she ran into an official from the mining company, Montana Resources, at a presentation, she asked about getting a sample from The Auditor.
The Auditor was first seen roaming the mine in 1986, the year Montana Resources started its operations. The company, due to plunging copper prices, shut down operations there in 2000, leaving only a skelton crew, but reopened in 2003.
After getting permission from the company, Peterson went to the site, where a mining company employee, wearing gloves, approached The Auditor, on his last legs by then, and snipped off a few locks of hair.
"You could tell he just wanted us to leave him alone," Peterson said.
Tests on the sample in July of 2003 revealed "elevated levels of almost every element imaginable," Peterson said, including 128 times the amount of arsenic in a typical dog's hair.
Peterson's research project would expand from there, shedding new light on the extent of environmental degradation in Butte and introducing a new, if not conclusive, way to measure it and the continuing efforts to clean it up. Her work marked the first time pet hair has been used to monitor toxins in a residential Superfund site.
Since then, the project has moved on to testing the hair of animals in Austrialia and Nairobi, and sampling the hair of animals bagged by hunters back home in Montana. Through taking samples at hunter check stations, they found far higher levels of metals in animals shot in the area around Anaconda, once home to a huge smelting operation.
The Auditor, as it turned out, inspired Peterson on several levels. She was the one behind the effort to install statues of him — created by a Texas sculptor — at several locations around town, including the one she showed me at the Butte Plaza Mall.
It's made of bronze, with a copper patina that has worn off in spots from people petting it. Most of funding for the sculpture came from a California couple, who read of The Auditor in a Puli Club of America newsletter.
Peterson's hope was that The Auditor — after his death on Nov. 19, 2003 —  would become a mascot for Butte, or a mascot for environmental causes, that his legacy would serve as inspiration to others, and as a reminder to not abandon pets, or abuse the planet.
What she wasn't planning on was her own little Auditor.
Living with her 86-year-old mother, she didn't see a dog fitting into her life.
But after publicity about The Auditor, and connecting with the Puli Club, she started getting emails when a Puli would show up at a shelter in need of rescue.
That's how, three years ago, she ended up with Birke-Beiner.
"I couldn't pass him up when I saw the picture of him," Peterson said.
Birke-Beiner, who earlier in the day had gone to a Halloween Party — as a basket of yarn — came along on our trip to the mall, much of which he spent draped over Peterson's shoulder, looking something like a Lady Gaga fashion accessory.
Peterson says some people call him Little Auditor, but Birke is his own dog — playful, people-friendly and, one gets the impression, destined to live a happy and non-toxic life, far away from a giant hole in the ground known as the Berkeley Pit.
Posted by jwoestendiek November 2nd, 2010 under Muttsblog.
Tags: abandoned, animals, arsenic, auditor, berkeley pit, butte, contamination, dog, dog's country, dogs, dogscountry, environment, epa, hair, history, holly peterson, levels, memorial, metals, miners, mining, mining waste, montana, montana resources, montana tech, pets, puli, puli club of america, research, science, site, statue, stray, superfund, testing, tests, the auditor, toxic, travels with ace

Comments: 10
Investigators in Virginia are looking for the person who threw poison-spiked meatballs into the yards of at least three homes in Fairfax County, killing two dogs and making a third ill.
One of the fatalities in the Centreville neighborhood was a five-month-old pit bull puppy; the other, an adult West Highland terrier. The third was taken to a vet for treatment, NBC in Washington reported.
The meat was found around homes in the 15000 block of Olddale Road.
Fairfax County police haven't figured out what was in the meat, but they are warning all residents, especially those with children and small pets, to inspect their yards for anything suspicious.
Posted by jwoestendiek May 28th, 2010 under Muttsblog.
Tags: animals, centreville, dogs, health, killed, meat, meatballs, neighborhood, news, ohmidog!, pets, pit bull, poisoned, police, puppy, tainted, toxic, west highland terrier

Comments: 1