Tag: treats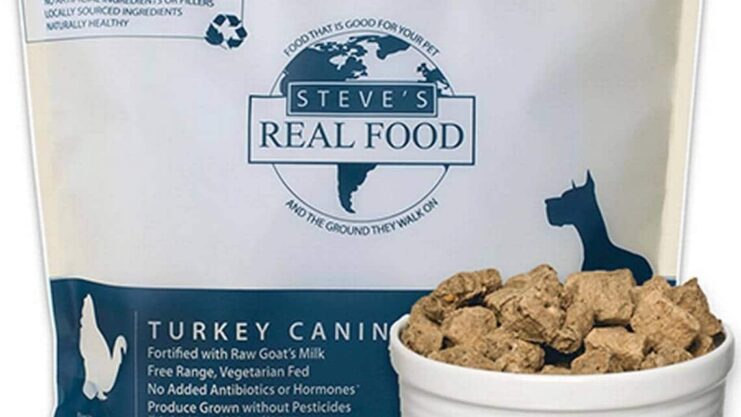 If it seems like there's a new pet food or treat being recalled every week recently, that's because it has gotten that bad.
Worse even.
We count ten since Feb. 8 — most of those of food and treats suspected of possibly being contaminated with salmonella.
The recalled products include dry food, canned food and raw food, treats and bully sticks.
Probably most notable of those recalled are the Gravy Train, Kibbles 'N Bits, Skippy and Ol' Roy brands of canned dog food made by the J.M. Smucker company. Pentobarbital, the sedative used to put dogs down, has been found in cans dating back to 2016.
Smucker released a statement on its website, confirming "extremely low levels of pentobarbital" have been found in "in select shipments."
On Sunday, it told the Miami Herald that the source of the drug was "animal fat was sourced from cow, chicken, and pig."
While those are common sources of pet food, animals euthanized with the drug are not supposed to end up in the food chain — for either dogs or humans.
Last week also saw the recall of an eighth pet food product suspected of containing salmonella or listeria in 24 days, Steve's Real Food's Raw Frozen Dog Food Turkey Canine Recipe, recalled one lot that was distributed to 21 states.
The Nebraska Department of Agriculture found salmonella when testing a retail sold sample.
The 5-pound bags in lot No. E 178 with a best by date of Sept. 17, 2018 went to retail stores in Florida, New York, New Jersey, Connecticut, California, Texas, Pennsylvania, Virginia, Colorado, Iowa, Kansas, Maryland, Michigan, Minnesota, Missouri, North Dakota, Nebraska, Oregon, Utah and Washington, according to the Miami Herald.
Dogs with salmonella can suffer from vomiting, diarrhea and fever.
Humans also can get salmonella, both from dogs and from handling contaminated food or touching unwashed surfaces that the food touched.
Those who have purchased the products should dispose of them and contact the company for a refund.
Other recalls and product withdrawals in the past month include:
▪ Raws for Paws ground turkey
▪ Smokehouse Beefy Munchies treats
▪ Arrow Reliance/Darwin's Natural ZooLogics Duck with Vegetable Meals for Dogs and ZooLogics Chicken with Vegetable Meals for Dogs
▪ Redbarn, 7-inch Bully Sticks
▪ TruPet, Treat Me Crunchy Beef Delight treats
▪ Northwest Naturals, Chicken and Salmon
▪ Carnivore Meat Company, Vital Essentials Freeze-Dried Beef Nibblets Entrée for Dogs
▪ Kitten Grind raw pet food
Posted by John Woestendiek March 6th, 2018 under Muttsblog.
Tags: animals, arrow reliance, bully sticks, canned, darwin, darwin's naturals, diet, dog food, dog food recall, dogs, drug, dry, euthanasia, food, frozen, gravy train, health, kibbles 'n bits, listeria, northwest naturals, ol roy, pentobarbital, pet food, pets, raw, raws for paws, recall, recalls, redbarn bully sticks, safety, salmonella, skippy, smokehouse beefy munchies, smucker, steve's real foods, treats, trupet, warning, zoologics

Comments: 1
The U.S. Food and Drug Administration (FDA) is warning dog owners to steer clear of bones — not just those inside your turkey but those packaged as dog treats and sold in pet stores.
"Bone treats," such as those pictured here, can be just as dangerous for your dog and can lead to choking, other emergencies and death.
Bone treats are real bones — but unlike those you can get from your butcher they have been been processed, sometimes flavored, and packaged for dogs.
They include a variety of commercially-available treats for dogs, such as "Ham Bones," "Pork Femur Bones," "Rib Bones" and "Smokey Knuckle Bones".
The products may be dried through a smoking process or by baking, leading to splintering, and they may contain other ingredients such as preservatives, seasonings, and smoke flavorings.
In the FDA warning, 68 reports of illness and 15 deaths are mentioned.
According to Carmela Stamper, a veterinarian in the Center for Veterinary Medicine (CVM) at the FDA, "Giving your dog a bone treat might lead to an unexpected trip to your veterinarian, a possible emergency surgery, or even death …"
Illnesses reported to the FDA included gastrointestinal obstruction (blockage in the digestive tract), choking, cuts and wounds in the mouth or on the tonsils, vomiting, diarrhea, bleeding from the rectum and death.
The reports, sent in by pet owners and veterinarians, involved about 90 dogs. In addition, the FDA received seven reports of bone treats splintering when chewed or appearing to contain mold.
Posted by John Woestendiek November 29th, 2017 under Muttsblog.
Tags: animals, bone treats, bones, caution, choking, cooked, cuts, deaths, dog, dogs, fda, food & drug administration, government, hazards, illnesses, obstructions, pet products, pet stores, pets, pork femur bones, products, real ham-bone, rib bones, safety, smoked, smokey knuckle bones, splintering, treats, turkey bones, warning

Comments: none
You'd think that — even on the cookie aisle — a mother would think twice before tossing a bag of Scooby Snacks into her grocery cart for the kids.
You'd think that the picture of the famous cartoon dog on the package, and the words "pet food only," would have given her a clue.
You'd think that, as she loaded the bone-shaped treats into her children's lunch boxes, she'd realize something was amiss.
But it wasn't until the kids got home from school and told her they didn't like the new "choc friendly carob" treats — "yuck, they are disgusting," they said — that she gave the package a closer look.
That's when she finally saw they were not only labeled as dog treats but that they promoted "skin and coat health."
"On closer inspection they are DOG treats," Tania Toomey, of Sydney, Australia, admitted on Facebook. "It does say that it is pet food only – human friendly but not recommended!"
But she added, "BE CAREFUL the store is very disorganised … Terrible and disgraceful, not to mention dangerous!" she wrote on the store's Facebook page.
Before we pounce too hard on grocery store management — or the stoner stock boy we imagine was behind the error — consider this.
There are Scooby Snacks for dogs AND Scooby treats for humans, not too mention some other slang applications of the term to describe — Zoinks! — certain illicit drugs.
Keebler, a Kellogg's company, makes bone-shaped Scooby Doo Graham Cracker Sticks for humans, and they come in a box with Scooby pictured on the front.
Betty Crocker, a General Mills company, offers Scooby-Doo Fruit Flavored Snacks — for humans. They come in a box with a big picture of Scooby on the front.
Del Monte makes a version of its dog treat Snausages that goes under the name Scooby Snacks.
Confused? As a rule, if something is called Scooby Snacks (without the "doo") it is probably a dog snack. If the full name of the dog is used — both the the "Scooby" and the "Doo" — it is likely a human snack, even if it is shaped like a bone and has a large picture of a dog on the box.
Still confused? Well, we all are, but do be careful when asking for Scooby Snacks, because the phrase can also apply to Valium, Vicodin, Quaaludes, and hash or marijuana brownies, according to Urban Dictionary.
Scooby Snacks, in the cartoon show, were consumed by dog and human alike. Some of the show's cult members/fans are convinced they were actually (well, as "actually" as things can get in a cartoon) weed or hash brownies.
They seemed to be a common solution to many of the problems Scooby and the gang came across. They made everything work out — or at least kept Shaggy and Scooby on an even keel.
We should point out here that dog treats of any type aren't generally harmful to children or other humans, and that until the makers of rat poisons start appropriating Scooby's name and image, we are probably safe.
Since the story of the Sydney mom hit social media, many others have admitted to accidentally consuming the dog treats — in Australia, New Zealand and elsewhere.
A father-of-two from the northern beaches in Sydney bought the dog treats for his young boys. He told news.com.au that the dog treats were incorrectly placed in the snack aisle of his local Woolworth's and he grabbed them quickly without looking at the packet.
Another posted a photo of Scooby Snacks for dogs clearly pictured next to packets of human snacks in a grocery store.
Woolworths initially stated that the pet food product was only stocked in the pet food aisle.
Then, store officials admitted that a mix-up had occurred and apologized for it.
Comments from social media users indicate that Scooby-labeled snacks have created confusion among many customers and at more than a few stores.
And in their comments, as always, they're feeling free to pass judgment.
Some social media users have defended the mother as a victim of grocery store error.
Some have pointed out the product is clearly marked as a dog treat and say the mother should have been a little more alert.
Others have inquired as to whether her children have taken to digging in the back yard or scratching behind their ears.
Posted by John Woestendiek August 30th, 2017 under Muttsblog, videos.
Tags: australia, betty crocker, cartoon, children, confusion, cookies, dog, dog biscuits, dog treats, dogs, doo, drugs, groceries, grocers, hash, human snacks, humans, keebler, marijuana, marketing, mistake, mistaken, mother, packaging, pet, scooby, scooby doo, scooby snacks, snacks, snausages, stores, sydney, treats, valium

Comments: 1
Blue Buffalo has issued another dog food recall — the third in the last two months.
The company says its Blue Wilderness Rocky Mountain Recipe Red Meat Dinner Wet Food for Adult Dogs has the potential to contain elevated levels of naturally-occurring beef thyroid hormones.
The voluntary recall applies to one production lot (840243101153). The cans have an expiration date of June 7, 2019,
The FDA said in a press release that affected products were distributed nationally through pet specialty and on-line retailers.
Dogs ingesting high levels of beef thyroid hormones may exhibit symptoms such as increased thirst and urination, weight loss, increased heart rate and restlessness. These symptoms often resolve themselves when the use of the impacted food is discontinued, the FDA said.
With prolonged consumption, though, the symptoms may increase in severity and may include vomiting, diarrhea, and rapid or difficulty breathing. Should these symptoms occur, contact your veterinarian immediately.
The company says its customer care resource team has not received any reports of dogs exhibiting symptoms from consuming this product, but it was advised by the FDA that a consumer reported symptoms in one dog. The dog recovered.
Blue Buffalo in February issued a voluntary recall of one production lot of its Homestyle Recipe Healthy Weight Chicken Dinner with Garden Vegetables in 12.5 oz cans after metal fragments were found in some cans.
Earlier this month, the company issued a voluntary recall of 17 varieties of its Blue Divine Delights and Blue Wilderness Trail Trays due to quality issues with the foil seals on the top of the cups.
Posted by John Woestendiek March 21st, 2017 under Muttsblog.
Tags: animals, beef thyroid hormones, blue, blue buffalo, blue wilderness, dog food, dogs, fda, health, notice, pets, recall, recalls, red meat, rocky mountain recipe, safety, sick, symptoms, treats, voluntary, warning

Comments: none
A German photographer is capturing the rapture of dogs who know a treat is on the way.
Manuela Kulpa, a renowned animal photographer who lives near Cologne, Germany, focuses in this series on the faces of dogs as they prepare to catch a treat.
Capturing the joyful anticipation of that drool-filled moment can take as many as 80 tries, she told The Mirror.
The dogs she worked with, almost all rescues, included a flat-coated retriever, French bulldog and Bernese mountain dog, a dachshund mix, a munsterlander, a pit bull terrier and a Jack Russell terrier.
Kulpa, 46, is a self-employed IT programmer and consultant. She and her husband Stefan, also a photographer, have their own dog, a golden retriever called Dobby, as well as three cats.
"There are certain prerequisites that have to be fulfilled for us to capture these images," she said, "things like the dog must follow the sit and stay commands and must be able to or at least try to catch treats from the photographer.
"We have to sit very close in front of the dog, throw the treat and then try to synchronise the treat catching with the triggering of the camera.
"I love the dogs' expressions," she added. "They remind us with their cheerfulness how important it is to enjoy the moment."
You can find some of her other dog photos here, and more of her animal photos on the website ISO.500px.com
Posted by John Woestendiek October 4th, 2016 under Muttsblog.
Tags: animals, anticipation, art, dog, dogs, emotions, expressions, expressive, face, happy, look, manuela kulpa, pets, photographer, photograpy, photos, smiles, stefan kulpa, treats

Comments: 2
A business professor at American University is using dogs to help students overcome their fear of public speaking and hone their oratorical skills.
Bonnie Auslander, the director of the Kogod Center for Business Communications, started the program on a trial basis last year, pairing anxiety-prone business school students with patient canine listeners.
The thinking behind it is similar to that of programs around the country in which much younger students read to dogs to gain confidence in their reading skills.
"Addressing a friendly and nonjudgmental canine can lower blood pressure, decrease stress and elevate mood — perfect for practicing your speech or team presentation," says the program's promotional material.
For now, evidence of the benefits is mostly anecdotal, reports the New York Times.
With therapy dogs arriving on campus regularly during finals, Auslander got the idea to use dogs as a practice audience and she recruited six dogs with calm personalities.
They included Teddy, a Jack Russell terrier, and Ellie, a Bernese mountain dog.
We think it's a great idea — assuming the dogs are willing to put up with all those speeches. On top of gaining confidence, students can learn the importance of inflecting their voices and gesturing to hold audience attention — though treats are proving to work better than either of those.
Auslander joked about having "an audience cat program some day that will be for speakers who are overconfident and need to be taken down a peg. The cats will turn away and lick their paws."
Although we feel a little sorry for them, we wish the best to those dogs taking part in the program. And having had our own issues with public speaking, we wish great success to those students taking part.
We're confident they will get their MBA's and become great orators — identifiable only by their tendency to throw Milk Bones to their audiences.
Posted by John Woestendiek August 22nd, 2016 under Muttsblog, videos.
Tags: american university, animals, anxiety, attention, bonnie auslander, confidence, dog, dogs, gestures, inflections, kogod center for business communications, oratory, pets, presentations, program, public speaking, reading, speaking, students, treats

Comments: 2
A study at Emory University suggests that dogs aren't strictly the food-obsessed beasts they've traditionally been seen as — and that many, maybe even most, prefer attention and praise over a chewy treat.
While only 13 dogs participated in the study, there were only two of them who — judging from their neural reactions — showed a distinct preference for food over praise.
The study, published in the journal Social, Cognitive and Affective Neuroscience, is one of the first to combine brain-imaging data with behavioral experiments to explore what kind of rewards canines prefer.
"We are trying to understand the basis of the dog-human bond and whether it's mainly about food, or about the relationship itself," says Gregory Berns, a neuroscientist at Emory and lead author of the research.
"Out of the 13 dogs that completed the study, we found that most of them either preferred praise from their owners over food, or they appeared to like both equally. Only two of the dogs were real chowhounds, showing a strong preference for the food."
Berns heads the Dog Project in Emory's Department of Psychology. It was the first to train dogs to voluntarily enter a functional magnetic resonance imaging (fMRI) scanner and remain motionless during scanning, without restraint or sedation.
Their previous research using the technique identified the ventral caudate region of the canine brain as a reward center and showed that region responds more strongly to the scents of familiar humans than to the scents of other humans, or even to those of familiar dogs.
Phys.org reports that, in the new study, researchers trained the dogs to associate three different objects with different outcomes. A pink toy truck signaled a food reward; a blue toy knight signaled verbal praise from the owner; and a hairbrush signaled no reward, to serve as a control.
The dogs then were tested on the three objects while in an fMRI machine. Each dog underwent 32 trials for each of the three objects as their neural activity was recorded.
Four of the dogs showed a particularly strong activation for the stimulus that signaled praise from their owners. Nine of the dogs showed similar neural activation for both the praise stimulus and the food stimulus. And two of the dogs consistently showed more activation when shown the stimulus for food.
Berns says the findings run counter to the old view that dogs "just want food and their owners are simply the means to get it … Another, more current, view of their behavior is that dogs value human contact in and of itself."
In another part of the study, dogs were put into a Y-shaped maze in which one path led to a bowl of food and the other path to the dog's owner.
The dogs were repeatedly released into the room and allowed to choose one of the paths.
While most dogs alternated between the food and their owner, dogs who showed a greater response to praise in the first part of experiment chose to go to their owners 80 to 90 percent of the time.
Berns said the study "shows the importance of social reward and praise to dogs. It may be analogous to how we humans feel when someone praises us."
(Photos: At top, Kady, a Lab-retriever mix in the study who preferred praise from her owner to food; at bottom, Ozzie, a shorthaired terrier mix who chose food over his owner's praise / Emory University)
Posted by John Woestendiek August 18th, 2016 under Muttsblog.
Tags: animals, attention, behavior, brain, canine, dogs, emory university, experiment, fmri, food, gregory berns, humans, imaging, love, motivation, mri, pats, pets, praise, responses, rewards, science, study, training, treats, ventral caudate

Comments: 2