Tag: united airlines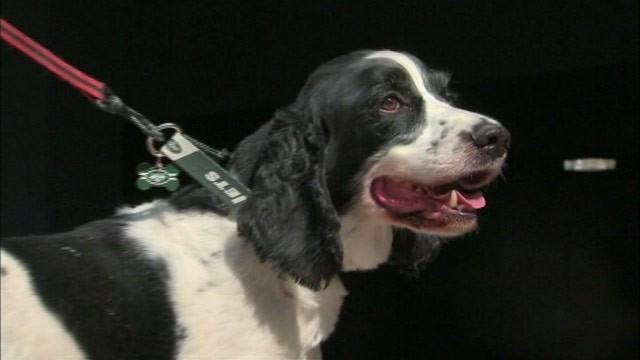 Aside from both having seven letters, Ireland and Arizona wouldn't seem to be that easily confused — one is green, one is not; one is on the other side of the Atlantic and one is on this side.
But, four days before St. Patrick's Day, a dog destined for Phoenix was accidentally put on a flight to Ireland.
United Airlines realized the mistake even before the dog, named Hendrix, landed at the airport in Shannon.
Once he did, he was bathed, fed, and put on a flight back to Newark.
Edith Lombardo-Albach of Staten Island, N.Y., told ABCNews.com that Hendrix, a six-year-old English springer spaniel was scheduled to arrive in Phoenix Thursday evening on a United flight from Newark.
But seven minutes before the flight was supposed to land, she received a phone call telling her that Hendrix would not be arriving in Arizona.
"Originally, I thought the dog had died and I started screaming," she said.
An airline representative told Lombardo-Albach that her dog was put on the wrong flight, and was destined for Ireland. United told her that once Hendrix arrived in Shannon, they would send him back.
"The dog had already gone seven hours to Ireland, and now the dog has a two-hour layover and then a seven-hour flight to Newark," she said. "I was insane."
The dog was flown back to New Jersey on Friday morning, and Lombardo-Albach was waiting. She stayed with him at the airport until he boarded his flight for Phoenix, where the family is moving.
Lombardo-Albach said Hendrix was hesitant to get back in his crate for the next leg of the flight — and who could blame him?
A United Airlines spokeswoman said the airline regretted the mistake: "We are reviewing the circumstances surrounding the situation and will take steps to prevent this from happening again.  Hendrix's experience is not typical of the service we provide to the more than 100,000 pets who travel with us every year."
United Airlines offered Lombardo-Albach a refund for the dog's flight.
Posted by jwoestendiek March 19th, 2013 under Muttsblog.
Tags: airlines, animals, arizona, dog, dogs, english springer spaniel, hendrix, ireland, mistake, newark, pets, phoenix, shannon, travel, united, united airlines

Comments: 2
Another dog owner has come forward to tell the world his dog died on a United Airlines flight.
"…What I found out is, when you check your pet, you run the exact same risk of them not showing up as you do with your luggage. That's kind of sobering," said Michael Jarboe, whose dog, a Neapolitan mastiff named Bam Bam, died during a late August flight.
Jarboe decided to share his story days after model Maggie Rizer blamed United for the death of her two-year-old golden retriever Bea on a flight last month.
"We have been in contact with Mr. Jarboe and are saddened by the loss of his dog, Bam Bam. The safety of the animals we transport is always considered first and foremost when making decisions regarding their routing and carriage," United said in a statement to NBC News.
Jarboe and his partner flew from Miami to San Francisco with Bam Bam on Aug. 28, with a layover in Houston. The two-and-a-half-year-old dog had flown four times before without any problems, Jarboe said.
Jarboe, who lives in Miami Beach, Fla., said he chose United because of its "PetSafe" program, which promises compartments in the cargo hold are pressurized and climate-controlled.
He said the layover in Houston was about three hours. Temperatures that day rose to 95 degrees.
When they arrived in San Francisco, they were told the dog had died. United paid for a necropsy, which determined the cause of death was acute cardiovascular collapse.
Before his death, Bam Bam had flown four times before — twice on United — without any problems.
United said Bam Bam was transported to a holding area during the layover, but according to Jarboe, employees did not use the climate-controlled vehicle dogs are usually transported in.
The airline has refunded the dog's fare ($650, each way), and is working with Jarboe on additional compensation.
Between January 2012 and July 2012, 17 pets died and another 17 were injured on commercial airlines, according to the U.S. Department of Transportation. In 2011, 35 pets died while flying, but only two of those were on United, which had the lowest number of animal deaths that year.
(Photos: Michael Jarboe)
Posted by jwoestendiek October 1st, 2012 under Muttsblog.
Tags: air travel, airlines, animals, bam bam, cargo, death, dog, dogs, heat, hold, houston, layover, mastiff, michael jarboe, neapolitan mastiff, necropsy, pets, travel, united, united airlines

Comments: 3
Supermodel Maggie Rizer is blaming United Airlines for the death of her golden retriever, Bea.
The two-year-old dog died while in the cargo hold of a United fight from New York City to San Francisco.
According to a necropsy by her veterinarian, heat stroke was the cause.
Rizer said both Bea and her other dog, Albert, had been cleared by a veterinarian just four days before she flew home about two weeks ago to California after vacationing on the East Coast.
When Rizer and her husband, businessman Alex Mehran, landed in San Francisco, United workers told them Bea had died. One of them, she says, told her, "This happens a lot."
"I was completely hysterical, I'm surprised I didn't get arrested," Rizer told the New York Daily News.
Rizer also claims that workers lied to her, saying Bea had been taken for a necropsy when she was actually still in the cargo area.
Bea's body was given to the family later that day, and an autopsy by a family vet showed she had died of heat stroke, said Rizer, a covergirl who modeled for Louis Vuitton, Versace, and Calvin Klein.
A United spokesperson said the airline has transported more than 550,000 pets, with less than .1% of those resulting in deaths.
"That said, I just want to make it clear this isn't something we're not sympathetic to, certainly when it does happen it's devastating," spokesperson Mary Ryan said.
United is reviewing the incident, and has returned the $1,800 Rizer paid to transport her dog.
(Photo: Maggie Rizer and Bea, via Twitter)
Posted by jwoestendiek September 24th, 2012 under Muttsblog.
Tags: airlines, animals, bea, cargo, dead, death, dies, dogs, flights, golden retriever, heat, heat stroke, hold, maggie rizer, model, pets, supermodel, united airlines

Comments: none
The founder of Paws and Stripes — a nonprofit organization that provides disabled veterans with service dogs — says both he and his service dog, Sarge, were mistreated by United Airlines.
After waiting 48 hours in Dulles Airport due to cancellations and delays, Jim Stanek said he approached a ticket counter to get  help understanding his revised itinerary.
He says he explained was having difficulty reading it.
"He said, 'Just read it' and I said, 'Sir I can't read it,' and he said, 'What are you retarded?'" Stanek recalled.
Wounded in battle, Stanek suffers from a brain injury that makes it difficult for him to concentrate under stress.
In addition to the insult, Stanek says, Sarge was kicked twice by United employees, leaving her "shaking like a leaf. It's like she has PTSD."
Stanek said the second, and harder kick came on a shuttle bus that was taking him from one terminal to another. An employee in a United uniform kicked the dog, he said.
"He said he was afraid of dogs," Stanek said.  "(He) kicked her so hard on the rib cage, that she literally jumped up into my lap."
Stanek is encouraging others to register their concerns about how he and his dog were treated.
"I'm not asking for a red carpet, just treat me the way I'm supposed to be treated," he said in a video he put together, recounting the incident.
Paws and Stripes works to provide service dogs for veterans with PTSD and Traumatic Brain Injury. The dogs are obtained only from shelters, and are trained by professionals to become service dogs.
Here's Stanek's account of what happened:
Posted by jwoestendiek July 25th, 2012 under Muttsblog, videos.
Tags: airlines, animals, dog, dogs, founder, insulted, jim stanek, kicked, military, mistreated, paws and stripes, pets, post traumatic stress disorder, ptsd, service dogs, shelter, united airlines, veterans

Comments: 4