Tag: united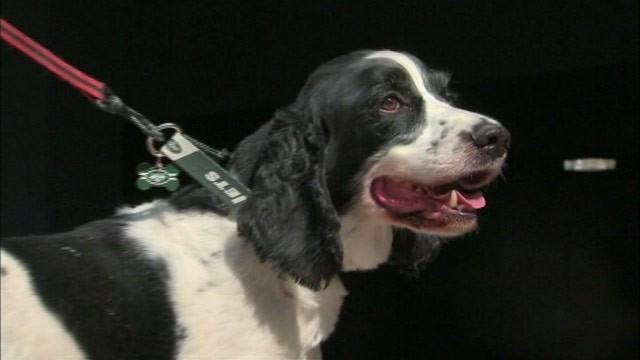 Aside from both having seven letters, Ireland and Arizona wouldn't seem to be that easily confused — one is green, one is not; one is on the other side of the Atlantic and one is on this side.
But, four days before St. Patrick's Day, a dog destined for Phoenix was accidentally put on a flight to Ireland.
United Airlines realized the mistake even before the dog, named Hendrix, landed at the airport in Shannon.
Once he did, he was bathed, fed, and put on a flight back to Newark.
Edith Lombardo-Albach of Staten Island, N.Y., told ABCNews.com that Hendrix, a six-year-old English springer spaniel was scheduled to arrive in Phoenix Thursday evening on a United flight from Newark.
But seven minutes before the flight was supposed to land, she received a phone call telling her that Hendrix would not be arriving in Arizona.
"Originally, I thought the dog had died and I started screaming," she said.
An airline representative told Lombardo-Albach that her dog was put on the wrong flight, and was destined for Ireland. United told her that once Hendrix arrived in Shannon, they would send him back.
"The dog had already gone seven hours to Ireland, and now the dog has a two-hour layover and then a seven-hour flight to Newark," she said. "I was insane."
The dog was flown back to New Jersey on Friday morning, and Lombardo-Albach was waiting. She stayed with him at the airport until he boarded his flight for Phoenix, where the family is moving.
Lombardo-Albach said Hendrix was hesitant to get back in his crate for the next leg of the flight — and who could blame him?
A United Airlines spokeswoman said the airline regretted the mistake: "We are reviewing the circumstances surrounding the situation and will take steps to prevent this from happening again.  Hendrix's experience is not typical of the service we provide to the more than 100,000 pets who travel with us every year."
United Airlines offered Lombardo-Albach a refund for the dog's flight.
Posted by jwoestendiek March 19th, 2013 under Muttsblog.
Tags: airlines, animals, arizona, dog, dogs, english springer spaniel, hendrix, ireland, mistake, newark, pets, phoenix, shannon, travel, united, united airlines

Comments: 2
Another dog owner has come forward to tell the world his dog died on a United Airlines flight.
"…What I found out is, when you check your pet, you run the exact same risk of them not showing up as you do with your luggage. That's kind of sobering," said Michael Jarboe, whose dog, a Neapolitan mastiff named Bam Bam, died during a late August flight.
Jarboe decided to share his story days after model Maggie Rizer blamed United for the death of her two-year-old golden retriever Bea on a flight last month.
"We have been in contact with Mr. Jarboe and are saddened by the loss of his dog, Bam Bam. The safety of the animals we transport is always considered first and foremost when making decisions regarding their routing and carriage," United said in a statement to NBC News.
Jarboe and his partner flew from Miami to San Francisco with Bam Bam on Aug. 28, with a layover in Houston. The two-and-a-half-year-old dog had flown four times before without any problems, Jarboe said.
Jarboe, who lives in Miami Beach, Fla., said he chose United because of its "PetSafe" program, which promises compartments in the cargo hold are pressurized and climate-controlled.
He said the layover in Houston was about three hours. Temperatures that day rose to 95 degrees.
When they arrived in San Francisco, they were told the dog had died. United paid for a necropsy, which determined the cause of death was acute cardiovascular collapse.
Before his death, Bam Bam had flown four times before — twice on United — without any problems.
United said Bam Bam was transported to a holding area during the layover, but according to Jarboe, employees did not use the climate-controlled vehicle dogs are usually transported in.
The airline has refunded the dog's fare ($650, each way), and is working with Jarboe on additional compensation.
Between January 2012 and July 2012, 17 pets died and another 17 were injured on commercial airlines, according to the U.S. Department of Transportation. In 2011, 35 pets died while flying, but only two of those were on United, which had the lowest number of animal deaths that year.
(Photos: Michael Jarboe)
Posted by jwoestendiek October 1st, 2012 under Muttsblog.
Tags: air travel, airlines, animals, bam bam, cargo, death, dog, dogs, heat, hold, houston, layover, mastiff, michael jarboe, neapolitan mastiff, necropsy, pets, travel, united, united airlines

Comments: 3
After an outcry from angry pet owners, United Airlines is lifting a ban on transporting nine breeds of dogs, including pit bulls and others the airline previously listed as dangerous.
United had stopped transporting those breeds when it adopted the animal transporting policies of Continental Airlines. The two carriers are merging this year.
"As a result of feedback, United will now accept previously restricted breeds of dogs traveling in a non-plastic, reinforced crate," United said in a statement.
The carrier previously listed the following breeds and types as ineligible for air travel: pit bulls, American Staffordshire terriers, Presa Canario, Perro de Presa Canario, Dogo Argentino, Cane Corso, Fila Brasileiro, Tosa (or Tosa Ken) and Ca de Bou.
An online campaign on Change.org collected more than 45,000 signatures on a petition to lift the restriction, according to the Los Angeles Times. The campaign was started by Hawaii resident Jessie Huart, whose 10-year-old pit bull was denied for transportation on the airline.
"This change is a victory for responsible dog owners everywhere at a time when many are facing breed discrimination," Huart said in a statement.
Posted by jwoestendiek May 10th, 2012 under Muttsblog.
Tags: air travel, american staffordshire terrier, animals, ban, breeds, ca de bou, cane corso, change, continental, dangerous, dogo argentino, dogs, fila brasileiro, jessie huart, lifted, lifts, merger, pet, petition, pets, pit bulls, policies, policy, presa canario, tosa, tosa ken, transportation, transporting, united

Comments: 1

Former Marine Cpl. Megan Leavey and retired military service dog Rex were reunited Tuesday in New York, bringing a successful end to Leavey's long campaign to adopt her former partner.
"I'm so happy," Leavey, 28, told the Journal News from her Valley Cottage home Wednesday afternoon. "I was nervous at first that maybe he wouldn't recognize me, but it was like no time has passed."
Leavey and the German shepherd served two tours of duty together in Iraq. Both were injured when an explosive device was detonated near them outside of Ramadi, Iraq, in September 2006
Leavey was discharged from the Marines in December 2007, and she tried to adopt her former partner then. But military officials decided Rex could still make a valuable contribution and didn't discharge him.
Earlier this year, however, Rex, then the oldest working dog at Camp Pendleton, was diagnosed with facial palsy, a nerve paralysis that left him unable to serve.
Leavey renewed her push to adopt the 10-year-old dog, and got help from Sen. Charles Schumer's office.
Schumer wrote letters to military officials and more than 20,000 people signed a petition urging military officials to allow the adoption.
Officials with the Air Force signed off on the adoption last month.
Wednesday, Leavey and Rex were settling in after flying from California to JFK. By then, she'd introduced him to his new family — a 7-year-old shiba inu named Rocky and a 4-year-old chocolate Labrador named Patriot, and who Leavey handles for a private company.
"It's like he knows he's retired. He's happy," Leavey said. "We played in the yard the whole morning."
Posted by jwoestendiek April 12th, 2012 under Muttsblog, videos.
Tags: air force, charles schumer, dog, dogs, german shepherd, injured, iraq, K-9, k9, marines, megan leavey, military, military dogs, partners, petition, retired, reunion, reunited, rex, senator, sergeant rex, sgt. rex, united, video, war

Comments: none
Does merging make a company meaner, stupider, or just more of a bully?
United, which recently joined forces with Continental Airlines, has opted to adopt the defunct airline's backwards pet policy. The new policy is stated on this page of United's website.
What it all means is that the "friendly skies" of United will no longer transport any of these breeds:
Pit Bull Terriers
American Staffordshire Terriers
Presa Canario
Perro de Presa Canario
Dogo Argentino
Cane Corso
Fila Brasileiro
Tosa (or Tosa Ken)
Ca de Bou
United will not accept members of those breeds, or mixes containing those breeds, once they have reached either 6 months of age or 20 pounds.
Additionally, United reserves the right to refuse any animal that displays aggression or viciousness.
The restrictions have nothing to do with the airline's separate policy on short-snouted breeds for whom air travel, specifically in a cargo hold, can cause breathing problems. This is separate category for "dangerous" breeds.
"These kinds of breed discriminatory policies fuel the misconceptions about dogs like pit bulls that lead to breed bans and the deaths of thousands of innocent dogs," reads a petition at Change.org, urging United to reconsider the policy.
The petition was started by Jessie Huart after she learned of the ban while trying to book a ticket to travel with her 10-year-old pit bull, Slaw.
"These types of policies are opposed by every major dog-related organization. The American Veterinary Medical Association and the National Animal Control Association argue that physical appearance isn't an effective way to predict or address aggression," the petition site says:
"United Airlines adopted the discriminatory policy … when it merged with Continental Airlines, making it the world's largest air carrier and the only US-based airline that labels some dog breeds as "dangerous."

"But while United is still adjusting to its merger with Continental, the company is listening closely to customer feedback. If thousands of dog-loving United customers sign Jessie's petition, the airline will have to listen …"
(Photo: Slaw, a pit bull who won't be flying United; courtesy of Change.org)
Posted by jwoestendiek March 14th, 2012 under Muttsblog.
Tags: airlines, american staffordshire terriers, animals, ban, banned, ca de bou, cane corso, change, continental, dangerous, dog, dogo argentino, dogs, fila brasileiro, jesse huart, merger, new, perro de presa canario, petition, pets, pit bull, pitbulls, policy, presa canario, reconsider, slaw, tosa, tosa ken, travel, united

Comments: none
There are a couple of dogs in this video, in the background, at the beginning.
If you think there needs to be more reason for it to appear here, on a dog website, there's this one: Music — like dogs, like causes, like inspirational leaders, booze, Bingo and lazy Sundays — can bring people together, slow them down and put them in a position to make the world a better place.
That position also being the first name of our country: United.
The video above, from the documentary, "Playing For Change: Peace Through Music," features non-huge name performers from around the world, street musicians in many cases, performing the Ben E. King classic "Stand By Me." Each musician added their part to the song as it travelled around the world.
Mark Johnson, the Grammy-award winning producer/engineer and co-founder of Playing for Change, embarked on the mission after hearing two monks playing in a New York subway and watching about 200 normally harried commuters stop and listen.
Over the last decade, Johnson's mission evolved into promoting international peace through global musical cooperation.
"For the past four years, a small crew has traveled the world with recording equipment and cameras in search of inspiration and human connections," Johnson explains. "The result is a movement connecting the world through music … Music has the power to break down the walls between cultures, to raise the level of human understanding."
Dogs are much the same way, I think. And who, after all, is better at standing by you? If we stood by each other the way dogs stand by us, well, to quote John Lennon, "Imagine." So those are the reasons, if we need them, that we proudly present this particular video on this particular lazy Sunday.
Peace.
Posted by jwoestendiek January 25th, 2009 under Muttsblog, videos.
Tags: global, mark johnson, music, musicians, ohmidog!, peace, peace through music, playing for change, project, song, stand by me, unite, united, video, world, worldwide

Comments: none