As an investigation continues into the apparent poisoning death of an Irish setter who competed at Crufts, and reports surface of up to six more poisonings, one of the human contestants has come under fire for picking up her Scottish terrier by the tail during judging at the world's largest dog show.
U.S. contestant Rebecca Cross, owner of Knopa, the Scottish terrier who won Best in Show at Crufts, was filmed picking the dog up by her tail and around its neck to place her on the ground. Now Cross is taking a bashing online.
Knopa's crowning moment was interrupted during the show when a protestor with a sign reading "Mutts Against Crufts," ran onto center stage and was spirited away by officials.
And the RSPCA is investigating reports than another canine contestant was beaten by his owner or handler outside the arena earlier in the week.
All in all, it's fair to conclude, not a good year — public relations-wise — for Crufts.
To say the embarassing series of incidents this year, and all the scandals that have preceded them, are signs that dog beauty shows (and dog ugly shows) have run their course would be a knee-jerk reaction.
There are much better reasons they should become a thing of the past.
Jagger, the Irish setter who competed under the name Thendara Satisfaction, died the day after returning home to Belgium. His owners say a necropsy revealed his stomach contained beef cubes tainted with three strains of poison.
A full toxicology report is expected next week.
Meanwhile, the Independent reports that the owners of as many as six other dogs suspect their showpiece pets may have been poisoned while at Crufts.
A West Highland White terrier, an Afghan hound, two Shetland Sheepdogs and another Irish Setter have all reportedly fallen ill after the international competition.
Yesterday, there were reports that a shih tzu competing at Crufts had died after being poisoned, but UK's Kennel Club said it could not confirm them. Nor is it confirming that Jagger died from poisoning.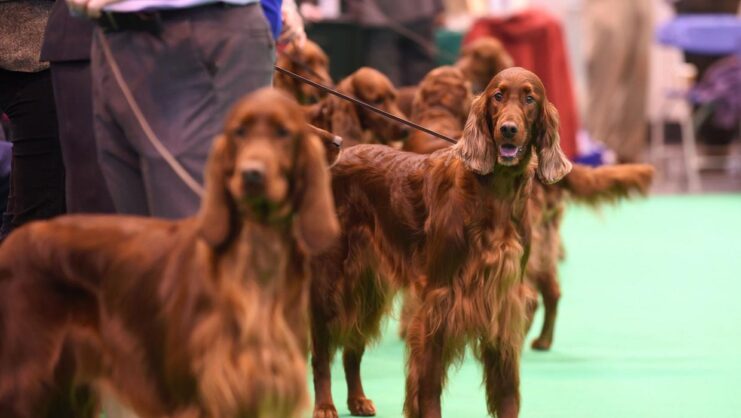 If all that weren't enough, another competitor has been alleged to have beaten his dog outside the arena — although photos circulating online don't fully substantiate that. Both the RSPCA and the Kennel Club confirmed they were seeking more information on those allegations.
As for Knopa, the dog whose owner used her tail as a handle — we'd guess she does that to avoid messing up Knopa's coiffure — Kennel Club Secretary Caroline Kiskoe said handling a dog that way is improper, but apparently it's not so frowned upon that it would lead the Kennel Club to revoke the title.
An online petition on 38Degrees has accumulated almost 90,000 signatures, calling for the title to be revoked, and hundreds of commenters are urging the same on the official Crufts Facebook page.
Knopa's owner apparently picks her dog up that way often — at least often enough that it has become in her words, "a habit."
"I didn't do it on purpose, it was just habit," Cross said. "It's just one of those things."