Name: Sonny Barger
Breed: Hell's Angel
Age: 72
Encountered: At The Buffalo Chip, a bar and restaurant in Cave Creek, Arizona
Backstory: Sonny (at right, that's me on the left) was a founding member of the Hell's Angels, helping establish the Oakland, California, chapter of the club in 1957.
I ran into him this week after I stopped to buy a cowboy hat.
"Those are Hell's Angels," the parking lot cowboy hat salesman told me, pointing out the five motorcycles lined up outside of a bar and restaurant called The Buffalo Chip.
"Yeah, right," I thought, and possibly said out loud. While I've seen thousands of motorcyclists descend on Cave Creek in my brief time here — most of them right next door to my trailer park at a place called The Hideaway — they are mostly stockbrokers and accountants and the like, who transform into bikers on the weekend.
"No, this is the real deal," said my roadside haberdasher. "Sonny Barger is in there."
Ralph Hubert "Sonny" Barger just so happens to be a founding member of Hell's Angels.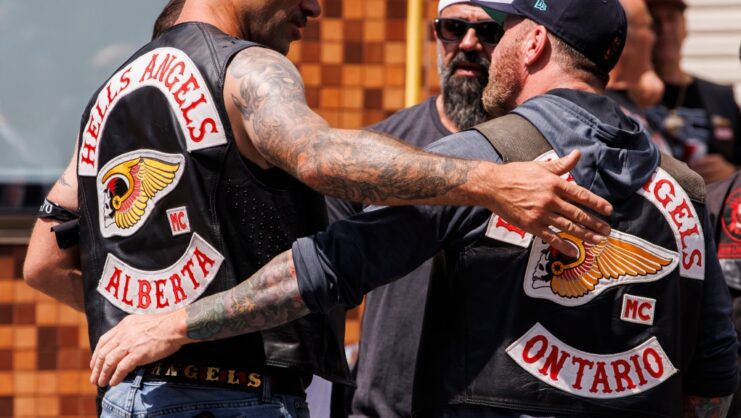 So, leaving Ace in the car, I walked in, rudely interrupted a conversation he was having and asked if I could take his picture.
Barger shook my hand and said he could do better than that. "I have a photographer with me." He called over one of the members of a crew from Fox Movies, in town to scout out locations for a movie based on his autobiography. I handed the photographer my camera and he took the photo at the top of this post. (So, if you don't like it, Sonny, blame him.)
I apologized to Barger for not taking my newly purchased cowboy hat off, and explained to him that it had just been dipped in water and was forming to the exact size of my head. Barger was polite and accommodating, and he told me that the movie was something he'd been hoping to get done for 10 years. Now, it appears, it's going to happen.
Barger was a prominent figure in Hunter S. Thompson's bestselling book, Hell's Angels: The Strange and Terrible Saga of the Outlaw Motorcycle Gangs. He's also mentioned in Tom Wolfe's best seller, The Electric Kool-Aid Acid Test.
He has shown up in movies, too. He appeared in "Hells Angels on Wheels," and was one of several members of the motorcycle club (I think they prefer the word club to gang) who had cameo speaking parts in "Hell's Angels '69." Just last month he made a short guest appearance on "Sons Of Anarchy," the television series about a fictional outlaw motorcycle club, based on the Hell's Angels.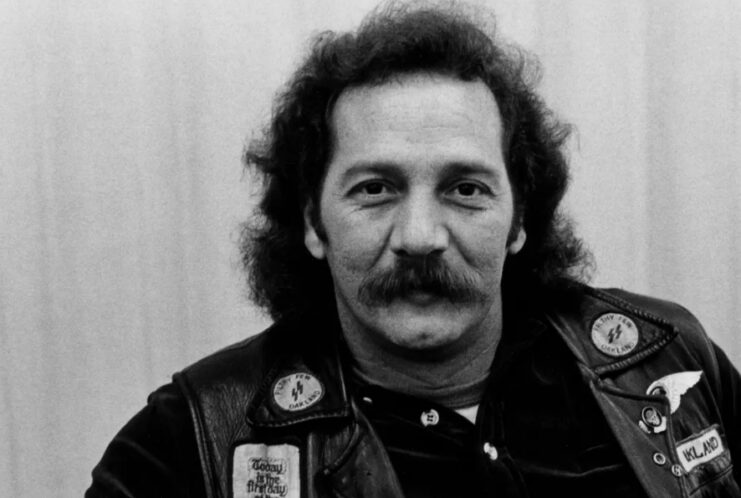 Altogether, Barger has spent about 13 years of his life behind bars, four of those for conspiring to blow up the clubhouse of a rival motorcycle club, the Outlaws, in Louisville, Kentucky.
In 1983, Barger was diagnosed with throat cancer, suspected to be connected to smoking three pack of Camels a day for 30 years. He underwent surgery, smoking a cigarette, it is said, on his way to the operating room. His vocal cords were removed, but he learned to speak again using the muscles in his throat. When he talks, he holds a finger over the hole in his neck.
In more recent years, he has become an author, and his books include Freedom: Credos from the Road, Dead in 5 Heartbeats, 6 Chambers, 1 Bullet and his 2001 autobiography,  Hell's Angel: The Life and Times of Sonny Barger and the Hell's Angels Motorcycle Club. In recent years Barger has worked to promote motorcycle safety, co-authoring The Complete Idiot's Guide to Motorcycles and, in 2010, Let's Ride: Sonny Barger's Guide to Motorcycling.
Barger is a resident of Cave Creek and remains an active member of the Hells Angels Cave Creek Chapter.