As a dog owner, it is important to be aware of your four-legged friend's health and nutritional needs. Fortunately, today's market offers everything you need to keep your pooch's diet healthy, so in this article, we are going to talk about the best low residue dog food.
When implemented correctly, a low-residue diet can do wonders for your pet's health. This food can aid pancreatic and colon health, as well as reduce stool volume and frequency. When picking a low-residue diet, it is important to find the ideal recipe that your dog will like and find a perfect combination of ingredients so that your pet does not reject it. Throughout our research, we found some excellent foods and would like to share them with you, so let us start without any delay.
List of Best Low-Residue Dog Food
1. Merrick Limited Ingredient Diet Dry Dog Food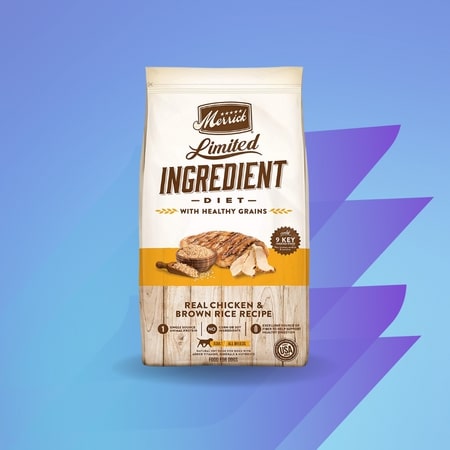 The first place on our list goes to a well-known manufacturer of pet food, Merrick. This food is a fantastic pickup for dogs that have issues with allergies. It is a delicious dry type that contains real deboned chicken as the first ingredient, and there is also some brown rice to ensure proper digestion.
Merrick Limited Ingredient food is formulated using nine key ingredients that do wonders for sensitive dogs with allergies. It is rich in protein and provides important amino acids, vitamins, and minerals that all combine into a balanced and nutritive meal for your four-legged friend.
This food is made without soy, corn, wheat, dairy, eggs, artificial flavors, or anything that might harm a sensitive pet's stomach. Moreover, it is a food known for the support of healthy digestive systems in dogs, so if you have a sensitive one at your home, this pick is definitely one of the best choices you can go for.
2. Zignature, Turkey Limited Ingredient Formula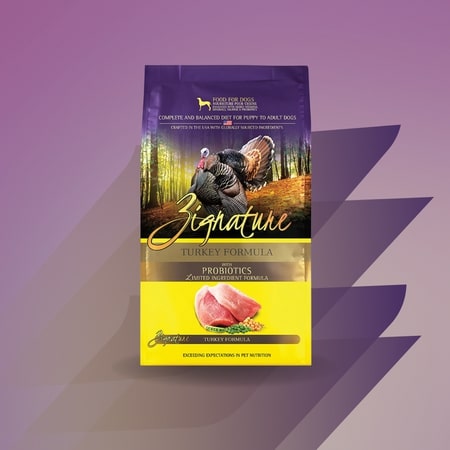 Coming from the Zignature store, this formula contains turkey meat as a first ingredient and is a fantastic source of protein for your sensitive dog. It contains all the necessary amino acids, and in a single serving, your pet will also get glucosamine and chondroitin.
This recipe has high dietary fiber content, but the total fiber content stands at four percent, which will be more than enough to make your dog poop less and have a healthy digestive system. Moreover, this food is excellent for dogs with allergies and is overall really tasty, so you can rest assured they will consume it regularly.
Sunflower oil and flaxseed in this formula put beneficial fatty acids on your pet's plate, and there are also added vitamins and minerals to make the whole recipe fuller and healthier. Overall it is a great formula that can help your pet relieve allergic symptoms and support digestion, but it is important to mention that some picky eaters might not like it.
3. The Honest Kitchen Dehydrated Whole Grain Dog Food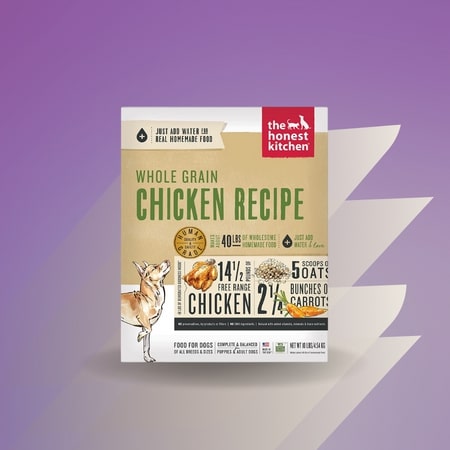 This dog food is a unique pick on our list as it is a formula that offers the benefits of raw food with dry kibble convenience. It is rich in highly digestible dehydrated whole-food ingredients that are excellent in stool reduction and the promotion of healthy digestion in dogs.
This formula is a great pickup for both active and sensitive dogs, as it will help them meet their daily nutritive needs and eat healthier. It consists of premium free-range chicken that provides a lot of energy and sufficient calorie intake on a daily basis.
The recipe also includes whole-grain organic barley, which is a primary digestible carbohydrate source without high levels of fiber. There are also other organic ingredients, and the formula is completely free of soy, eggs, artificial flavors and colors, and of course, GMOs. The price tag is also something that draws many customers, and considering the overall quality, it is a really good bargain.
4. Taste Of The Wild Ancient Stream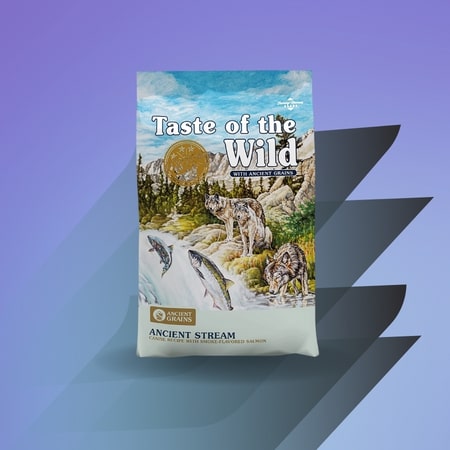 Taste Of The Wild is a dog food worthy of consideration, as it can provide your four-legged friend with a grain-rich diet that will support healthy digestion and grant that extra energy that sensitive dogs require.
It is a formula that is rich in ancient grains, including grain sorghum, millet, and cracked pearled barley. There is also plenty of brown rice on the ingredients list, which will reduce the stool volume in your dog. You will also find plenty of dietary fiber that also aids good digestion.
It is a food with nutrient-rich sources and is available in three variations – grain-free adult, grain-free puppy, and with ancient grains, and you can get all of them in three different package sizes. All the ingredients in this food, when mixed with canola oil and salmon oil, provide a great source of omega fatty acids that will be highly beneficial for your pooch.
5. Merrick Dry Puppy Food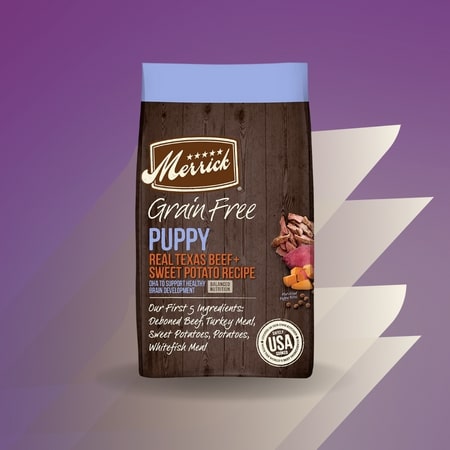 This food is yet another fantastic product from the Merrick store that is suitable for sensitive dogs with digestion problems. It is specifically made for puppies, as they tend to have more frequent bowel movements than adult dogs, and is made to aid their sensitive bellies through these trying times.
High amounts of protein content are essential for growing puppies as they deliver the amino acids that support muscle development, and this product does a fantastic job at it. There is 28 percent of protein content in the recipe that mainly comes from the deboned beef. It also includes a concentrated amount of nutrients and is rich in iron.
You will also find that there is pea protein on the ingredients list. The formula is also gluten-free and uses whole peas and potatoes as the main source of carbohydrates that grant a boost of energy for your puppy. The formula is also rich in omega-3 fatty acids that are important for normal eye and brain development. Overall, this recipe provides everything a young pup needs, and a 22-pound pack of it will secure you for longer periods.
6. Wellness CORE Natural Grain Free Dry Dog Food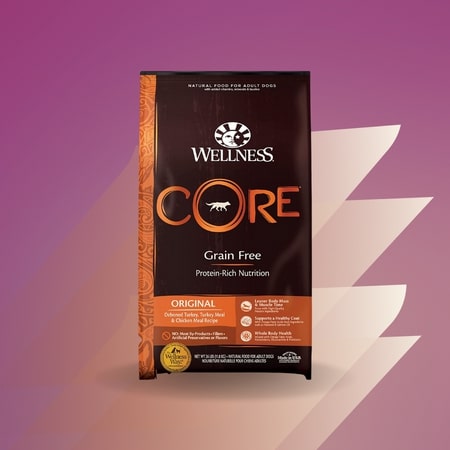 Finding food that is both healthy and tasty for your dog can be quite a challenging endeavor. However, Wellness managed to put both of these together in the form of this excellent dry food. It is a fantastic grain-free formula that secures all the necessary nutrients, vitamins, and minerals in one neat package.
This is expertly crafted food with a lot of care and attention to detail. You will find premium proteins in these packages, mostly turkey and chicken, but there are also fruits and vegetables such as apples, blueberries, and spinach on the ingredients list, all of which bring many health benefits to the table.
One of the best selling points for this food is the fact that it is free of artificial flavors, colors, and preservatives and is perfect for canines and their sensitive bellies. The price/value ratio in this food is absolutely superb, and the combination of ingredients will ensure that your dog stays well-fed and healthy.
7. Whole Earth Farms Grain Free Recipe Dry Dog Food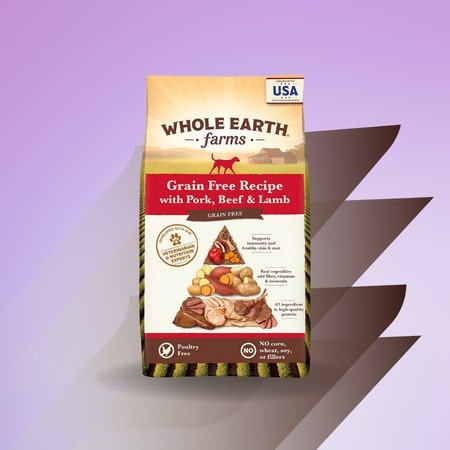 If you are looking for healthy food for your pet but you are tight on the budget, this product from the Whole Earth Farms store might be exactly what you need. It is a low-residue food that is fantastic for sensitive dogs that have issues with allergies and is nutritive enough to grant them sufficient amounts of energy on a daily basis.
This is a portion of high-quality food rich in healthy protein sources, carbohydrates, and fats. There are no excessive fillers, and potatoes, sweet potatoes, peas, and carrots on the ingredients list make this food a perfect food with natural dietary fiber. All of them improve digestion and the overall well-being of your four-legged friend.
The protein sources in this food (pork, beef, lamb) are well digestible and aid healthier stools. The extra vitamins, minerals, and probiotics are also an integral part of this food and are very effective in supporting the functional intestinal and immune systems. Although this is a cheaper solution than the rest of the entries on our list, it definitely does not compromise quality.
8. Wellness Natural SENIOR Pet Food

Senior dogs, same as puppies, often have issues with troublesome stools and require proper nourishment. This low-residue food is exactly what they need as it is produced to grant fantastic nutrient support for aging dogs in need.
This food features a high 32 percent protein content that mainly comes from deboned turkey. This amount of protein is essential for maintaining muscle mass in dogs that are aging. It is a great lean meat that provides top-of-the-line protein content without excessive fat content, making it very healthy and nutritive.
Moreover, this food has a low 12 percent of crude fat content, which is ideal for slower metabolisms that are generally present in older dogs. It is also important since senior dogs are more likely to gain weight which would increase stress on their joints. Aging dogs also require care, and this product is one of the best in the business at it.
9. NUTRO NATURAL CHOICE Large Breed Adult Dry Dog Food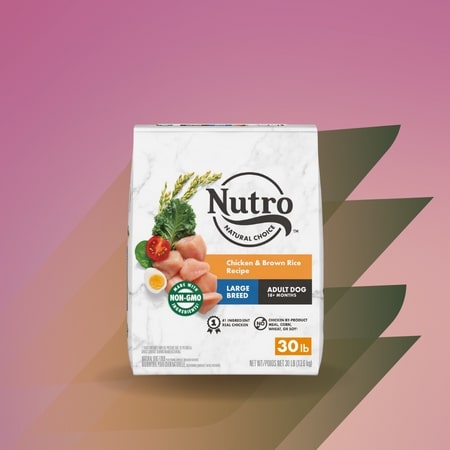 Coming from the Nutro store, this pet food is available in variations for large breeds and large breed seniors. You can purchase the bags of this food in three sizes – 13 pounds, 30 pounds, and 40 pounds. This is a special chicken and brown rice recipe that offers various benefits and supports healthy digestion.
This product is completely free of cheap ingredients and fillers such as corn, soy, and wheat, which can be damaging to sensitive dogs' health. Moreover, these are ingredients that do not grant your pet enough nutrition and can also trigger allergic reactions.
This formula is made using the meat of farm-raised chicken, and it is the first ingredient, followed by brown rice and sweet potatoes, which do a fantastic job of reducing stool volume in your dogs. It is food that promotes healthy skin and shiny fur, as well as strong bones and joints due to vitamin D, calcium, phosphorus, choline, and taurine.
10. Blue Buffalo Wilderness Rocky Mountain Recipe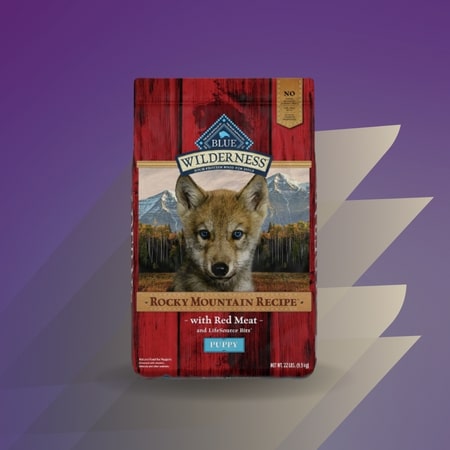 Blue Buffalo Wilderness is a specially formulated food for active pets that require a lot of lean protein sources from real meat and veggies. Many dog owners claim that this is likely the healthiest and the most natural way to feed sensitive dogs that have issues with allergies and digestion.
This food contains plenty of DHA and ARA, which are essential fatty acids found in the mother's milk. The manufacturers use only real meat as the first ingredient, as it is a natural and highly effective protein source that can grant your dog sufficient energy and a full belly.
The formula is enhanced with vitamins, minerals, and other nutrients that support the well-being of your pups. It is particularly effective for dogs that often experience allergic reactions. You will quickly notice that your four-legged friend's coat is much shinier and that it has more energy regardless of activity levels when you implement this food into its diet.
Things to Consider When Buying Low-Residue Dog Food
When choosing low-residue dog food, it is important to take a closer look at ingredients before spending any money. We want to help you make the right choice, so we have listed the ingredients you should seek in the section below.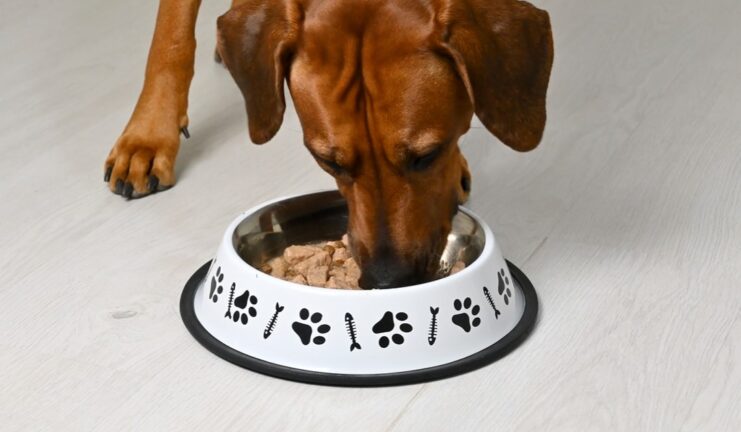 Protein
Protein is one of, if not the most important ingredient to seek for your dog's diet. It is broken down into amino acids that are cornerstones for building blocks of cartilage, muscle tissue, tendons, ligaments, and more. Look for foods that have animal-based proteins as the first ingredient, and your pup will surely love them.
Fat
Fats bear high importance in your dog's diet. They provide lots of energy and fatty acids that play an essential role in cellular development and function. Moreover, they produce hormones such as prostaglandins that aid in moderate inflammations. Since you are looking for low-residue foods, opt for a moderate fat content that stands somewhere between six and fifteen percent.
Ingredients from which fat comes are also important, and you should look for materials such as chicken fat, salmon oil, or flaxseed, as all of them are potent in omega fatty acids.
Carbohydrates
This ingredient is broken down into sugars, which are very important energy sources necessary for cell health. There is no specific daily requirement for carbohydrates in dogs, but since they deliver a lot of glucose for energy to the plate, they are highly important for the normal functions of your pet's nervous system.
Again, since we are talking about low-residue foods, you should look for easily digestible carbs such as brown rice, tapioca, or potatoes. You can also opt for fruits and cooked vegetables, as they are healthy sources of carbohydrates.
Fiber
Fiber is classified into two types – soluble and insoluble. Both are very important for your dog's health and well-being, and you should look for them on the ingredients list of the food you want to purchase.
Soluble fiber is an integral ingredient for healthy gut promotion, while insoluble is difficult for dogs to digest, so it makes their stool firmer. This can actually help in case your dog has problems with diarrhea.
Frequently Asked Questions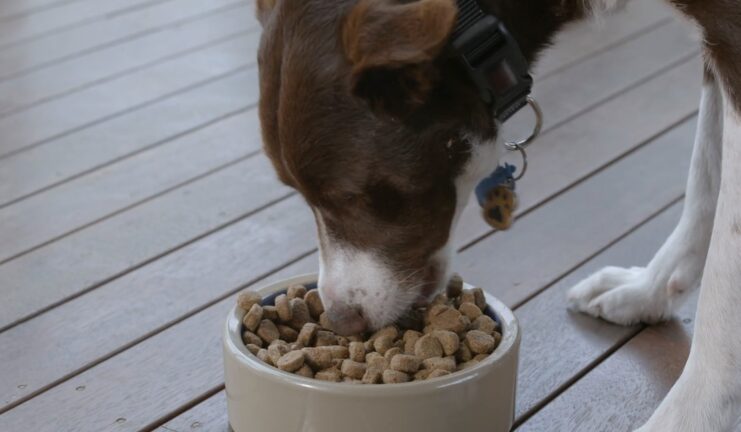 1. What is low-residue dog food?
Low-residue dog food refers to food that helps your pet manage digestive problems that are commonly associated with diarrhea, constipation, and flatulence.
2. What can I feed my dog to harden his stool?
You should feed your dog low-residue food that is highly rich in insoluble fiber. This type of fiber will make your dog's stool firmer and will add some bulk to it.
3. What causes loose stools in dogs?
There are numerous causes for loose stools in dogs. However, one of the most common ones is overfeeding. Too much food in your pet's gut puts extra strain on the digestive system and can decrease its efficiency in nutrient absorption.
4. How to get your dog to poop less?
One of the first things you can do is to reduce the amount you are feeding or reduce the amount of fiber in your dog's diet. Feeding dry kibble is also highly effective in reducing the frequency of your pet's stools.
5. How many times should my dog poop on a daily basis?
This is something that depends on numerous factors. The rule of thumb suggests that anything between one and four times is considered normal. Consistency also matters, and if your dog poops at almost the same time every day, the frequency will not matter much.
However, if you notice that your dog poops more frequently and do it on a consistent basis, it is highly important to contact a veterinarian as soon as possible.
Final Words
Low-residue food is essential, especially for dogs that suffer from digestive problems or have allergic reactions frequently. A good and balanced diet goes a long way when it comes to your pooch's health, so always look to start from there.
It is also important to consult a veterinarian before changing your dog's diet to prevent any type of unexpected issues. Lastly, we hope you enjoyed our guide and that you will find the perfect recipe for your four-legged friend. In case you still cannot determine which one to go for, test the top-three picks on our list, and we are certain your dog will be satisfied.