Pets are family. We are on the same page here. Right? These days almost all of us have a pet. Just like in the years prior, the most popular choice for a pet is a dog. After all, we're talking about men's best friends. It is a well-deserved title. So, if you have a good boy he without a doubt deserves a toy. Dog toys are not something out of the ordinary, but you need to know a few things before you buy a perfect one for your doggo.
So, have you given any idea about the ideal toy for your dog? If you haven't you've come to the right place. Dog toys are quite versatile. You have various choices that steam from chewing up to catch. If you have a strong pet the best route is to equip yourself with tough dog toys, some of which you can find if you visit this site. The right choice shouldn't be too hard. After all, our pets have a will of their own. They will help you with the selections. Either way, you need to get acquainted with the choices you have at your disposal.
Versatility of Dog Toys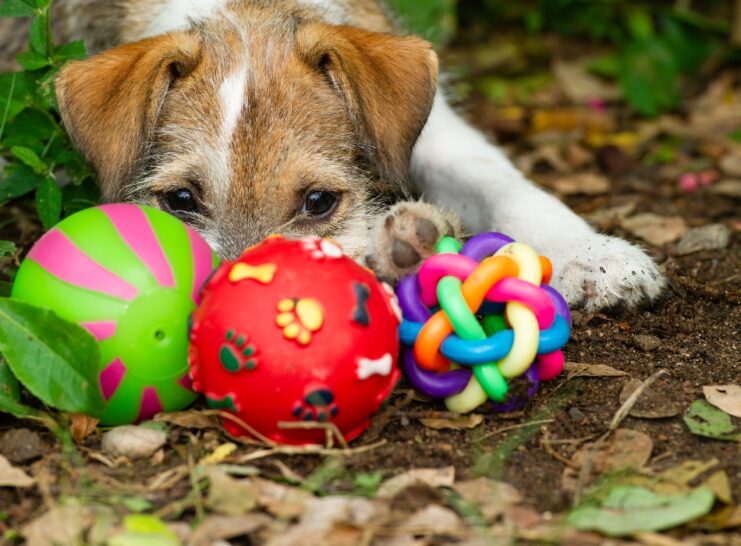 This is where you need to stick to the basics. Dog toys come in abundance, but in essence, we are talking about a few main types. You shouldn't go overboard with the selection. The easiest way to stay in line is to learn a few things about the types of dog toys. So, let's start with the most standard type – chew toys.
* Chew Toys – when it comes to dogs you need to be practical. Get something pretty that squeaks. If you know your dog you know that chewing is the most fun activity out there. Your slippers know this better than you do. So, to save your favorite pair, get your dog a nice chewing toy.  This activity is beneficial for dogs' dental health in addition to being fun for them.
* Rope Toys – Tug of war games are what makes a dog's day. They love it themselves too. With a rope toy, you can have both. Rope toys are ideal for rainy days that you need to spend on the inside and for every imaginable outdoor activity. If you want to invest properly in your pet a rope toy is the way to go.
* Squeak Toys  – dogs and weird sounds go hand in hand. The sounds thrill the dogs. They love it. Buy them a squeaky toy. Yes, these toys can be hard on the owner sometimes, but if you love your dog, you will find patience.
* Interactive Toys – as we said, dog toys come in various shapes, sizes, and technological advancements. You have various tools in the interactive department. You can go with strategy games and puzzles, and end up with logic games. Dogs love interaction. Learning through playing could be very beneficial for them.
* Ball Toys – last but not least are the ball toys. The golden standard of the dog toy industry. Dogs love balls. We're talking about a classic here. When buying dog toys most of us reach for a ball toy. That's the logical choice. The best part is that a ball can fit into any of the groups of toys from above.
Benefits of Dog Toys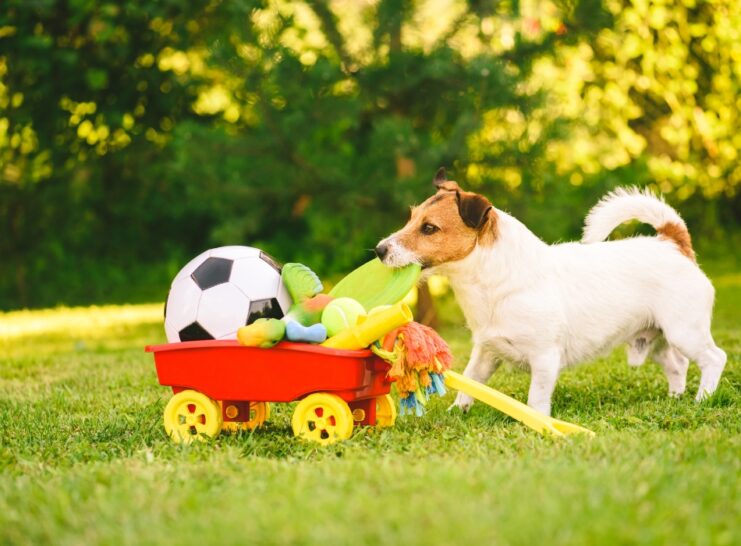 Our dogs deserve the best. They need to have a fan and learn in the process. All of it can be achieved through pet toys. Most people treat their pets with toys without even knowing what are the greatest benefits of giving your pet the right toys. Because of that, we're going to list some of the main benefits of pet toys.
It's a Workout
First of all, dog toys are not only a fun idea. They are useful. With the right toy, you can have your dog exercising daily. That's good for their overall well-being. With a simple ball, you can have them playing fetch and running circles for hours. This is good for their muscles and heart health.
Dental Health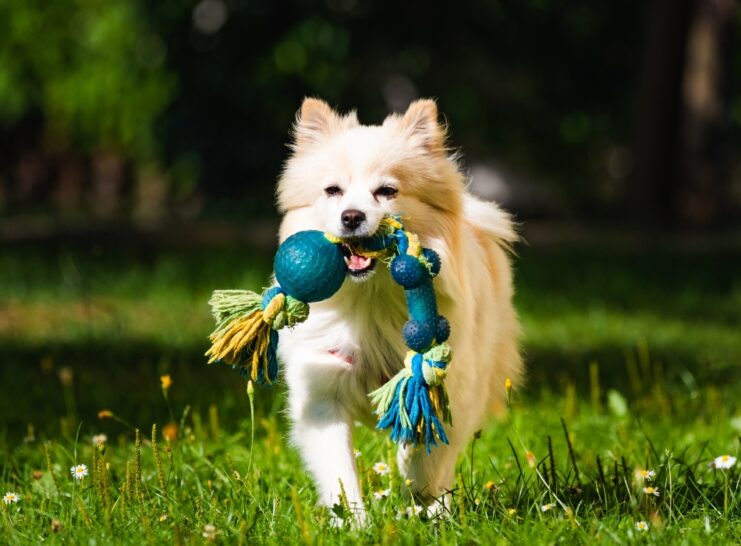 A chewing toy has many benefits. The greatest one is its influence on your animal's dental health. When chewing dogs will make their jaws stronger and teeth cleaner. When chewing a ball they will have all of that extra saliva moisturizing their mouth which is ideal for dental health.
Resolving Anxiety Issues
That's right, dogs can suffer from anxiety too. Often dogs experience it when meeting new people and new environments. This can happen on a daily basis, and having a way to relieve stress and anxiety is rather beneficial for your pet. So, buy them a toy that will not only be fun for them but also offer relief.
Companionship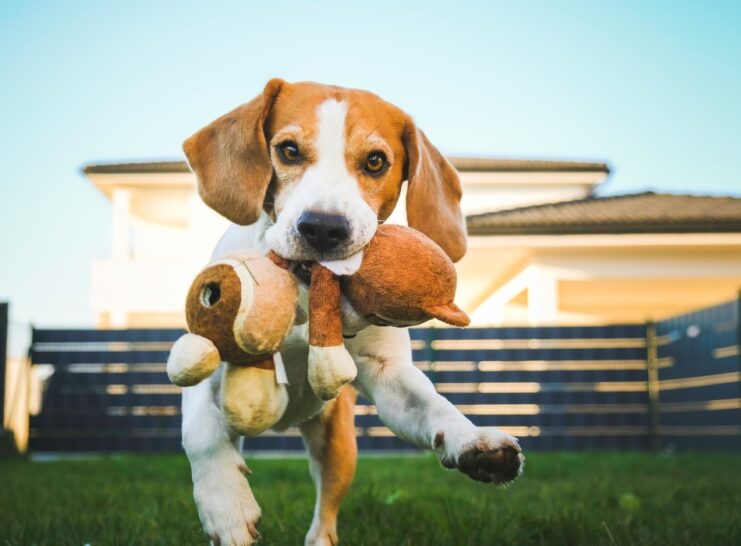 If there's one thing our dogs hate, it's work. They hate when you need to go to work or leave them home for any other reason. They love you; they're not selfish. So, leaving them in good company can be pretty nice. Dogs love companionship. You can give them this in times of solitude. When they've left home alone, it will help them to have a toy around. You'll be doing a favor to both of you.
Bones Alternative
Dogs love chewing. Bones are their favorite. But, bones can be dangerous, especially for smaller dogs. So, providing them with a chewing alternative is a nice thing you can do for them. Having something to chew while being safe is what both of you want. As we already mentioned, this activity is good for their dental health. With a chewing toy, you're only lowering the risk of them injuring their gums.
Preventing Dementia
Dementia is not only a human problem. Dogs can suffer from it too. You can prevent it from developing, especially in older dogs, by keeping their minds engaged. Toys can be a great mental exercise that provides much-needed mental stimulation. The best route to take here is to buy them some of the best available interactive toys.