We've been showcasing in recent weeks a few Christmas gift ideas that are either quirky or cute, but here's one that's a little creepy — both the product and its marketing.
Perfect Petzzz are "breathing" stuffed dog toys that come in 10 different breeds — all with fur so authentic looking some shoppers have assumed it was harvested from real dogs.
That, as Snopes.com reported recently, is a false rumor.
Still, some creepiness remains — mostly in the way the company markets the toy on the Perfect Petzzz website:
"These adorable pets offer a real pet ownership experience without the hassles and expense. Say goodbye to feedings and vet bills. Say hello to lots of love and cuddles. Perfect Petzzz – the ultimate pet."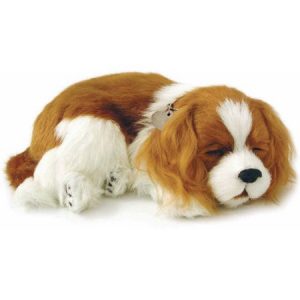 They bill themselves as "a unique alternative to pet ownership, we offer a lifelike experience that all ages and walks of life can appreciate. With our 'adoption program' you can take your new puppy or kitten home today!
"…You can even see me breathing! Our fur is soft, and we love to be petted! I even come with my very own bed, minus the fleas!"
Perfect Petzzz is not a picky eater, "consuming only one 'D' battery every 3 months." They are "factory potty-trained, with all their shots and papers, including obedience classes!"
Of course, none of that is true of "real pets," and owning a stuffed toy dog is not really a "lifelike" experience at all.
Should those things be what you are seeking in a dog, though, by all means, get one of these — as opposed to impulsively adopting a real one as a Christmas gift.
But don't be fooled into thinking about cuddling or watching this lump of fur breathe in any way the equivalent of — or in any way will prepare your child for — the experience of owning a real dog.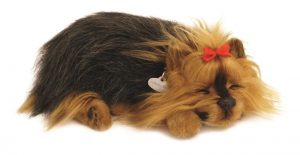 Real dogs are messy, real dogs take work. And to imply that a "perfect" dog would involve none of that — and nothing more than batteries — is irresponsible and a little spine-chilling.
Perhaps the website is trying to send out some kind of positive message by pretending buyers are "adopting" the stuffed dogs — they even include an adoption certificate — but that side of it bugs me too, as if they are trying to make a profit co-opting the goodness of real agencies that do that.
And seeing these (about $40 each) stacked up on display in a store, on top of each other, in boxes on a rack, reminds me of something you might see at a South Korean outdoor dog meat market, or on the back of a truck taking dogs to slaughter in China.
Snopes had dispelled the real dog fur rumor, which appears to have started with a single social media post by a Facebook user who somehow jumped to not just the conclusion that Perfect Petzzz were made with fur from real dogs, but that dogs were killed for that sole purpose.
Snopes says the company insists the fur is entirely synthetic.
Still, Perfect Petzzz — other than maybe being right for that person who shouldn't have a real dog — will not be making any of my Christmas lists.