The way they saturate the market, it's easy to get tired of car insurance ads.
They've always tended to air over and over again, until — as imaginative as they might be — we become sick of them.
Perhaps you too have fallen victim to seeing a little too much of the Progressive spokeswoman, or, as I call it, a Floverdose.
Similarly, GEICO's gecko, cute at first, quickly began grating on my nerves.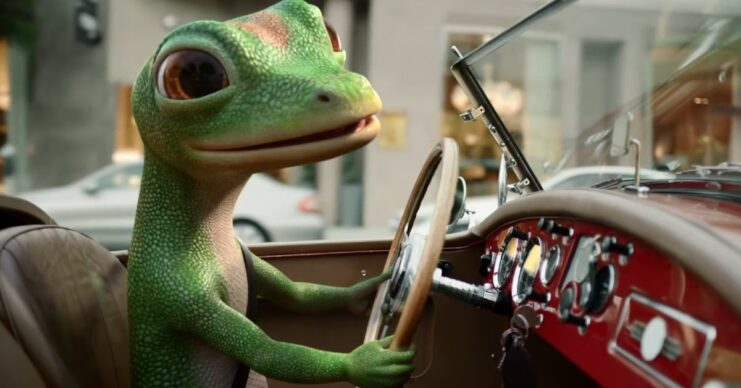 All this culminates, or at least it does for me, in coming to the decision that I'm not going to be a customer — because their ads annoy me (and because, as much as they spend on advertising, it, somehow, has to be costing me.)
Pretty much every insurance company claims it can save you money — that their rates will save you $318, $412, $562 a year over their competitors — and we all know there's no way that can be true.
So I no longer look for or expect truth in advertising from car insurance companies; instead I merely expect their commercials to either make me laugh or make me warm and tingly inside — at least until I've seen it 20 times.
This new ad from GEICO manages to do both. It's funny, it's timely, and it has dogs. Lots of dogs.
On top of that, it's fresh. The key to keeping viewers from overdosing on a company's ads is to change them up, which GEICO — though I can't speak for its insurance — seems to do better than any of the insurance providers.
Their advertising agencies come up with new concepts (otherwise we'd still be watching those cavemen), and provide plenty of variations on continuing themes.
This one, by the Martin Agency, is part of the "what's not surprising" series. It depicts what looks like is going to be the running of the bulls, but the animals that come charging around the corner in pursuit of the runners are bulldogs.
"The running of the Bulldogs? Surprising. What's not surprising? How much money Aleia saved by switching to GEICO."
The actual running of the bulls began earlier this month, ending July 14 at this year's San Fermin festival in the northern Spanish city of Pamplona.